Capes and coats - we just can't get enough of these bridal outerwear accents (and we know you love them too!)
Bridal capes and coats started to hit the scene in a big way a few years ago, and they have only picked up speed from there. It is no secret that all brides love to accessorize on their big day - so why wouldn't that include outerwear layers? These bridal cover-ups are chic, modern and absolutely irresistible. And they aren't just for colder weather wedding months. There is a cape or coat style for every season and every occasion!
01.

Chic Opaque Coat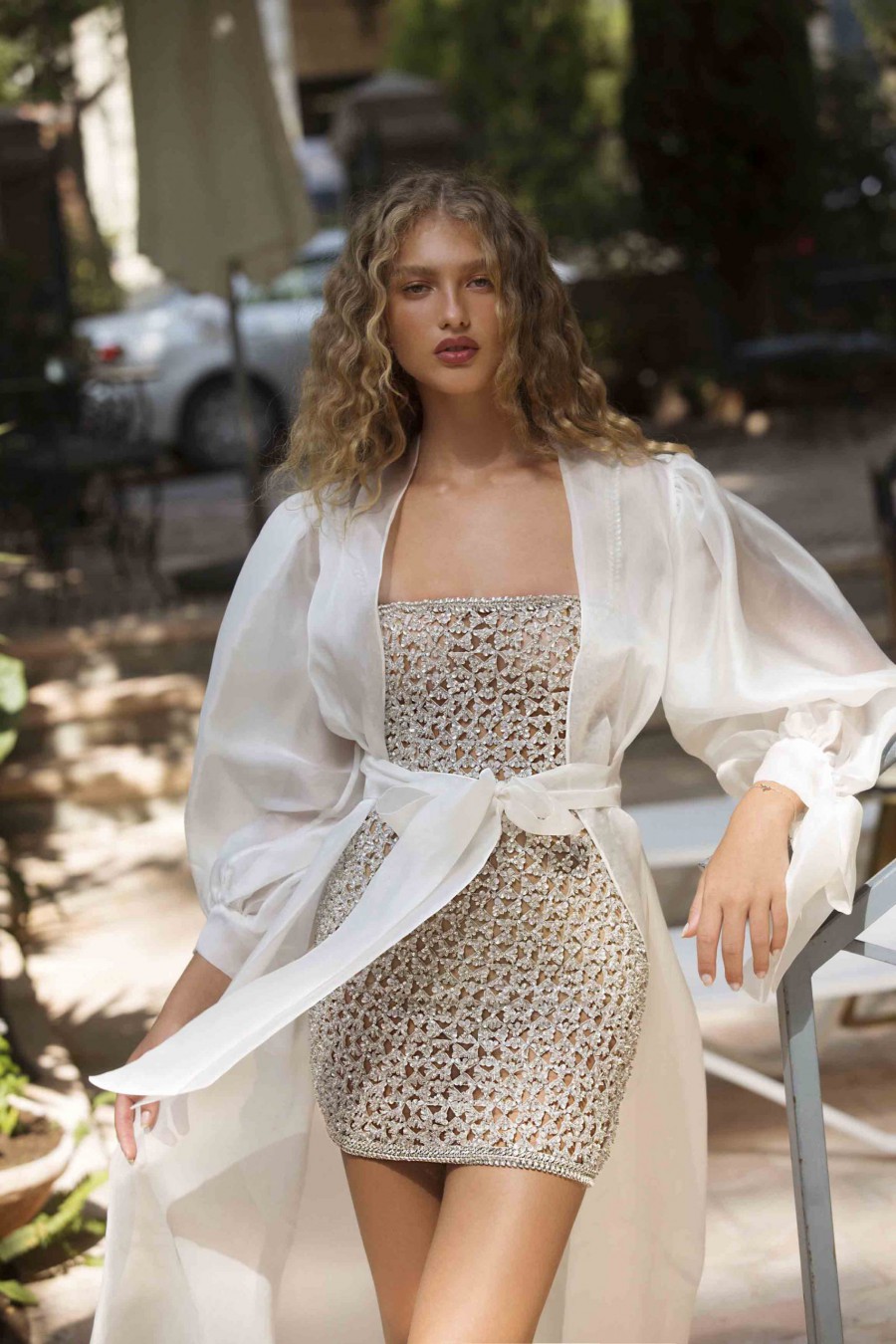 Add a chic, modern finish to any bridal day style with this stunning opaque designed bridal coat from Berta. Perfect for year round layering.
02.

Pearl Illusion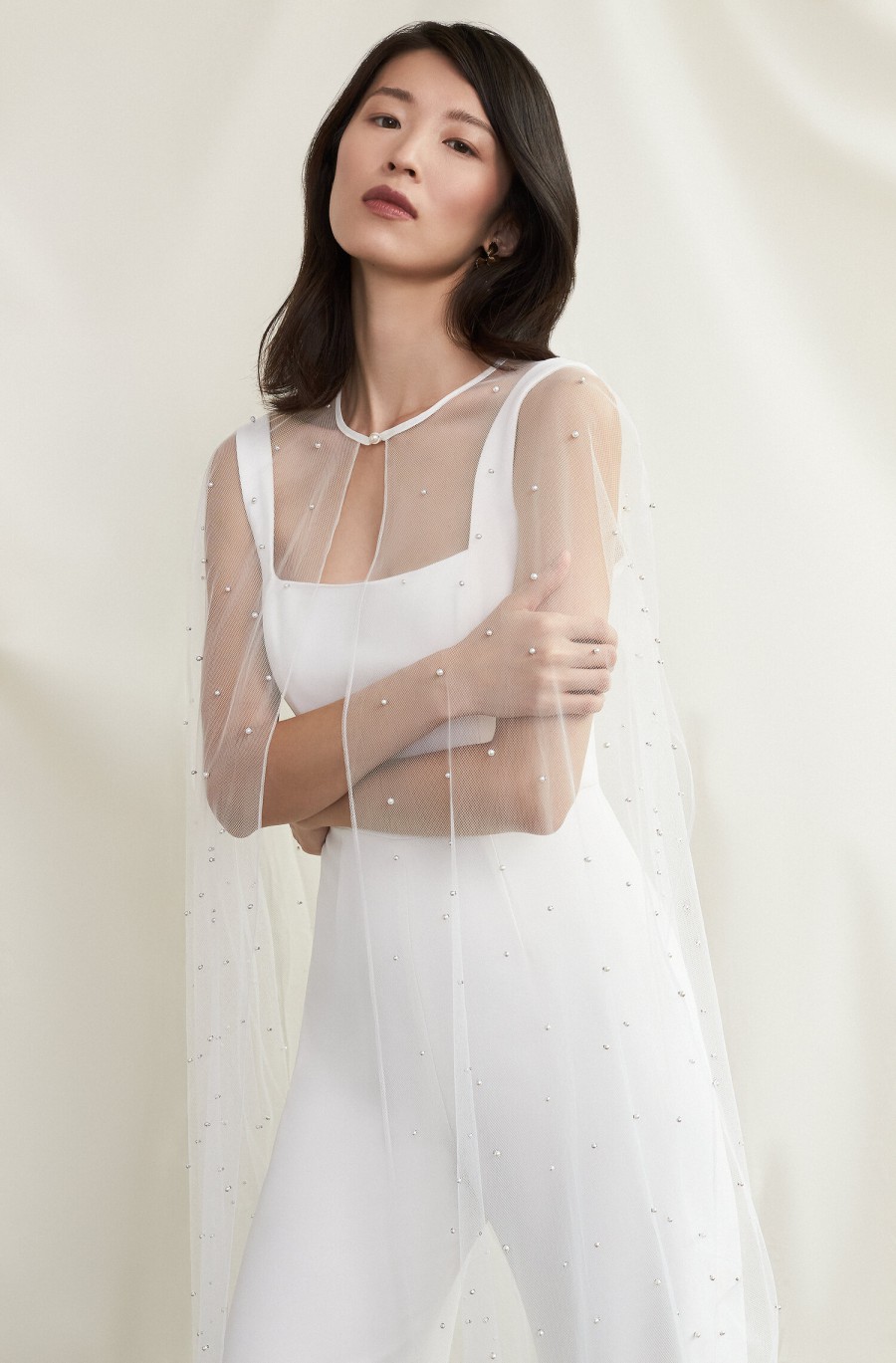 Add a contemporary finish to your wedding day style like this with sheer, pearl dotted cape from Savannah Miller. Chic, modern and minimal. And we just love it paired with a contemporary bridal jumpsuit!
03.

Something Blue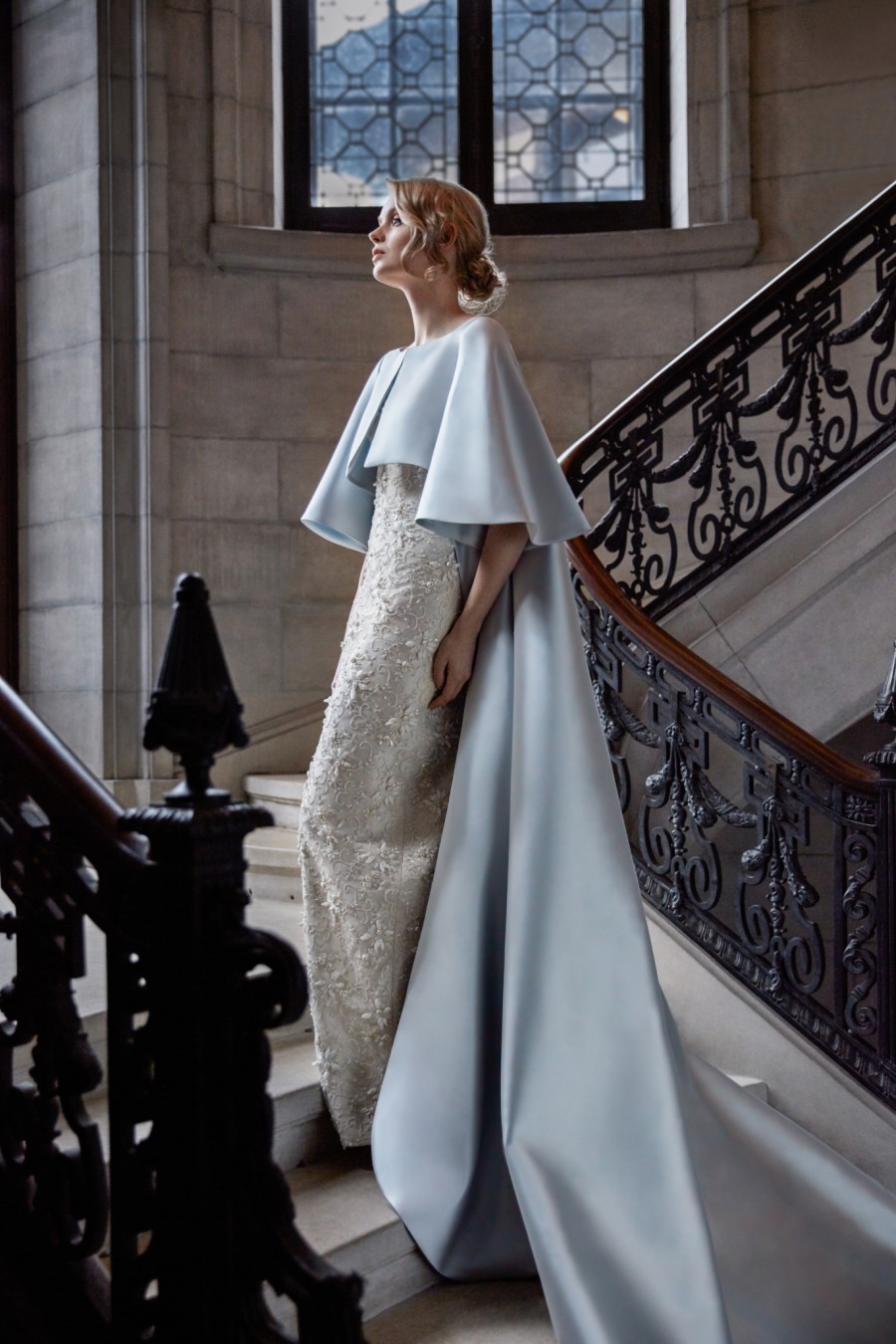 We have your "Something Blue" covered with this fairytale worthy cape from Sareh Nouri. This stunning one-of-a-kind bridal cape will completely transform any bridal style. We love this look for colder weather wedding days.
04.

Transparent Embellishment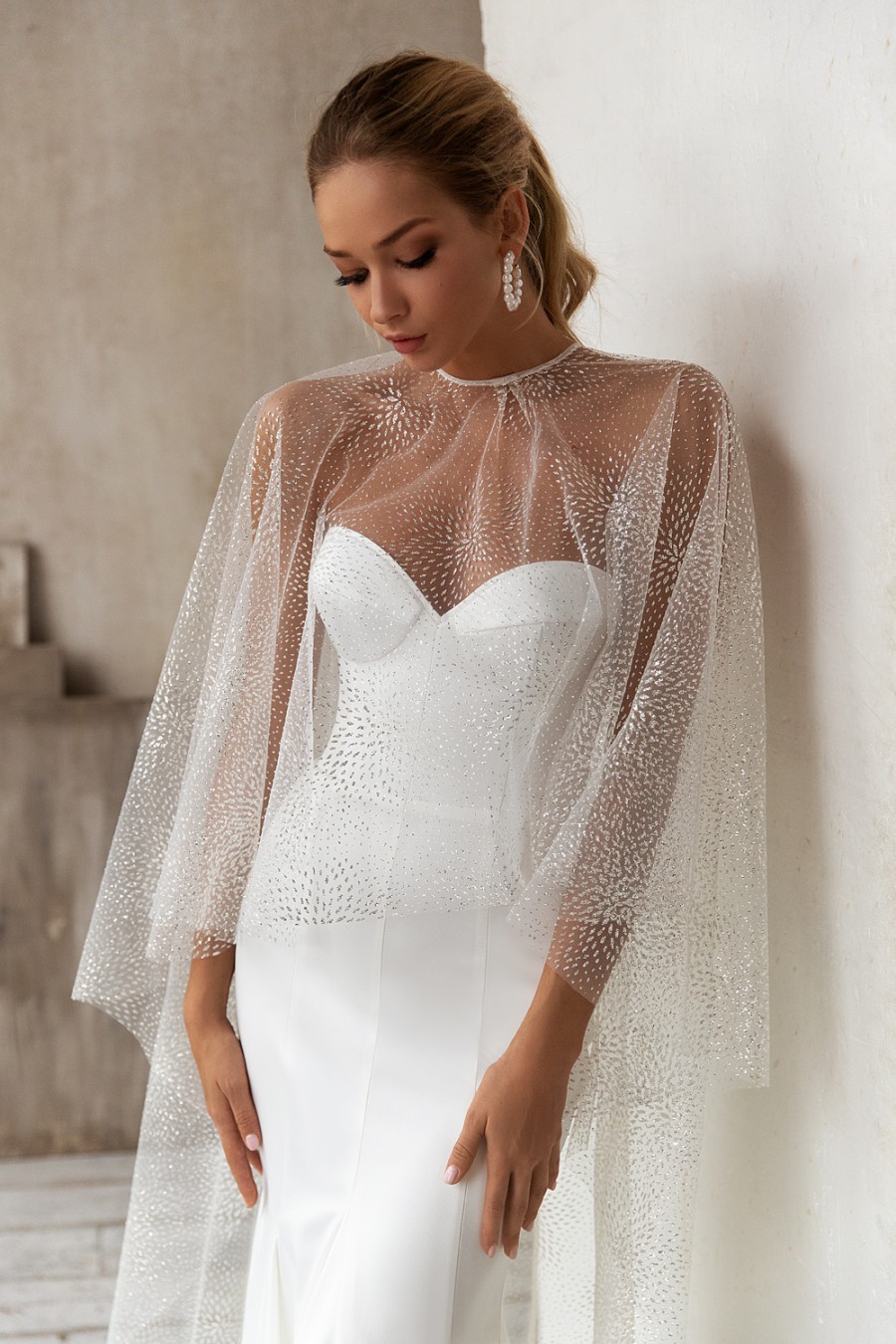 Add a pop of sparkling embellishment to your wedding day style with this chic sheer cape from Eva Lendel. We just love the floral, star-burst design of this gorgeous bridal accent.
05.

Abstract Bridal Jacket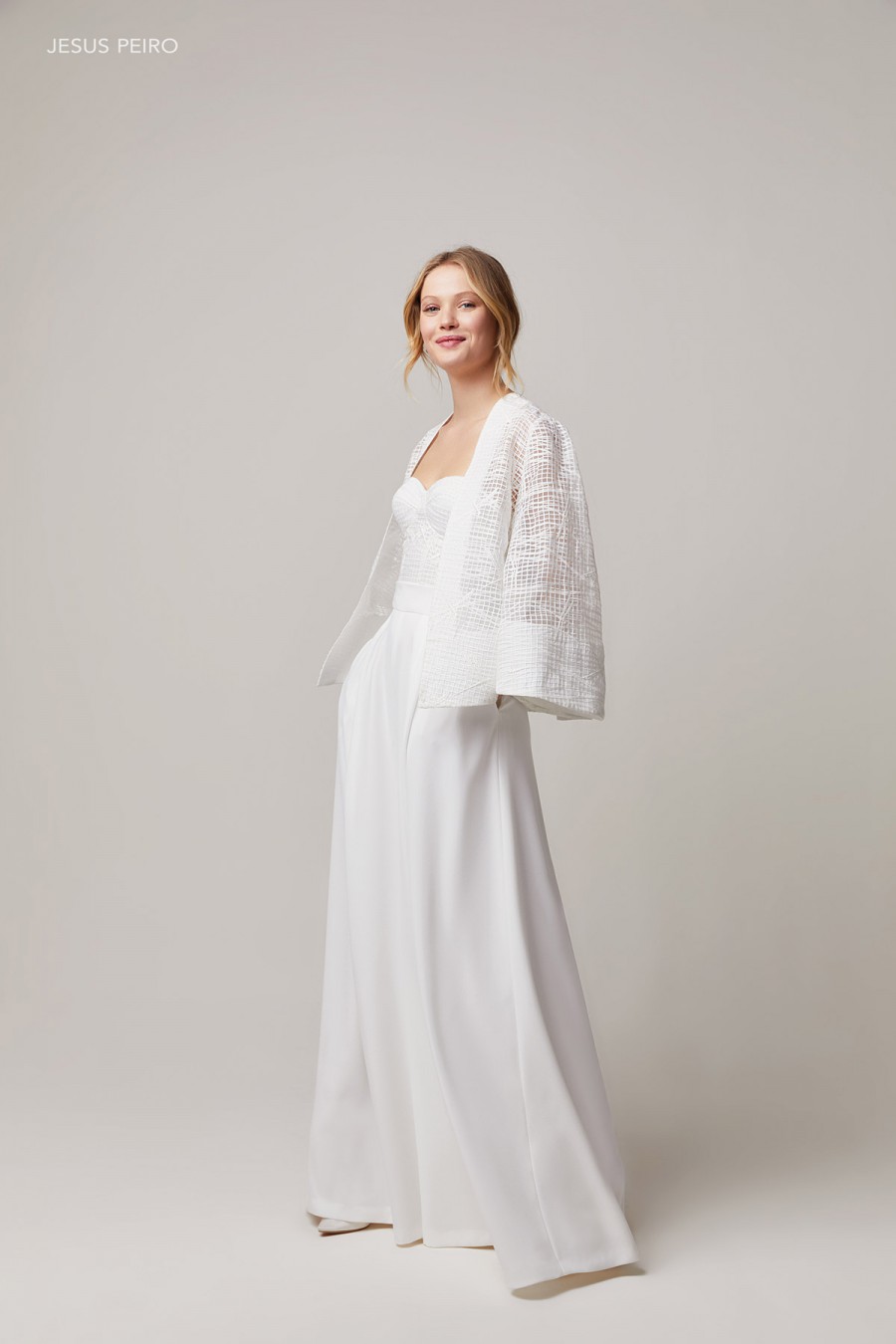 For our contemporary loving brides out there, you are going to love this abstract bridal jacket from Jesus Peiro. A great way to add a modern, artist touch to your wedding day look.
06.

Lace Jacket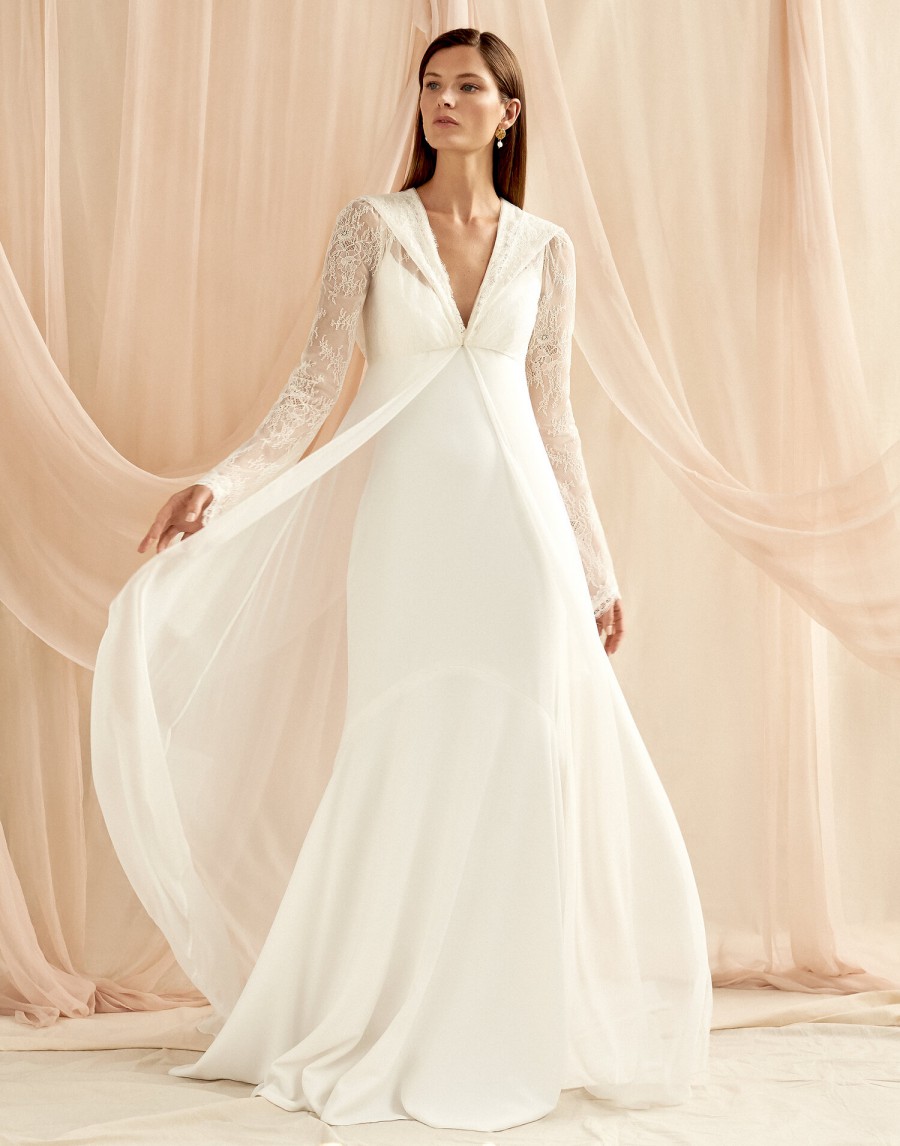 Take your bridal look from day to evening with this gorgeous Chantilly lace and chiffon jacket. Featuring a full hood and delicate scalloped lace detailing. Plus, it has a very cape-like look to it - so you get the best of both worlds!
07.

Chic Polka Dots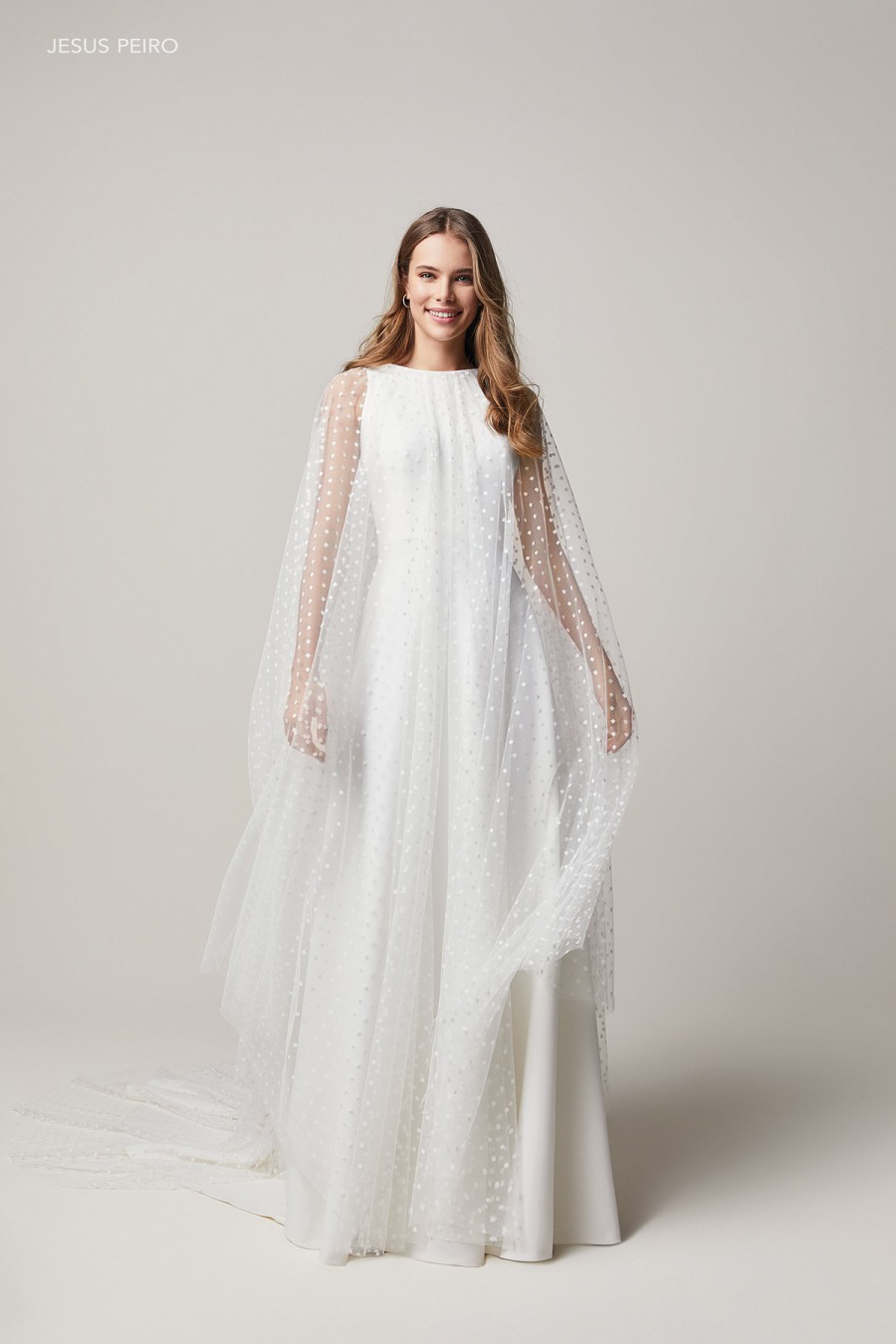 What bride can resist this adorable, sheer polka dotted cape? The perfect trendy and feminine accent to finish off your wedding day style. We love this for a romantic spring wedding day.
08.

Queen Worthy Coat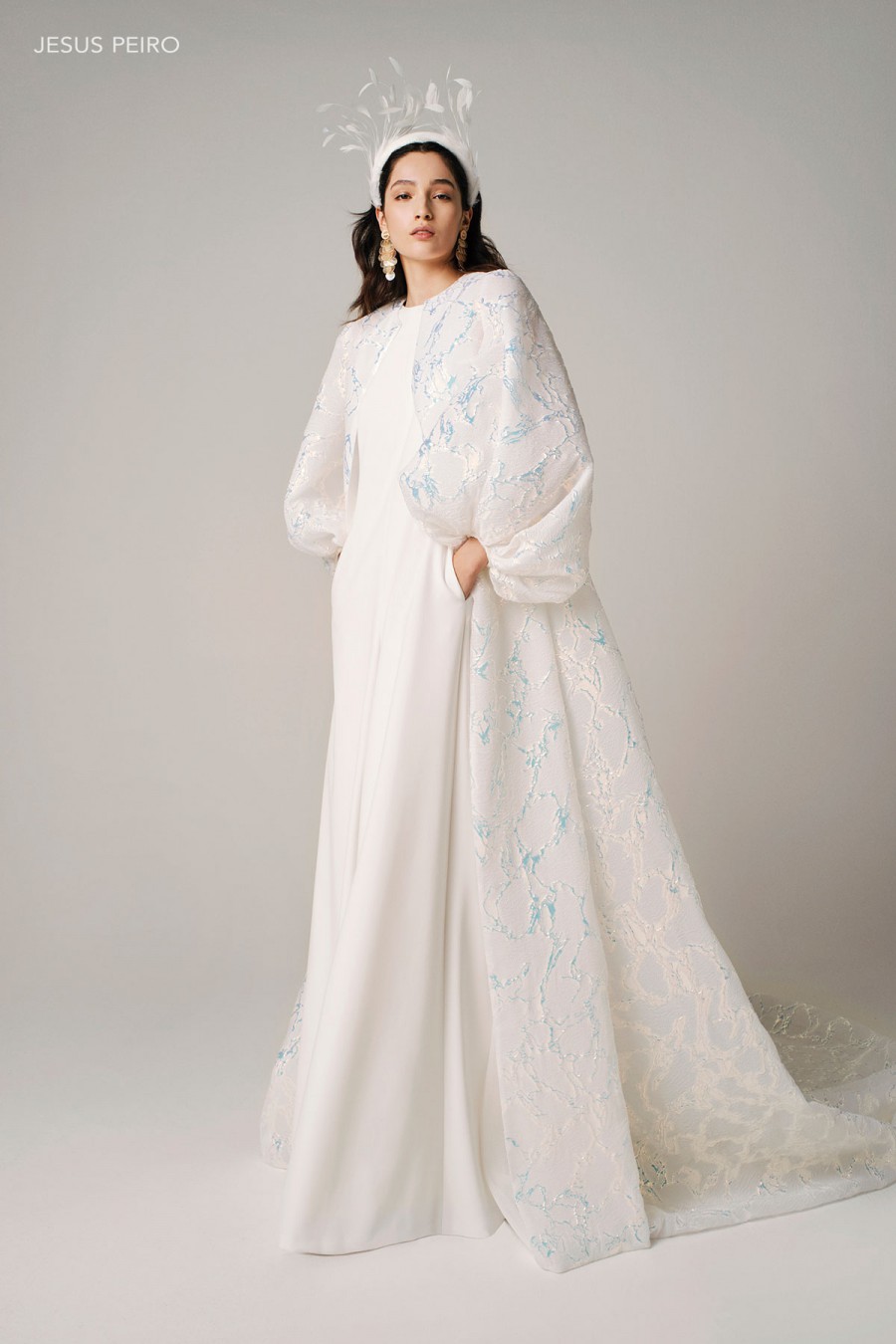 This next bridal coat is modern and stately. A bridal accent like this is sure to demand attention on your big day. Perfect for a wedding day in colder months. And a great way to add just a pop of color to your regal wedding day look.
09.

Tulle Ruffles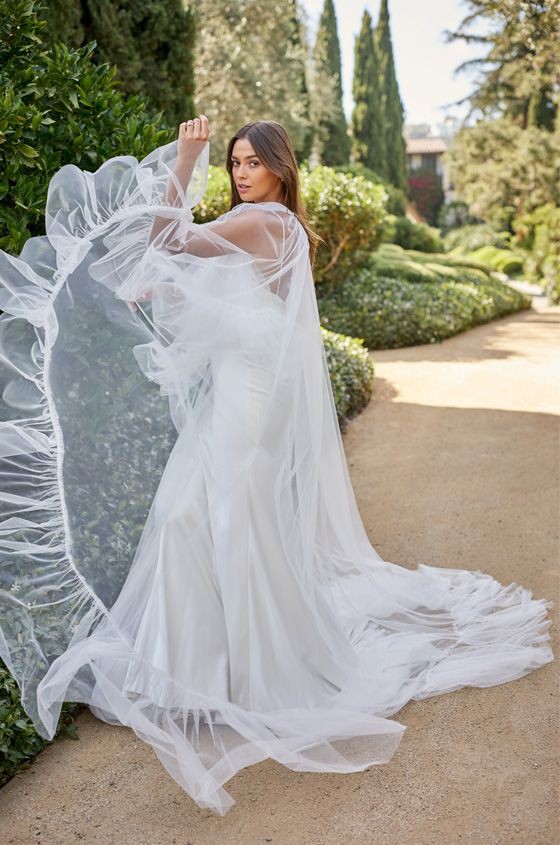 Add a feminine pop to your bridal day look with this gorgeous ruffled tulle cape from Monique Lhuillier. Simple, chic and lavish. And we just can't get enough of it!
10.

Dotted Sparkle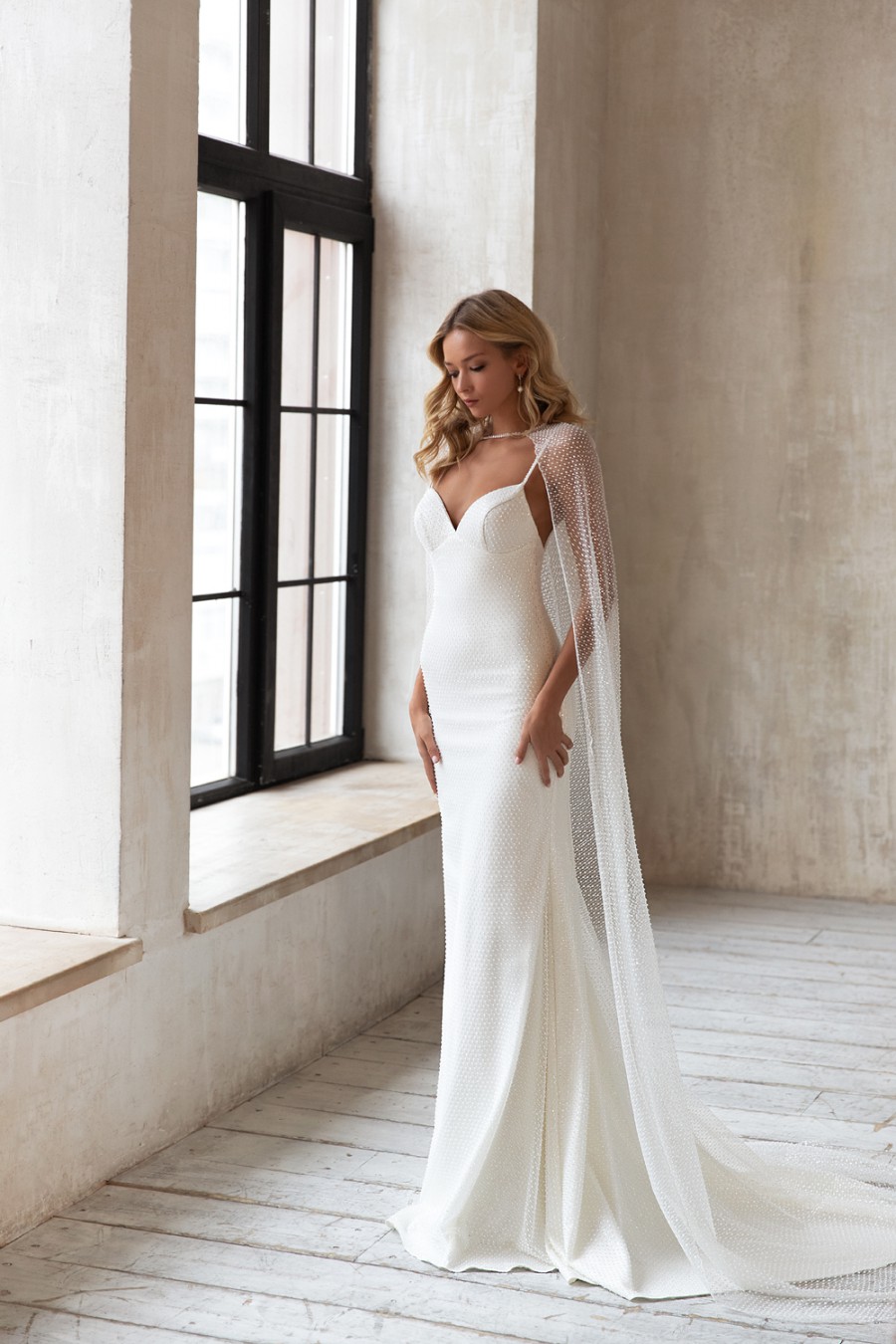 We are in love with this matching transparent bridal cape. Covered in the same dotted sparkle design as the gown, it is hard to resist this chic combination from Eva Lendel.
11.

Structured Maxi Coat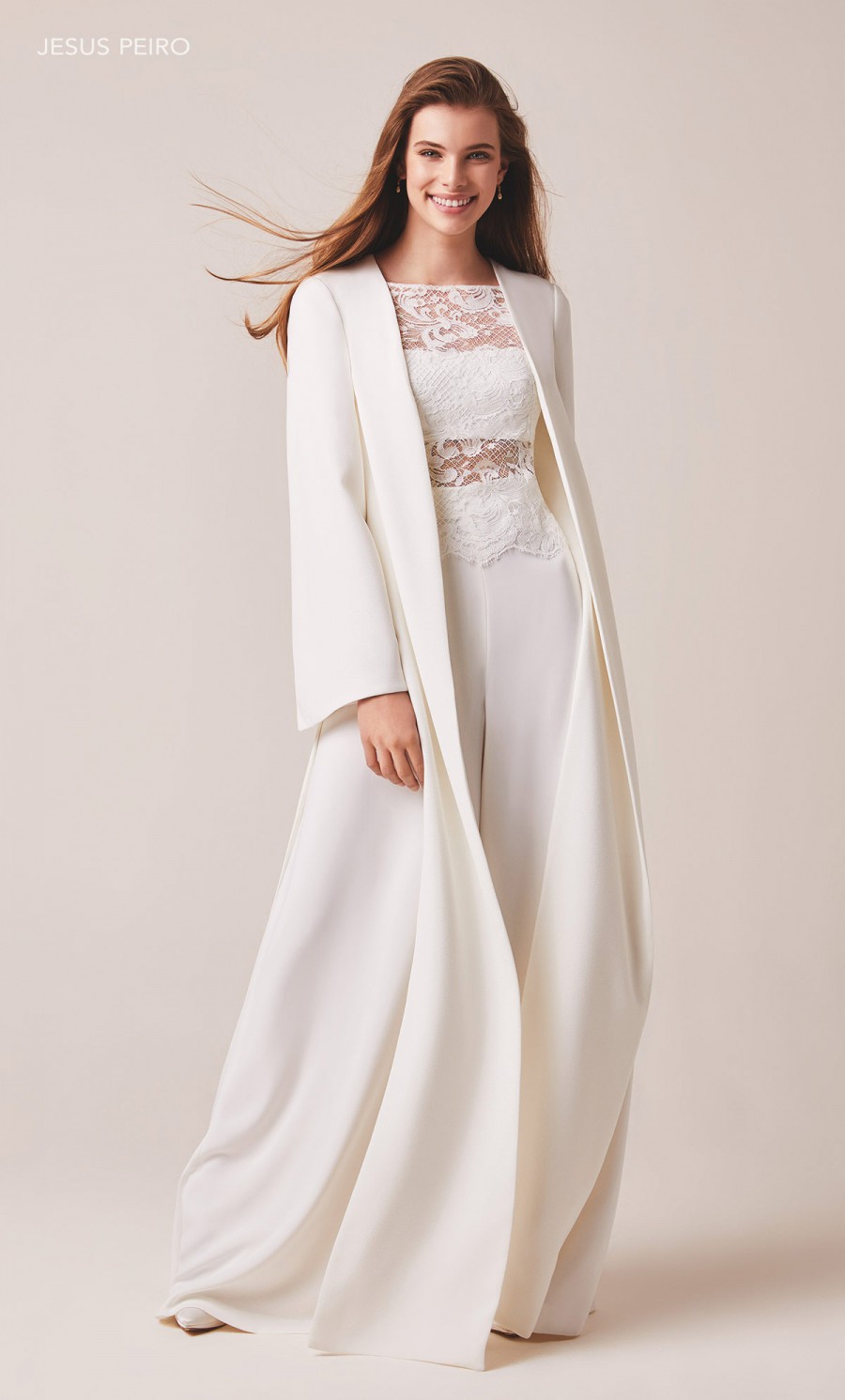 If you have been dreaming of a wedding day in colder weather, then you need to see this stunning maxi bridal coat from Jesus Peiro. A structured, full-length jacket that would be a sophisticated accent to any bridal style!
12.

Ruffled Cape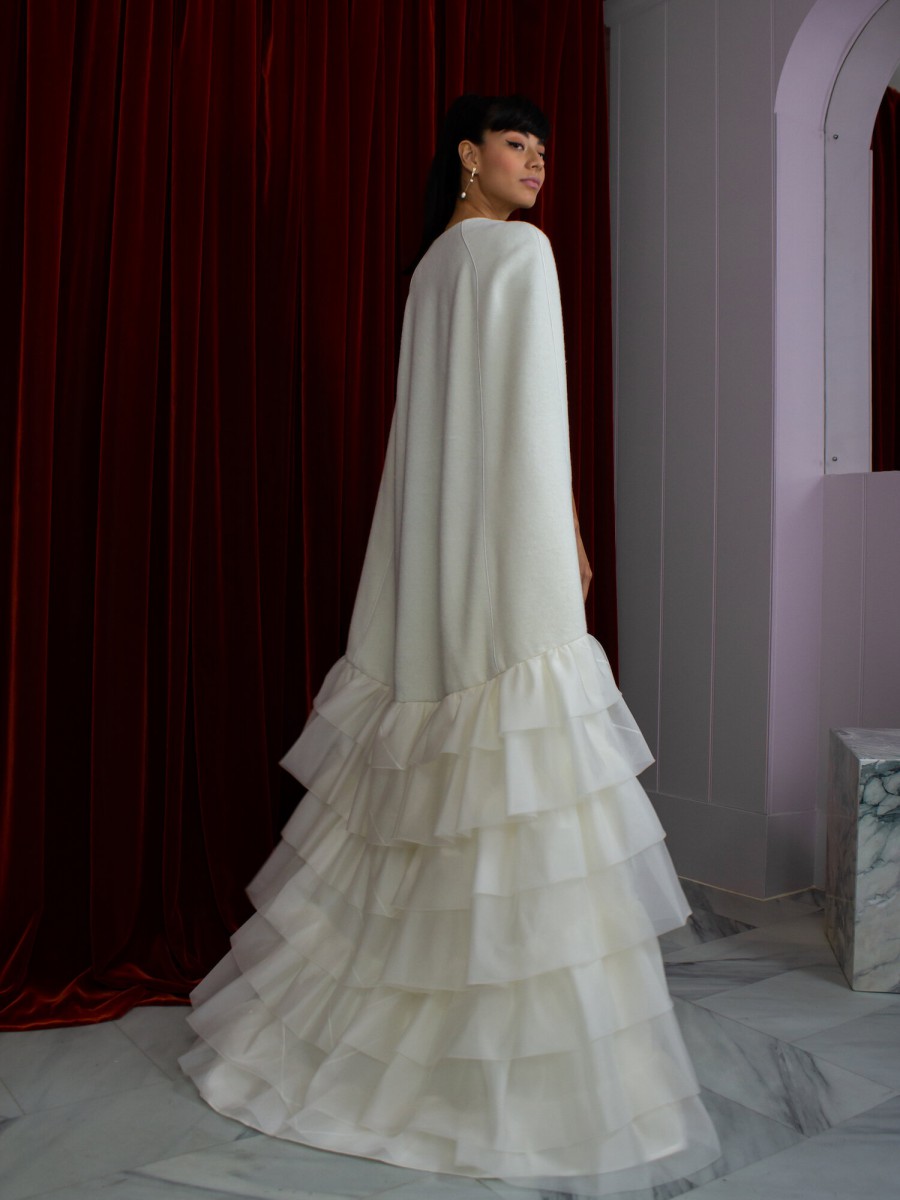 Half Penny London brings us our next couture bridal cape style with this unique ruffled bridal accessory. This cape would be perfect for a colder weather wedding day - and would have any bride feeling like a contemporary fairytale princess.
13.

Vine Coat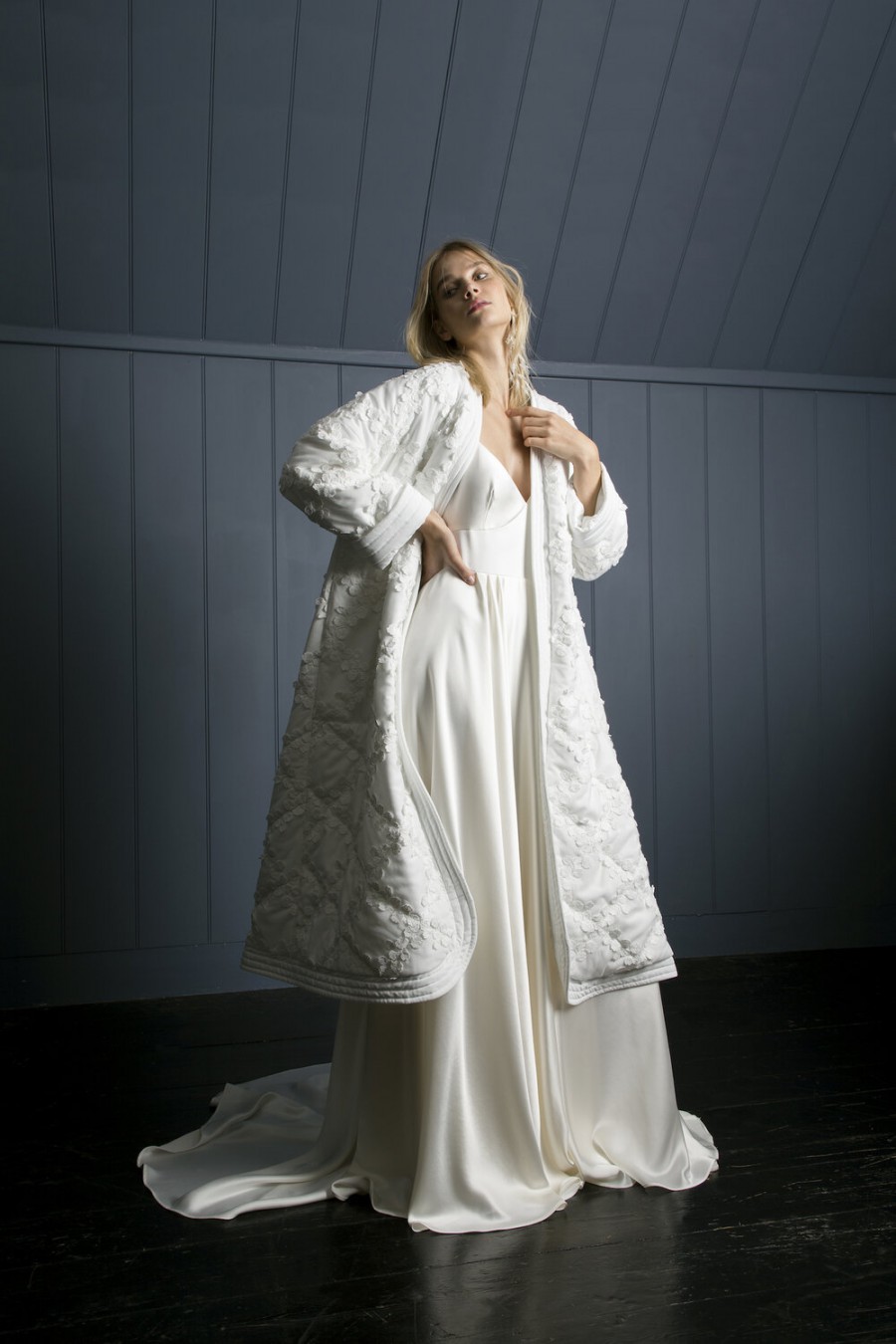 Make a bold statement with this next bridal coat accented with unique vine embroidery. Not to mention that this coat looks cozy and warm for a colder weather wedding day!
14.

Show Stopping Cape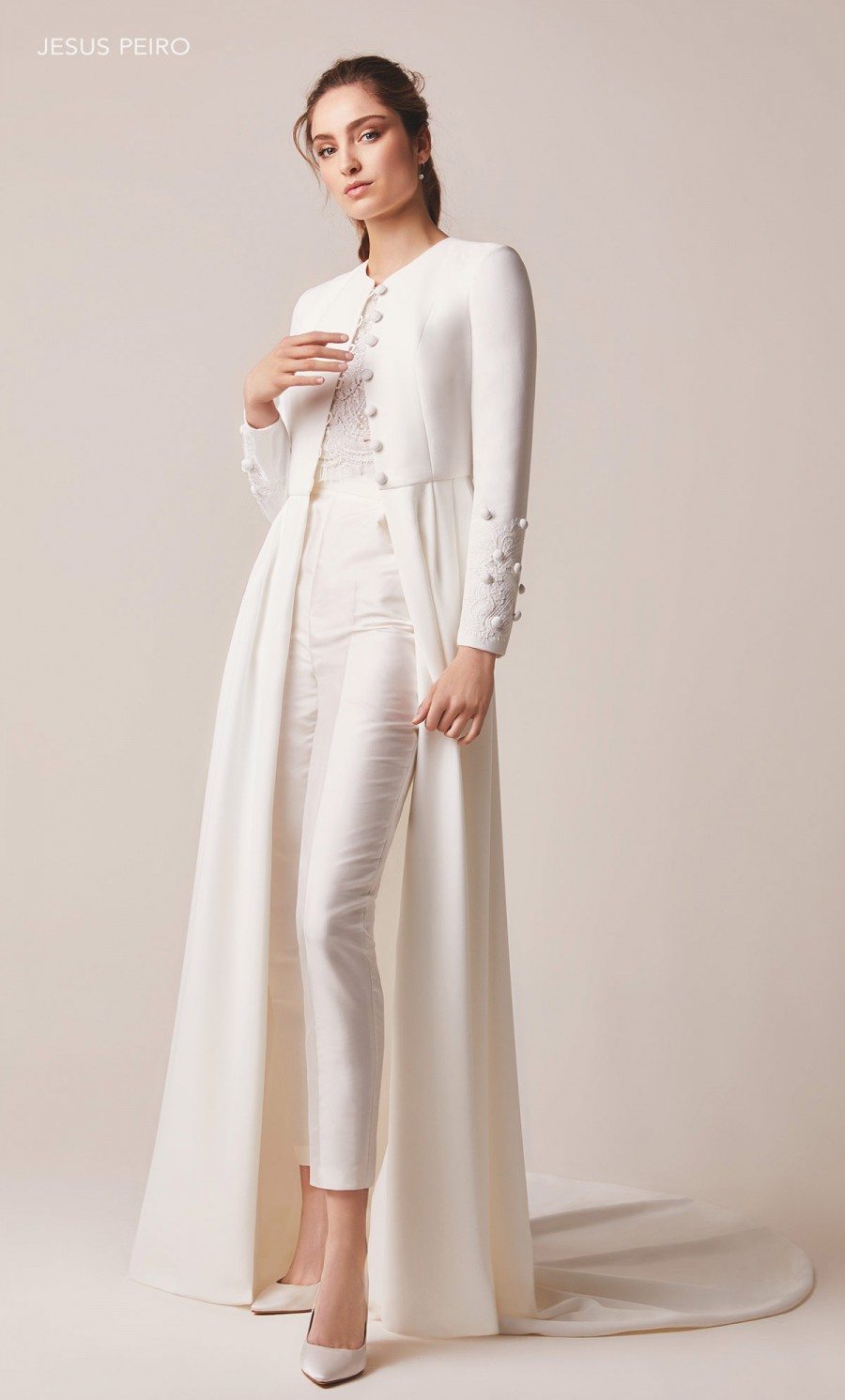 Get ready to steal the show with this detailed, full-length bridal coat from Jesus Peiro. This bridal jacket has some Victorian era inspiration in a very contemporary style.
15.

Weightless Chiffon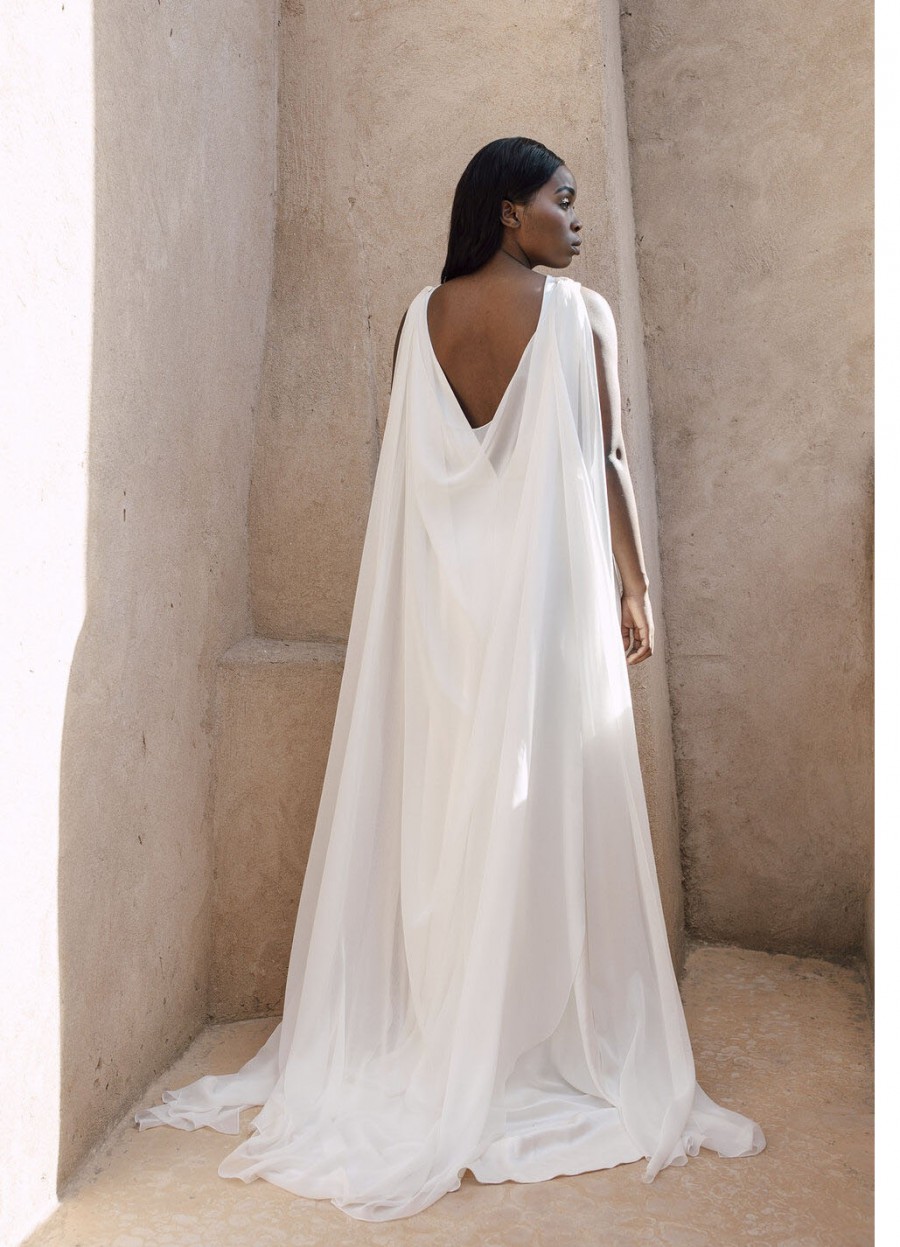 We love this next bridal cape from Charlie Brear with its weightless chiffon cowl back design. This cape will give any bridal look a lighter-than-air, whimsical feel.
16.

Art Nouveau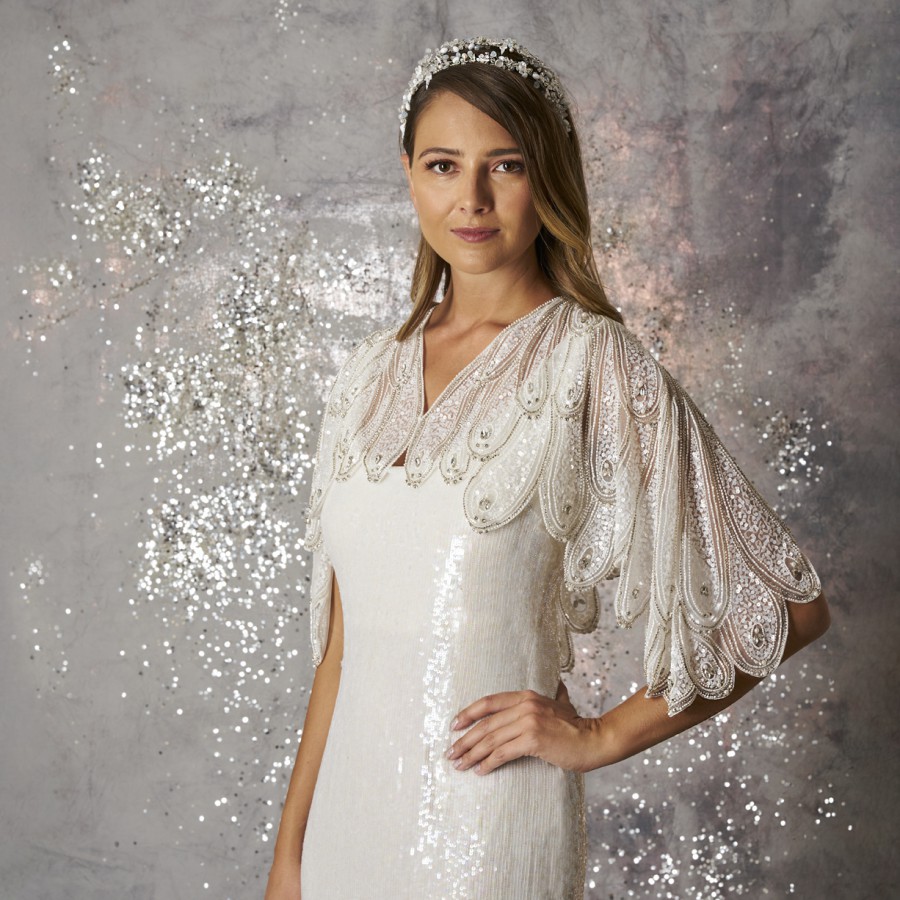 We are loving the vintage, Art Nouveau feel of this next adorable little bridal cape! This accent adds so much drama and sparkle!
17.

Couture Drama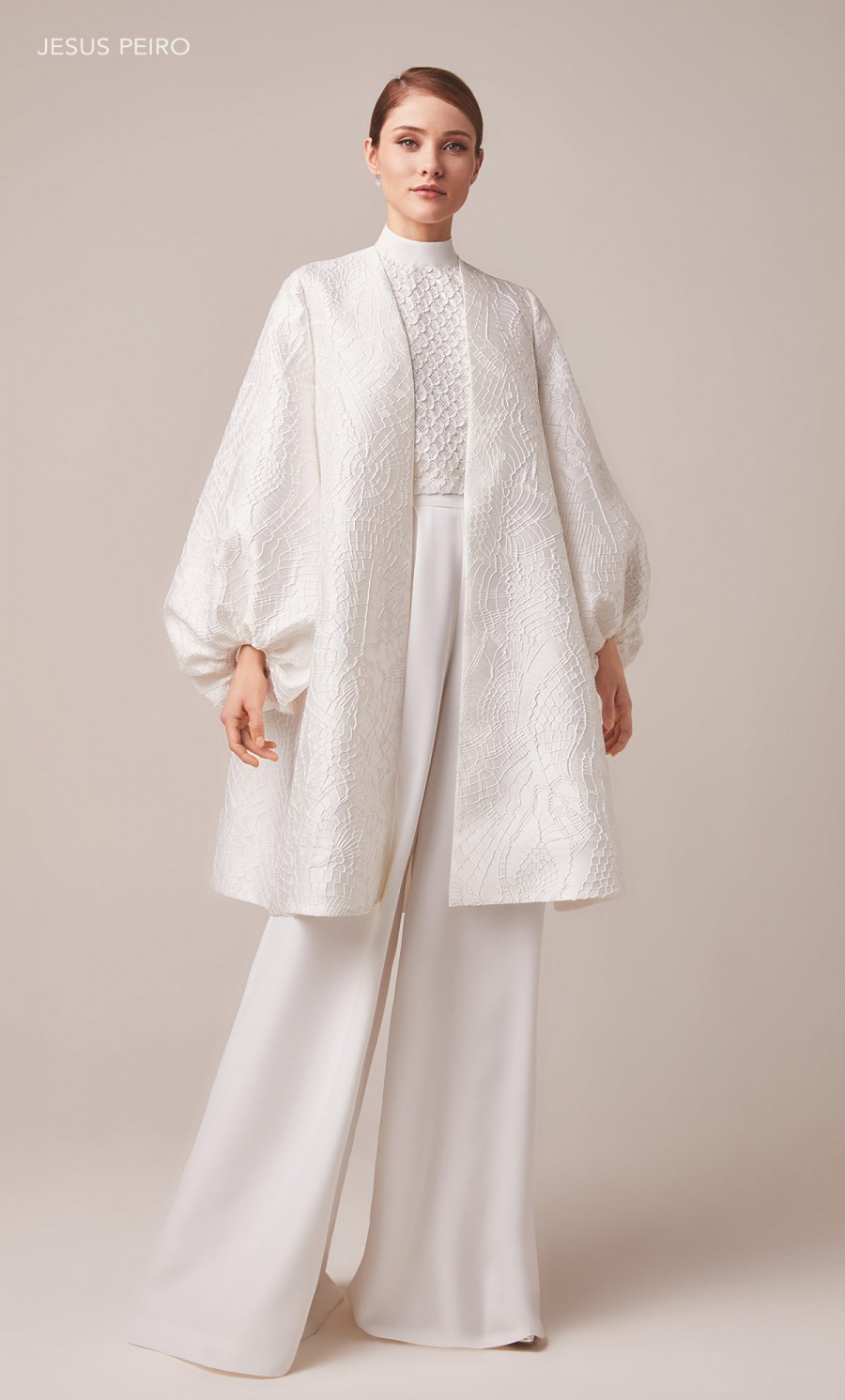 Where are our couture loving, boundary pushing brides out there? You don't want to miss this silk brocade bridal coat from Jesus Peiro.
18.

Glitter Fringe Cape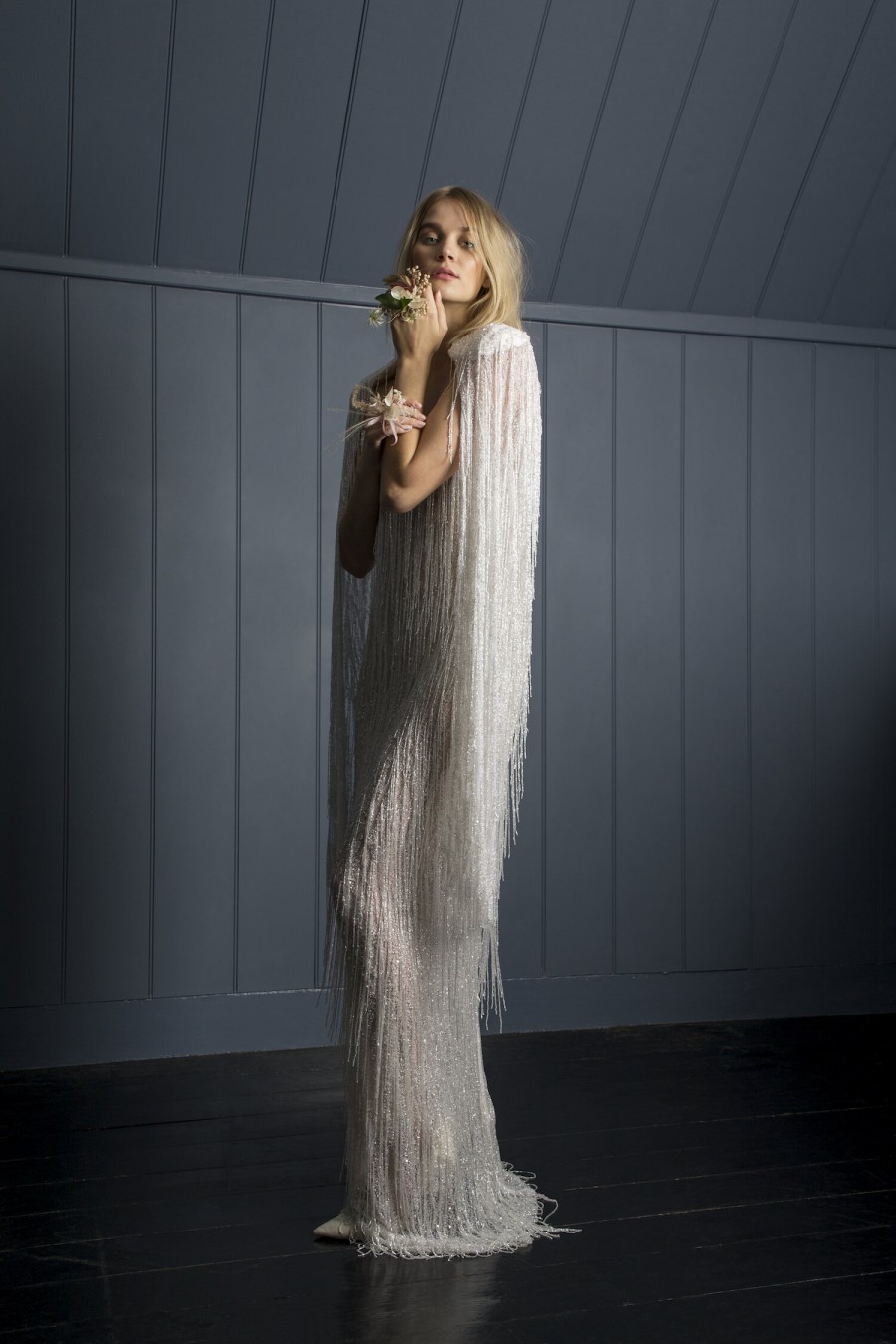 We just can not get enough of this lavish glitter fringe cape. And to really crank up the drama, Half Penny London pairs it with a matching glitter fringe wedding gown. This would be such a festive black tie New Years Eve wedding look.
19.

Clean Modern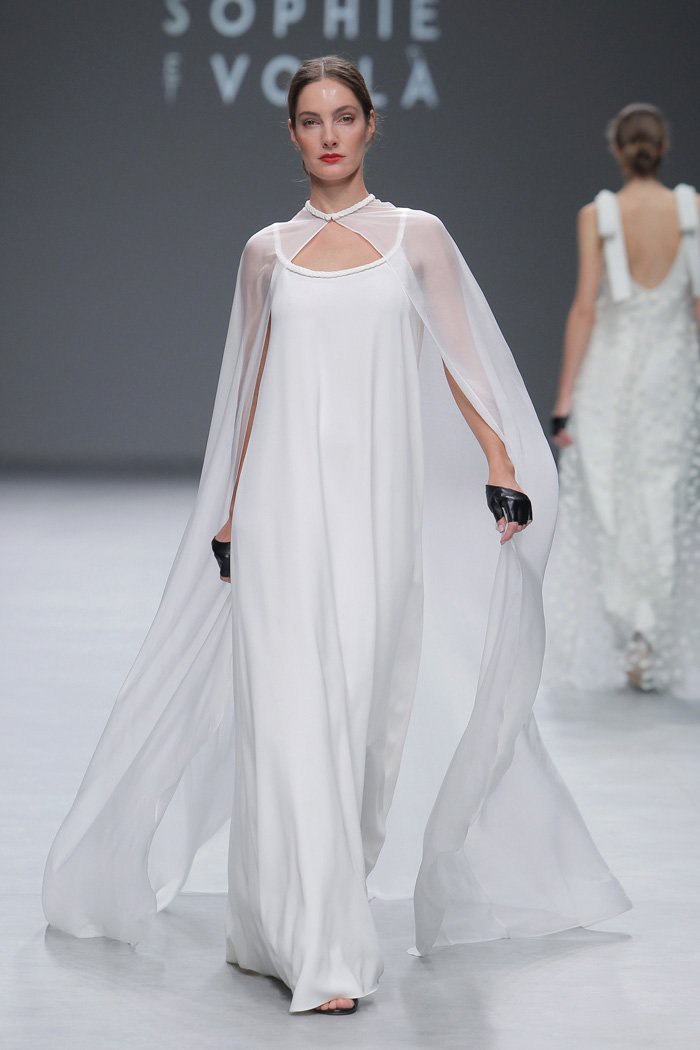 The clean modern combination of this next cape and gown from Sophie et Voila, has a very minimalist feel to it. The delicate sheer cape makes a big statement in a very less-is-more way.
20.

Lace Bomber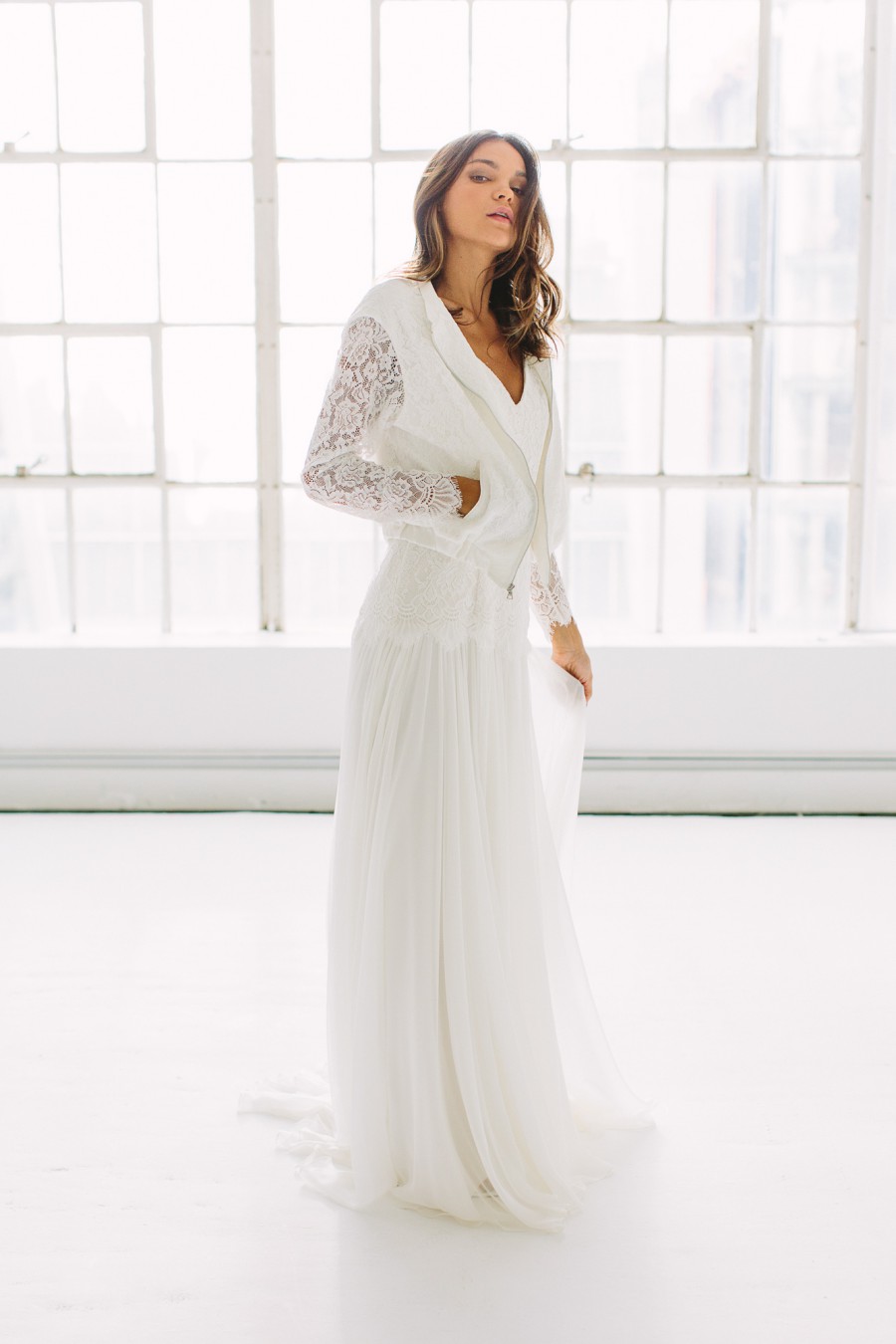 We love the more traditional feel of this bridal bomber jacket. This would be the perfect way to add a modern touch to your wedding day look - while still keeping things very classic and bridal.
21.

Puff Sleeve Coat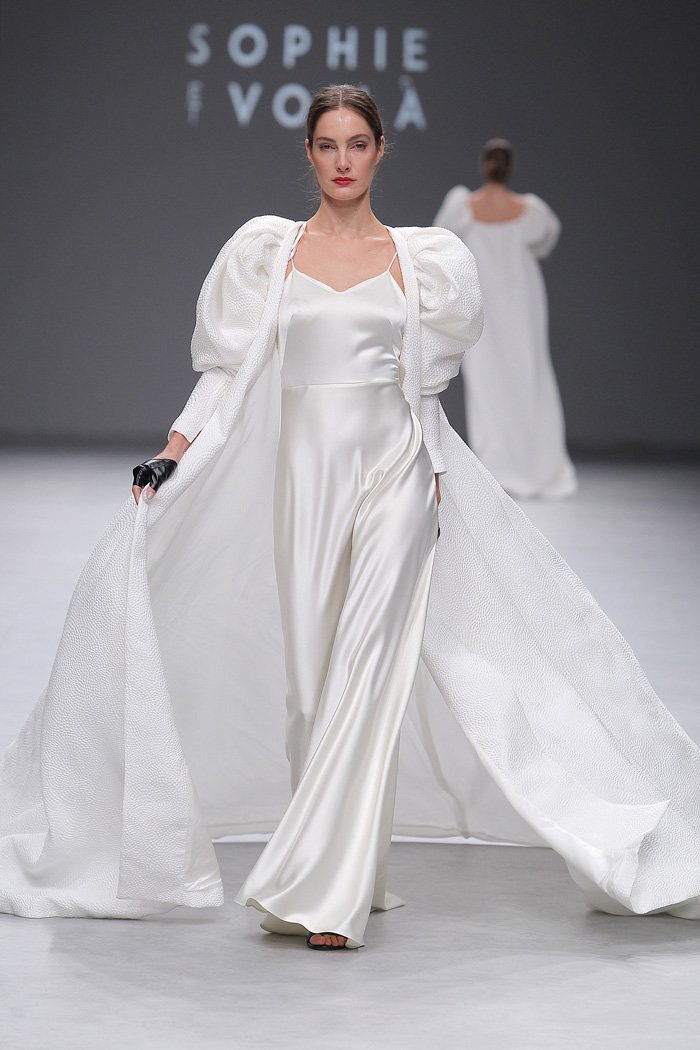 We love how this next coat from Sophie et Voila, has a very cape feel to it as well. It is the best of both worlds. And with its dramatic puff sleeves, this accent is very on trend and couture.
22.

Beaded Bomber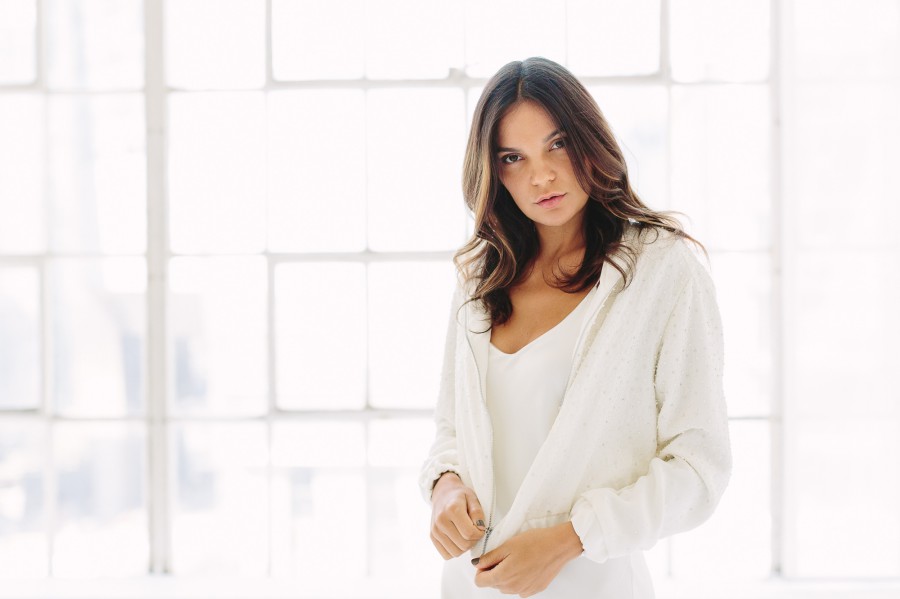 What bride can resist a beaded bomber jacket to finish off her wedding day look? Capes may be trendy, but bomber jackets are classic. So if you are on the fence about whether you can pull off a trendy cape - then you will love this must-have bridal outerwear piece!
23.

Glitter Caplet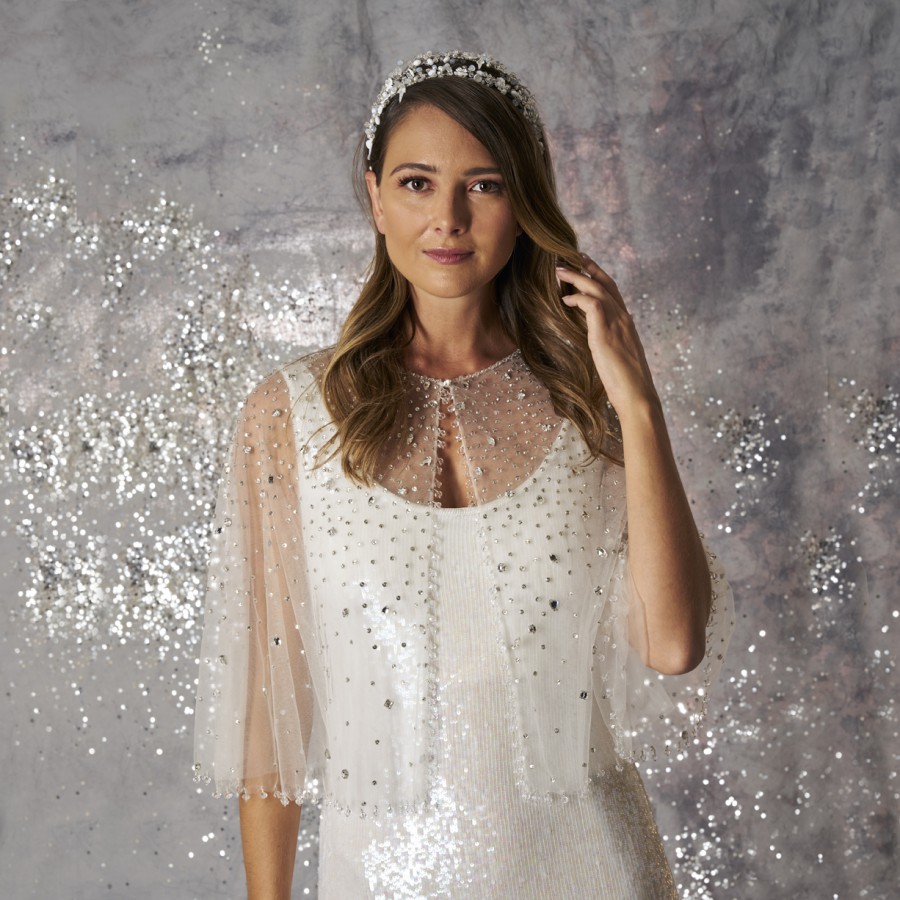 Add a glittery, girly touch to your wedding day look with this adorable bridal cape from Eliza Jane Howell. This cute little caplet is the perfect finishing touch - plus, who doesn't love a little extra sparkle?
24.

Faux Fur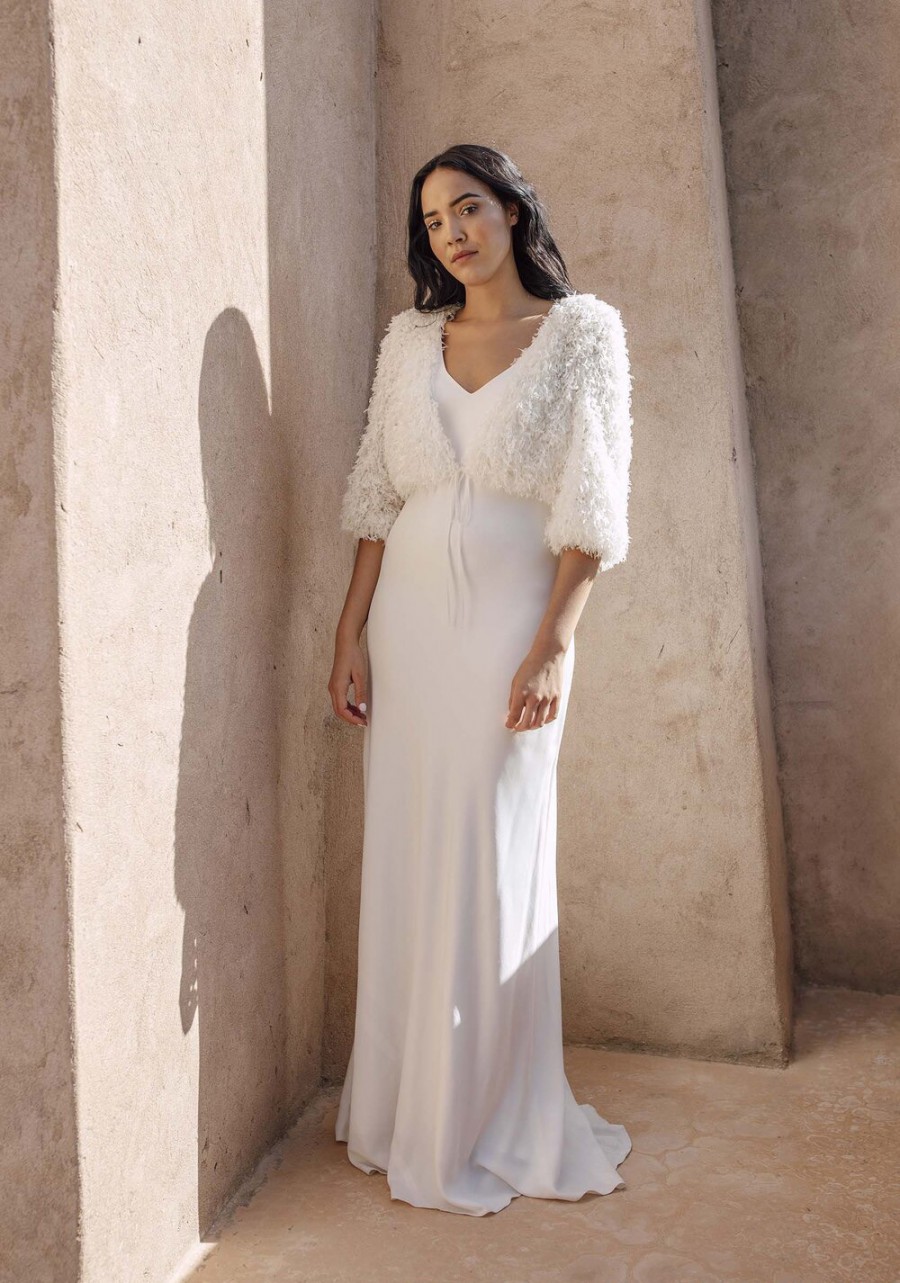 We love the idea of this faux fur bridal coat for colder wedding months. An ultra chic accent, that will also keep you warm and cozy if it is chilly outside!
25.

Pearl Cape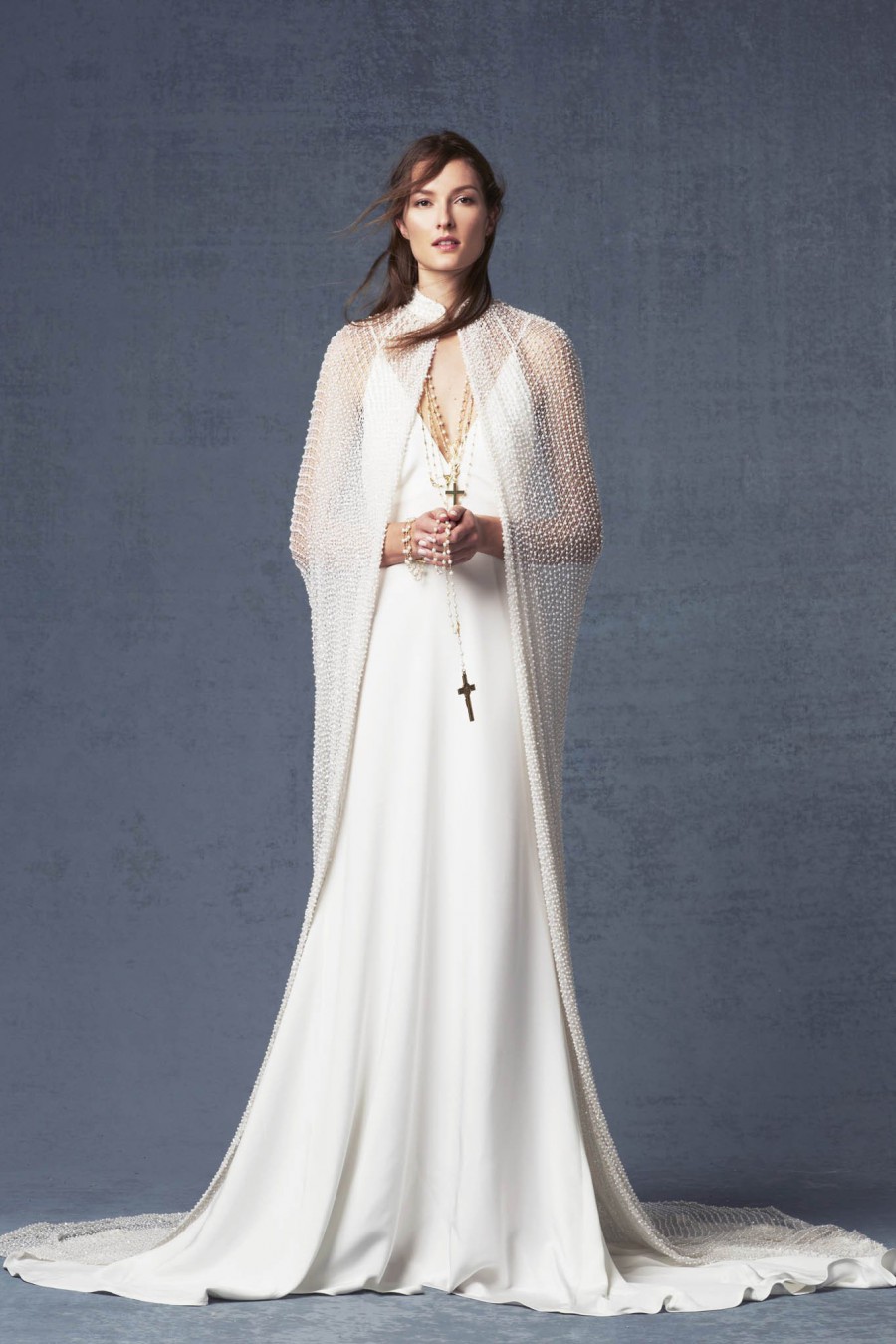 Add a bit of drama to an otherwise simple wedding gown with this gorgeous pearl accented cape from Odylyne the Ceremony. A cape like this gives you the option to add some more detail if you want, and then simplify your look at different times throughout the day.
26.

Feathered Cape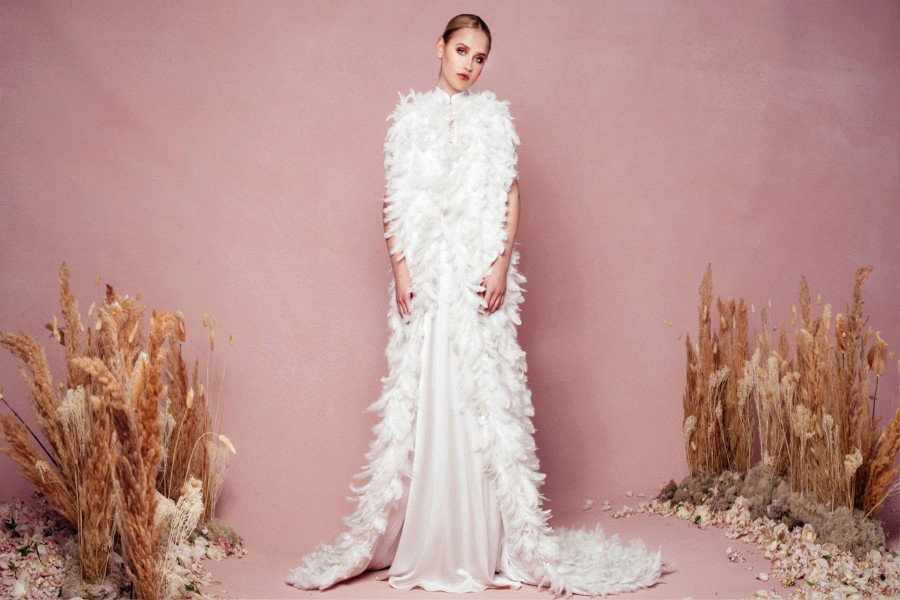 Really amp up your wedding day style with some added texture - like with this luxe feathered cape! We love the sassy drama that this cape creates.
27.

Lace and Tulle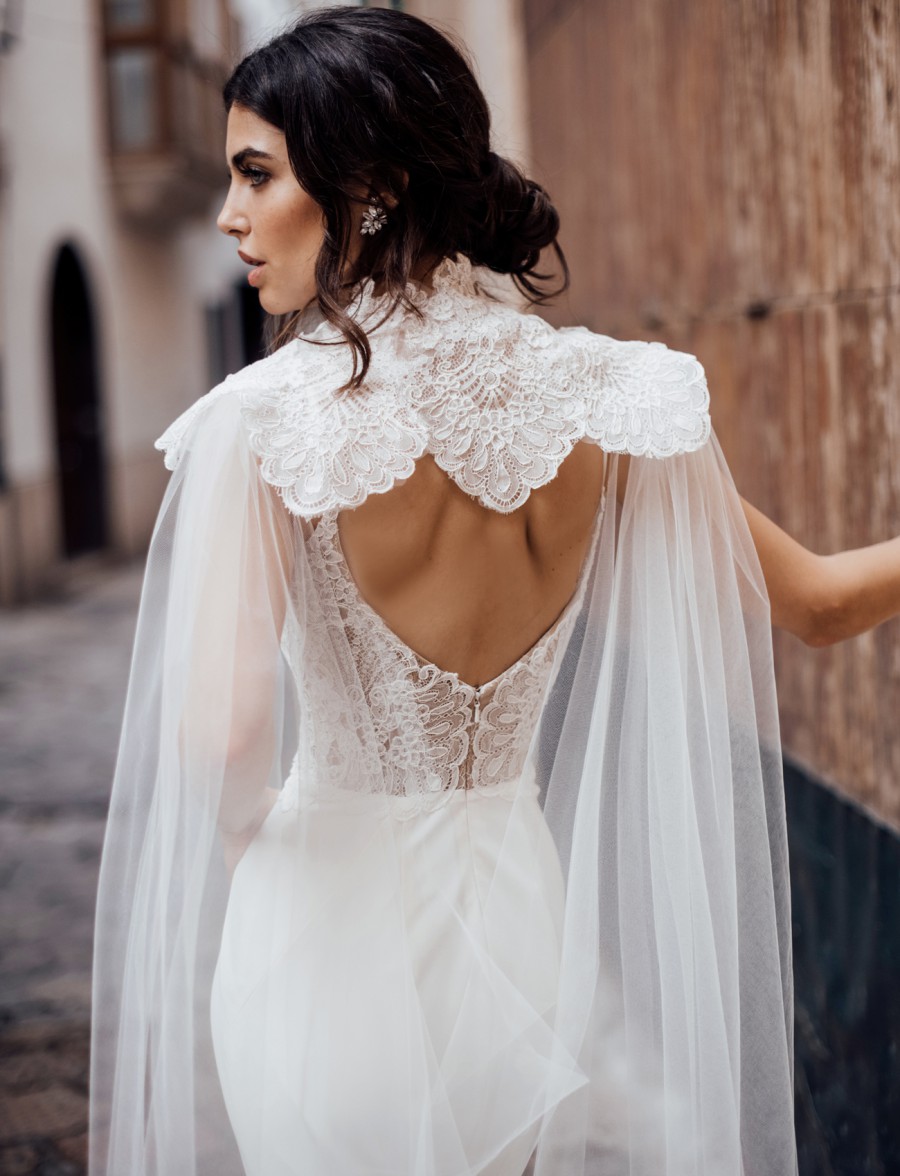 Amp up your wedding day look with this lace and tulle cape from Louvienne. An ultra lavish finish to any wedding day style!
28.

Feather and Fringe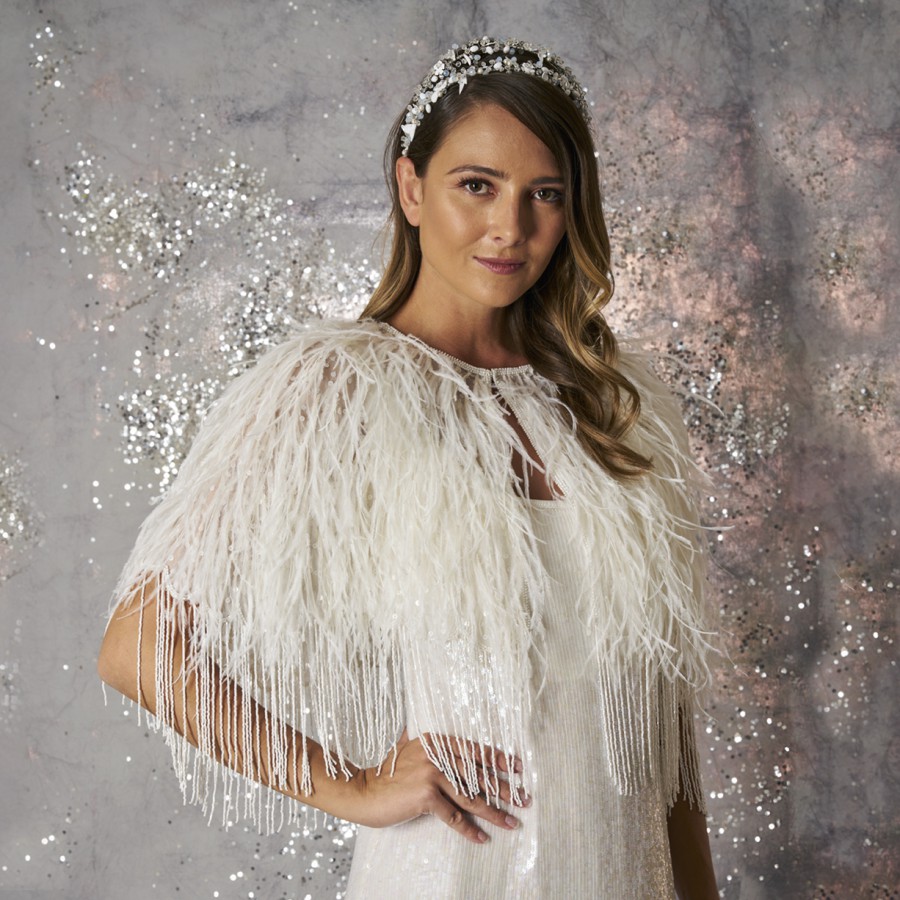 We are getting sassy and festive with this next bridal cape from Eliza Jane Howell. This adorable caplet will add eclectic drama to any wedding day style.
29.

Positivity Cape
Add a boost of positivity to your wedding day with this statement bridal cape from Claire La Faye.
30.

Wifey Bomber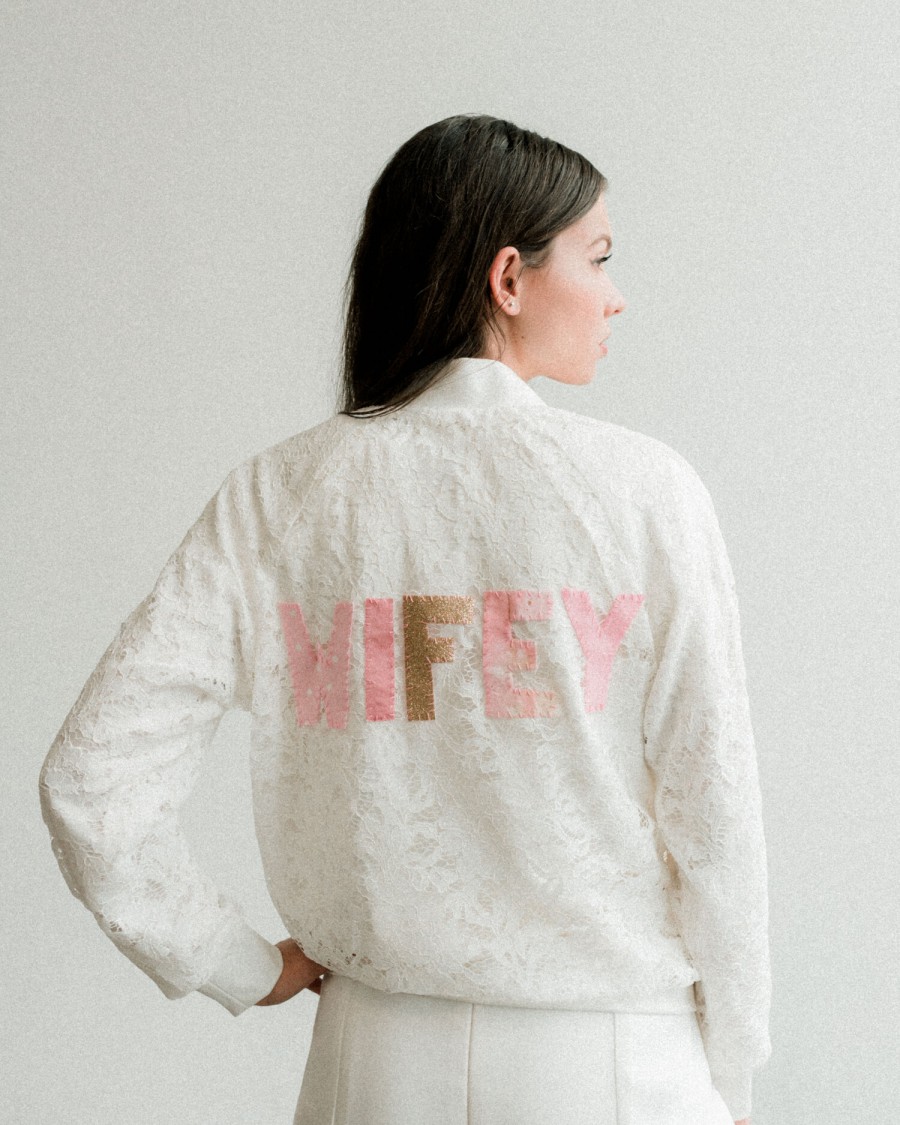 Claire La Faye brings us another statement bridal piece with this "Wifey" bomber bridal coat. Who doesn't love this adorable accent piece?

By Kathryn Schrotenboer