Bree and Josh's classically beautifully wedding has a distinctive Melbourne flavour, from the proposal by the Yarra to a ceremony in the breathtaking elegance of The Dome.
"We were both so confident in the direction the relationship was heading that it didn't take long for Josh to pop the question. Despite giving off the impression that marriage was years away, Josh quietly planned his proposal within eighteen months. He chose the ring himself, on the whim of only a few very subtle hints, and surprised would be an understatement. After a fairly typical 'date night', involving a beautiful dinner at the Grand Hyatt in Melbourne, Josh whisked me down to a beautiful spot by the Yarra on the pretence that we were going elsewhere for dessert. It is one of my favourite views of Melbourne. Sitting here, he lured me along with a little game that reflected one he used to ask me out in the first place. To my absolute disbelief he eventually got down on one knee. I couldn't see the ring he was offering through my tears!
All I'd ever wanted in a proposal was to be completely surprised – he nailed it.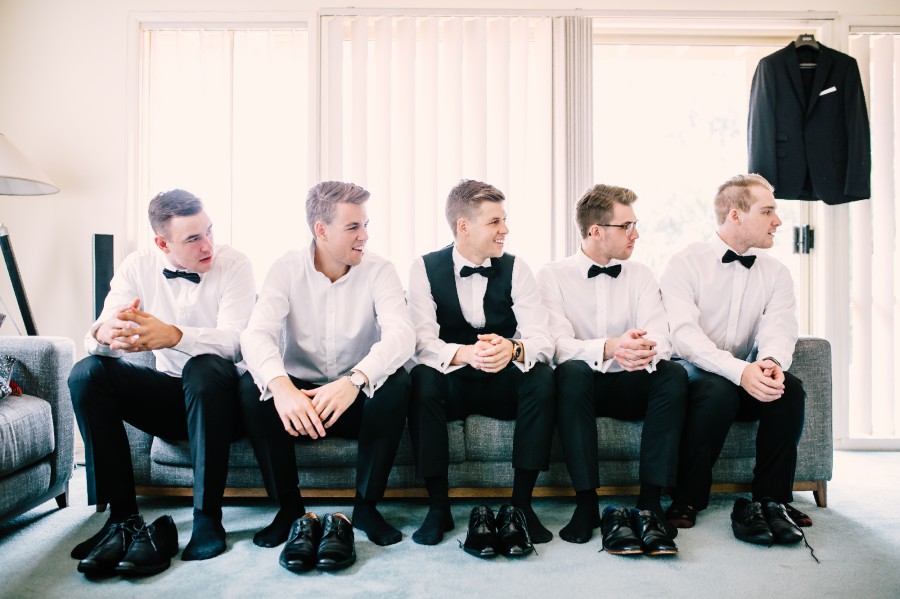 "I actually discovered the dress while travelling in New York. I had been to Karen Willis Holmes in Melbourne & loved the Johanna dress, but wasn't sold on it as it didn't quite seem to suit the grandeur of 333 Collins. I popped into their newly-opened store in Soho just for fun, and because we had the place to ourselves, lovely Stephanie let me try on just about every dress they had. I fell in love with the Clarisse train, and when I returned to Melbourne I tried it on with the Johanna dress, and was absolutely sold. The thing I loved most about the dress was how unique it was from all the others I had tried. The halter neck was unusual and so flattering. And I absolutely adored how the dress was transformed to something quite bold with the addition of the Clarisse train, and then simplified for our more rustic reception by taking it off. I felt as though I had two dresses, both perfectly suited to our venues.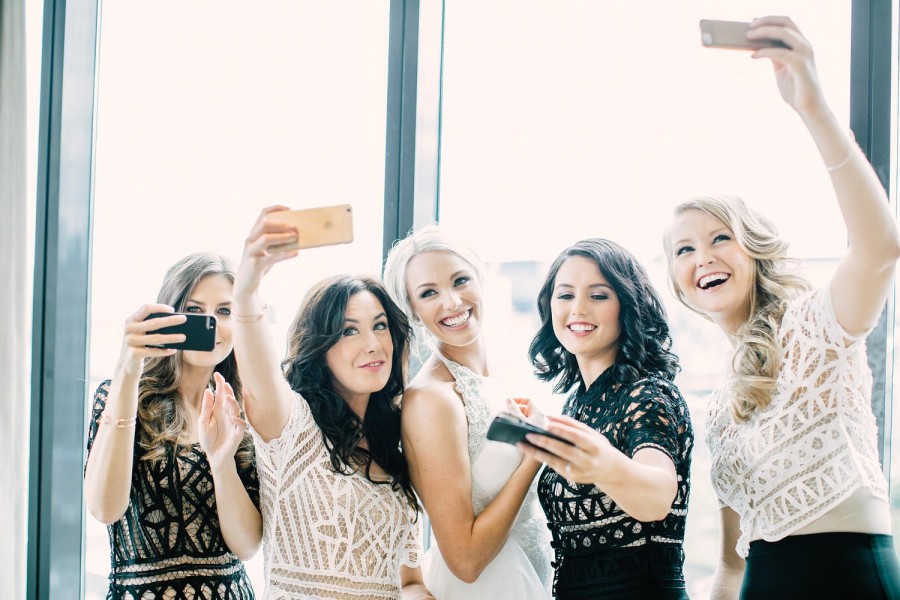 The bridesmaids' dresses were one of my favourite features of the whole day. They were Stone Cold Fox dresses and tops, ordered online from LA. I loved the classic aspect of black & white which tied in so well with the rest of the bridal party, whilst still creating intrigue with each of the girls slightly differing in style or colour.
One of my most time-consuming and laborious tasks is the one I am the most thankful that I pursued. Josh and I are very people-oriented. I couldn't bear the thought of leaving our wedding without expressing to each individual how much we loved and valued them. So we made our place cards out of gorgeous little kraft paper coin envelopes, and filled them with personal notes from both of us. It was a lovely surprise as each of our guests slowly discovered there was more to their placecard than a handwritten name. I left the reception feeling as though we'd done as much as we could to make each and every person feel special, even if we didn't have the opportunity to do so in the busyness of the day."

Photography: Jeff Chen Photography Bridesmaids: Stone Cold Fox Groomsmen: SABA Stylist: The Details Co. Ceremony: 333 Collins St Melbourne Reception: The Abbotsford Convent

By Ingrid Szajer