Get ready to tie the knot with these 20 bow accented wedding gown styles.
Bow details are a classic accent that can add a sophisticated, feminine touch to any wedding day style. And contemporary bridal trends are embracing this classic accent like never before. So we have gathered 20 of our favorite on trend bow accented wedding gowns that we know you are just going to love!
01.

Black Bow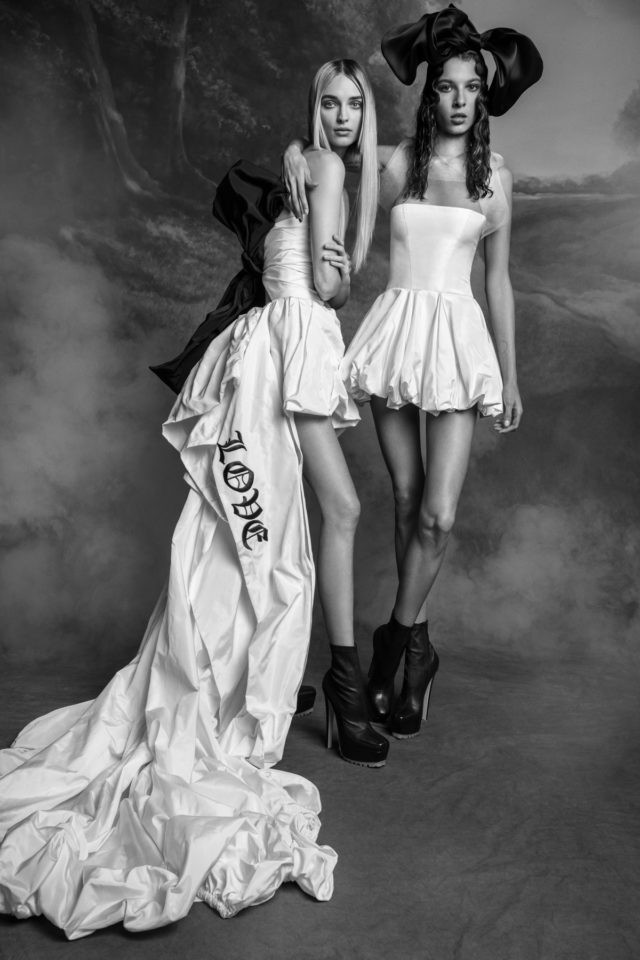 Flirty, feminine and ultra couture. This bridal mini with dramatic long train and black bow accent is ultra fashionable and edgy.
02.

Dramatic Mermaid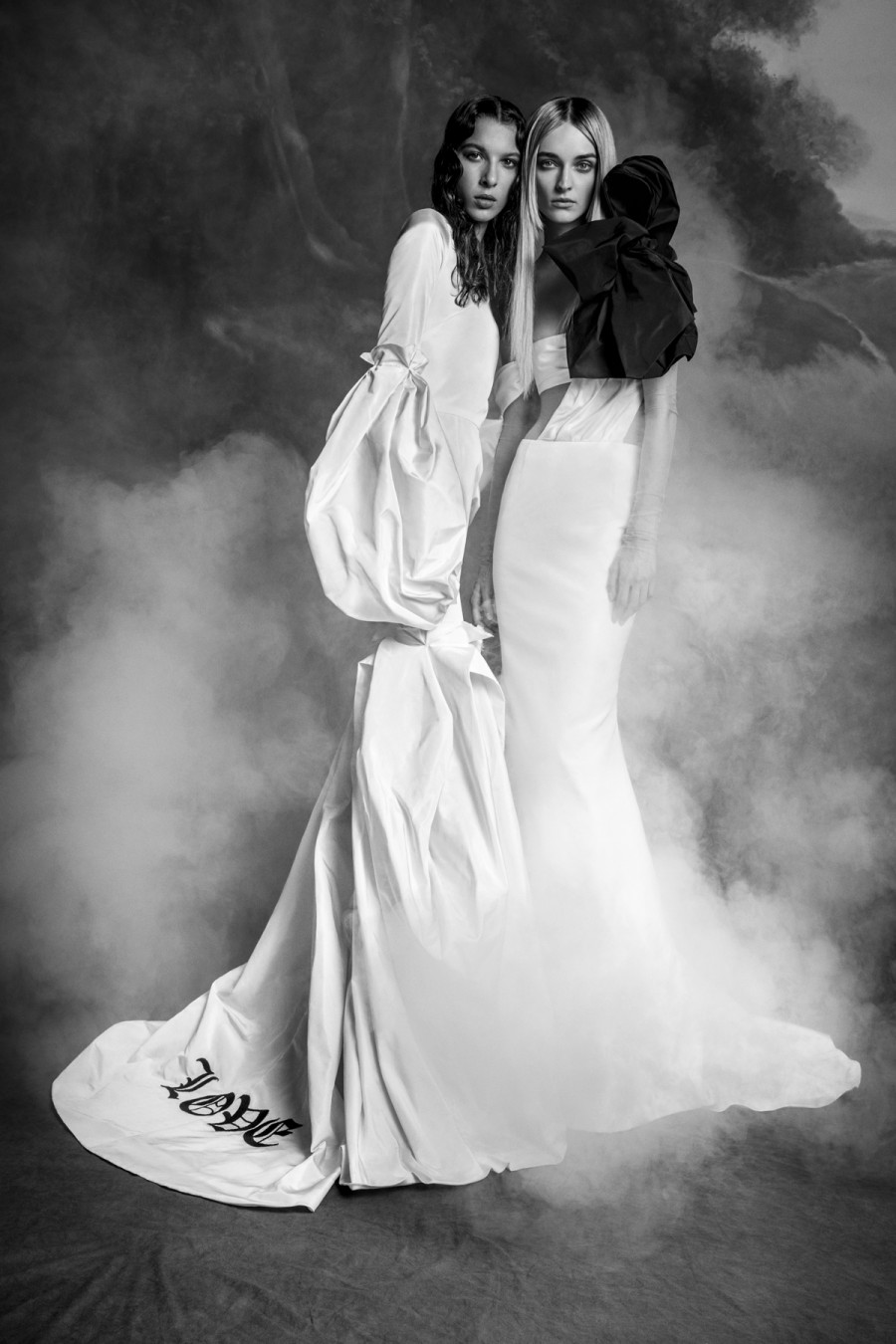 Vera Wang brings us another dramatic bridal style with a black bow accent at the shoulder to give the gown an edgy feel.
03.

Proper and Polished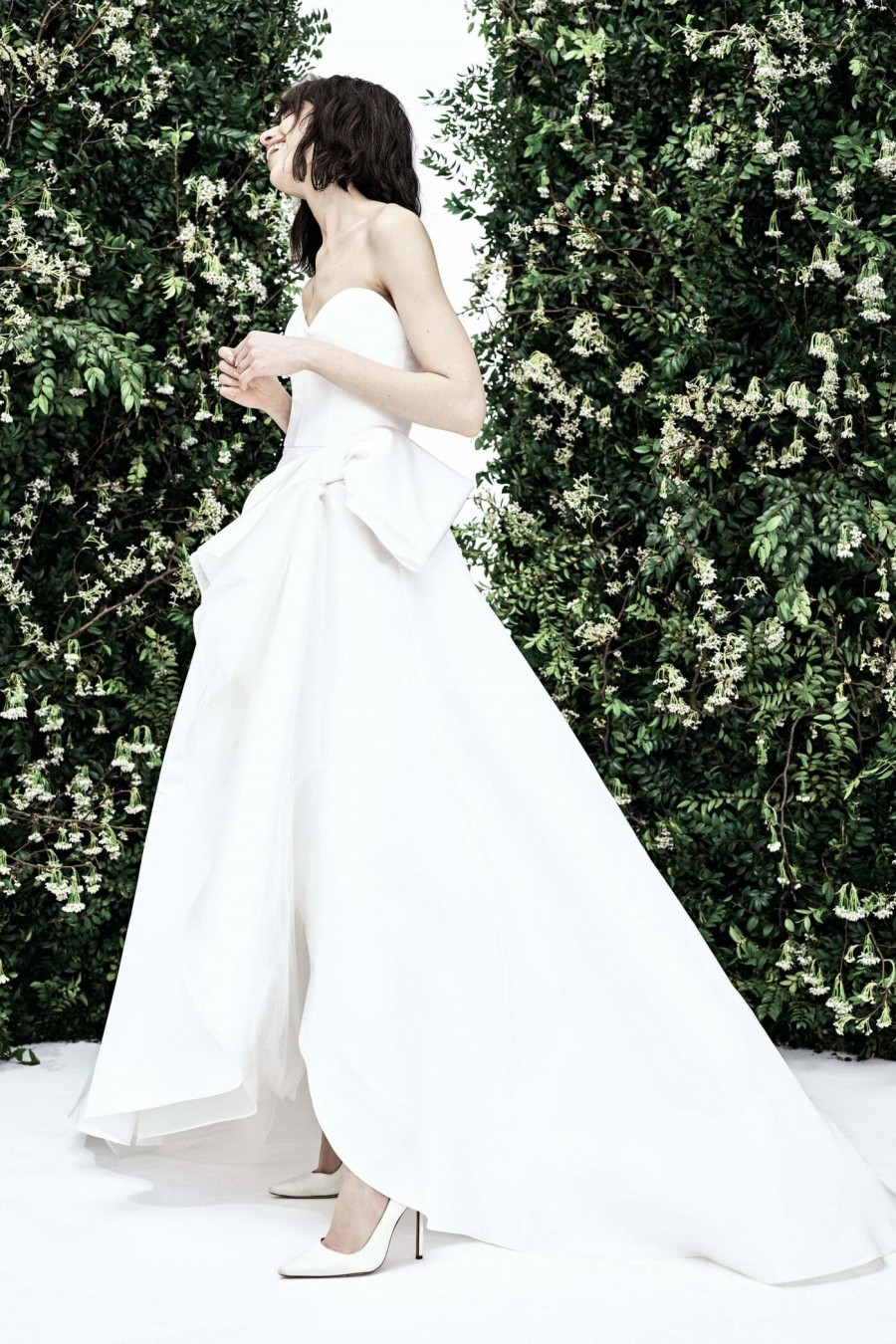 Our next bow accented wedding gown comes from Carolina Herrera. This gorgeous strapless a-line gown is polished, proper, and finished with a beautiful bow detail.
04.

Modern Oversized Bow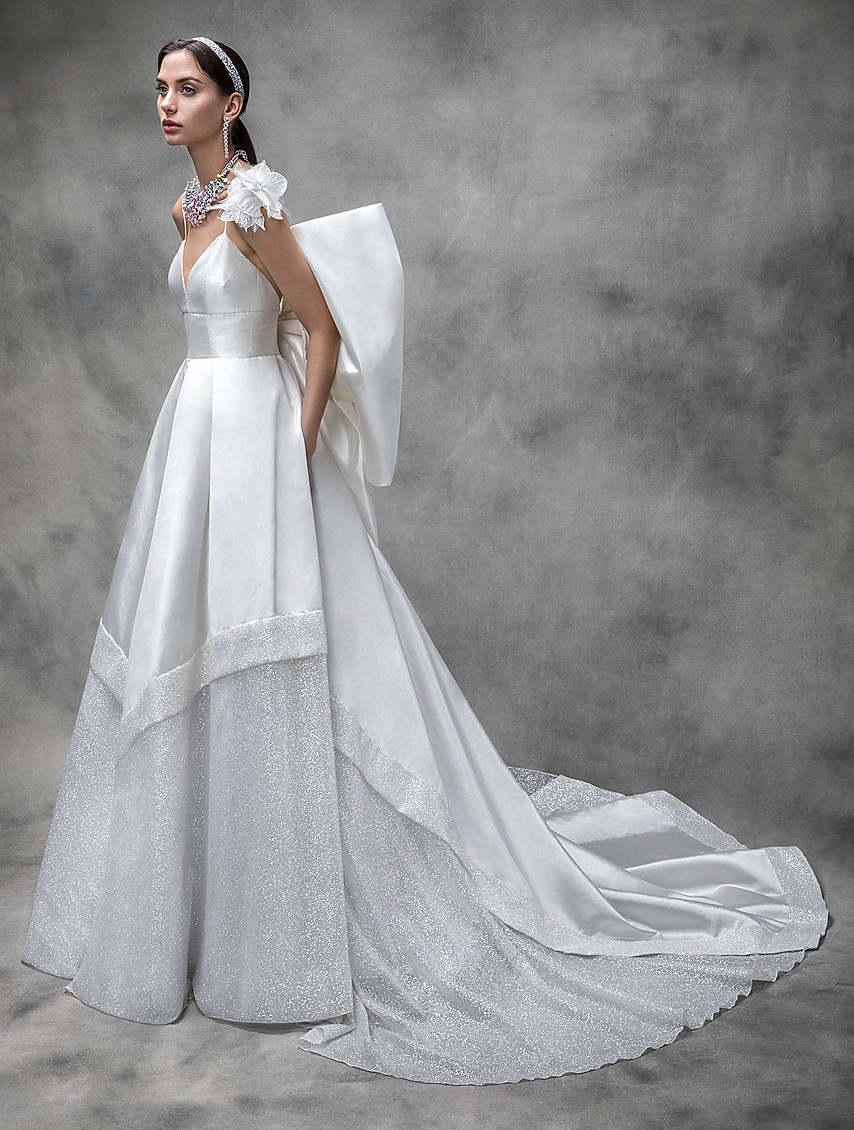 Victoria Kyriakides brings us a stunning modern wedding gown that features an oversized bow accent. This style is both sleek and dramatic.
05.

Bow Skirt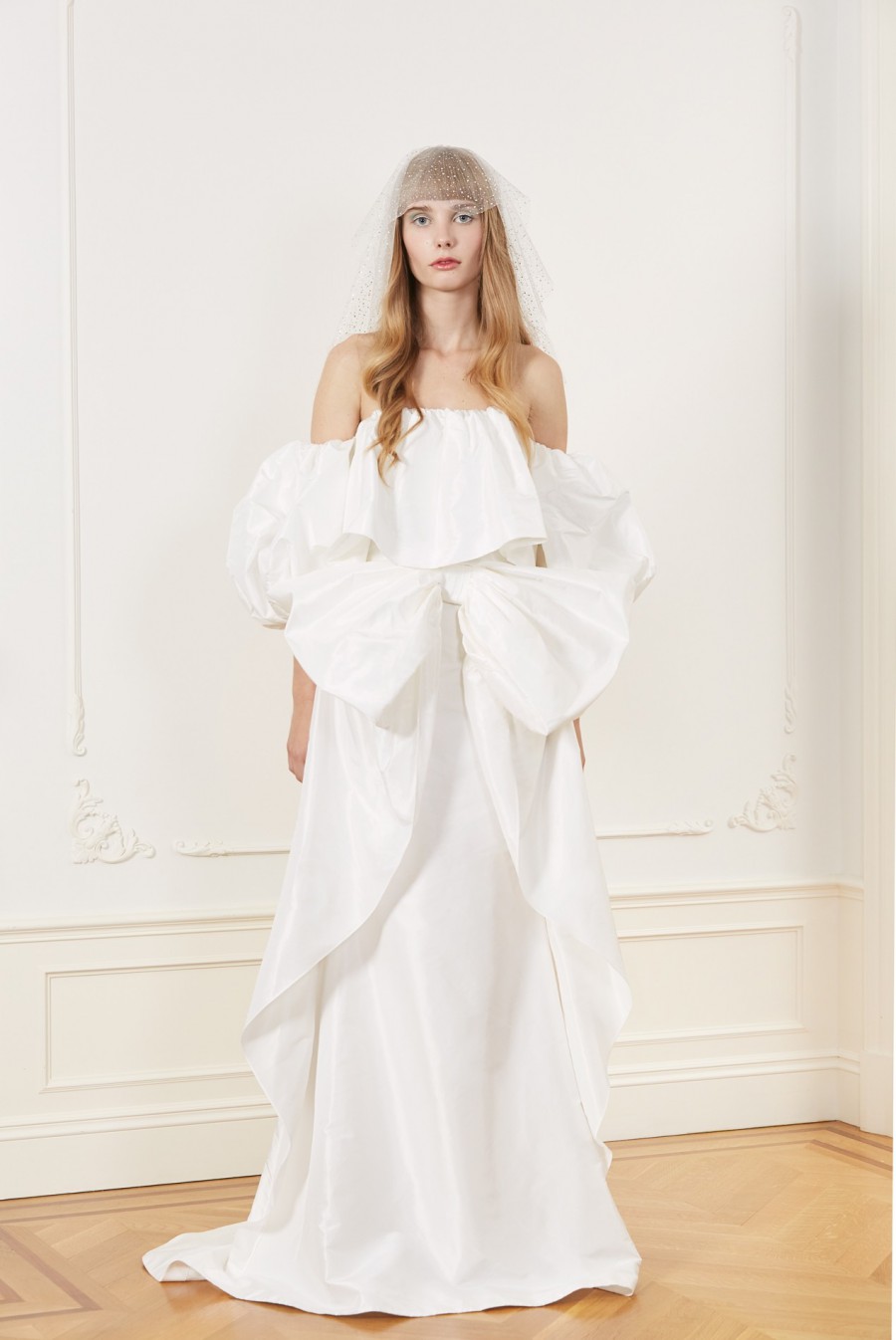 This ultra couture wedding gown from Honor features a draped taffeta blouse paired with draped bow skirt. Contemporary and chic.
06.

Sheer Bow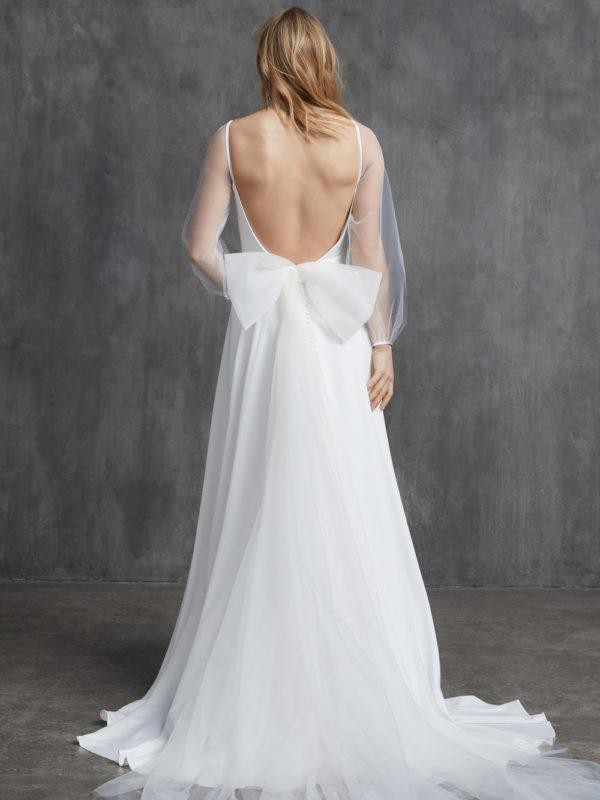 This next bow accented wedding gown from Kelly Faetanini features lush sheer sleeves and a sheer tulle bow accent in the back. A truly effortless, modern wedding style.
07.

Abstract Bow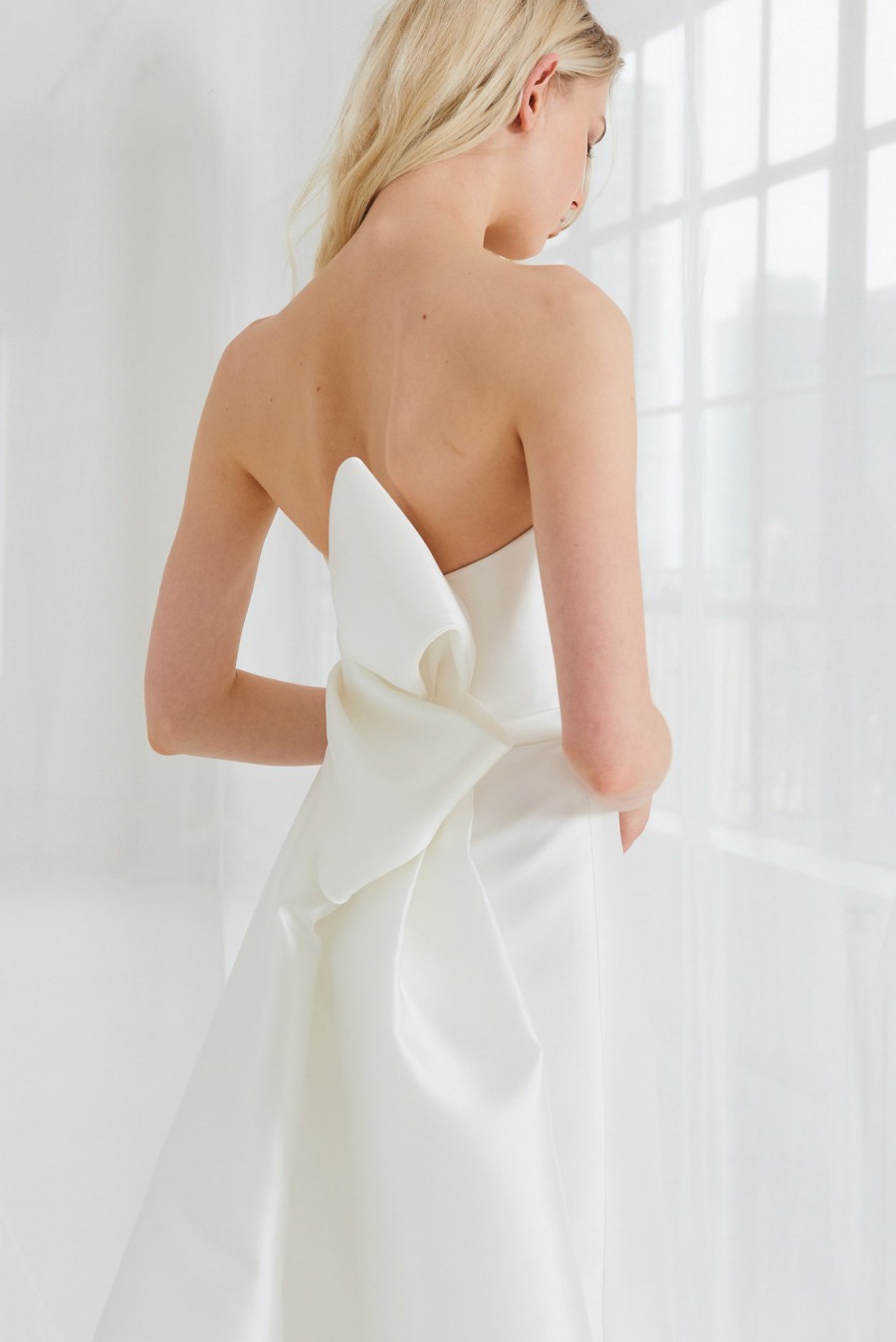 This silk strapless gown is absolutely breathtaking with its bold abstract bow accent. This is a fantastic contemporary take on a timeless bow detail.
08.

Dramatic Bow Neckline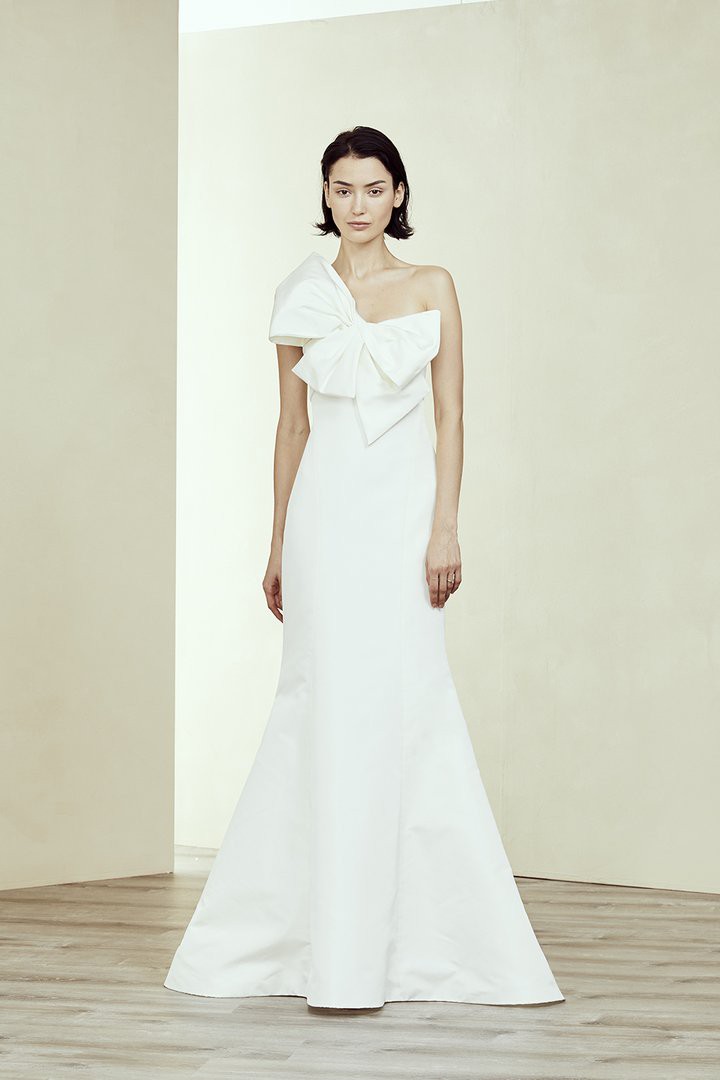 The next bow accented dress comes from Amsale. This sleek fit and flare gown features a dramatic bow at the neckline that is sophisticated and luxe.
09.

Bows and Butterflies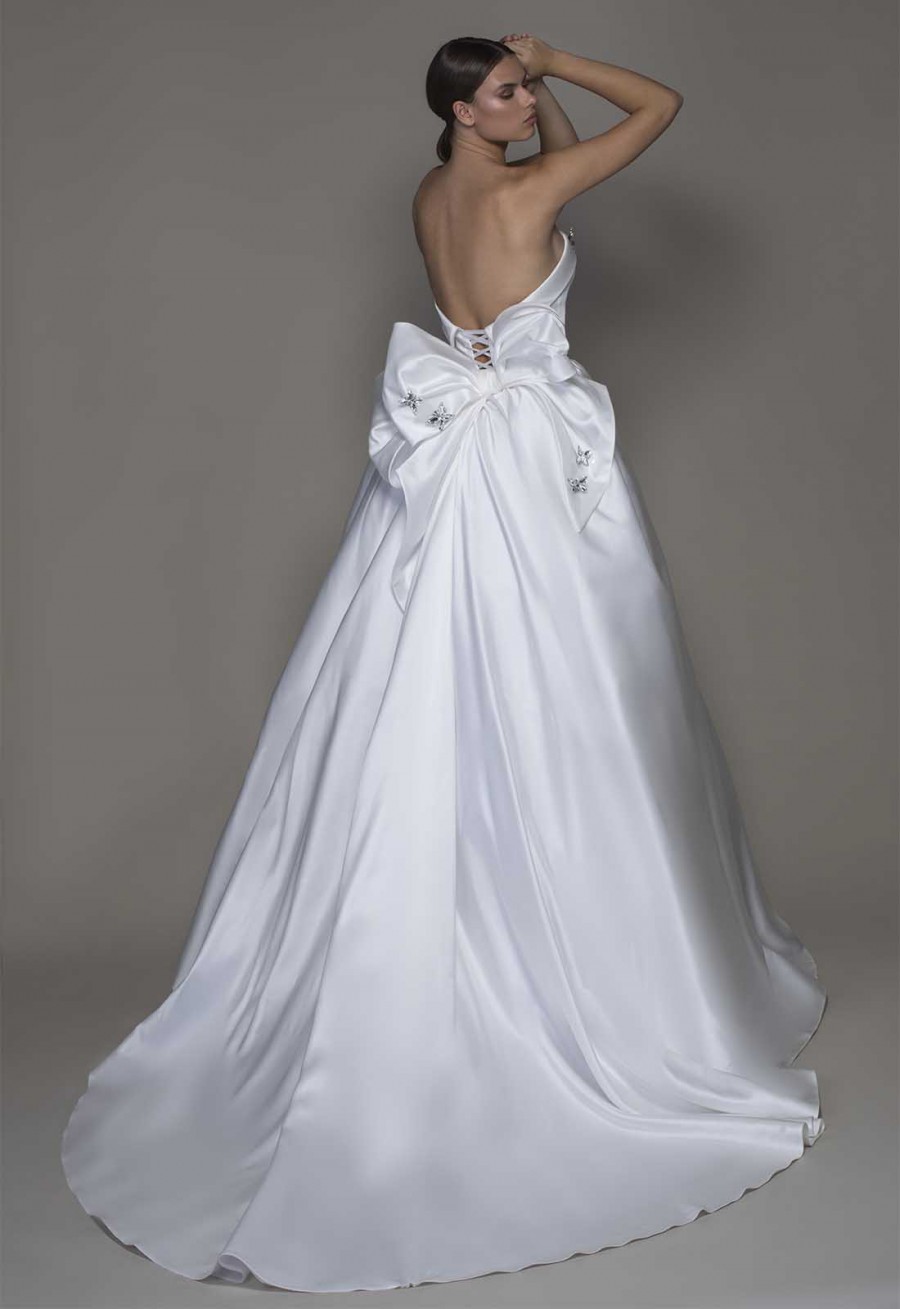 This luxe wedding style from Pnina Tornai features a unique oversized bow with lavish crystal butterfly accents. This luxe and sophisticated ball gown is girly and elegant.
10.

Shoulder Bow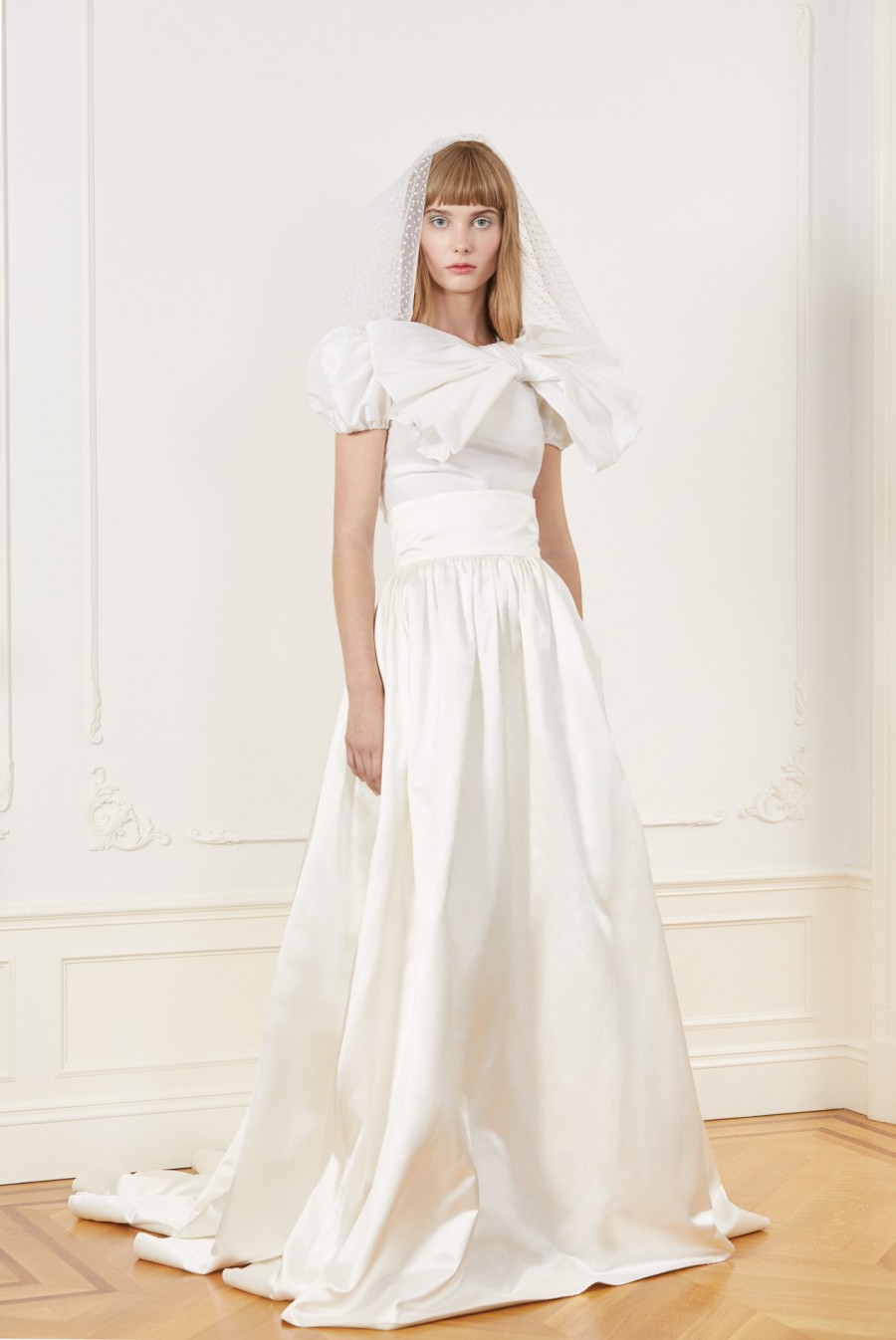 Our next bow accent wedding style comes from Honor. This clean modern and modest wedding gown features an oversized bow at the shoulder for a touch of drama.
11.

Twisted Back Bow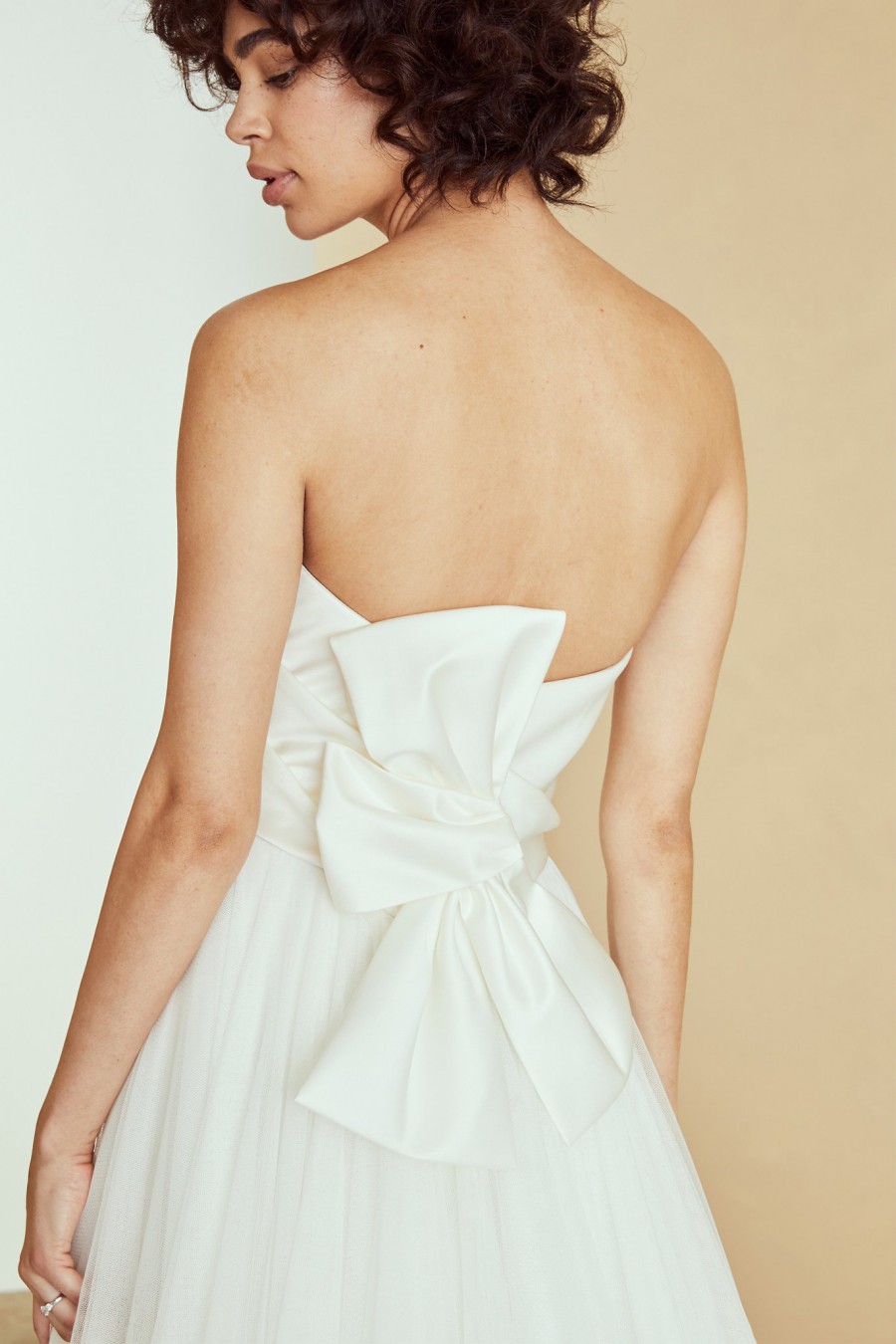 We love the twisted back bow design of this next wedding gown. This is such a unique, modern take on the traditional bow accent.
12.

Mixed Textures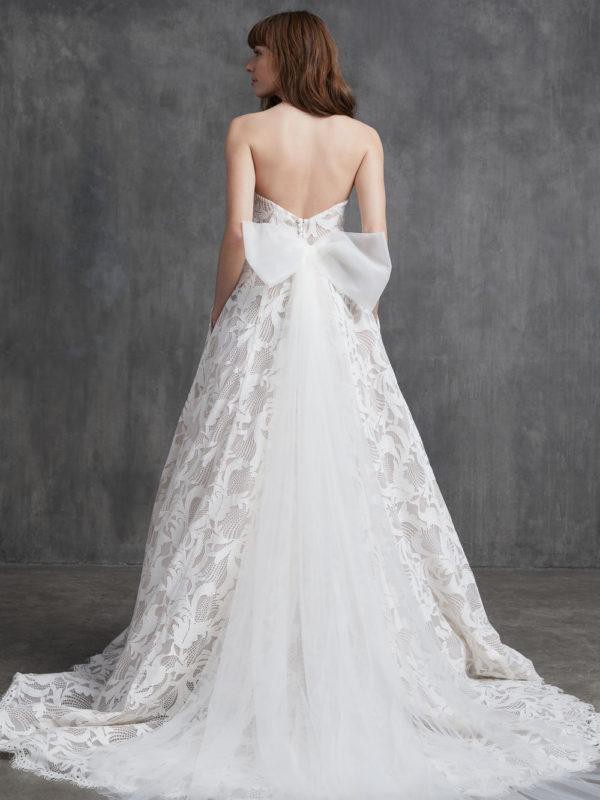 The mixed texture style of this next bow accent wedding gown is stunning. The tulle bow really pops off of the textured design of the rest of the gown.
13.

Sophisticated Mini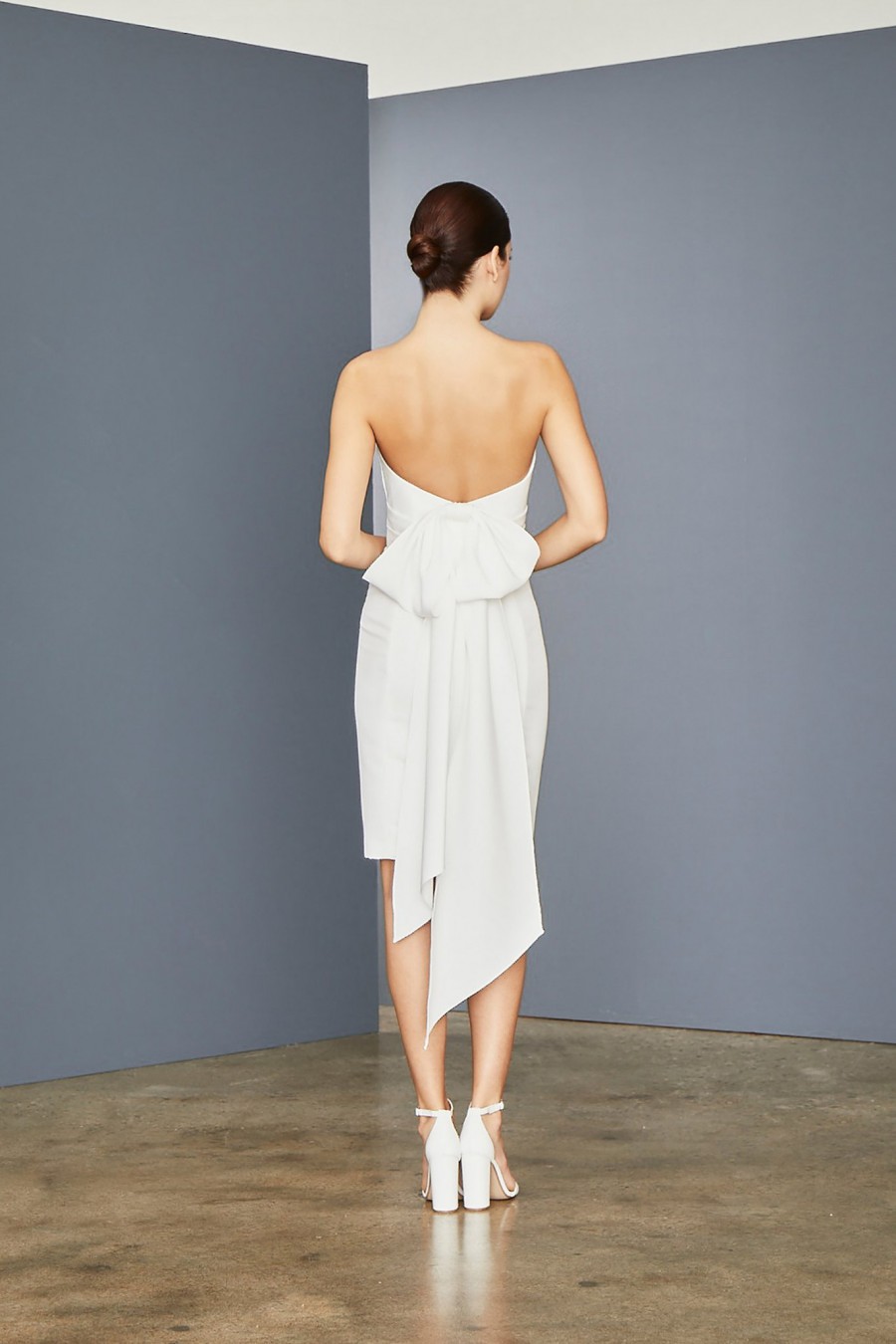 This next look from Amsale is a perfect second look style, or for a less formal wedding day. A sophisticated cut gown that is clean and elegant. And then the dramatic tied bow in the back adds just a touch of drama.
14.

Silk Bow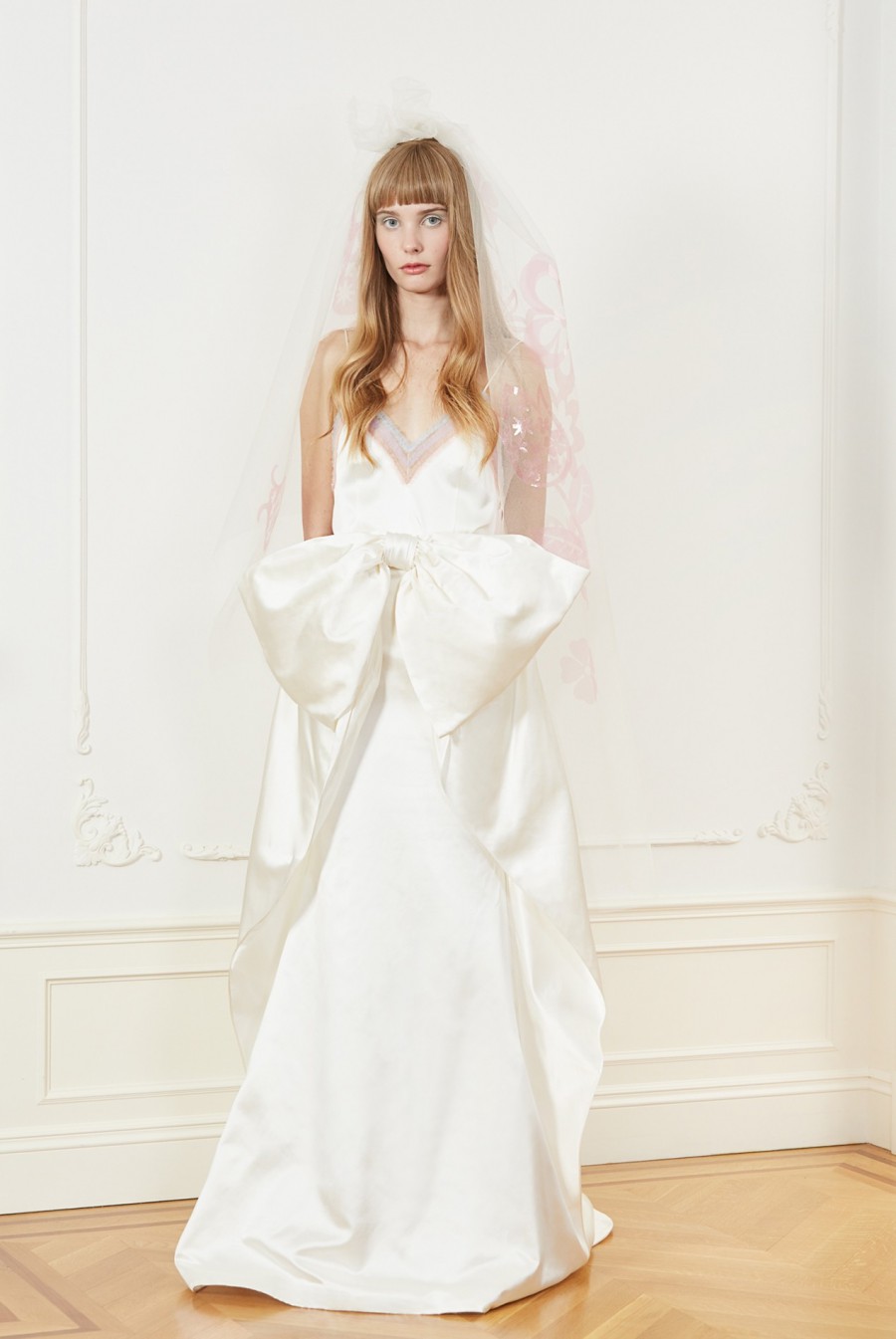 We love the oversized front bow design of this next style from Honor. Bold, yet girly!
15.

Single Strap Bow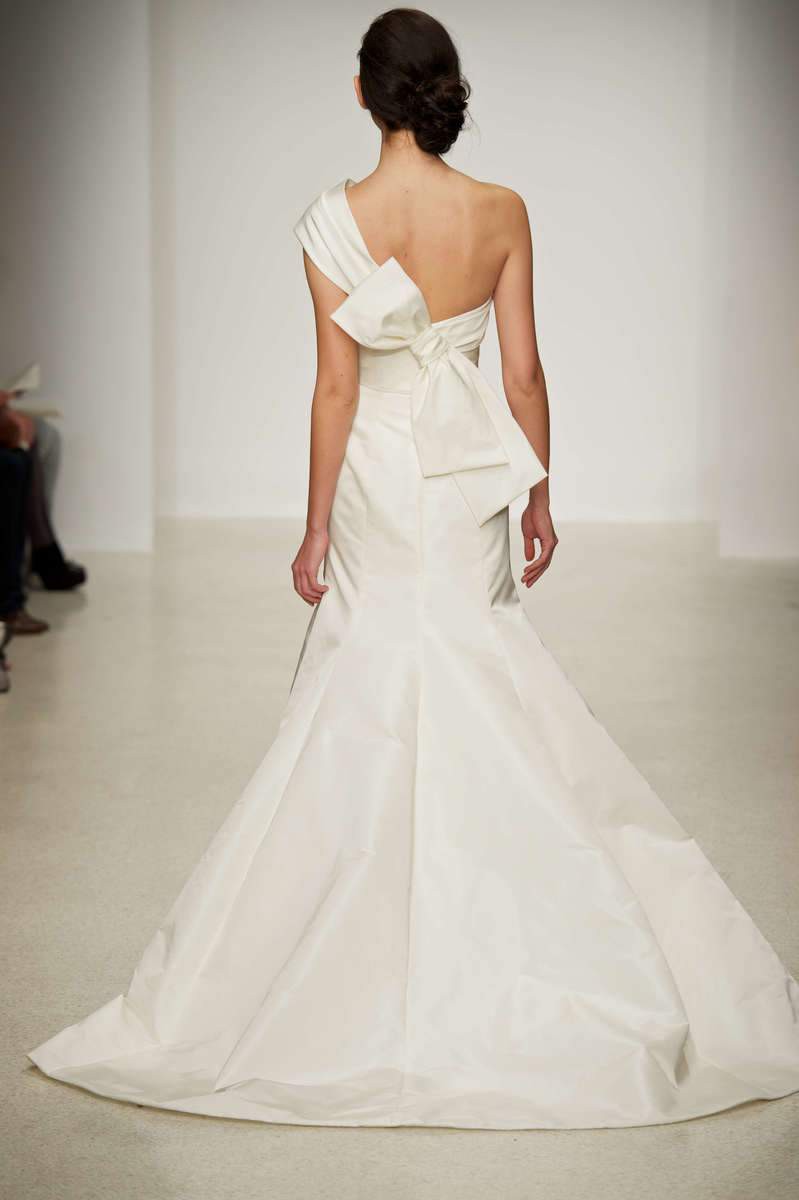 This fit and flare, single shoulder gown features a dramatic back bow that beautifully balances out the asymmetric neckline.
16.

Draped Bow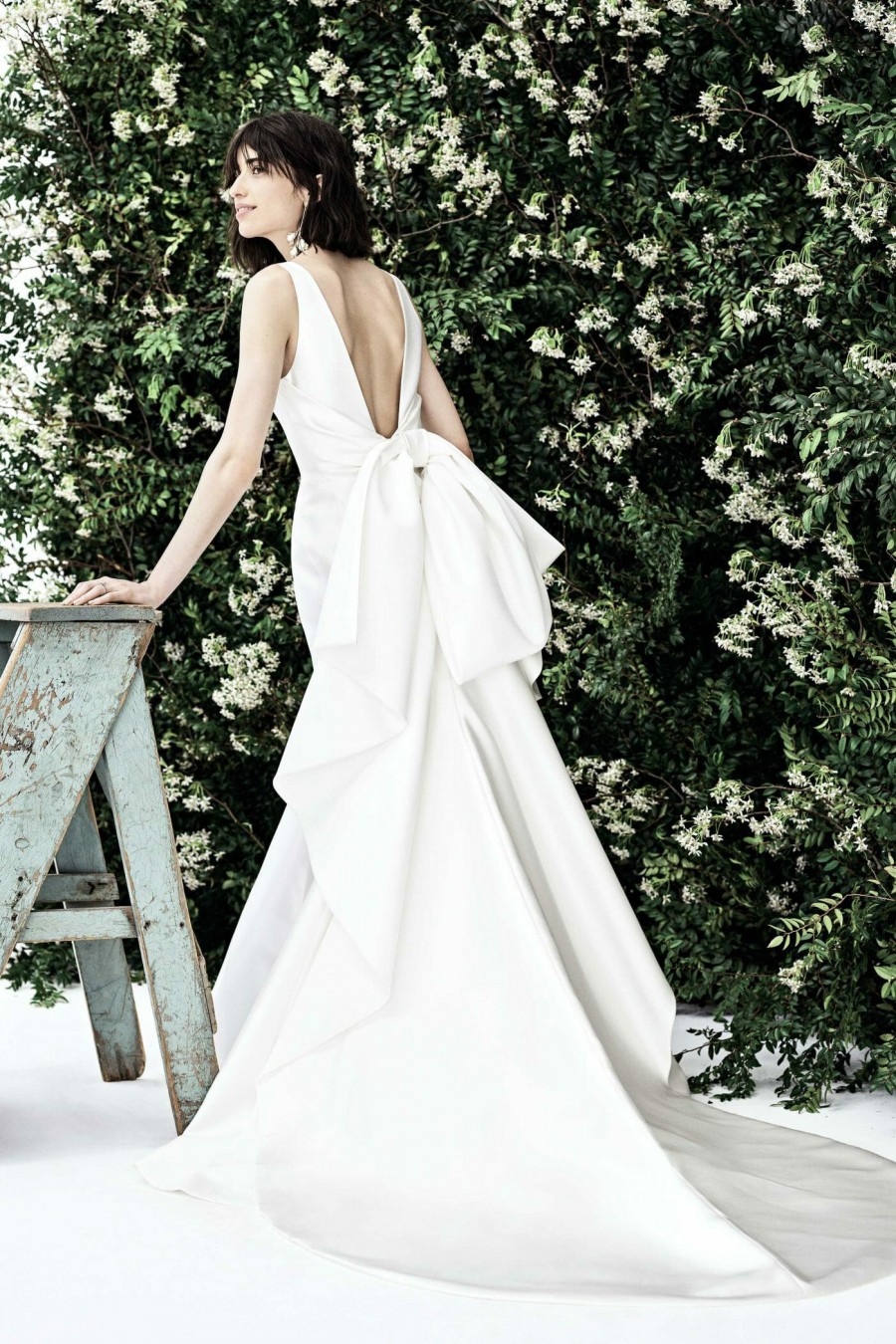 Carolina Herrera brings us our next wedding style with this captivating V-neck silk trumpet gown. This dress features a dramatically draped bow in the back to finish off this sophisticated style with some added drama.
17.

Color Bow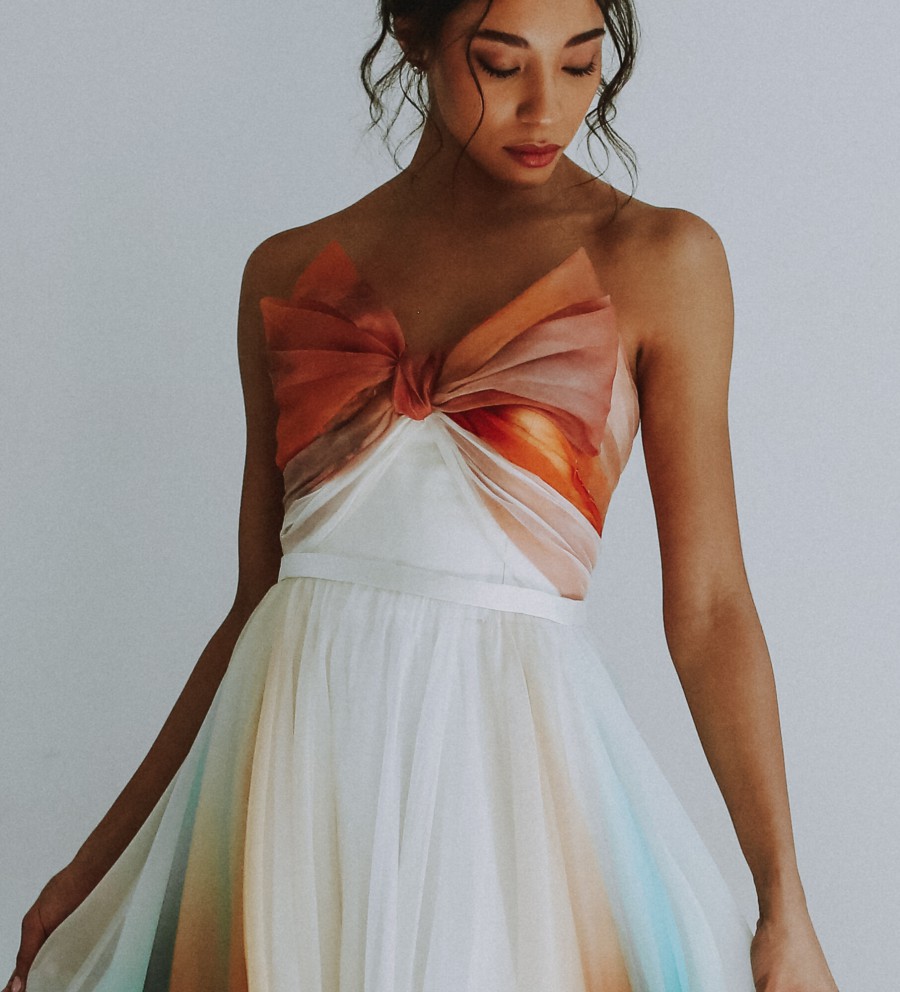 Leanne Marshall brings us this next, colorful bow accented wedding style. The bow-like bodice of this gown is beautiful and unique. A feminine and artistic wedding dress!
18.

Mermaid Bow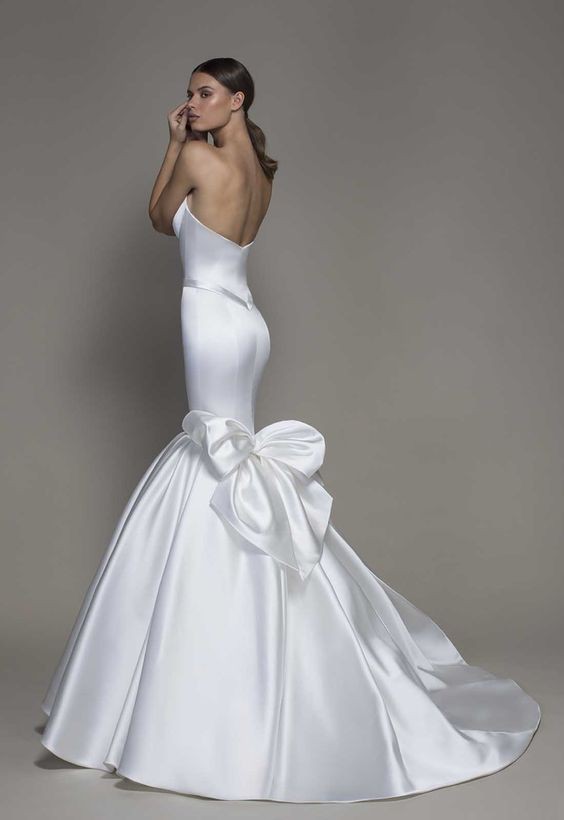 Pnina Tornai brings us an ultra luxe mermaid gown featuring an oversized bow accent at the flare. The look is sexy and sophisticated.
19.

Side Bow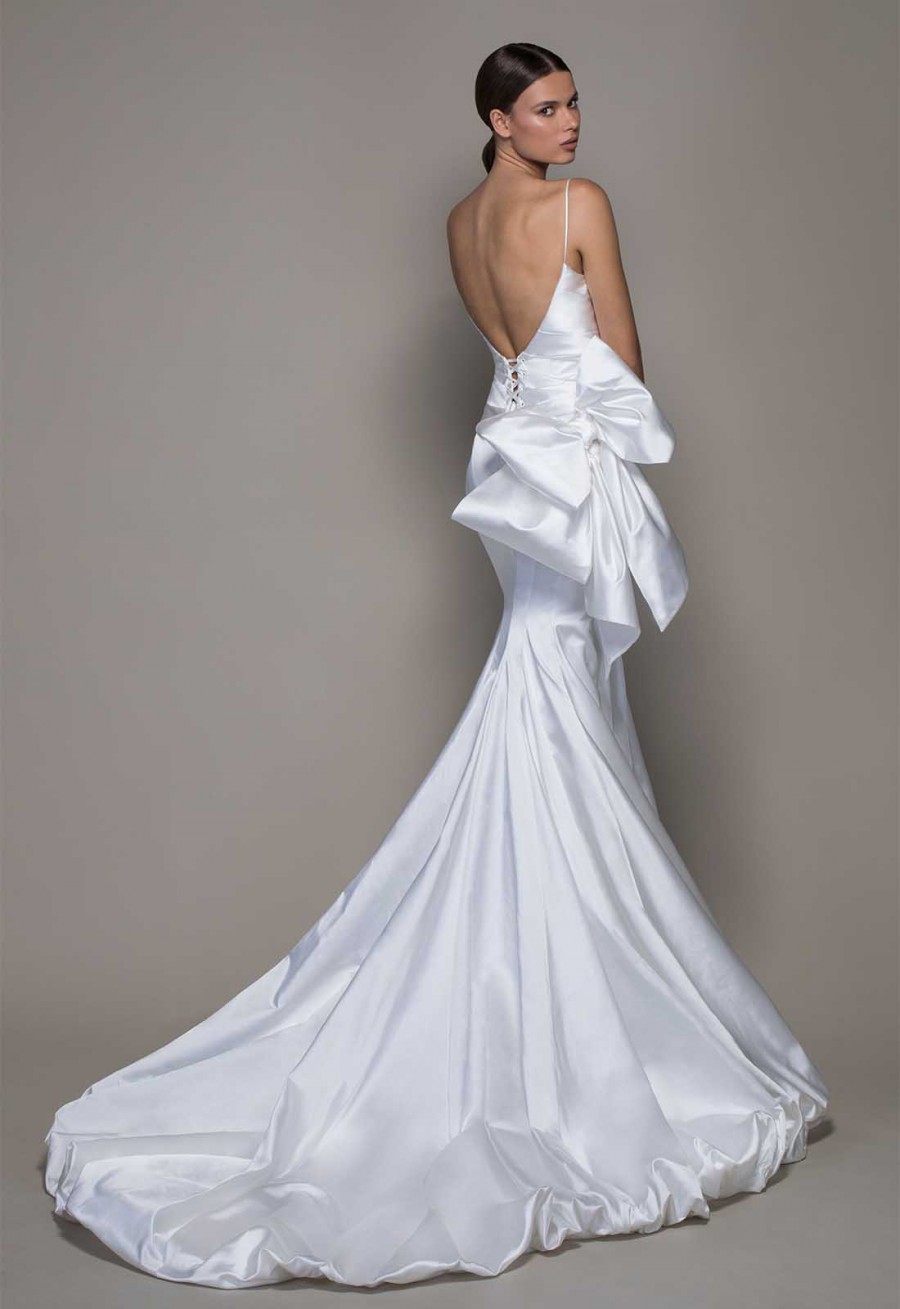 Another ultra luxe style from Pnina Tornai that features a unique side bow accent. This lavish layered bow adds additional drama to this already surprising wedding gown.
20.

Modern Bow Train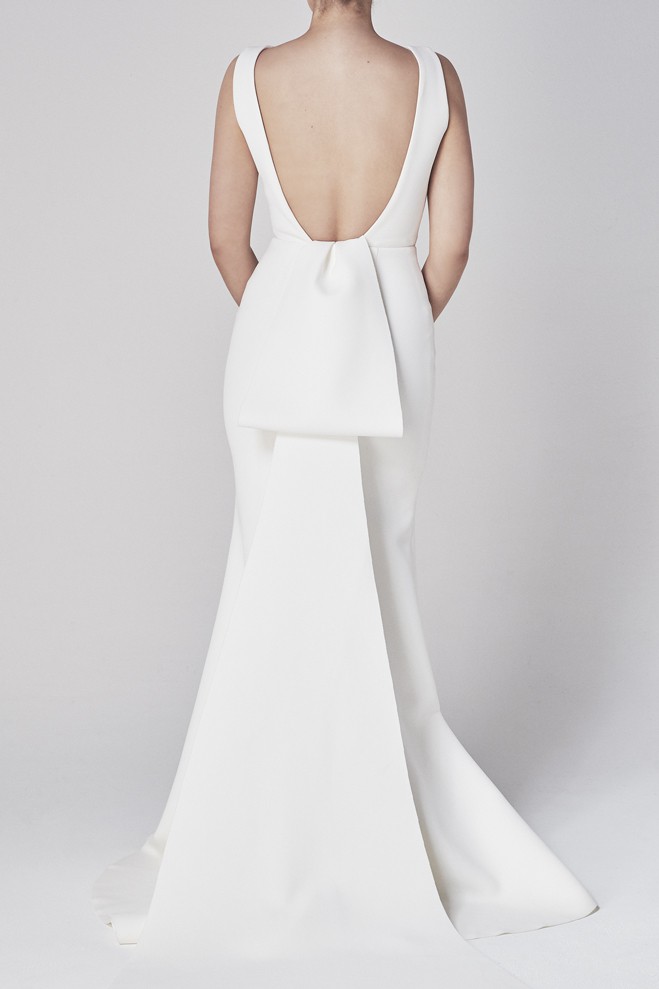 One Day Bridal brings us this chic, sophisticated wedding style that features a dramatic abstract bow accent in the back that drapes down to the floor. And the best part is that this bow is optional. So you can take it or leave it for different parts of your wedding day!

By Kathryn Schrotenboer