Prepare to be dazzled and dazed, because these bold wedding gown styles are taking bridal embellishment to a whole new level.
You can't help up love a traditional wedding gown with gorgeous crystal or sequin embellishment. These feminine accents can add just the right touch of glitz and glam to any wedding day style. But today we have gathered our top contemporary wedding styles that are taking bridal embellishment to a whole new level.
01.

Embellished Ball Gown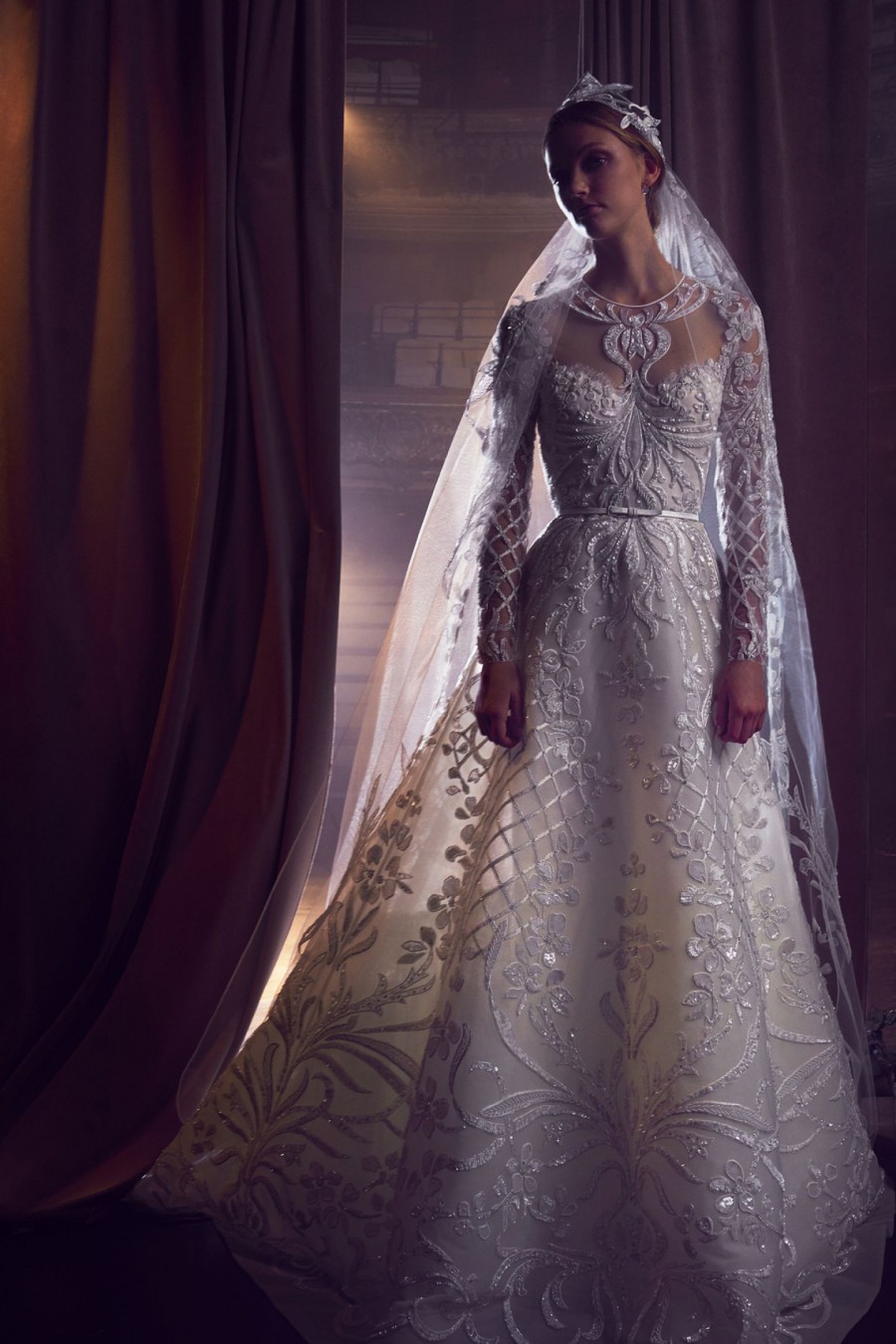 Lets start off the list in a big way with this head to toe embellished ball gown from Elie Saab. This stunning gown is uniquely designed and intricately exciting from every angle!
02.

Glass Botanics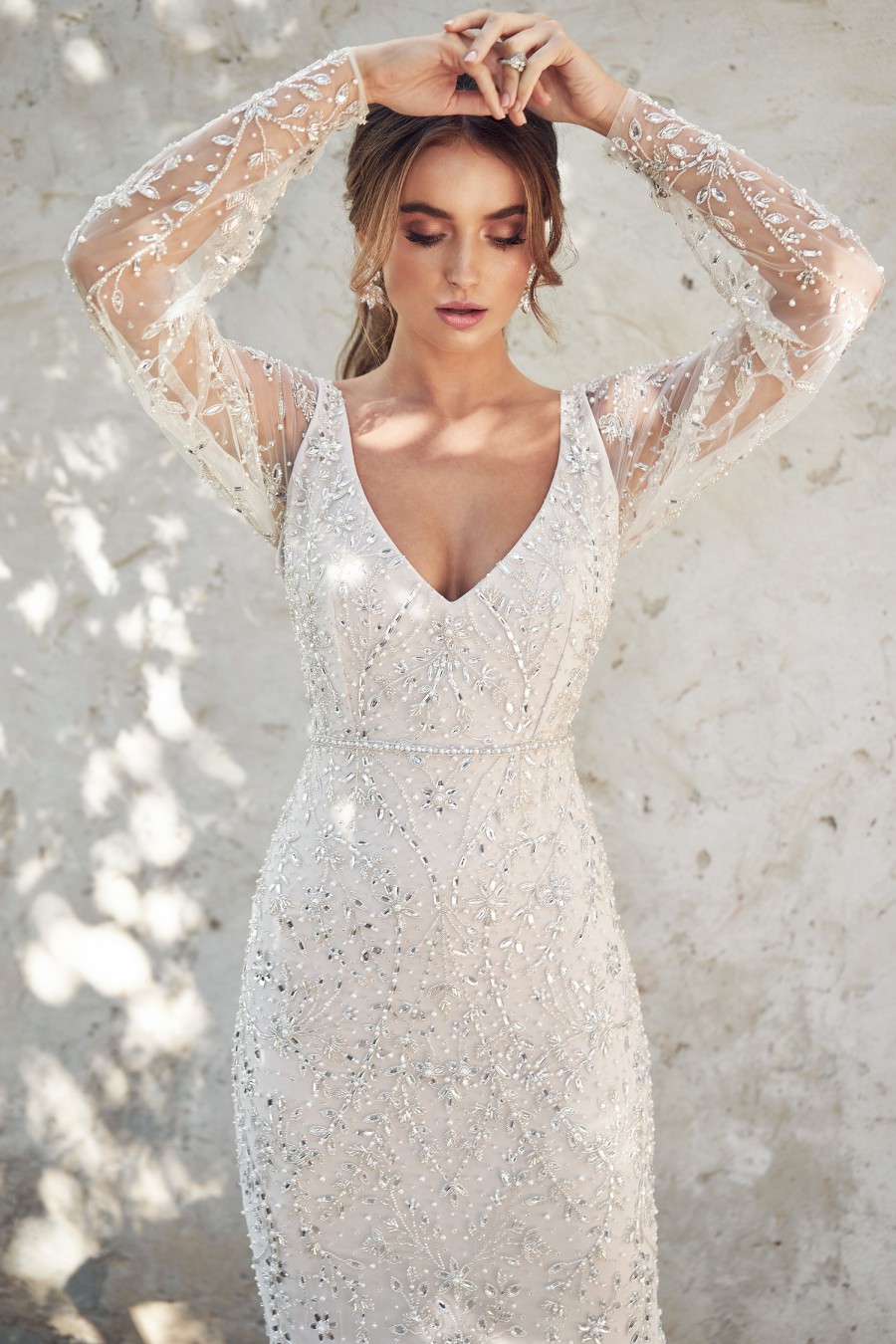 Anna Campbell is one of the queens of embellishment in the bridal world, so she will be making a few appearances on this list. Lets start off with this luxurious embellished gown featuring all over glass and pearl toned botanic beading.
02.

Embellished Boho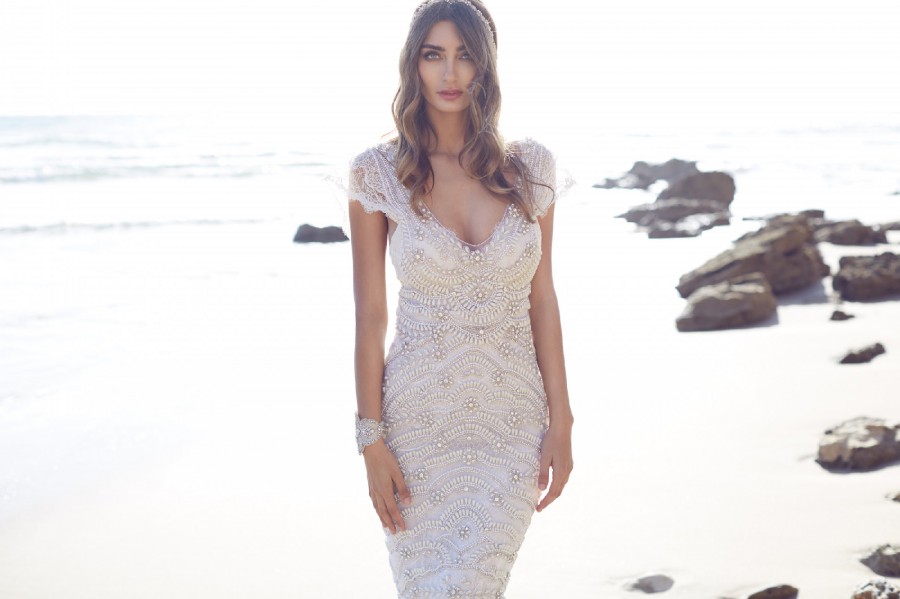 Anna Campbell beings us another stunning head to toe embellished wedding gown with this boho inspired design. This truly one of a kind hand beaded gown is feminine and utterly breathtaking.
03.

Pearl & Stud Pantsuit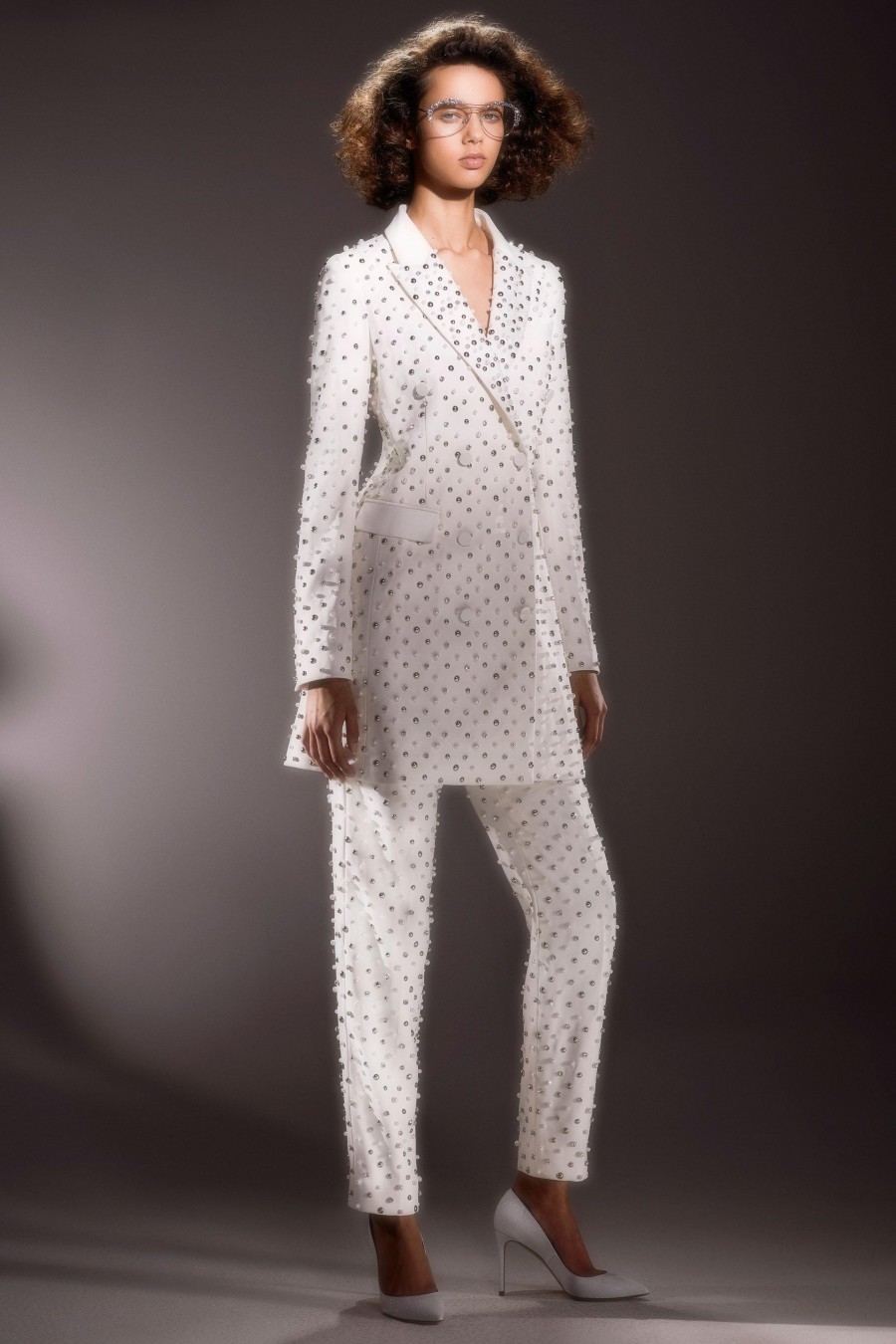 We aren't sure if bold embellishment quite covers it when it comes to this bridal style from Viktor Rolf. This all over pearl and stud embellished modern pantsuit will have you rethinking everything you think you know about modern wedding fashion.
04.

Shirt Gown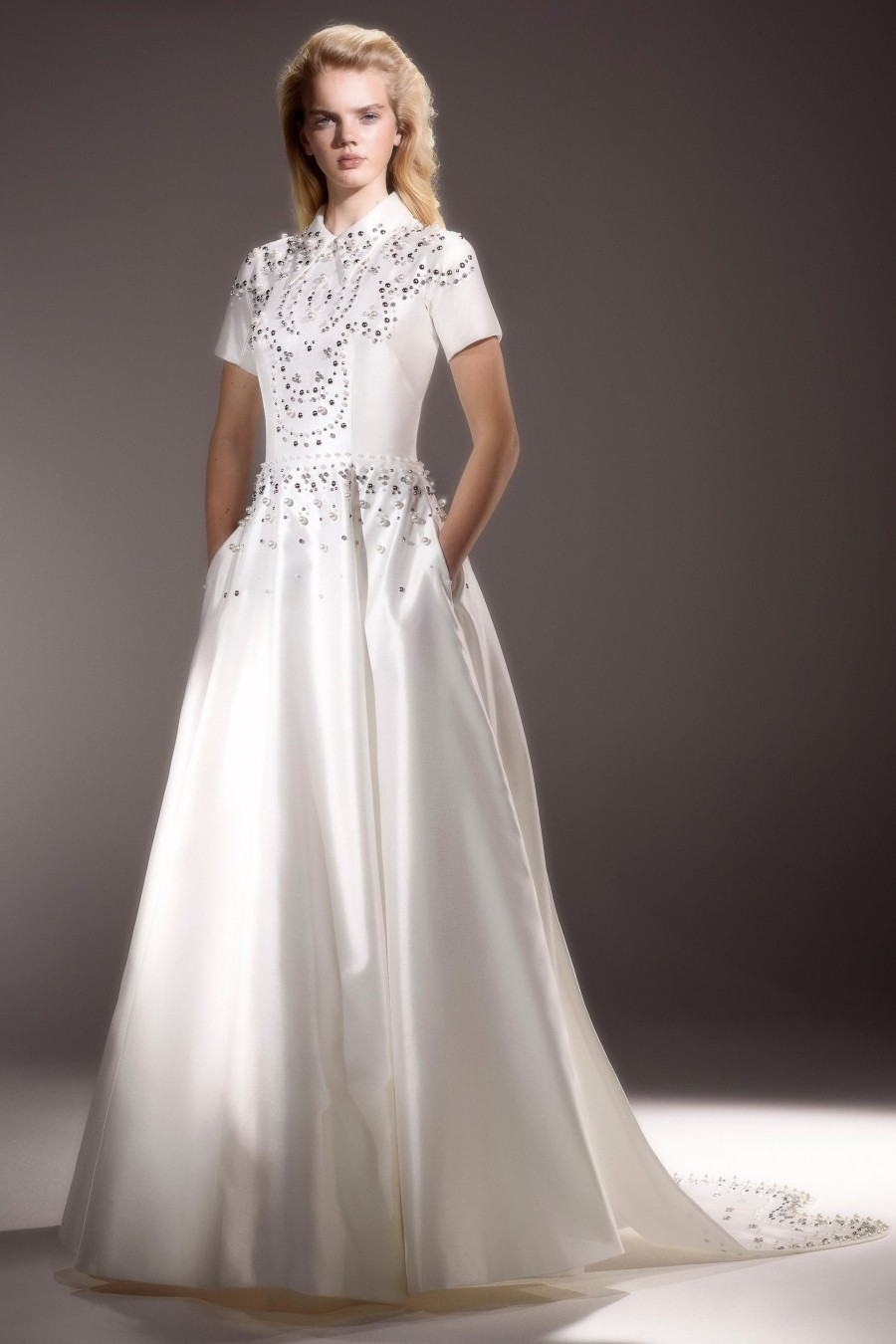 If you love the embellished style from above, then are sure to love this next Viktor Rolf look. This structural contemporary shirt gown features bold embellished detailing along the bodice and train. Large crystals, pearls and studs create a textured, graphic detailing like nothing else.
05.

Embellished Mini
We love these embellished styles from Viktor Rolf so much, we can't help but include one more. But this time - in a bridal mini! This adorable bridal mini dress features the same bold crystal, pearl and stud embellishment that we love so much from the previous styles, but in a sweet, mini cut. Perfect for a bridal brunch or reception party dress!
06.

Silver and Pearl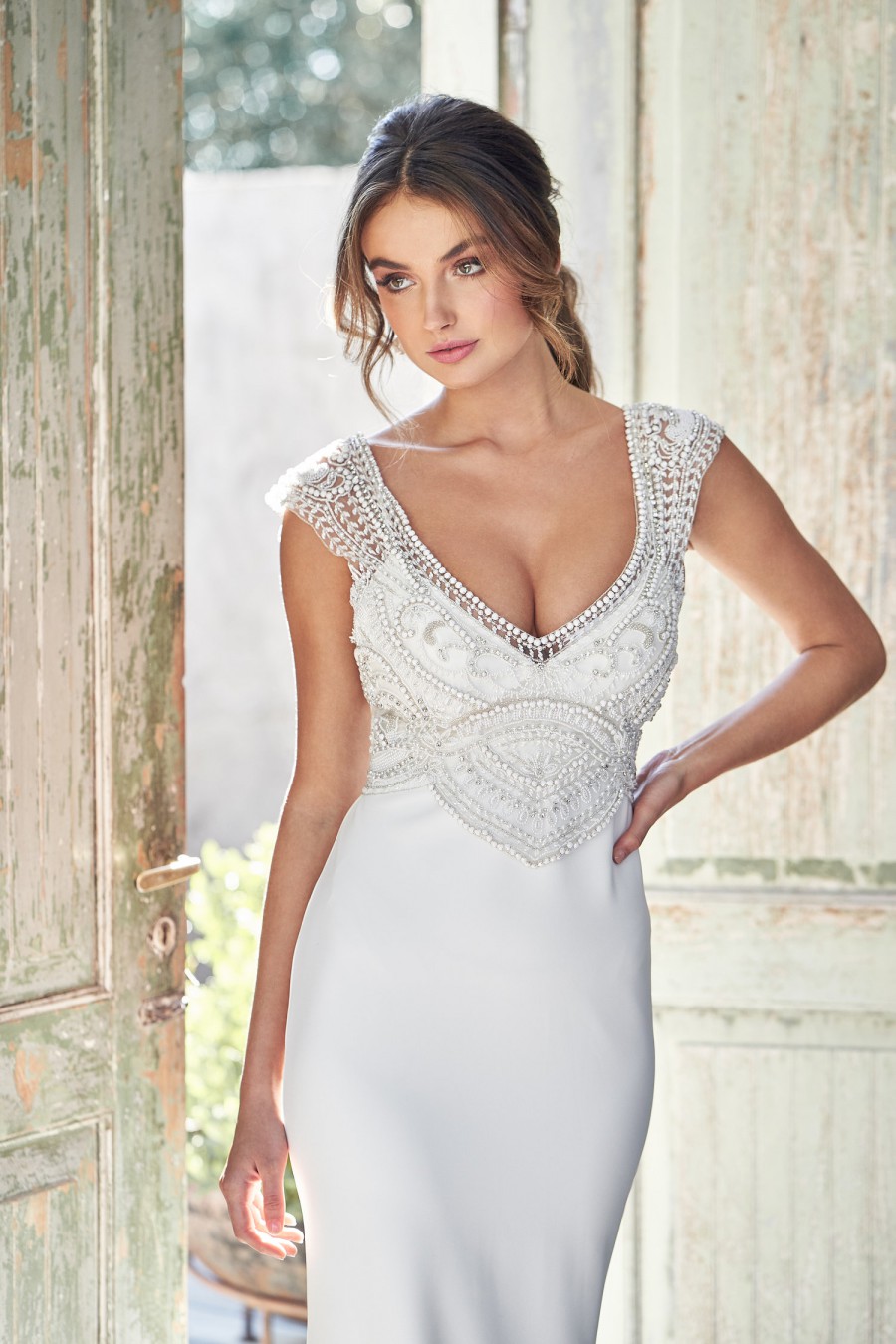 This next embellished wedding style from Anna Campbell features a sleek gown design accented with exquisite pearl and ivory beads contrasted with silver stones. The embellishment on the bodice of this dress takes it to an entirely different level.
07.

Beaded Beauty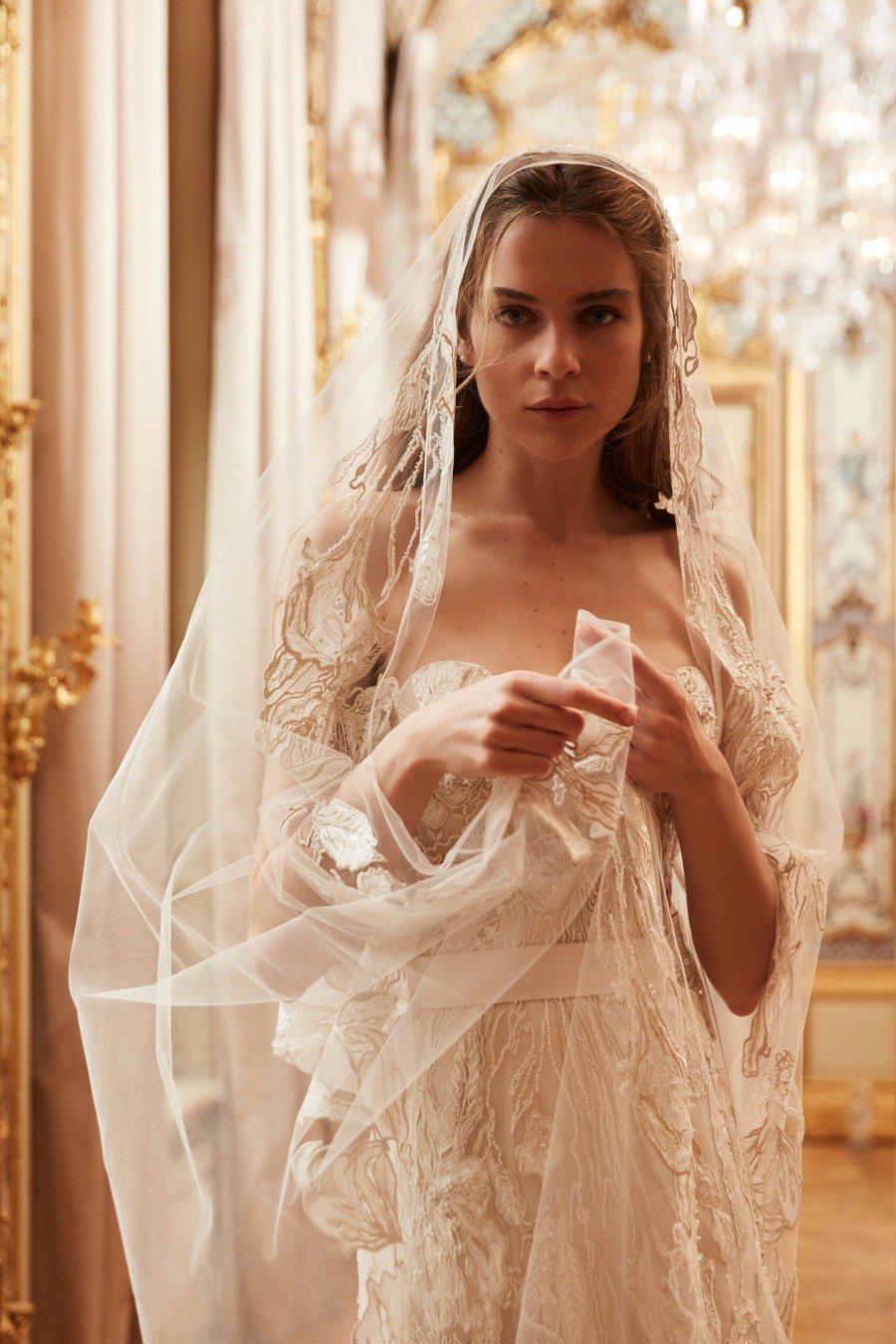 Elie Saab brings us a stunning intricately beaded wedding gown that is bold bridal embellishment at its best!
08.

Blushing Embellishment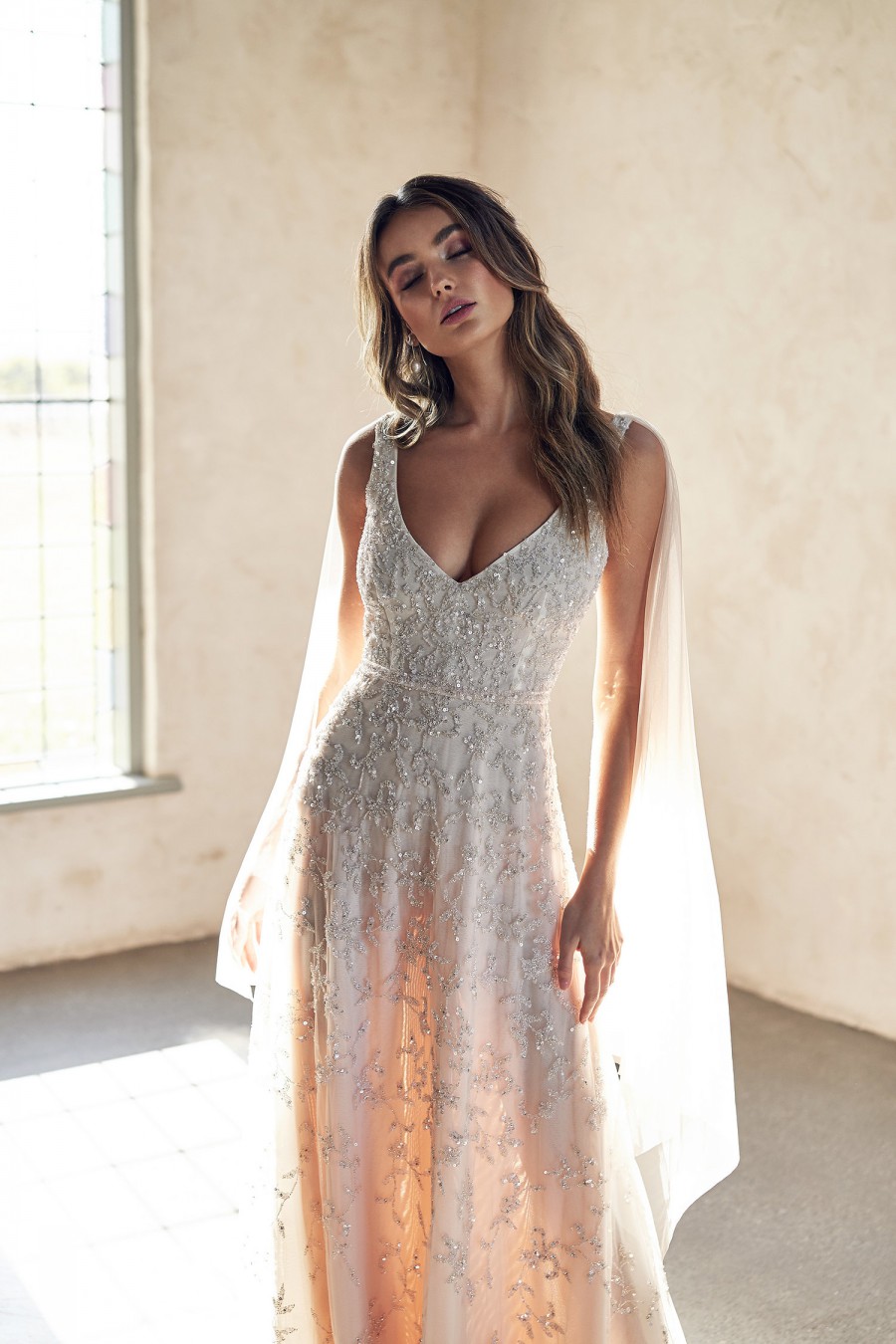 Next we have a cloudy pink tulle wedding gown with gorgeous all over floral sequin embellishment. This look is feminine with just the right amount of drama.
09.

Bold Beading
This traditional trumpet gown will blow you away when you take a closer look. The gown features dramatic beading that takes this traditional trumpet style to a whole new level.
10.

Statement Crystals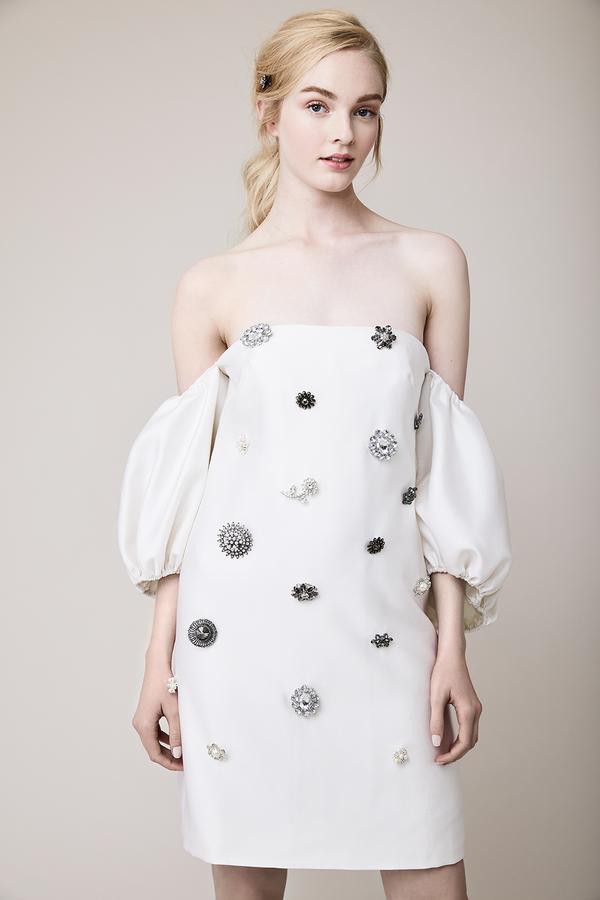 Lela Rose brings us this stunning bridal mini covered from top to bottom in large, statement making crystal embellishment. These accents have an antique broach feel to them.
11.

Statement Crystal Vest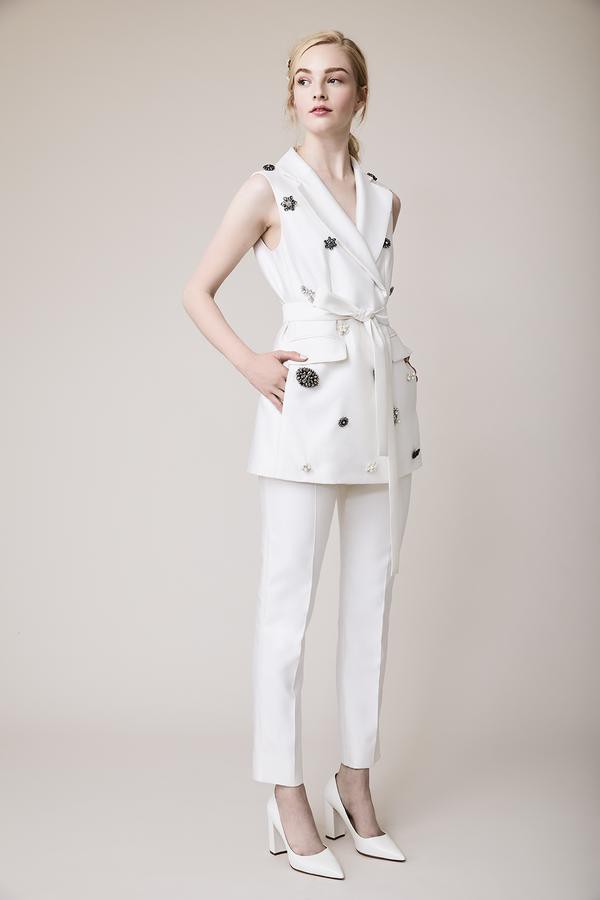 If you are loving the modern meets antique feel of the previous look, we have a similar crystal broach accented wedding two piece. This vest and slim pant combo is contemporary and chic.
12.

Athena Dreaming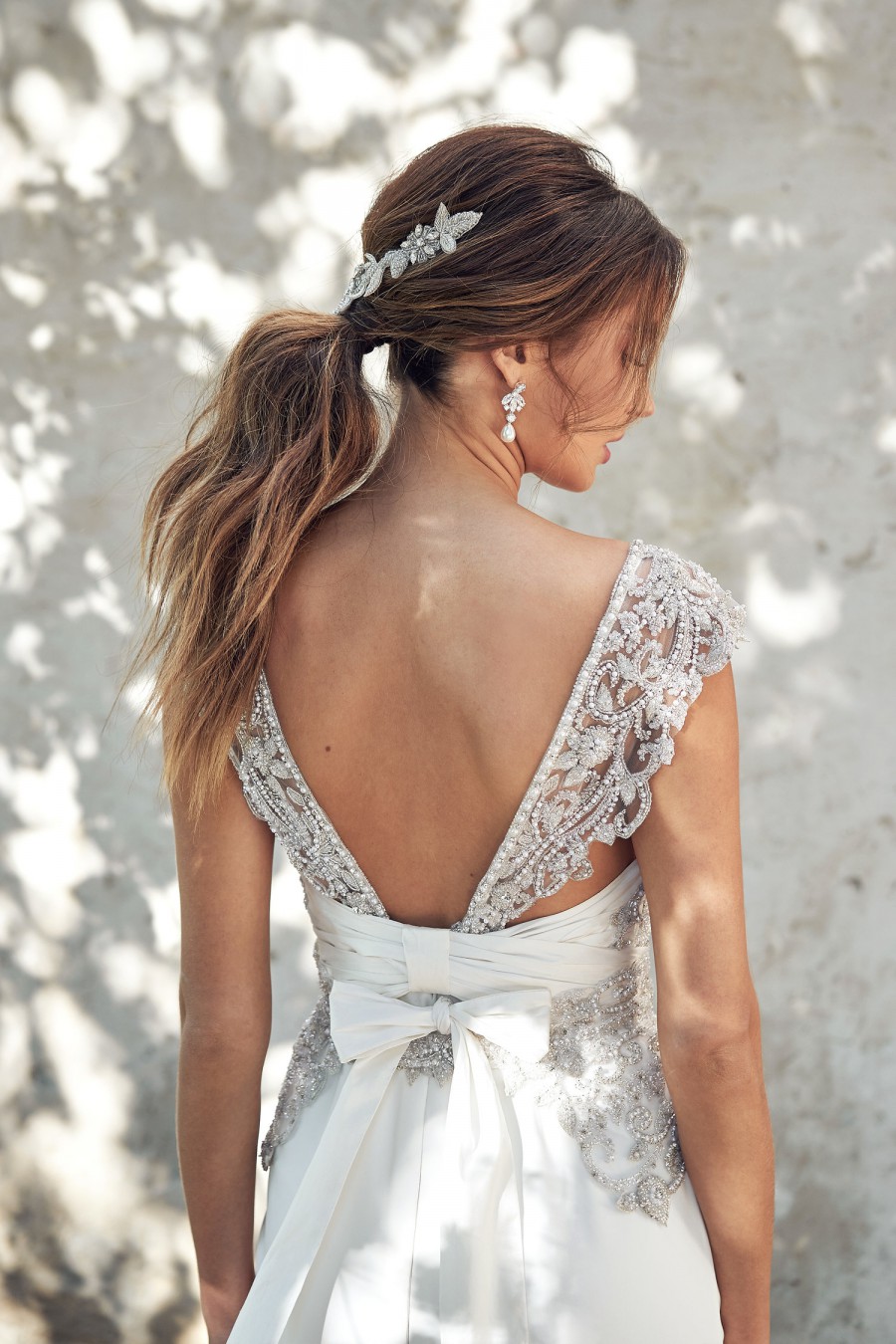 Our next embellished wedding gown is fittingly name Athena. This look truly is a style fit for a feminine goddess. The back of this embellished wedding gown has us swooning for more.
13.

Fairytale Dreaming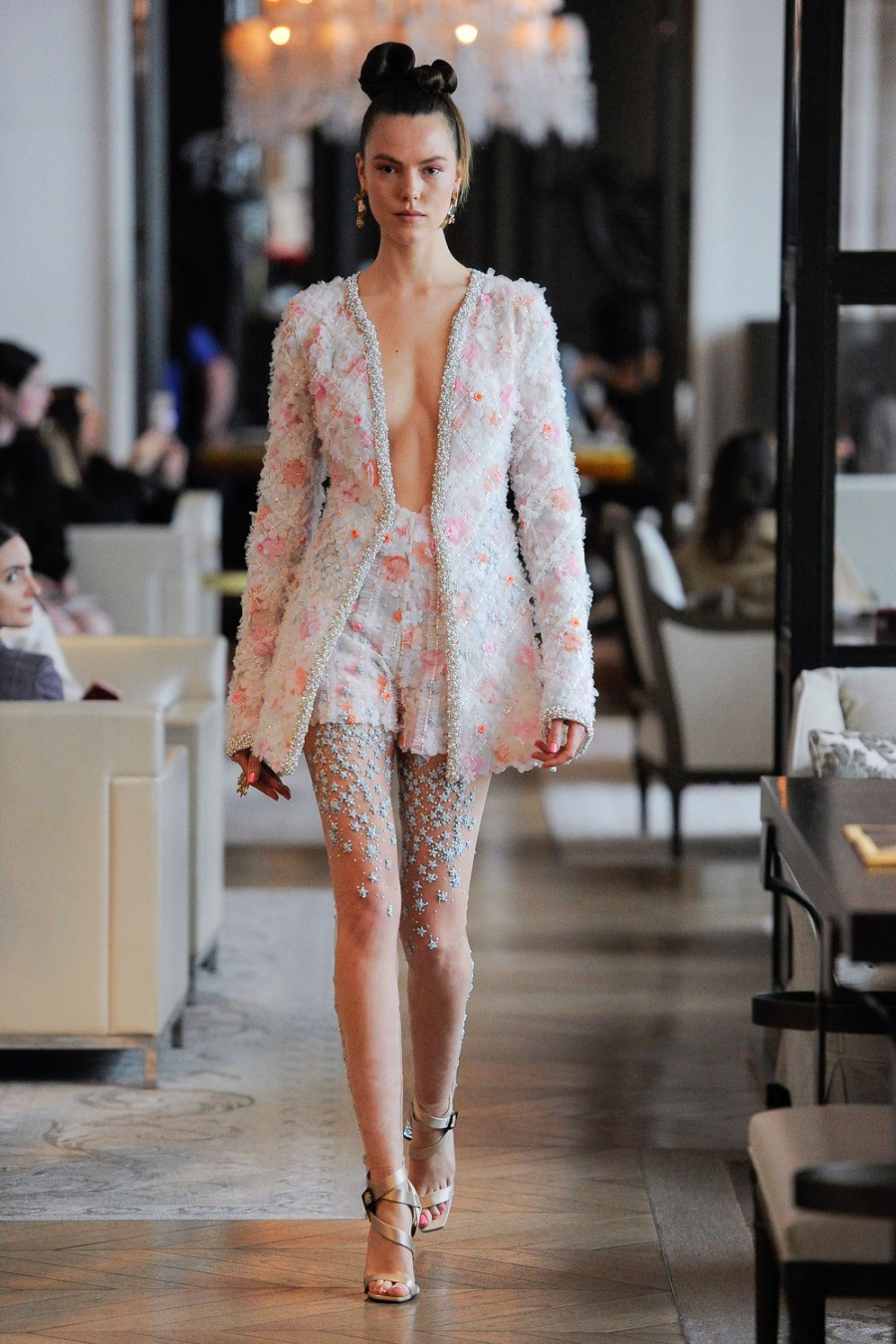 This next fairytale worthy wedding style from Ines di Santo is leaving us a bit starstruck. From bright pastel colors, to all over embellishment and texture - this look is truly one of a kind for a bride looking to make a big statement on her big day.
14.

Magic Crystal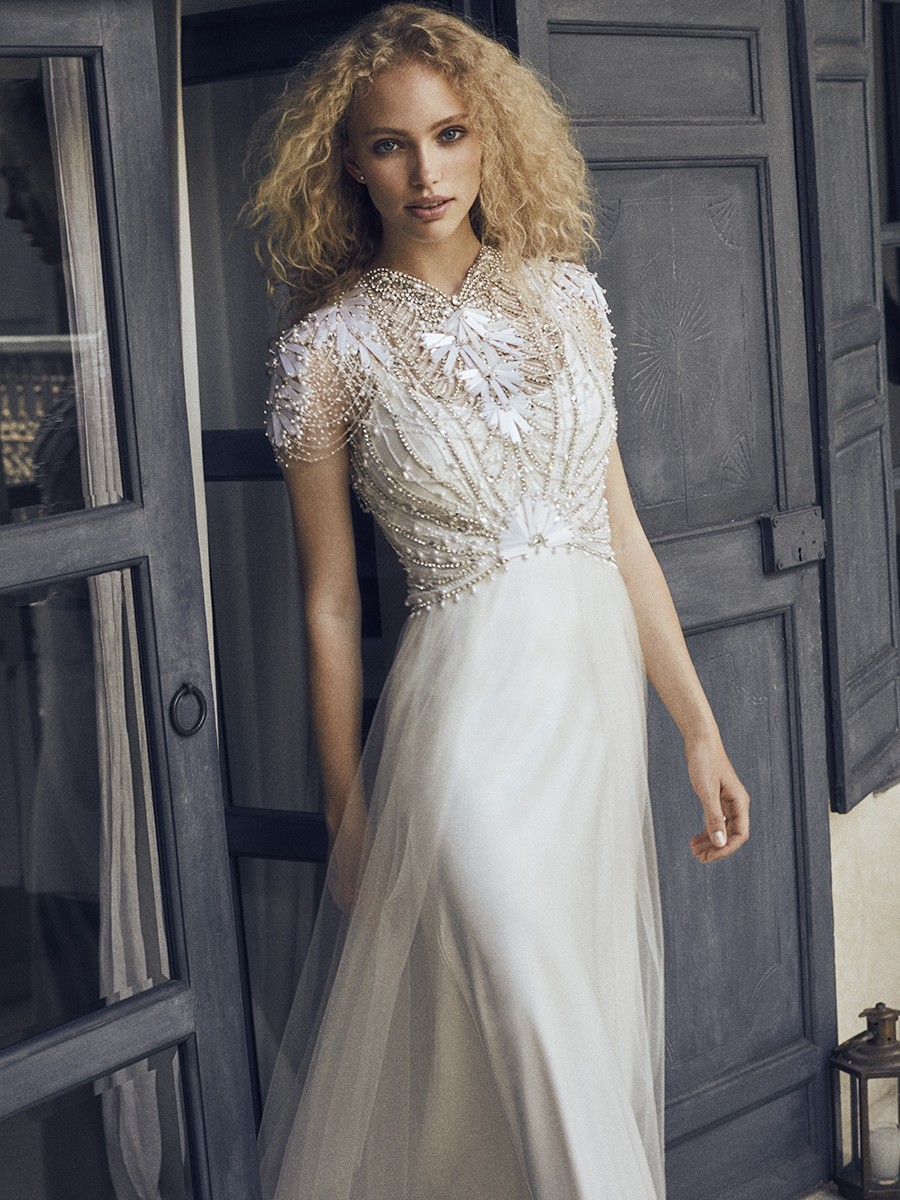 This crystal and pearl embellished top from Jenny Packham is absolutely breathtaking. Its design is surprising from every angle.
15.

Vintage Inspired
This next gorgeous embellished wedding style has some vintage influences with its one of a kind hand beaded bodice. This look is sure to take everyone's breath away on your big day - including ours!
16.

Feminine Menswear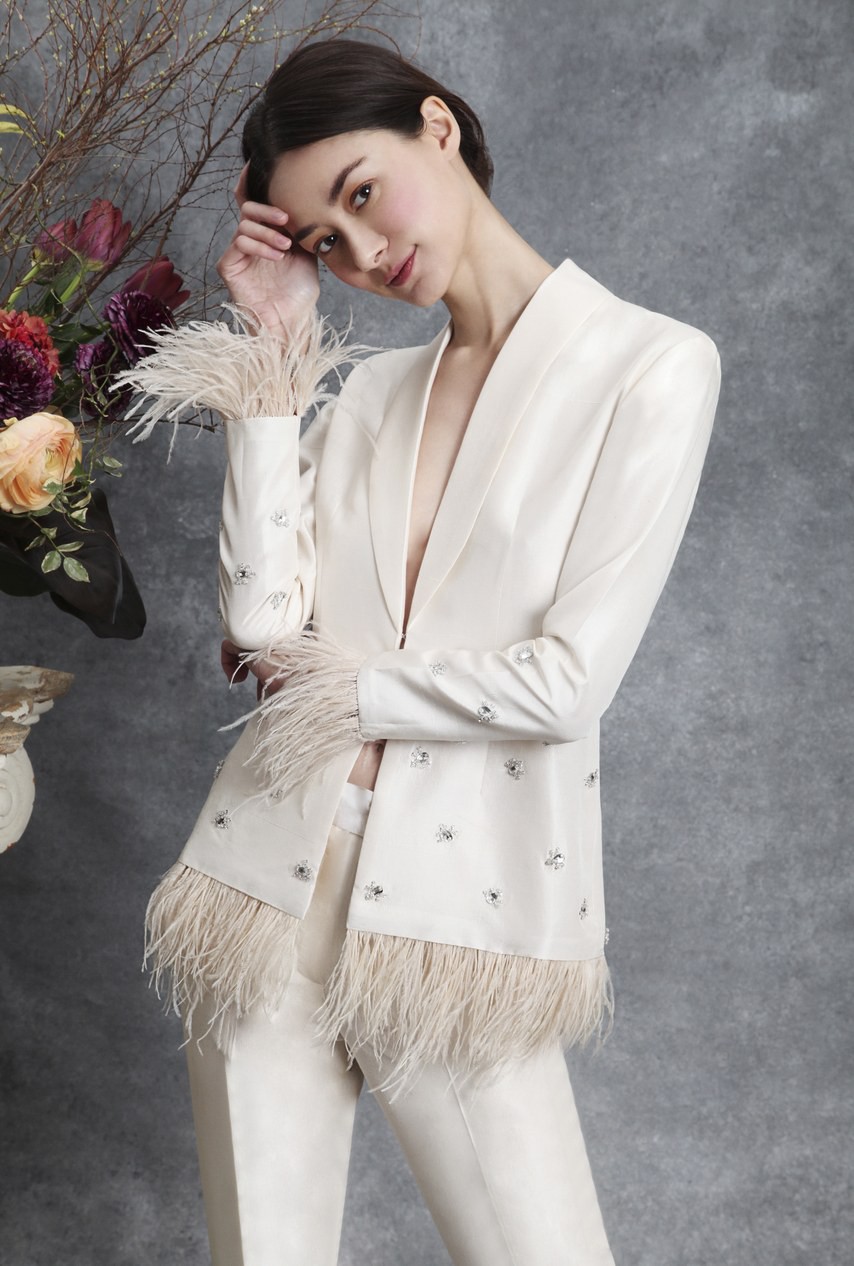 What better way to girly up a menswear inspired bridal style than with large crystal embellishment and feathered hems?
17.

Crystal Encrusted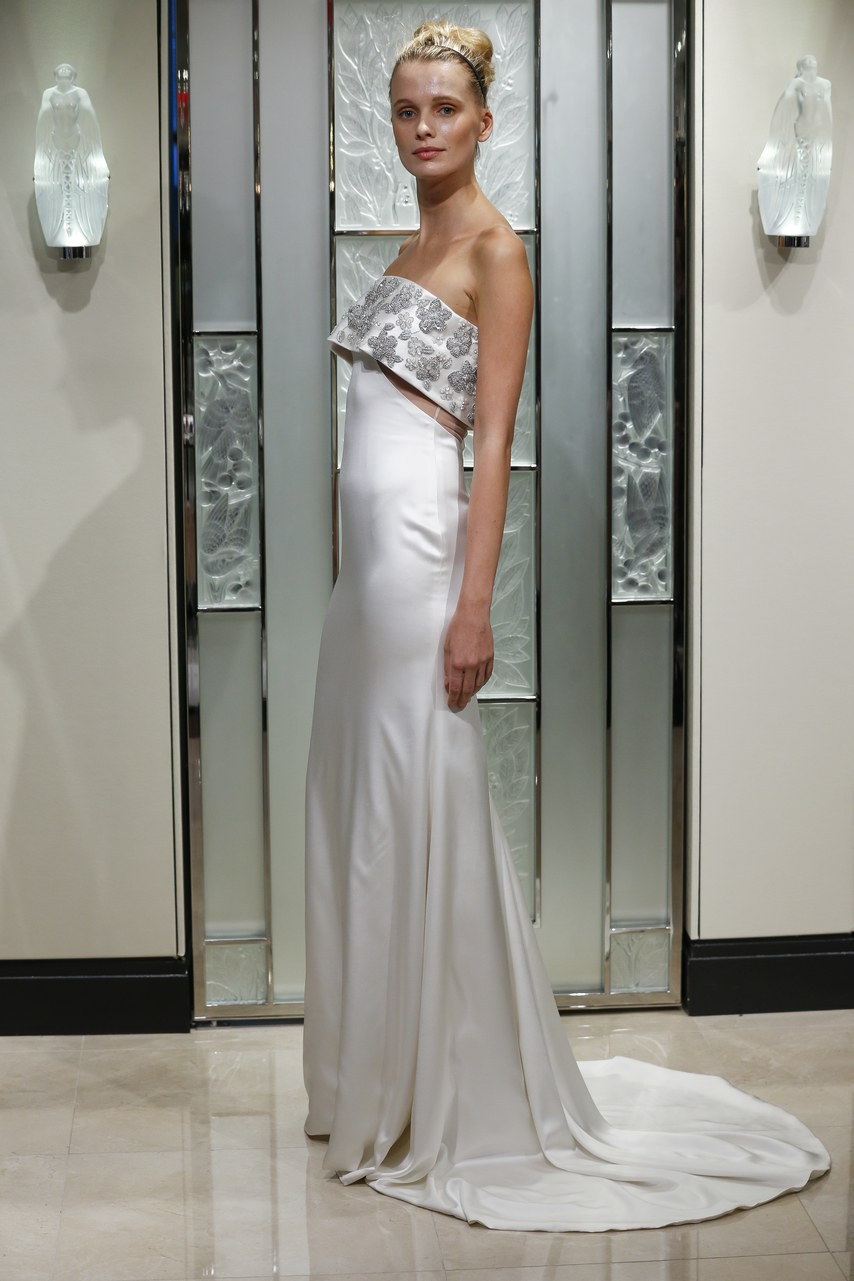 This sleek silk charmeuse wedding gown from Gracy Accad wouldn't be completely without its crystal embellished band across the bust. Bold, yet classy bridal embellishment.
18.

Moonflower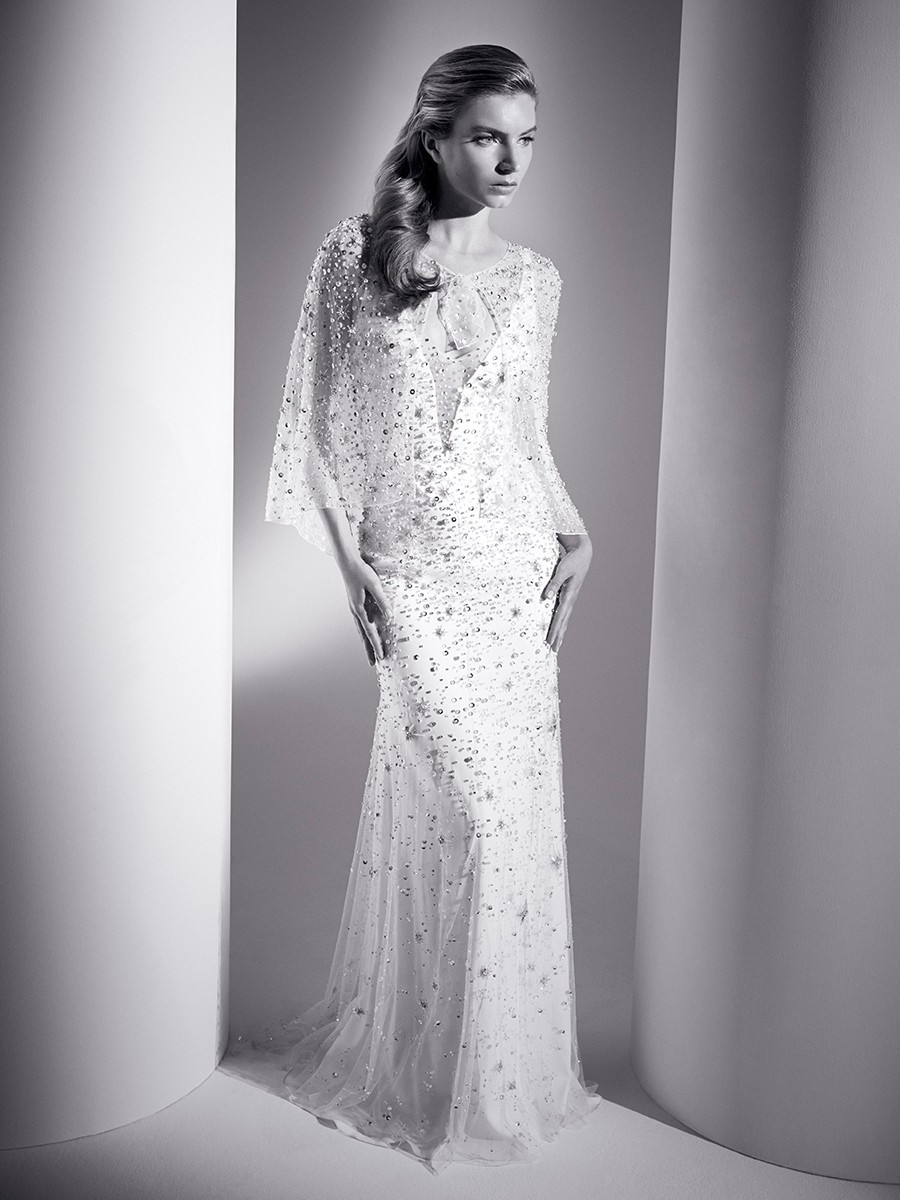 Our next embellished wedding gown is fittingly named Moonflower. And this stunning gown is anything but ordinary. Featuring all over crystal, sequin and beaded embellishment that features starburst designs worthy of a moonlit wedding ceremony.
19.

Golden Girl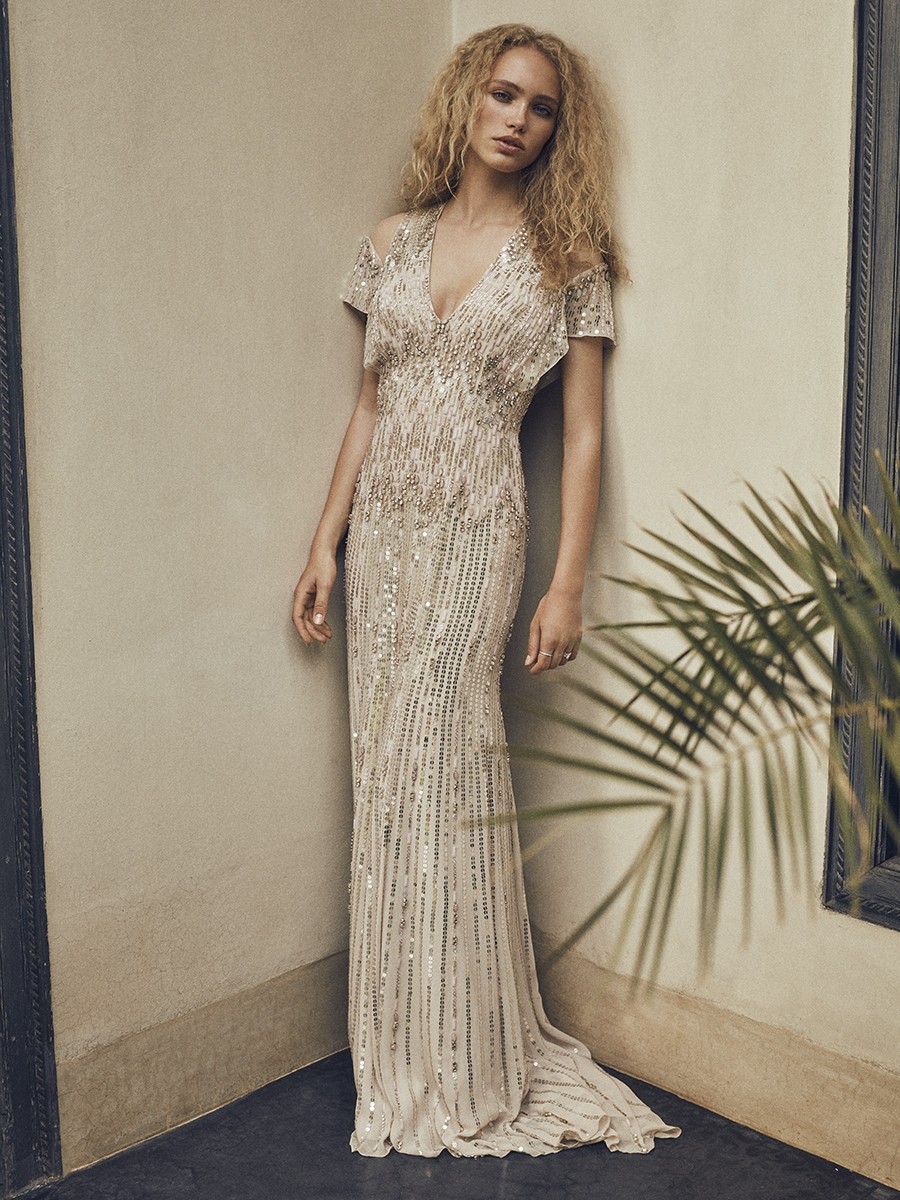 Next we have a golden embellished gown that is covered from top to bottom in gold sequin and bead detailing. This look would be perfect for a festive holiday or New Years Even wedding day - or just for a bride looking to make a bold statement on her big day.
20.

Embellished Fringe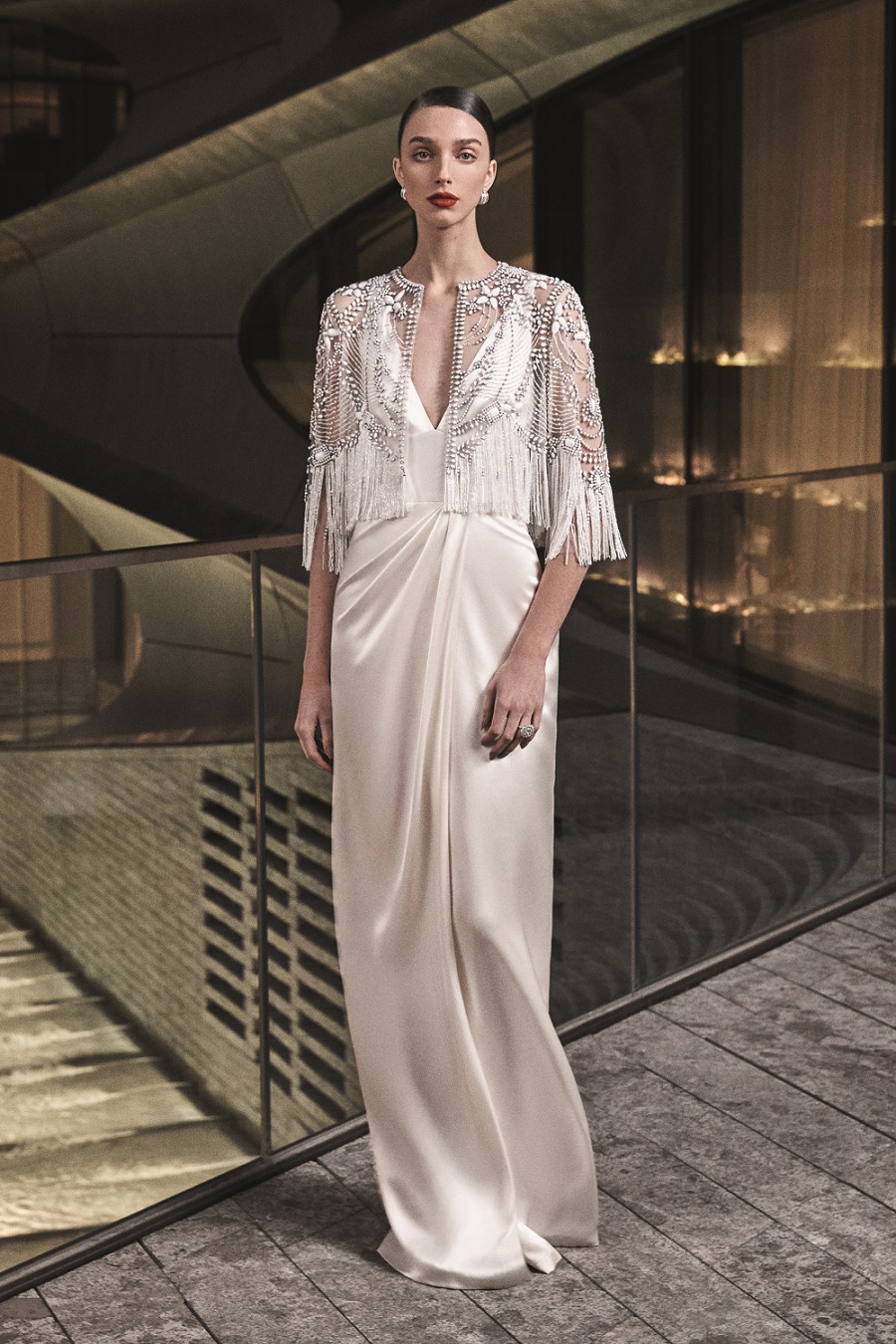 If you are loving these embellished styles, but not looking to go quite all the way on your big day - consider adding a pop of embellishment like with this beaded and fringe jacket.
21.

Golden Florals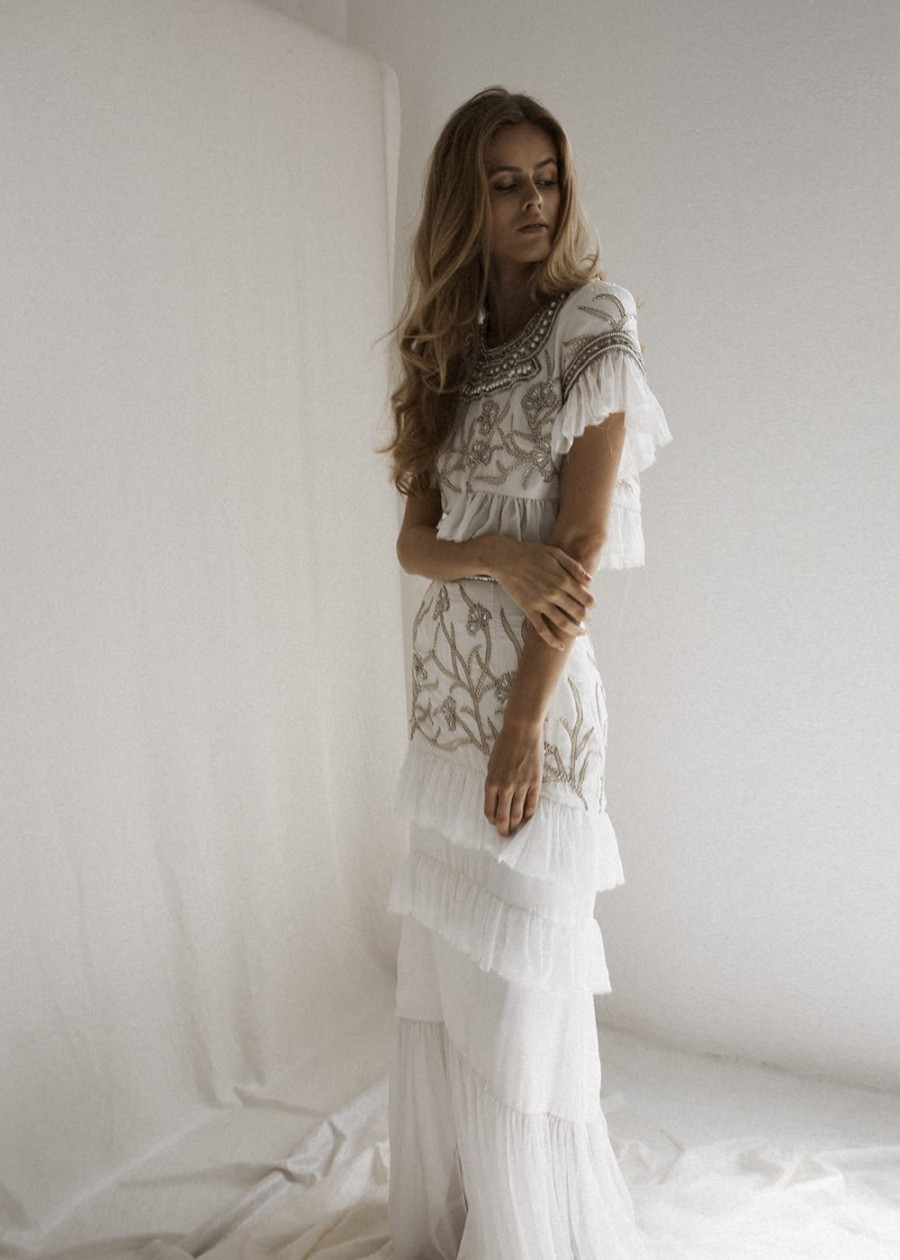 Bo and Luca brings us a contemporary bohemian bridal style that features bold gold embellishment across the bodice and skirt.
22.

Embellished Back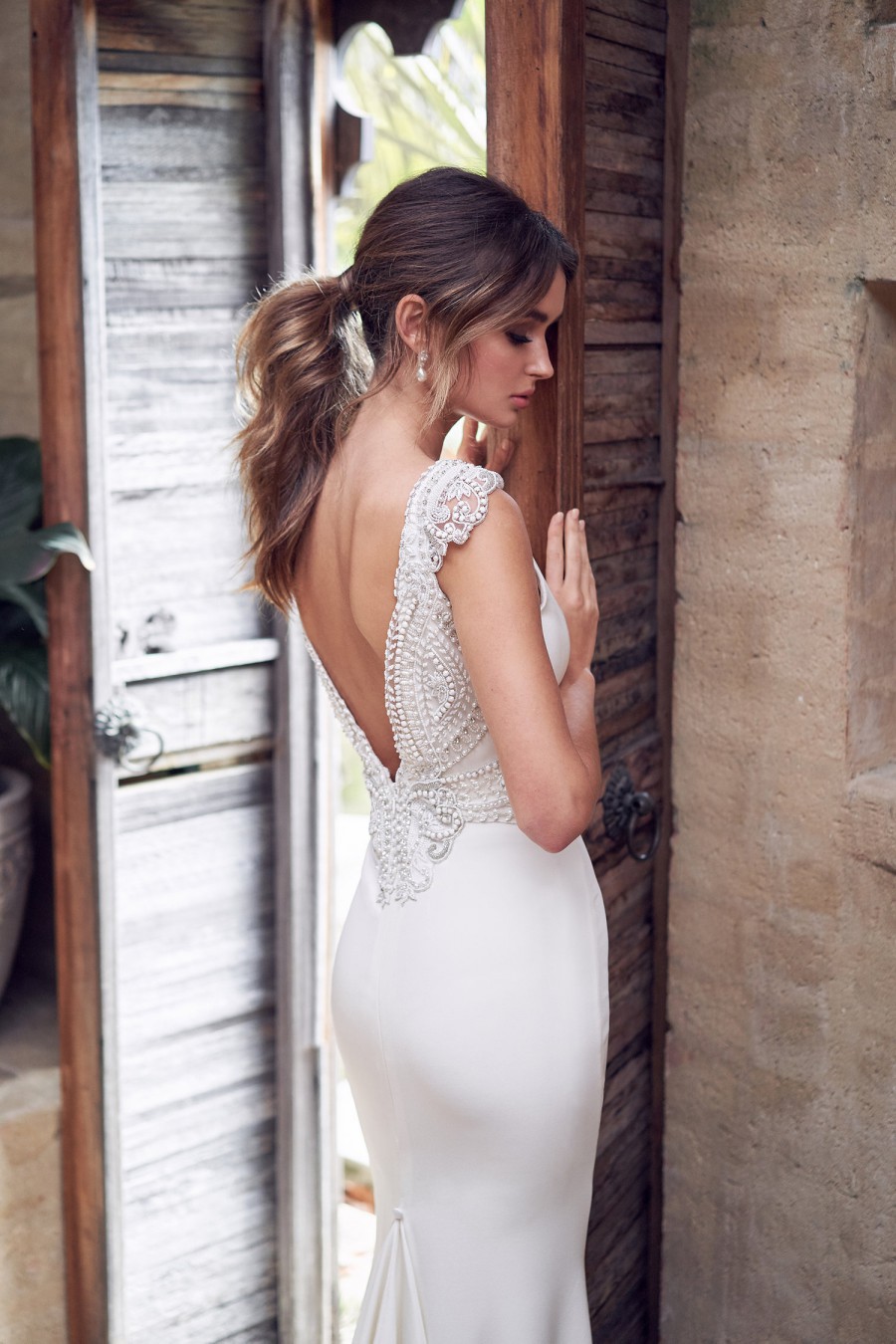 The intricately embellished back design of this next wedding gown has us dreaming of a fairytale worthy wedding day.
23.

Barely There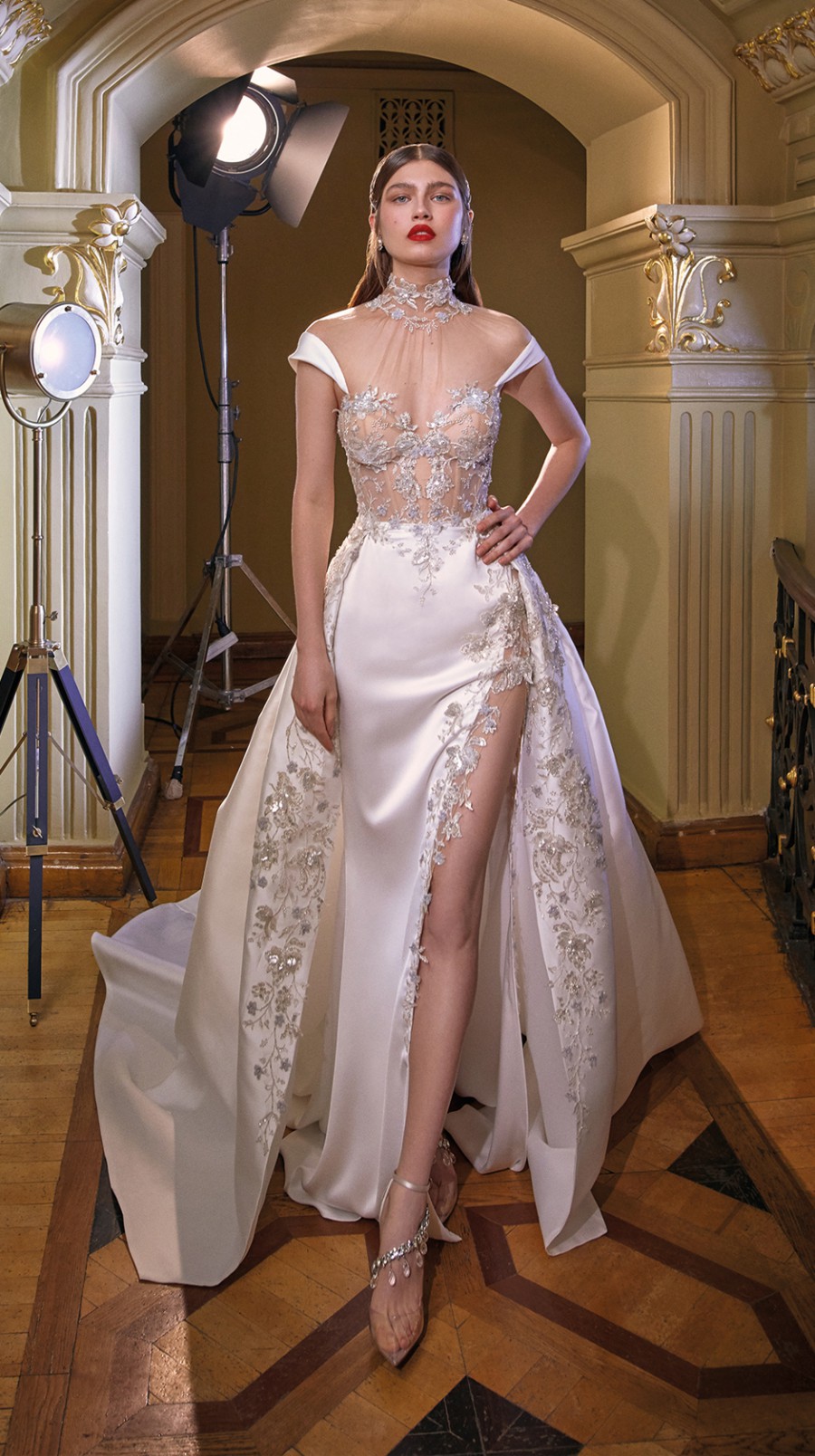 Galia Lahav brings us a barely there boldly embellished bridal style that is jaw dropping. This couture wedding style is daring and confident.

By Kathryn Schrotenboer