Nothing makes a bolder statement than a black wedding gown. Dark, sophisticated, and fashionably chic.
Whether you are having a spooky Halloween wedding, or a formal black tie New Years Eve affair, nothing is more fitting than a chic, fashionable black wedding day look. These stunning black styles may just have you rethinking a perfectly white wedding dress for your big day.
01.

Fashion Forward Glam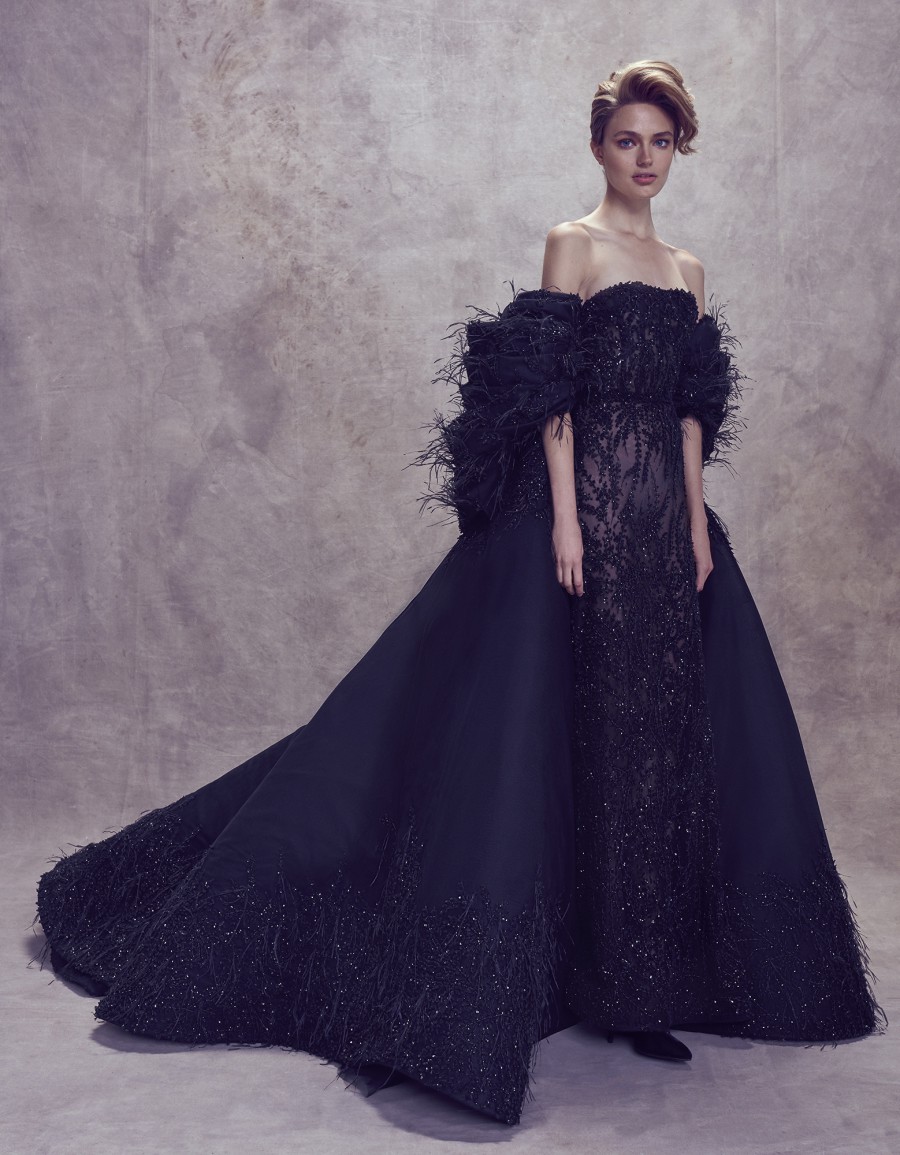 A bold and glamorous black ball gown style. A mix of unexpected textures, including feathers, make this statement piece a show stopping wedding day look.
02.

Black Tie Elegance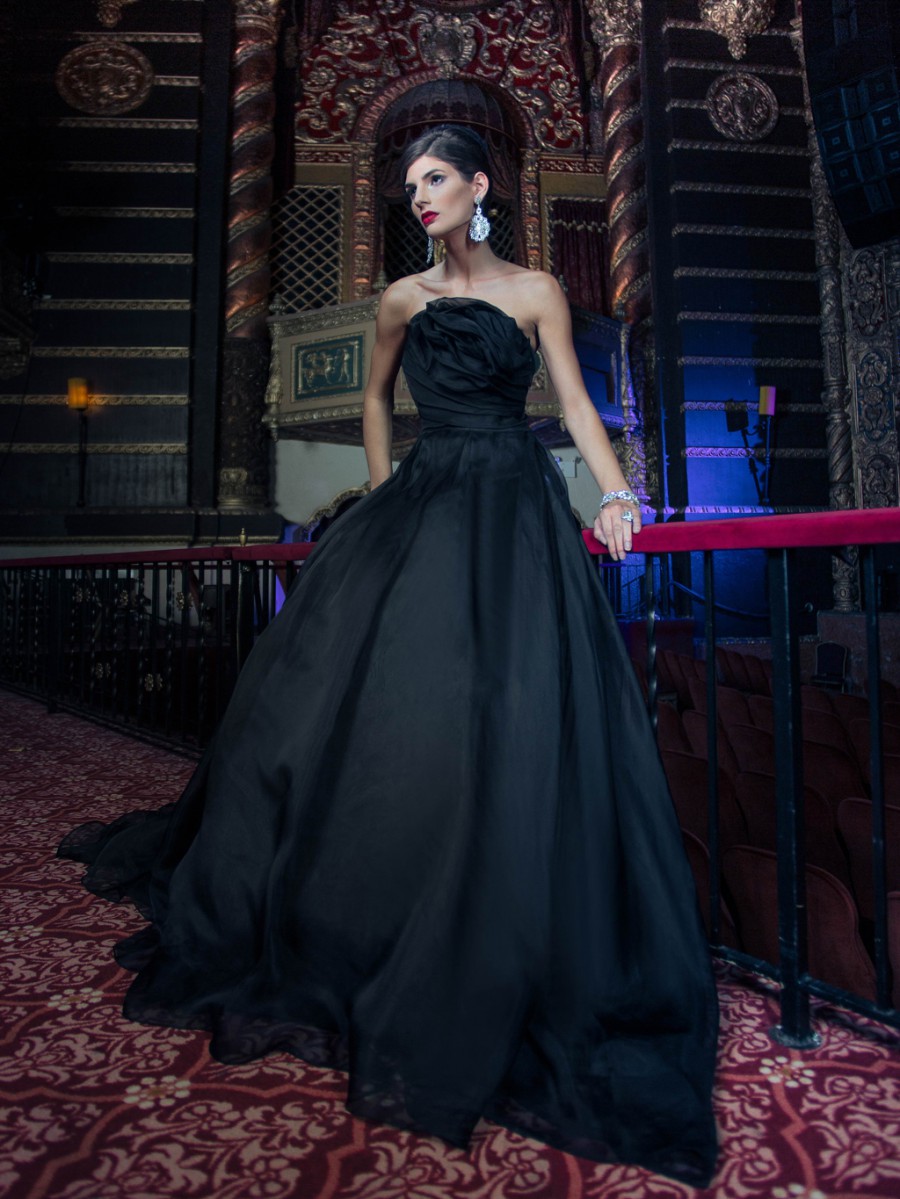 An elegant a-line ball gown fit for a formal black tie wedding day. A delicately rouched bodice with soft peaks creates an eye catching focal point.
03.

Black Layers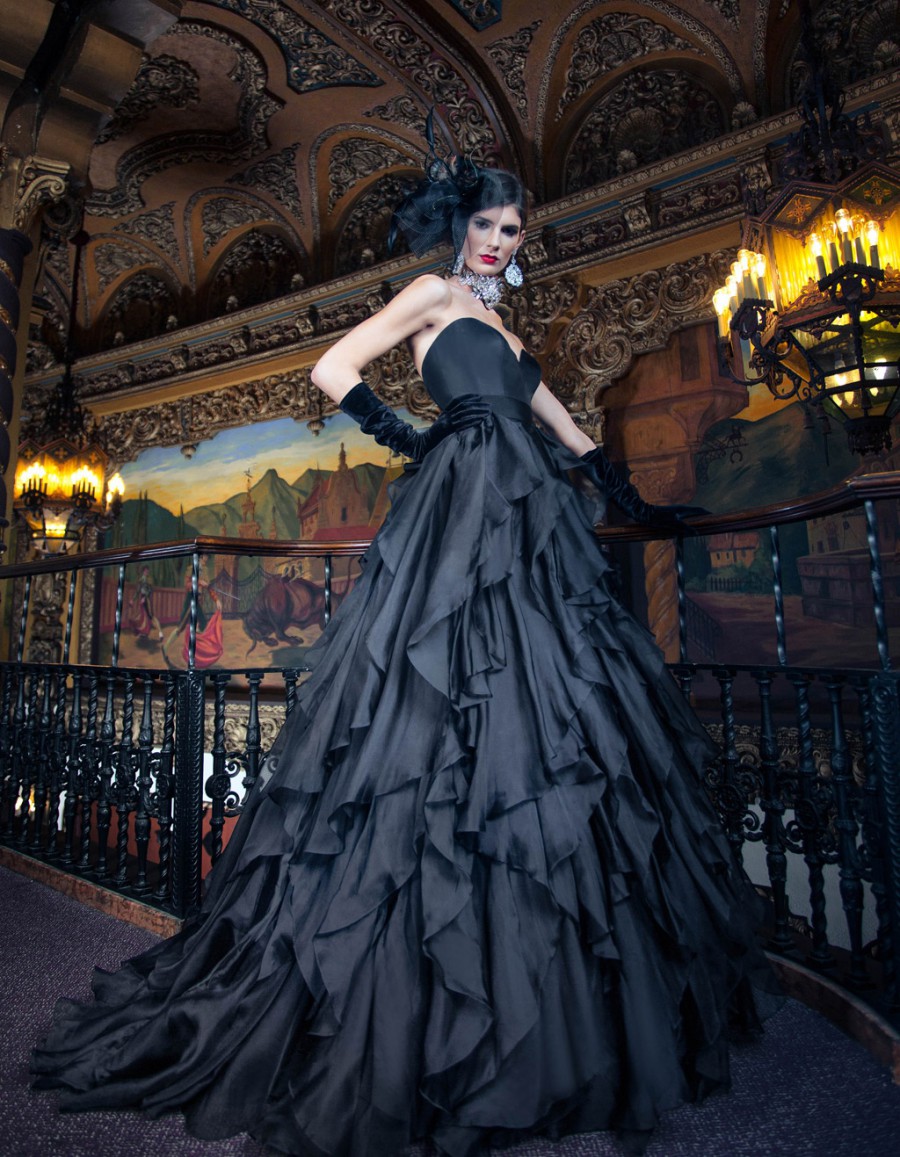 Luxe layers of flowing black silk are fashionably stunning. A lush and luxurious black wedding style.
04.

High Fashion Couture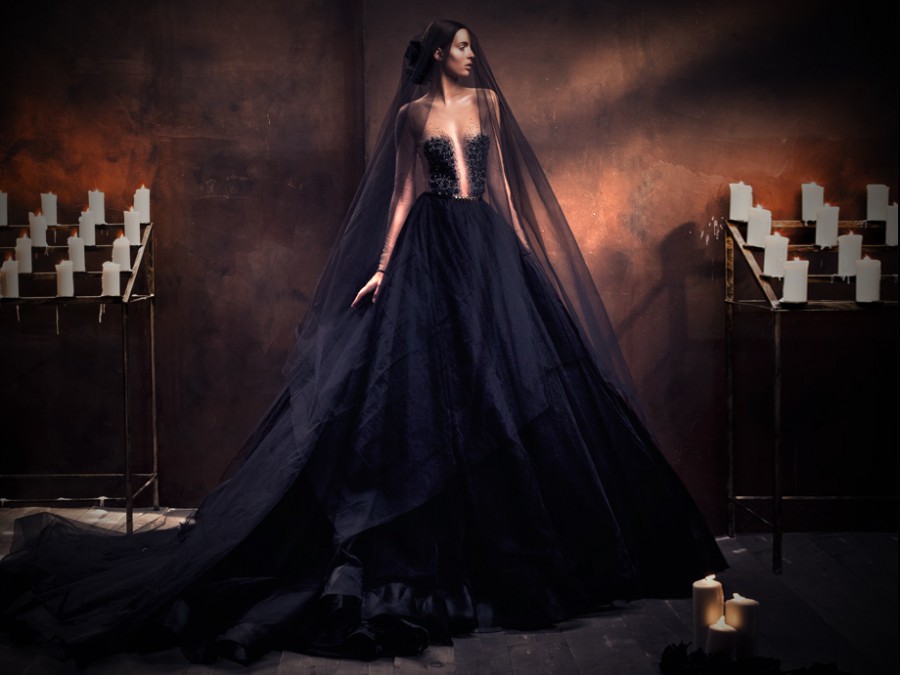 The luxurious fashion forward couture black wedding gown of your dreams. A barely-there bodice gives this ball gown a bold, sexy twist.
05.

Moody Tulle and Lace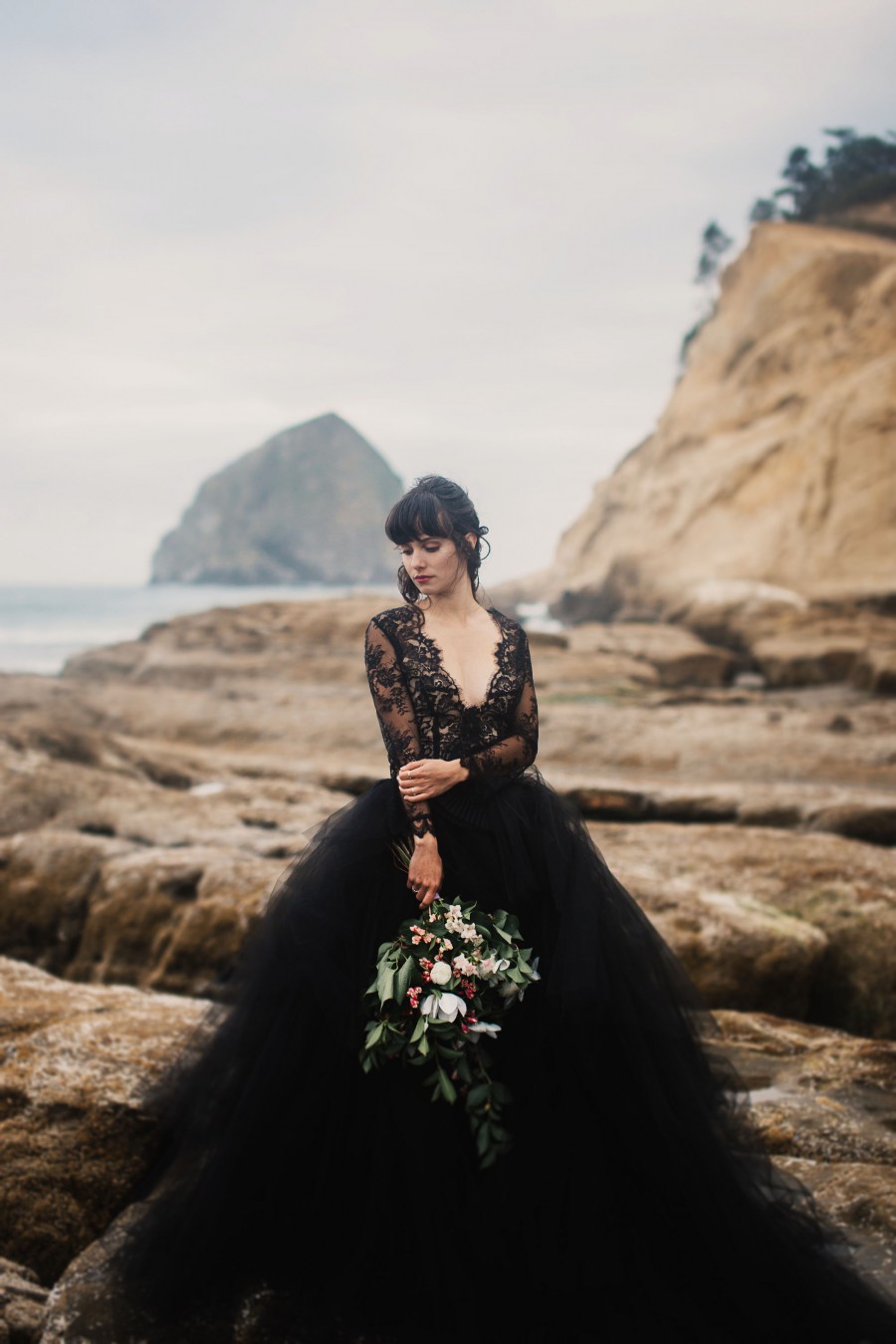 A moody and romantic black wedding style featuring a sheer black lace bodice and voluminous tulle skirt.
06.

Black Swan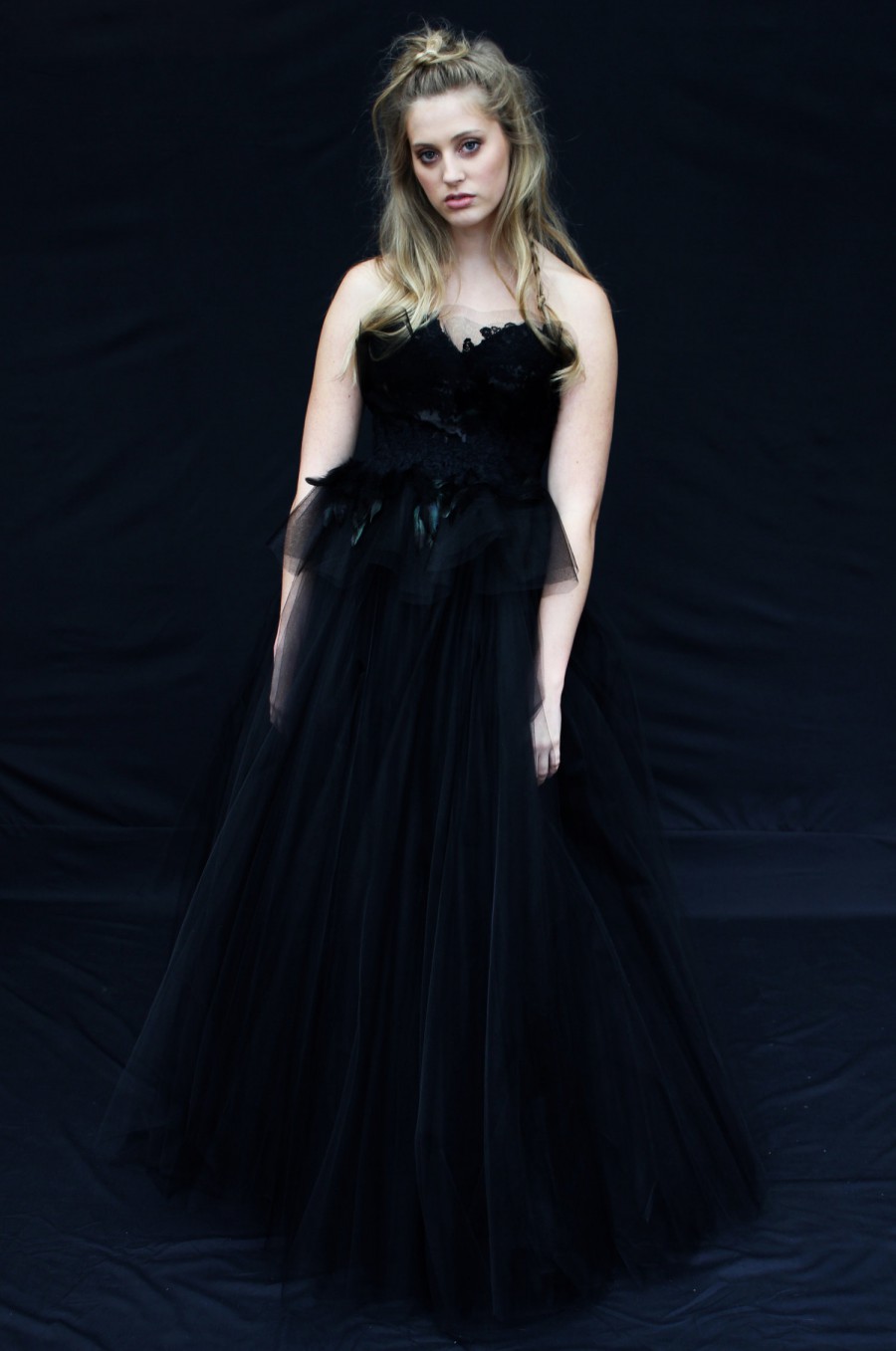 A Claire la Faye wedding gown fittingly named Black Swan. Netted tulle and feathers at the bodice create a eerie black wedding gown style.
07.

Dark Romance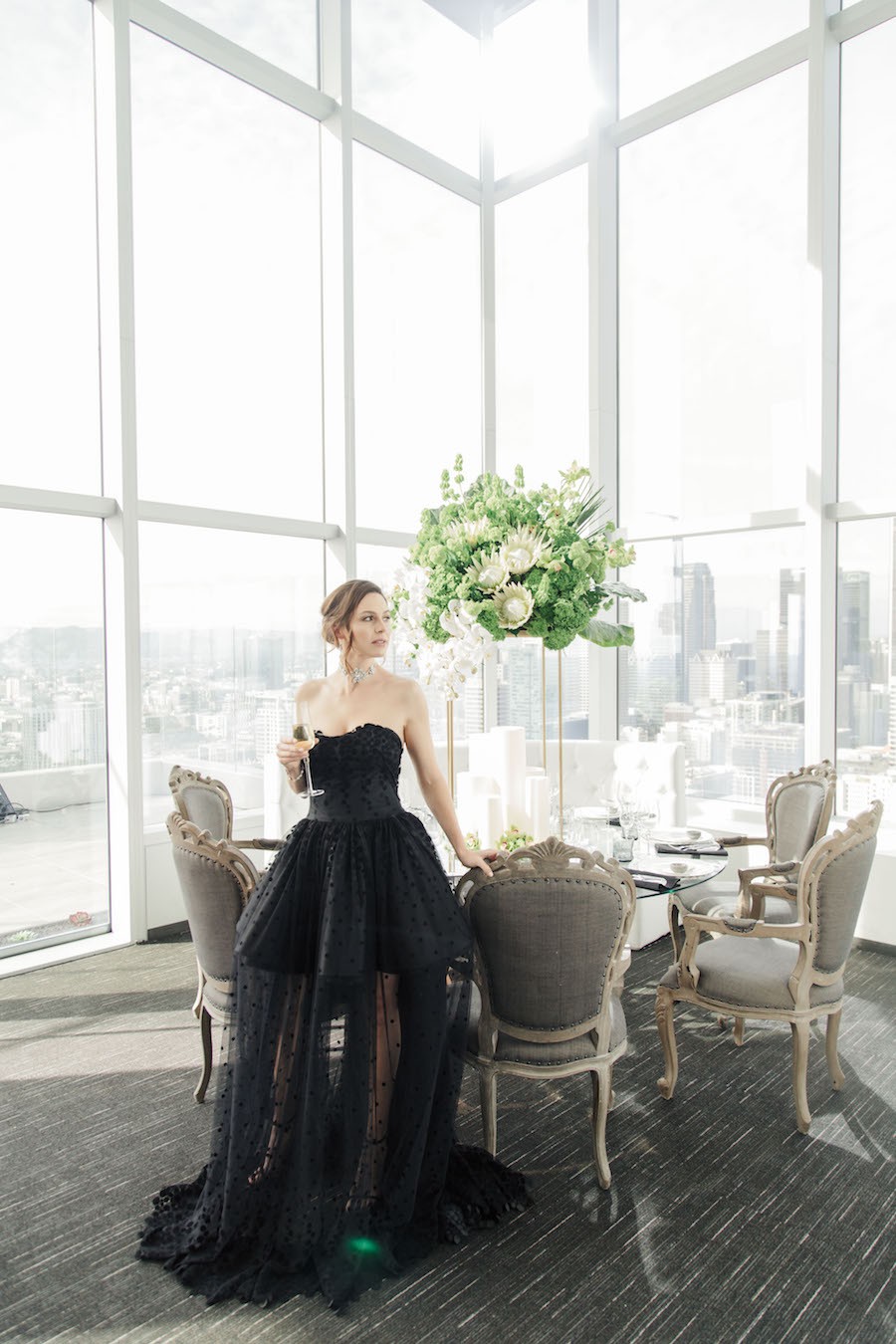 An edgy, semi sheer wedding style featuring a voluminous strapless mini dress with ominous black overlay. A dark, romantic wedding look.
08.

Black and Blue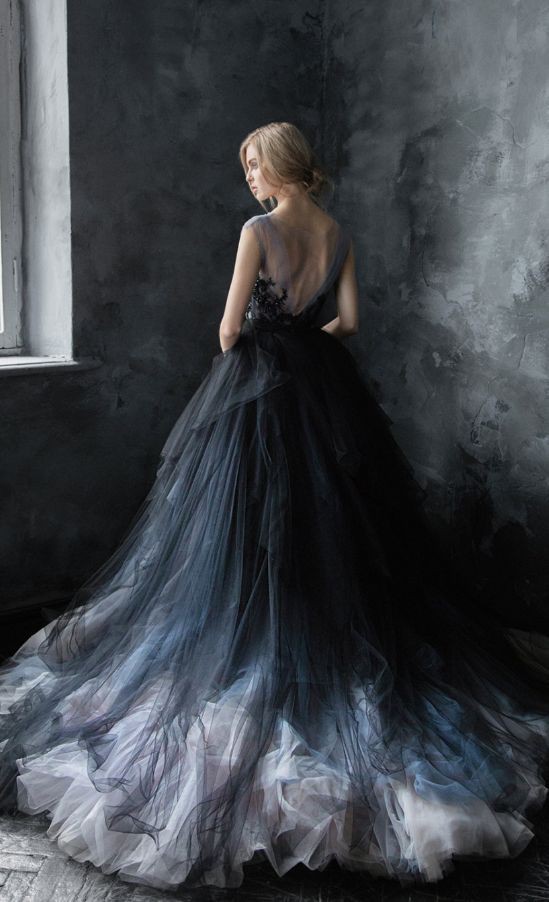 A unique black, blue and silver wedding gown that is both dark and elegant. A beautiful non-white wedding alternative.
09.

A Touch of Black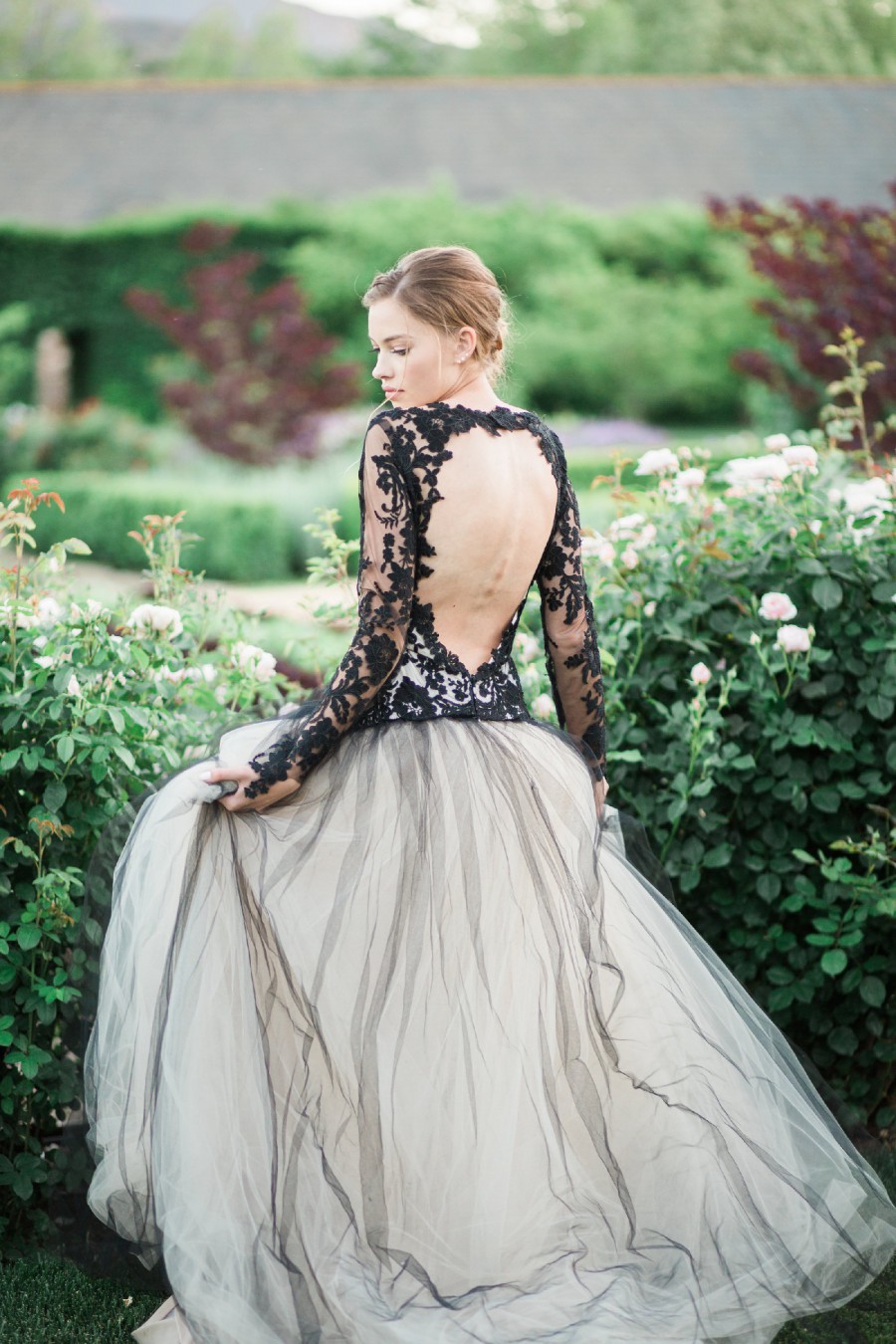 Are you loving these black styles but need something a little less dark? This is the look for you! Sheer black lace and a light black tulle overlay give this look just the right touch of dark.
10.

Black Mermaid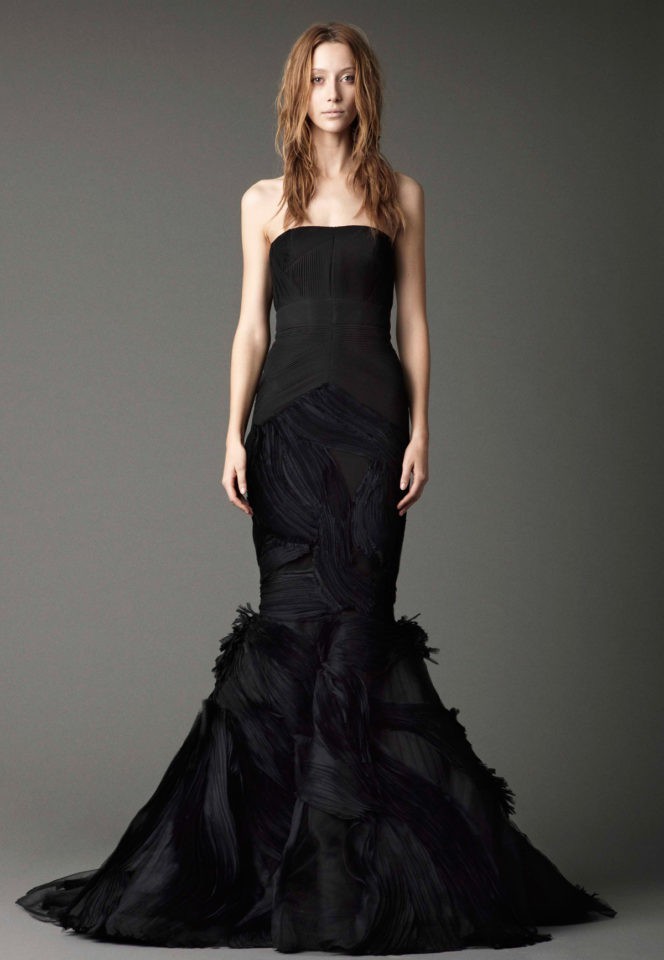 Vera Wang has created some of the most iconic black wedding dresses to ever hit the bridal fashion scene. This black mermaid is no exception.
11.

Black and Blush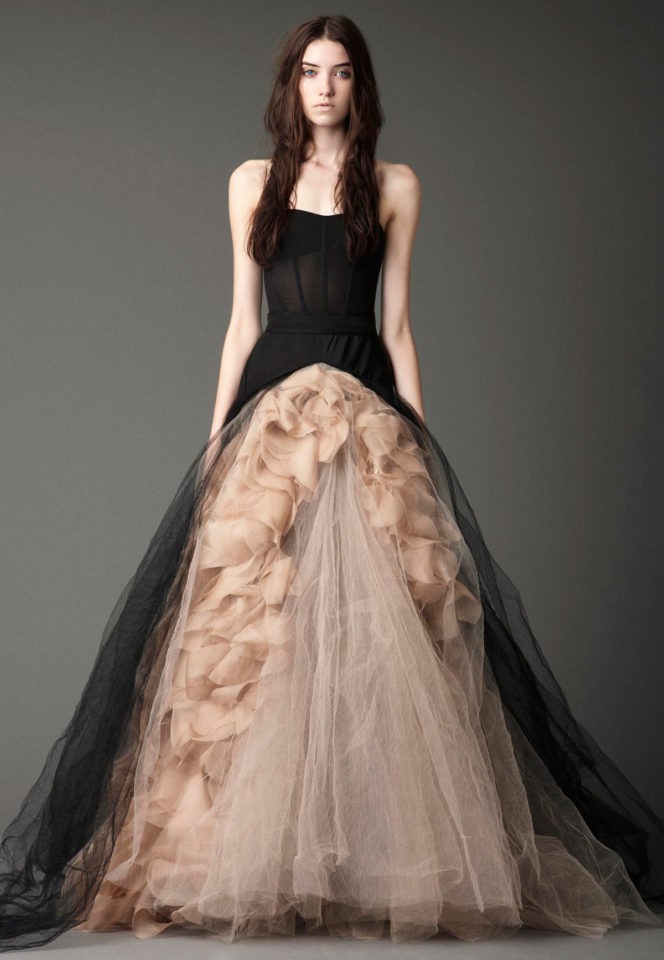 Black and blush is the most gorgeous combination we could imagine for a bride craving a non-white wedding look. Dark and ominous yet feminine and fashionable.
12.

High Neck Lace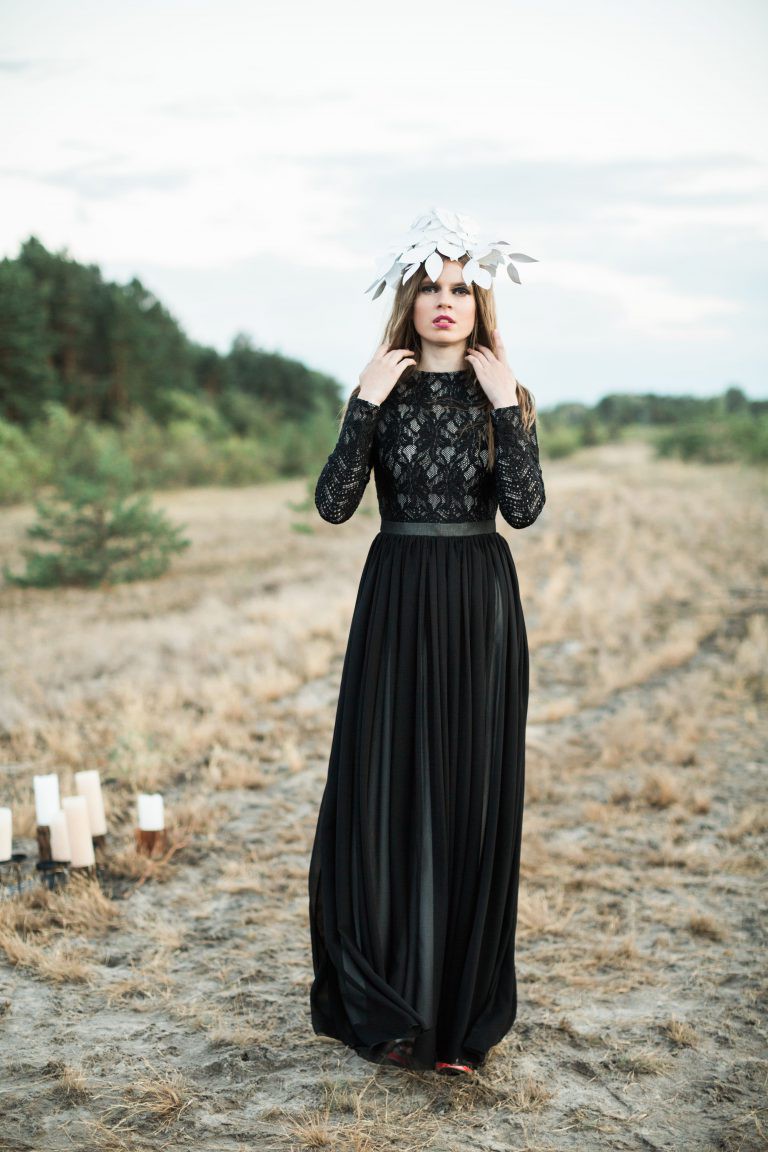 A gorgeous high neck lace black wedding gown. Simple and stunning.
13.

Silk Chiffon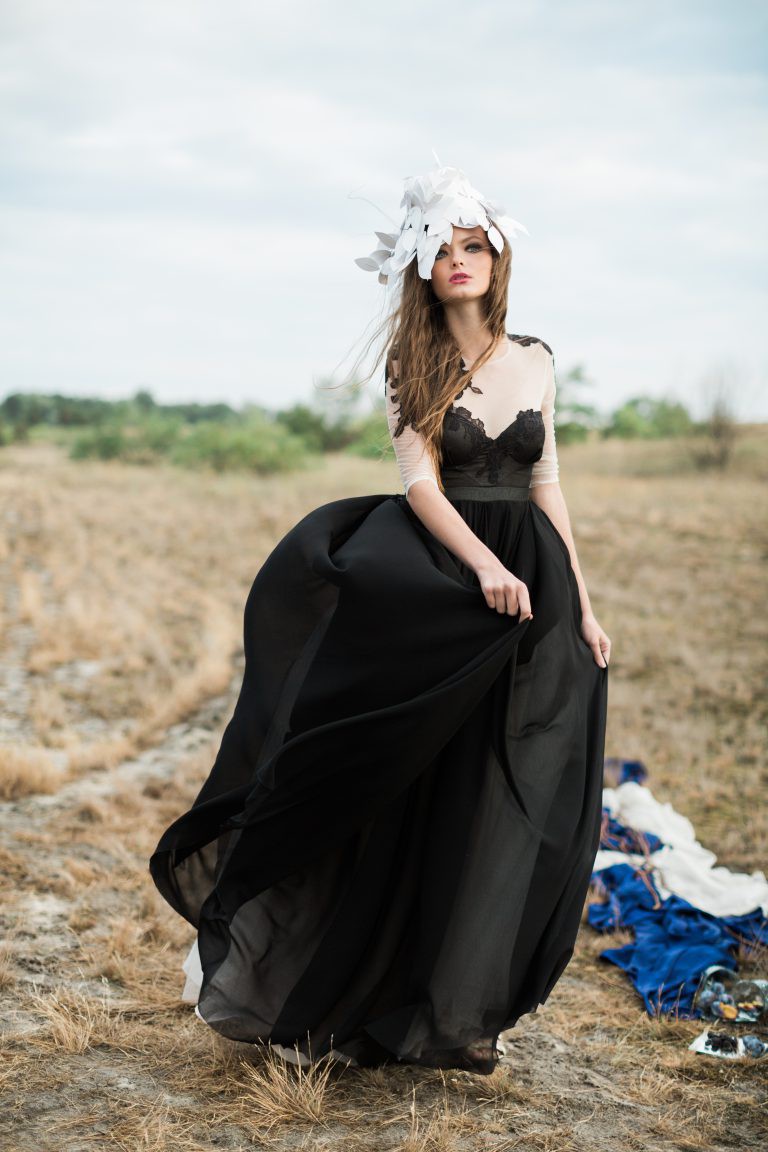 A luxe black silk chiffon wedding gown with sheer bodice and floral detailing.
14.

V-Neck Halter Ball Gown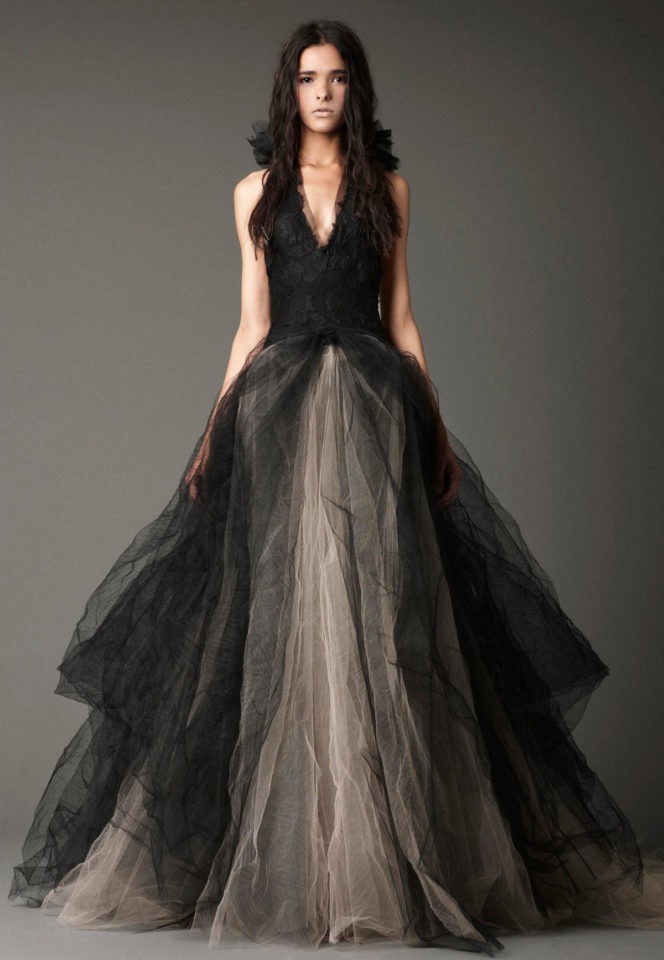 A multi-layered crinkled tulle skirt with Chantilly lace halter bodice for a one of a kind black wedding dress style.
15.

Black and Ivory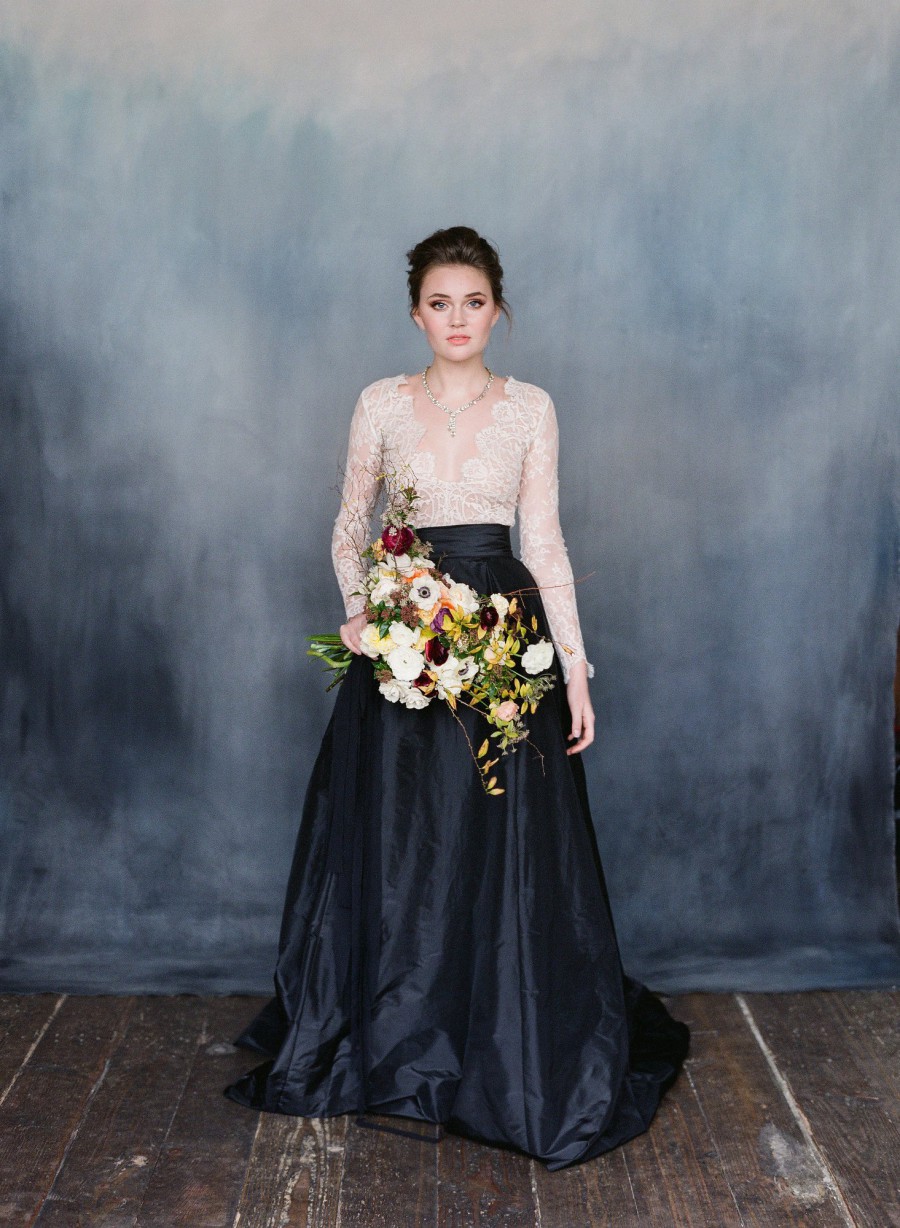 An elegant and dramatic black wedding dress style. Ivory lace top and black Italian silk taffeta skirt pair together beautifully to create an eye catching wedding dress.
16.

Black Lace Nude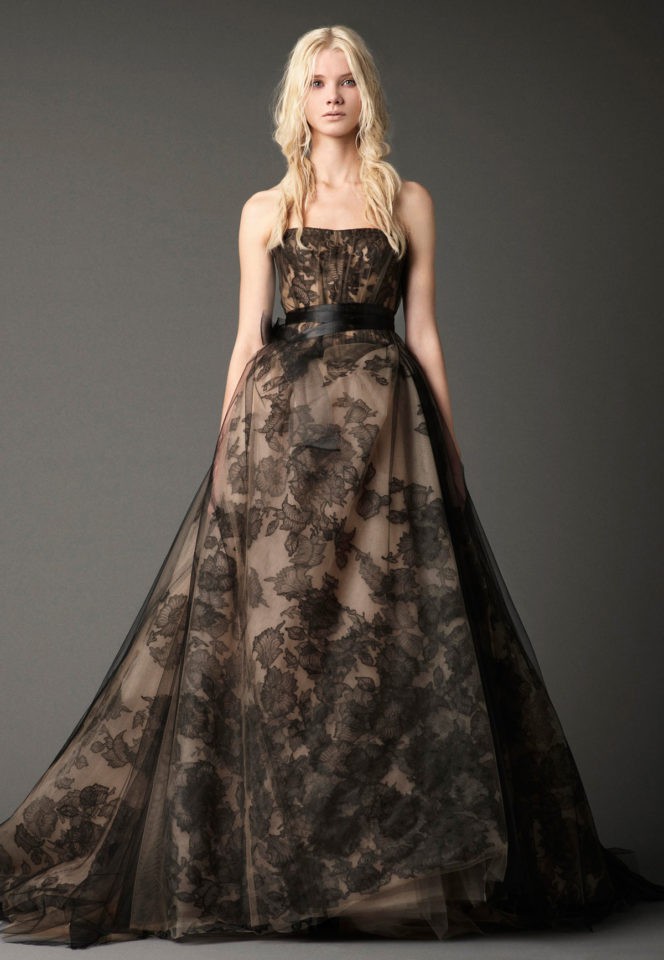 A gorgeous black Chantilly lace wedding ball gown with nude underlay. The black and nude combination creates a luxurious, rich style.
17.

Black and White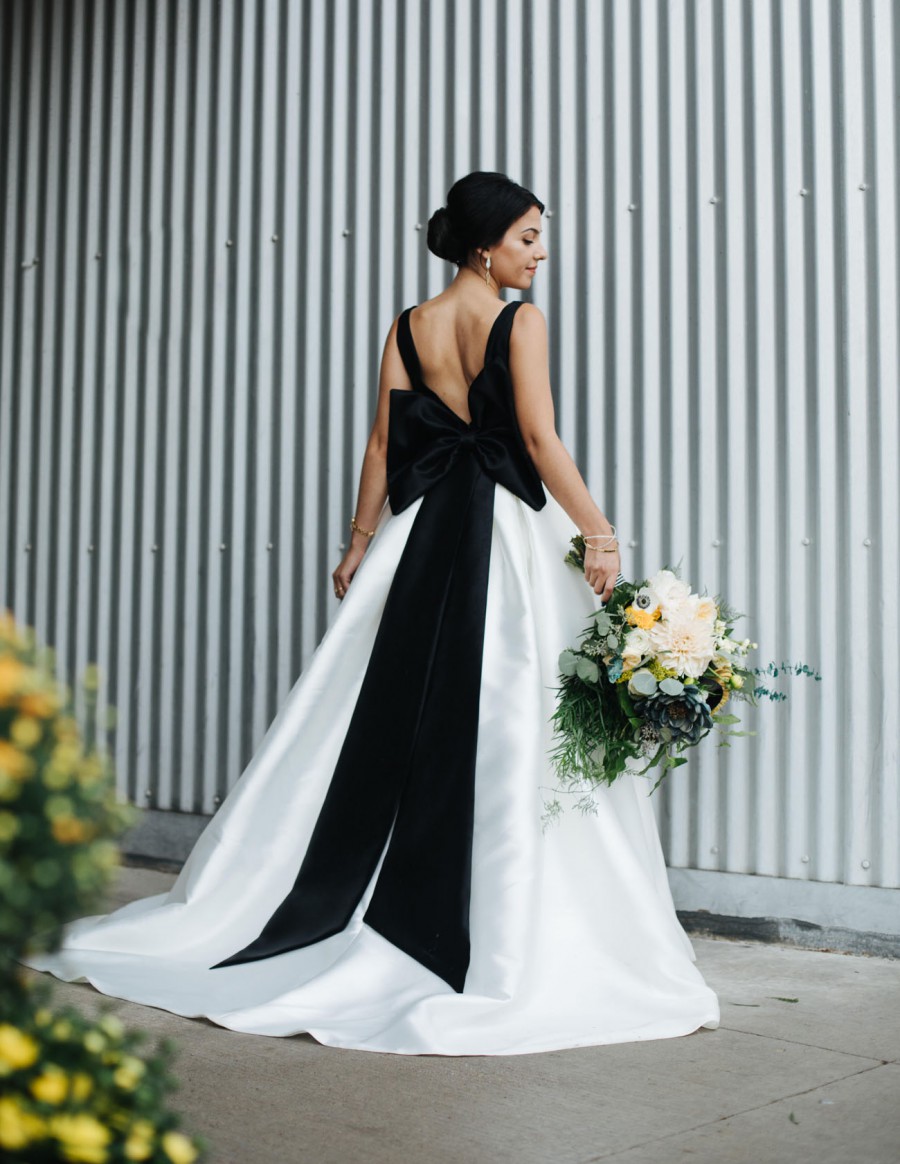 A unique black and white wedding dress style. A classic white skirt is paired with a black bodice and oversized black bow for a black wedding look like nothing else.
18.

Old Glamour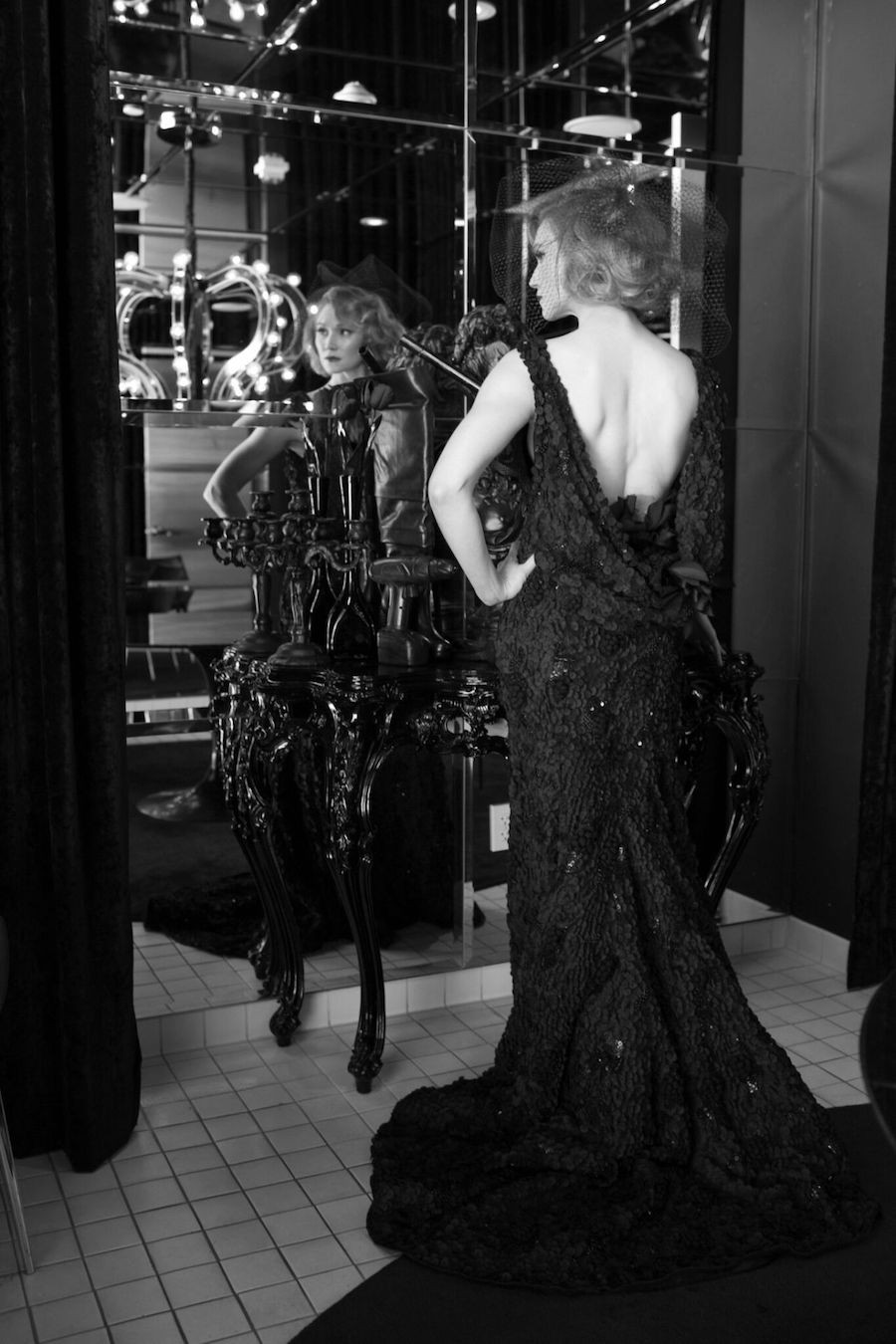 A textured, old glam inspired black wedding gown that is sure to turn heads all wedding long. Dark and elegant.
19.

Trendy Black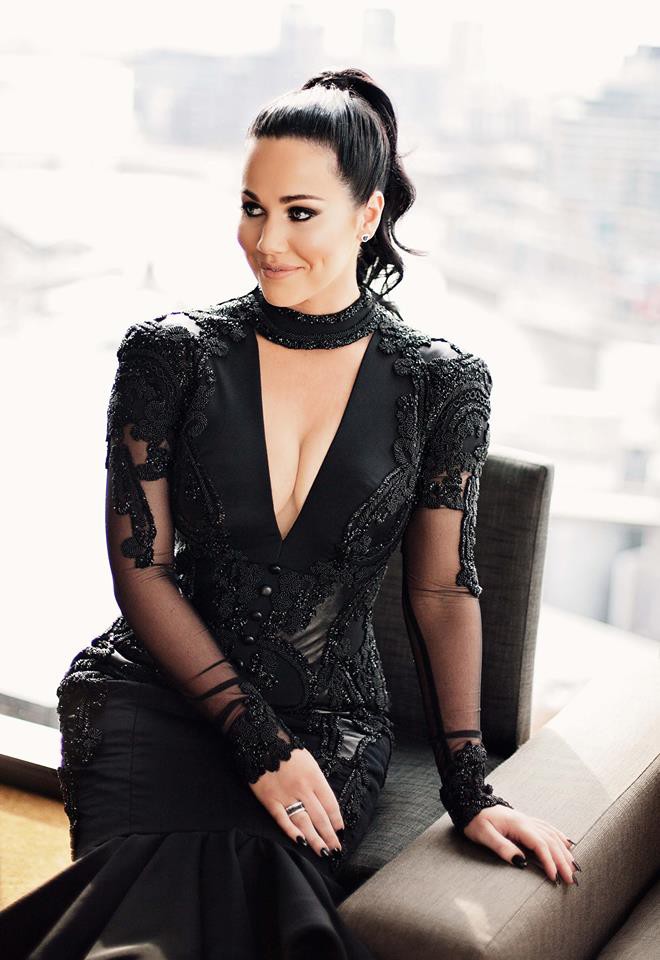 Signor Mont brings us a trendy, high fashion black style that is daring and bold. This black silk crepe gown features intricate beaded lace, Italian sheer, leather and button detailing. An absolutely show stopping black wedding style.
20.

Silk Rosettes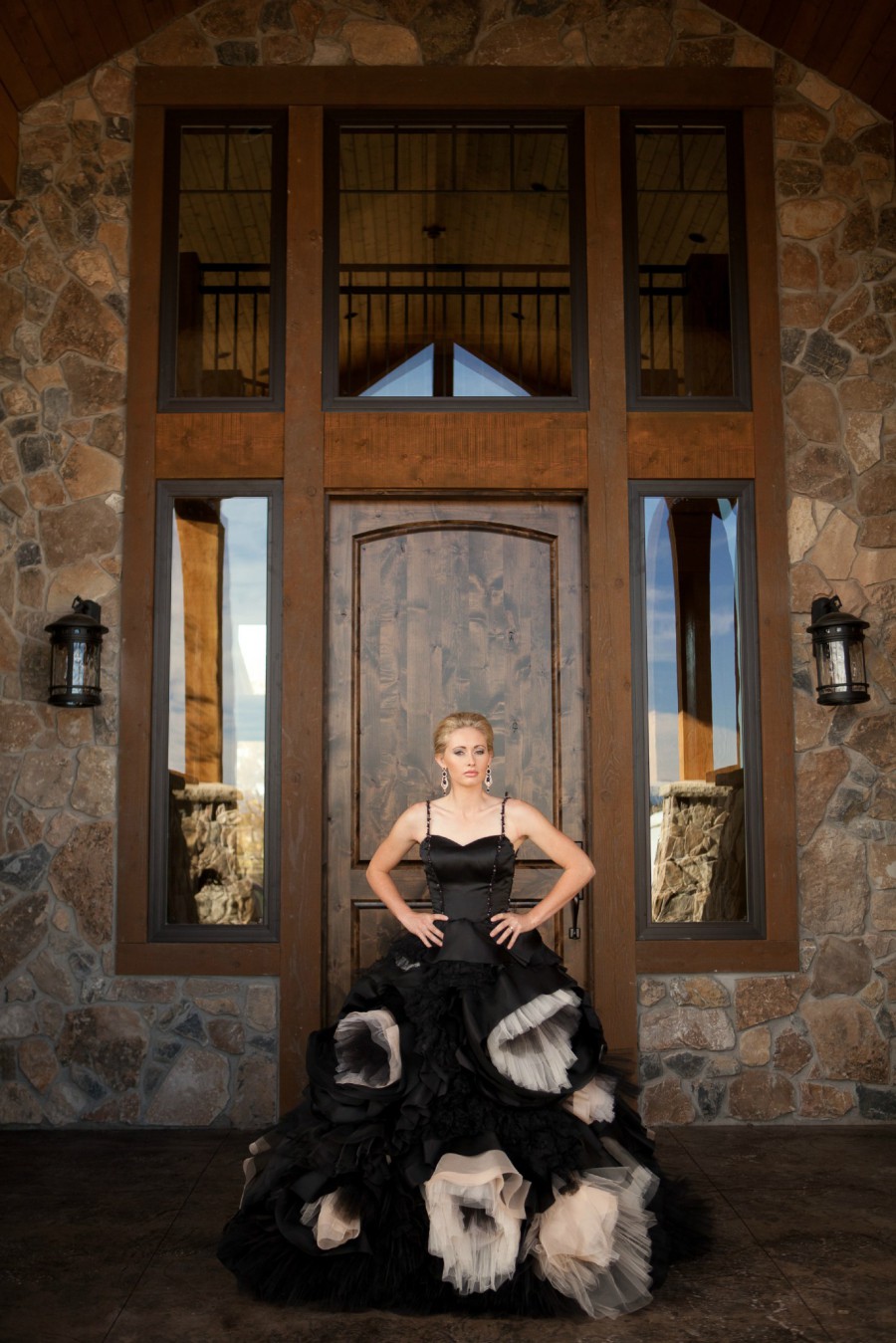 A stunning couture black wedding gown made of 100% silk. This fashion forward gown is sure to make a big statement with its uniquely designed taupe and champagne silk organza rosette accents for a truly one of a kind look.
21.

Black Classic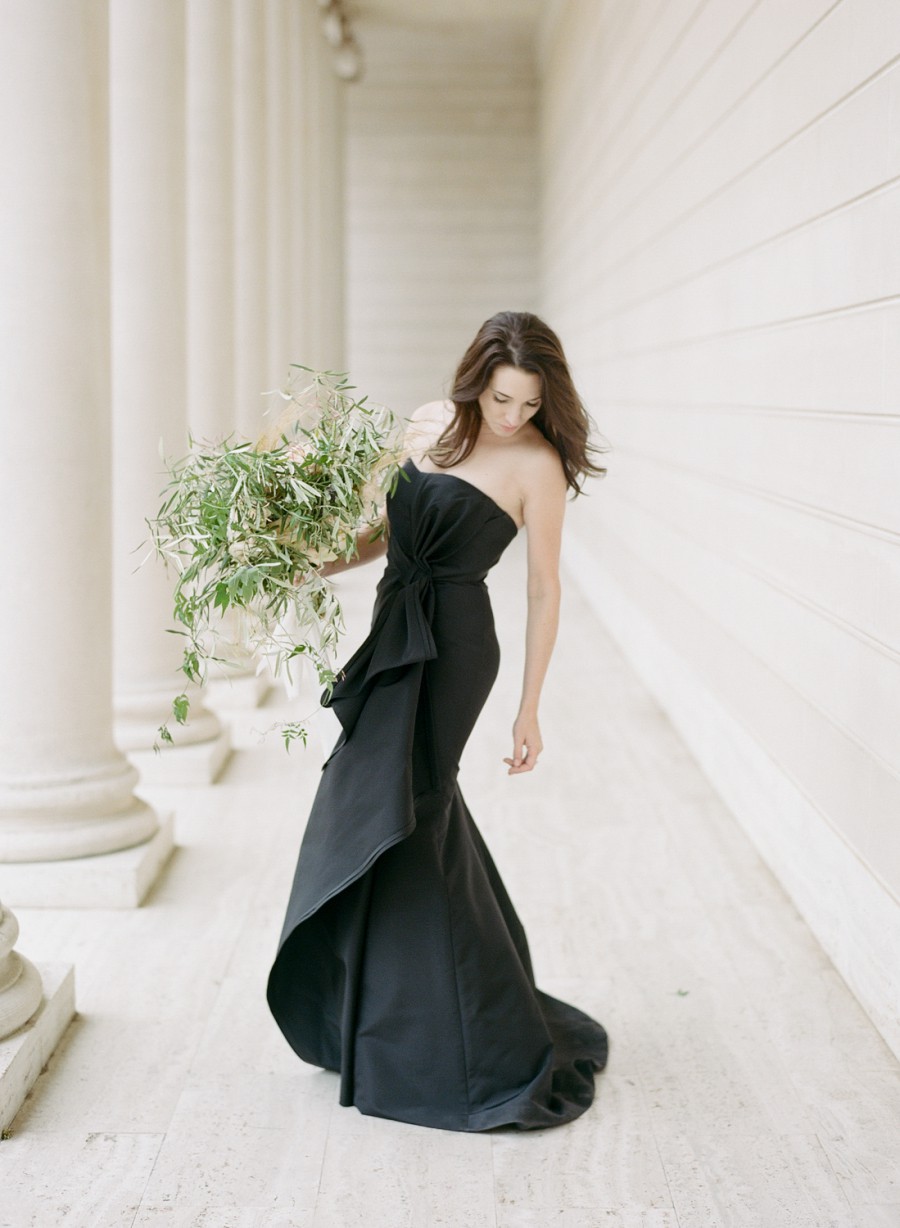 A gorgeous black wedding gown by Carolina Herrera that is classic and timeless. Add a touch of your edgy personality with the black colored gown, while keeping things timeless with a classic cut style.
22.

City Chic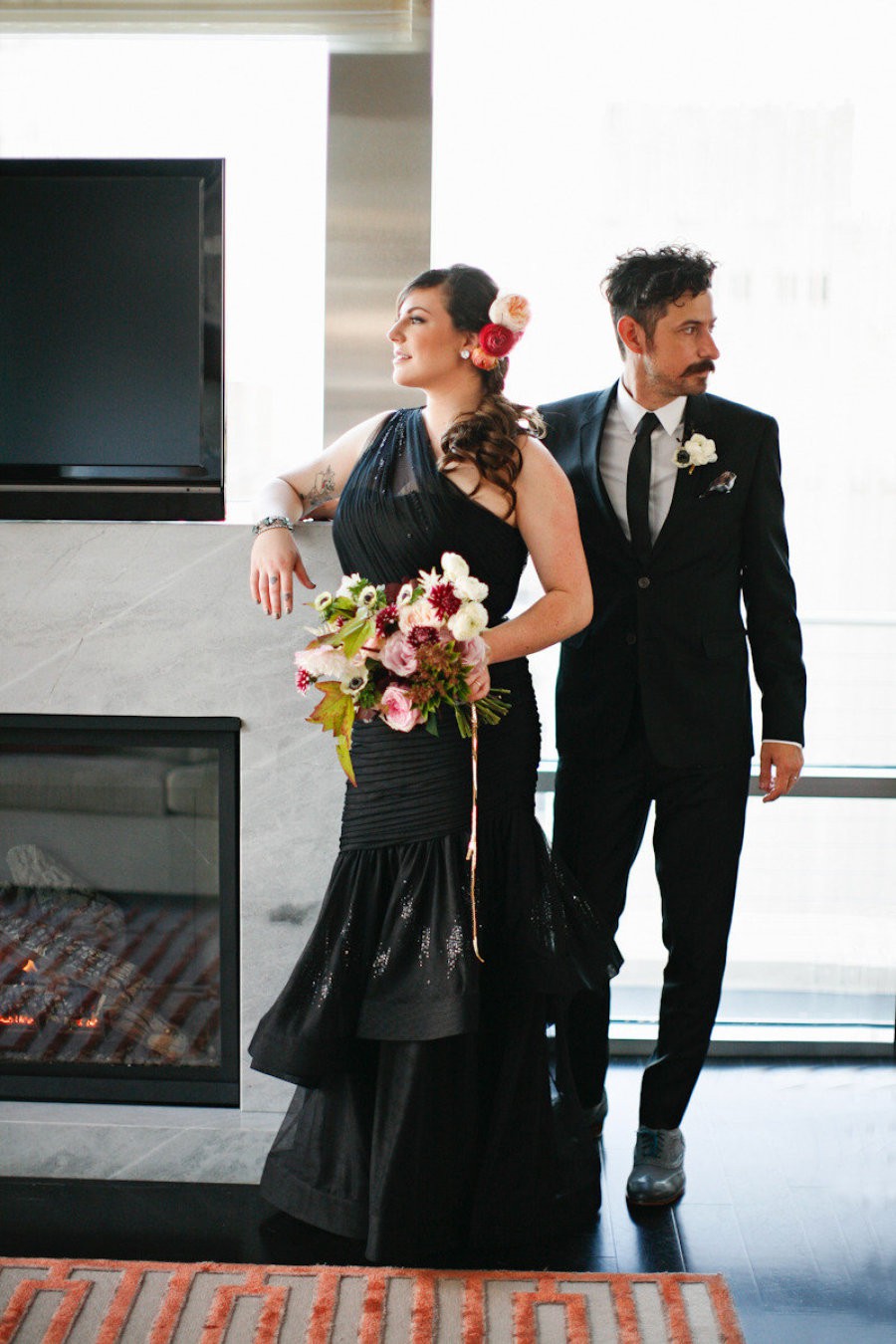 A show-stopping black wedding gown style is just what a big city bride needs for a chic, contemporary wedding. This one shouldered tiered gown is the perfect mix of glitz and texture.
23.

Black Velvet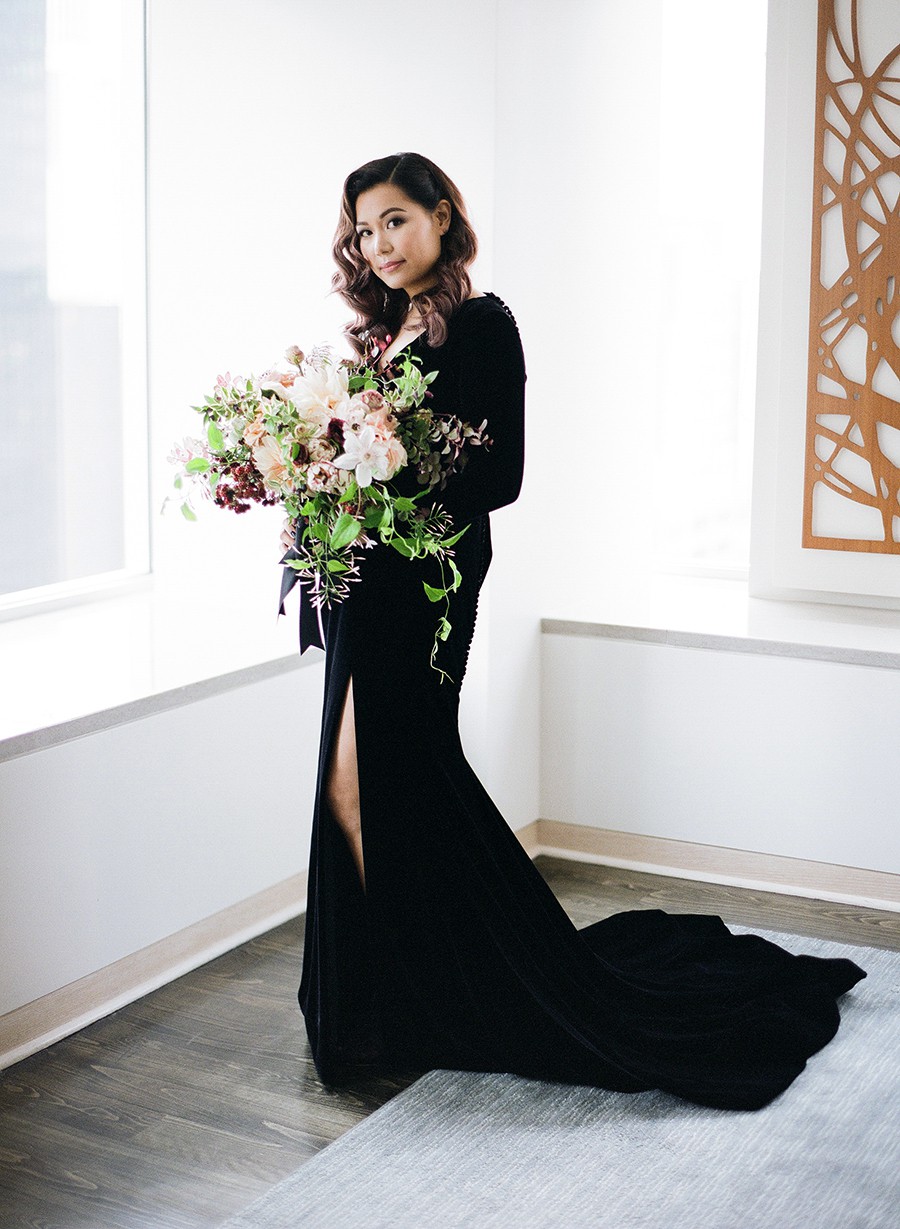 A timeless long sleeve, black velvet wedding gown style is the perfect look for a black tie winter wedding. The perfect mix between classic glamour and chic contemporary styles.
24.

Sexy Lace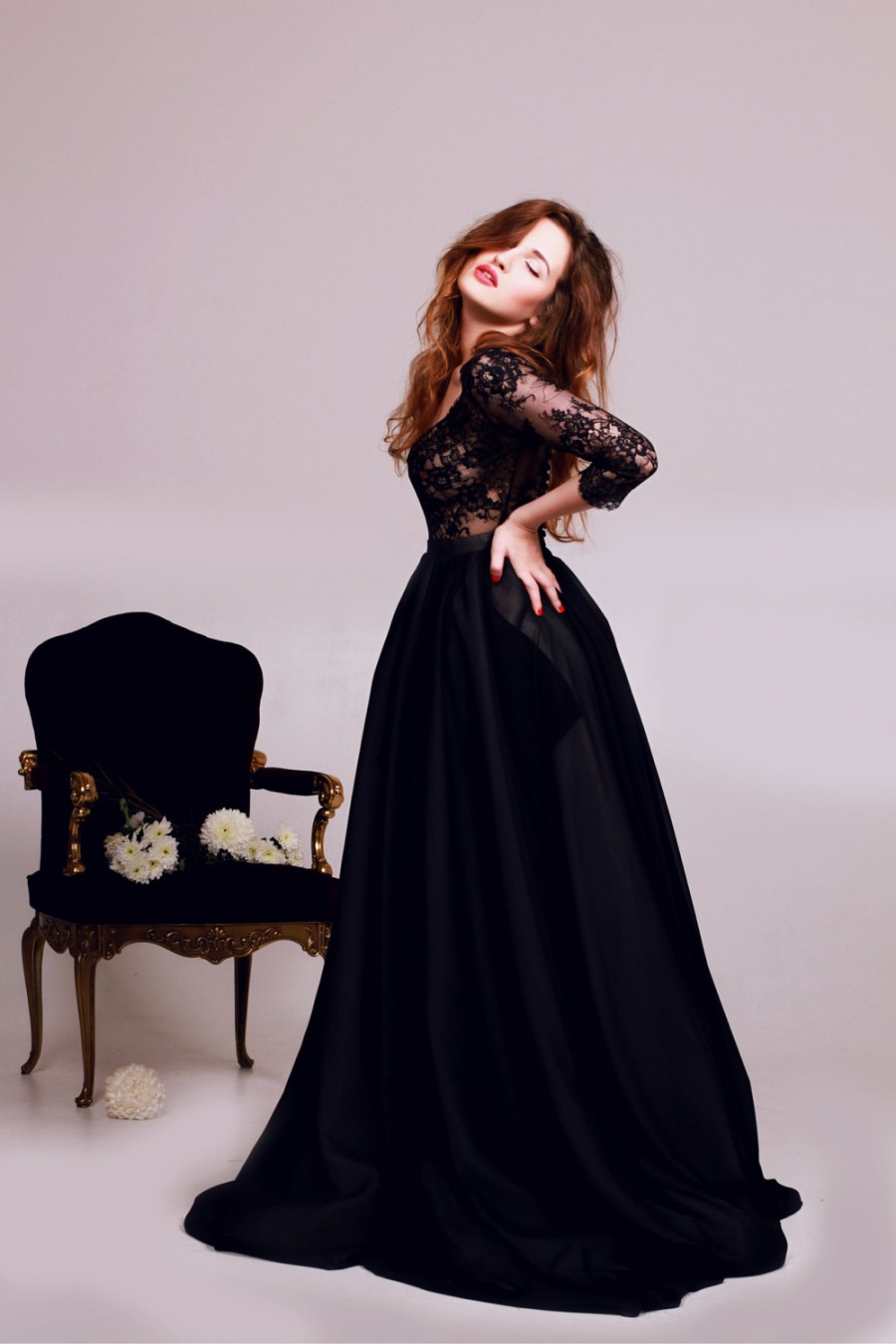 A sexy black lace deep-V neck wedding dress with 3/4 length sleeves. A gorgeous untraditional a-line wedding gown.
25.

Strapless Couture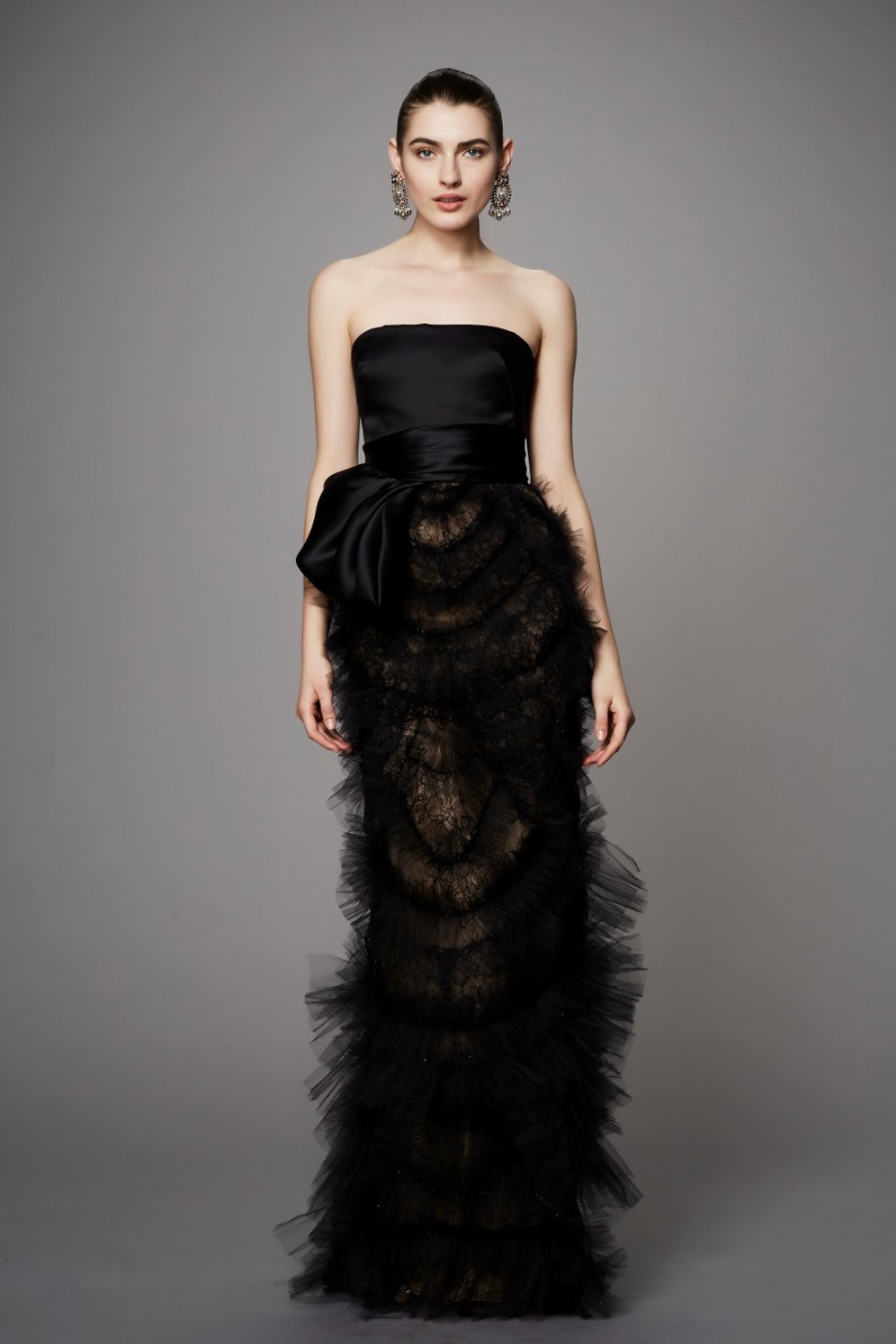 A stunning strapless couture style by Marchesa that could make for an absolutely chic black wedding dress style. Dark and elegant.
26.

Layers of Tulle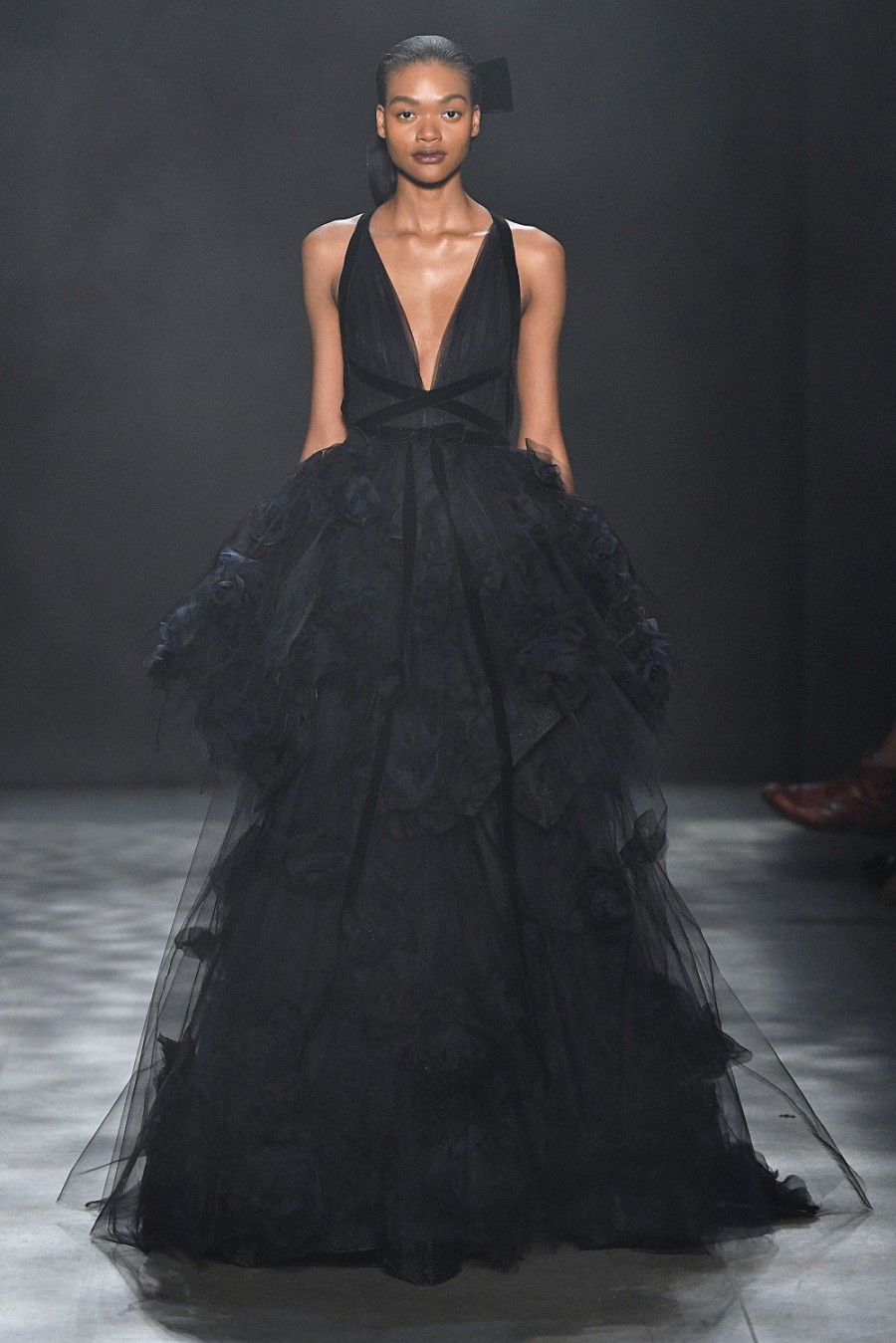 A gorgeous deep-v layered black tulle style by Marchesa. An eerie black bridal style that will give you a spooky finish for your less than traditional wedding day look.

Shop wedding dresses now.

By Kathryn Schrotenboer