Floral detailing is always a classic wedding style. But for a more modern look, consider one of these 3-dimensional floral appliqué styles that are sweeping the wedding scene by storm.
Dimensional floral wedding gowns are romantic, feminine, and whimsical. They are the perfect way to add a subtle, unexpected flair to your wedding day look.
01.

Illusion Tulle
A stunning modern wedding gown. A deep-V neckline and sheer tulle bodice are the perfect compliments to the 3-dimensional floral accents.
02.

Whimsical Peach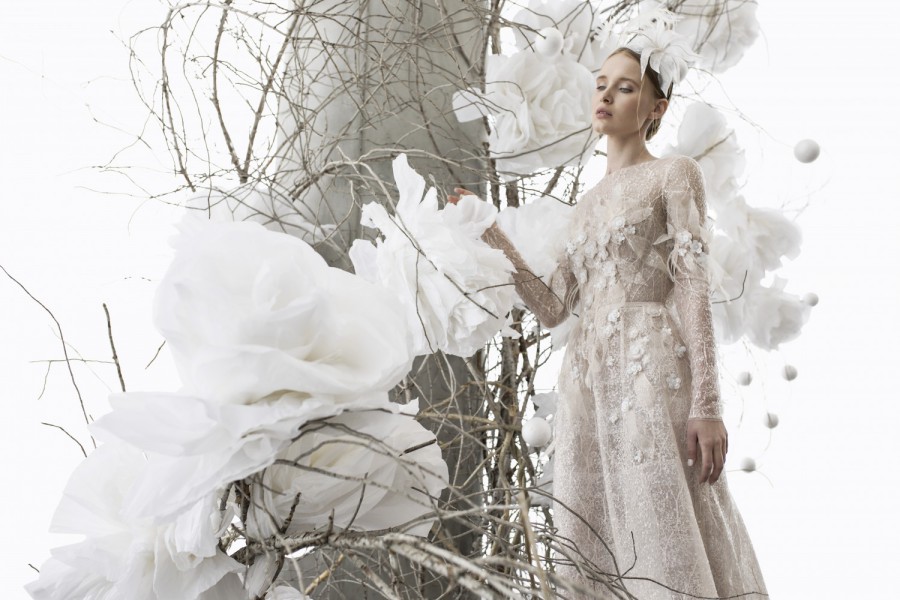 A one of a kind whimsical wedding style in an unexpected peach color with dramatic floral appliqué.
03.

Floral Texture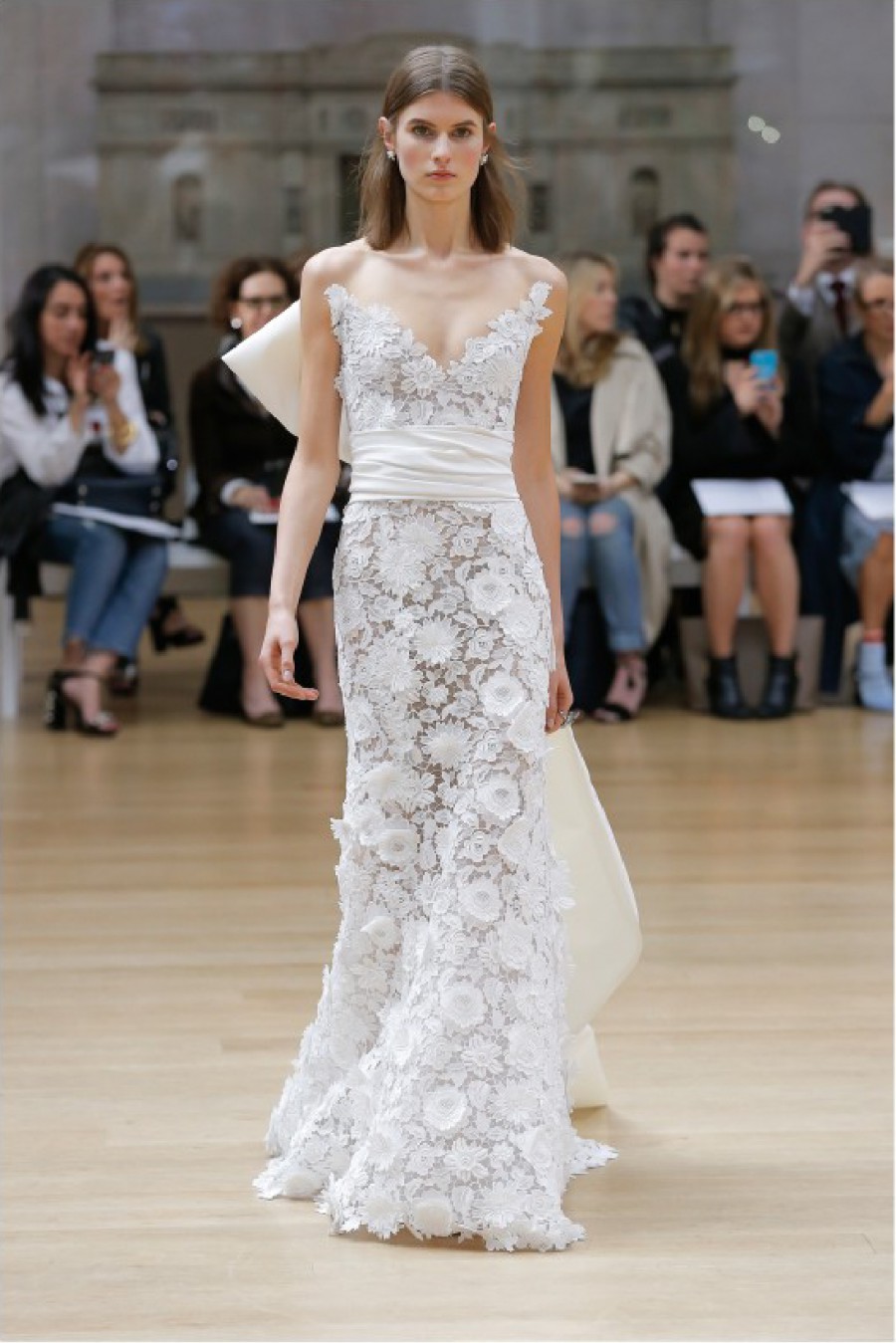 Head to toe floral appliqué that creates a truly unique, textured bridal style. This style is finished with a silk oversized bow, which is a beautiful opposing texture to finish this look.
04.

Strapless Florals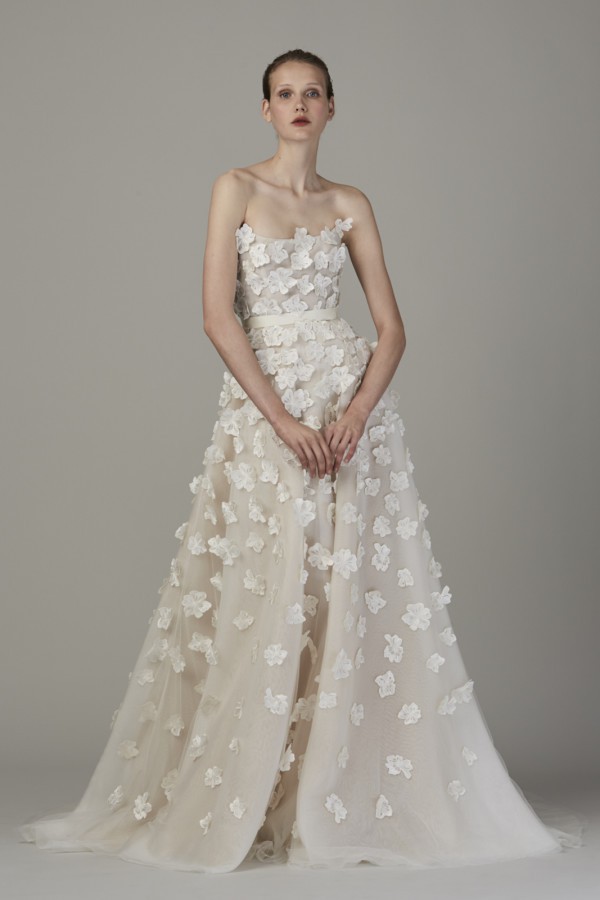 A gorgeous not-so-white wedding style in a classy strapless cut, with contemporary dimensional florals floating gracefully gown the gown.
05.

High Neck Contemporary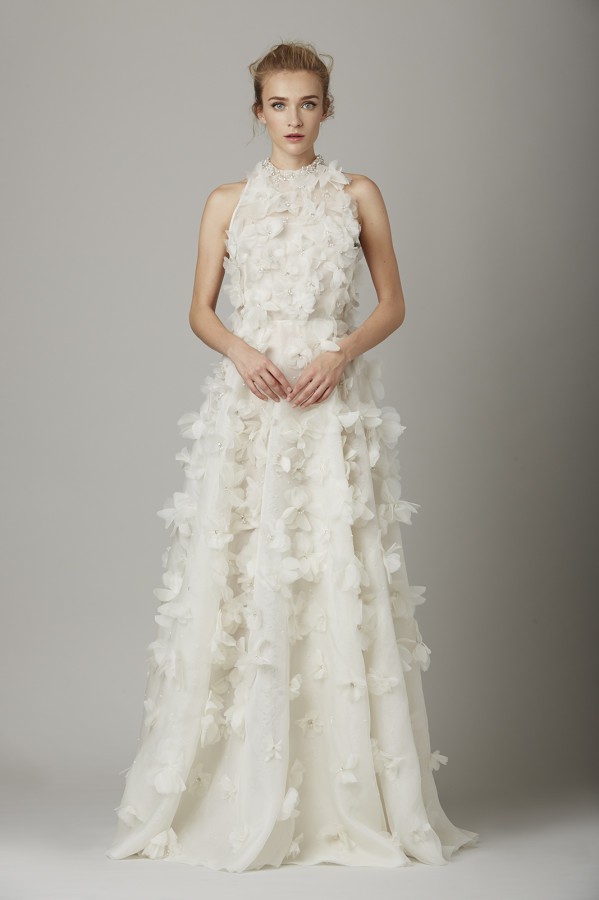 A truly unique high neck wedding gown style. This show stopping contemporary style features bold, dimensional florals that give the look a whimsical feel.
06.

Modern Accents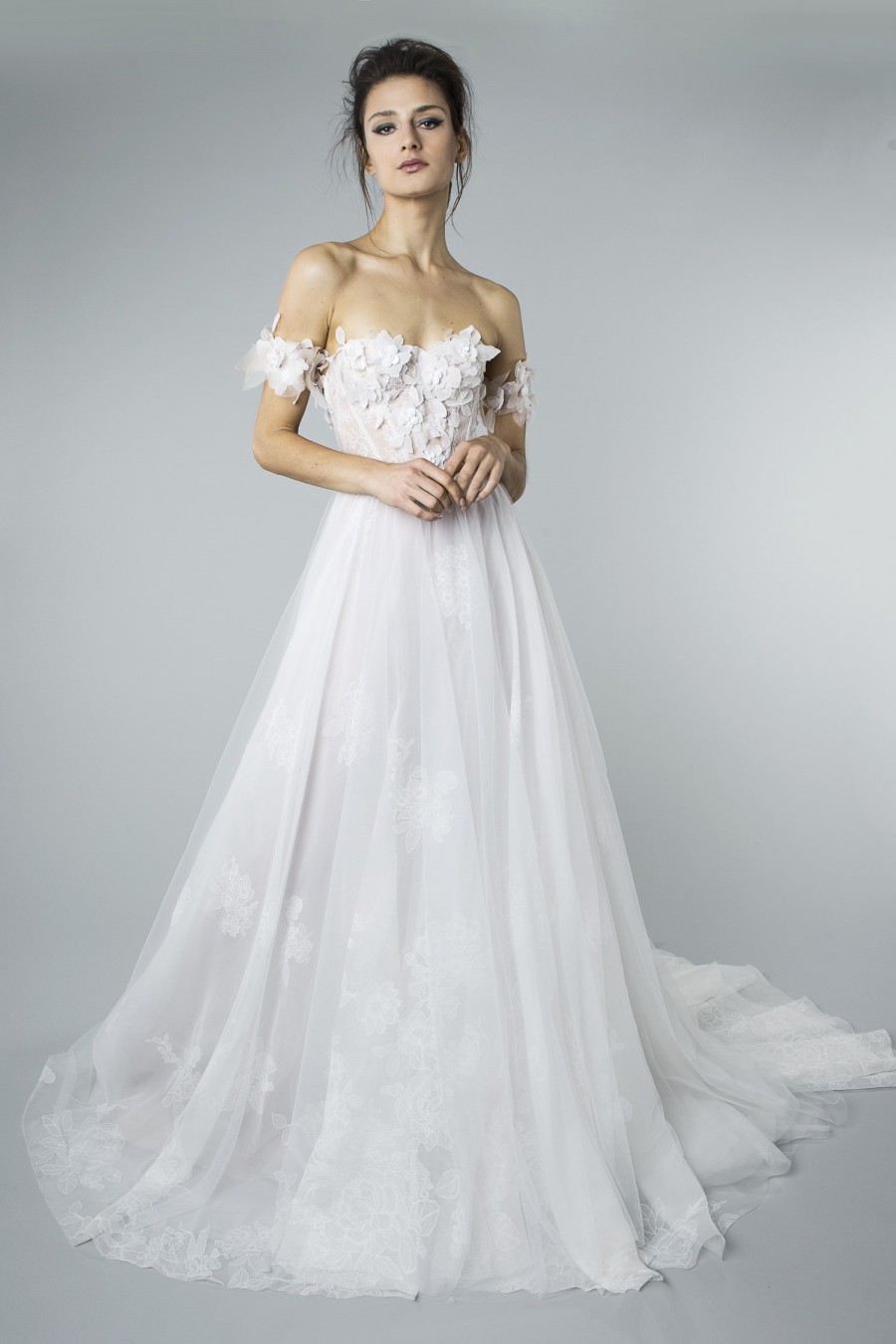 3 dimensional florals add a contemporary touch to the bodice of this gorgeous wedding day look. Dimensional off the should floral accents finish the style in a unique, romantic way.
07.

Mint Florals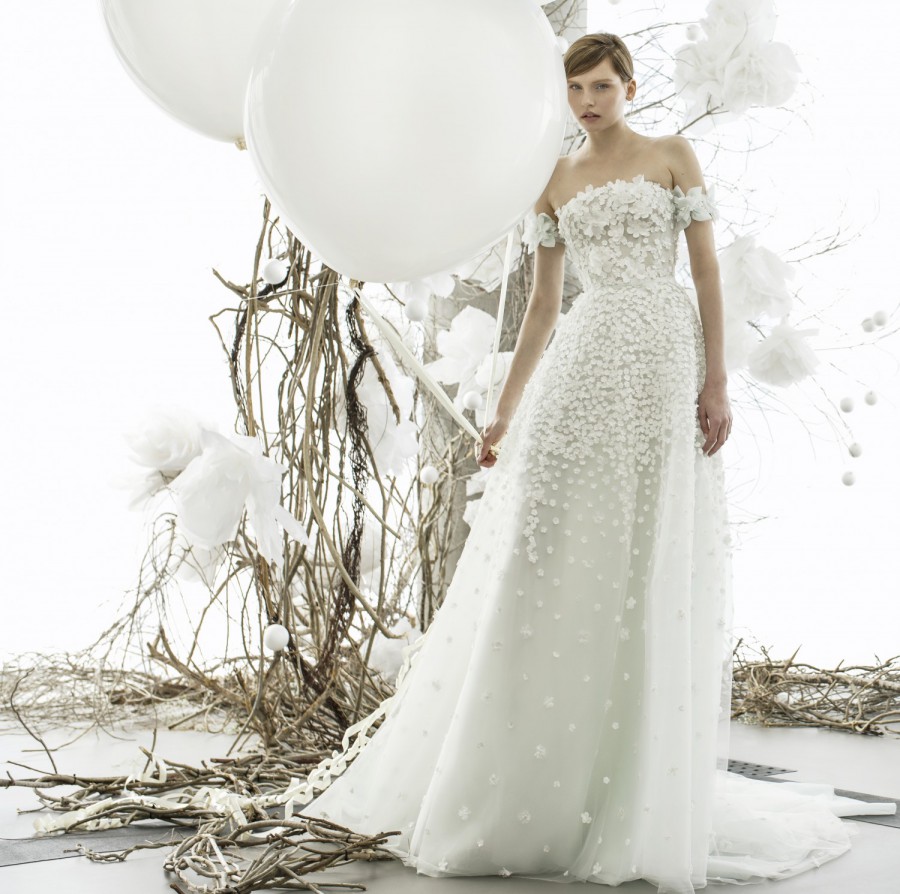 A subtle mint tone covers this tulle and organza strapless ball gown for a less traditional white wedding style. Dimensional floral appliqué cover the bodice of the gown, and cascade gently down the full ball gown skirt.
08.

Woodland Princess
The perfect style for a romantic woodland fairytale. A full tulle ball gown is accented with bold floral appliqué along the bodice, off the shoulder sleeves, and softly down the skirt.
09.

Sleek Contemporary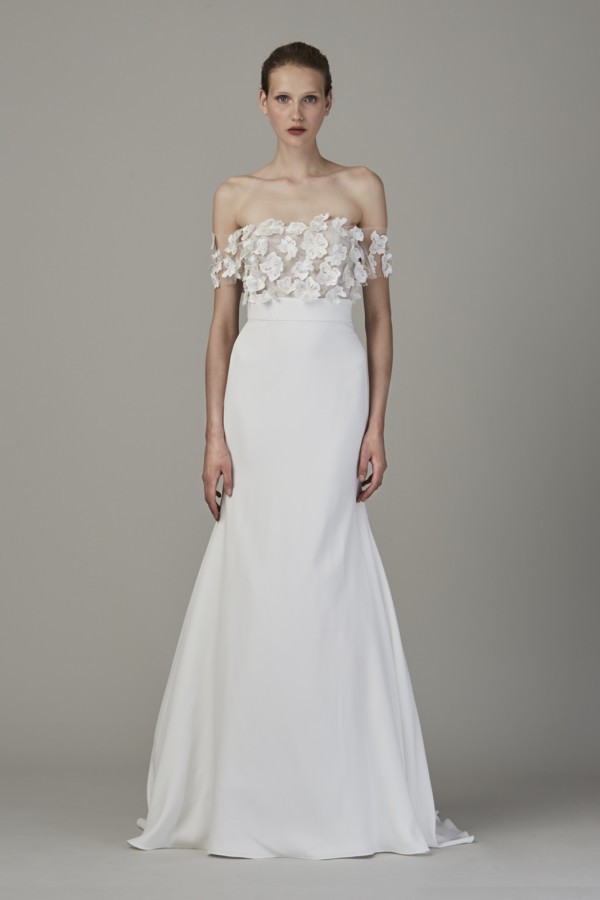 A sleek, contemporary gown style that features 3D florals in a wrap like effect around the bodice and shoulders. A feminine, romantic, modern wedding style.
10.

Blushing Blossoms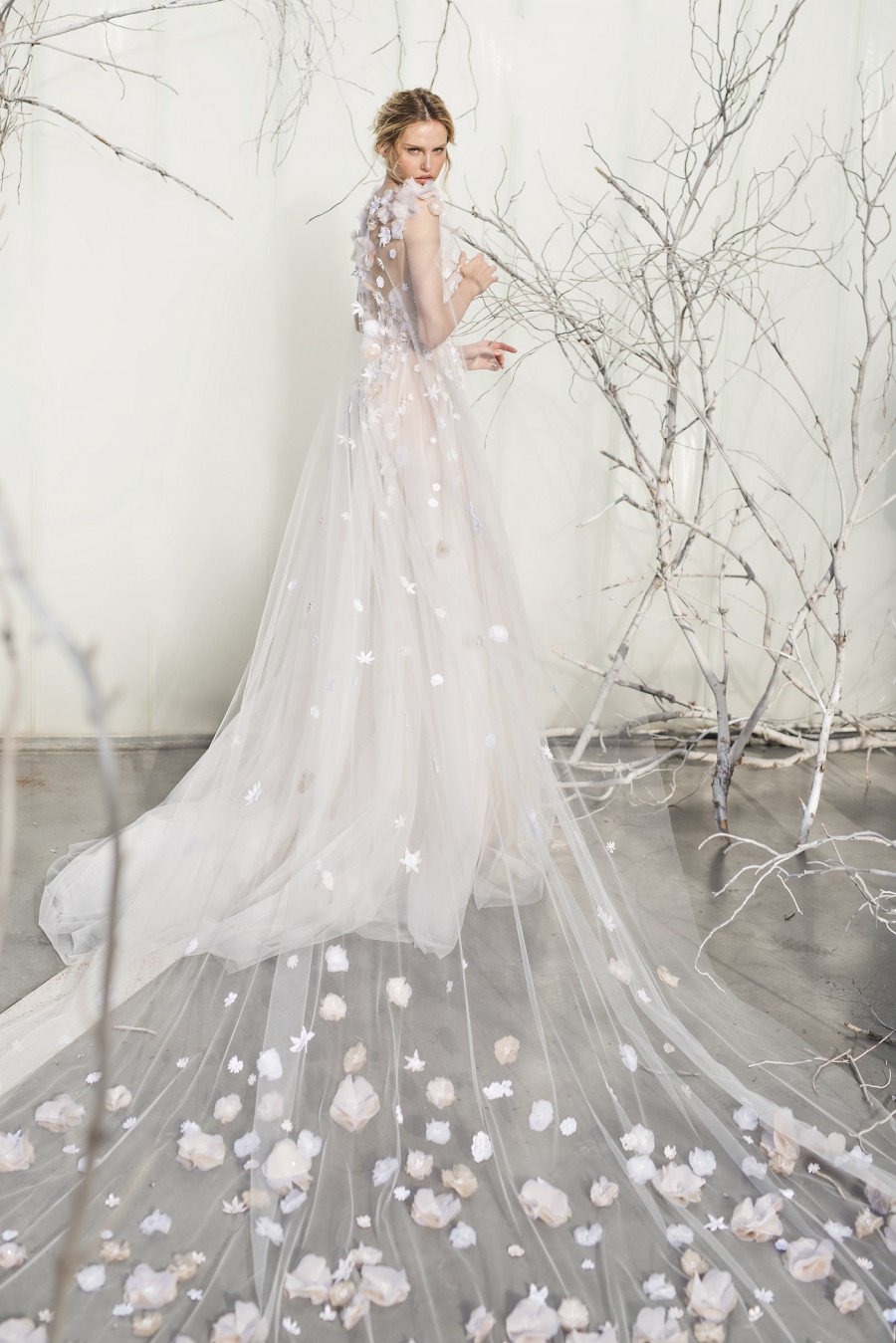 Our next dimensional floral style is full of feminine drama. This strapless silk tulle ball gown features a hint of blush coloring. The feminine coloring is accented with a mix of floral appliqué. A dramatic train featuring the same blushing florals is the finishing touch to this stunning style.
11.

Netted Florals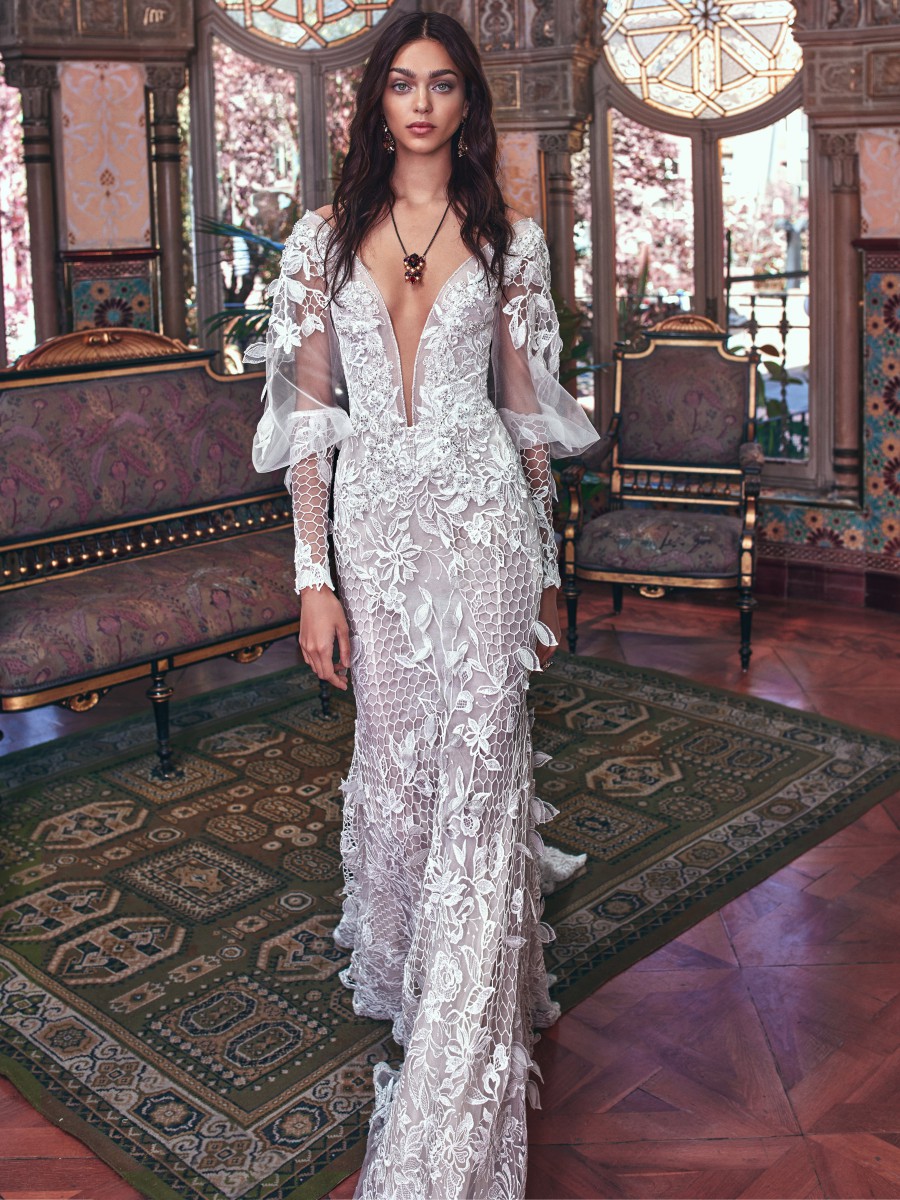 A completely one of a kind wedding gown style that features a netted overlay with intricate dimensional florals.
12.

Siren Florals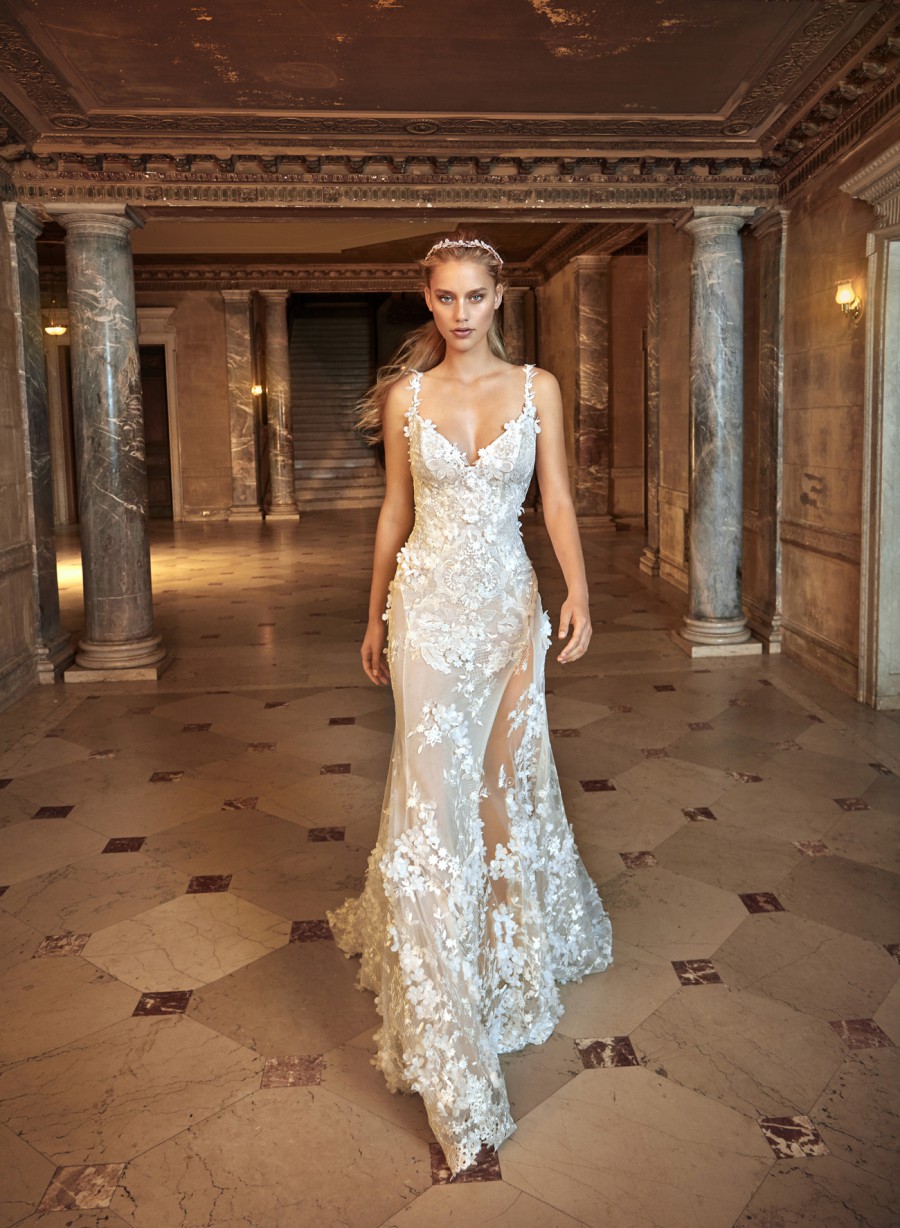 A sexy, siren worthy wedding style with gorgeous dimensional floral accents. There is so much happening with this soft mermaid style gown. A body sculpting power pink inner layer, is topped with a sheer organza layer embroidered with 3D organza flowers.
13.

Flirty Florals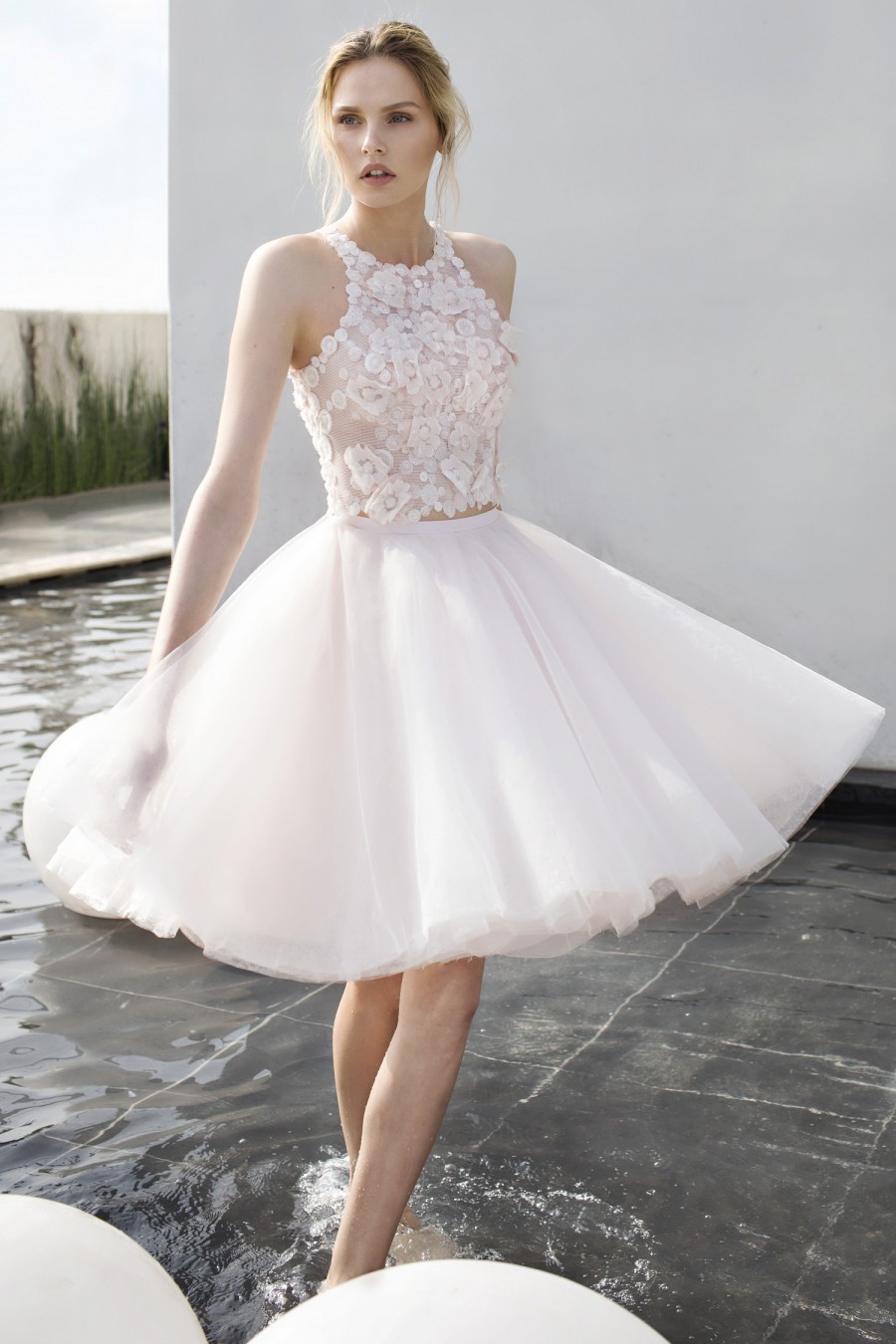 A flirty wedding day style for an off beat bride. A floral appliqué and sequined racer-back crop top is paired with a voluminous short tulle skirt. The perfect playful party dress for after ceremony fun!
14.

Modern Blossoms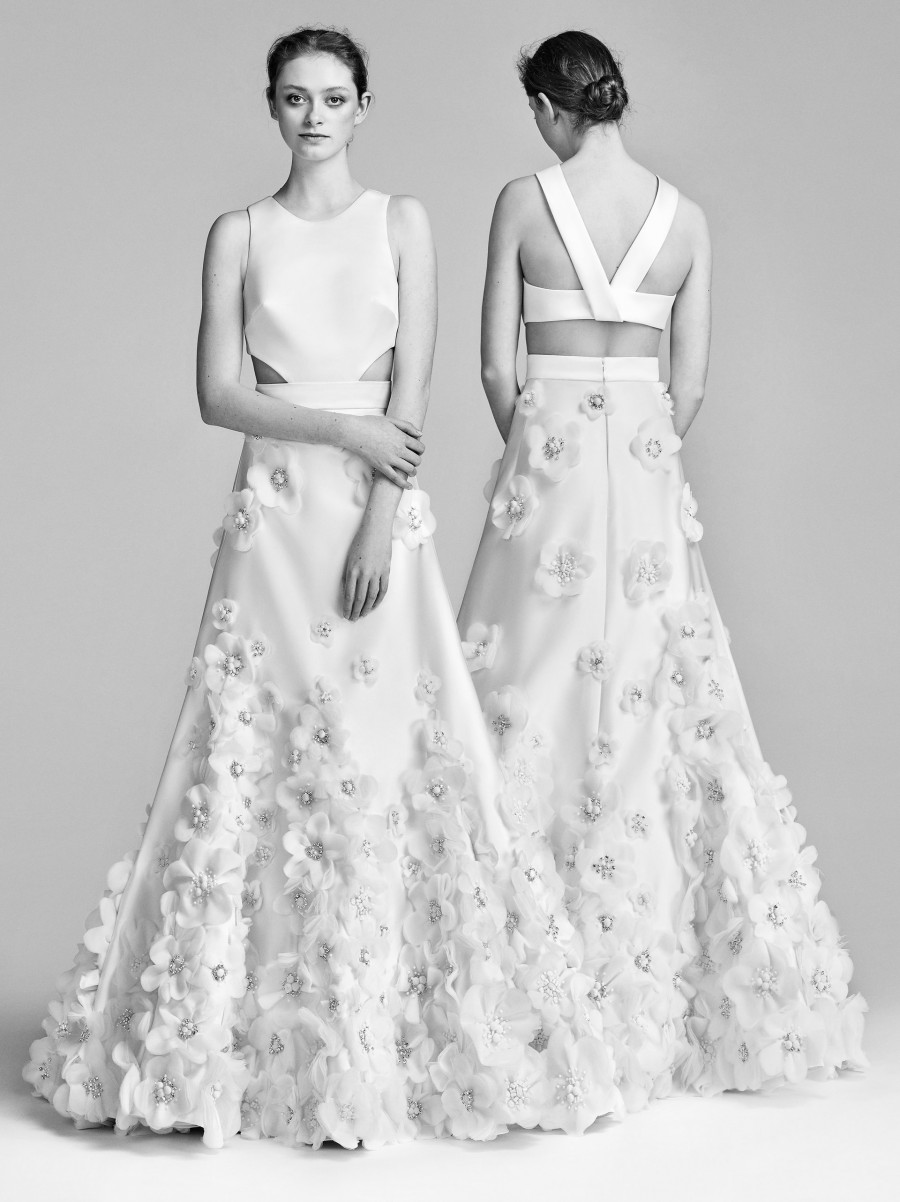 Viktor Rolf is never one to disappoint when it comes to bold, modern wedding trends. This modern, graphic cut-out satin gown features 3D florals made from layers of soft tulle.
15.

Floating Florals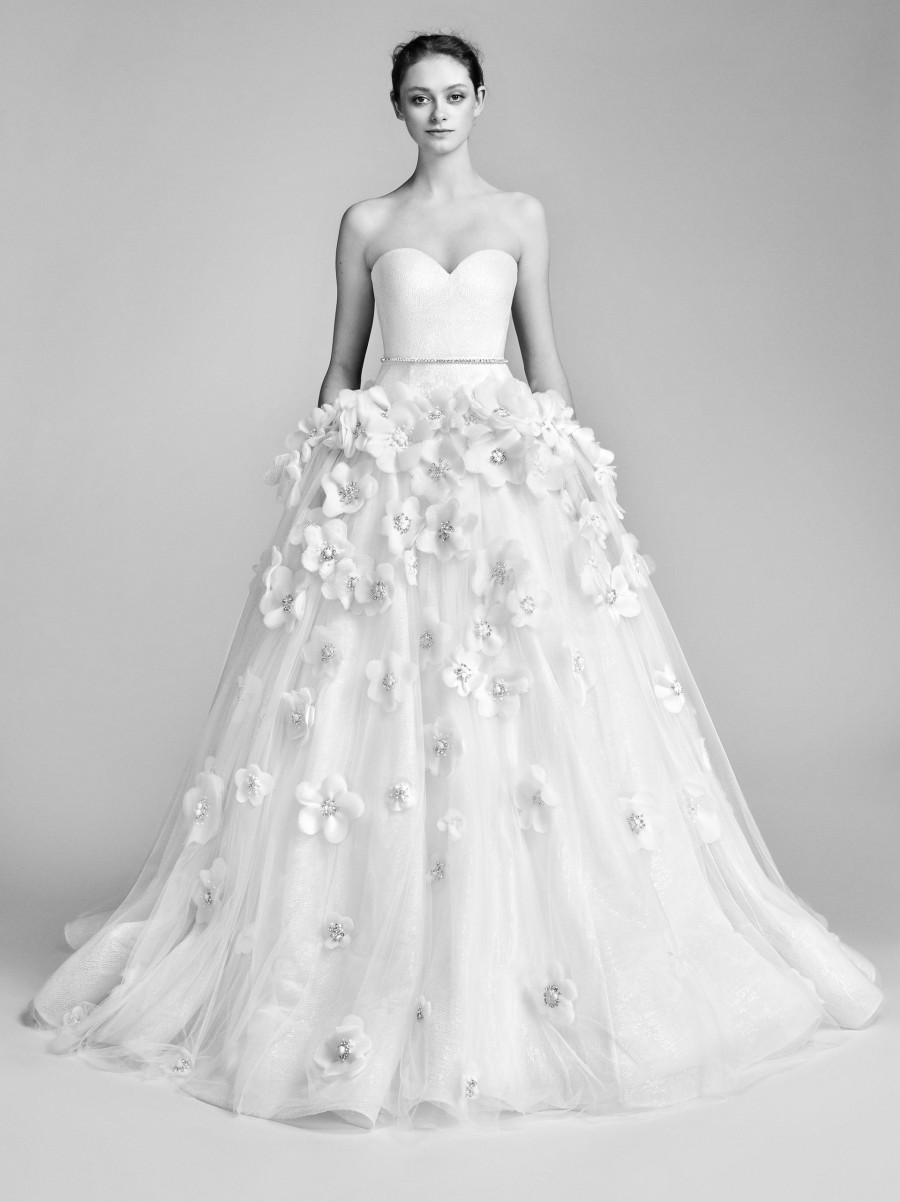 Viktor Rolf brings us another stunning dimensional floral wedding style, but this time in a voluminous tulle ball gown. Tulle floral appliqué elements seem to float delicately down the skirt of this dramatic style.
16.

Fit and Flare Florals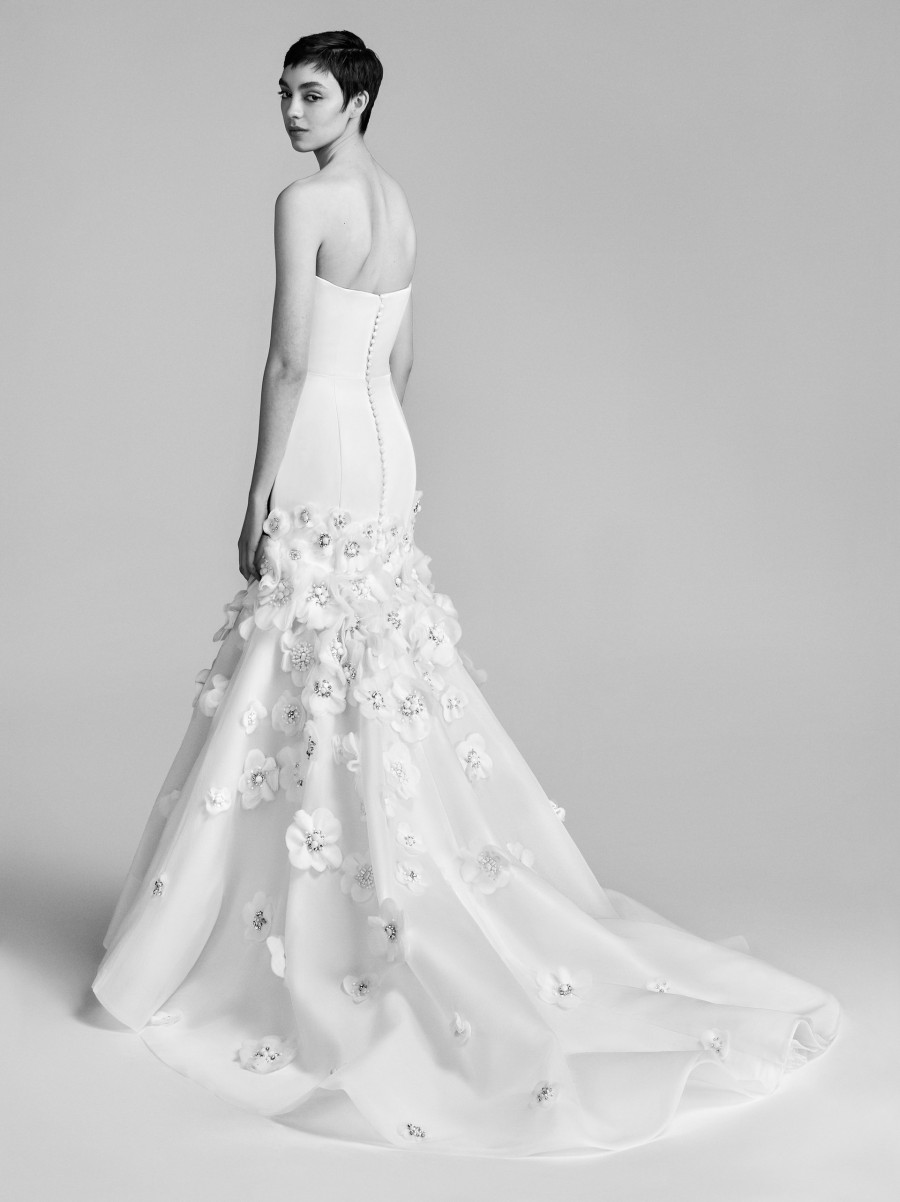 If you are loving the previous two styles by Viktor Rolf, we have one last show stopping fit and flare style you will love. The same layered tulle florals begin unexpectedly mid-way down the skirt of this fit and flare gown to add just the right amount of dramatic flair.
17.

Floral Romance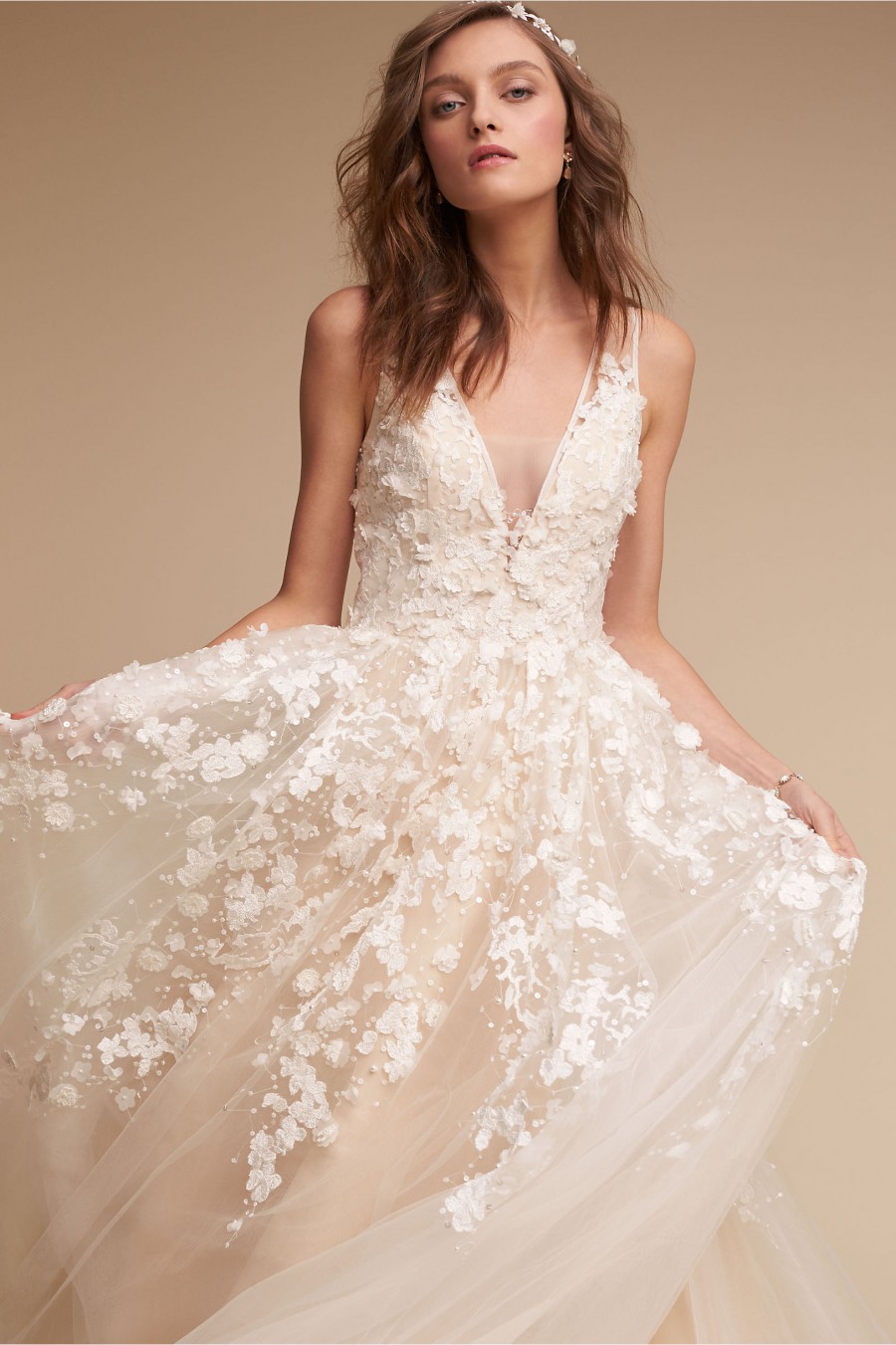 A whimsical and romantic floral appliqué wedding gown style. Illusion tulle and dreamy florals create a beautiful feminine style.
18.

Pink Peonies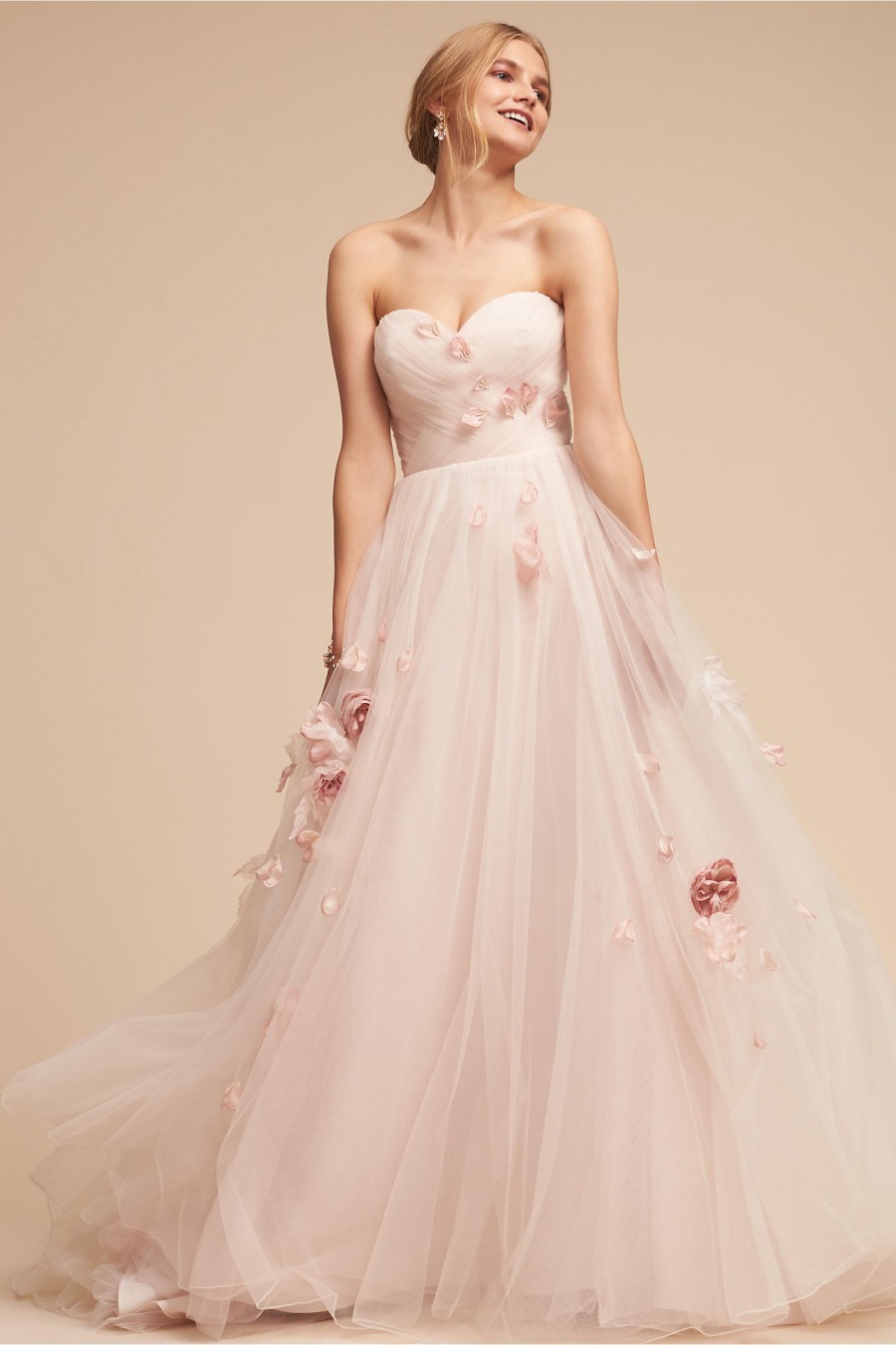 A one of a kind bridal style for an off beat bride that is craving something a little more pink for her wedding day. This ethereal blush tulle ball gown is accented with dimensional petals and peony blossoms for a bold wedding style.
19.

Illusion Sleeves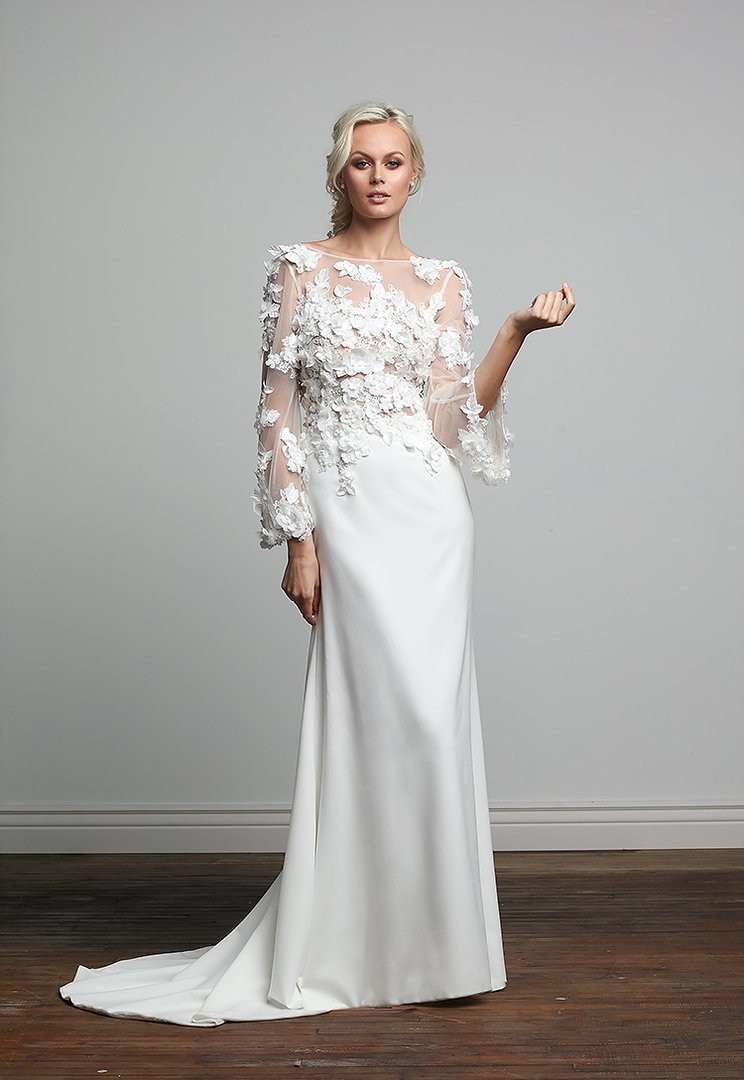 A modern bridal masterpiece. A sleek flowing white skirt is accented with a sheer sleeved bodice with bold dimensional floral accents. An absolutely stunning style.
20.

Fluttering Florals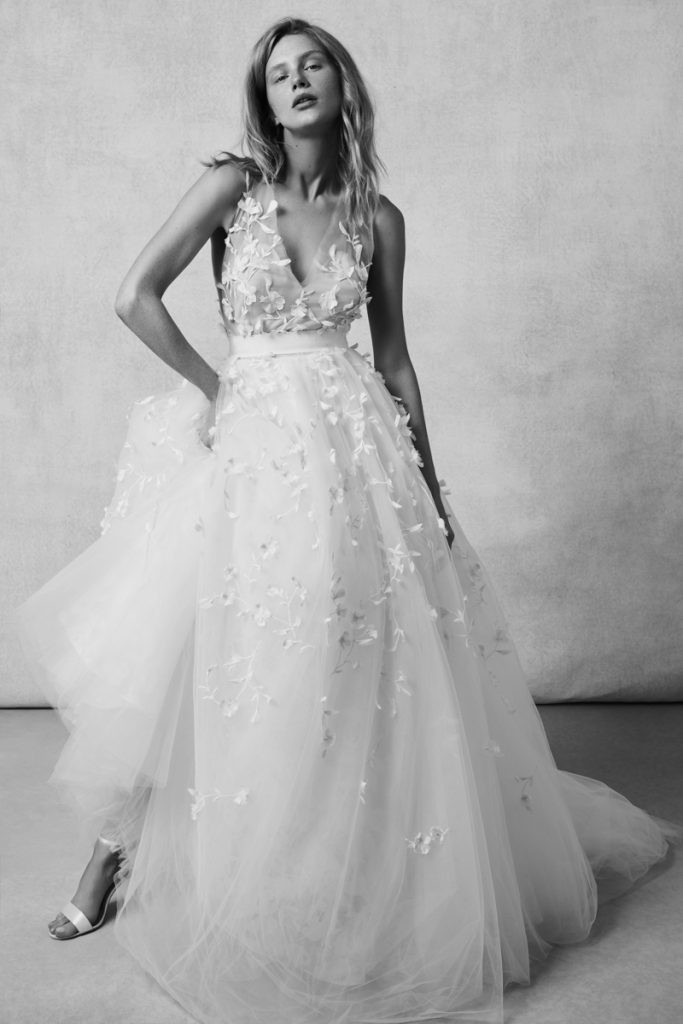 A gorgeous v-neck tulle wedding gown style by Sachin and Babi. This flirty look is finished with dimensional florals for a textured wedding day look.
21.

Shirt Dress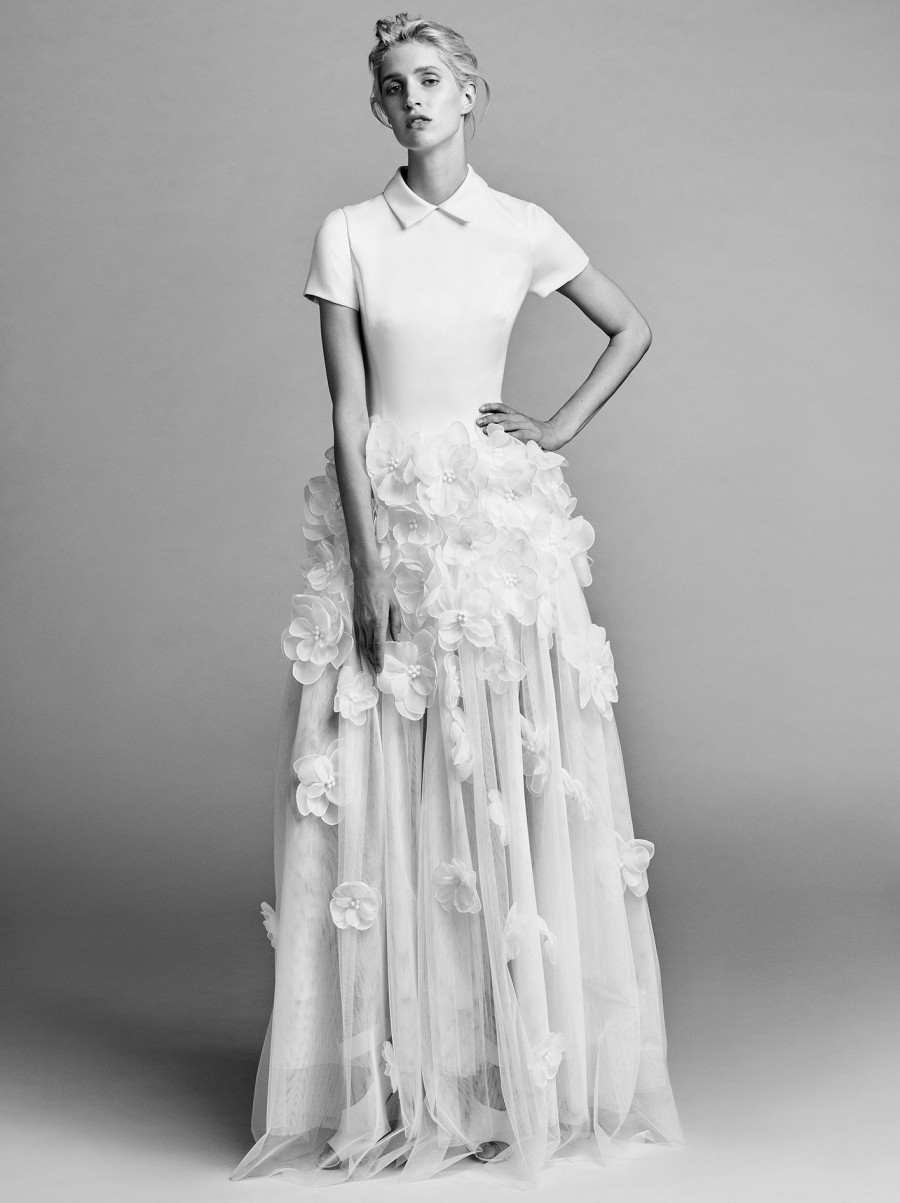 Viktor Rolf never ceases to surprise us with unique, artistic interpretations of bridal wear. This modern 3 dimensional floral gown is no exception. A sleek collar t-shirt upper meets a whimsical tulle skirt with large dimensional florals that pop off the dress.
22.

Flowerbomb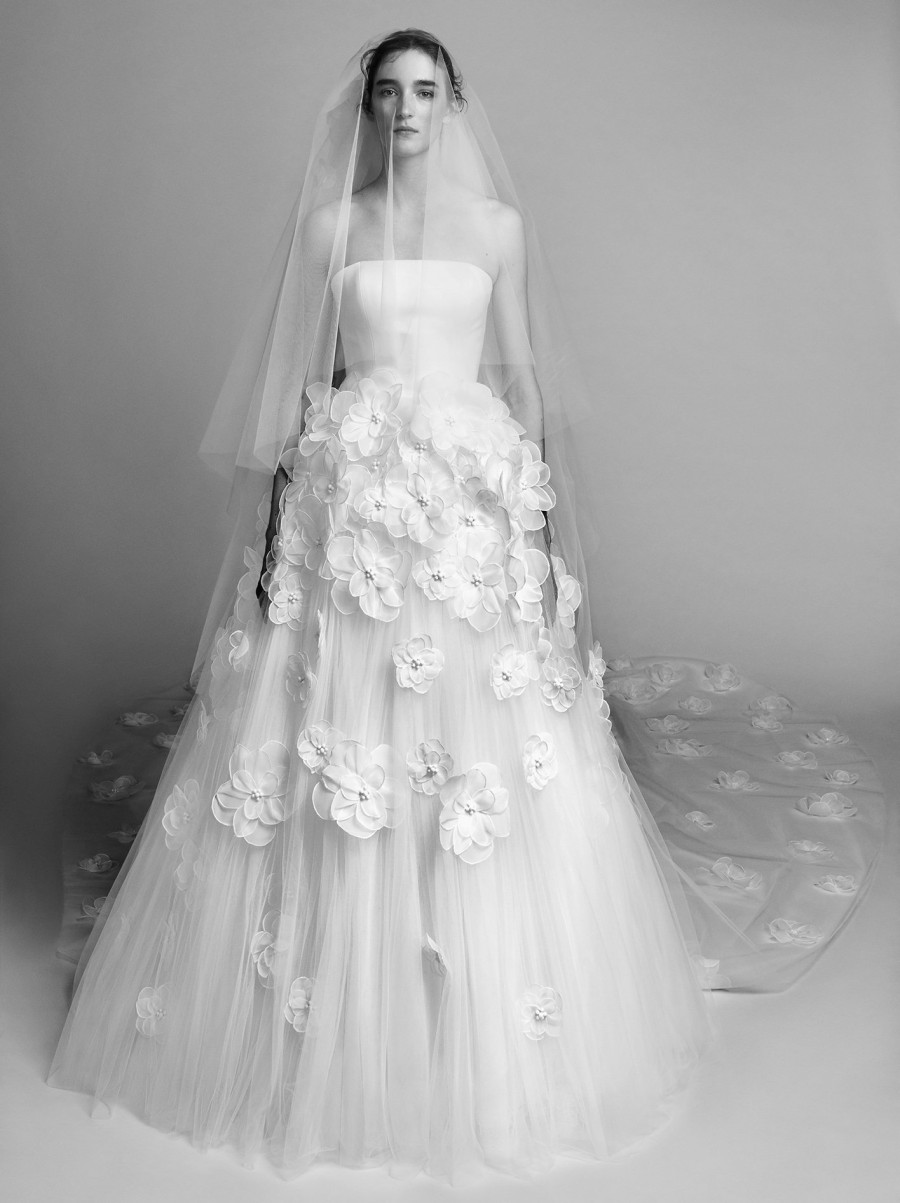 A dress fittingly titled "Flowerbomb." A gorgeous modern tulle ball gown is fashioned with large dimensional floral appliqué that pop off of this contemporary style. A truly unique take on a traditional ball gown.
23.

Flower Sculpture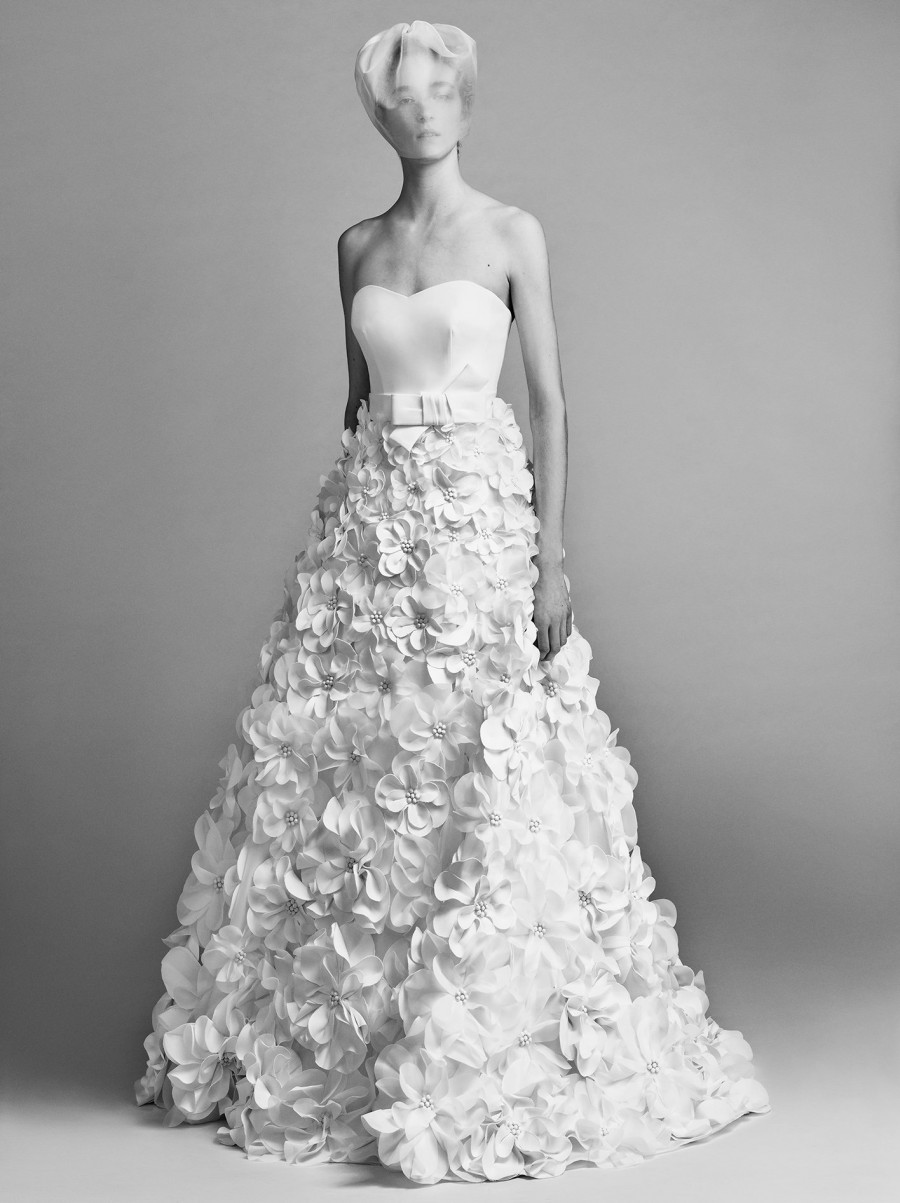 Another gorgeous 3-dimensional floral gown by Viktor Rolf, that takes this trend to an entirely new level. A classic strapless gown is covered completely from the waist down in large 3D blooms.
24.

Eccentric Florals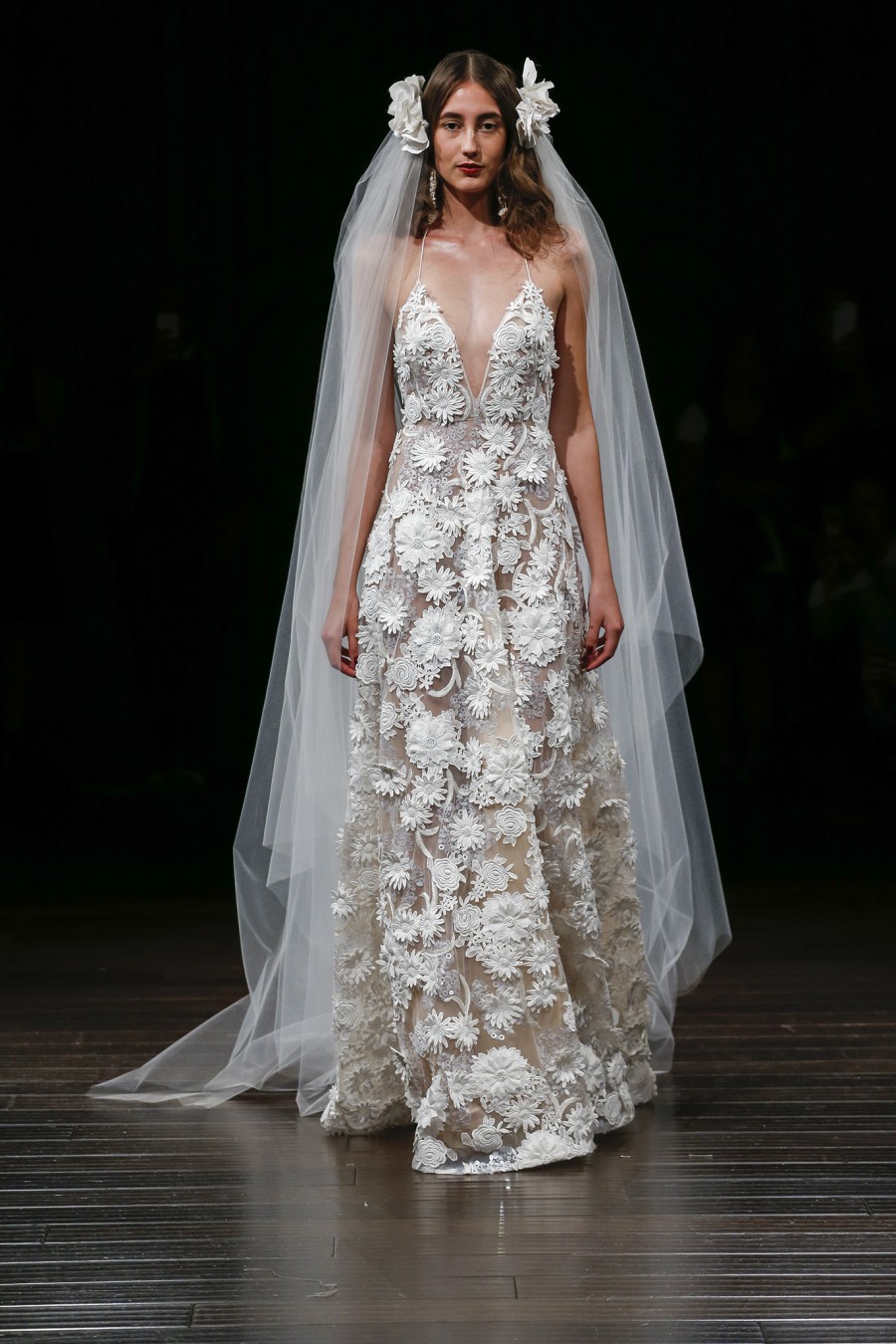 An eccentric bridal style fit for a non traditional off beat bride. Gorgeous thin straps and a deep-V neckline create a sexy feminine silhouette. The gown is covered from top to bottom in 3D floral appliqué that is playful and whimsical.
25.

Embellished Mermaid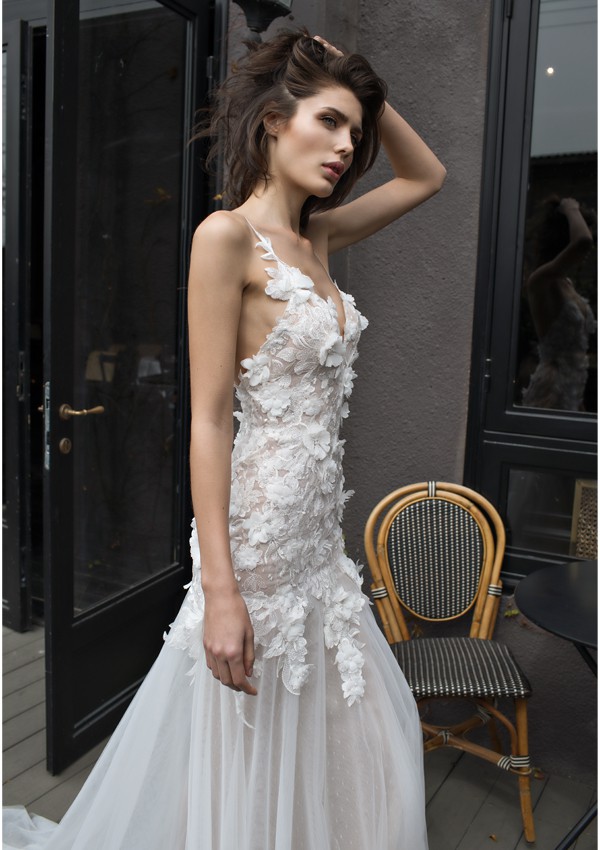 A simple and gorgeous tulle mermaid wedding dress style adorned with 3D florals that seems to waterfall down the bodice of the dress.
26.

Feminine Detailing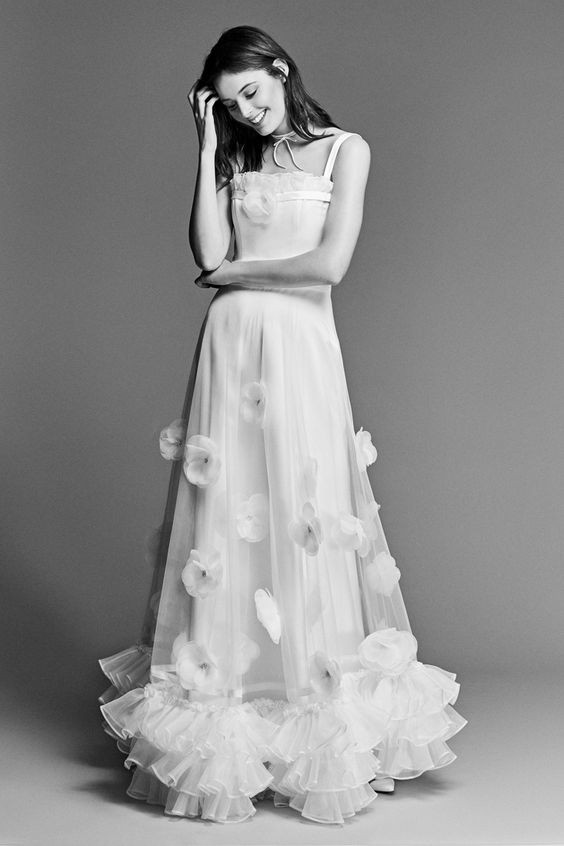 A gorgeous satin, organza, and tulle mixed gown that is all about feminine detailing. A seemingly simple gown is graced with ruffle accenting at the neckline and around the base of the skirt. To add even more drama to this style, are hand-sewn beaded 3D flowers around the entire skirt.
27.

Chic Florals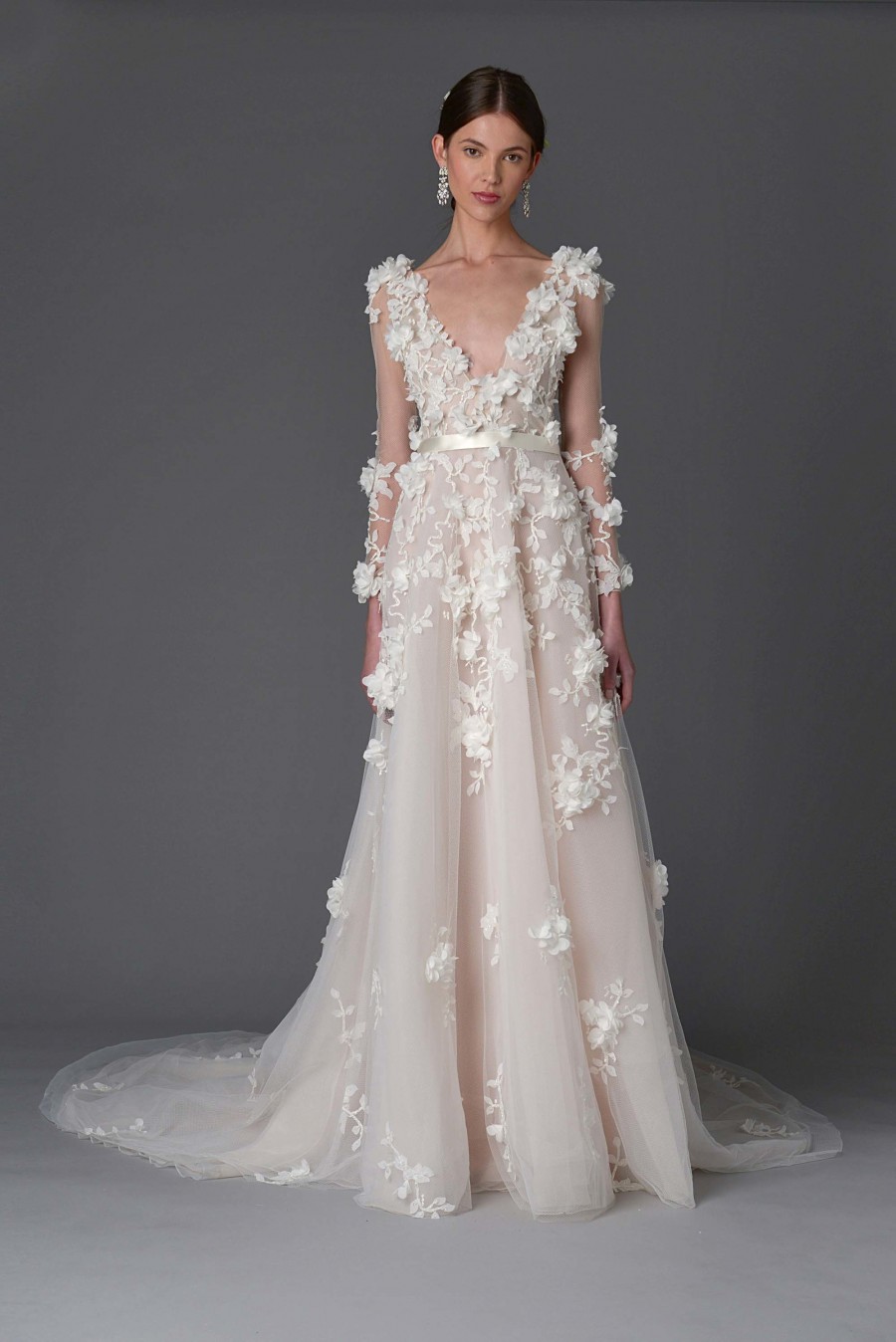 A chic, feminine 3D floral wedding style that is delicate and breathtakingly beautiful. A classic wedding style with a contemporary twist with the added dimensional florals that add an unexpected texture to the look.
28.

Fitted High Fashion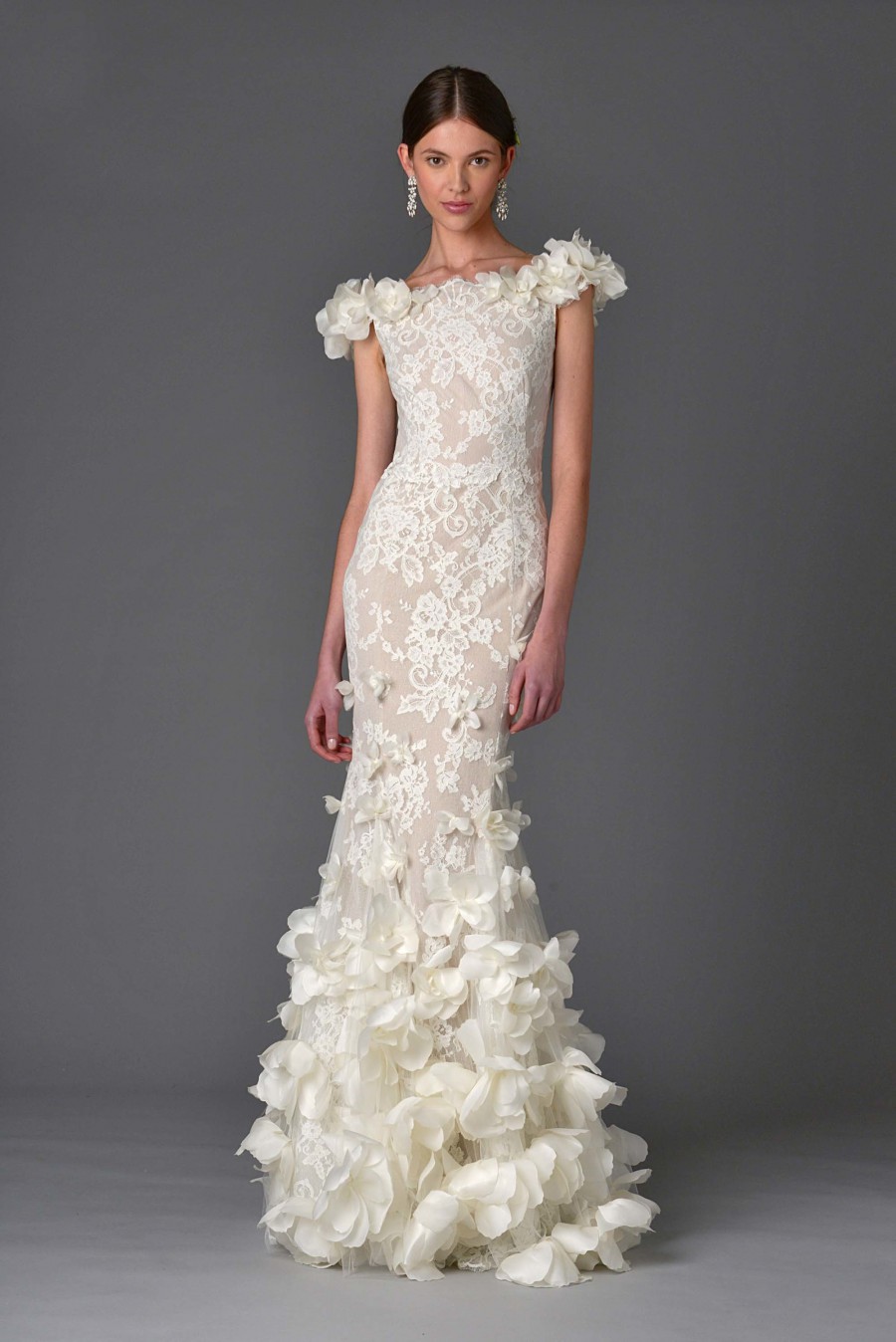 Another Marchesa style that features the dimensional florals trend in a high fashion manner. This gorgeous fitted gown is accented with 3D florals along the off the shoulder neckline and around the slightly flared base. Feel sexy and fashion forward in this look by Marchesa.
29.

Flower Princess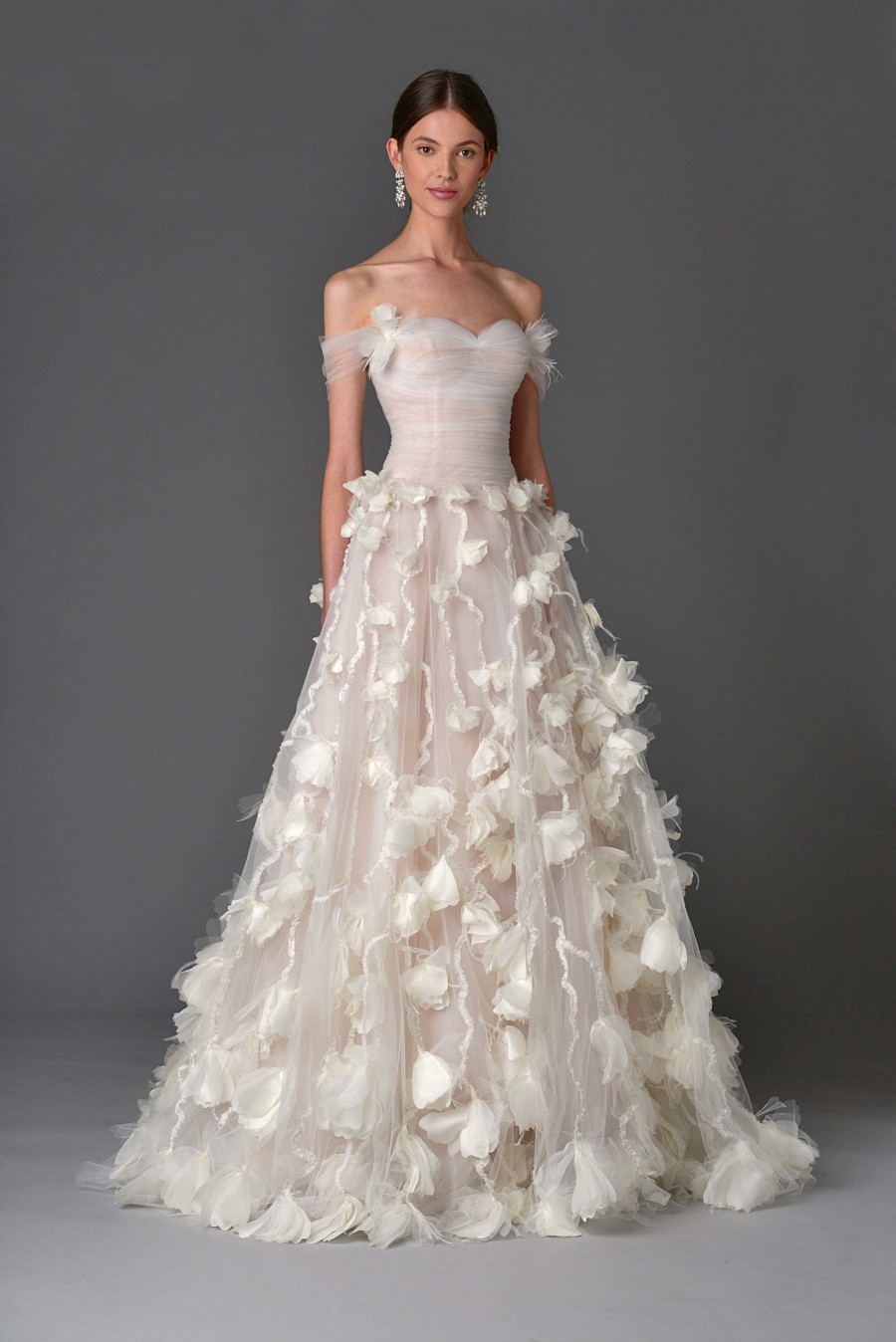 A modern ball gown style straight out of a fairy tale. This dimensional floral inspired ball gown is everything a modern bride could want if they are looking to feel like a fairytale princess, with a trendy twist.
30.

Ladylike Garden Style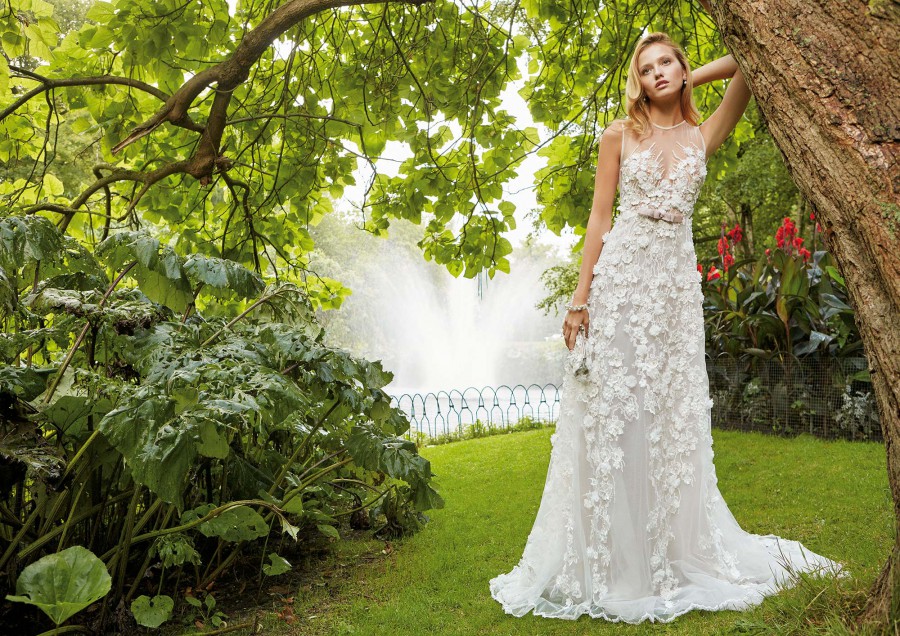 A polished ladylike style with just the right touch of 3 dimensional florals. This sophisticated style is the perfect look for a summer garden wedding.
31.

Feminine Glam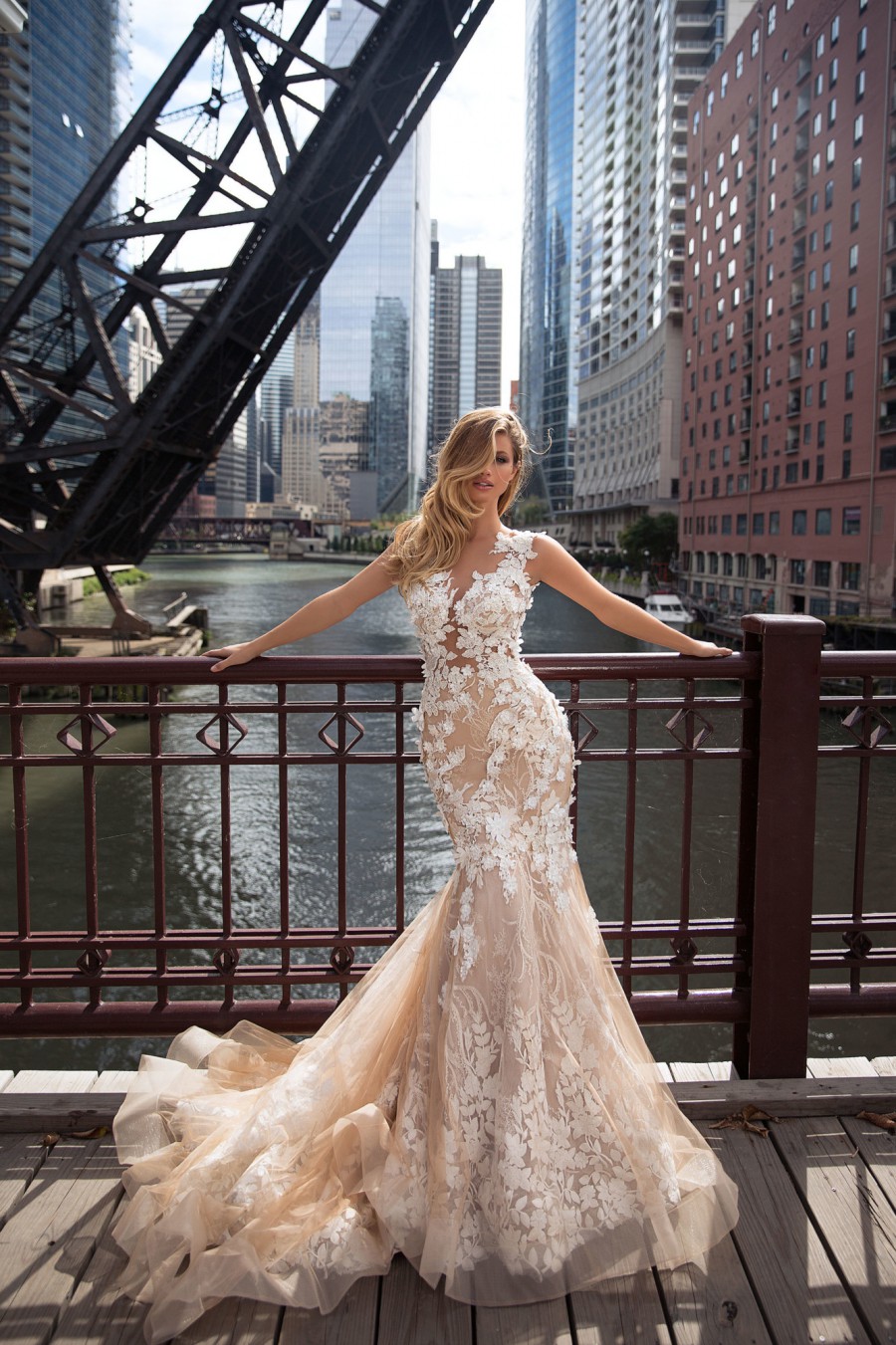 Milla Nova brings us a gorgeous glam wedding style that we are head over heels in love with. This look has stunning detailing from top to bottom, including 3D florals that create beautiful texture throughout the gown. A must have dimensional floral style for the glamorous, fashion forward bride.

Shop wedding dresses now.

By Kathryn Schrotenboer