Brides are setting traditional veils to the side and opting for a more modern and dramatic bridal accessory: bridal capes.
Now this is not the first time we have seen bridal capes having a moment. But now, more than ever before, we are seeing brides opt for modern alternatives, like capes, to replace the more traditional veil. From sheer capes that show off the dress beneath, to matching capes that add structure and drama - this list has it all. If you are a bride that isn't sure of this bridal cape trend, we challenge you to read through this list - there is bound to be a cape that has you debating about ditching your veil as well!
01.

Peter Langner: Illusion Tulle Florals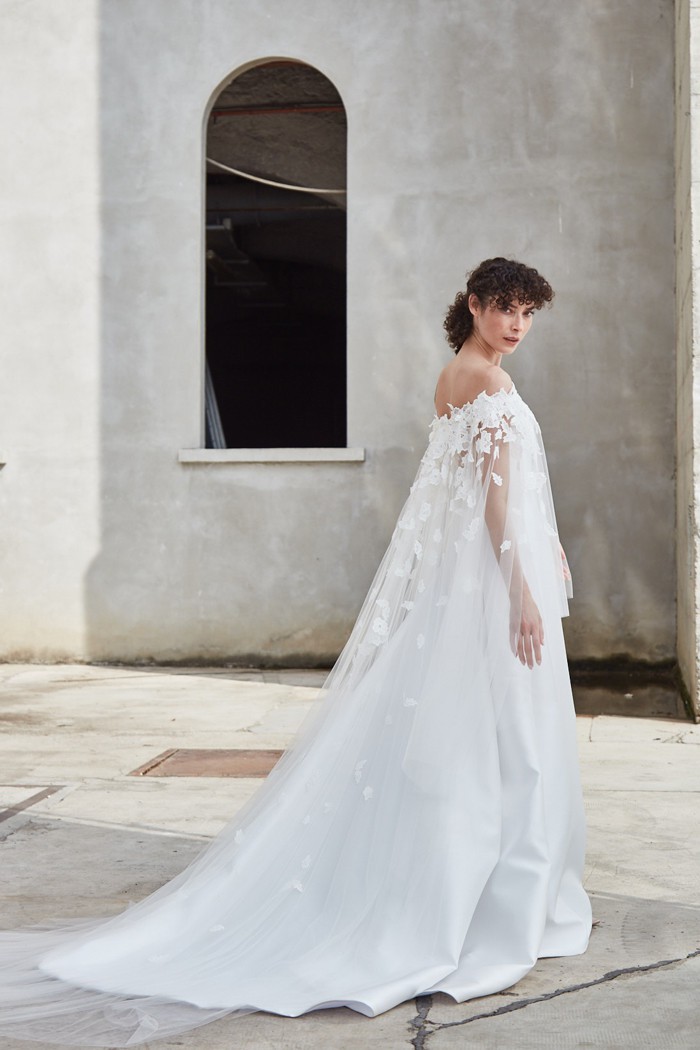 We are absolutely loving the romantic and ethereal feel of this first bridal cape from Peter Langner. This unique cape has a slightly different silhouette with its off-the-shoulder neckline, which accentuates the strapless neckline of the gown. The cape has a high-low cut that mimics a more traditional veil. And the bridal cape is finished with hand cut guipure lace flowers which add a touch of whimsical romance.
02.

Viktor Rolf: Whimsical Bridal Cape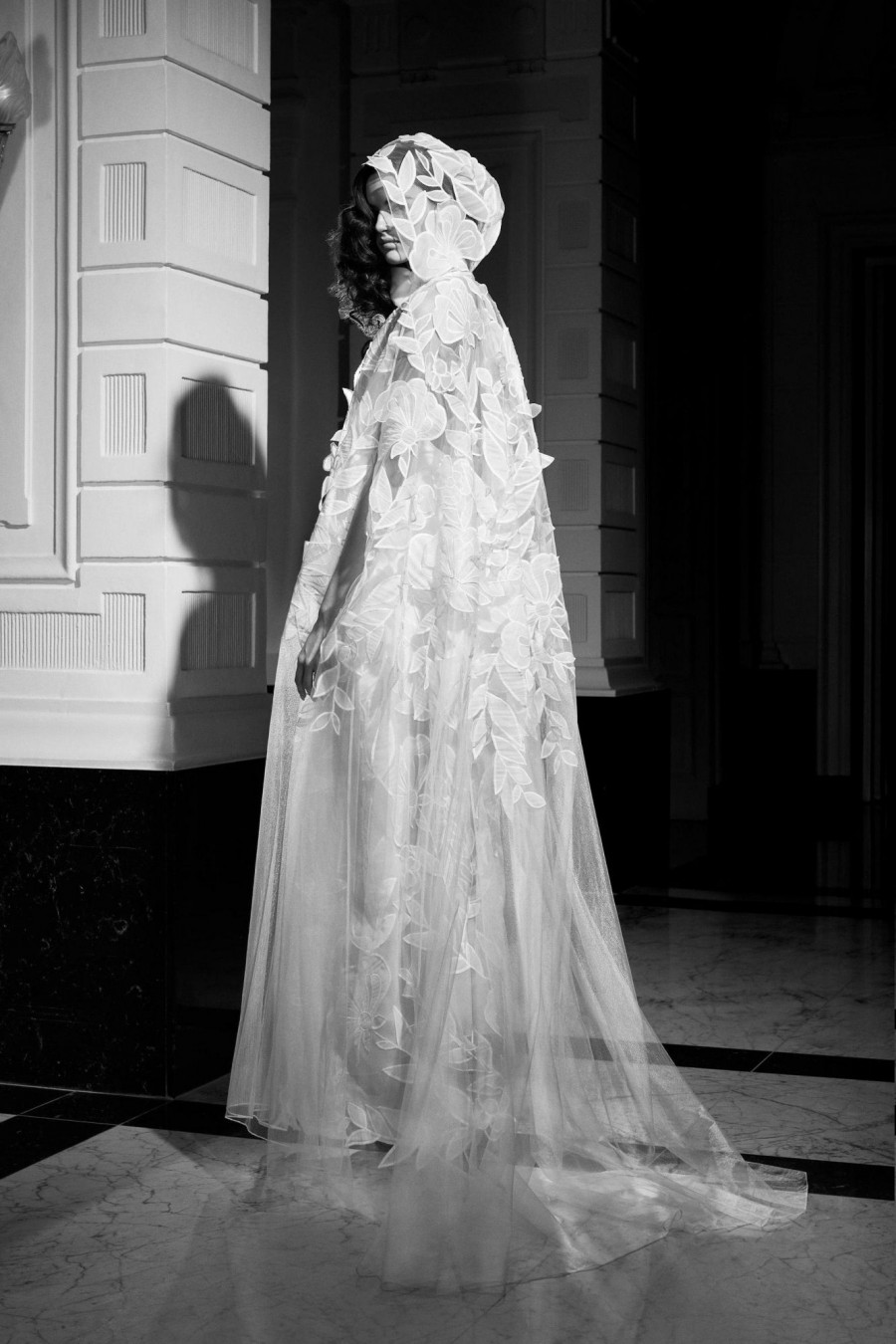 Nothing will have you feeling like a fairytale princess on your big day like a chic bridal cape. And this whimsical look from Viktor Rolf is just irresistible. This dramatic tulle bridal cape features organza lace flowers that cascade down to the ground and a self tie ribbon closure to really give you those Snow White vibes.
03.

Oscar de la Renta: Lighter Than Air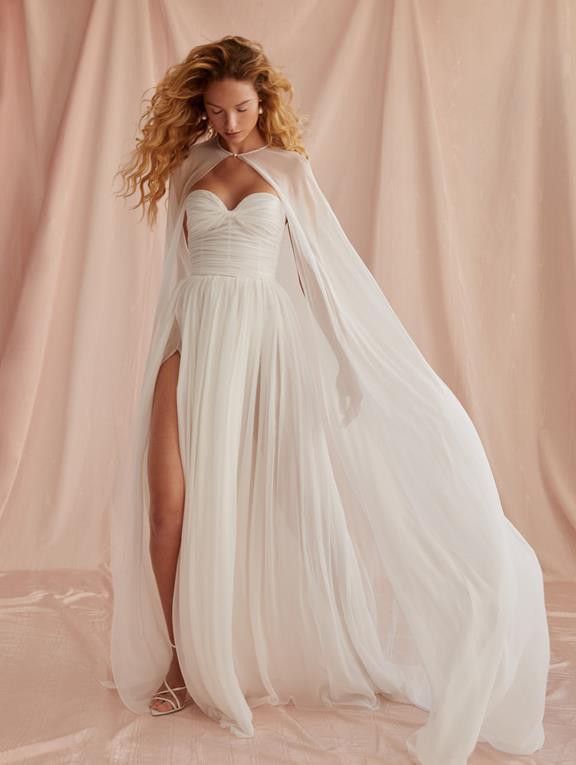 This next bridal cape pairing comes from Oscar de la Renta and it has an effortless, lighter-than-air appearance. This look features a gorgeous strapless bridal gown made from layers of semi-sheer fabric. The same fabric creates a minimal and matching cape that gives the whole look a very cohesive, fashion forward feel.
04.

Elie Saab: Luxe Glamour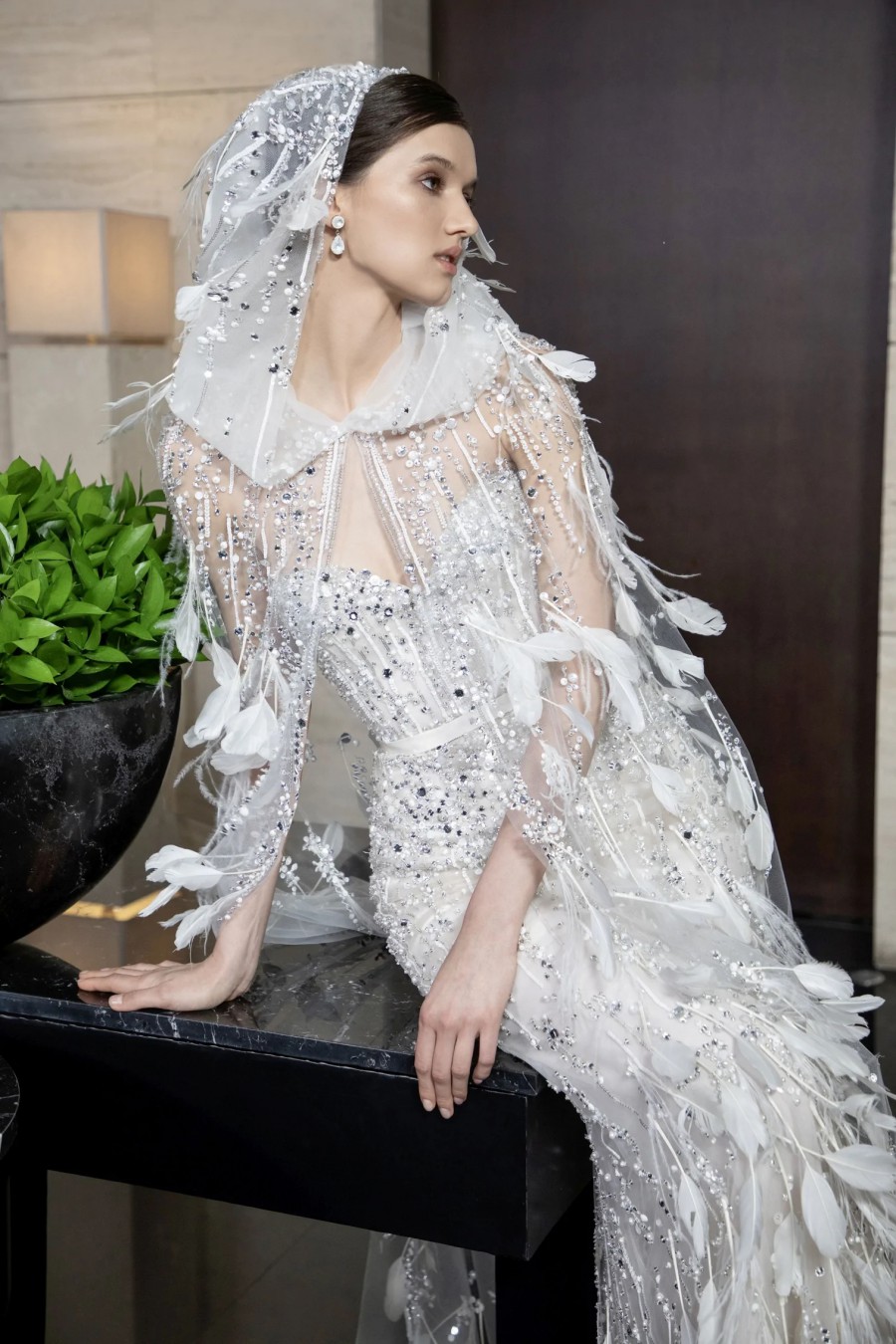 Ultra luxe and so glamorous - this next bridal cape from Elie Saab is all about adding a lavish finish to your wedding day style. This hooded tulle cape is fully embroidered with with sequins, beads, stones, pearls, and dramatic feathers. We love it paired with a matching dress for added drama. But you could also pair this lavish cape with a simple slip dress for more contrast.
05.

Eva Lendel: Polka Dots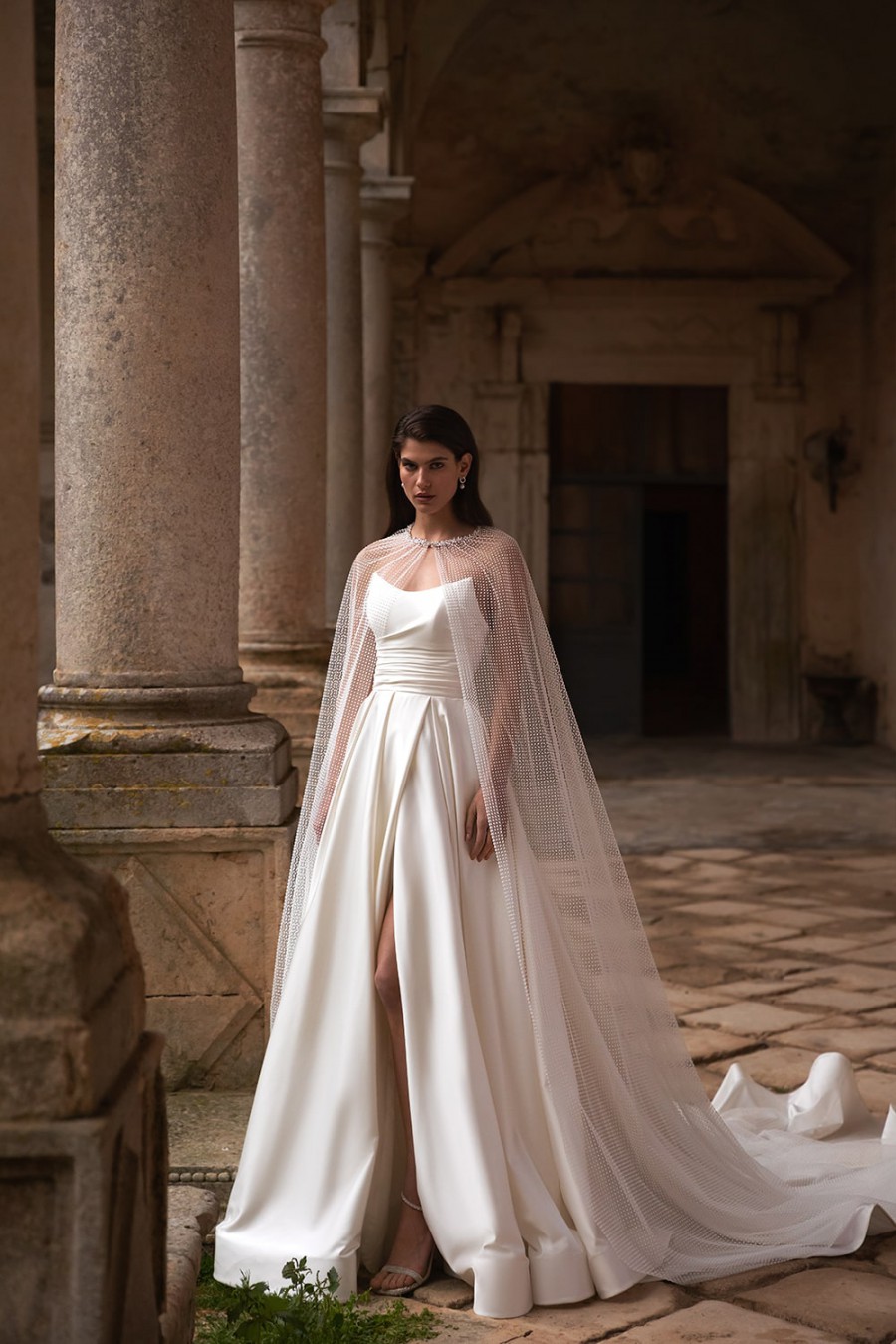 Our next bridal cape comes from Eva Lendel. This semi-transparent tulle cape features a polka dot pattern and luxe beading at the neck. This veil alternative makes the entire look seems delicate like it is encased in glass.
06.

Sachin and Babi: Ethereal Pearls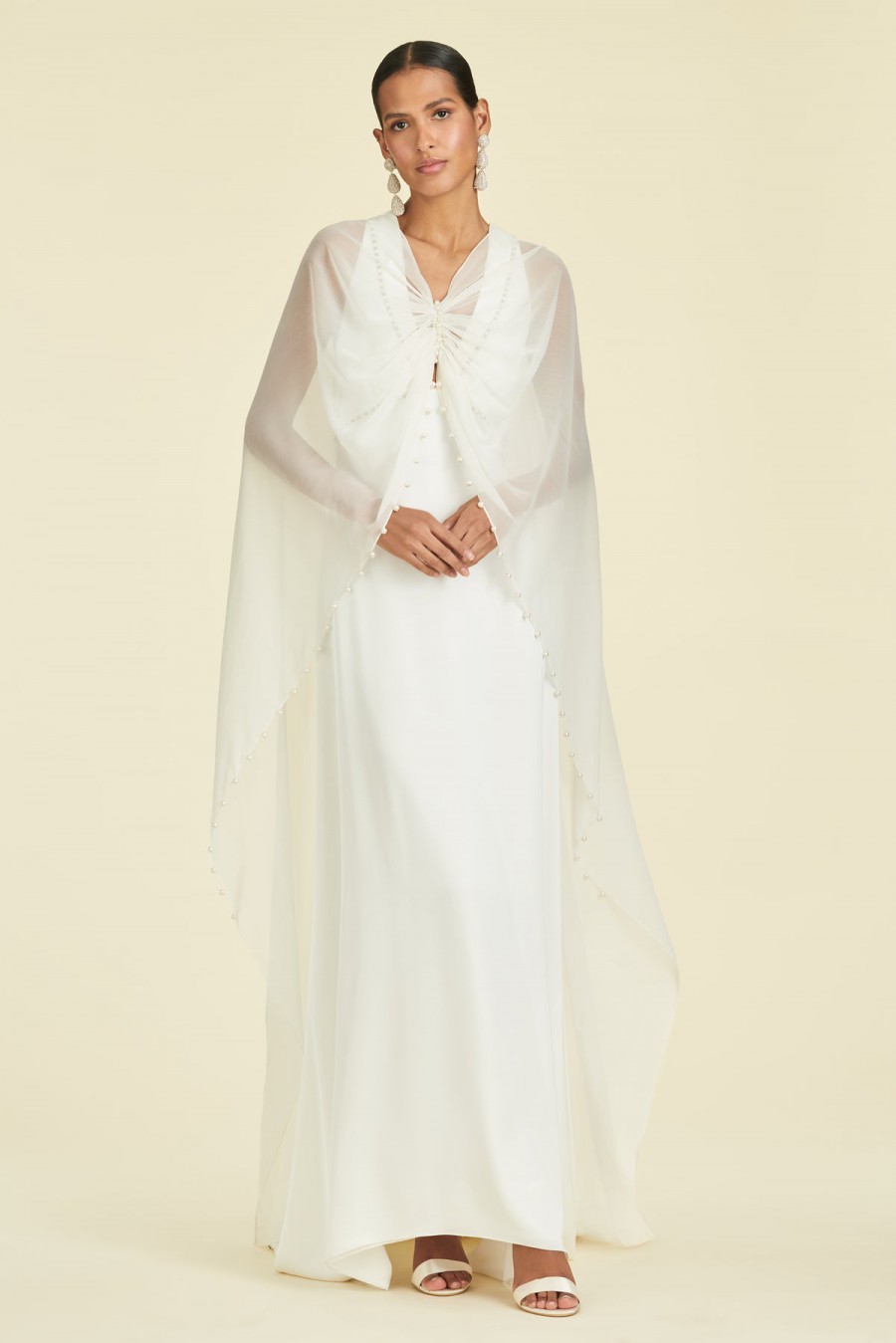 The Arabella Cape from Sachin and Babi is made from soft, ethereal fabric that has a traditional veil look to it. This delicate cape is accented with single-hand stitched pearls that cascade down the entire hemline. This cape adds a little contemporary drama to an otherwise very elegant and understated bridal look.
07.

Peter Langner: Matching Lace Florals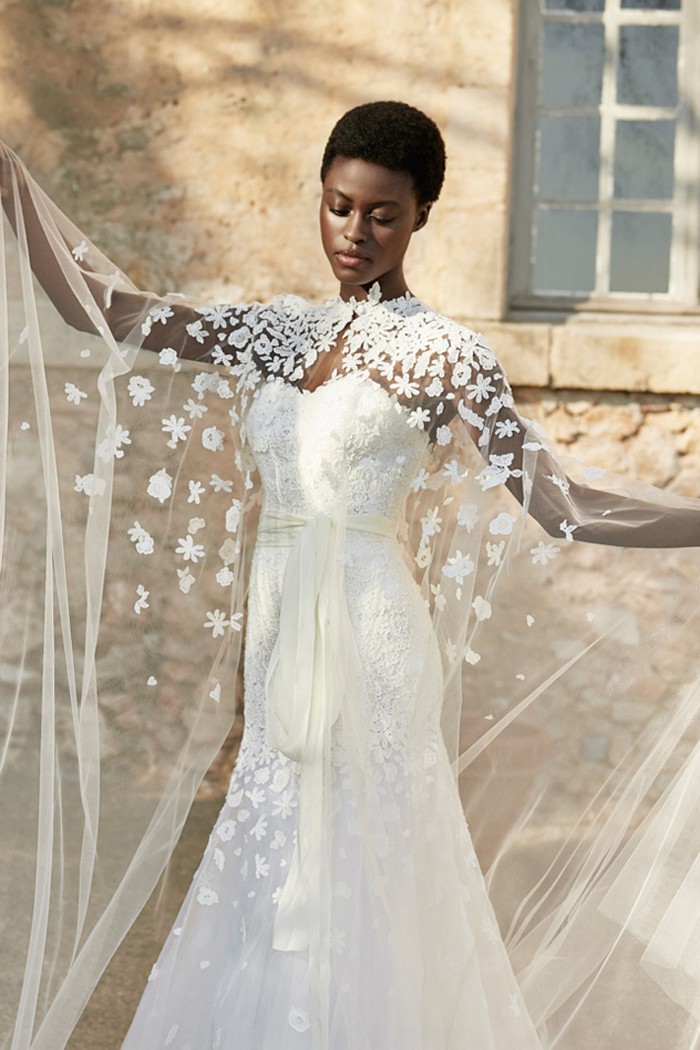 If you are thinking about going with a more modern bridal cape instead of a veil, one way to still keep things feeling very traditional and bridal is to go with a matching style. Just as you would match your veil to your gown, a matching cape gives your look a cohesive feel. And we are loving this combo from Peter Langner. A strapless crinoline mermaid gown with lace floral embroidery and a matching floral cape.
08.

Elie Saab: Ceremony to Reception Style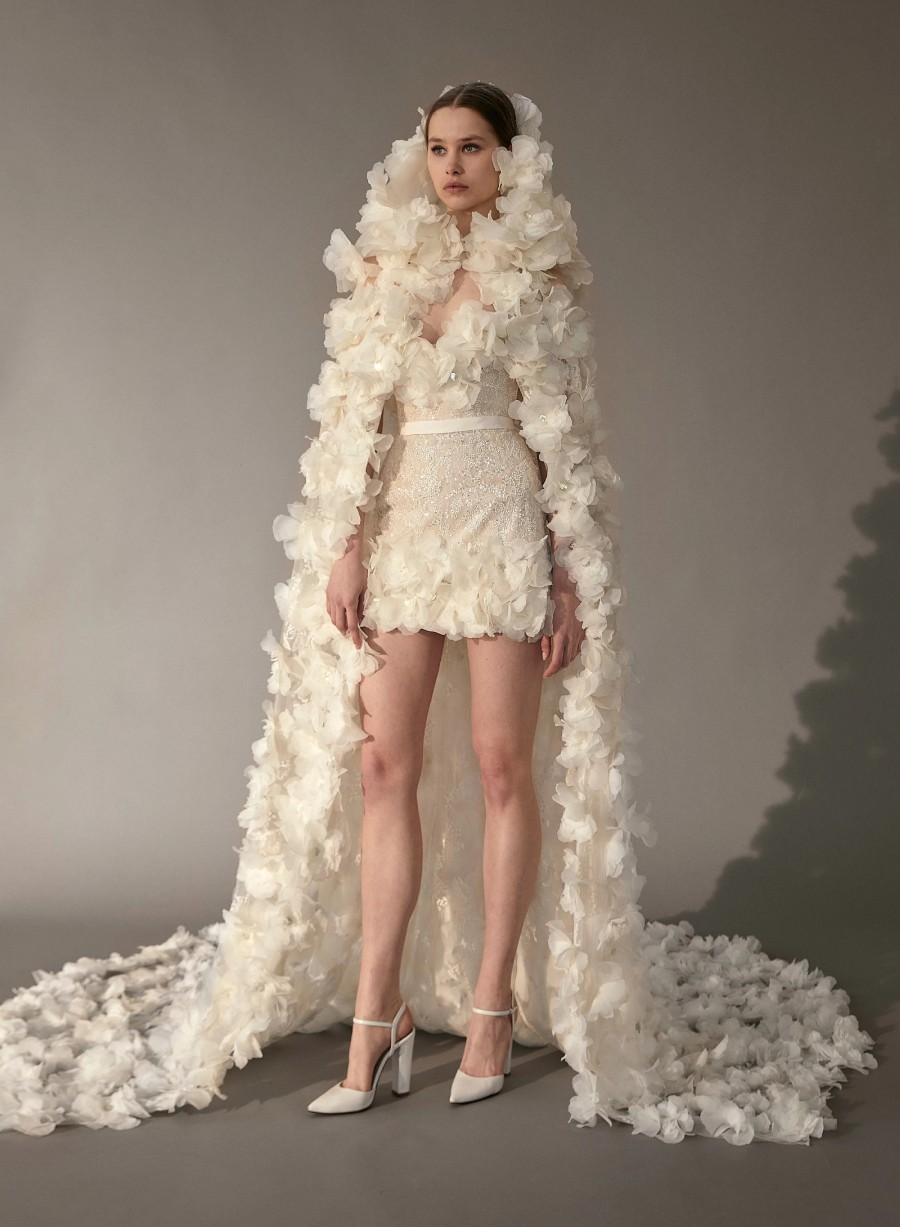 Bridal party dresses are having a big moment right now. But if you are looking for a look that will take you from ceremony to reception, then a cape might be your solution. This look from Elie Saab combines a chic bridal mini dress with a dramatic floor length cape. This gives you the drama and coverage of a longer bridal look for your ceremony, and then a chic party ready style for your reception - without having to have two completely separate looks.
09.

Lihi Hod: Chic Drama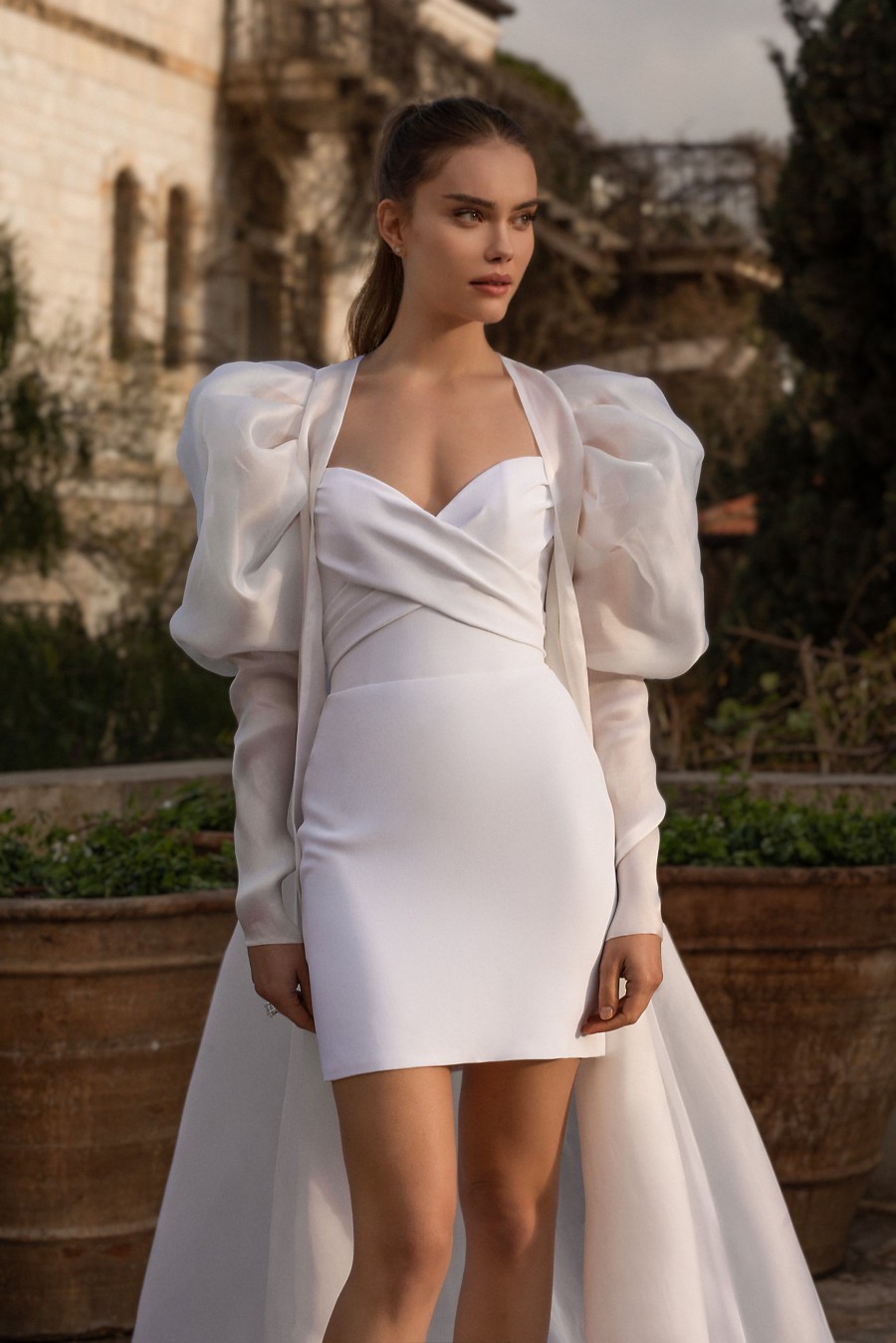 Loving this bridal mini/cape combo? Here is another one for you from Lihi Hod. This look features a chic wrapped sweetheart mini dress with an ultra dramatic semi-sheer puff sleeve cape that drapes down to the ground. This is another great look that gives you the best of both long and short bridal styles.
10.

Monique Lhuillier: Sophisticated Satin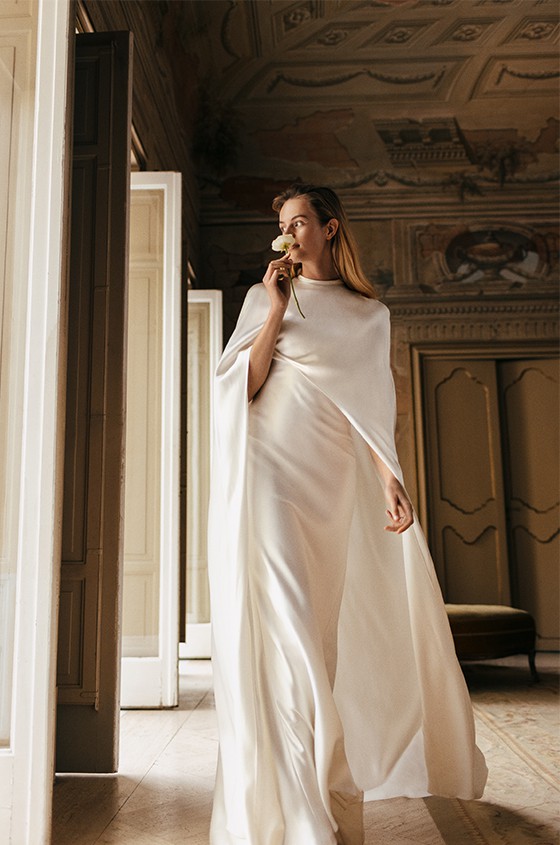 We are absolutely loving the ultra luxe and modern look of this next bridal cape. A matching style in the most lavish silky satin. This look has such a modern and sophisticated feel to it. And it is safe to say that this pairing is in no need of a traditional veil.
11.

Eva Lendel: Train Drama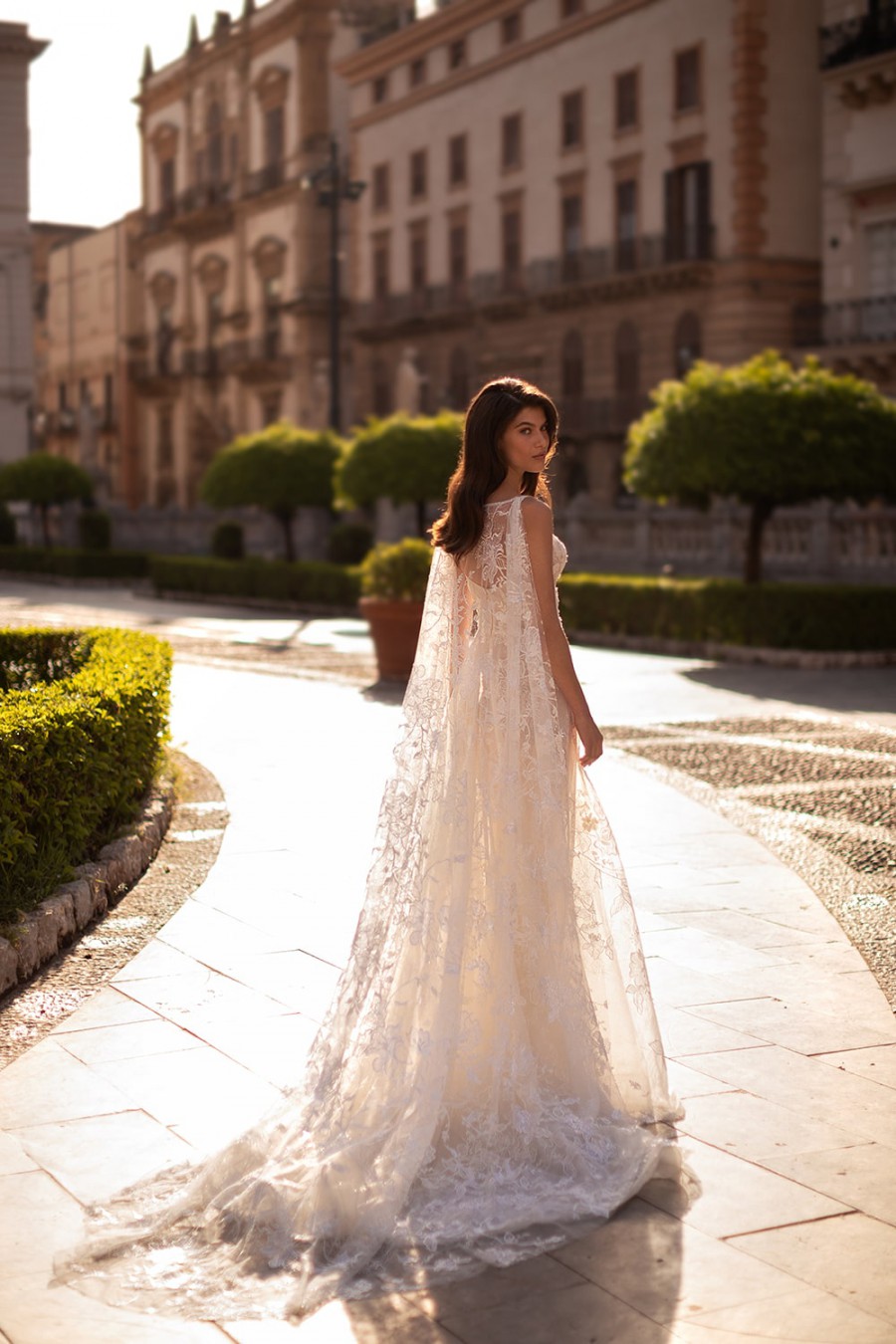 Eva Lendel cranks up the drama with this next bridal look. A bridal cape with long train attaches at the shoulders of the gown, which gives the look a very cohesive feel. This look shows how a bridal cape is a great way to add a dramatic train to your wedding style, without covering up your chic hairstyle.
12.

Sachin and Babi: Fairytale Finish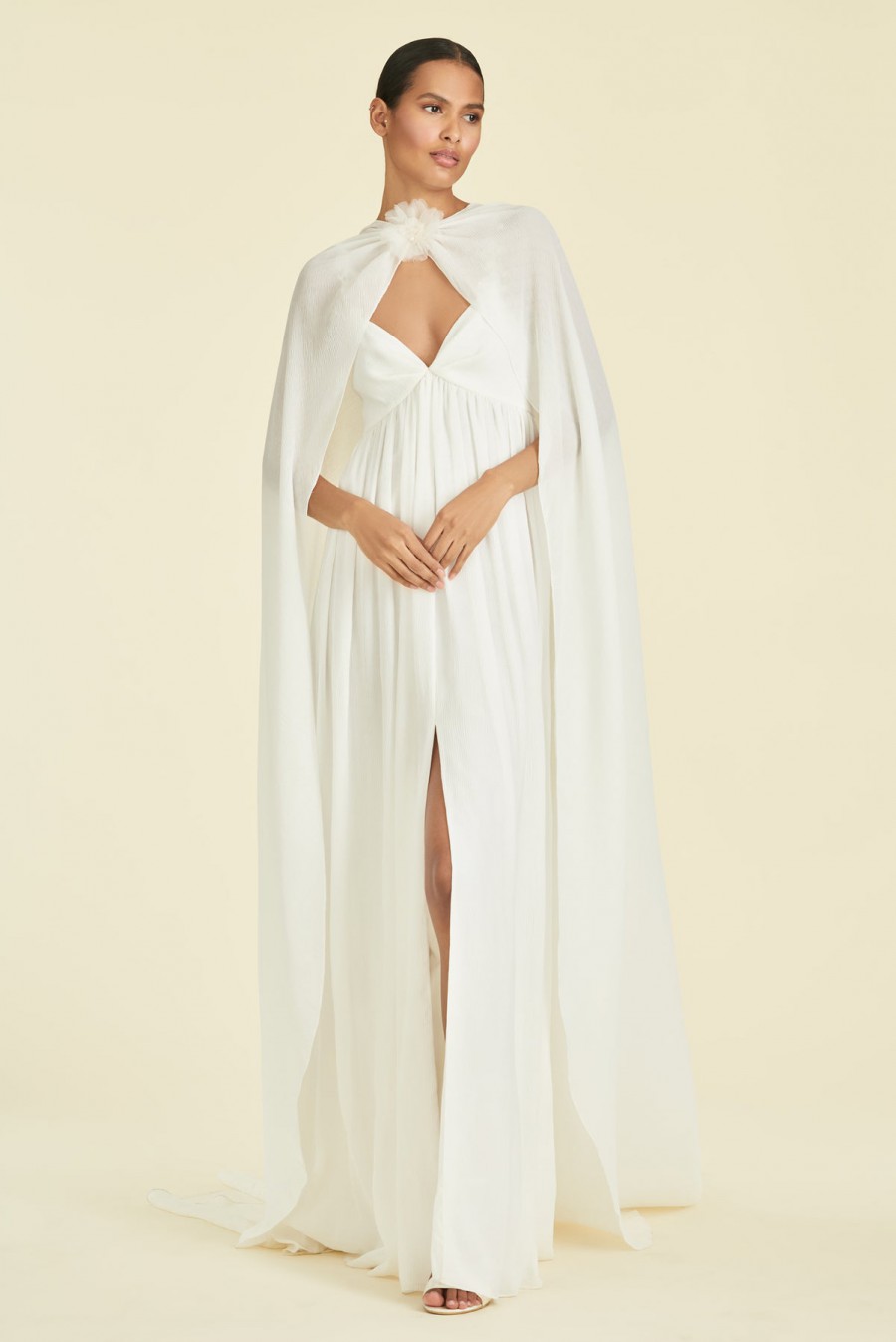 This next bridal cape comes from Sachin and Babi and it is sure to have any bride feeling like an absolute fairytale princess. The lighter than air fabric of this cape is accented with a single floral detail where it clasps at the neck.
13.

Eva Lendel: Sheer Full Coverage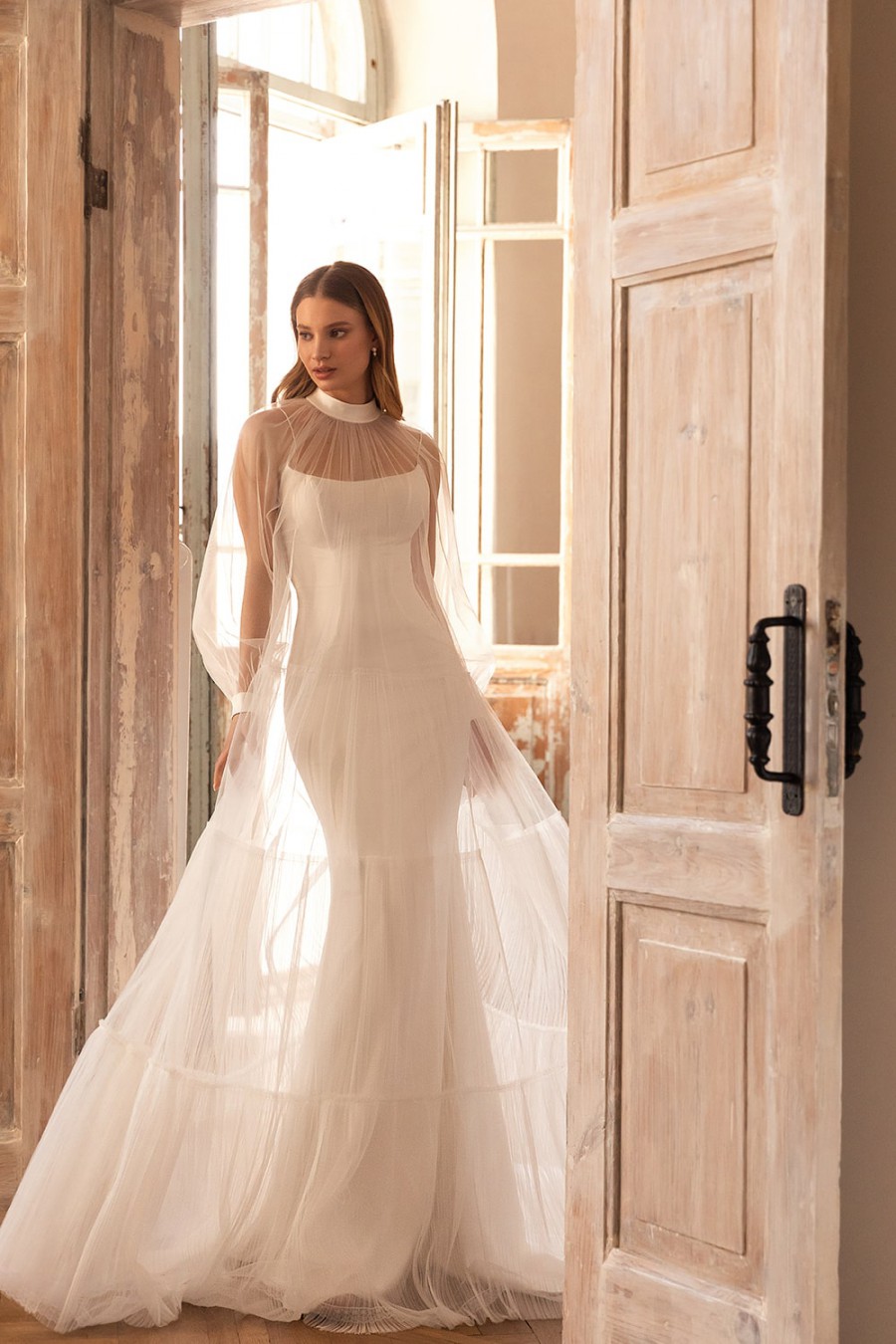 This next bridal cape from Eva Lendel was create "for brides who want to look fragile and delicate." And it does just that. This is one of the more unique styles on our list since this cape gives you full 360 coverage. Its sheer, yet voluminous style gives the appearance of being completely encased in delicate glass.
14.

Monique Lhuillier: Ethereal Romance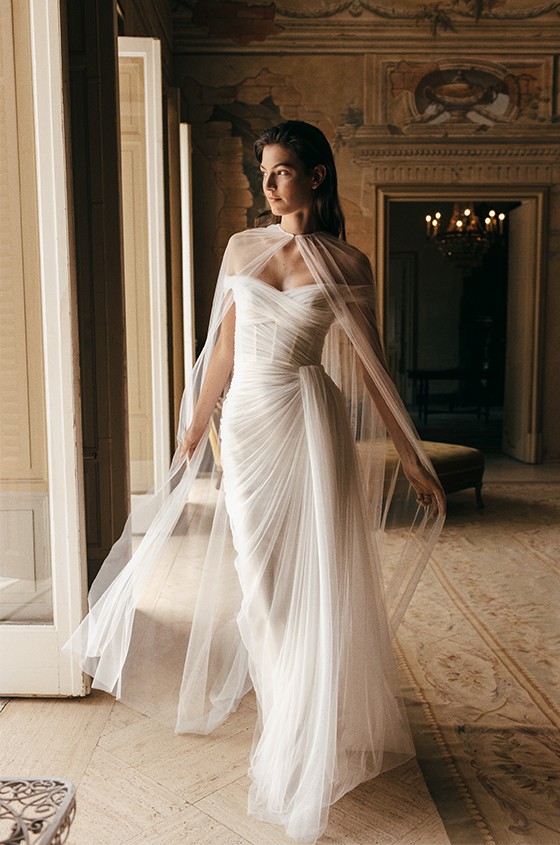 Monique Lhuillier creates an ethereal romantic wedding look with this next bridal cape. This look features the most stunning layered tulle gown with a matching lighter-that-air cape. The bridal cape adds a more whimsical and romantic feel to this style than a more traditional veil would.
15.

Bo and Luca: Beaded Florals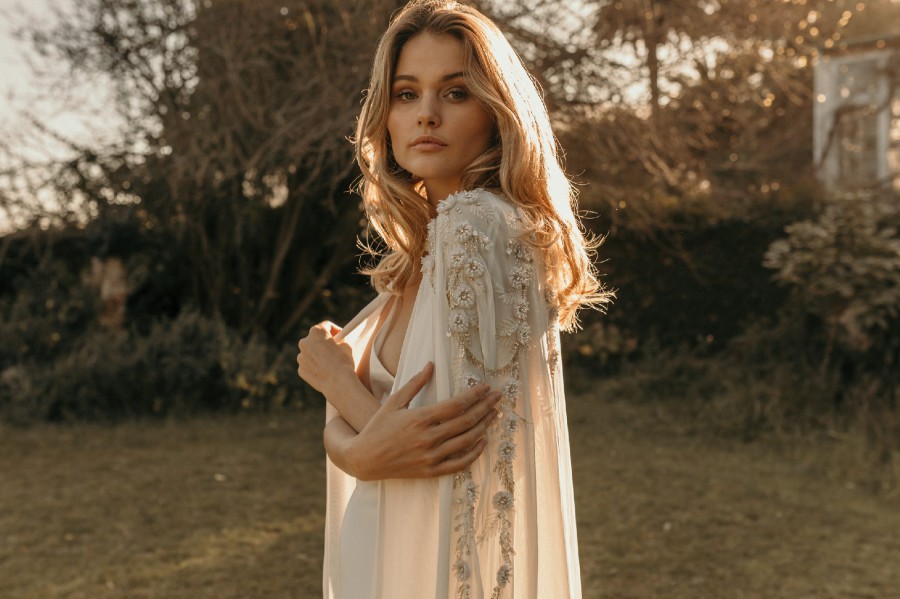 The lightweight chiffon and hand-beaded florals on this next bridal cape from Bo and Luca are absolutely breathtaking. This whimsical cape adds an alluring touch of romance, yet still allows the bride to have a laidback and effortless hairstyle without the fuss of a traditional veil.

By Kathryn Schrotenboer