If you are an eco-conscious bride that cares about sustainability, then your wedding dress should reflect those values. And this list is for you!
It is no secret that the fashion industry produces a lot of waste. And for a long time it was hard to find a wedding dress that was sustainably made with an eco-conscious mentality. But modern brides are demanding change. With more brides concerned with sustainability and environmental impact, the bridal industry has responded. Today, there are so many choices. And if you want a sustainable, eco-friendly wedding dress, that doesn't mean you have to sacrifice style.
Now remember, one of the best ways to be more sustainable and eco-friendly, is to find a pre-loved dress, like on Still White! Because nothing is more sustainable than something that already exists. So, dig into this list, and see which eco-conscious bridal looks you just can't live without.
01.

Grace Loves Lace: 100% Recycled Eco Lace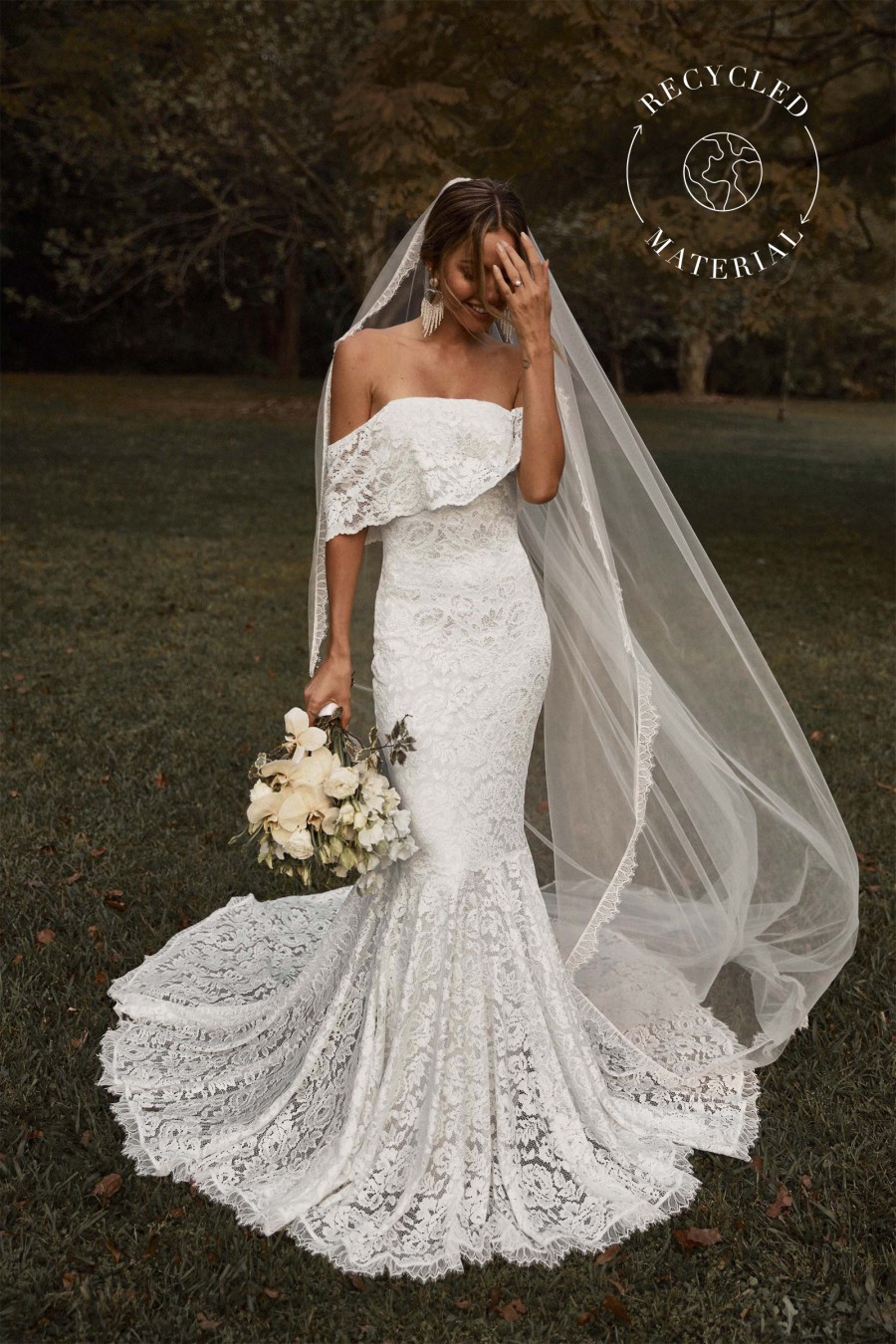 Grace Loves Lace has launched a lineup of eco gowns and we are absolutely loving them. This gown is made from 100% recycled materials, receiving international recognition and GRS certification. Made from the most gorgeous eco luminescent pearl lace, this gown features a fitted mermaid silhouette and a romantic off-the-shoulder neckline.
02.

Wear Your Love: No Waste Bridal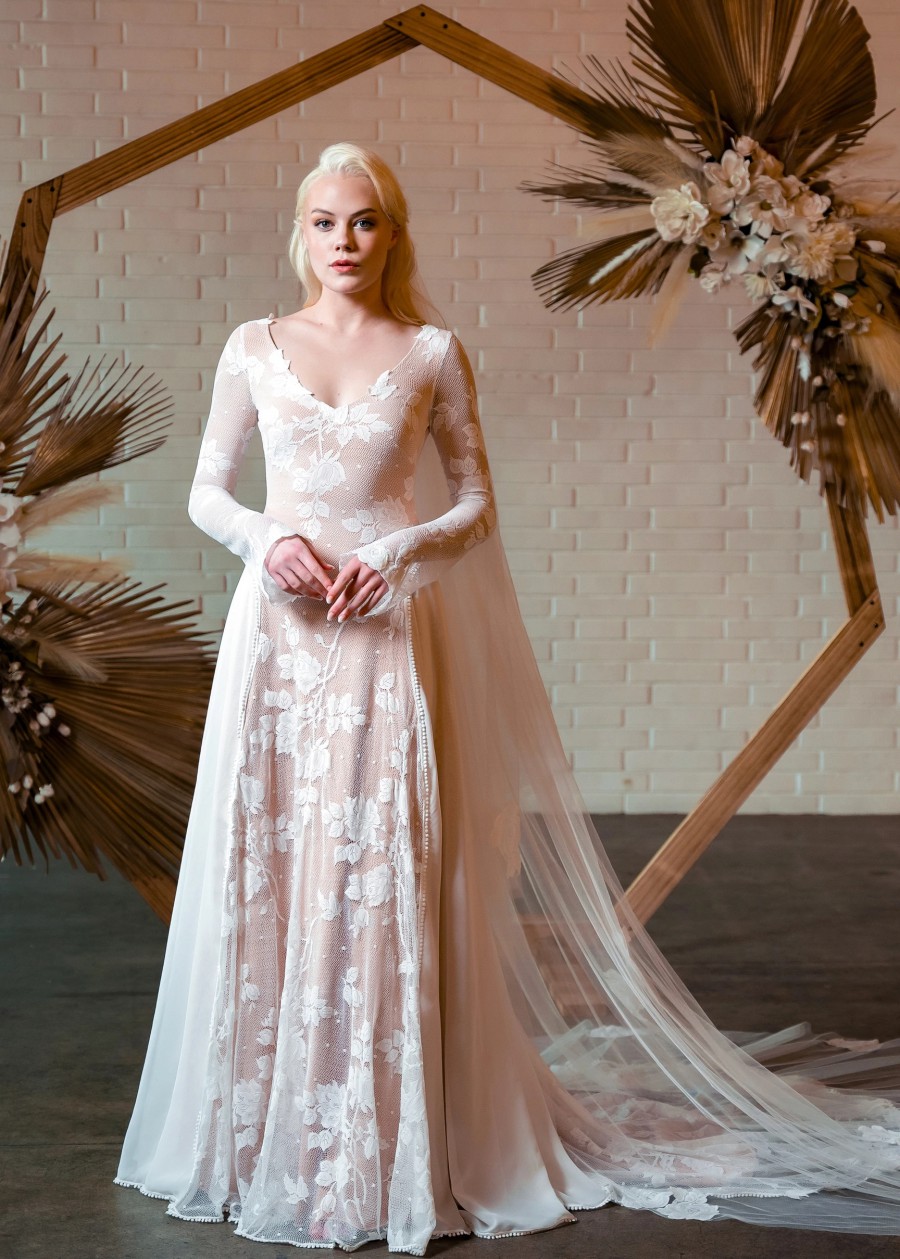 Wear Your Love promotes no-waste bridal by making every gown made-to-order in California. They use more eco-conscious fabrics like organic cotton to further lessen their carbon footprint on the planet. This wildly feminine gown features a V-neckline, full length bell sleeves, and an all over floral embroidered design with a gorgeous blush undertone. This romantic, bohemian bridal gown is absolutely effortless.
03.

Reformation: Eco-Conscious Organic Cotton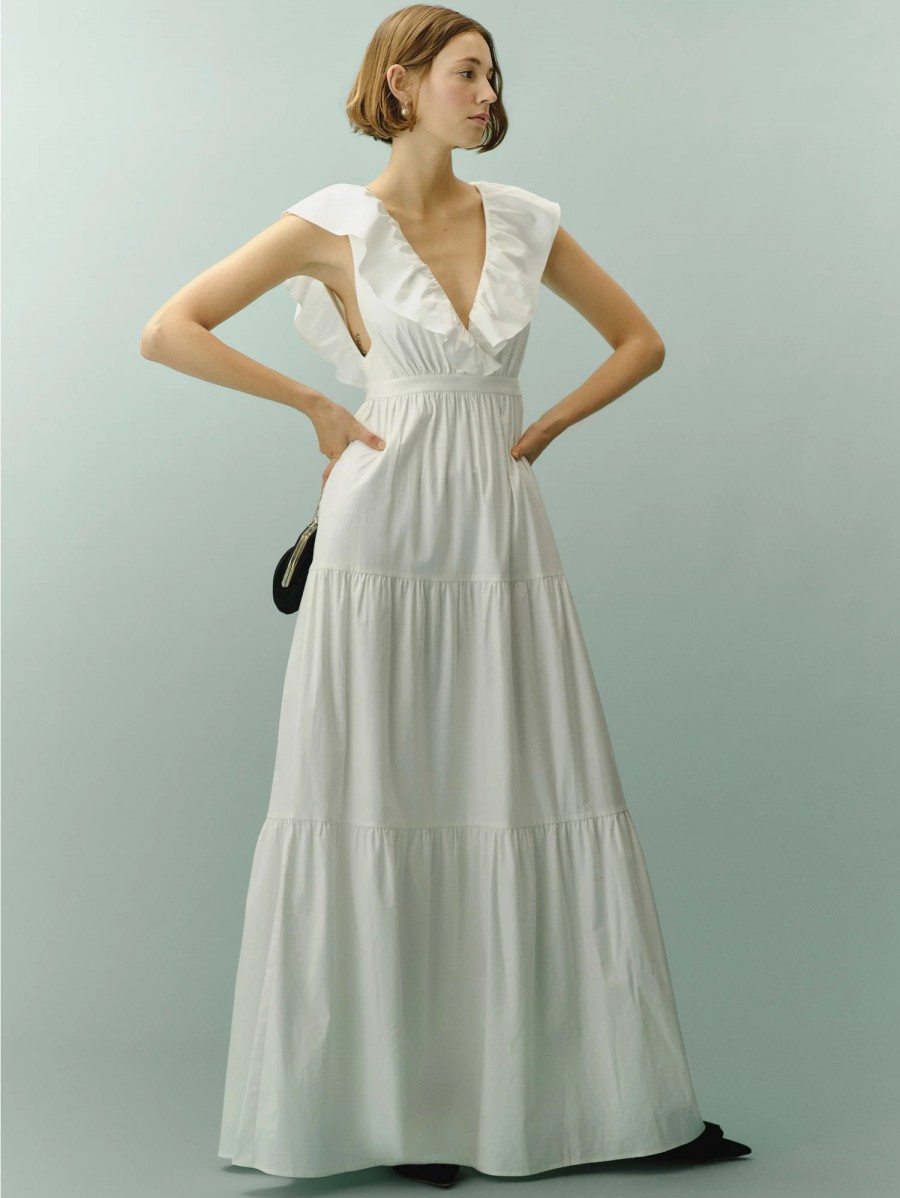 Sustainability is at the forefront of the Reformation's practices. This gown in particular is made from organically grown cotton. As stated on the Reformation's website: "Organic cotton doesn't allow genetically modified seeds and restricts the use of many chemicals. It still uses water and land but it helps sustain the land it is grown on through crop rotations and natural ways of controlling pesticides." This maxi length gown is perfect for that laid back wedding day, or for a destination elopement. Featuring a ruffled V-neckline, fitted waist and a full skirt with tiered seaming.
04.

Lost In Paris: Repurposed Vintage Lace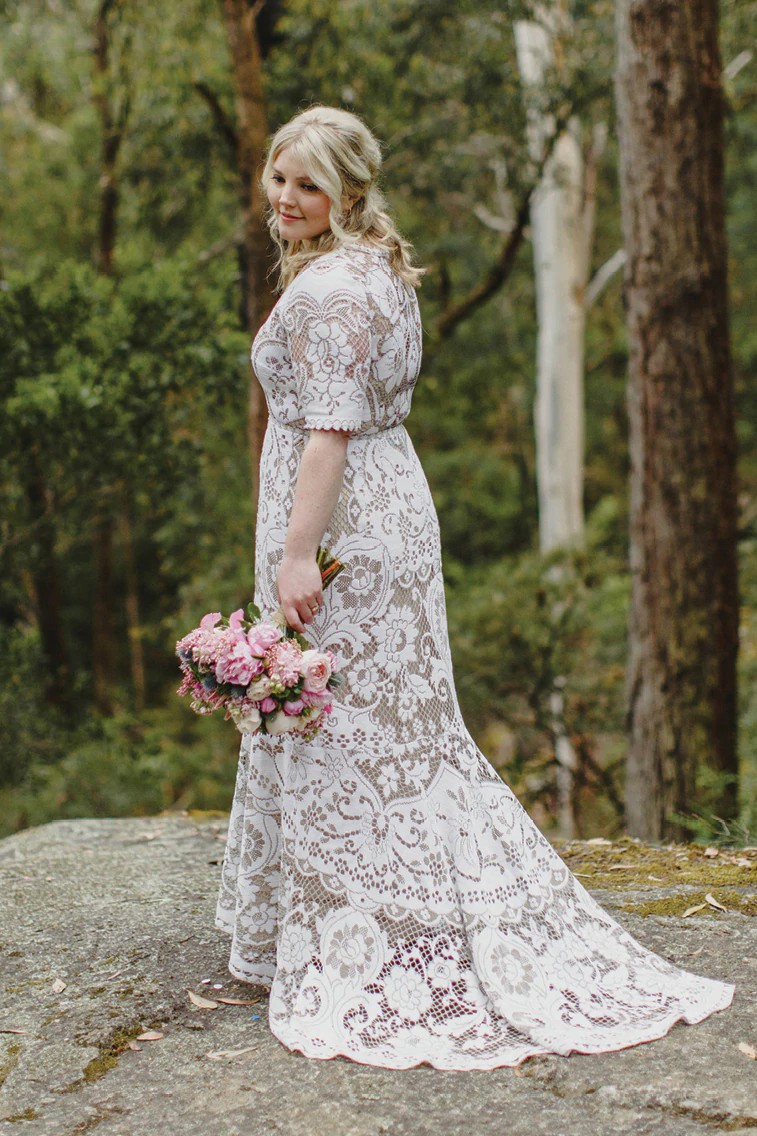 If you are a vintage loving bride, then you don't want to miss this next gown from Lost In Paris. Lost In Paris makes their gowns from vintage lace which they find from antique markets. These found laces create unique, eco-conscious bohemian bridal looks. This gown features a flattering short sleeve silhouette with gorgeous trim detailing and a slight train.
05.

Poemian: Wear Again Sustainability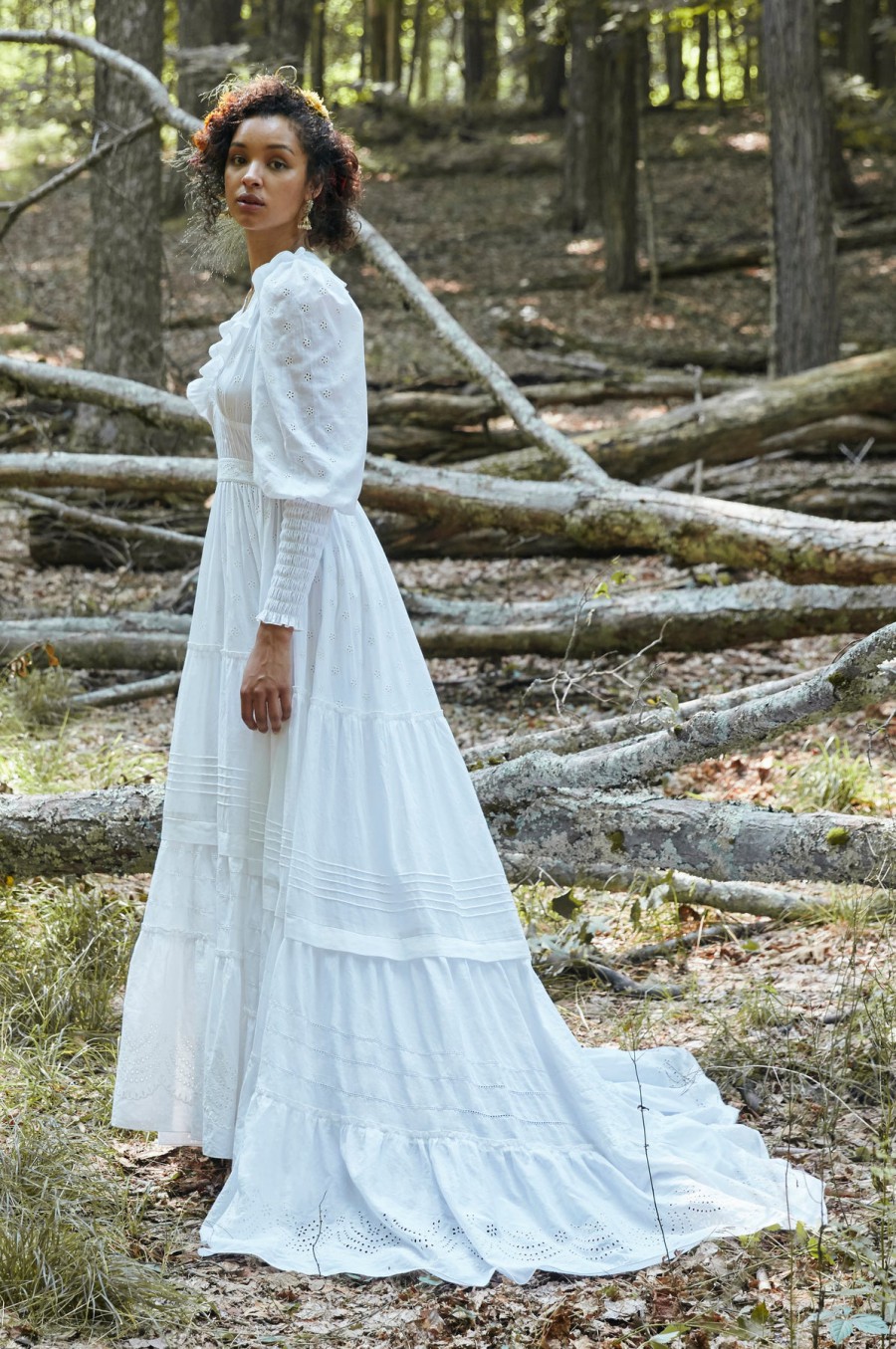 Poemian wants to change how brides think about their wedding day look. Believing that a wedding dress should be able to be worn again for years to come. This gown is made from 100% GOTS certified organic cotton. To make this gown more sustainable, it can be converted into a midi or knee length dress after your wedding day, by hemming it at the "Picot embroidery" on the skirt. Poemian will even convert your dress for you and add a unique natural over-dye for color if you want!
06.

Grace Loves Lace: Eco-Conscious Lace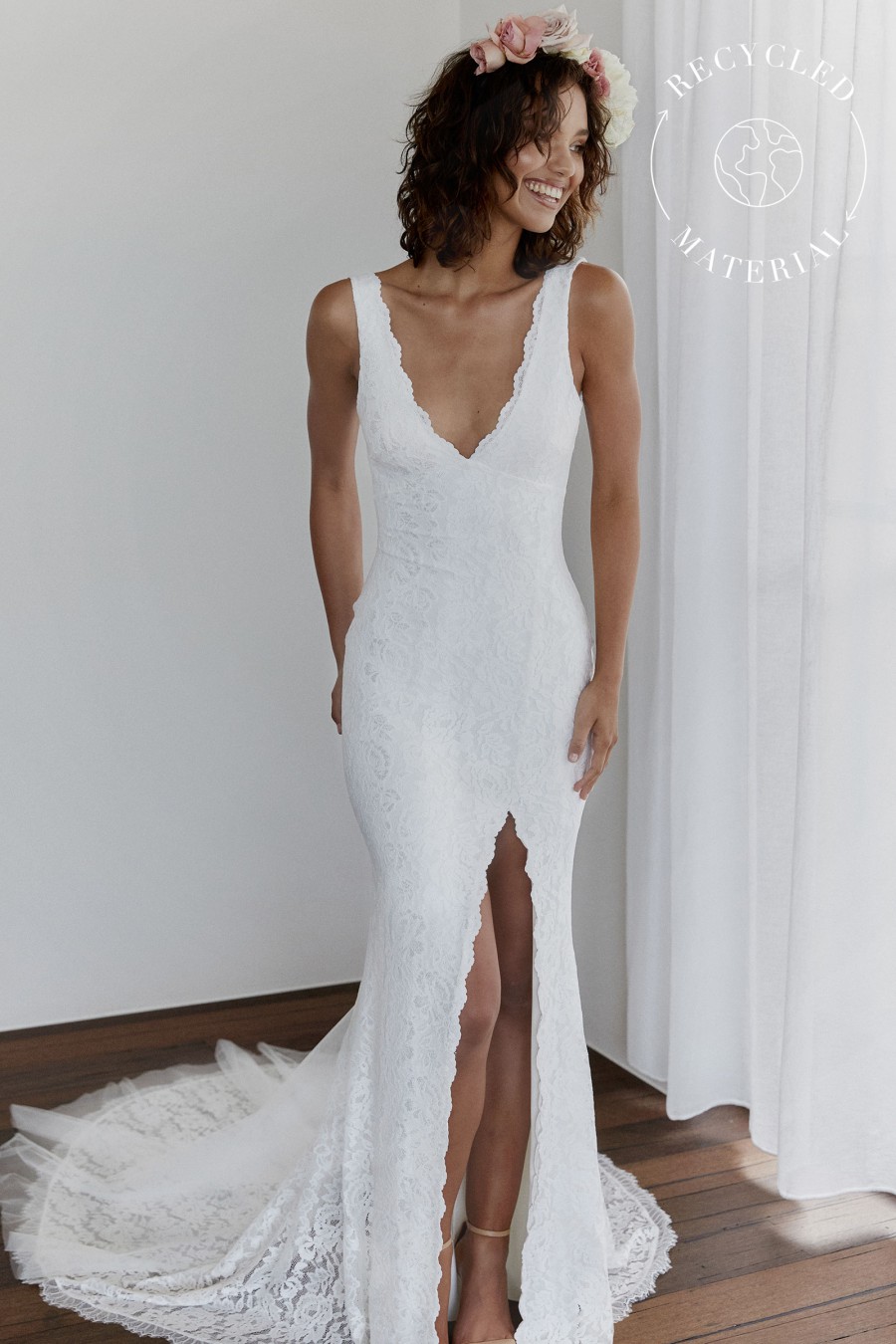 "The gown's construction is eco-friendly, from the exclusive eco pearl lace we spent two years inventing, to the lining and trims, each part of the Lumi gown is a considered choice for the planet." This gown features a flatting scalloped V-neckline, a fitted silhouette, sexy front slit and train with tulle overlay for added drama. Grace Loves Lace is showing that even the most chic bridal styles, can still be made in a more sustainable way.
07.

Pure Magnolia: Simple & Elegant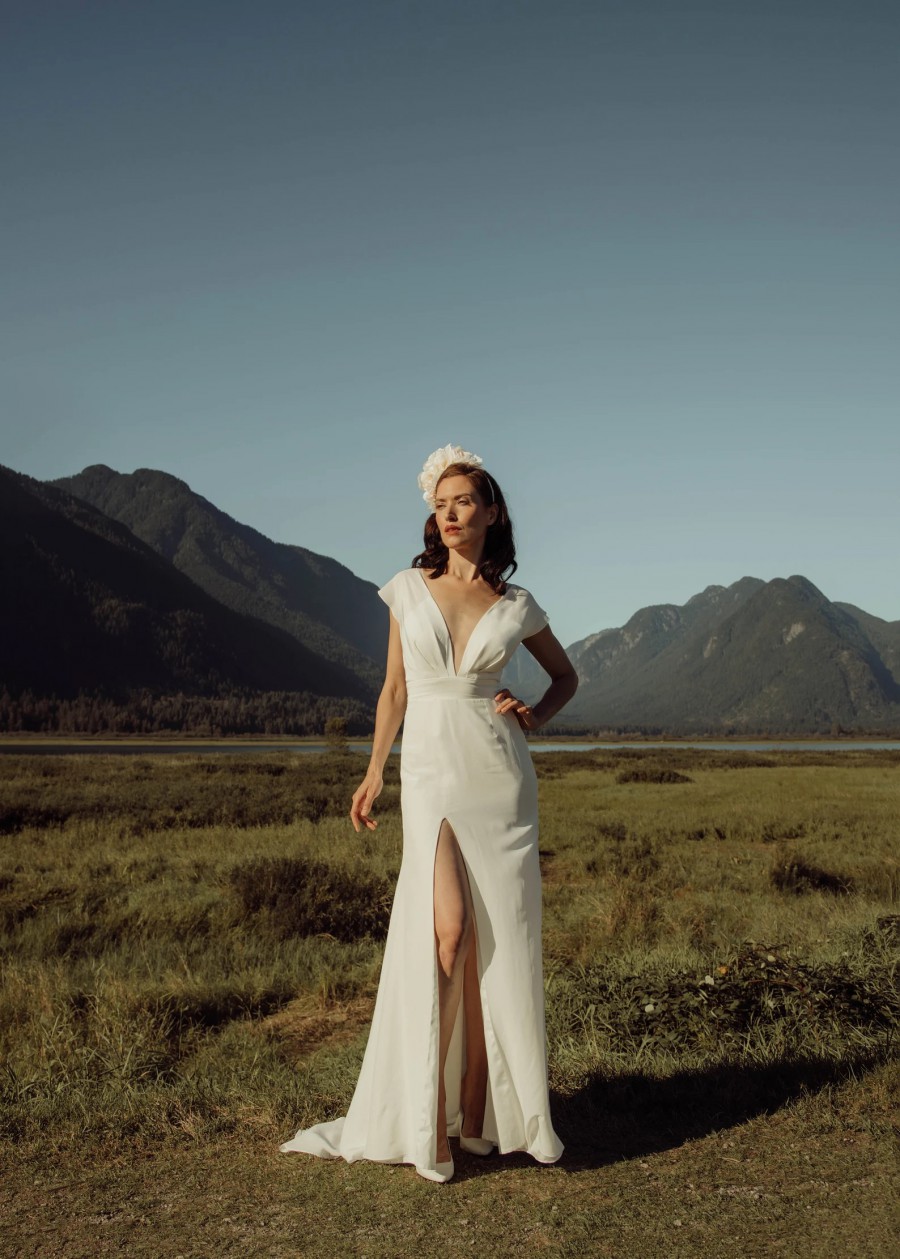 Pure Magnolia is a sustainable bridal brand out of Canada, that focuses on creating timeless, eco-friendly styles. They use sustainable materials to craft their dresses, which are all hand made in British Columbia. This stunning silk dress is a nod to the 1940's with its sleek, timeless silhouette. Featuring a dramatic neckline, high front slit and flattering flutter sleeves.
08.

Reformation: Sustainable Forest Products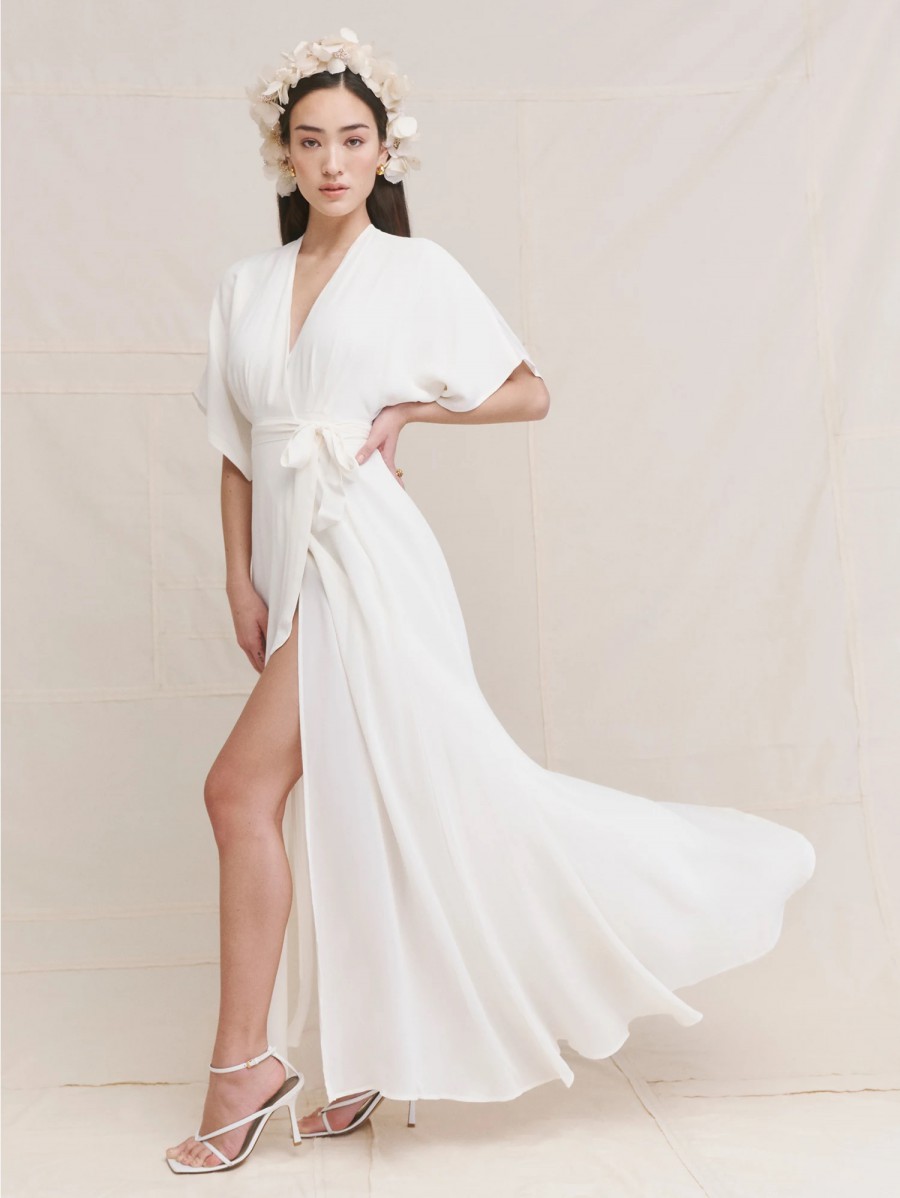 This next sustainable and eco-conscious bridal dress is made from viscose, or rayon, which is a man-made cellulosic fiber made from wood pulp. Reformation is committed to only using products from sustainably managed forests, so they work with a non-profit called Canopy to ensure that they are driving positive change for all of their forest products. This effortless wrap style gown features butterfly sleeves, a V-neckline and sash waist tie. This gown is easy to wear, and it can ease your mind, knowing that it is made sustainably.
09.

HONUA: Layered Organic Organza Dress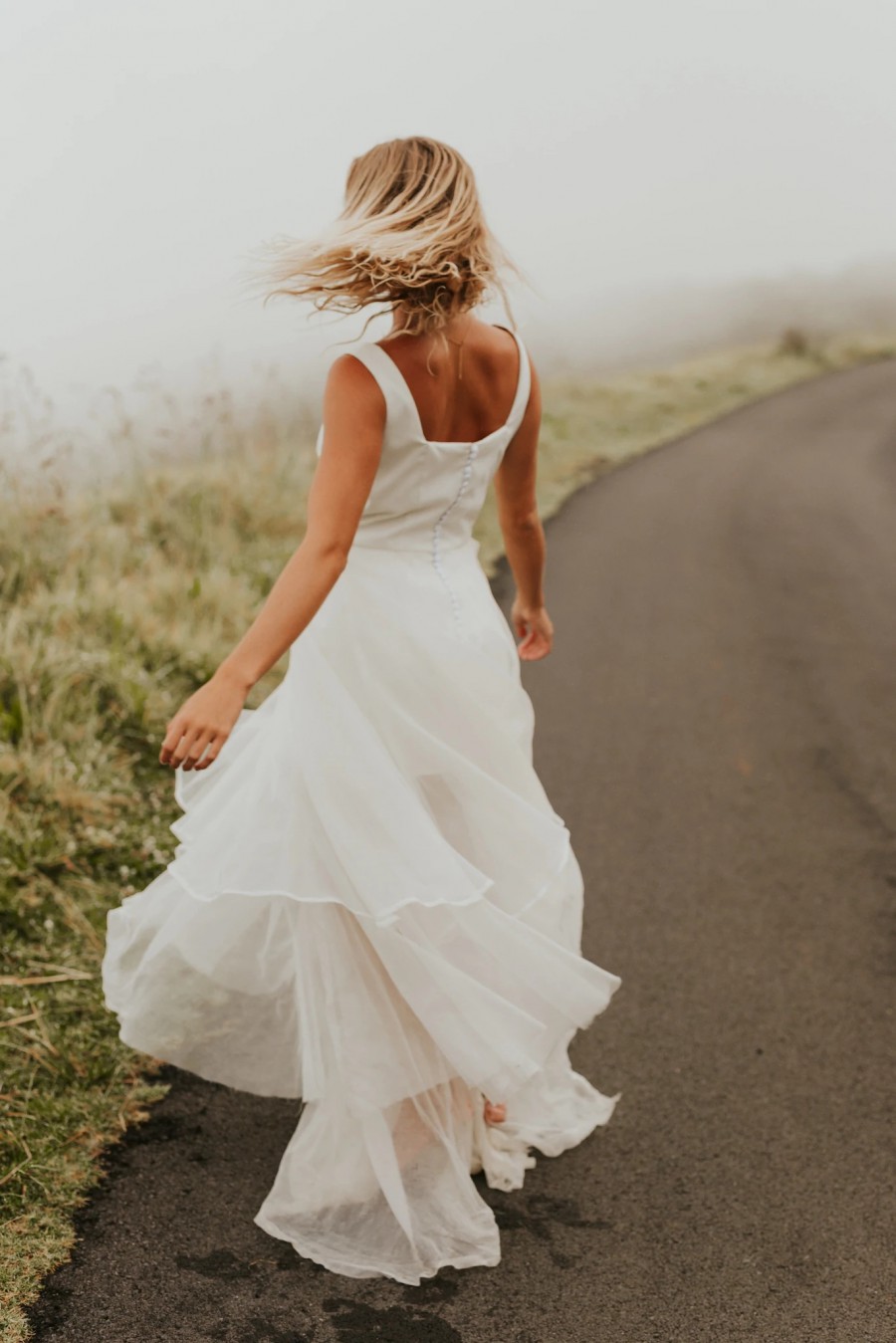 "HONUA creates simplistic, sustainable, and unique bridal and evening gowns that give women the opportunity to feel and look beautiful while consciously celebrating an occasion. Every piece is hand made on Maui using recycled, cruelty-free, and organic fabrics." This layered dress is made from natural, cruelty-free, organic organza silk with a 100% recycled polyester matte satin liner. HONUA shows that you can be an eco-conscious bride, while still looking stunning and chic on your big day.
10.

Grace Loves Lace: Repurposed Satin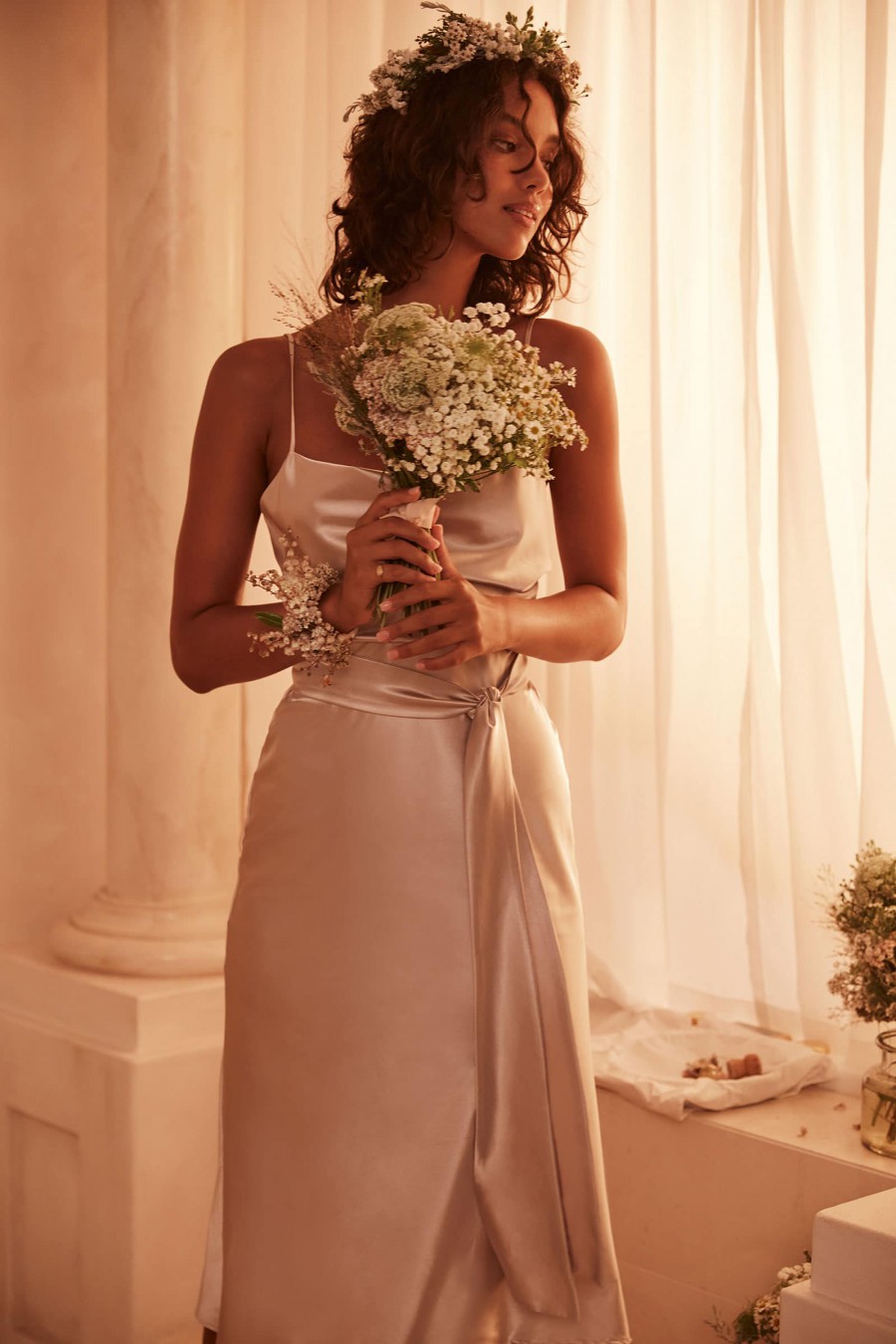 This next gown comes from Grace Loves Lace's Amité collection. Crafted from recycled materials, over 51,000 plastic bottles have been kept from landfill thanks to this collection from Grace Loves Lace. This barely-there satin slip dress is perfect for a more casual wedding day. In a chic midi length cut, this gown features a cowl draped neckline, thin straps and a satin sash tie.
11.

Lost In Paris: Vintage Gypsy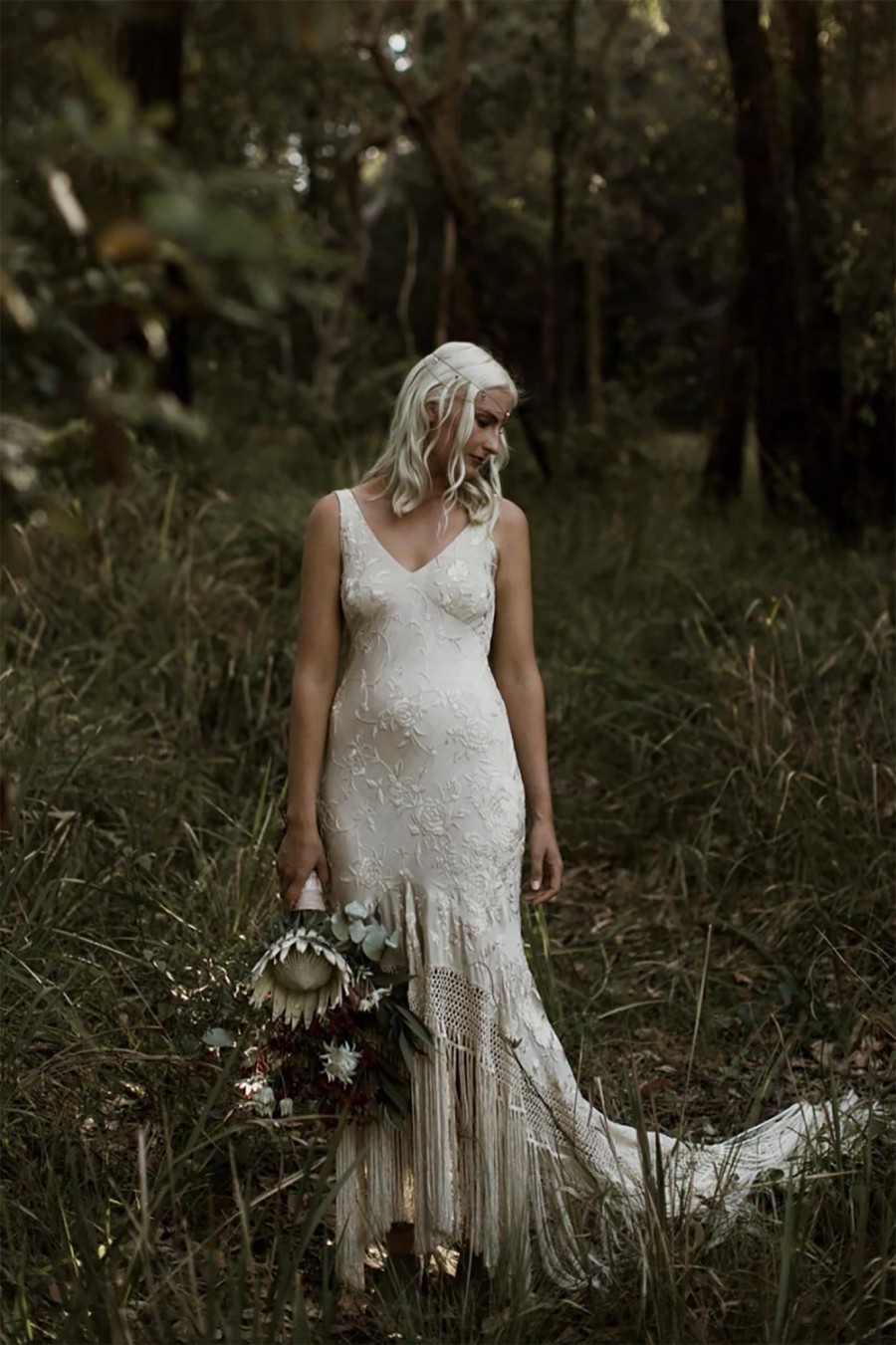 We can't help but include another gown from Lost In Paris on this list. Their up-cycled vintage lace gown are so unique and everything a eco-conscious boho bride could want. This gown is handcrafted from an antique 1920's Art Deco piano shawl. This gown features a classic silhouette with a dramatic fringed high-low skirt.
12.

Reformation: Deadstock Crepe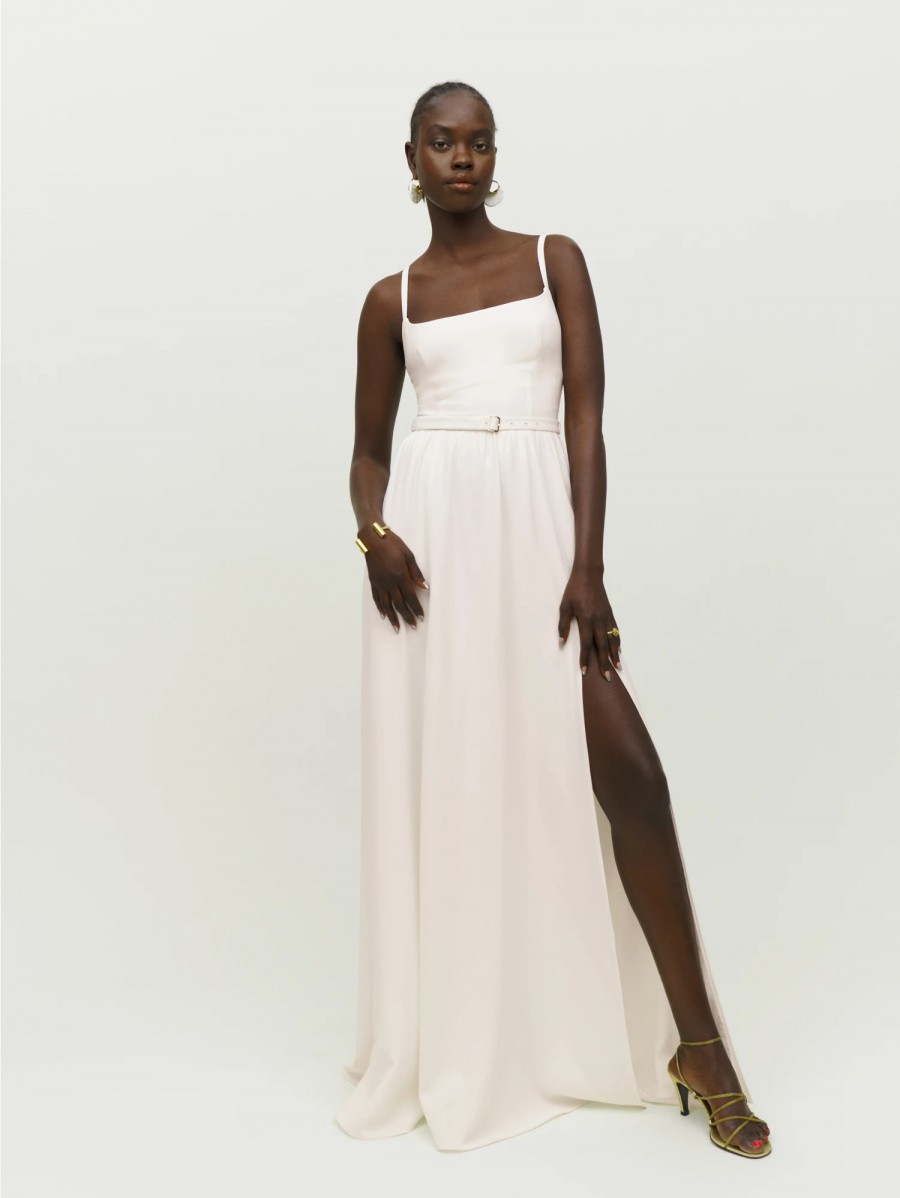 Reformation is cutting back on waste from the fashion industry by using deadstock fabrics. These surplus, or left over fabrics that may otherwise end up in a landfill, are given a second life. This gown in particular is made from deadstock heavy crepe fabric. This gown is classic. Featuring a straight neckline, spaghetti straps, a fitted bodice and a relaxed skirt with a high side slit.
13.

Larimeloom: Sustainable Eco-Conscious Silk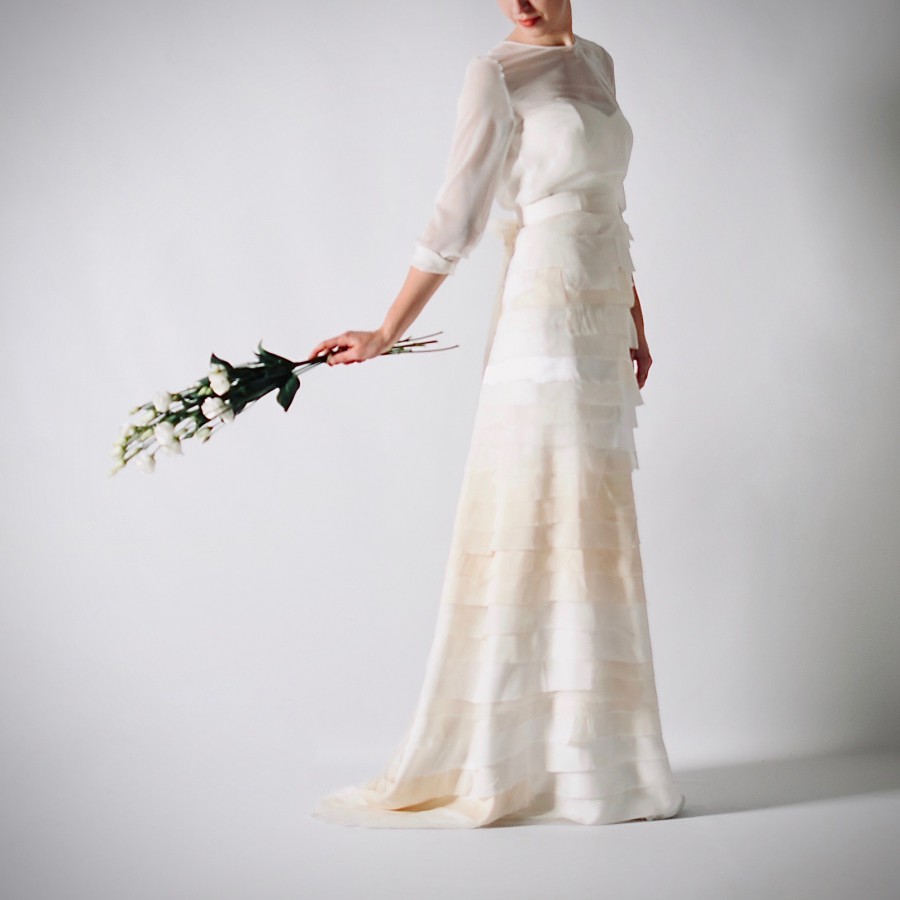 Larimeloom believes in sustainable, ethical, slow fashion. They develop their designs with "a zero waste logic." Larimeloom dies their fabrics using non-toxic or completely natural colors, and after your big day, your dress can be converted into a piece that you can wear again and again. This dress is made from all of the leftover scraps from other dresses. These scraps are cut into strips that are then layered to create this stunning gown.
14.

Loulette Bride: Stunning Sustainability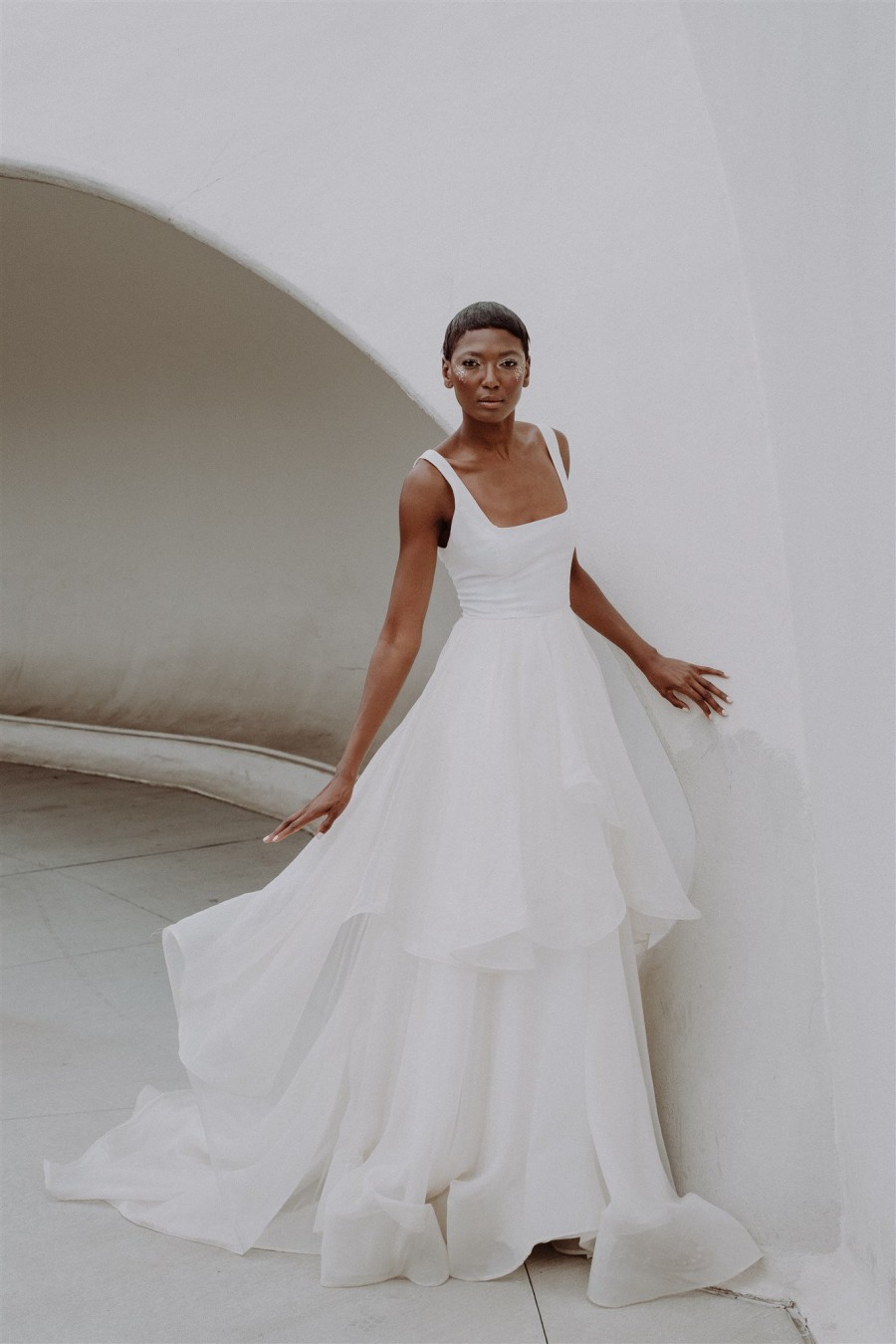 Sustainability is at the core of Loulette Bride. Their goal is to craft the most beautiful, yet ethical wedding gowns that have the least impact on the environment, and the most positive impact on community. All gowns are made to order to eliminate waste, and they use recycled polyester and natural fabrics. This stunning gown is made from gorgeous silk organza with a recycled poly stretch charmeuse lining. This modern princess style features a dramatic square neckline and a cascading ruffle skirt and train.

By Kathryn Schrotenboer