Why only wear one wedding dress on your big day...when you can wear two?
Second look wedding styles are perfect for brides craving two different looks on their big day. Have a more formal style for your ceremony, and then dress things down a bit for the reception. This allows you to incorporate two entirely different looks into your wedding day. Not to mention, allowing you to match your look to the different events of the day.
So today we have gathered our favorite reception bridal styles - for when you are ready to ditch the big ceremonial gown, and get ready to party the night away!
01.

Foxy Florals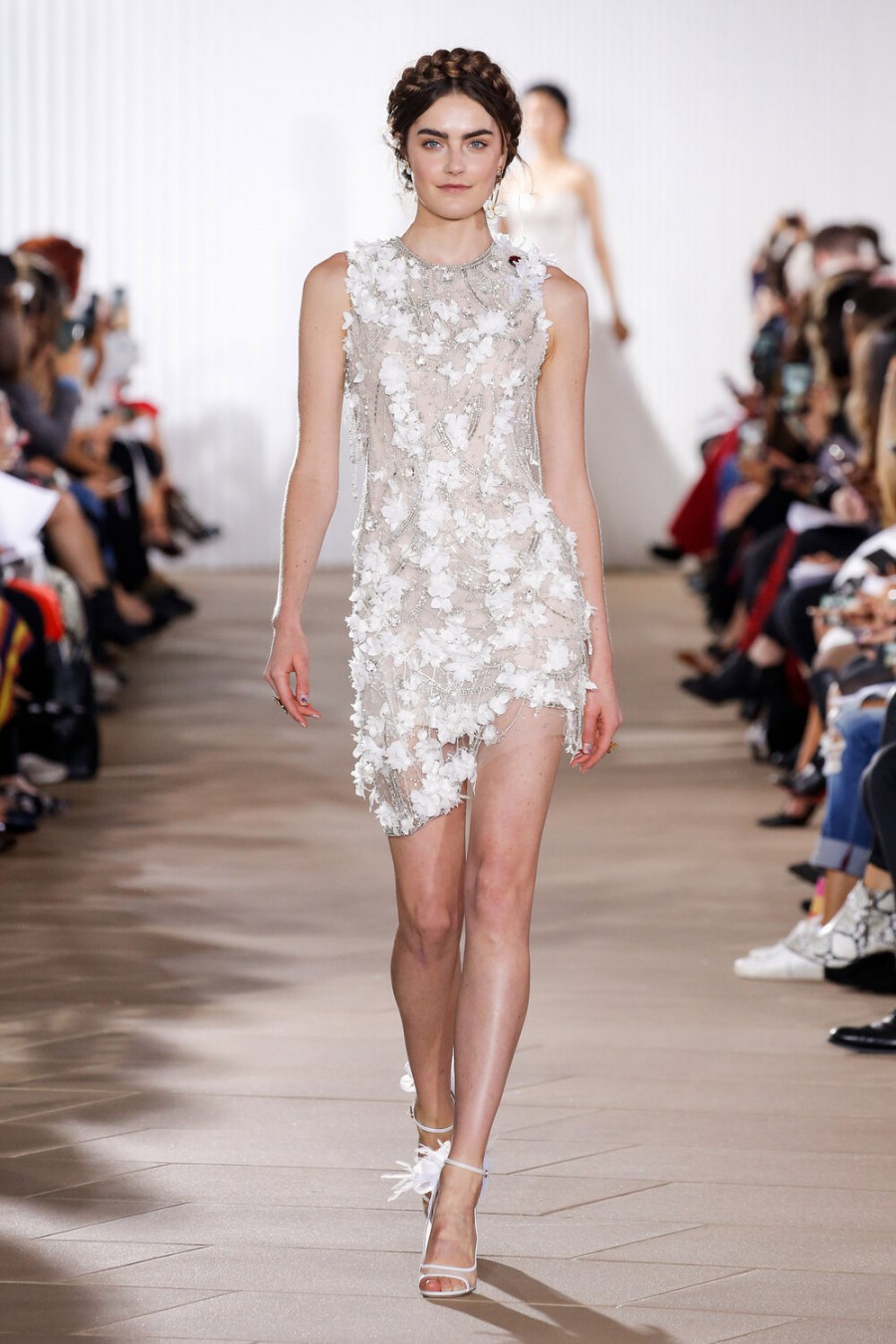 Feel chic and foxy in this second look reception wedding gown from Ines di Santo. Perfect for a contemporary fashionista that is looking to rock two very different styles on her big day!
02.

Column Mini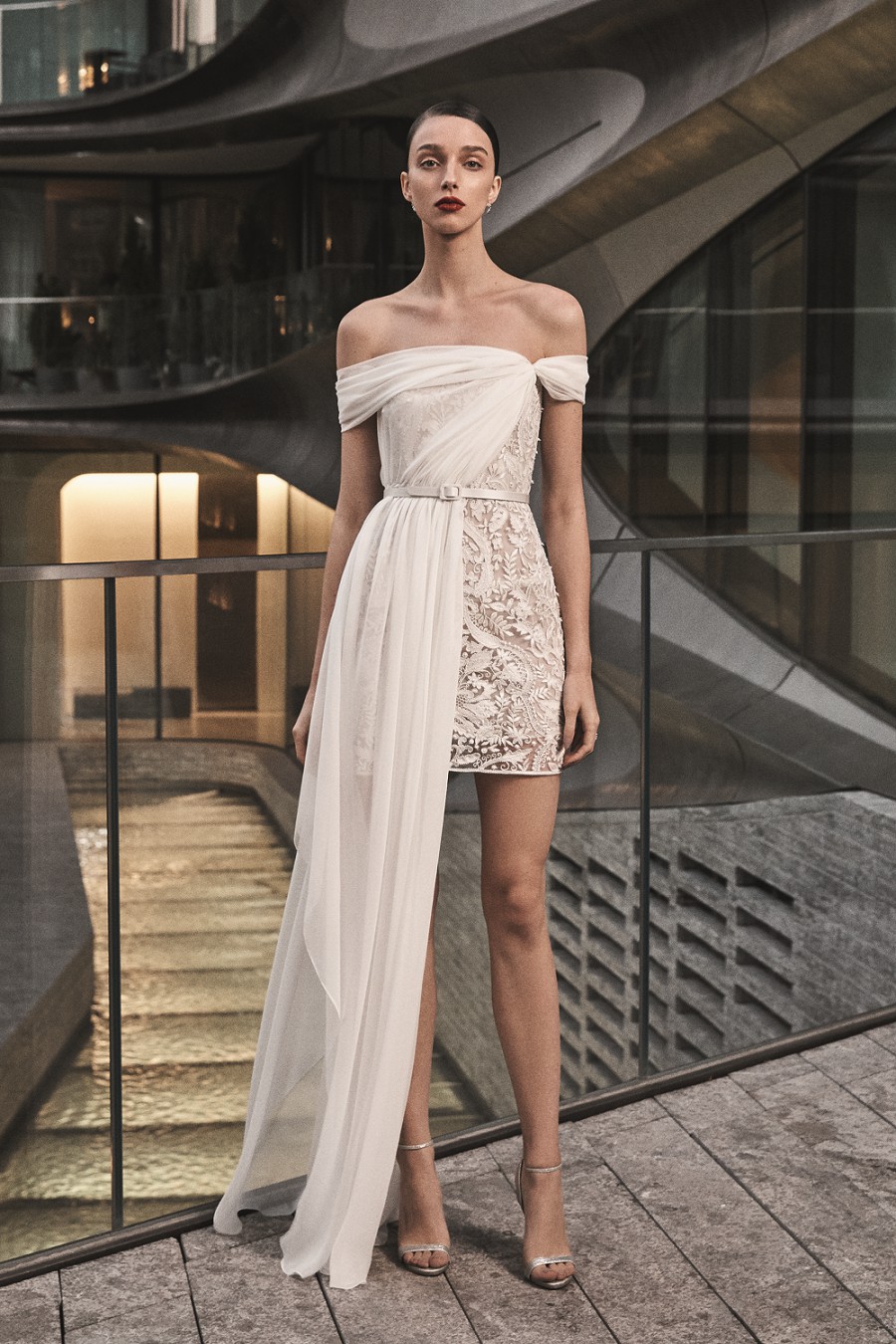 What is not to love about this column mini wedding dress from Naeem Khan. This look has all of the stunning features of a traditional wedding gown but in a party-ready mini design.
03.

Suiting Separates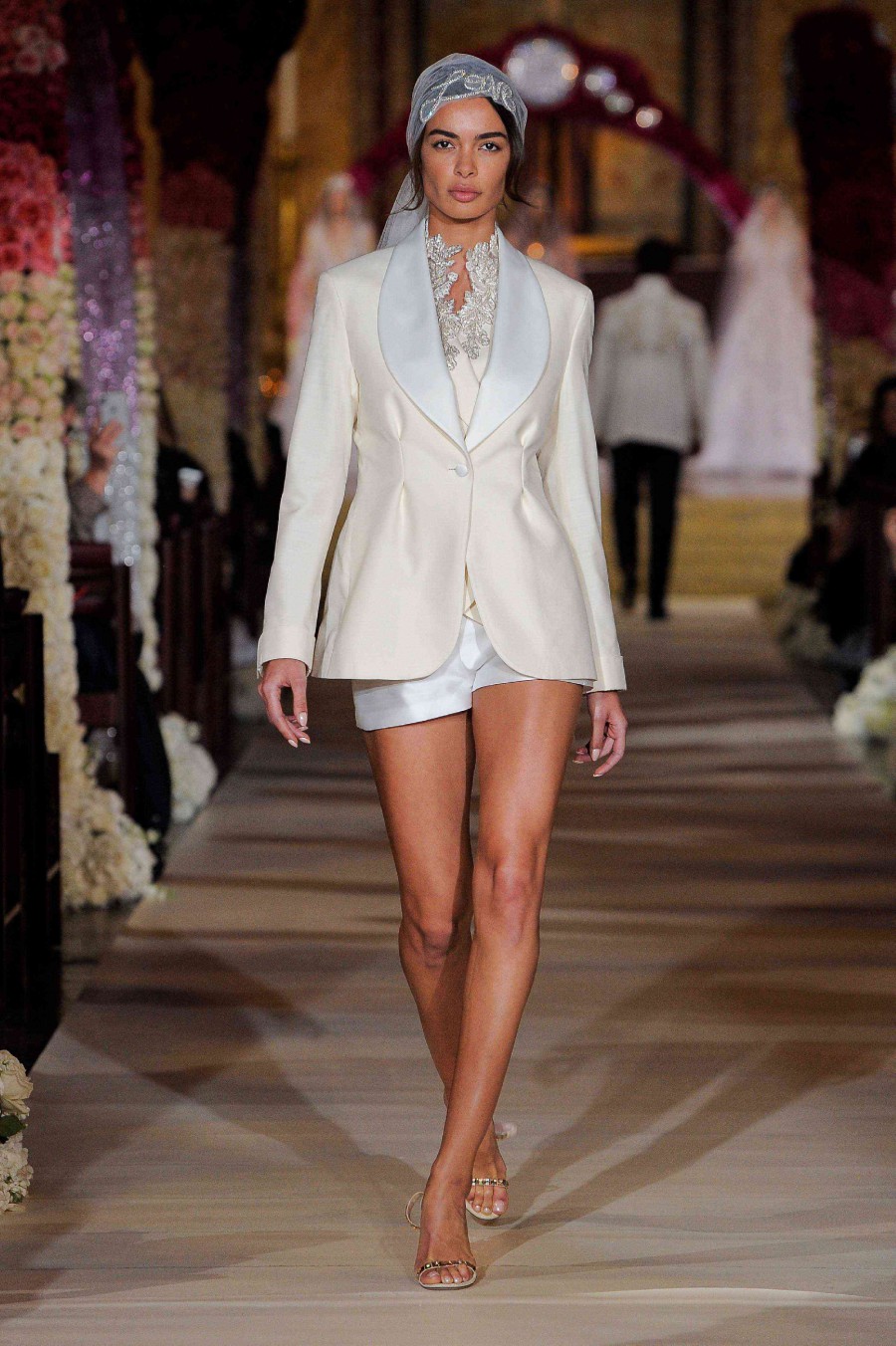 How about a big cathedral ball gown for your ceremony and then a suit inspired separates second look style like this from Reem Acra? This look would allow you to wear a more traditional wedding gown for your ceremony, and then change into a fun fashion forward style for your reception style.
04.

Playful Two Piece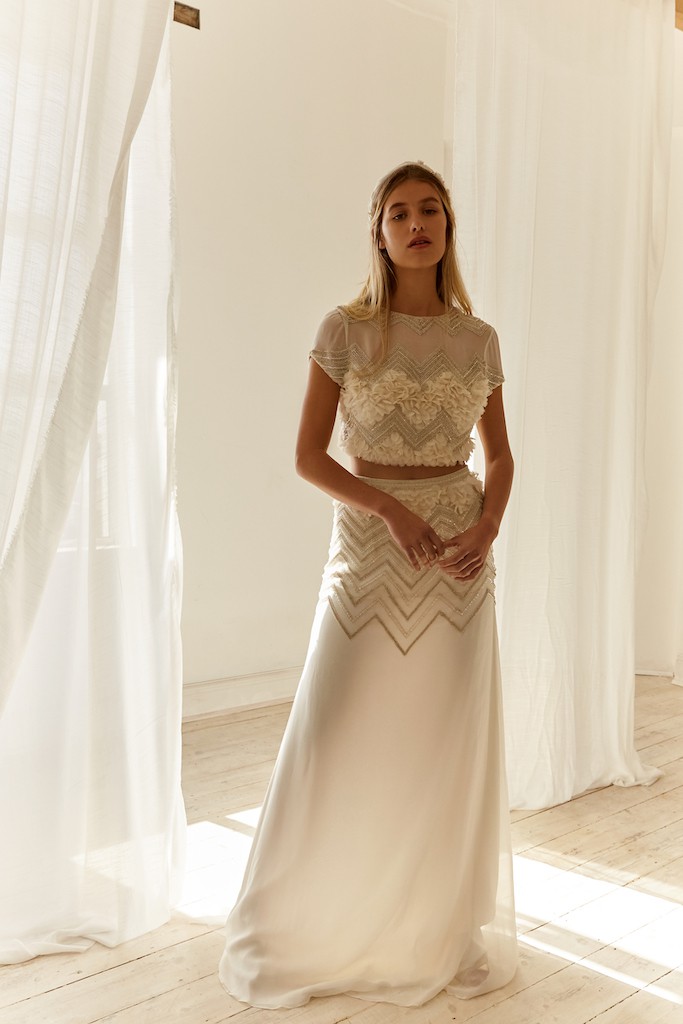 Remember that you don't need to have a short gown for your reception second look. A playful, more casual two piece like this look from Bo and Luca can give you the more relaxed, yet still trendy style that you are craving.
05.

Feminine Tulle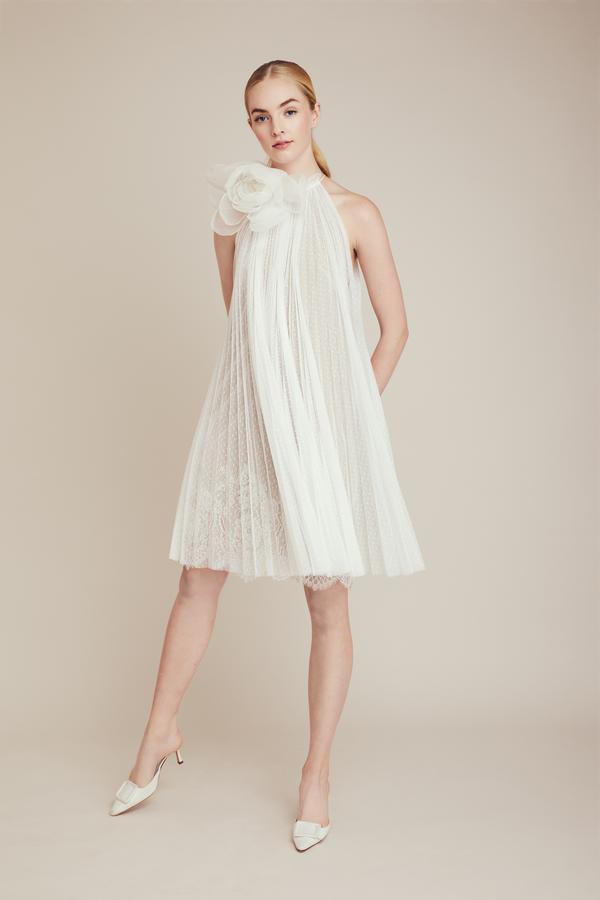 Chic and girly. We love this high neck, polka dot tulle mini wedding gown from Lela Rose. A feminine and romantic second look wedding style.
06.

Couture Statement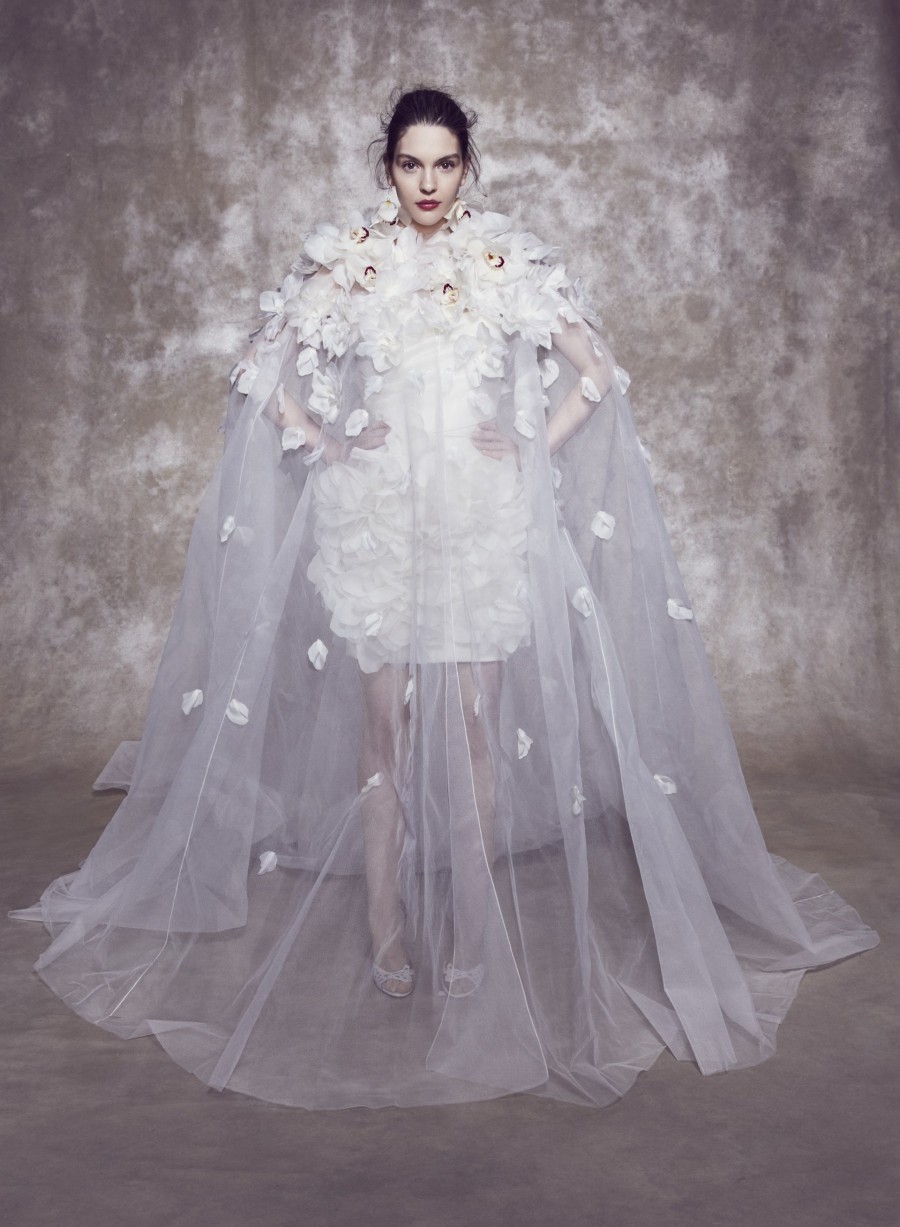 Make a couture fashion statement with your second look like this gown from Marchesa.
07.

Sultry Second Look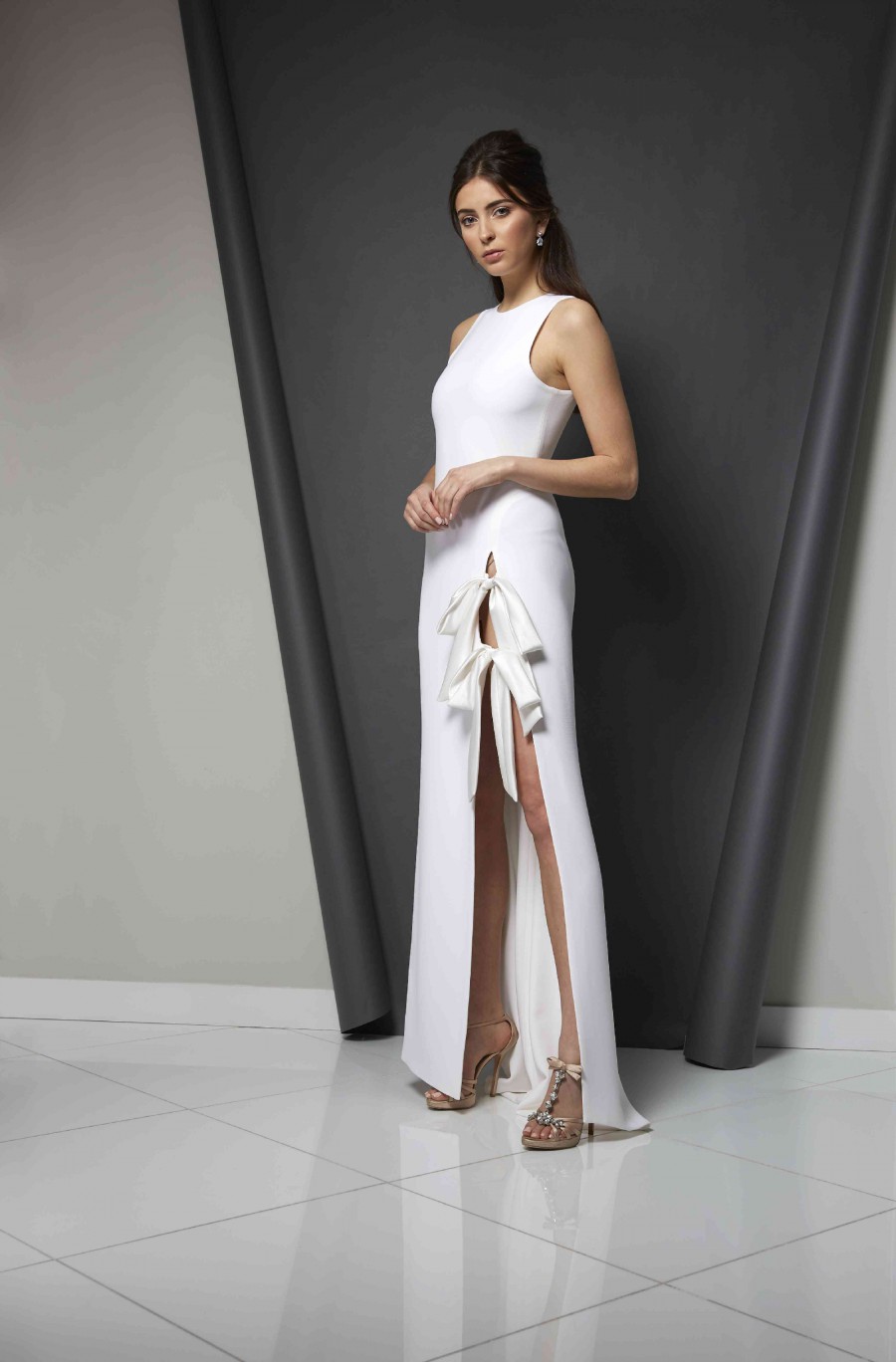 Get chic and sultry for your second look wedding day style with this ultra high slit gown from Randi Rahm.
08.

Clean Fringe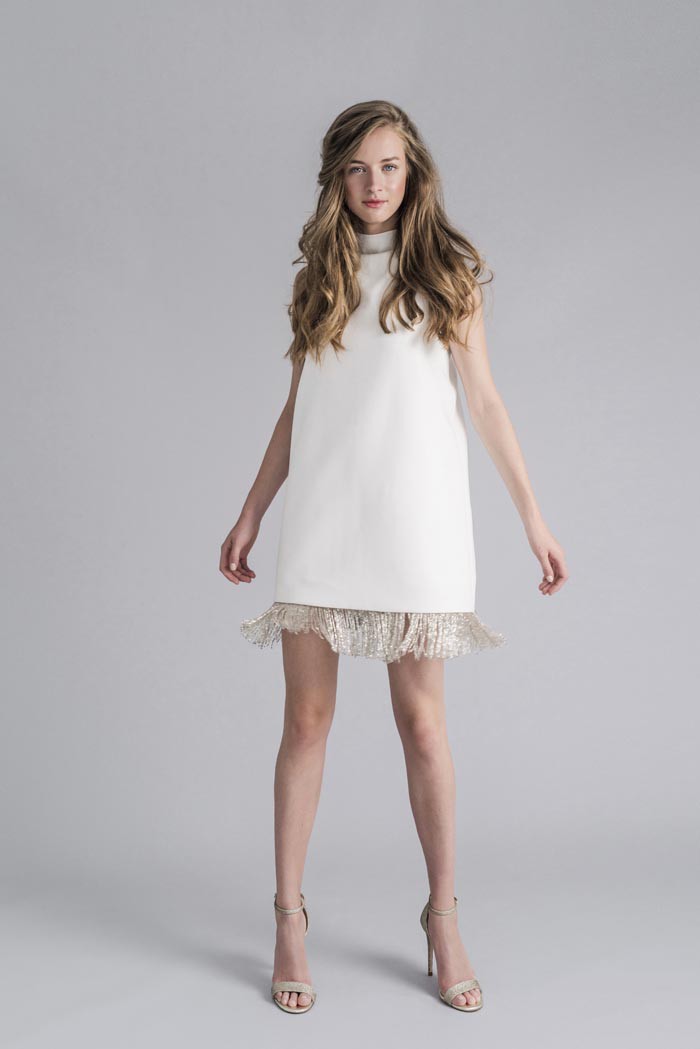 Sophie et Voila brings us a chic and adorable bridal mini that we are absolutely swooning over. The clean, ultra high neck shift style of this gown is finished with glittery fringe for a look that is both playful and fashionable.
09.

Silk Pants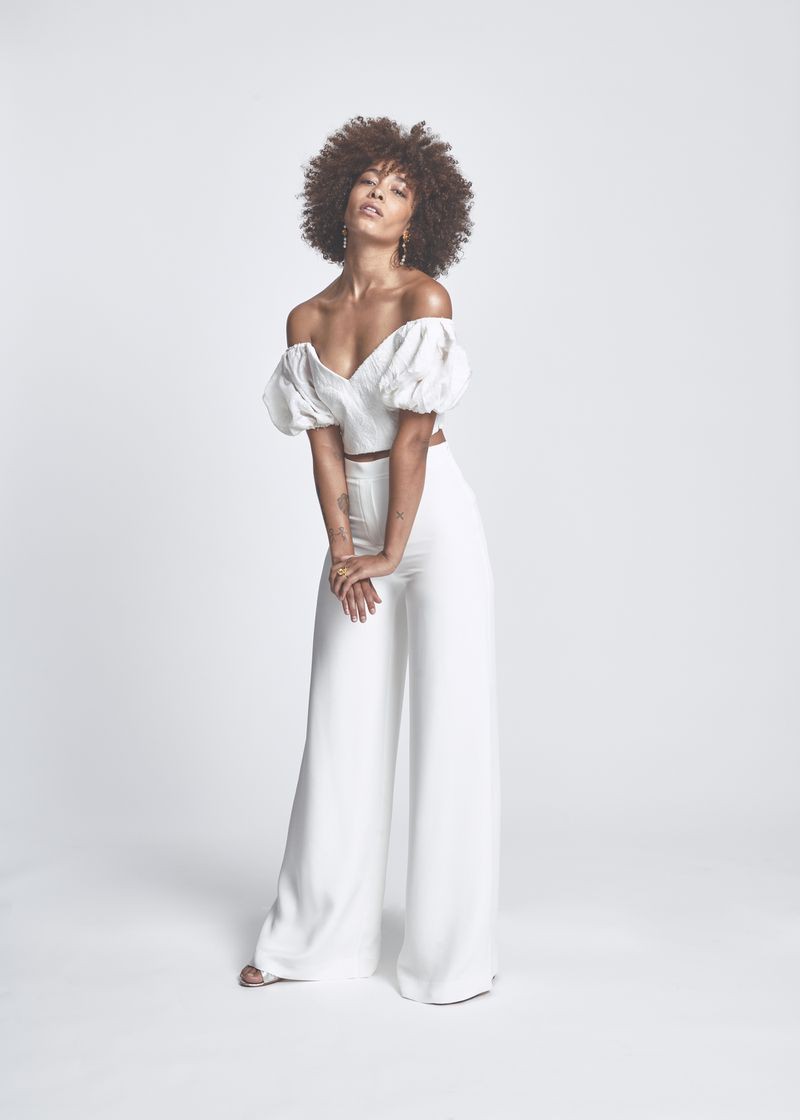 Get reception ready by slipping into this chic silk pants and off-the-shoulder crop top style from Alexandra Grecco. So fashionable, and perfect for your second bridal day style.
10.

Simple Sophistication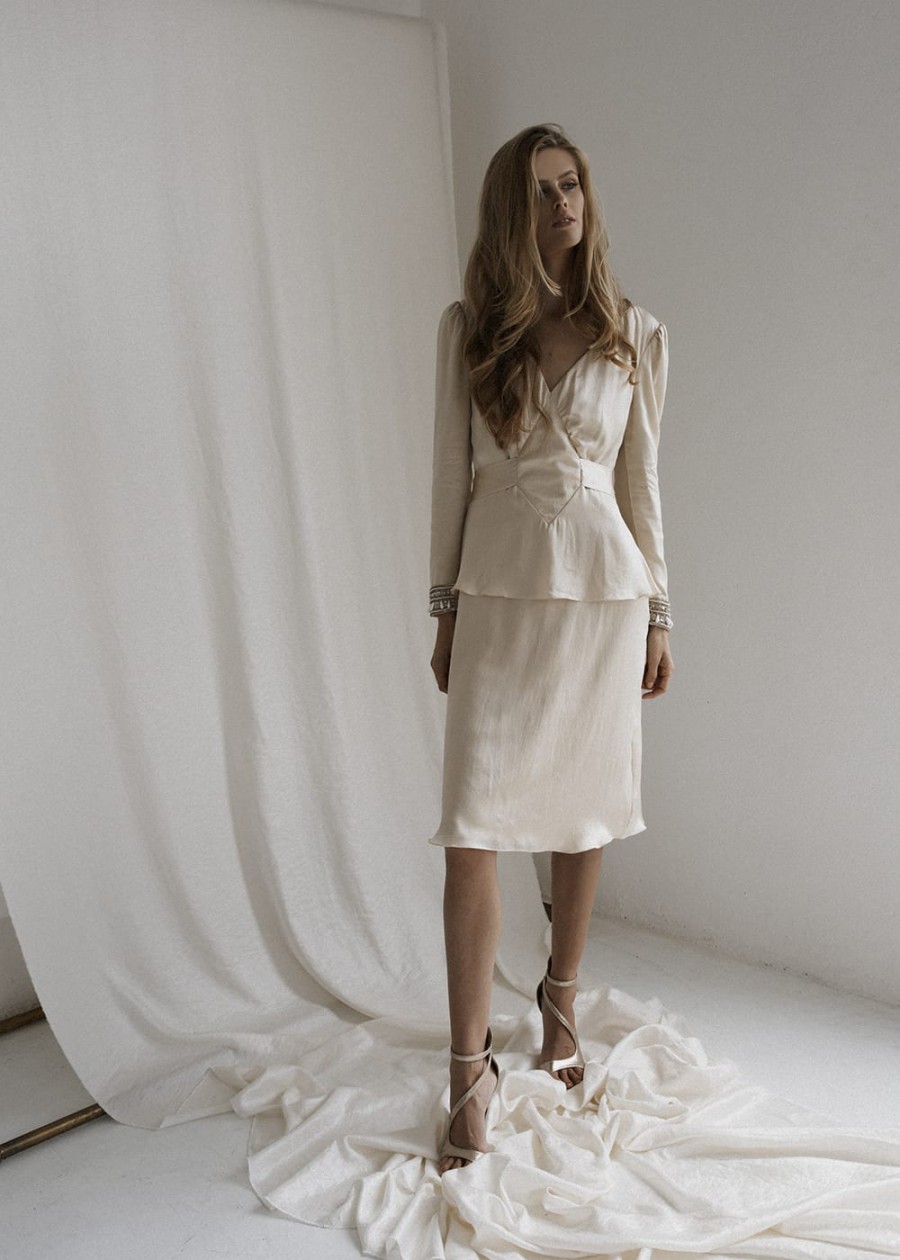 A simple, yet sophisticated second look wedding style that will have you feeling less formal, yet elegant for your reception.
11.

Couture High Low Minis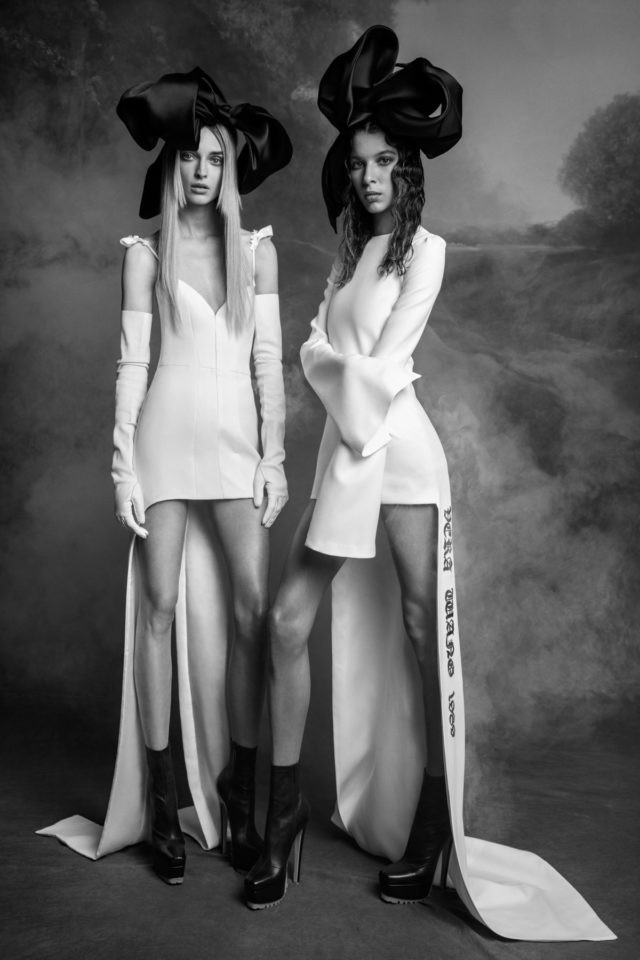 Add a couture touch to your second look bridal style like with these dramatic high low mini dresses from Vera Wang. Dramatic and high fashion - what else could a girl want for her second look?
12.

Sparkle Mini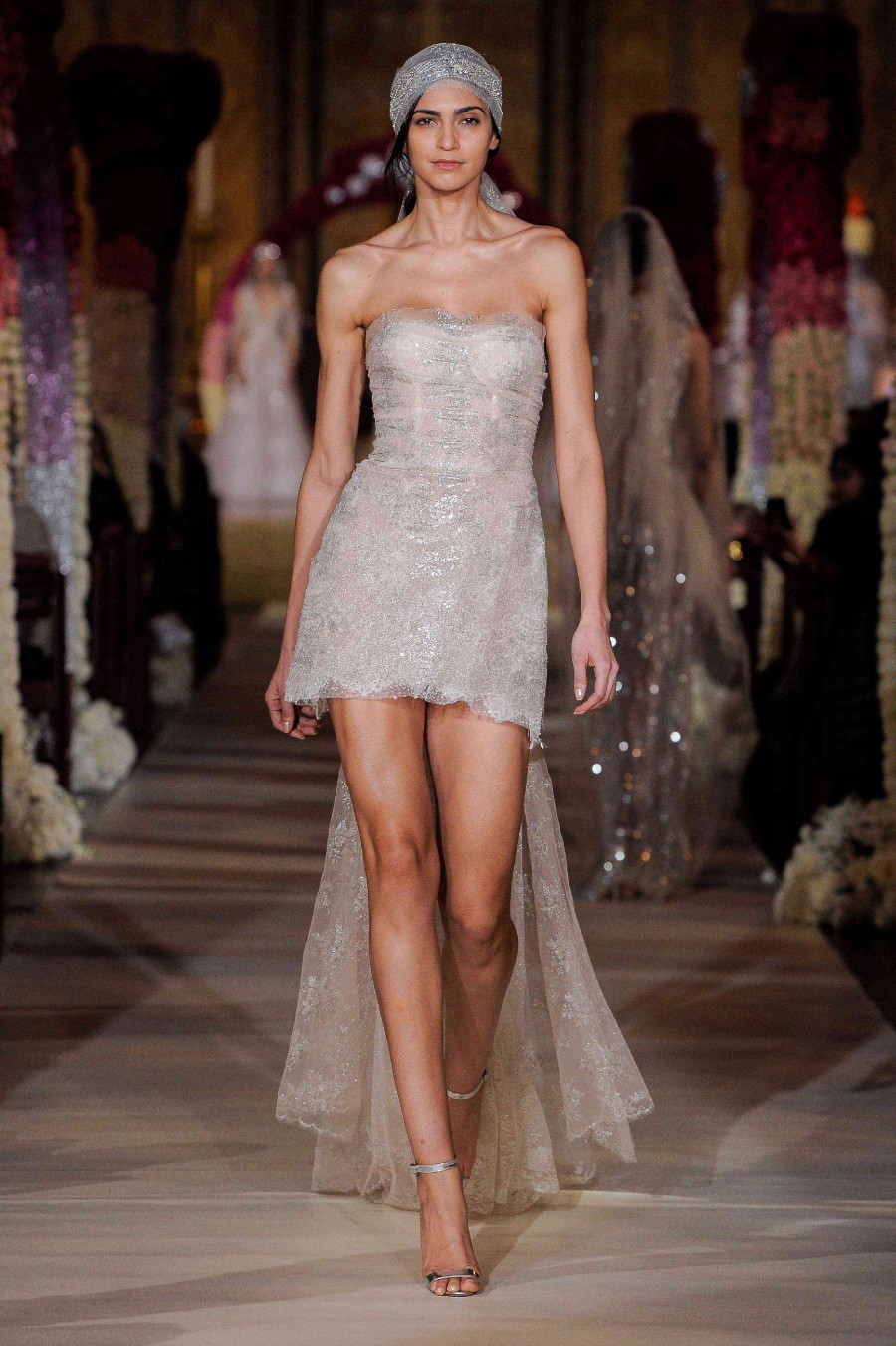 Next we have a sparkly bridal mini from Reem Acra. We love the dramatic train accent of this style. You can have a party ready mini gown, that still has a bridal feel to it.
13.

Festive Feathers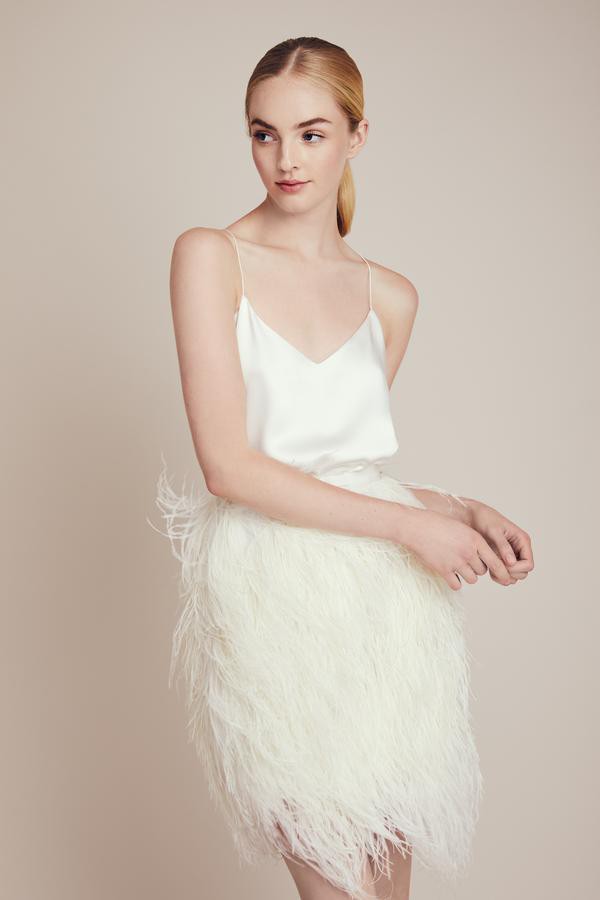 Feathers are everywhere in bridal fashion right now, and we just can't get over this adorable feathered mini. A playful, yet chic second look that will have everyone in awe on your big day.
14.

Tulle Bustier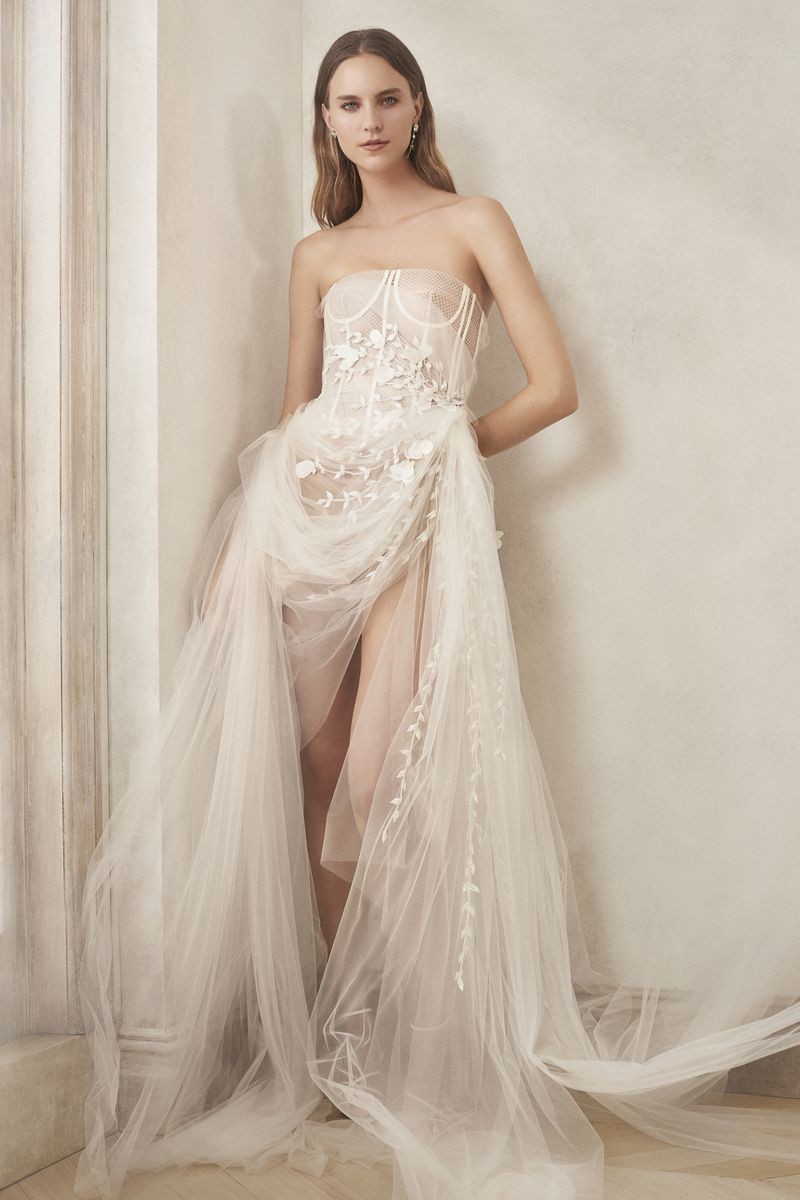 Just because you hang up the bridal ball gown for the day, doesn't mean you have to ditch any of the drama. Make a big statement with your second look like with this bustier tulle high-low cut gown from Oscar de le Renta.
15.

Lace Track Suit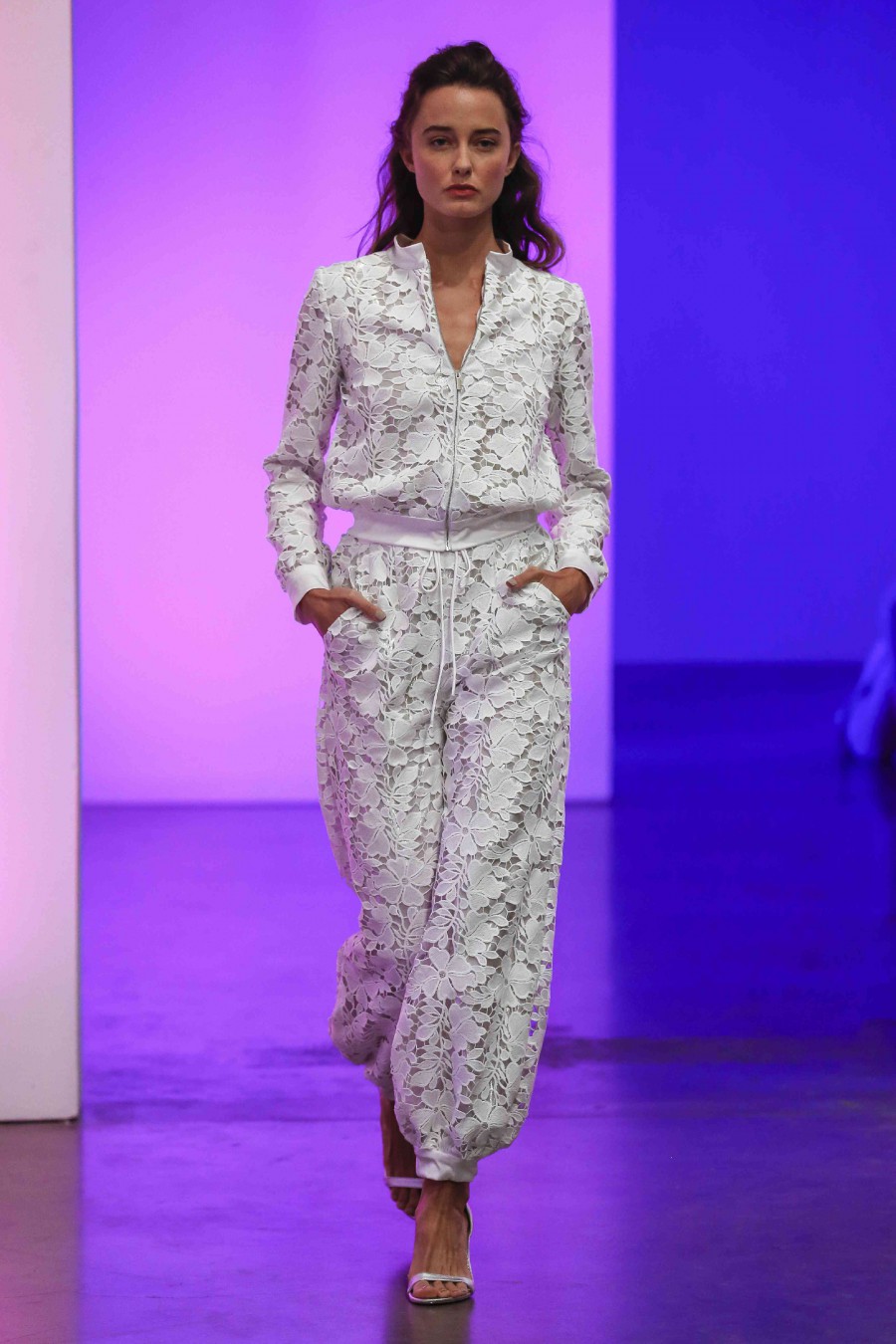 We love the idea of this lace bridal track suit for a more casual, yet ultra chic second look wedding day style!
16.

Bridal Romper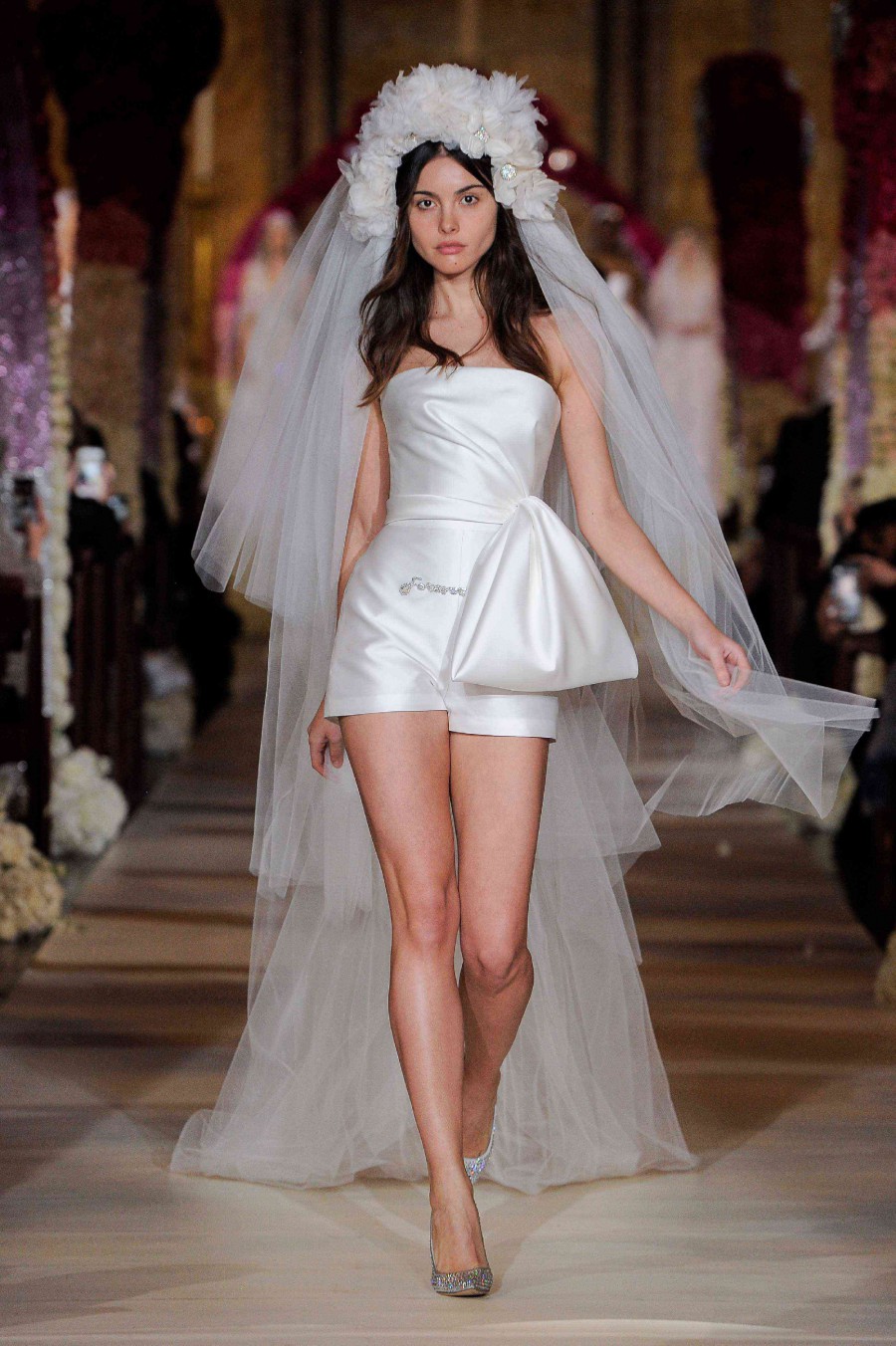 A bridal romper? Thats right ladies...a bridal romper. What better way to dress things down in a modern and exciting way than with this adorable and chic romper style from Reem Acra?
17.

Cropped Two Piece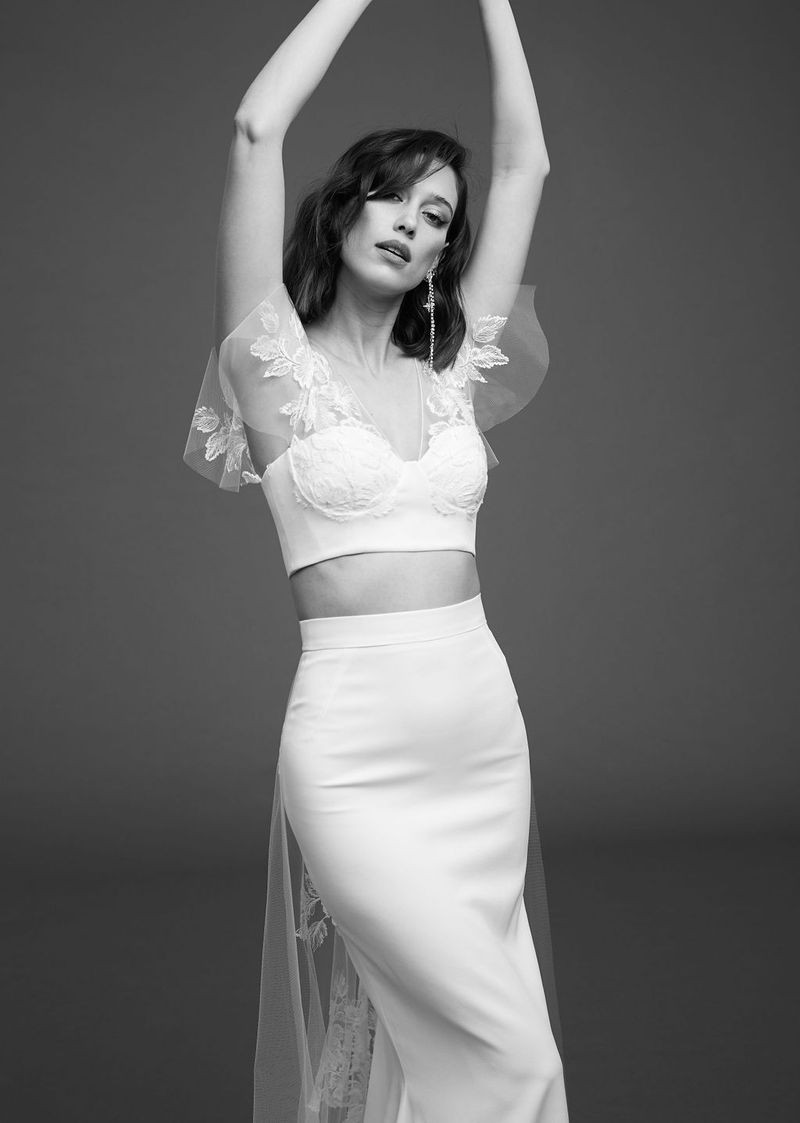 A cropped two piece bridal style is a perfect option for a second look wedding day style. Less formal and casual for your reception, yet still edgy and chic.
18.

Couture Reception
Have a formal style for you ceremony, and then get ultra couture for the reception with a look like this from Sophie et Voila.
19.

Cocktail Blazer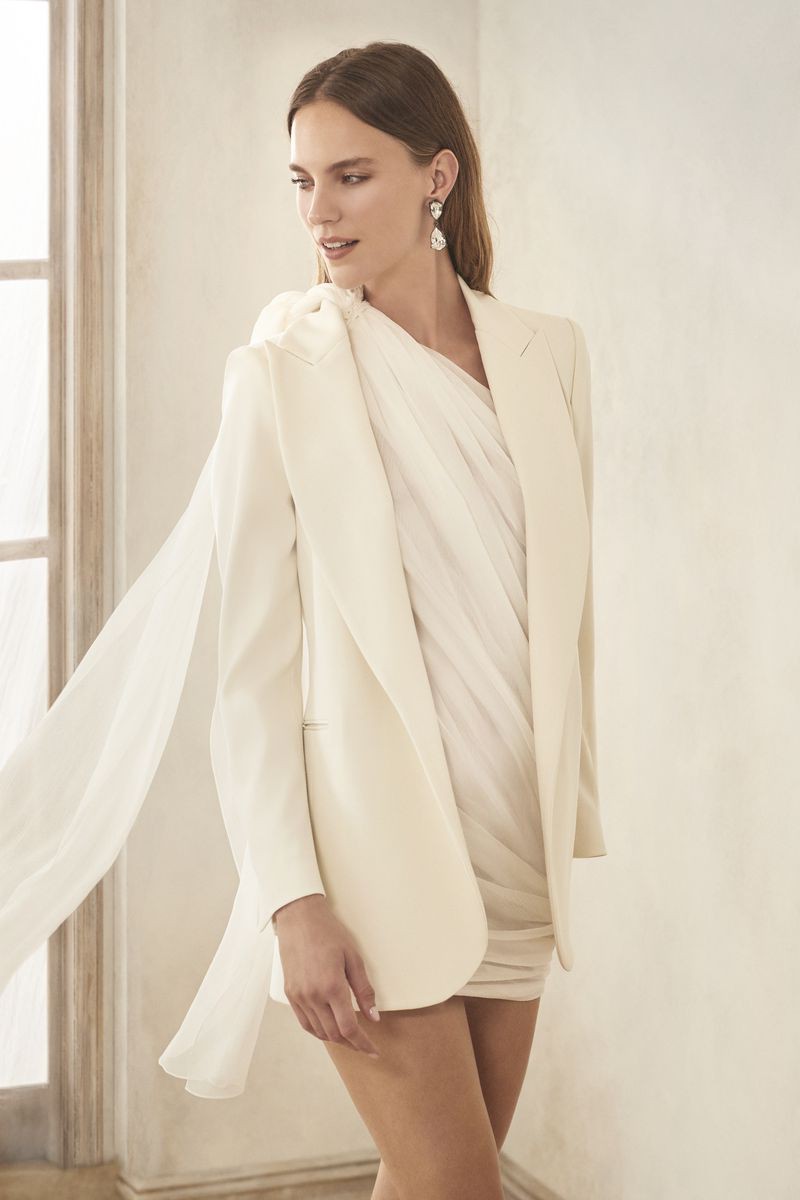 Feel chic and fashionable in this second look bridal combination from Oscar de la Renta. A draped one shoulder chiffon cocktail mini paired with a slick double breasted jacket.
20.

Party Ready Tiers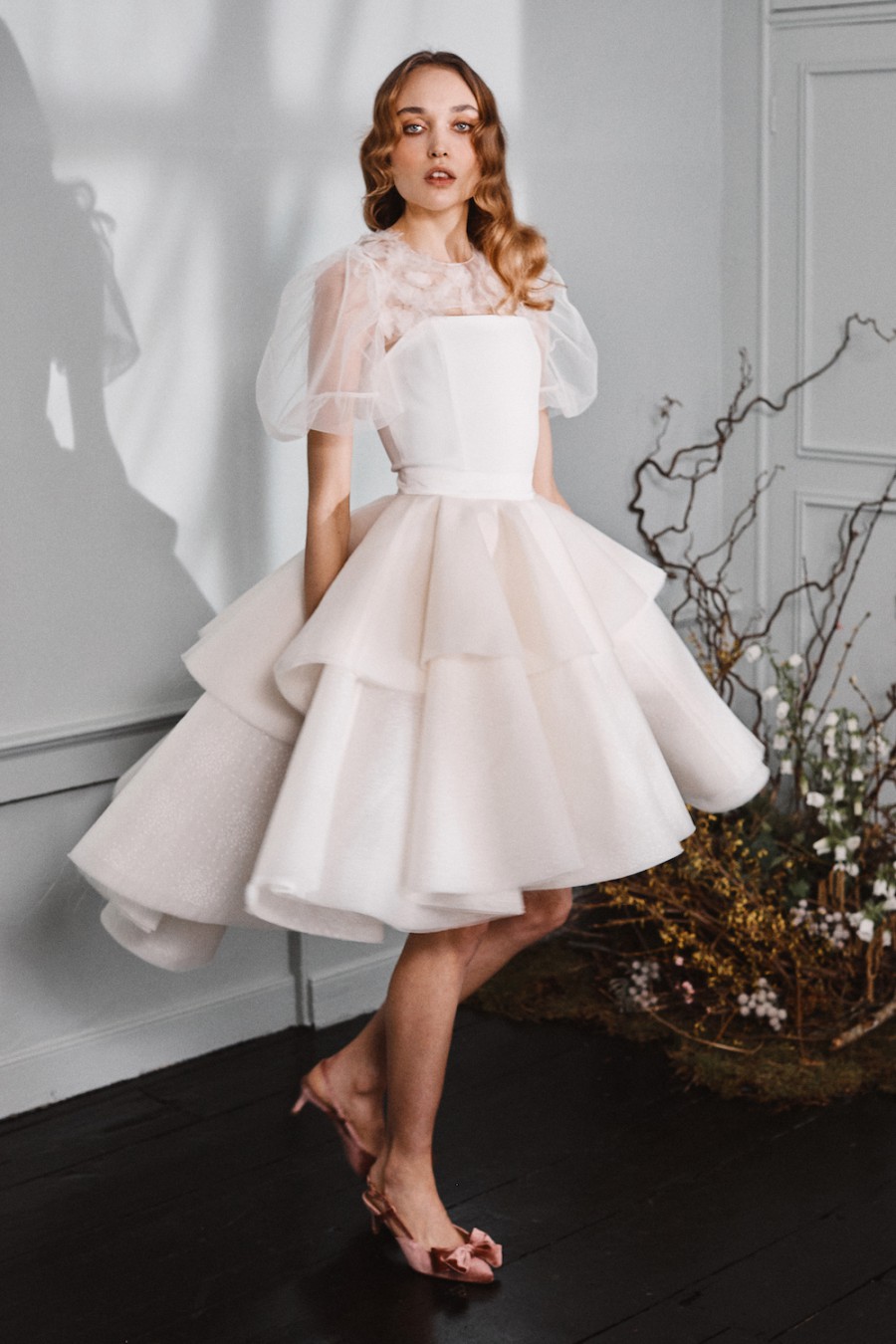 We love this voluminous tiered bridal mini that will have you feeling party ready for your second look.
21.

Ultra Mini Shift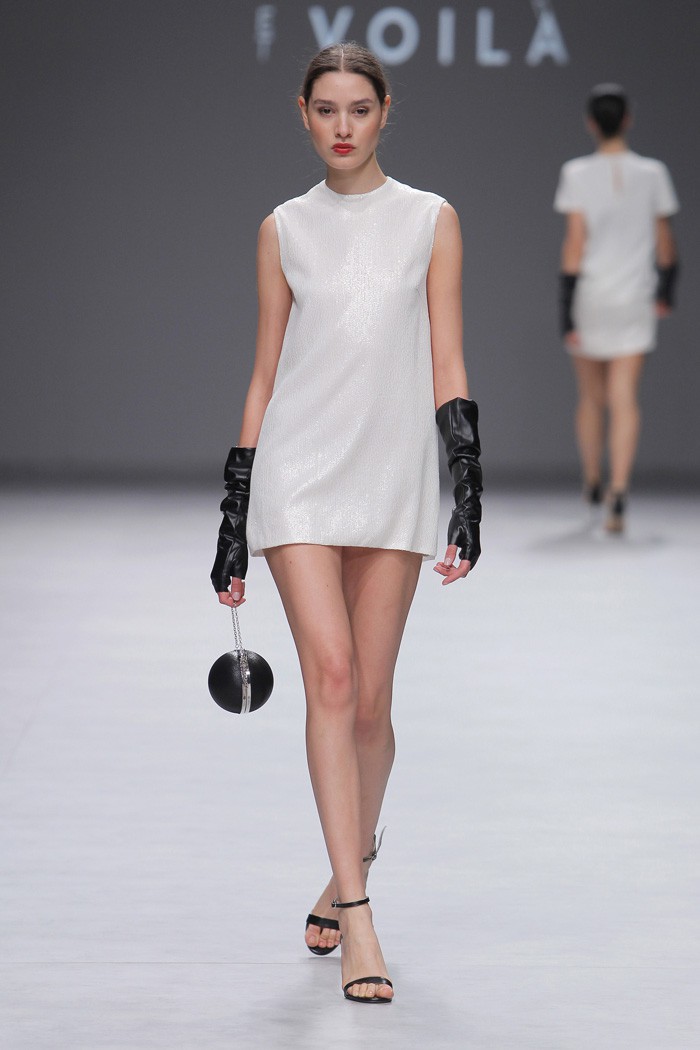 How about an ultra short glittery shift mini dress for your party ready second look wedding style?
22.

Rocker Rebel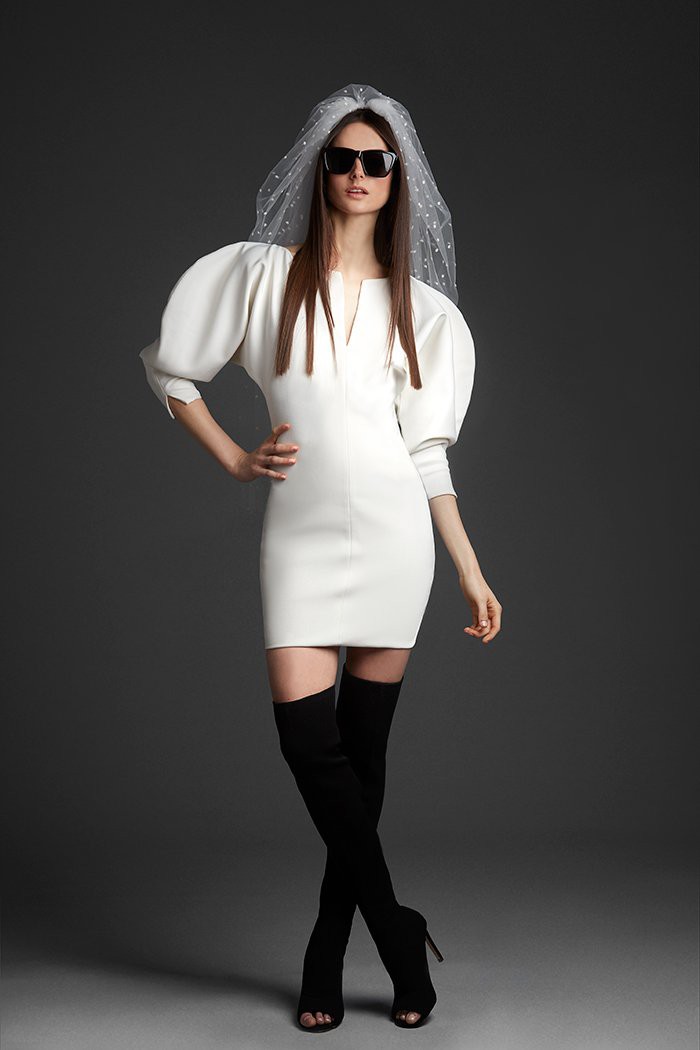 Where are our fashion rebel brides out there? It is hard to resist the edgy feel of this wedding day second look!
23.

Buttoned Mini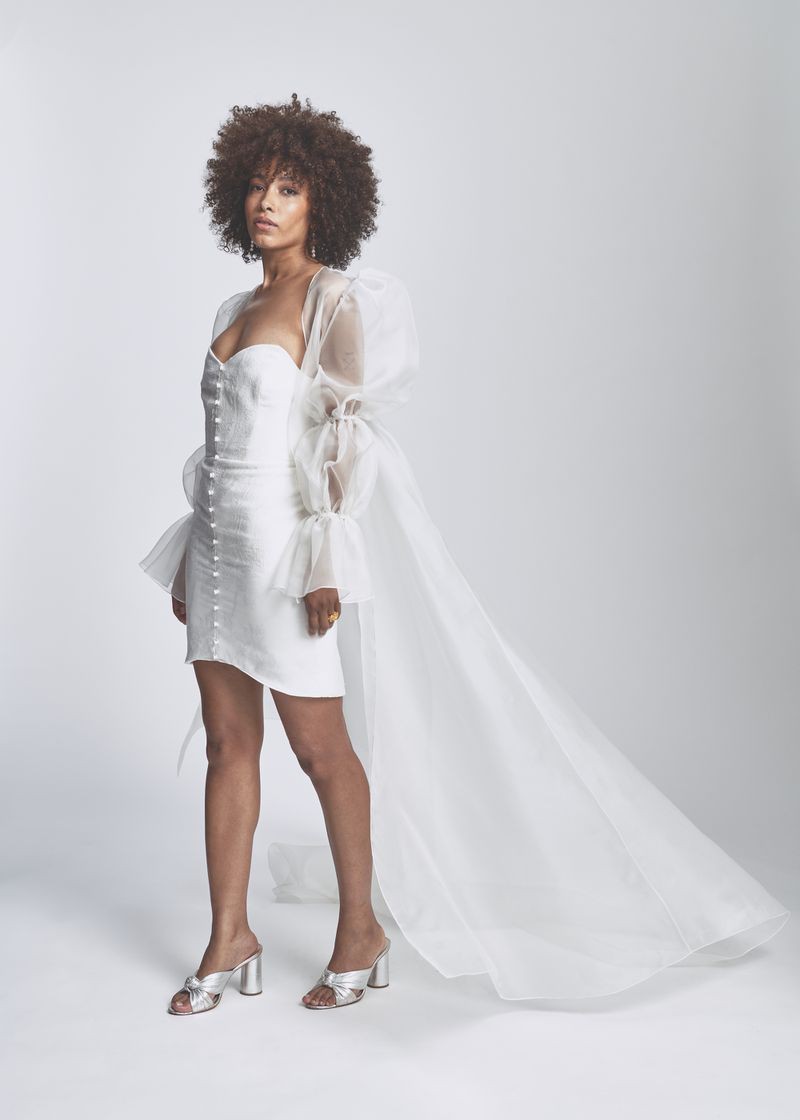 Ditch your big formal gown and slip into this chic buttoned mini dress with semi sheer silk organza jacket for additional drama.
24.

Sleek Slip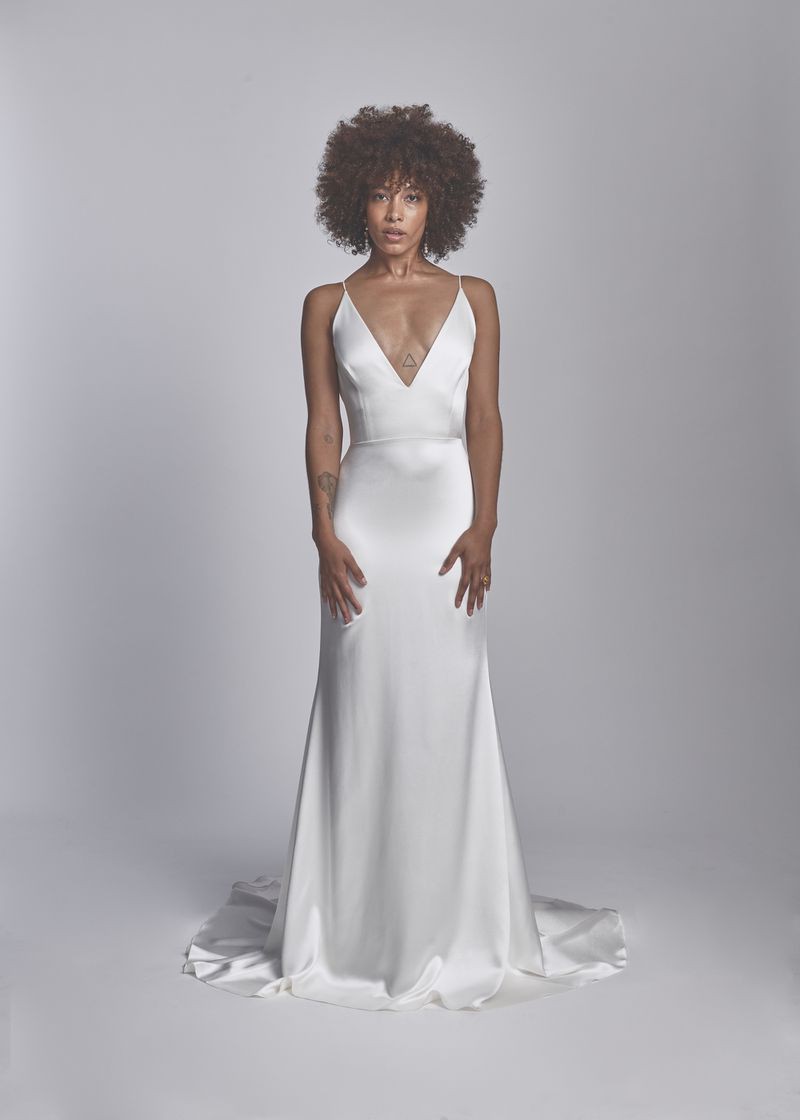 A sleek silk slip dress is a timeless go-to for your second look bridal style. Clean, classy, and sexy for the second part of your wedding day festivities.
25.

Floral Cocktail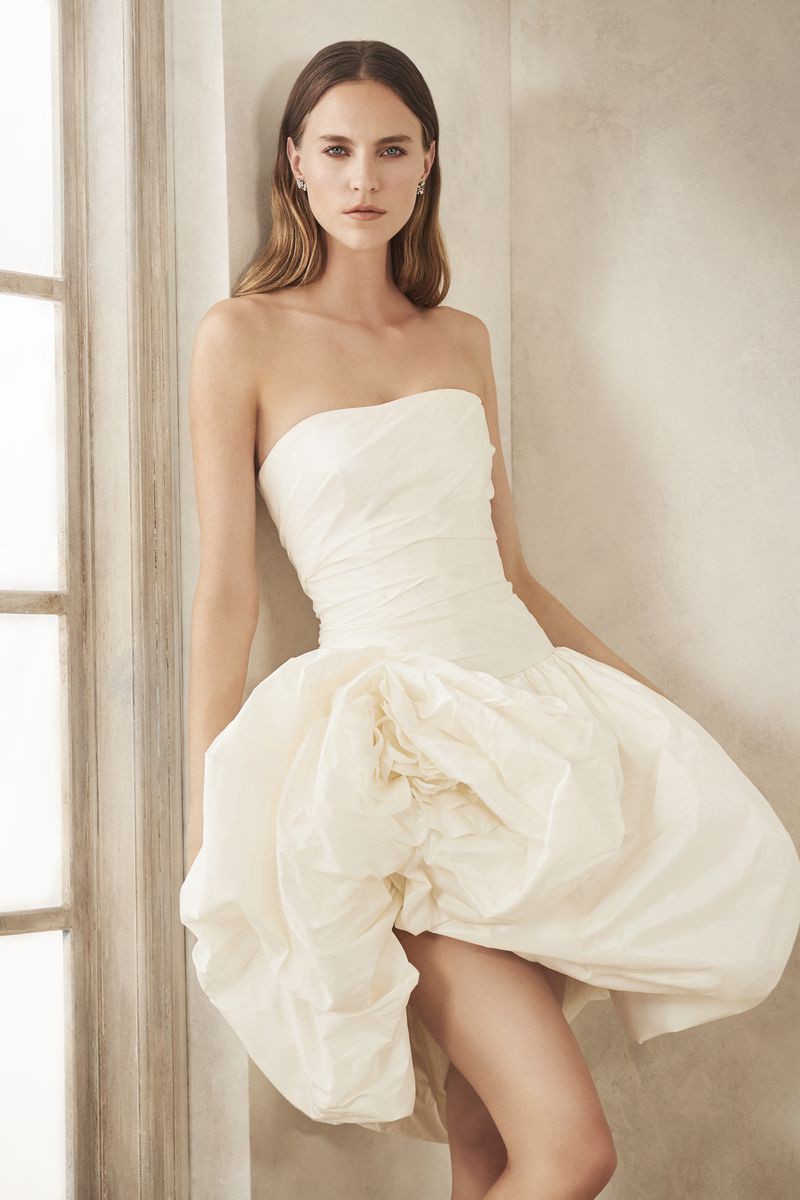 Get ready for cocktail hour with this chic and adorable strapless silk taffeta bridal cocktail dress with bold side flower detail.
26.

Feathered Cocktail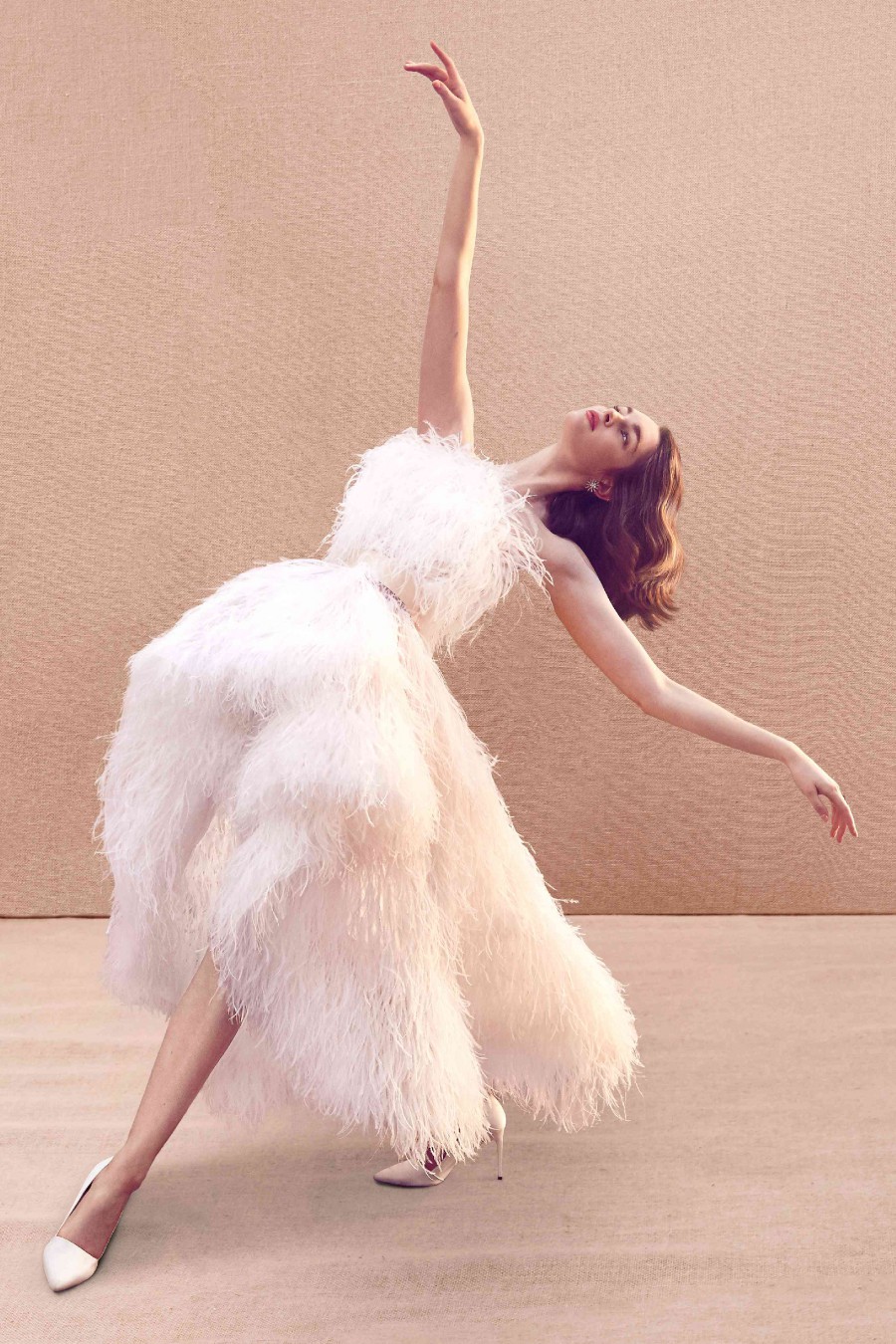 Love the idea of a cocktail dress for your wedding day second look? How about this party ready feathered style from Oscar de la Renta?
27.

Lace Crop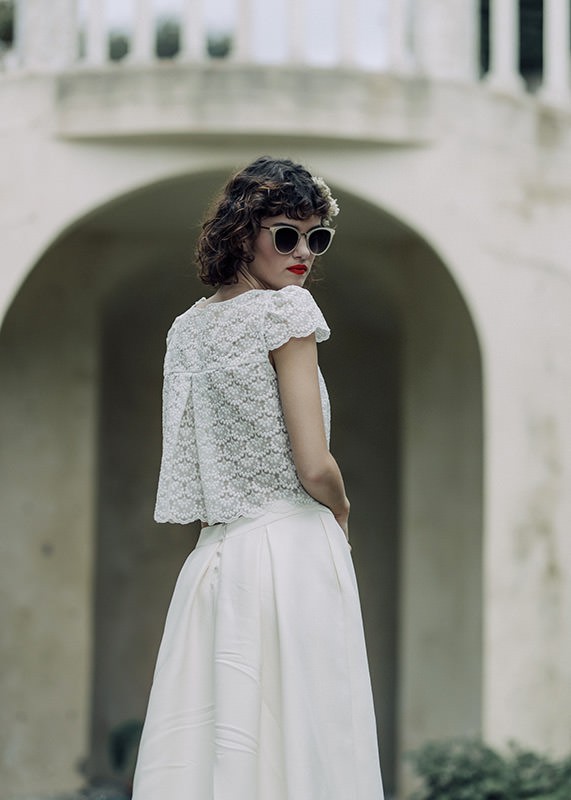 We love the idea of this adorable crop lace top and skirt for a second look for a spring or summer wedding day. A sweet, feminine wedding style that is perfect for your more casual reception look. Especially for a hot outdoor wedding day!
28.

Bridal Athleisure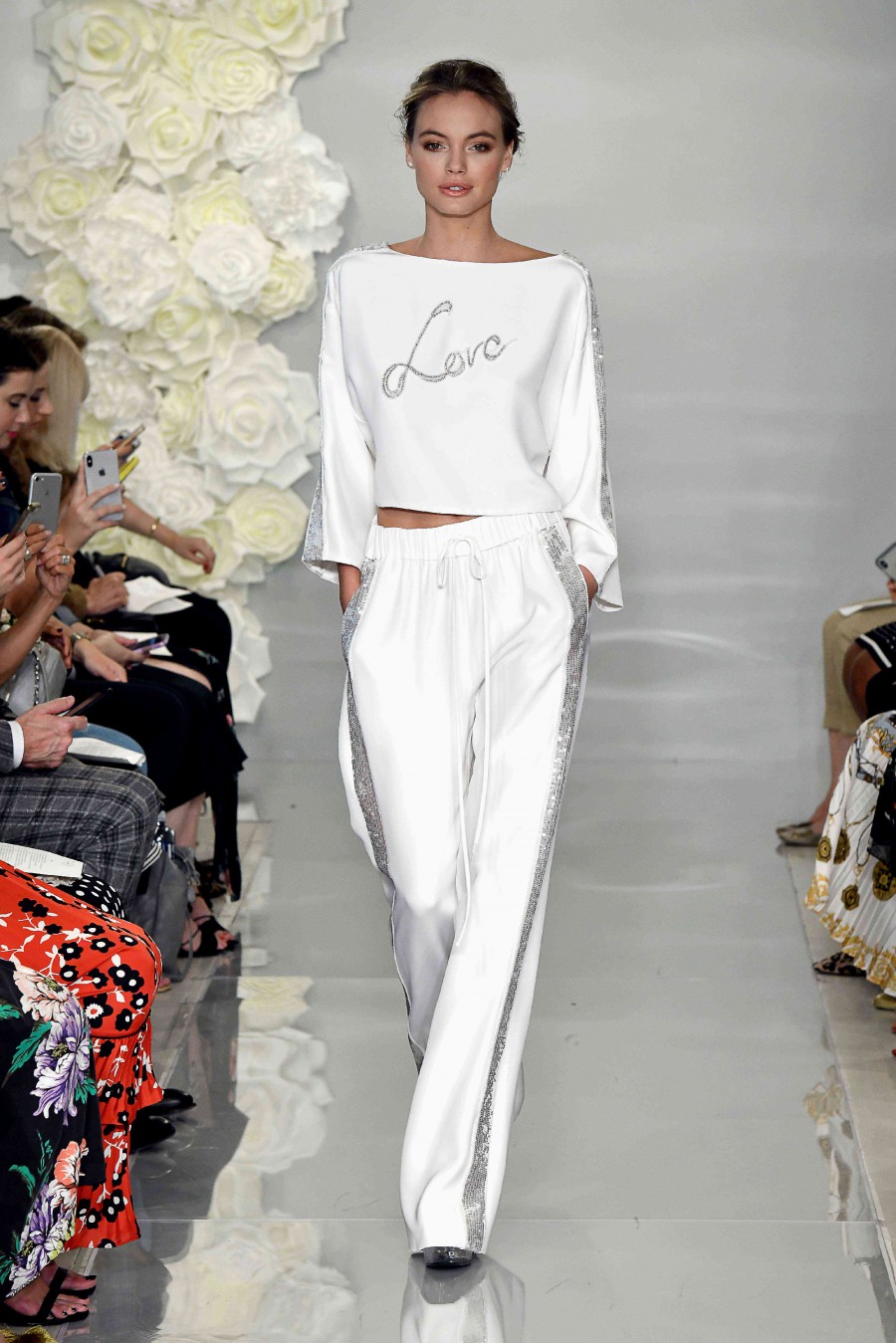 Get chic and comfortable for your second look with this fashionable bridal athleisure wear style from Theia. This fashion forward style is sure to take every one by surprise at your reception.
29.

Sophisticated Silk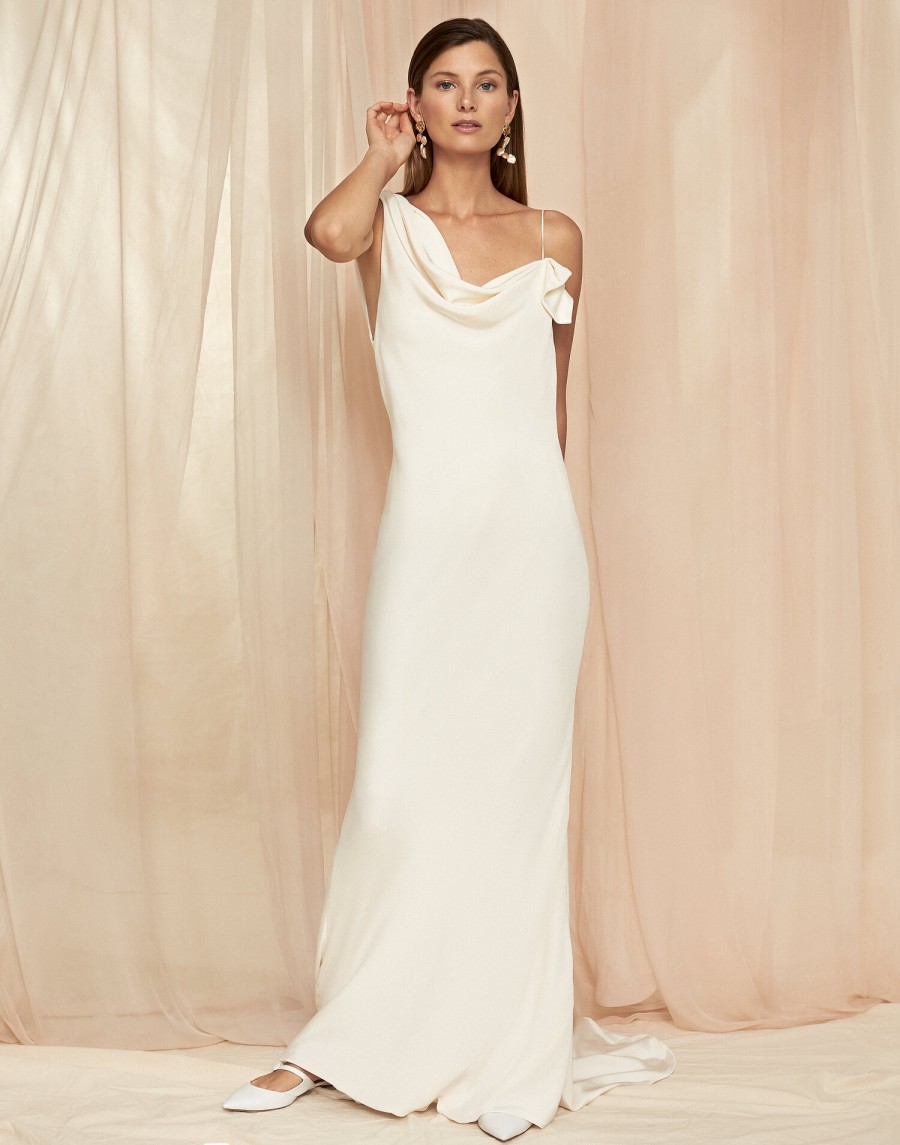 Dress down by still keep things formal and sophisticated with a silk slip dress for your wedding day second look. This clean and classy style is timeless and effortless.
30.

Flirty Sequins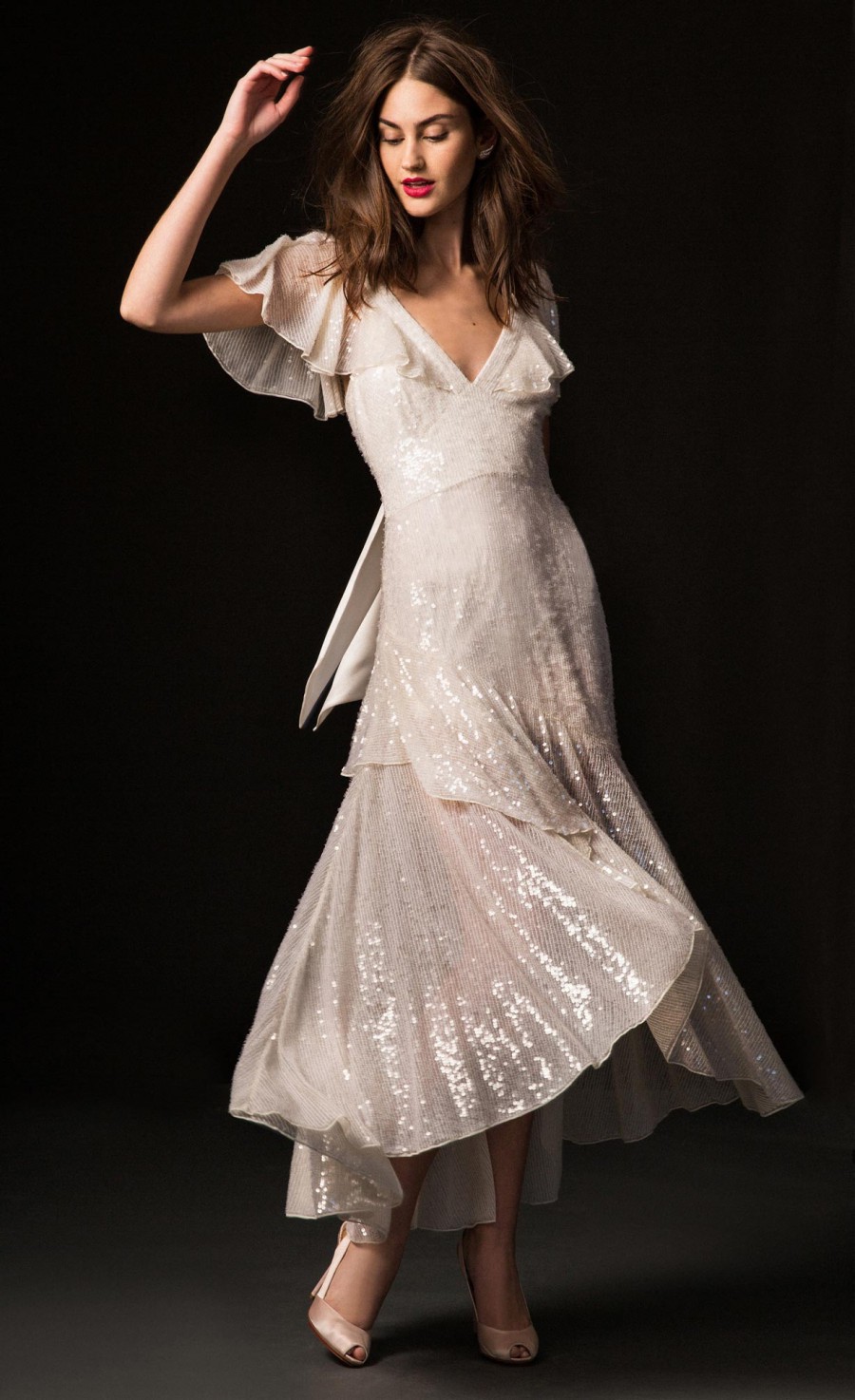 We love this flirty little bridal party dress from Temperley London. This will have you feeling ready to hit the dance floor, while also looking feminine and glamourous.
31.

Cocktail Midi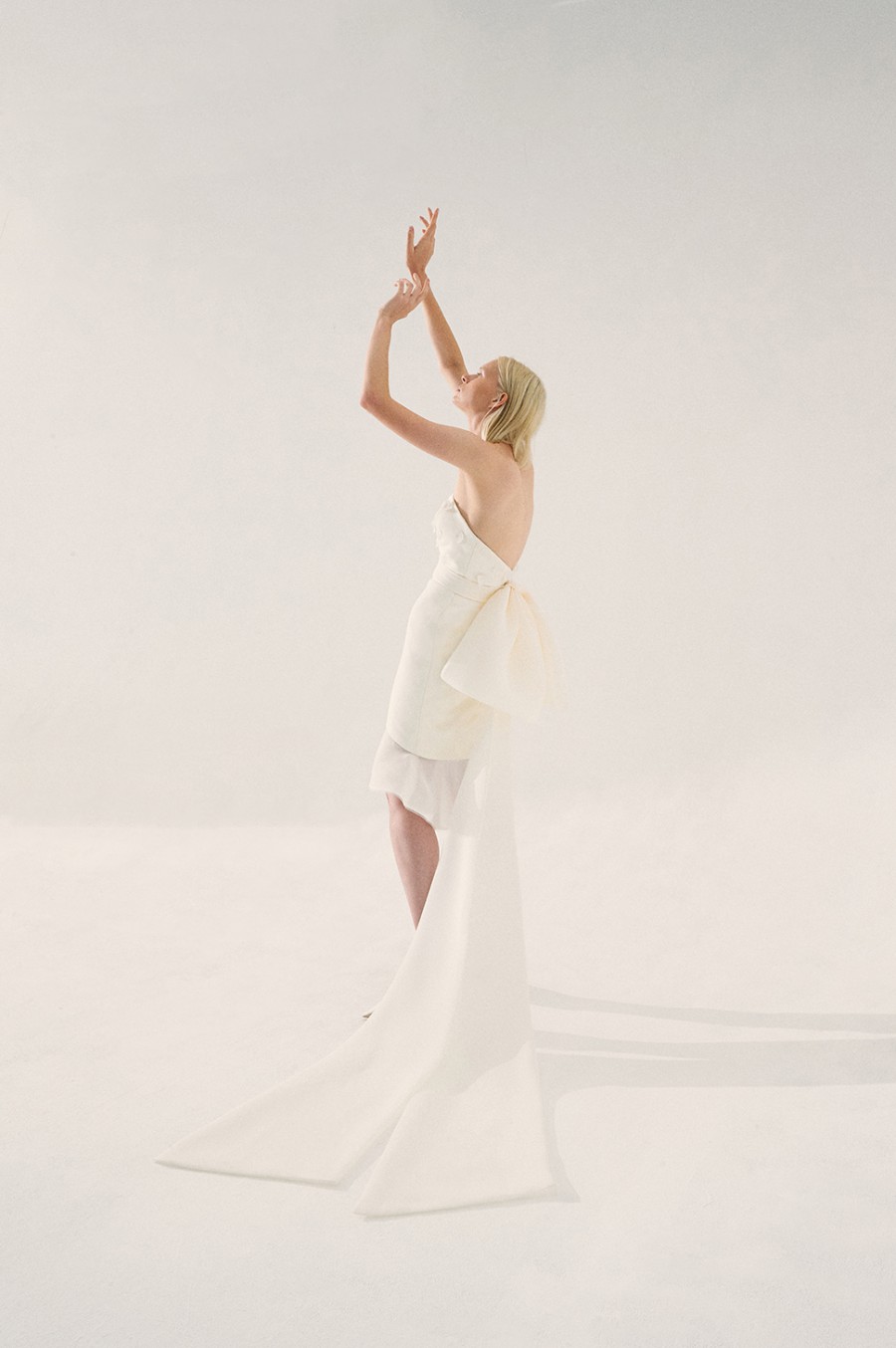 Sebastien Luke brings us our next second look bridal style with this chic midi length gown with oversized accent bow. What makes this gown even more amazing is that is can transform into a full length gown. So wear the full skirt for your ceremony, and then transform into this fashionable midi length gown for the reception.
32.

Luxe Fashion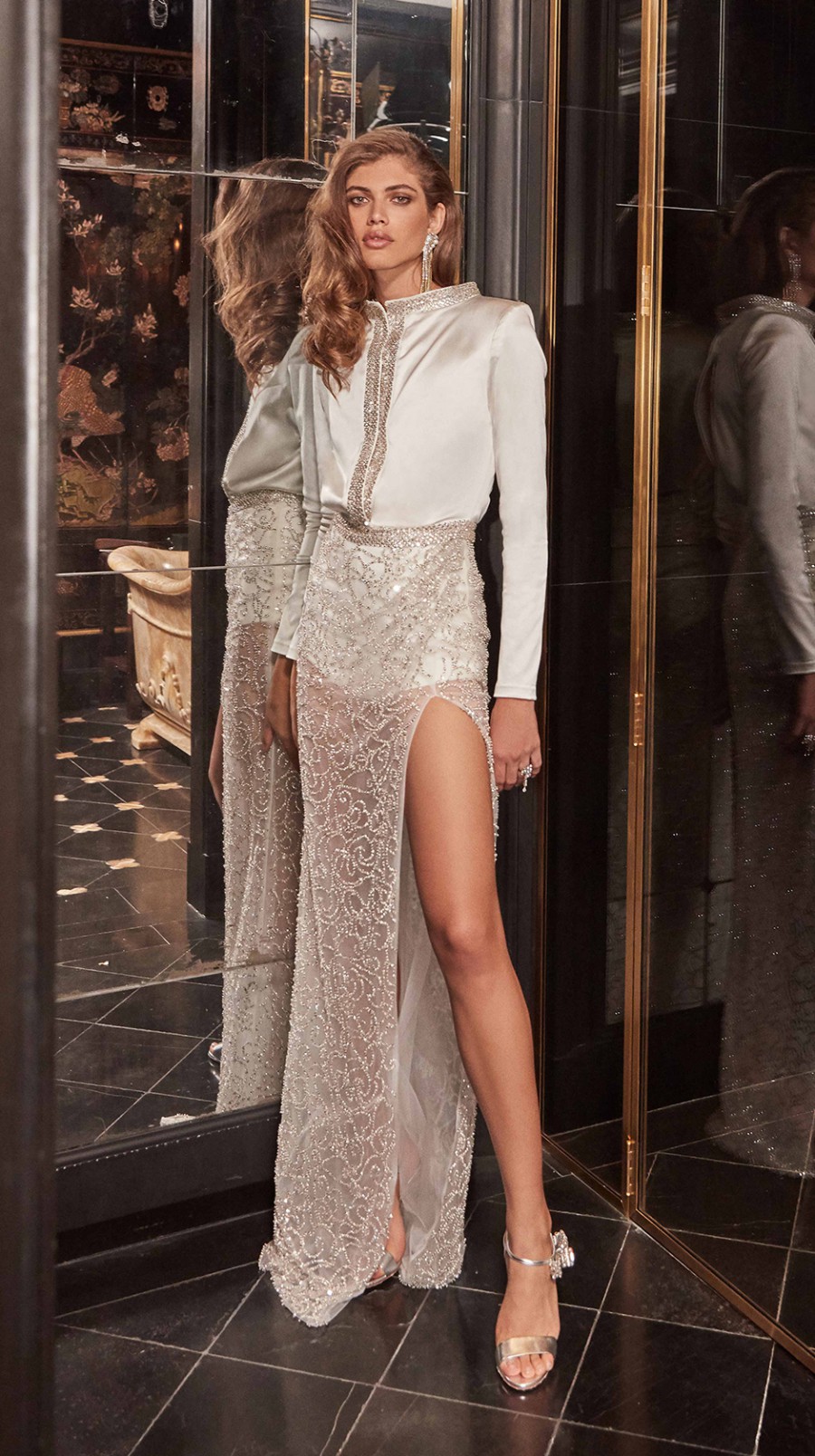 Get chic and sultry with this next second look wedding day style from Galia Lahav. We love the sexy, couture feel of this reception ready wedding style.
33.

Mini Bridal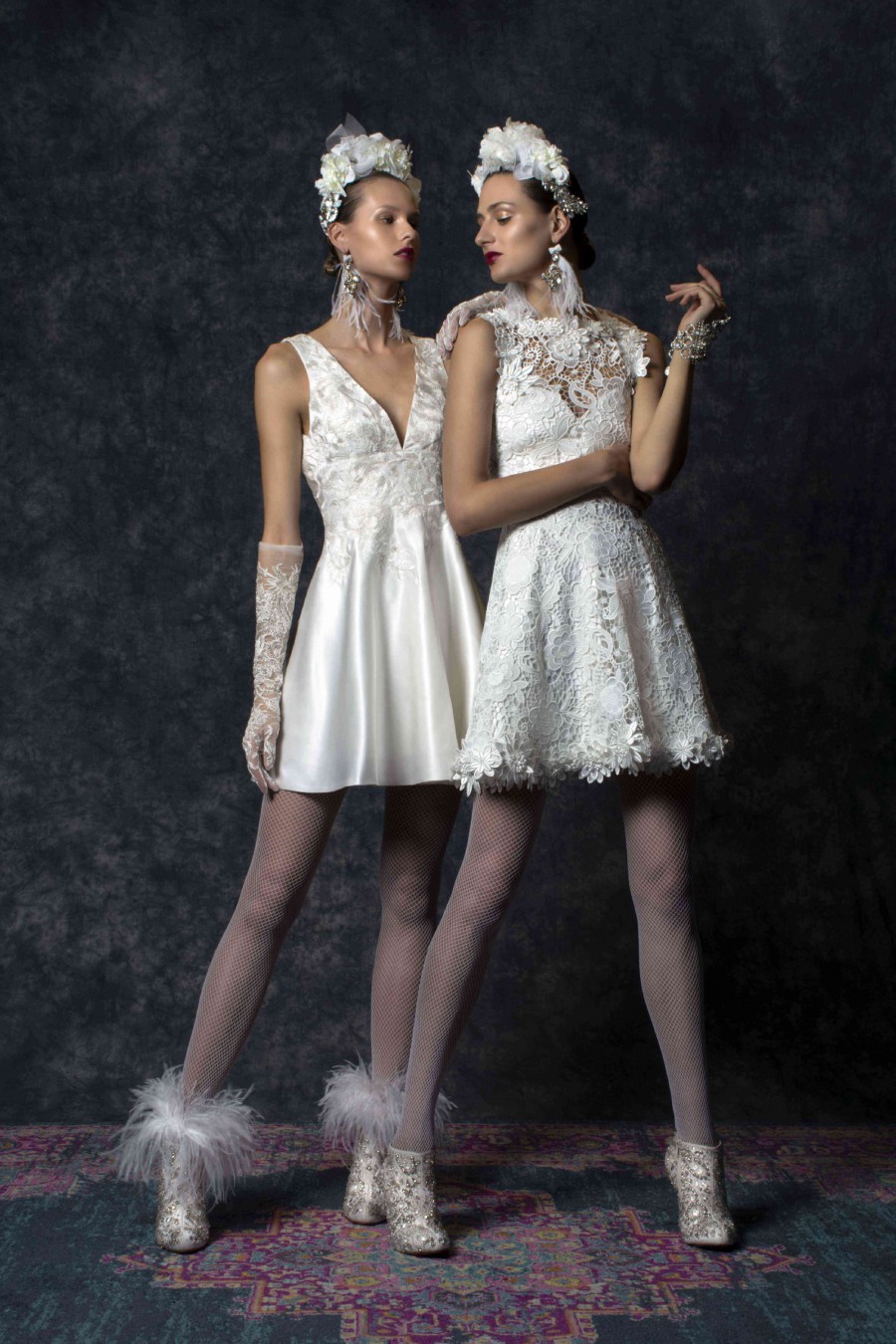 Everything you love about a wedding dress, but in a smaller form, with these two bridal minis from Naeem Khan. What could be better than that for your second look?
34.

Ruffles and Lace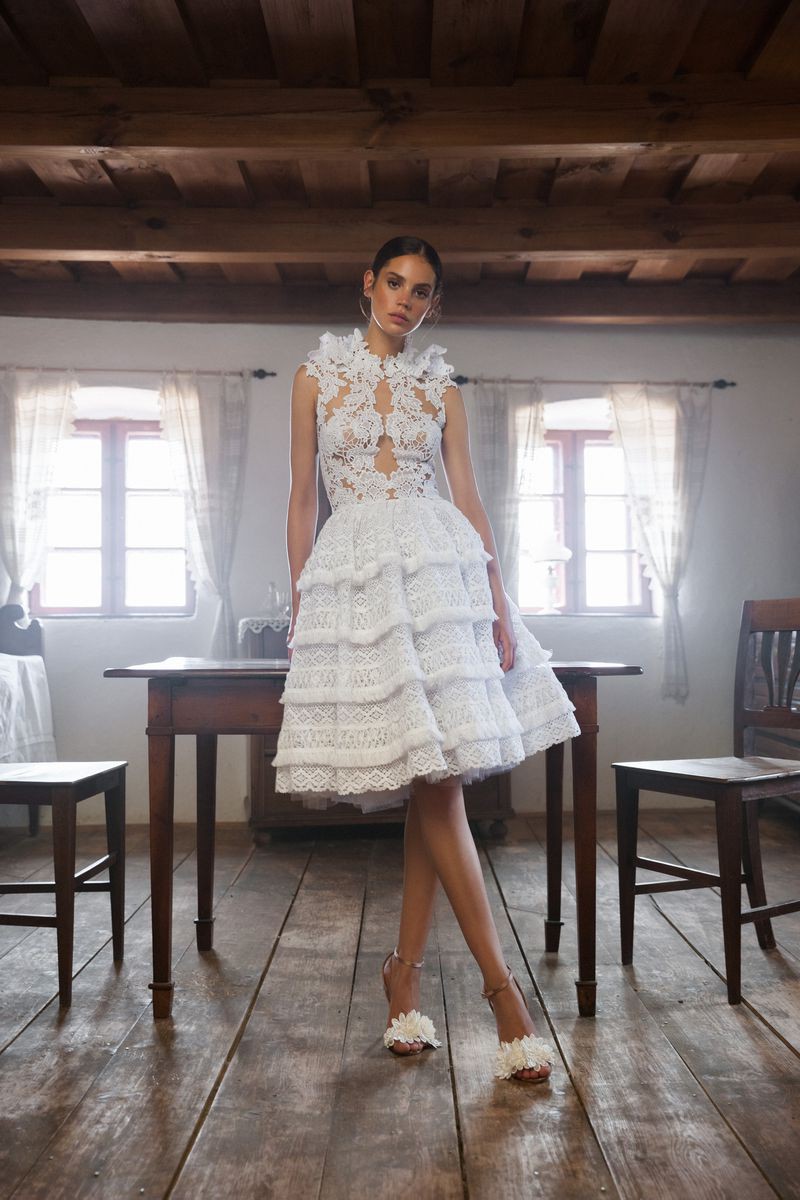 Feel chic and fashionable in this feminine second look wedding day style. We just can't get enough of the stunning lace bodice and ruffled skirt!
35.

Wrapped Crop
We love the idea of a crop top and skirt for a second look wedding style. It is such a trendy bridal alternative that you can embrace on your big day, while still wearing a more traditional style for your ceremony.

By Kathryn Schrotenboer