Pearls are timeless, they are sophisticated and they are the perfect accent for your wedding day look.
When it comes to accenting and embellishment, wedding gowns have glam crystals, shimmering sequins, flashy metallics, lace appliqué and so much more. But if you are looking for a gown with more traditional and sophisticated accents, then you don't want to miss this list of wedding dresses with pearl detailing. All of these gowns have a very timeless, glam feel to them. Forget the diamonds, pearls are a brides best friend!
01.

Sarah Seven: Pearl Elegance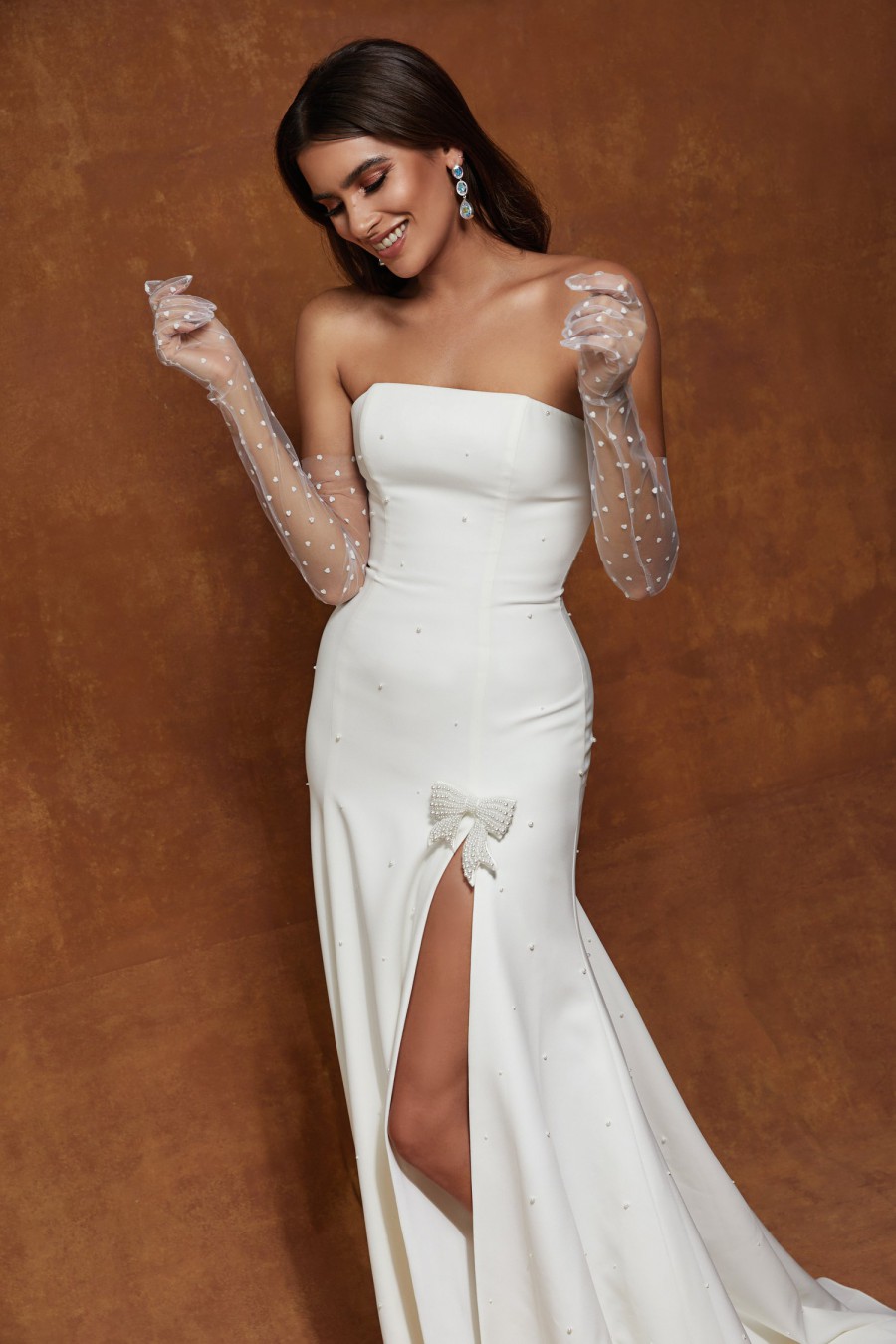 First up, we have an effortless strapless wedding gown that is accented with delicate pearl detailing. A modern, minimal gown that is all about chic elegance. And we just love the sheer, pearl dotted gloves that finish this style off.
02.

Rime Arodaky: Modern Romance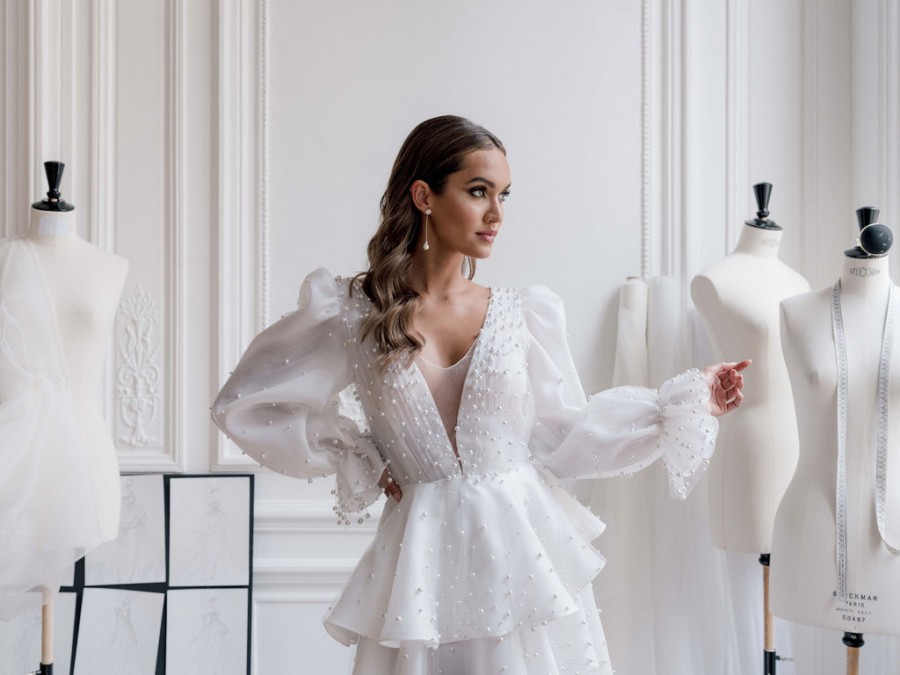 A modern interpretation of bridal romance. This next pearl detailed wedding gown comes from Rime Arodaky. Featuring long voluptuous sleeves, a peplum waist, front slit and dramatic train. And don't forget about the irresistible hand embroidered pearls that cover the entirety of the gown.
03.

Maggie Sottero: Pearl Princess
Maggie Sottero will have you feeling like an absolute princess in this next pearl detailed wedding gown. The illusion bodice of this gown features captivating bead and pearl embellishment that cascades down the full length sleeves and the layered tulle skirt.
04.

Sarah Seven: Sultry Elegance
Sultry, sophisticated and irresistibly elegant. This next pearl detailed wedding gown from Sarah Seven is sure to steal your heart. Featuring a fitted bodice, raglan sleeves, and a sleek column skirt. The dotted pearls add just the right touch of modern texture to this stunning gown.
05.

Rime Arodaky: Contemporary Ruffles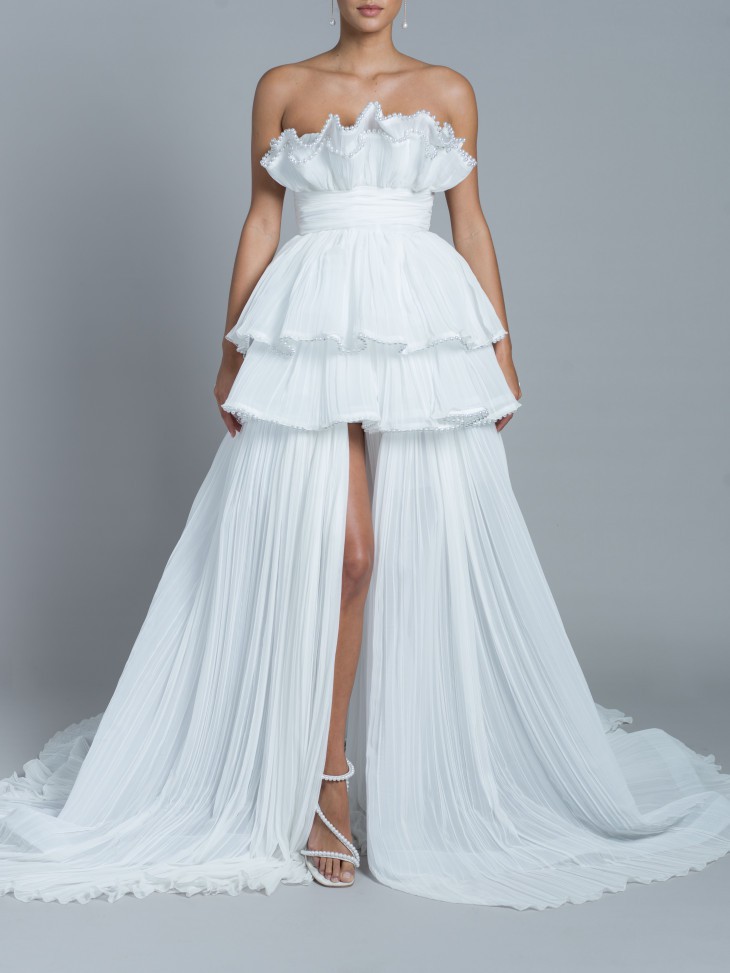 Rime Arodaky challenges traditional bridal fashion with this truly stunning, contemporary wedding gown. A strapless, ruffled gown that feels likes a mix between a mini dress and a full length gown with its tiered design and high front slit. The hem at the ruffled neckline and at the base of the tiered layers is dotted with elegant pearls. This pearl detailing adds a timeless finish to an otherwise contemporary bridal look.
06.

Paloma James Bridal: Elegant Pearl Bodice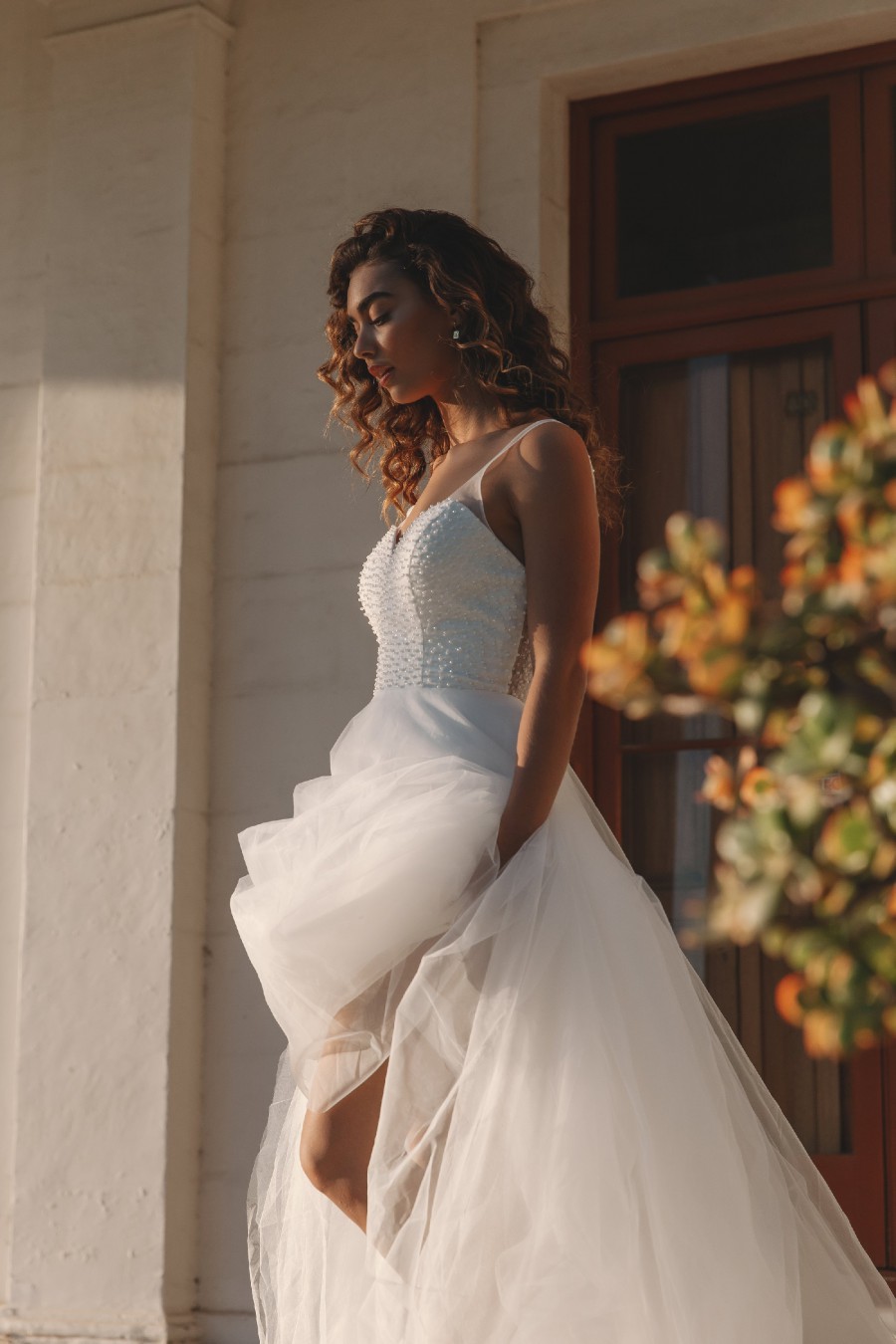 Paloma James Bridal brings us this next pearl accented gown. Featuring a bodice fully embroidered in peals and a sheer pearl tulle back. And this pearl bodice design is paired with a stunning tulle layered skirt. A truly breathtaking feminine and elegant wedding gown.
07.

Savannah Miller: Delicate Pearl Clusters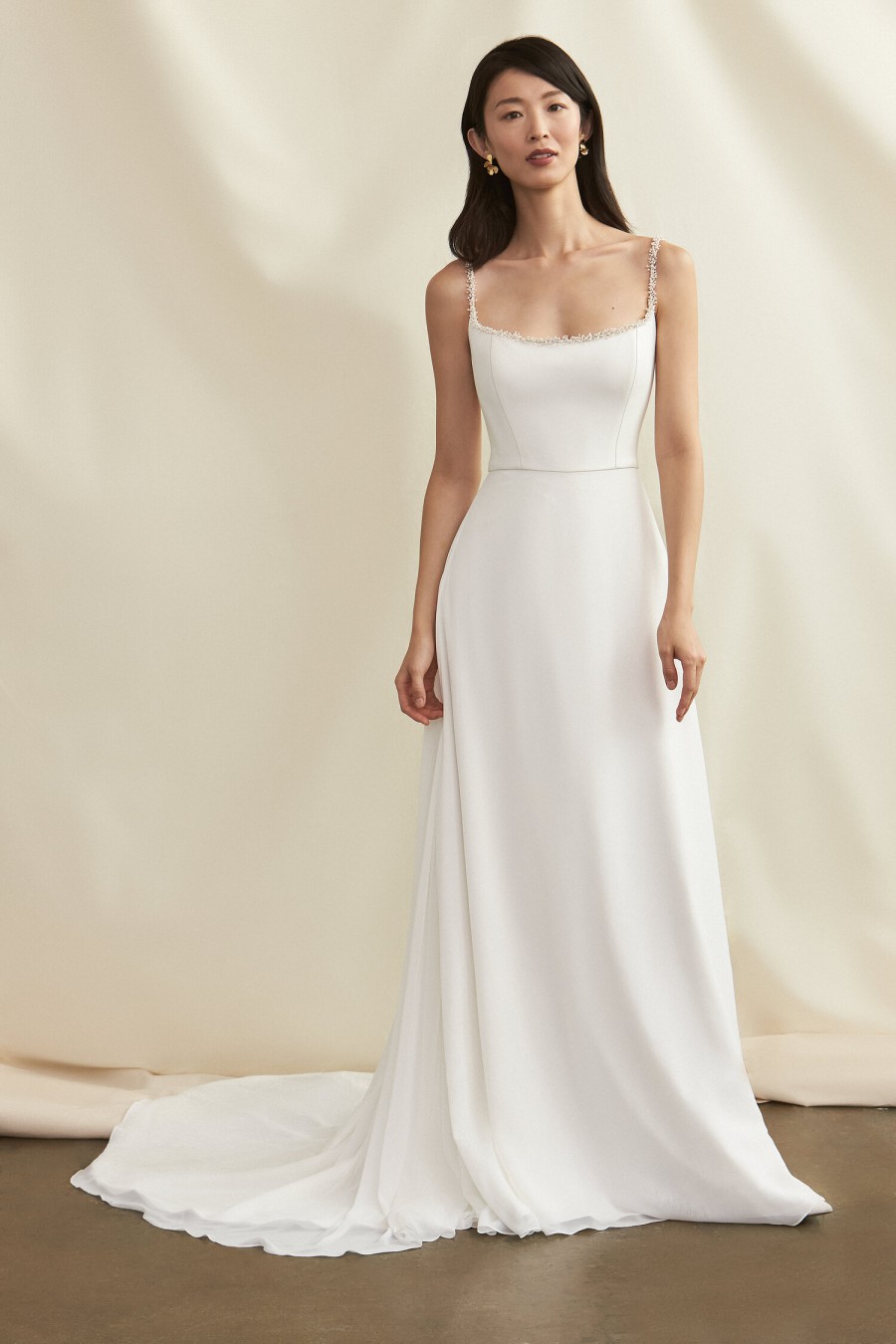 The pearl detailing on this next gown from Savannah Miller is subtle, yet impactful. This luxurious stretch crepe gown features a flattering square neckline that is detailed with delicate cutters of pearls. This pearl detailing at the neckline eliminates the need for a necklace. Just pair with some pearl earrings and you are ready to go!
08.

Sarah Seven: Chic Silhouette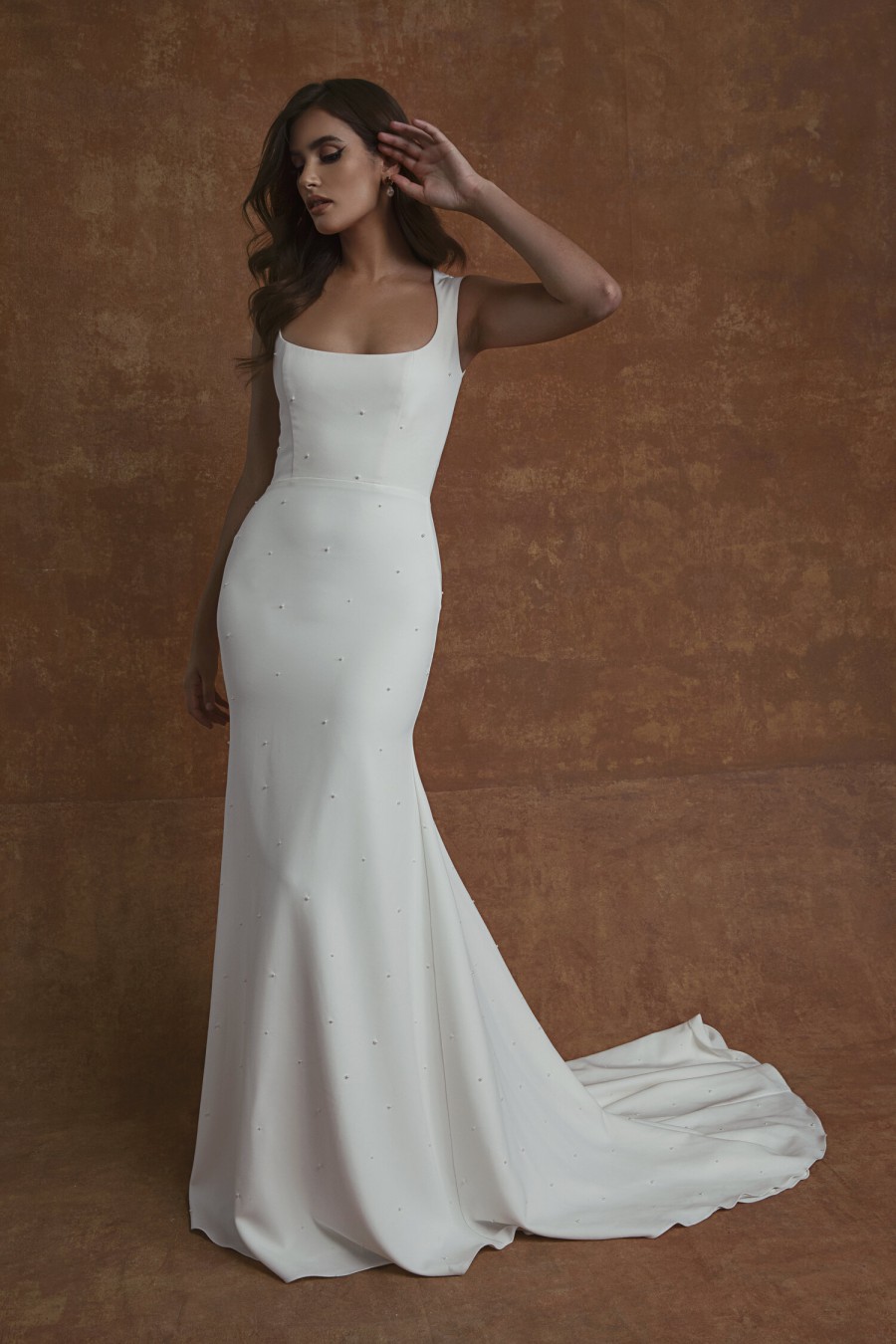 This next gown from Sarah Seven features the most irresistible feminine style. Sophisticated, yet sassy. This gown features a hip hugging silhouette with a stunning square neck and delicate pearl detailing.
09.

Rime Arodaky: Lingerie Inspired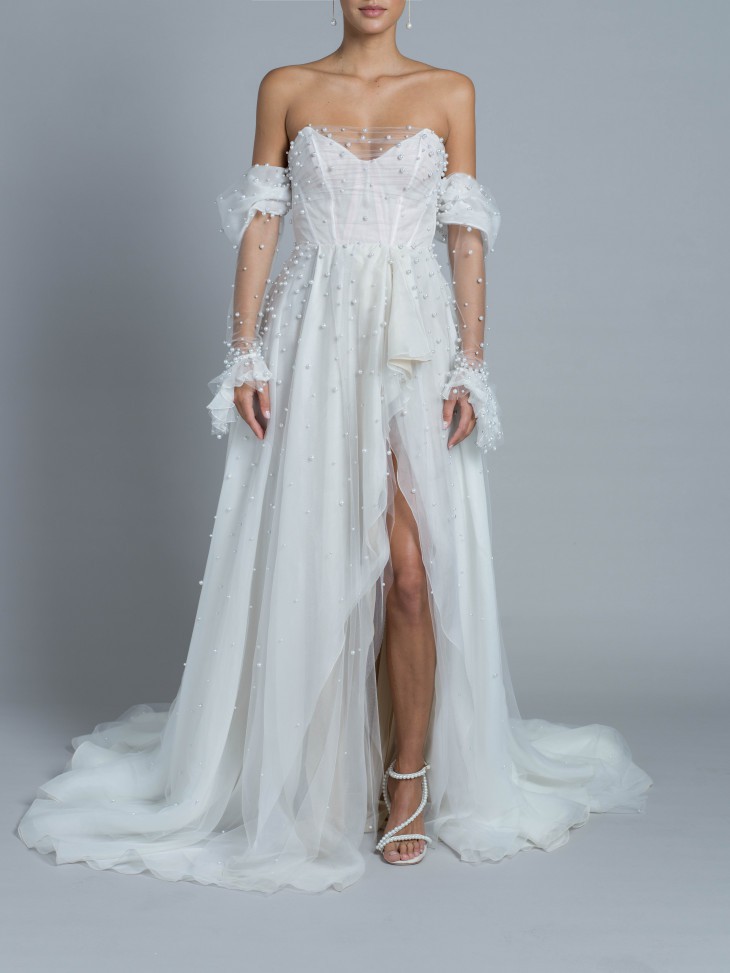 "Josephine" is a lingerie inspired bridal gown from Rime Arodaky. Featuring a bustier-style neckline, draped skirt with high front slit, and removable pearl dotted gloves. This gown is covered from head-to-toe in hand-set pearls that add a very glamours finish to this gown.
10.

Markarian: Off-the-Shoulder Midi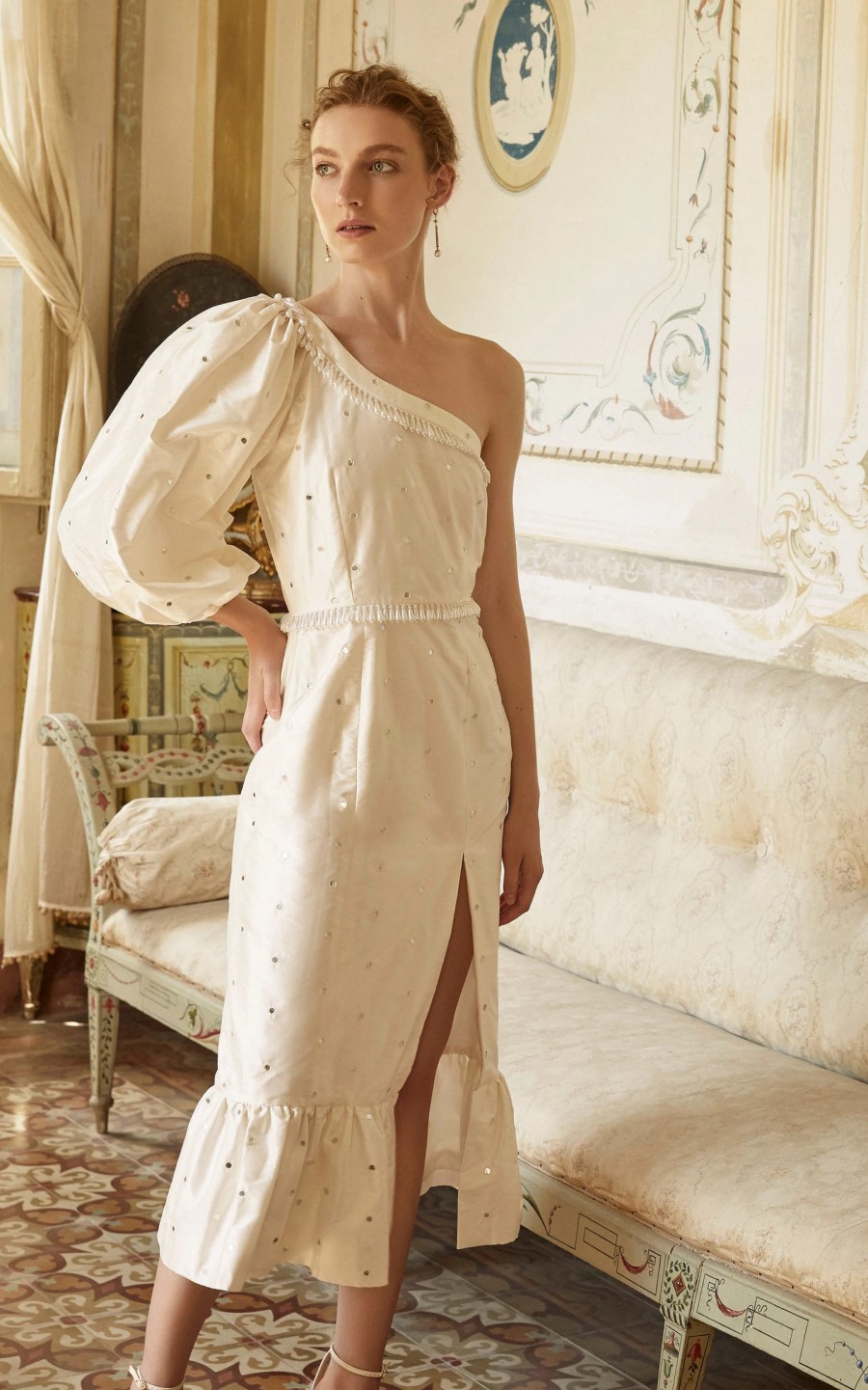 We are just loving this more casual, modern bridal style from Markarian. A chic, single shoulder gown in a trending midi length and with all over mirrored sequin embellishment. And we can't forget to mention the luxe teardrop pearl detailing along the waist and neckline.
11.

Savannah Miller: Contemporary Goddess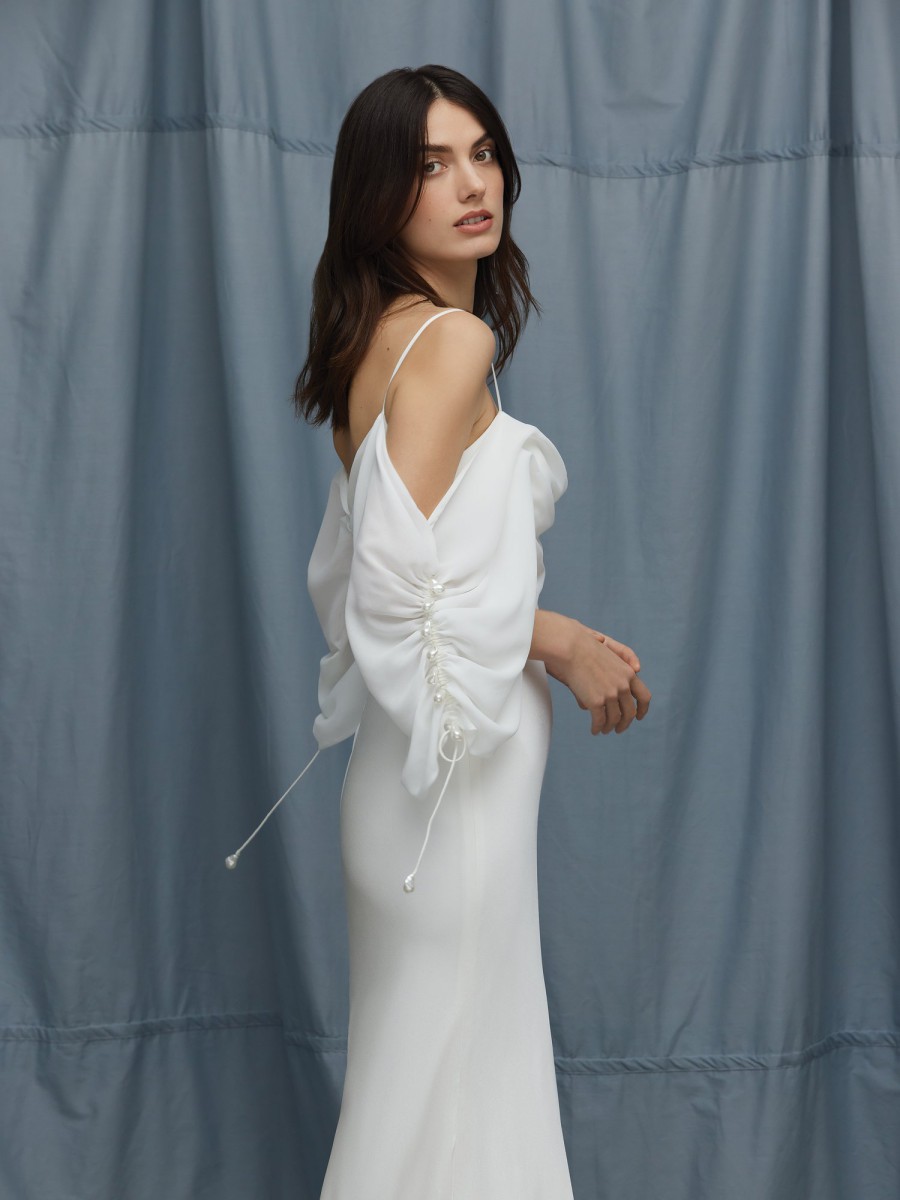 Our next pearl accented wedding gown is a style fit for a contemporary goddess. This gown mixes draped Italian satin and chiffon to give it a Grecian Goddess appearance. But our favorite detail has to be the sleeves. The sleeves feature a double drawcord design with pearl-beaded ends and oversized fresh-water pearls are scattered down the edges.
12.

Watters: Illusion Pearls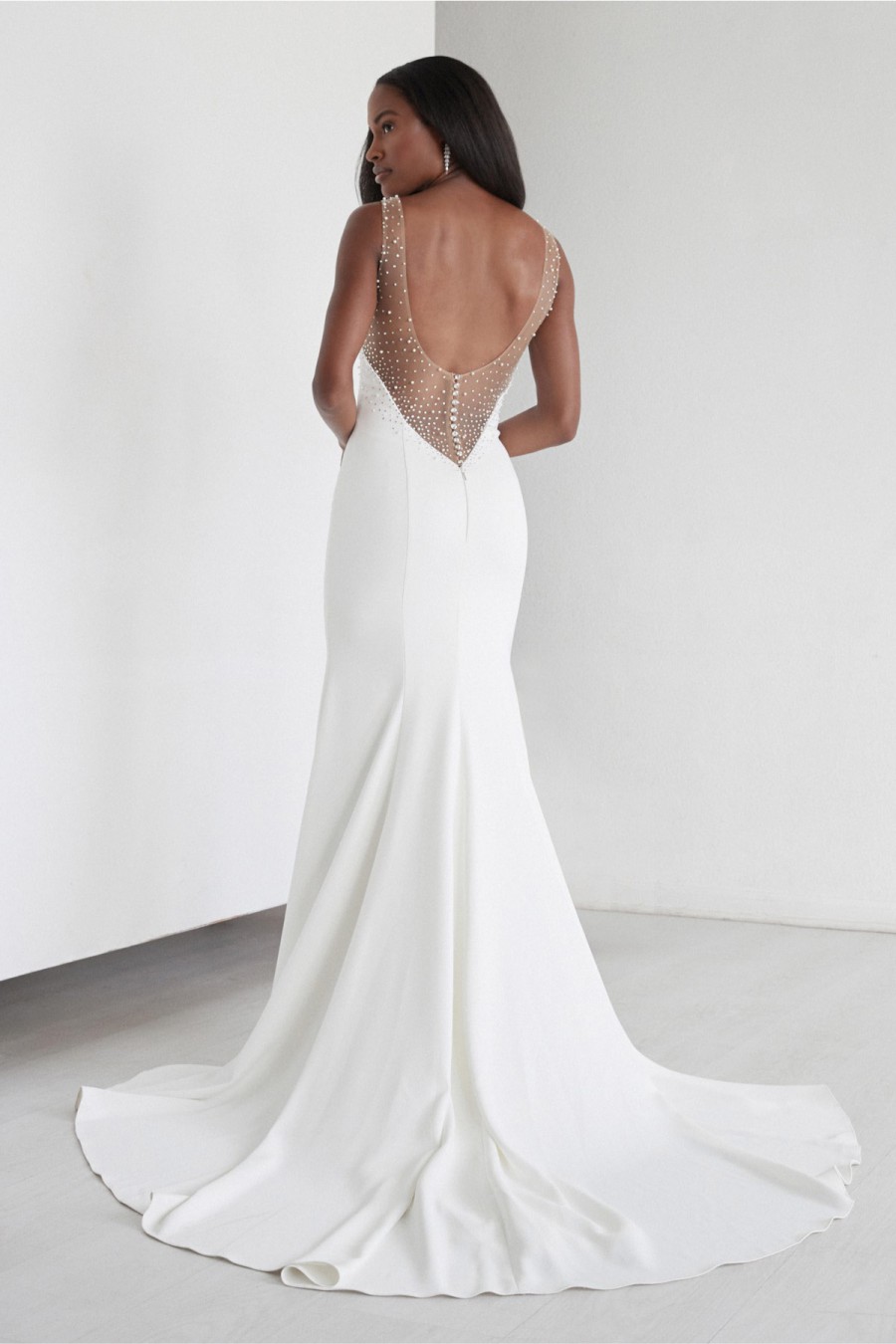 Watters is stealing our hearts with this next pearl detailed wedding gown. This stunning crepe style features an illusion back that is encrusted with delicate pearls and beads. This illusion pearl detailing in the back really stands out from the otherwise sleek and clean style of this gown.
13.

Sarah Seven: Pearl Goddess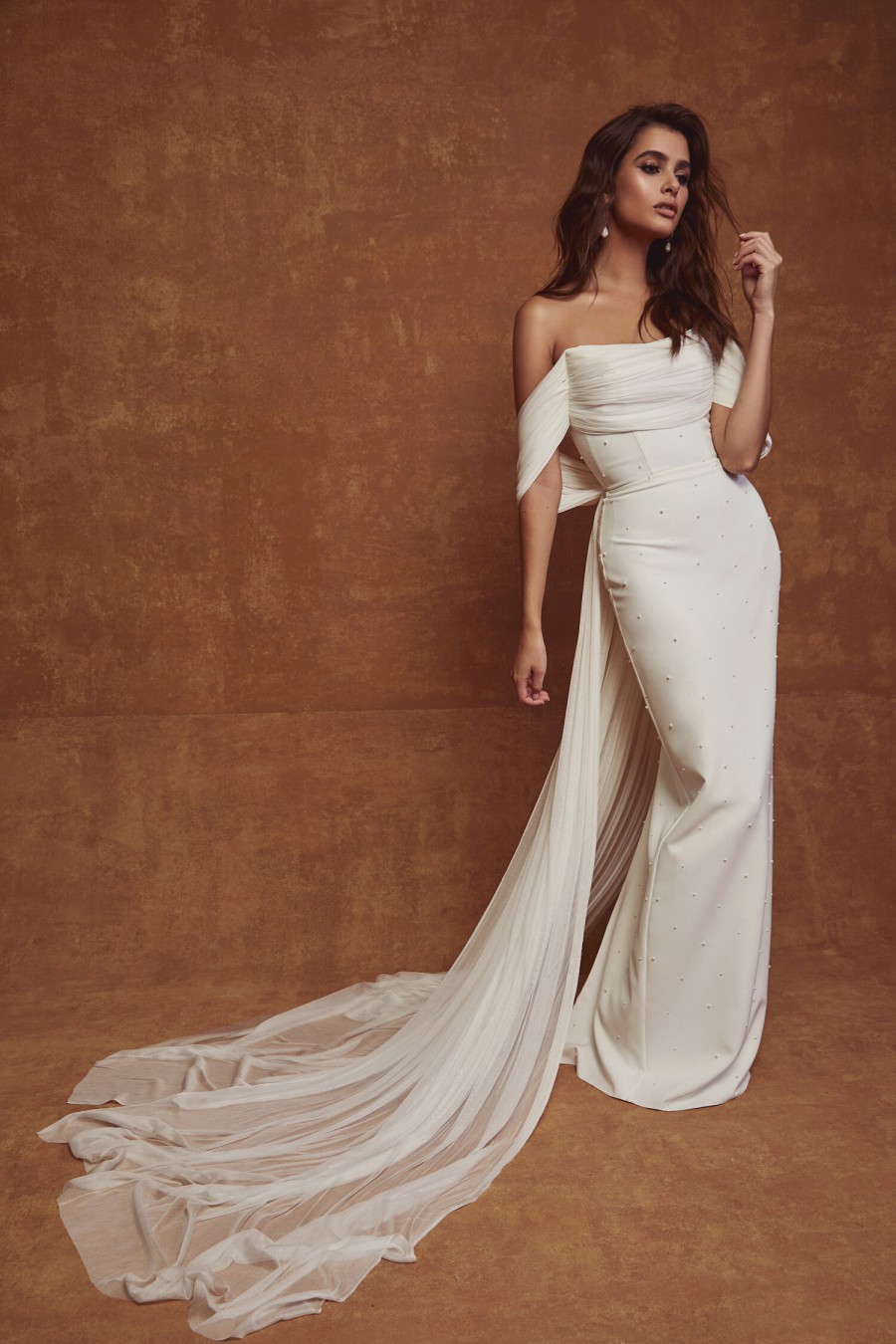 Our next pearl detailed wedding dress from Sarah Seven, has some major goddess vibes. This stunning crepe gown features a fitted bodice and column skirt. But what is most captivating about this gown is the draped tulle neckline and train. Finished dotted pearls, this gown feels very feminine and glamourous.
14.

Rime Arodaky: Flowy & Feminine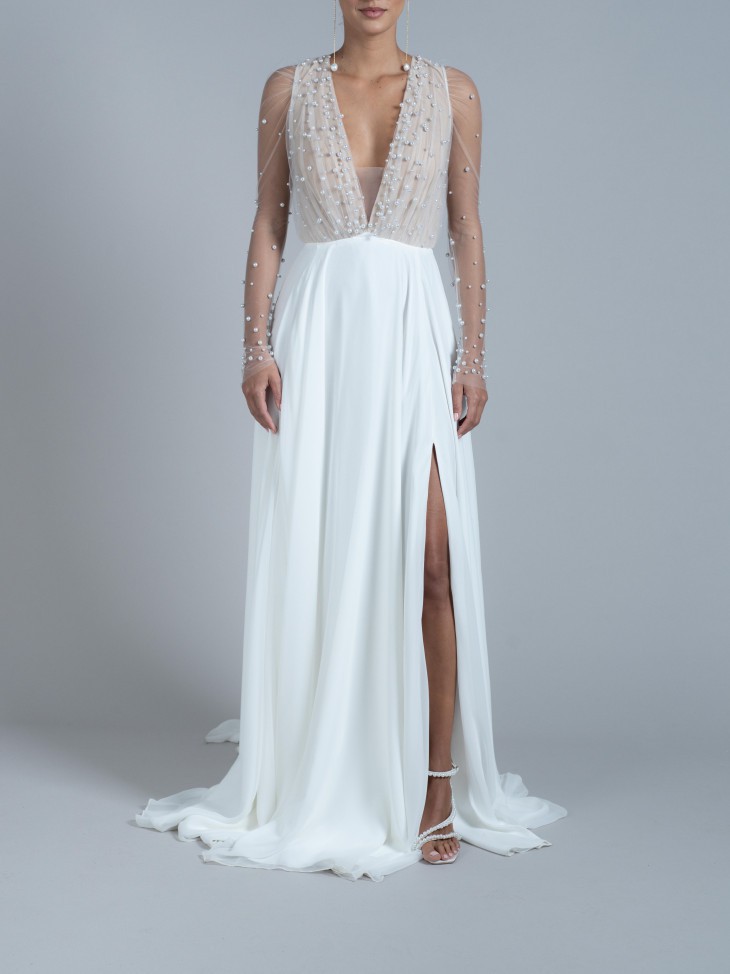 Delicate, flowy and effortlessly feminine. This next gown features a gorgeous sheer nude top with hand set pearls and an effortlessly draped chiffon skirt. This gown is finished with the most stunning sheer sleeves that are accented with the same gorgeous peals.
15.

Paloma James Bridal: Clean Elegance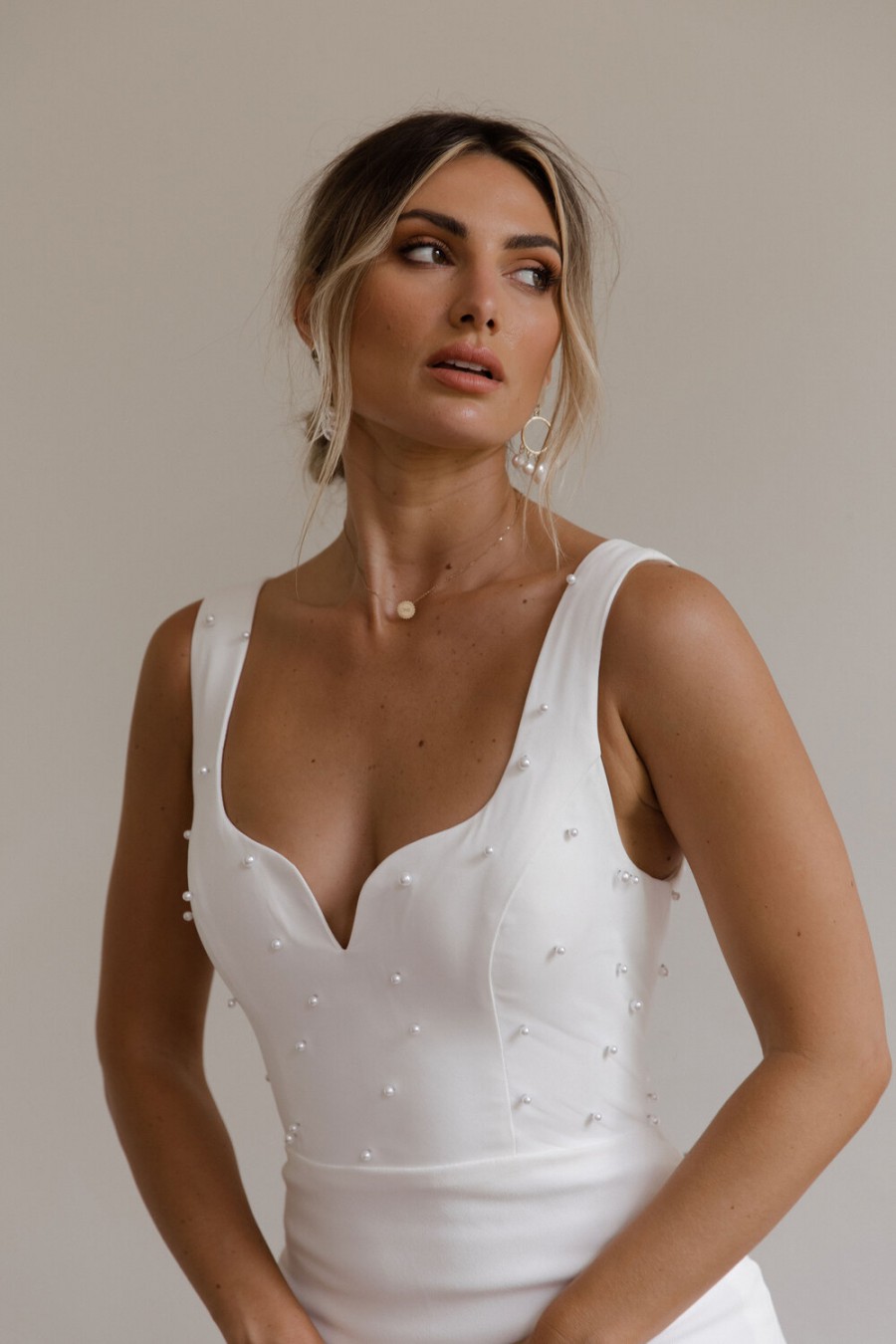 This clean, elegant bridal gown is sophisticated and classic. Made from a heavy crepe that creates a structured look, that is also so flattering. This gown features the most beautiful soft tulle pearl bodice with squared neckline and wide straps.

By Kathryn Schrotenboer