Clean minimalism and classic elegance. What more could a modern bride want?
Less-is-more bridal styles are trending in a big way right now. Modern brides are demanding minimalist approved looks that are all about elegance, without all of the extra fuss. So we have gathered a list of our top 24 minimal and elegant bridal styles that are trending right now. These looks are contemporary chic, while still being timeless and sophisticated.
01.

Rime Arodaky: Kaia
Rime Arodaky brings us this first minimal and elegant bridal style. A crepe gown that features an asymmetric draped bodice design and chic front slit.
02.

Gracy Accad: Chrysler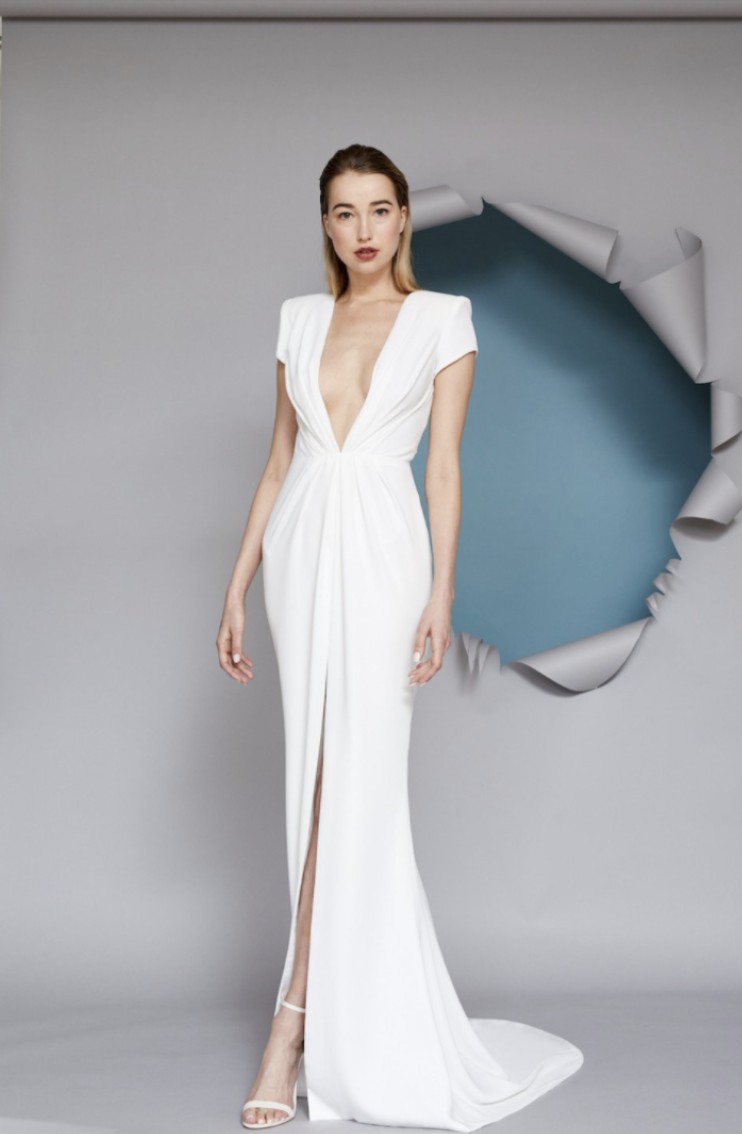 Gracy Accad brings us this next elegant, yet minimal bridal look. A look that is simple and timeless, while also being sultry and contemporary.
03.

Eisen Stein: Angelic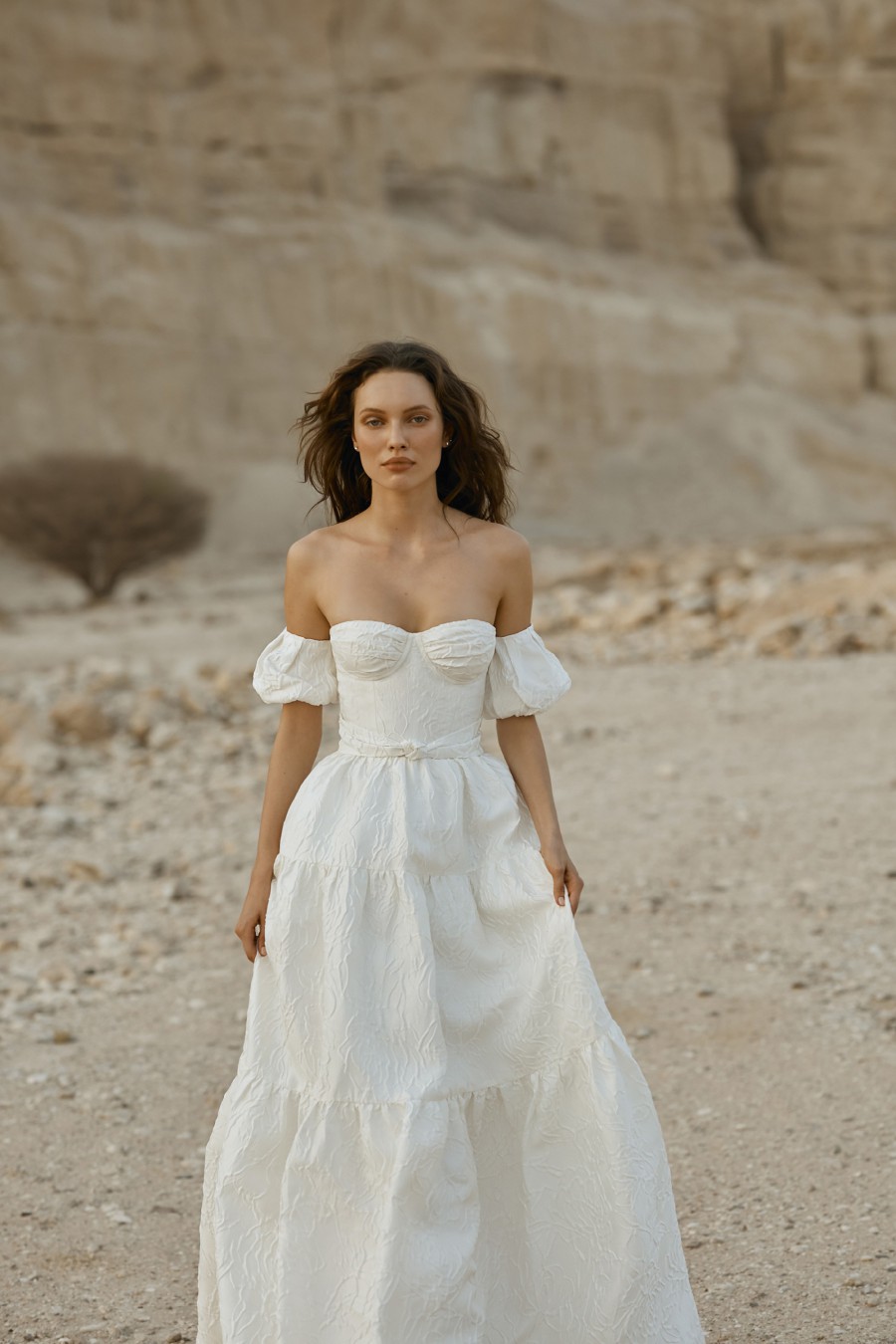 Next up we have this stunning gown from Eisen Stein. Our favorite feature of this gown has to be its unique crinkle-like fabric. It is a simple texture that still keeps this look very minimal, while also adding something truly unique.
04.

Watters: Serein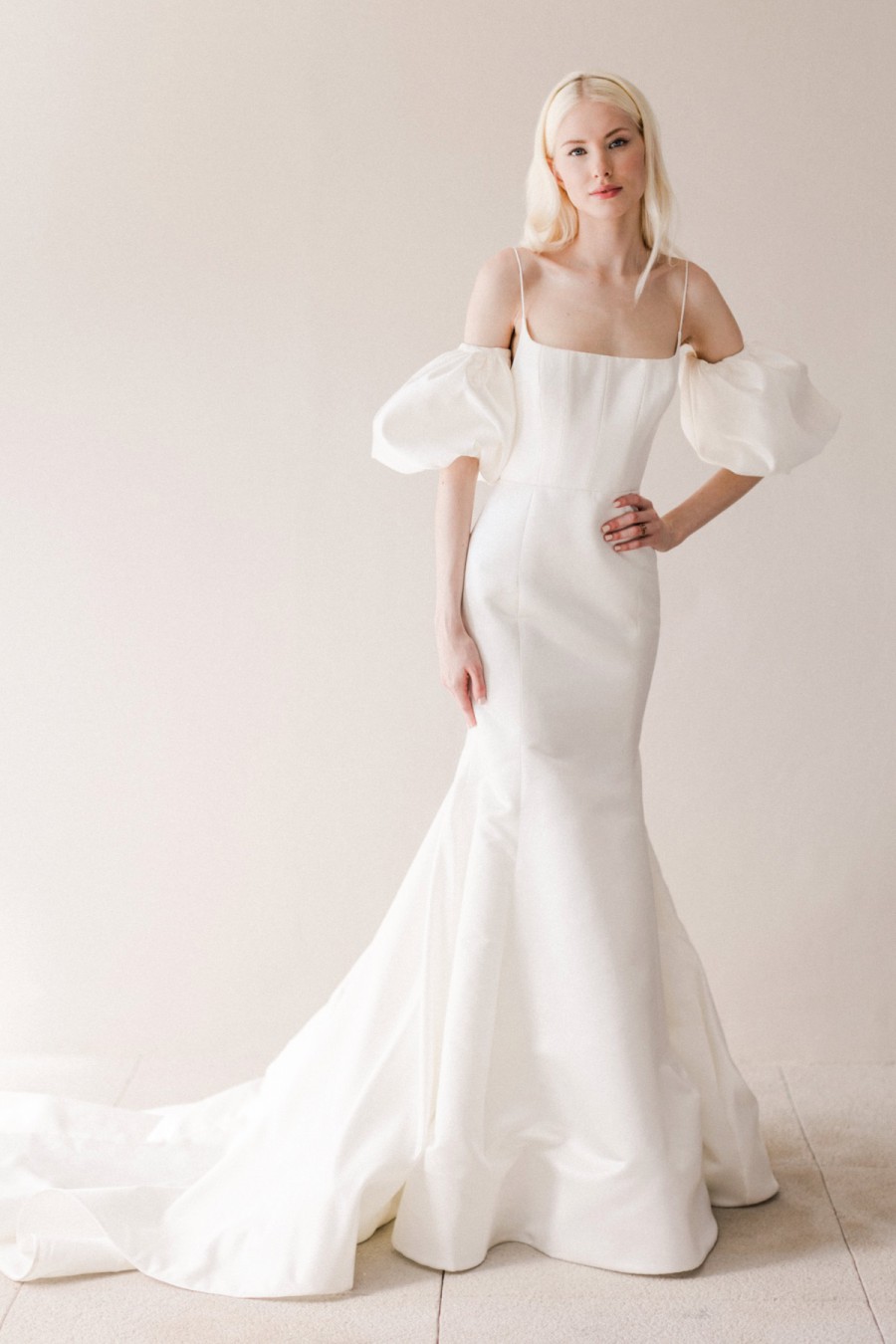 We are absolutely swooning over this next minimal and elegant bridal style from Watters. A simple, yet feminine gown that is still bold and daring in its own minimalistic way.
05.

Watters: Milligan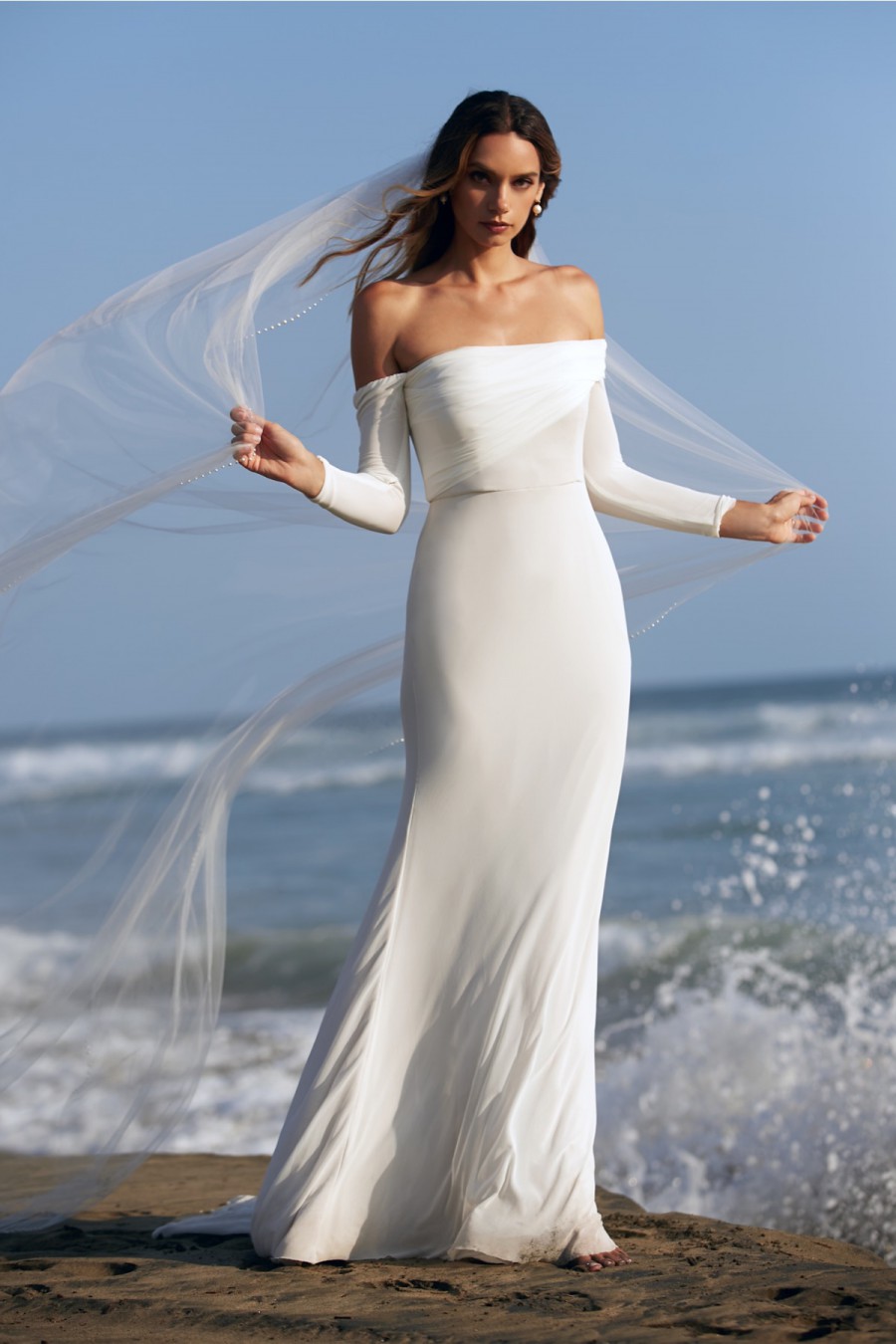 This next gown is absolutely irresistible. The stretch mesh paired with Abrazo lining create a flawless smoothing effect that will have any bride feeling amazing. This gown is minimal, while still being captivatingly elegant. Perfect for that romantic elopement you have been dreaming of!
06.

Savannah Miller: Amelie
Savannah Miller brings us this next minimalist approved elegant bridal style. What we love most about this gown is the subtle, yet surprising mix in fabrics. This gown is made from stretch, Italian matte crepe. And the dreamy off-the-shoulder sleeves are made from delicate Chantilly lace. A soft, yet exciting mix.
07.

Lela Rose: The Stratford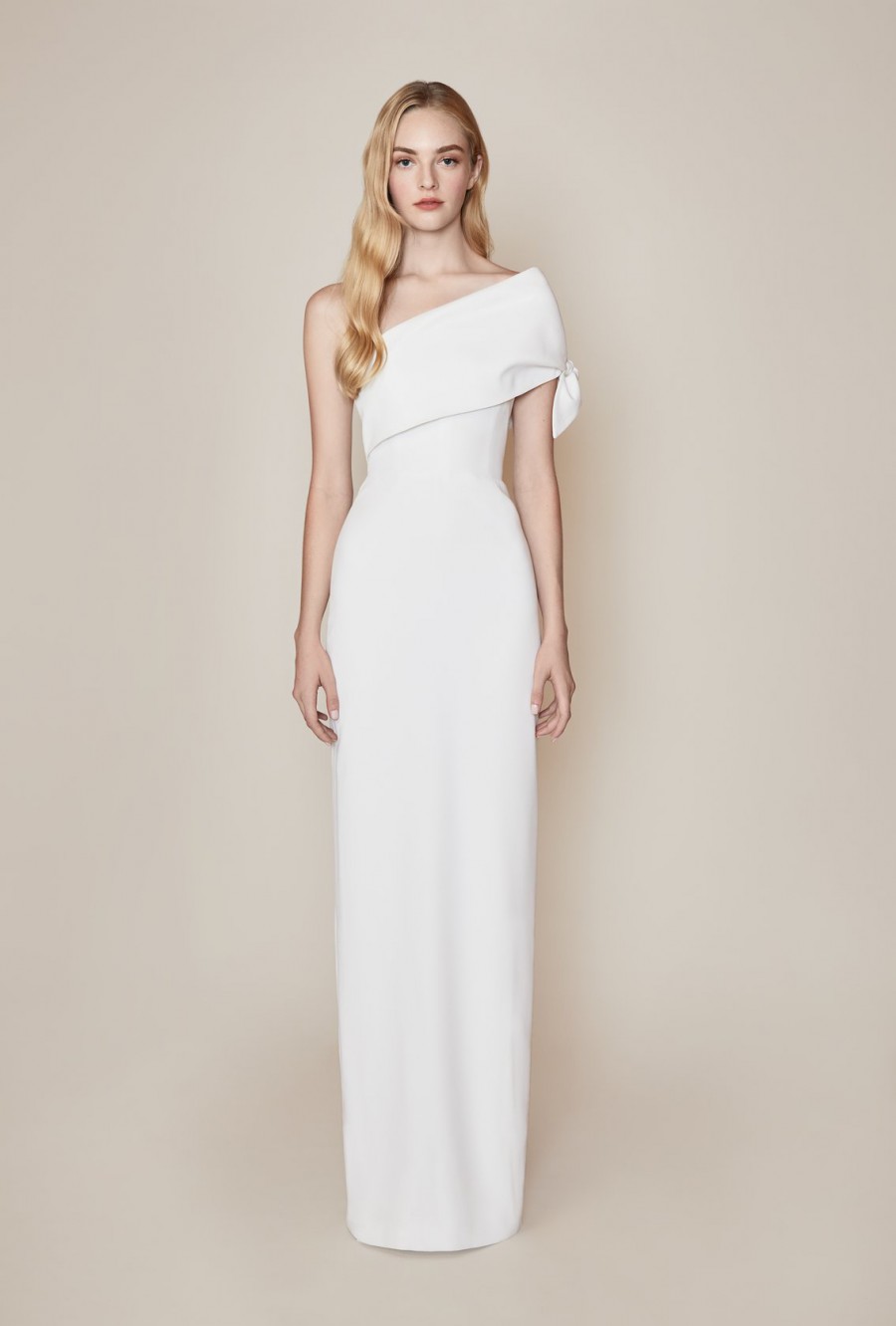 Lela Rose brings us this chic one-shoulder crepe bridal gown. A look that is sleek and simple, while feeling so timeless and elegant. And we just love the bow detail on the shoulder! A subtle, feminine accent to finish the look off with.
08.

Watters: Rogers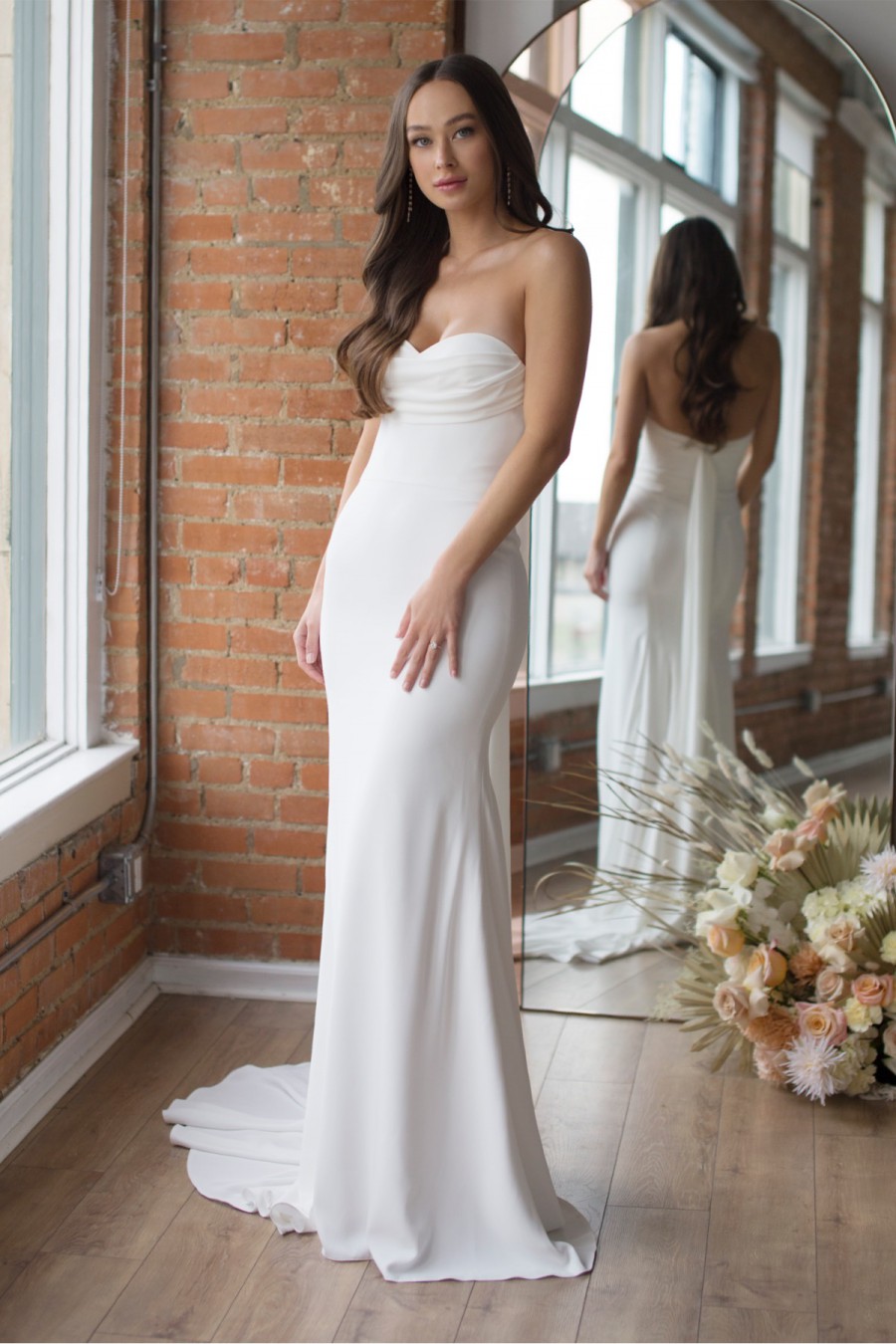 This clean and effortless gown from Watters is sure to be a hit with our minimalist brides out there. A look that is no-nonsense, while still being elegant and timeless.
09.

Savannah Miller: Lucia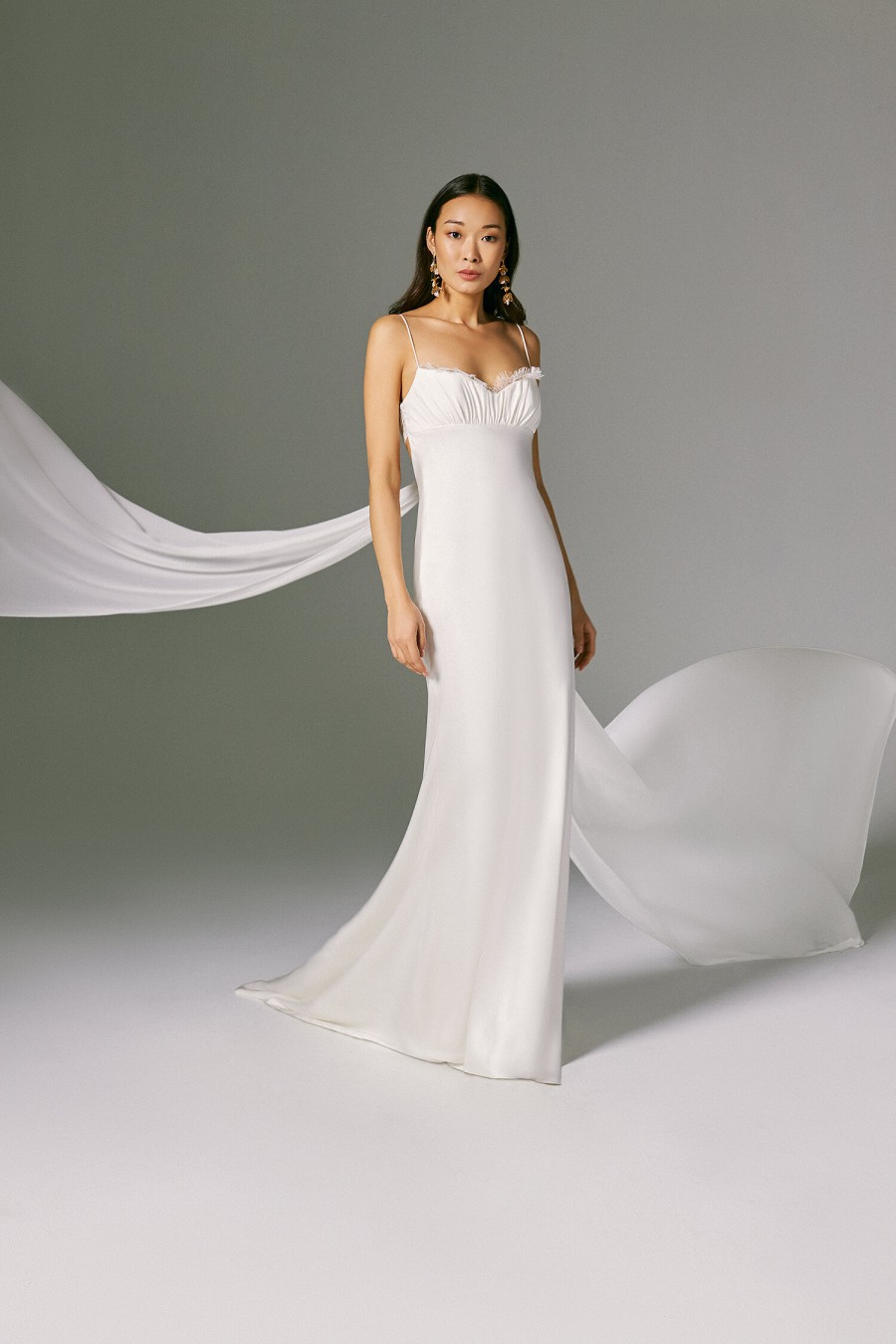 This Italian satin gown is simple, yet alluring. Featuring a gathered balconette bodice that is trimmed with a delicate scalloped frill lace. And the drastically low back is accented with chiffon tie streamers that train effortlessly behind.
10.

Lela Rose: The Adelaide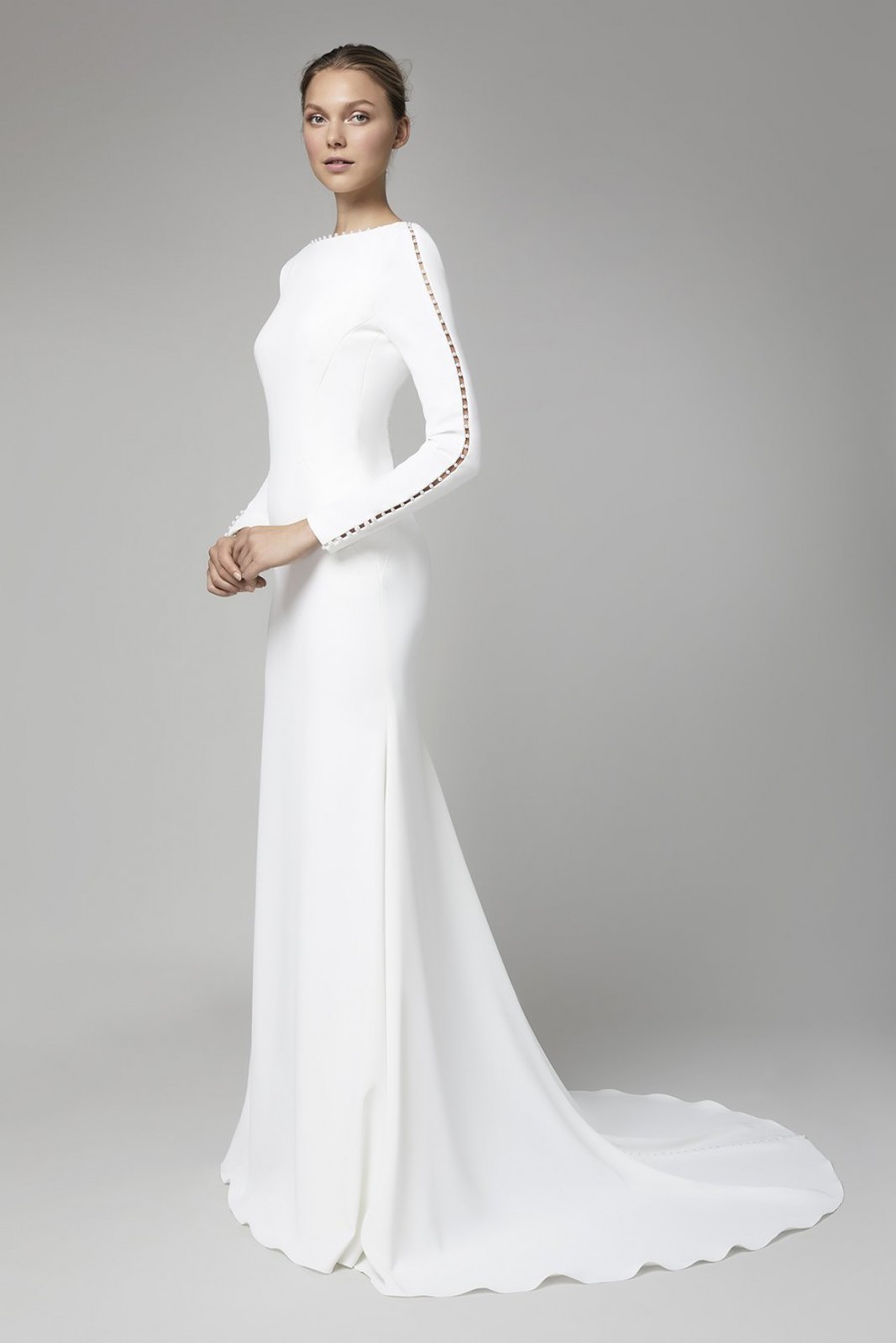 Looking for a chic, elegant bridal style for a colder wedding day, that is still minimal and sleek? Then look no further than this gown from Lela Rose. This high neck, long sleeve, silk crepe column gown is absolutely irresistible. And what really makes this gown are the subtle accents. Like the inset pearls on the sleeves and the low back cut.
11.

Savannah Miller: Zoe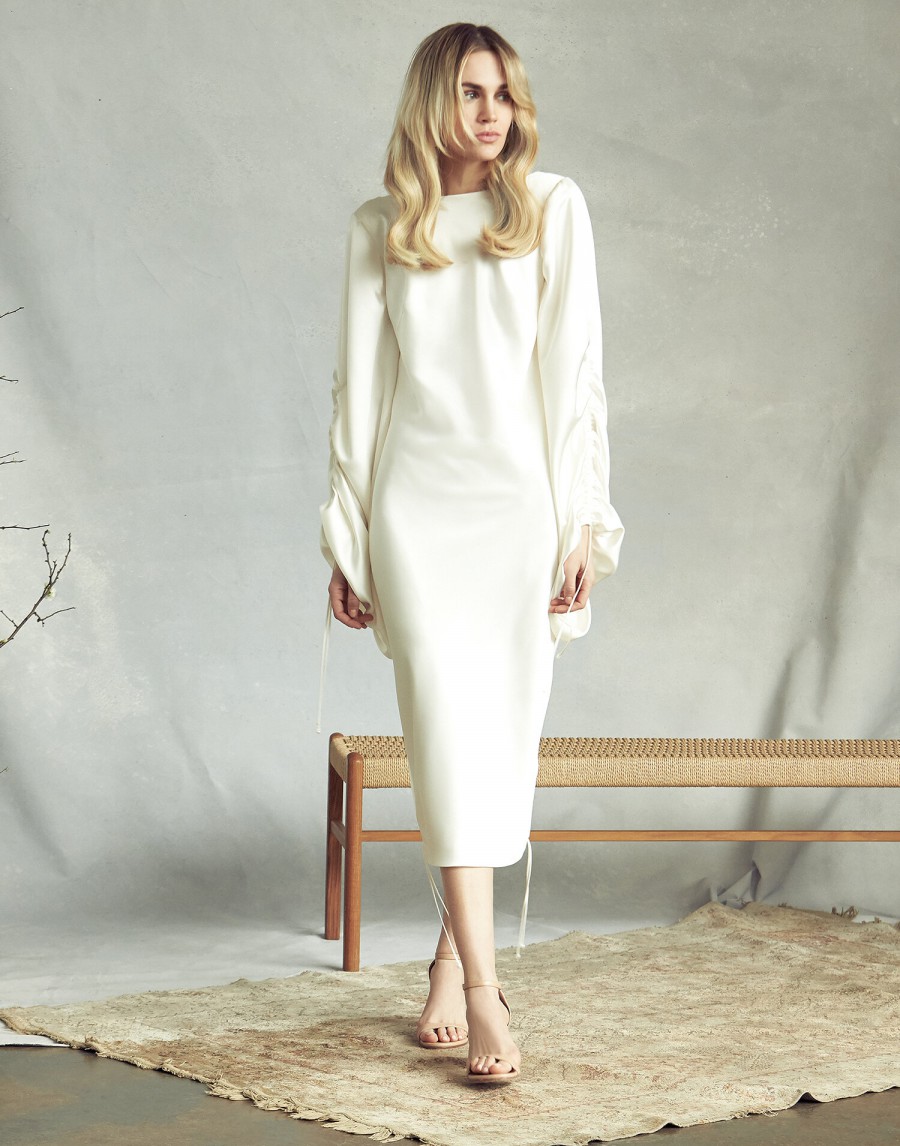 Our next minimalist approved bridal style comes from Savannah Miller. And we are absolutely in love with this modern, trending midi length bridal gown. A chic high neck satin silhouette that features an ultra low back, gathered balloon sleeves, and spaghetti strap ties.
12.

Safiyaa: Atchara Ivory Long Dress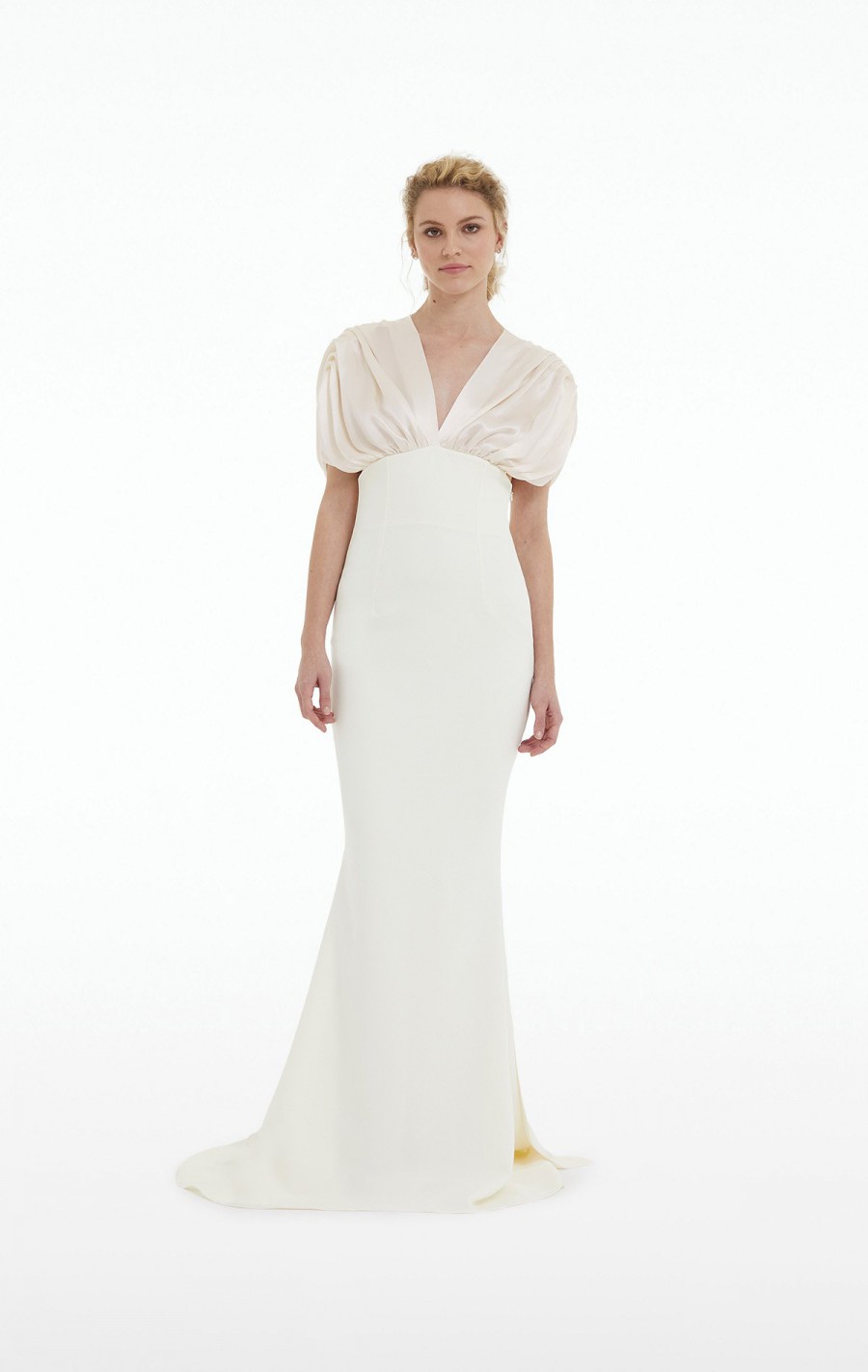 This next dress is contemporary and minimal, while still having a vintage flare to it. This bridal gown is so elegant and clean and would have any bride feeling like a timeless beauty.
13.

Lela Rose: The Capri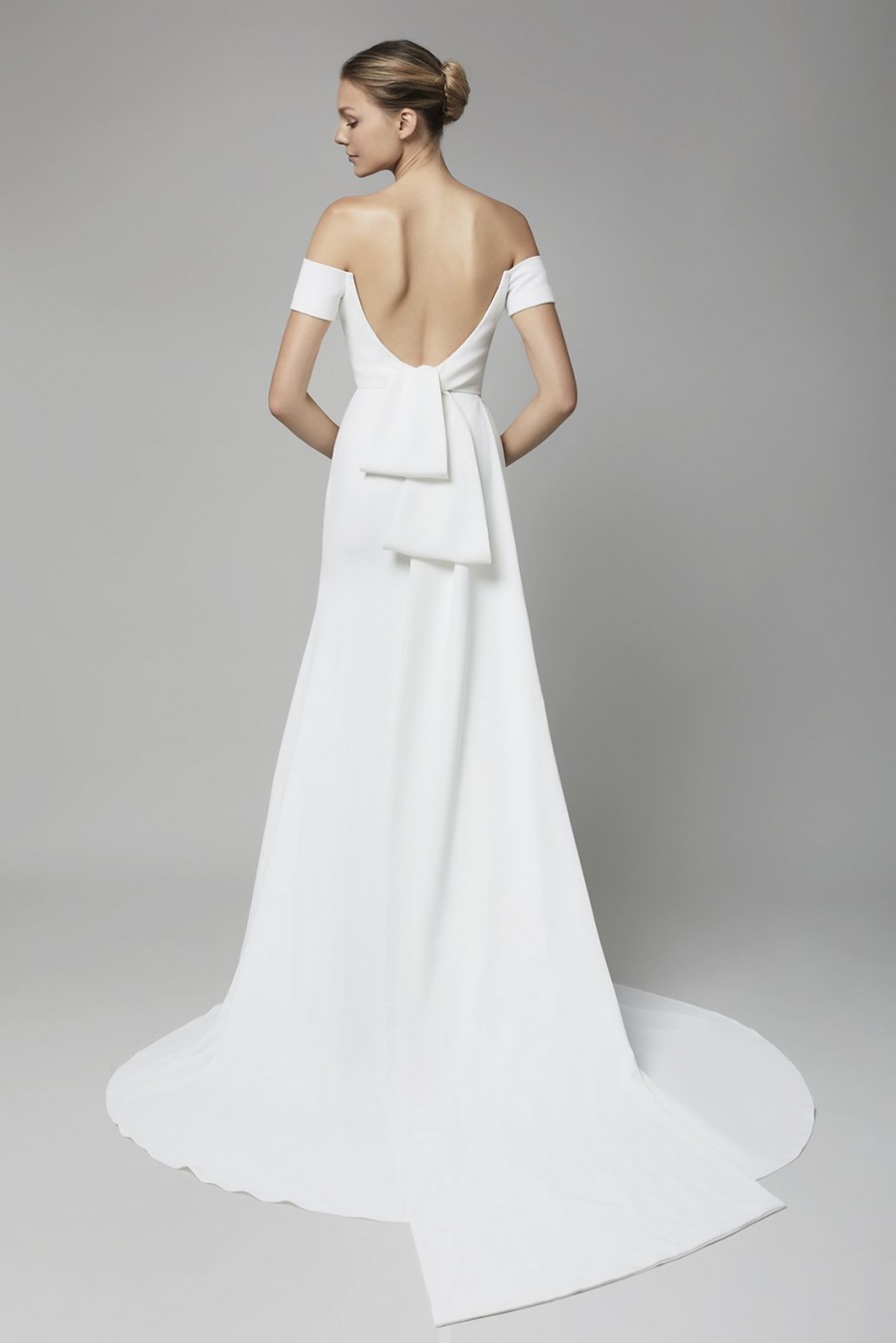 Timeless, elegant and definitely minimalist approved. We are absolutely in love with the details of this next bridal gown. Featuring chic off-the-shoulder sleeves that feel both modern and timeless. And a back bow train that is absolutely effortless.
14.

Safiyaa: Adriel Ivory Long Dress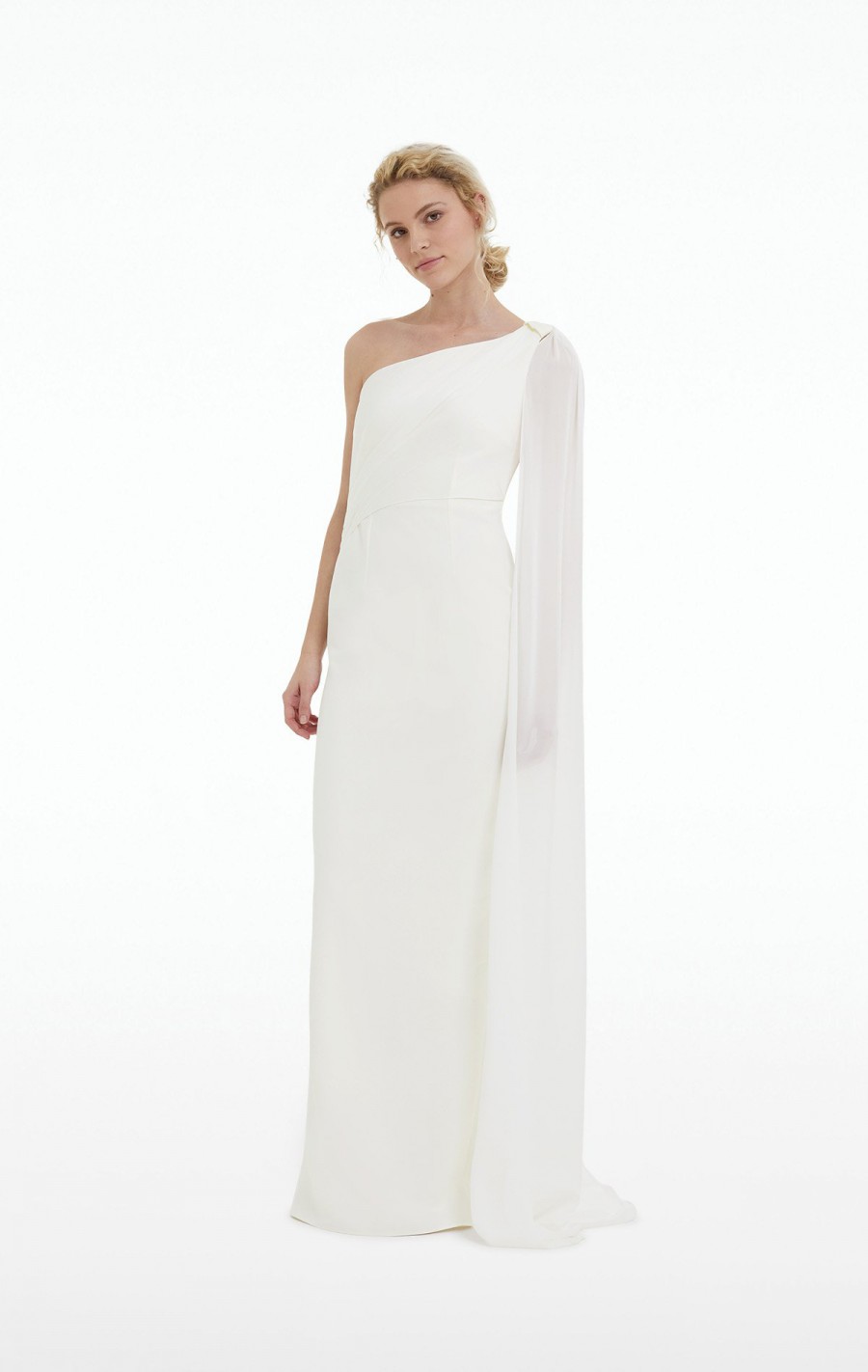 We are loving the asymmetric shimmer charmouse overlay accent on this next minimal and elegant bridal gown. An ultra chic and clean single shoulder column gown, with an exciting modern accent.
15.

Laura Ironside: The Vivien Bridal Dress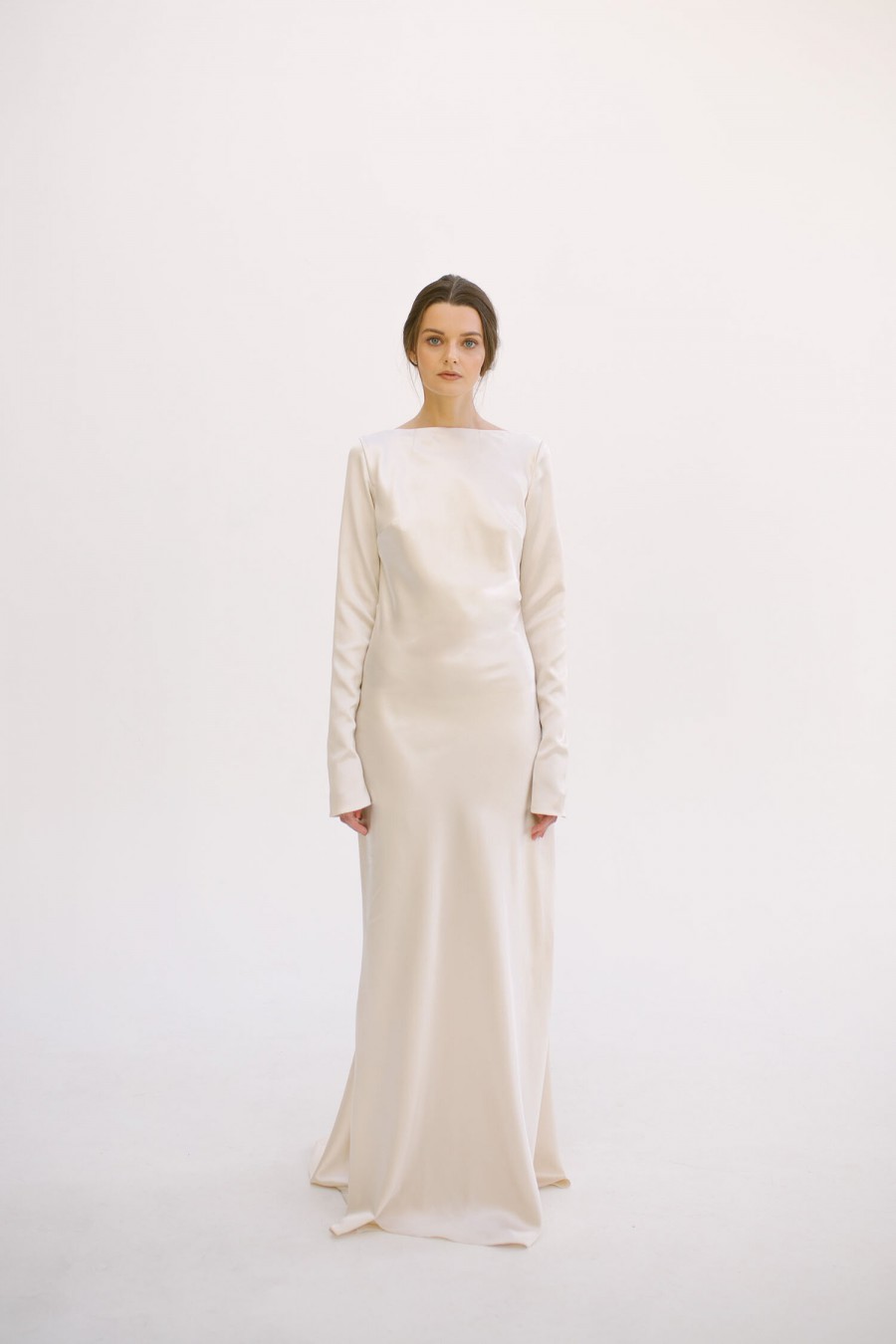 This next minimal bridal gown comes from Lauren Ironside. It is described as "relaxed, contemporary bridal elegance" and we couldn't agree more! This gown is made from a heavyweight satin silk in a gorgeous iridescent pearl color tone. This very minimal bridal gown has a very lavish and luxurious feel to it. Perfect for a less-is-more bridal look on a colder weather wedding day.
16.

Laura Ironside: The Lombard Bridal Dress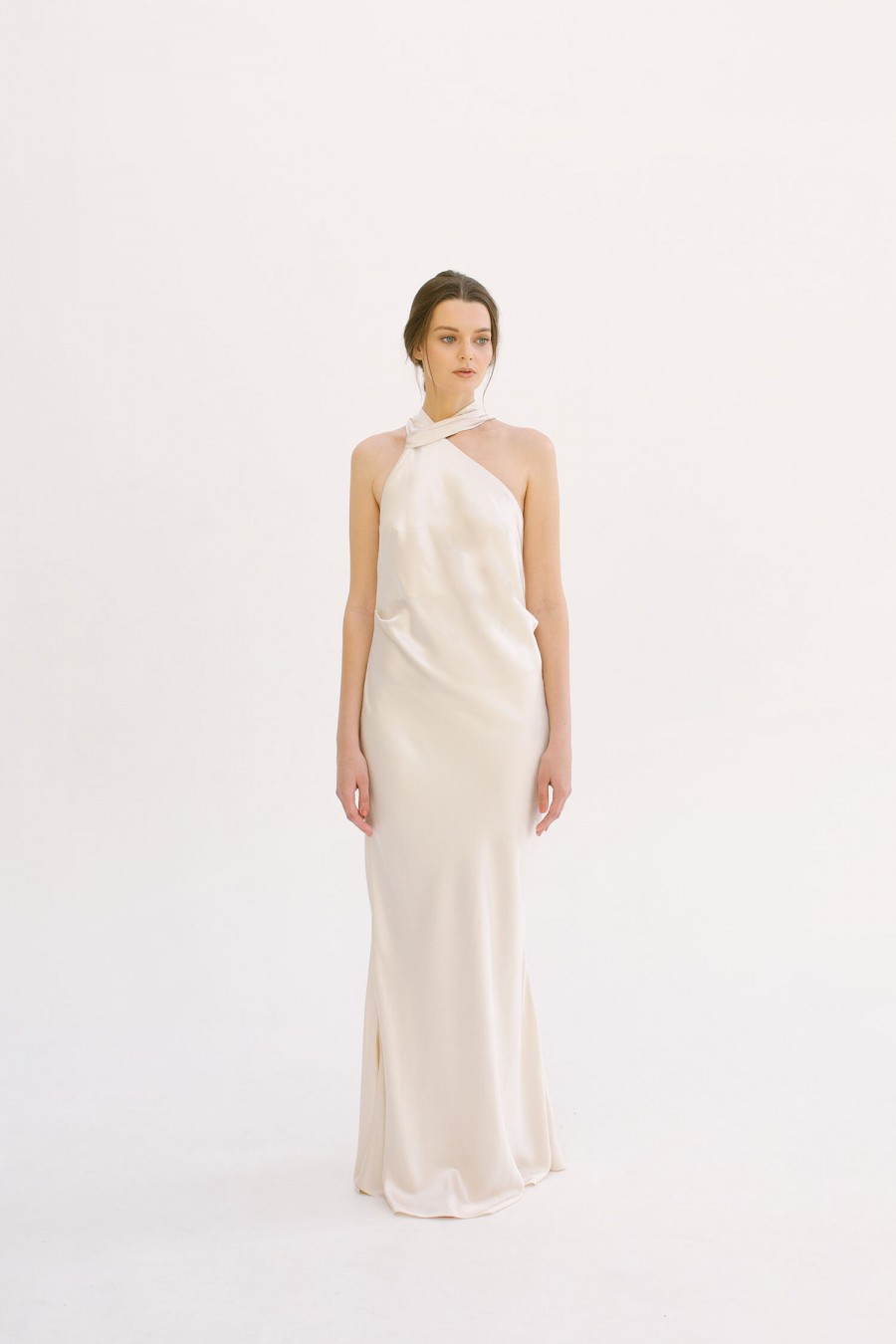 Named after 1930s screen siren Carole Lombard, this elegant gown has a very Old Hollywood Glam feel to it. You can never go wrong with a timeless silk slip dress like this one from Lauren Ironside. A minimal bridal silhouette that is always timeless and elegant.
17.

Lela Rose: The Fulton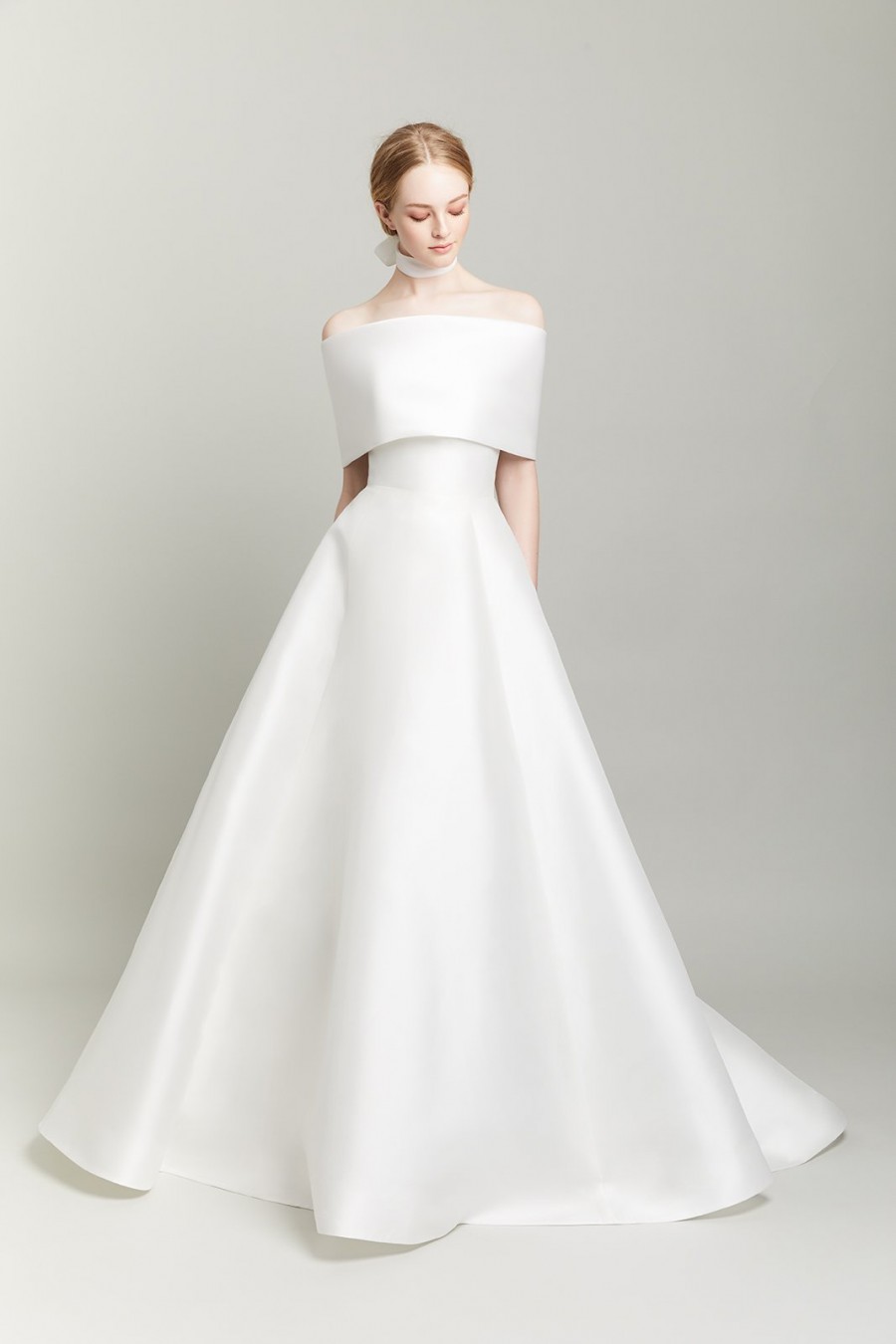 Just because you are craving a more minimal bridal style, doesn't mean that you can't have a gown with a bit more volume. And this A-line gown from Lela Rose shows how. An elegant bridal look that will make you feel like a modern minimalist princess.
18.

Savannah Miller: Nancy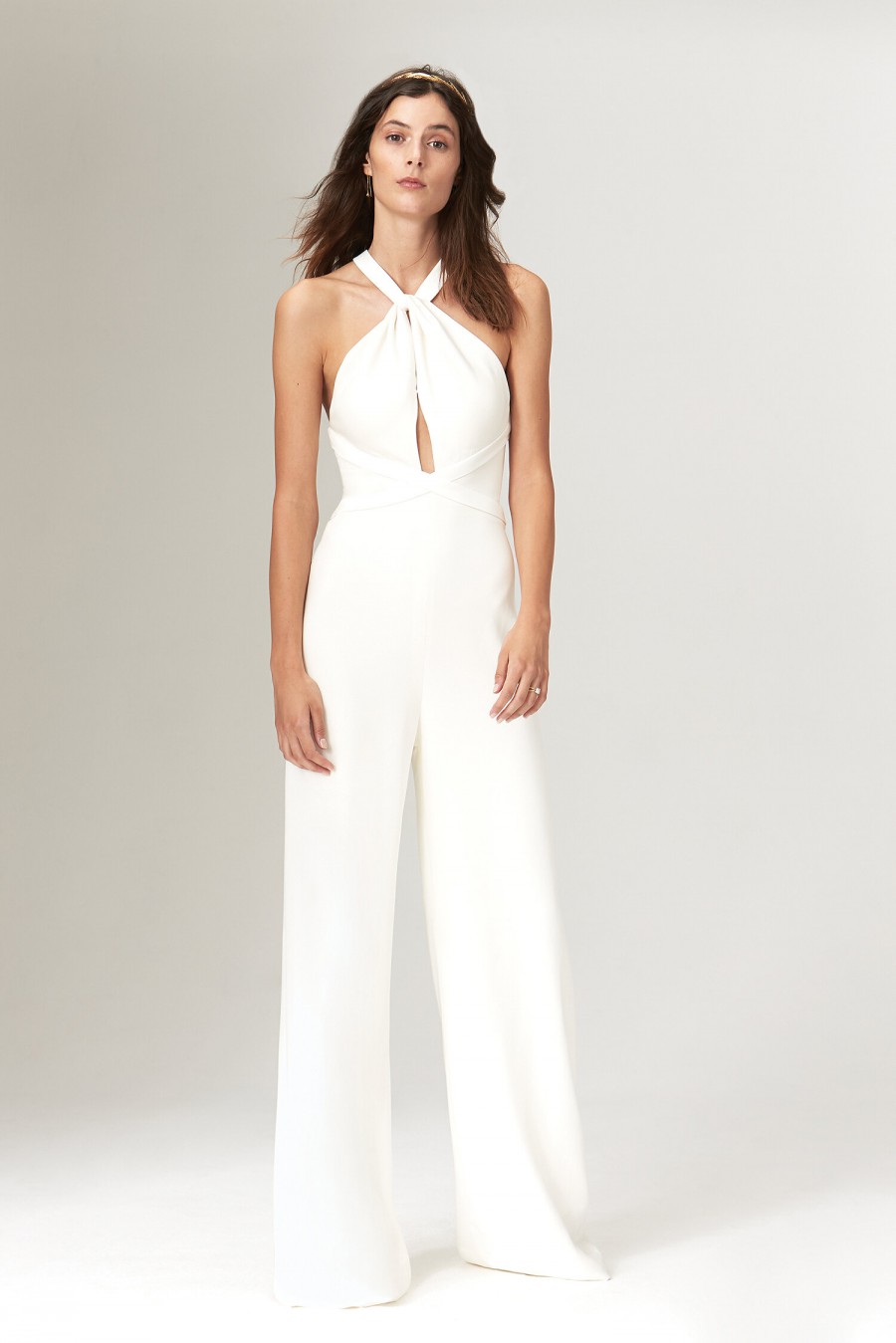 A jumpsuit is a great way to embrace a more minimal bridal style, while still keeping your wedding day look ultra modern and elegant. And we are loving the simplicity of this stretch crepe style from Savannah Miller with this most stunning bodice design. Not to mention that fact that it looks so comfy!
19.

Safiyaa: Octavia Ivory Midi Dress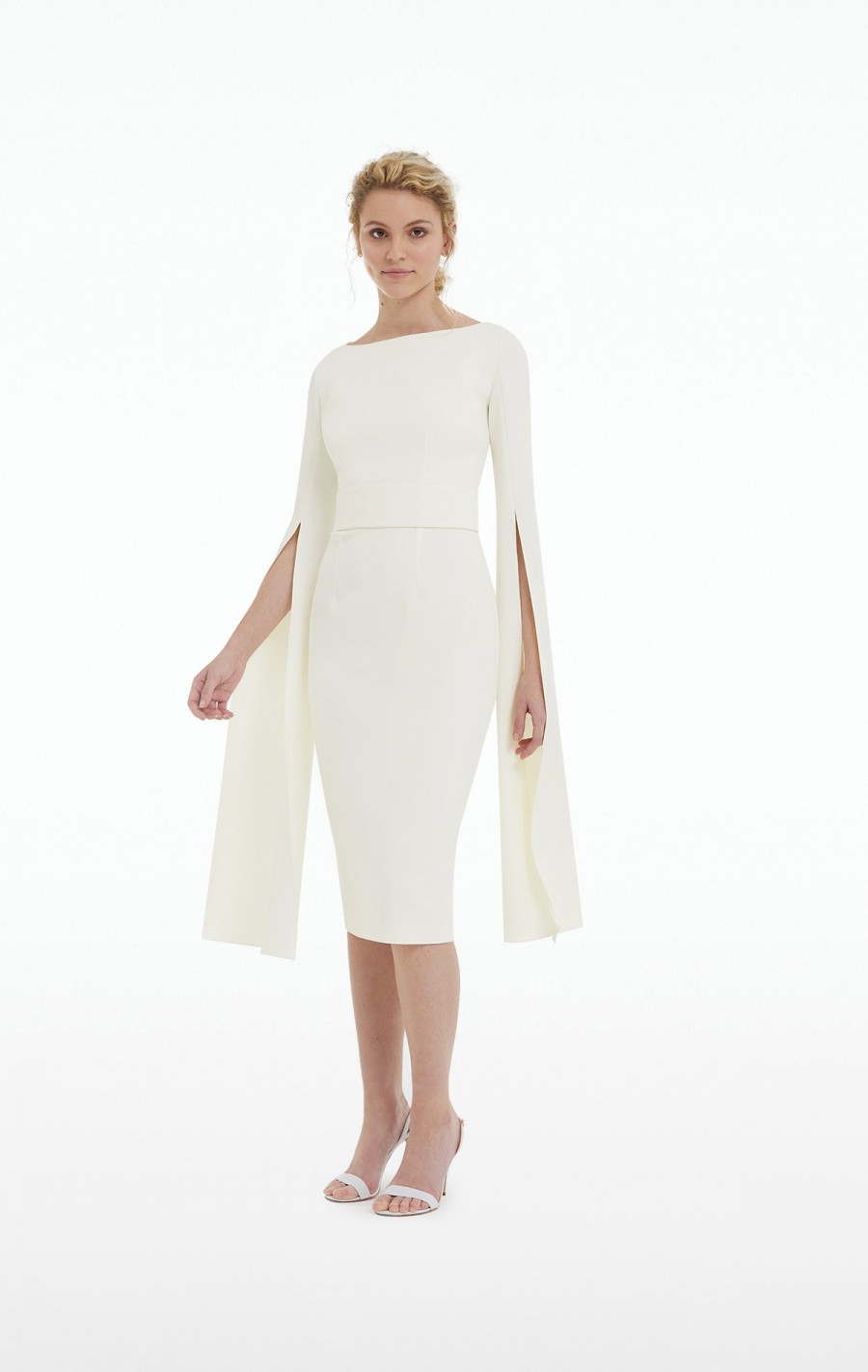 Midi bridal styles are trending in a big way right now. And we are loving this modern, yet clean design from Safiyaa. This chic boatneck gown features unique elongated split sleeves that create an exciting contemporary look.
20.

Morilee by Madeline Gardner: Camden Wedding Dress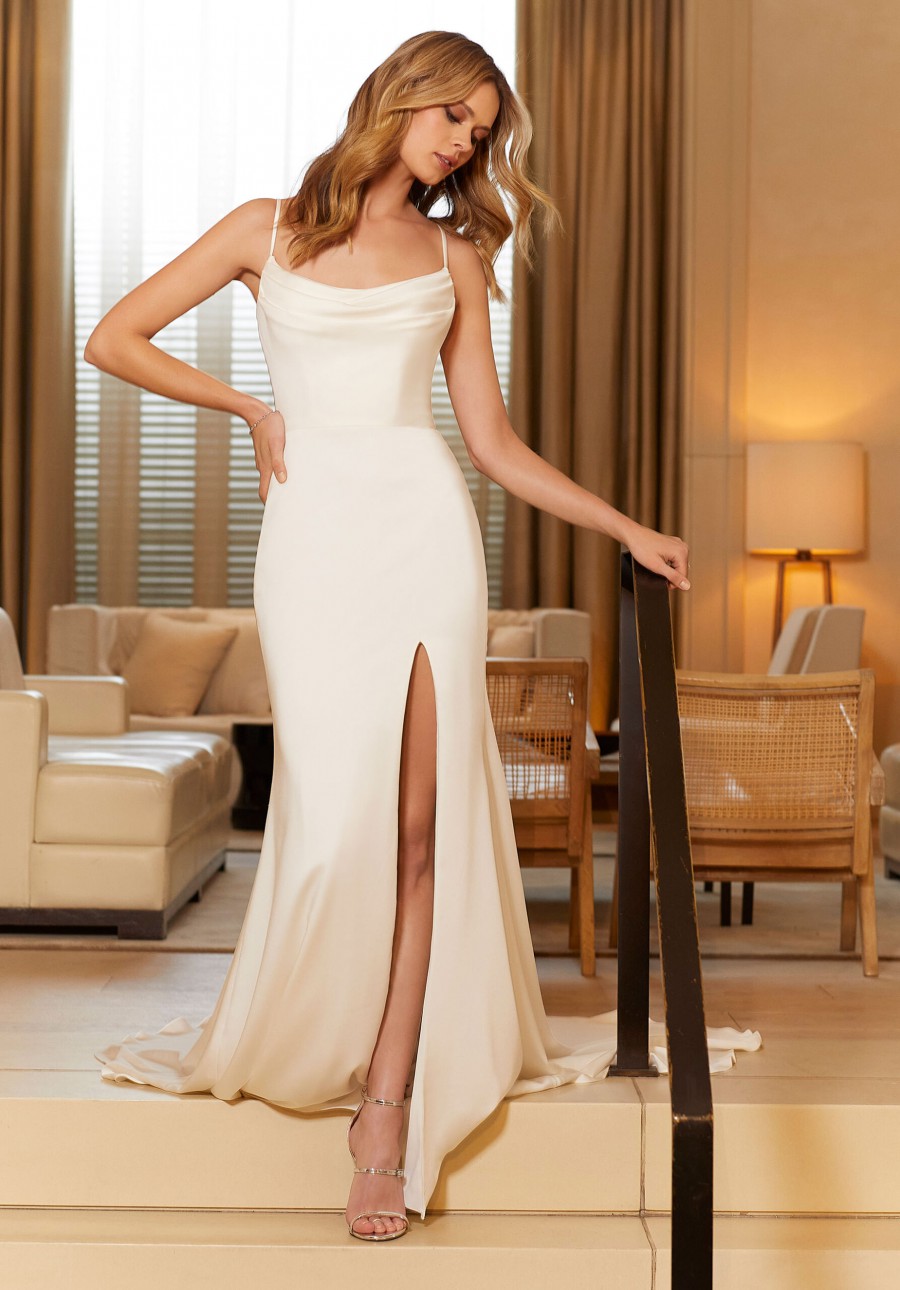 If you are looking for minimal elegance for your wedding day style, then you can't go wrong with a classic satin slip dress. But this isn't just any slip silhouette. This gown features a gorgeous cowl neckline and a sultry high front slit. Just two subtle details that make this gown absolutely irresistible.
21.

Lela Rose: The Hadley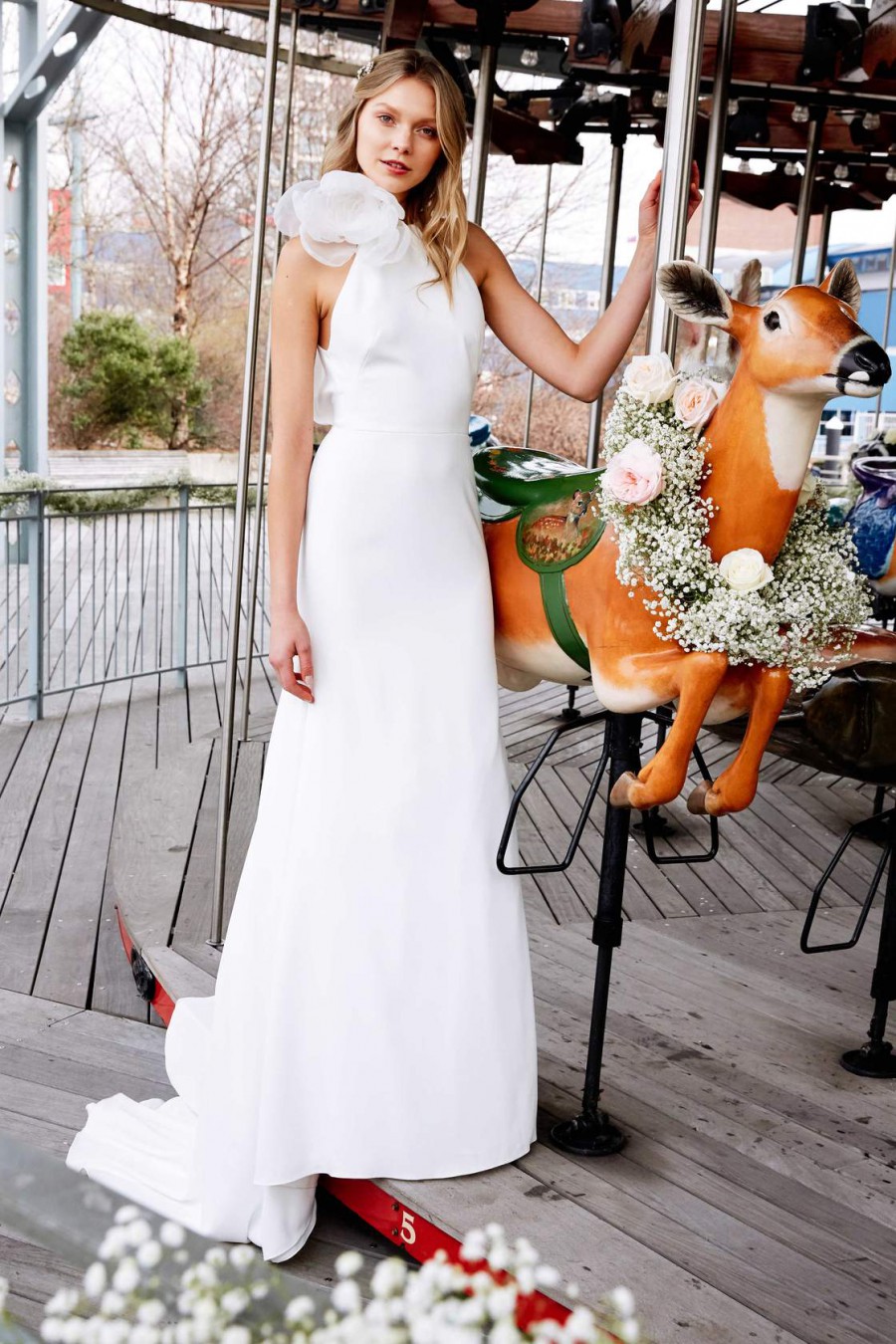 Less is so much more with this next minimal and elegant bridal gown from Lela Rose. An ultra chic crepe halter gown that features a gorgeous and detachable organza peony.
22.

Safiyaa: Ginkgo Ivory Dress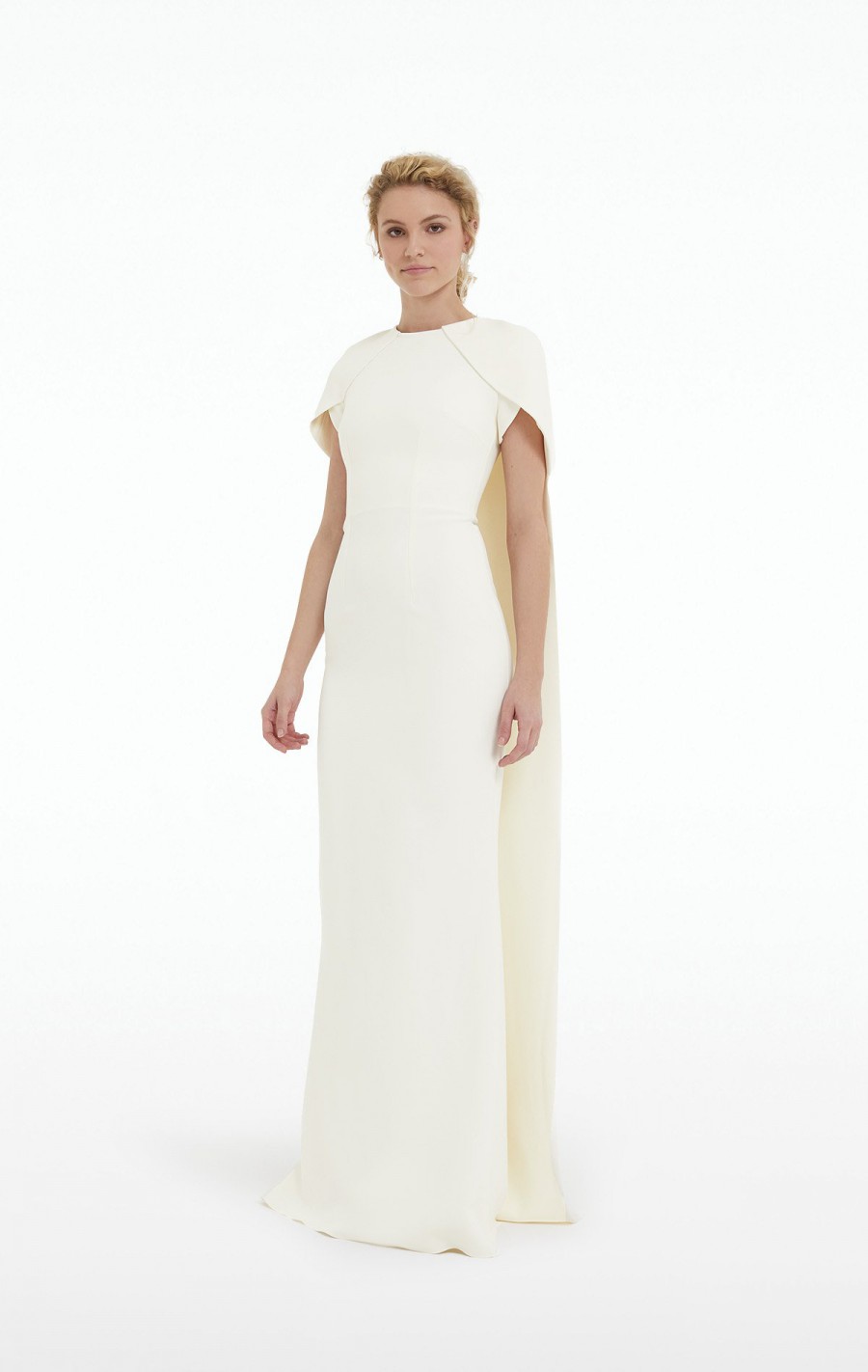 Modern brides are loving the bridal cape trend. And that goes for our elegant, minimalist brides as well. This ultra sleek crew neck column gown features a minimal and structured cape that has a very high fashion feel to it, while still keeping things very simple.
23.

Morilee by Madeline Gardner: Charlene Wedding Dress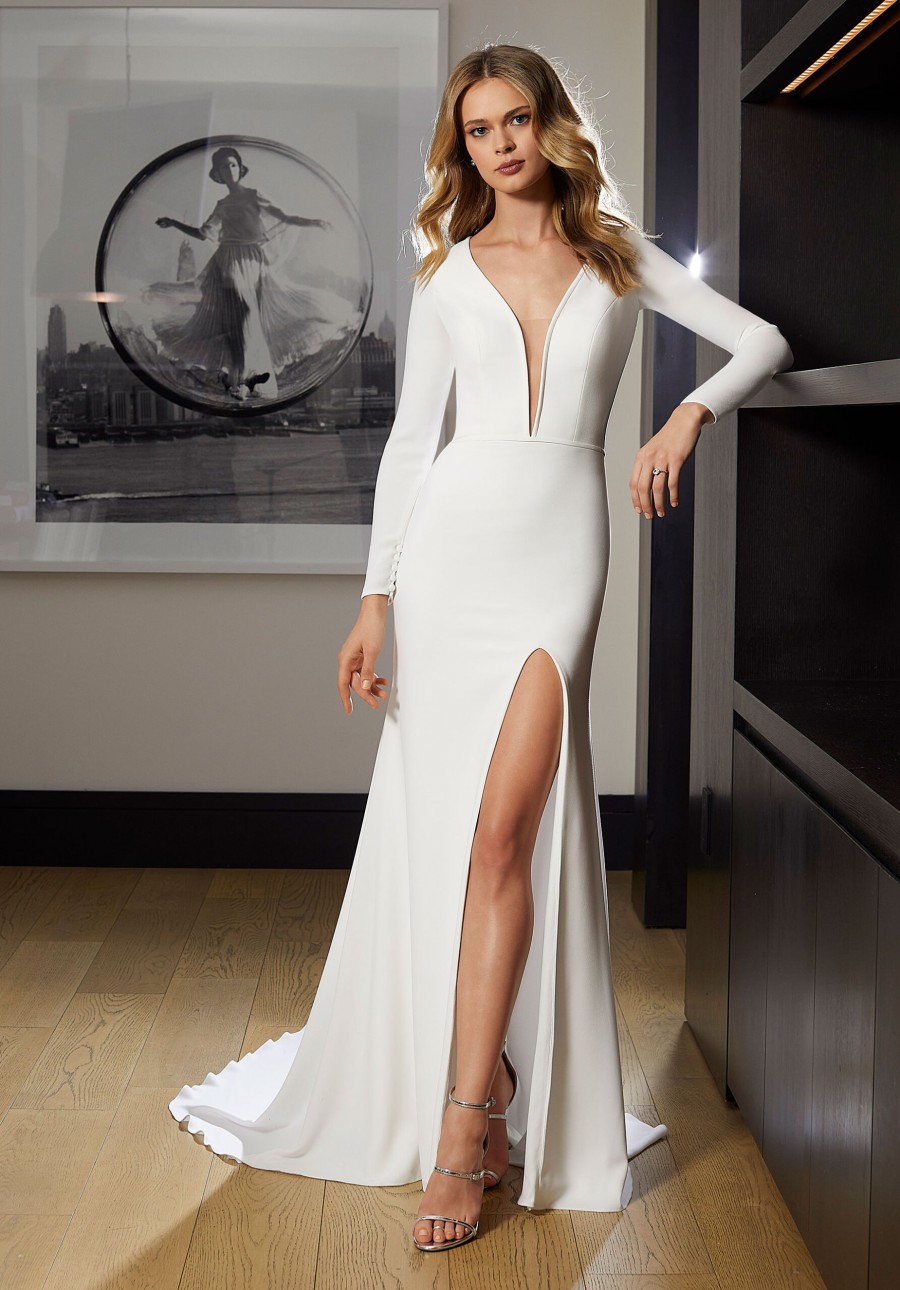 This next elegant and minimal bridal style is sure to stand out from the rest. Don't let it's sleek, simple appearance fool you. This gown is so chic and surprising from every turn. A few of our favorite features include the plunging neckline, with sheer inset and high front slit. With a gown like this, you can show off your sultry side, and your sophisticated side at the same time.
24.

Savannah Miller: Rose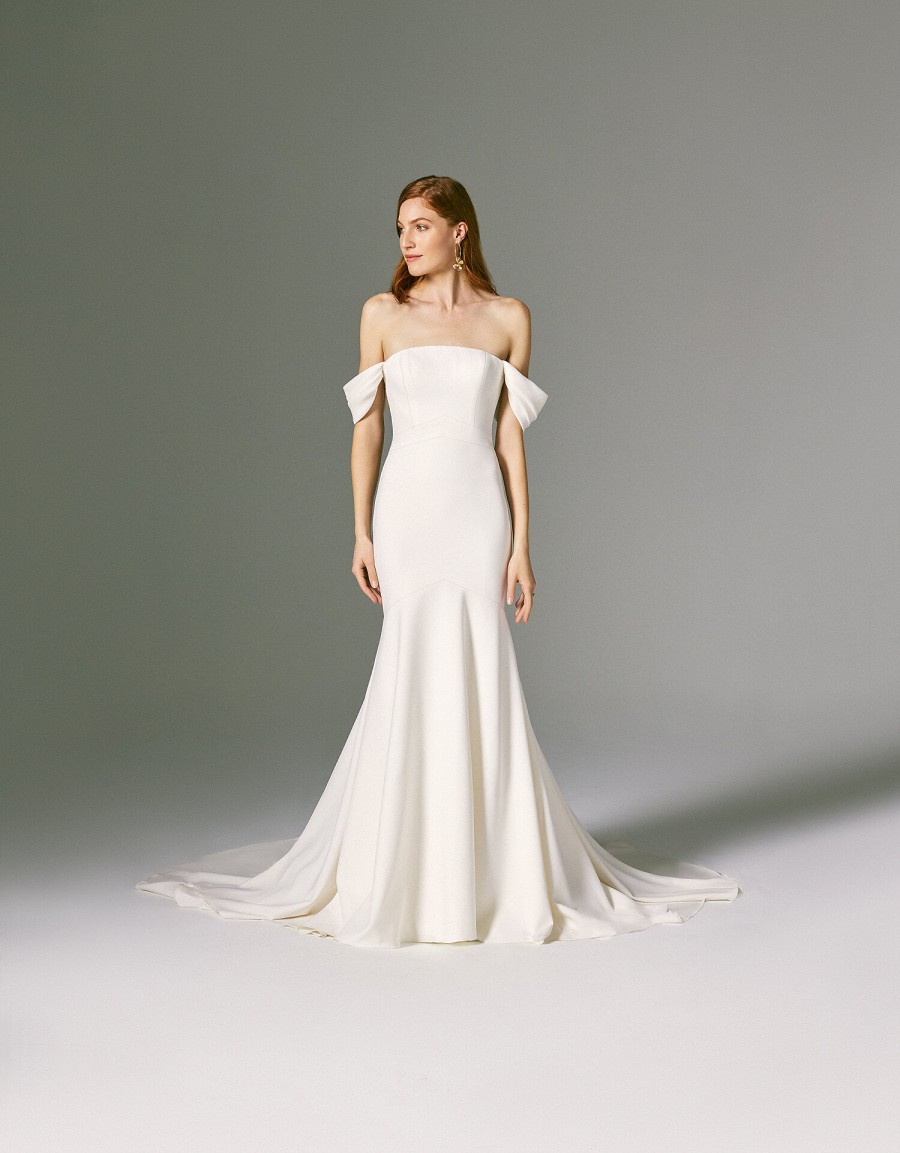 Elegant and effortless. This crepe off-the-shoulder gown from Savannah Miller may seem minimal in design. But it is sure to leave everyone breathless at your wedding.

By Kathryn Schrotenboer