Metallics are for so much more than your wedding day jewelry accents. And we are about to prove it with these trending metallic bridal styles.
It is time to break away from tradition a bit with these truly unique and trendy metallic wedding gowns. If you love all things metallic, then you don't want to miss this list. From rose gold to silver, we have gathered to top metallic wedding gowns that you just have to see!
01.

Rose Quartz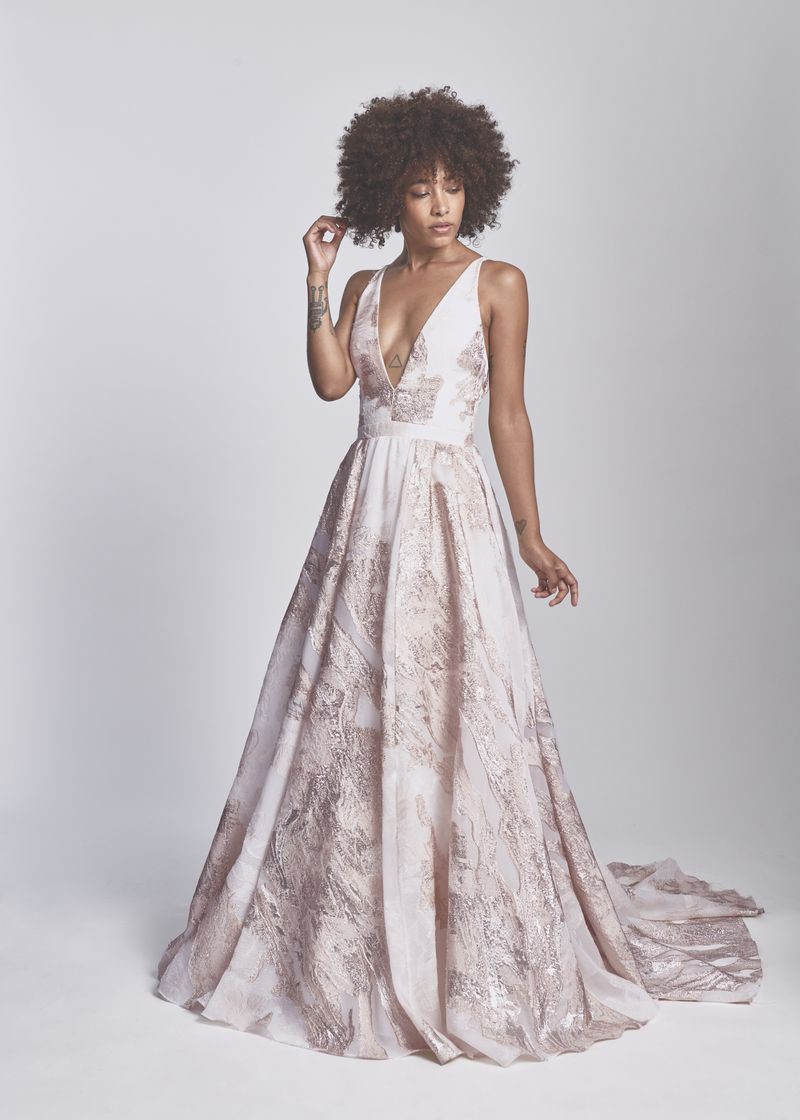 Where are all of our rose gold loving brides out there? Well ladies, we have the dress for you. Look no further than this rose quartz colored metallic wedding style from Alexandra Grecco.
02.

Silver Lining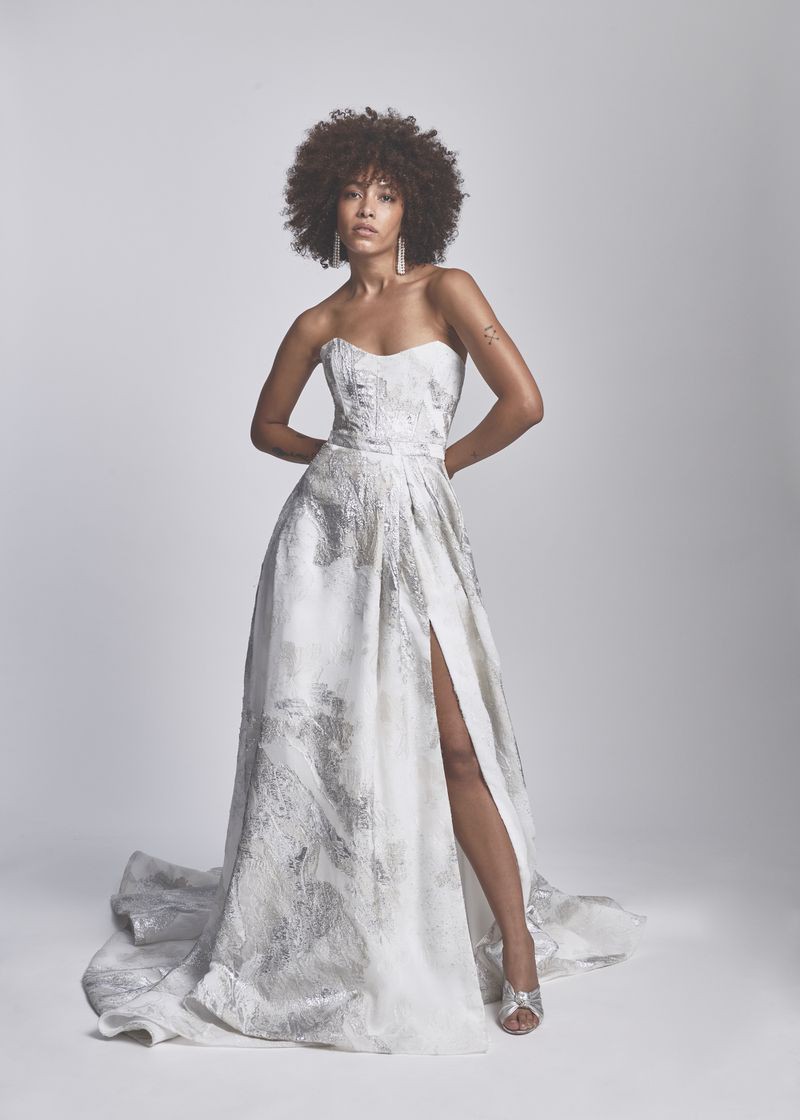 More of a silver loving bride? Don't worry, Alexandra Grecco has you covered there too with this stunning strapless silver accented bridal gown. A chic metallic wedding day look for a contemporary bride.
03.

Sunburst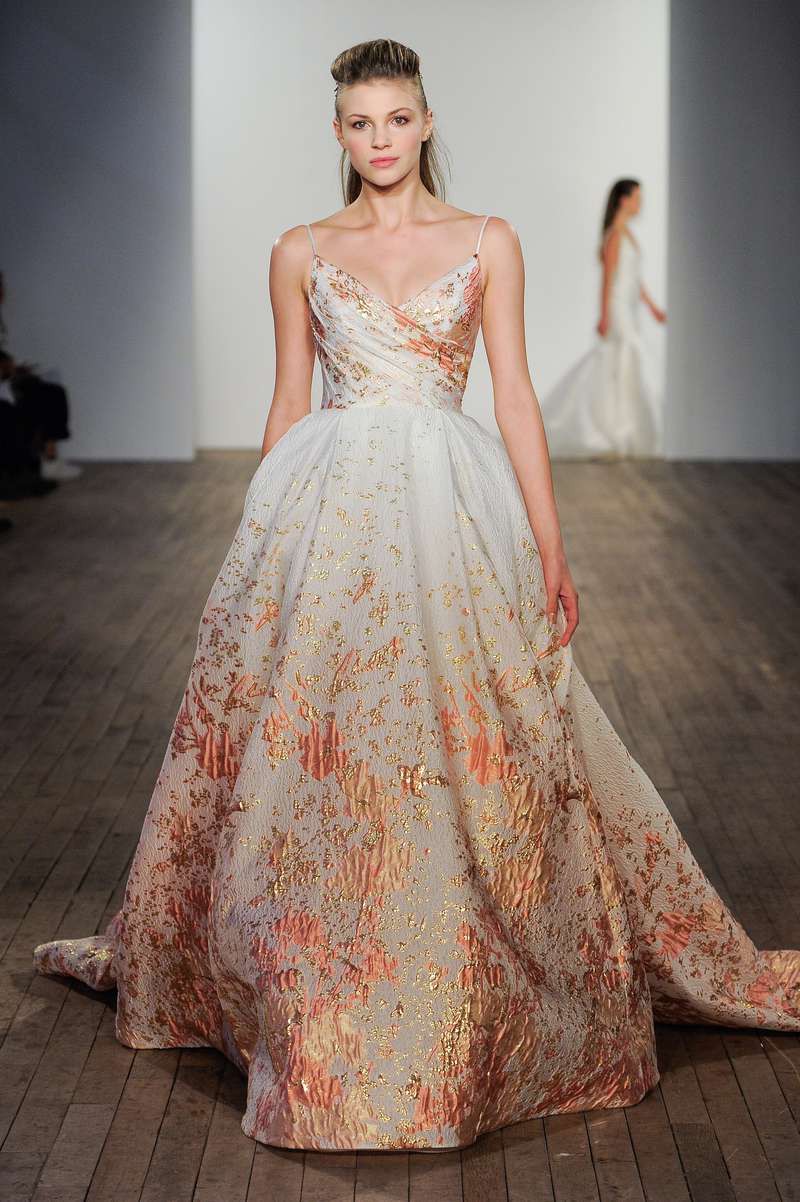 Make a bold, artistic statement on your big day with this starburst metallic accented wedding gown. This look will be sure to heat things up on your wedding day.
04.

Rose Gold Princess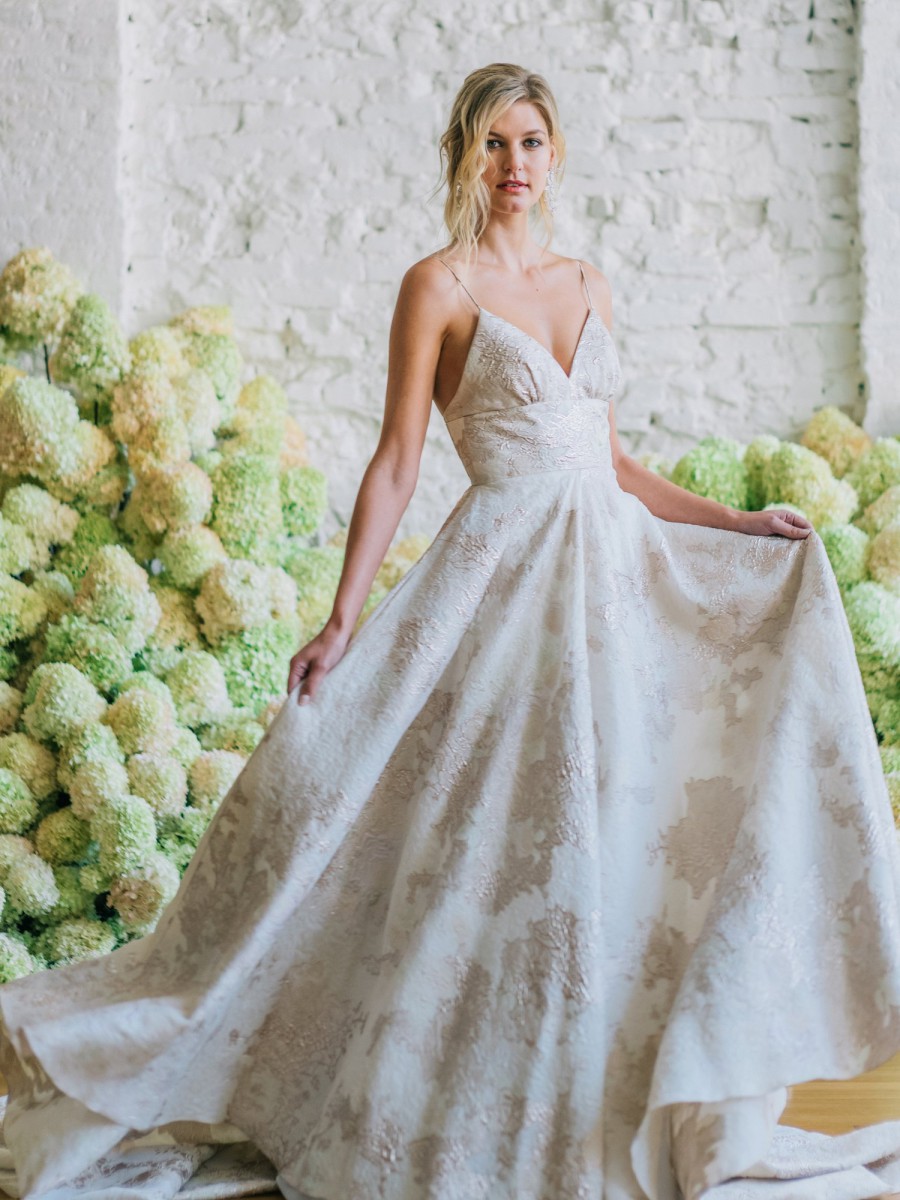 Carol Hannah brings us the next metallic wedding gown style with this gorgeous rose gold accented ball gown. Feel like a girly and chic princess on your big day is this beautiful metallic bridal style.
05.

Strapless Rose Gold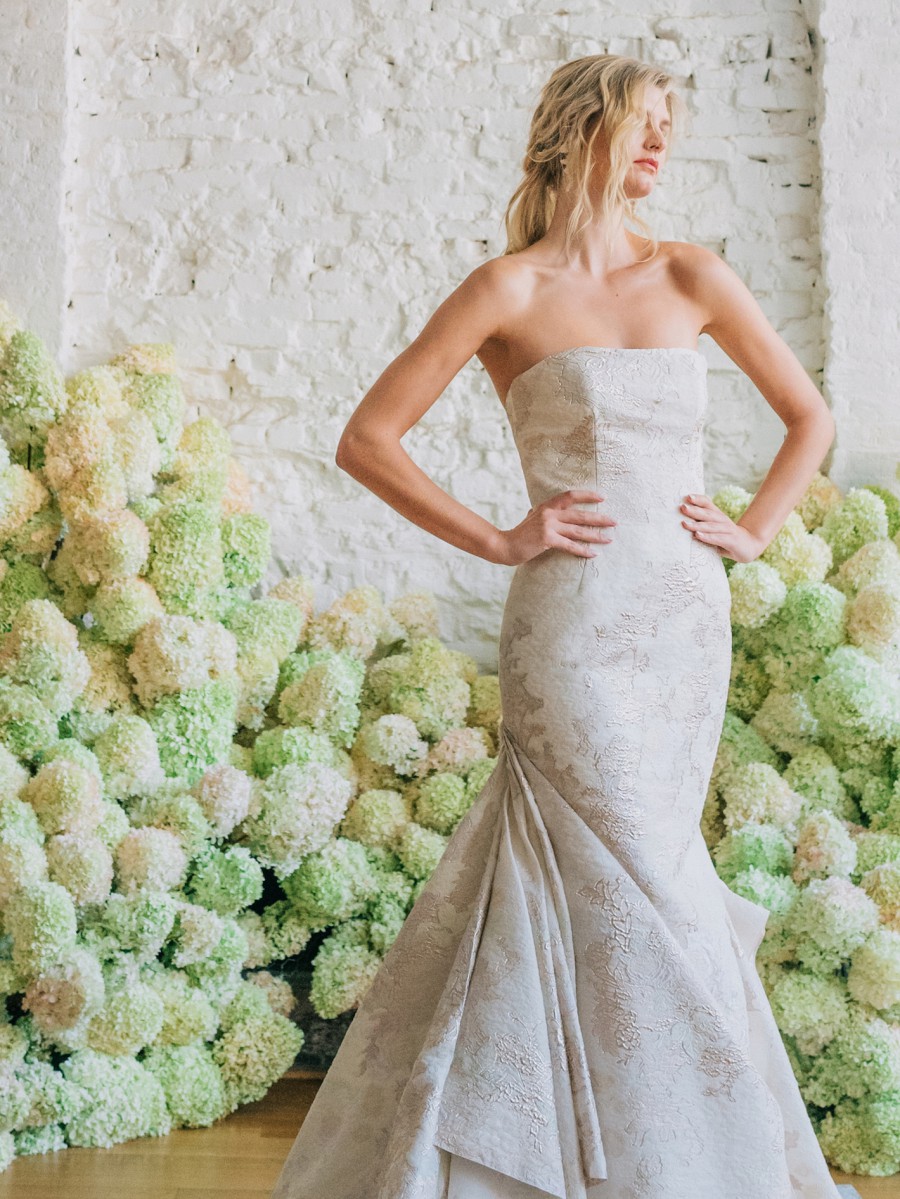 Love the previous wedding gown from Carol Hannah, but looking for a slightly different cut? How about this strapless version with the same metallic rose gold detailing?
06.

Golden Girl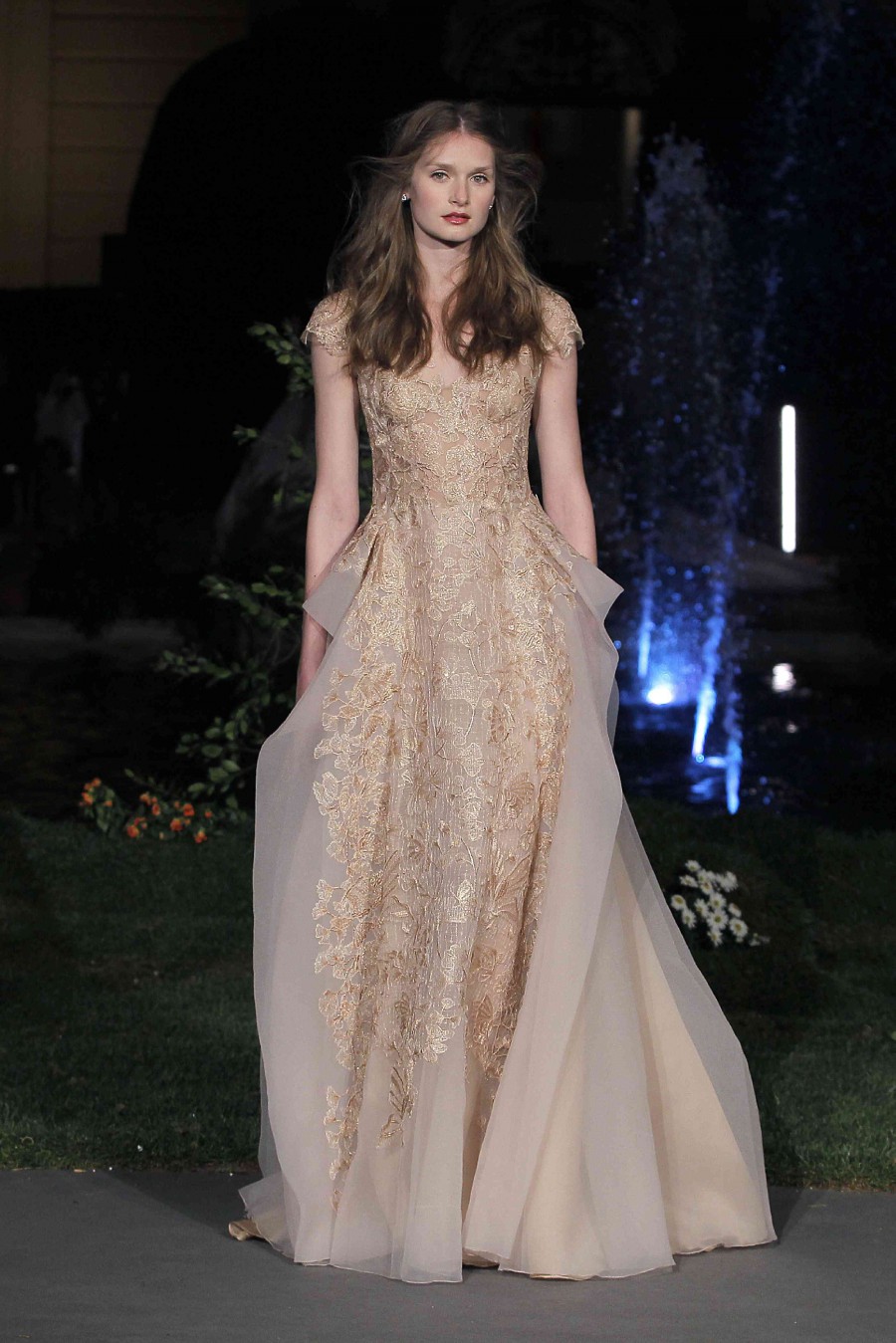 Embrace the metallic bridal trend with a girly, golden gown from Marchesa. Feel like a bride on your big day, but with a little less white.
07.

Abstract Golden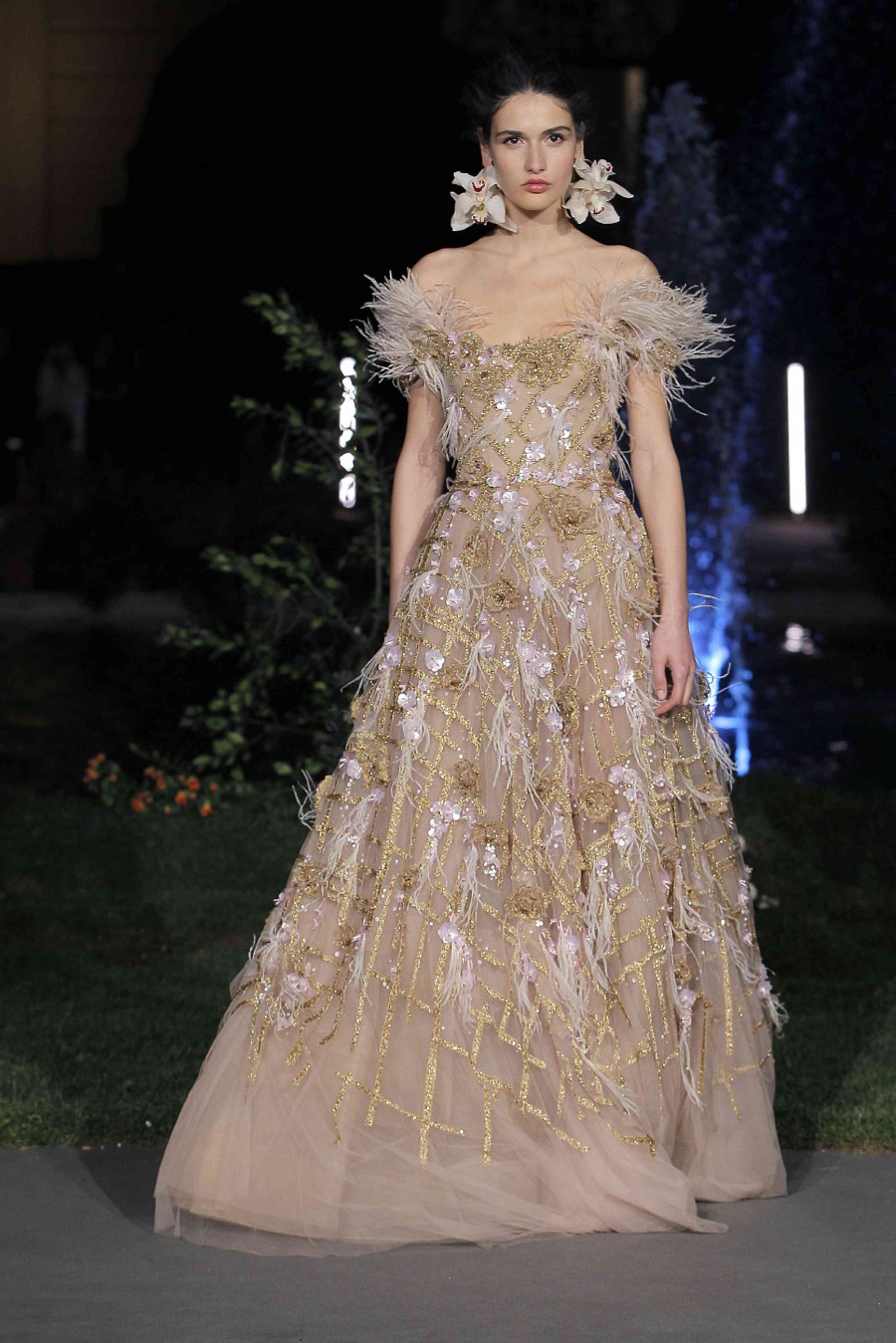 Love the idea of a golden wedding gown, but want to make an even bolder statement? Then amp things up with this next metallic accented wedding gown from Marchesa.
08.

Shimmering Princess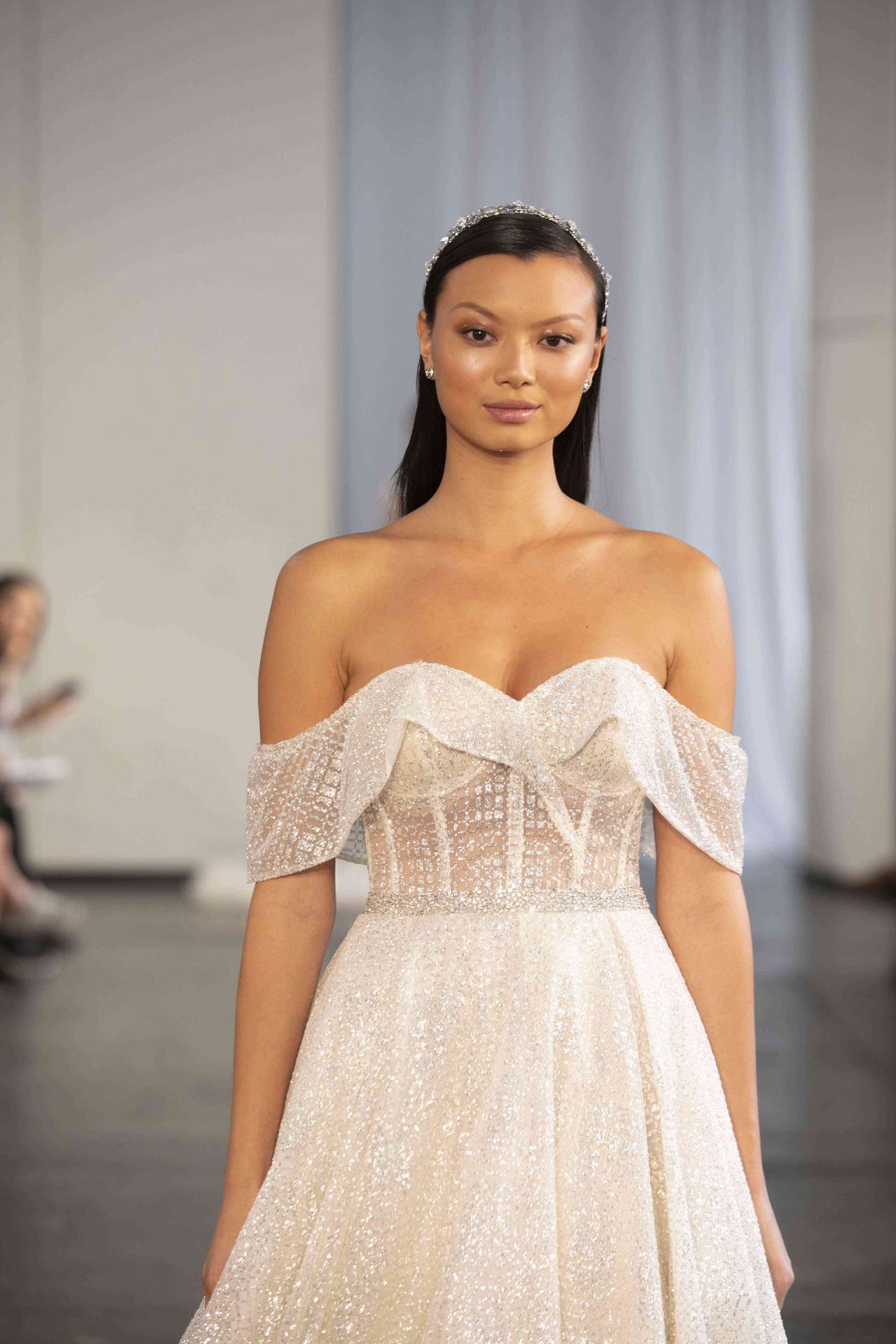 Feel like a glittering princess with this off the shoulder metallic accented wedding gown from Berta. A metallic wedding day look that will have you feeling sparkly and girly all day while looking chic and romantic.
09.

Paris Metallics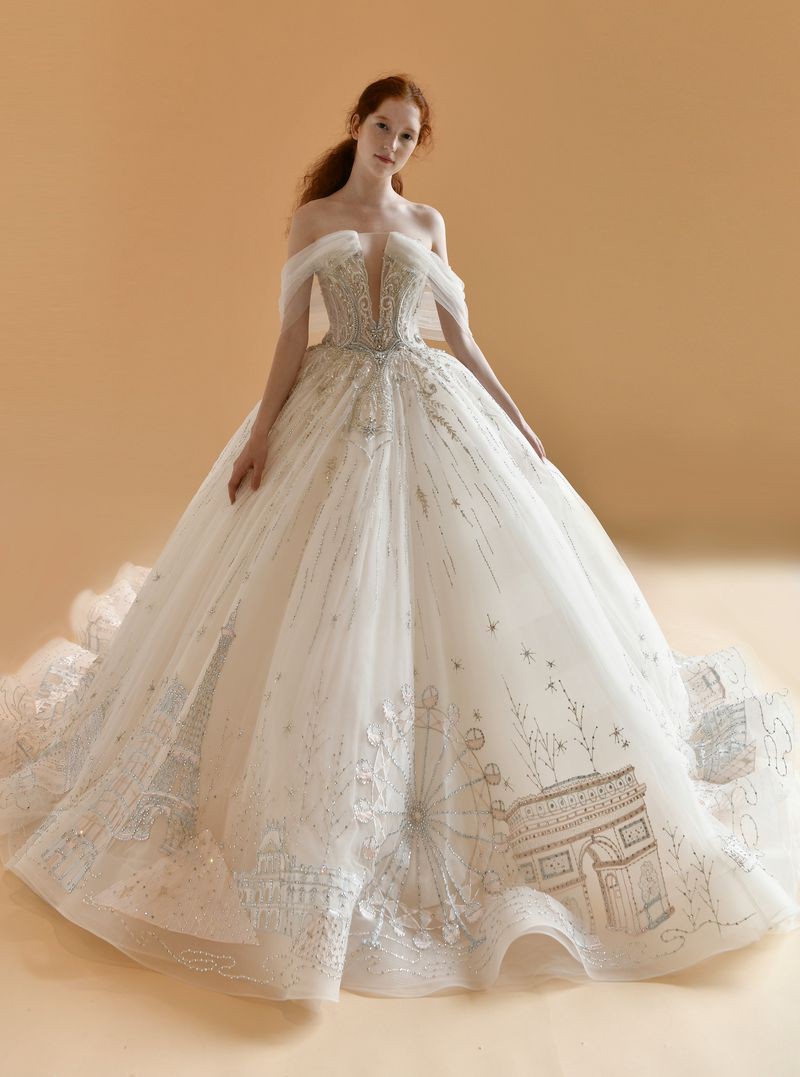 Our next metallic bridal style features an intricate Paris architecture design that is completely dramatic and unexpected.
10.

Caped in Metallics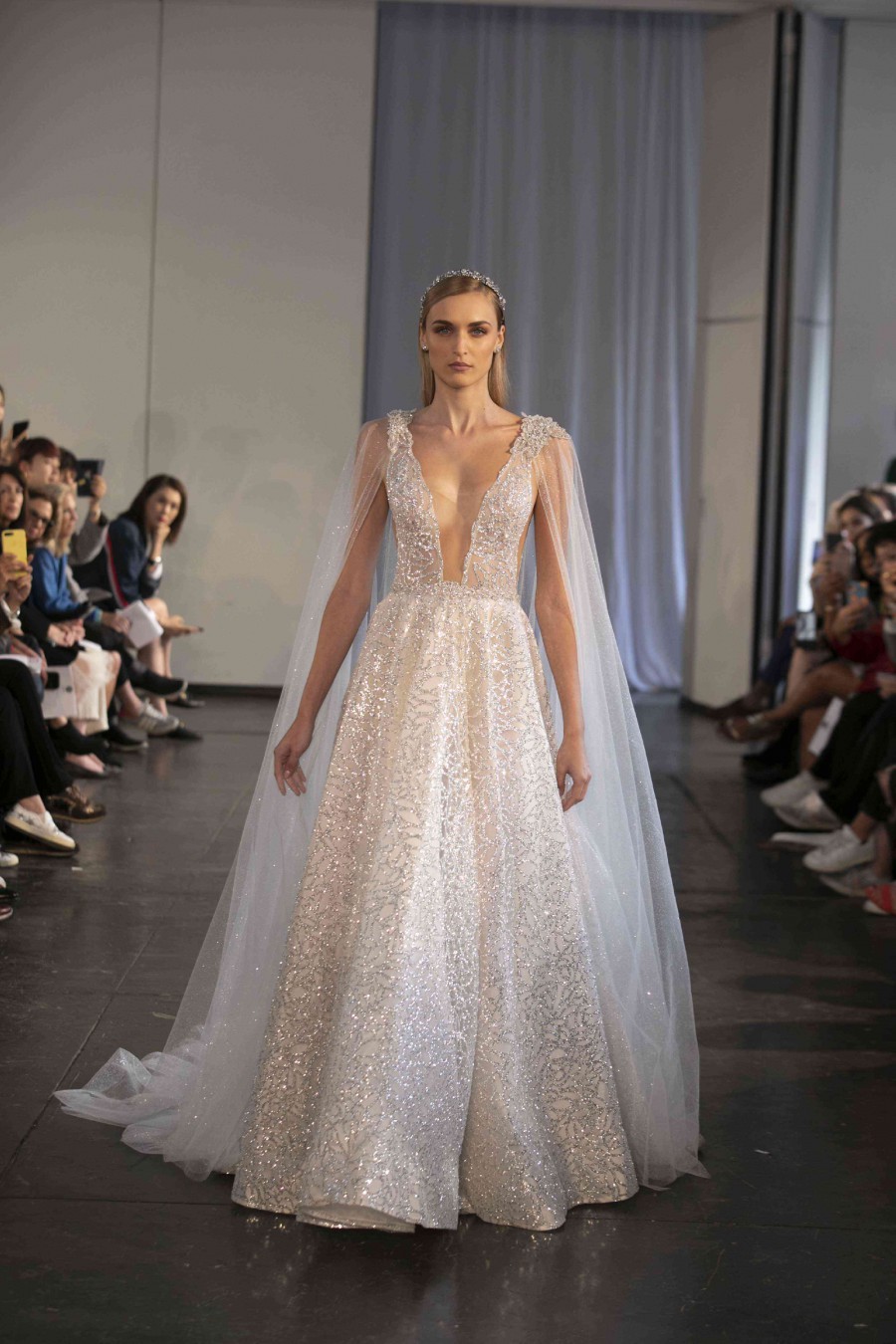 Think of a mix between Cinderella and Snow White with this next sparkly metallic accented fit and flare style with tulle cape accent. What girl doesn't love some metallic sparkle?
11.

Silver Fringe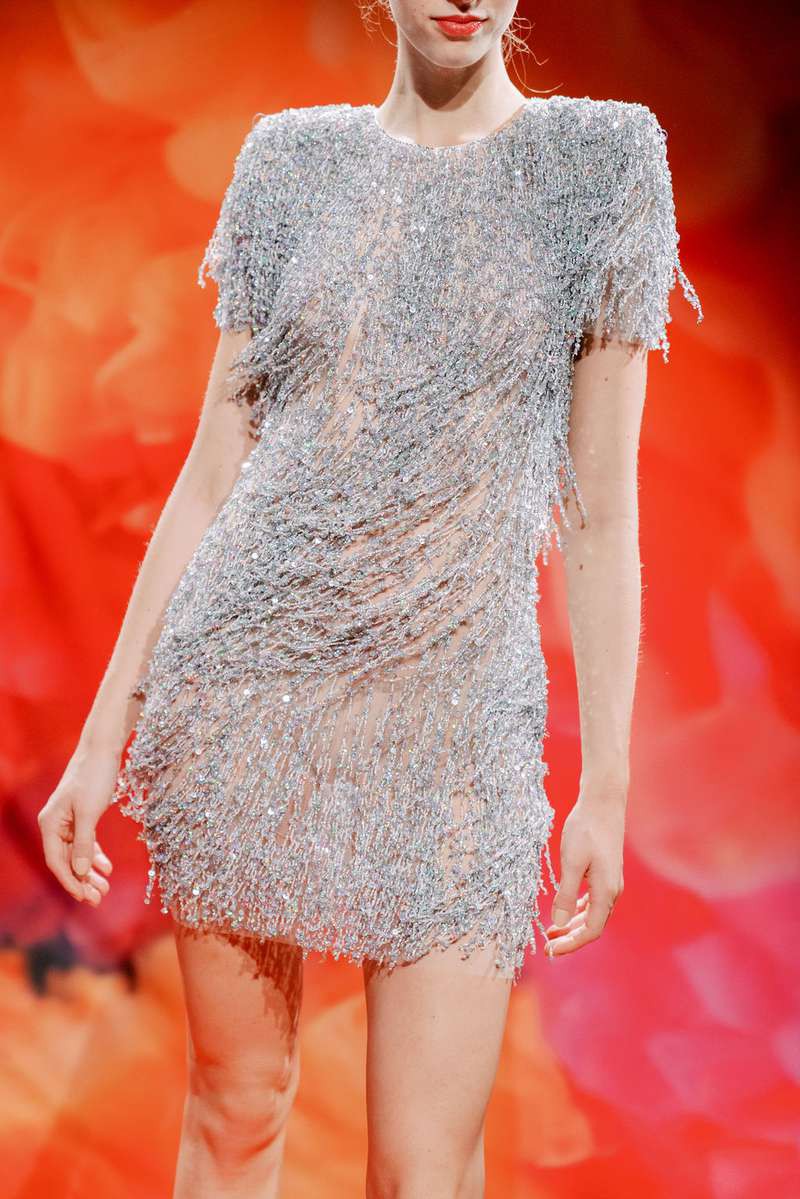 The perfect metallic bridal reception party dress! When you are ready to ditch the ball gown and get ready to dance the night away, a playful cocktail dress like this is the perfect way to go.
12.

Golden Glam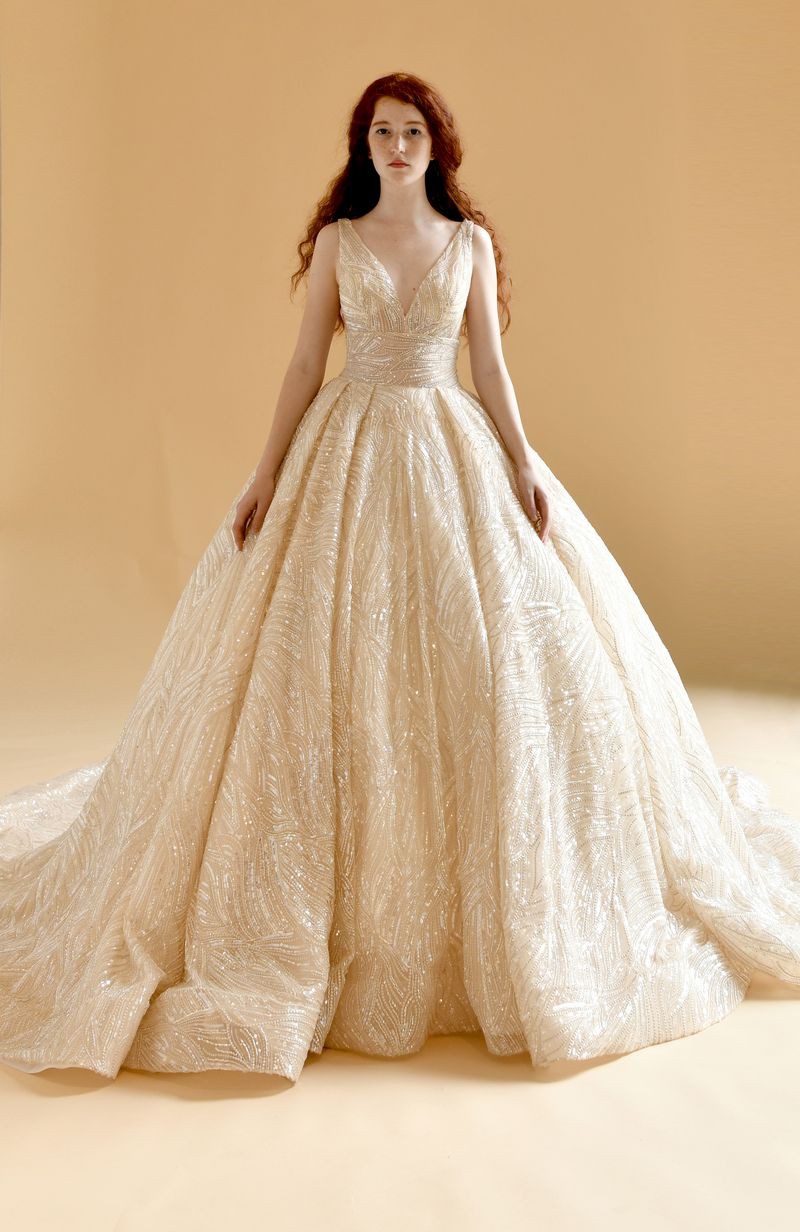 Our gold loving brides out there are going to love this golden accented ball gown. This ultra glam style will have you feeling like Cinderella on your big day.
13.

Rose Gold Florals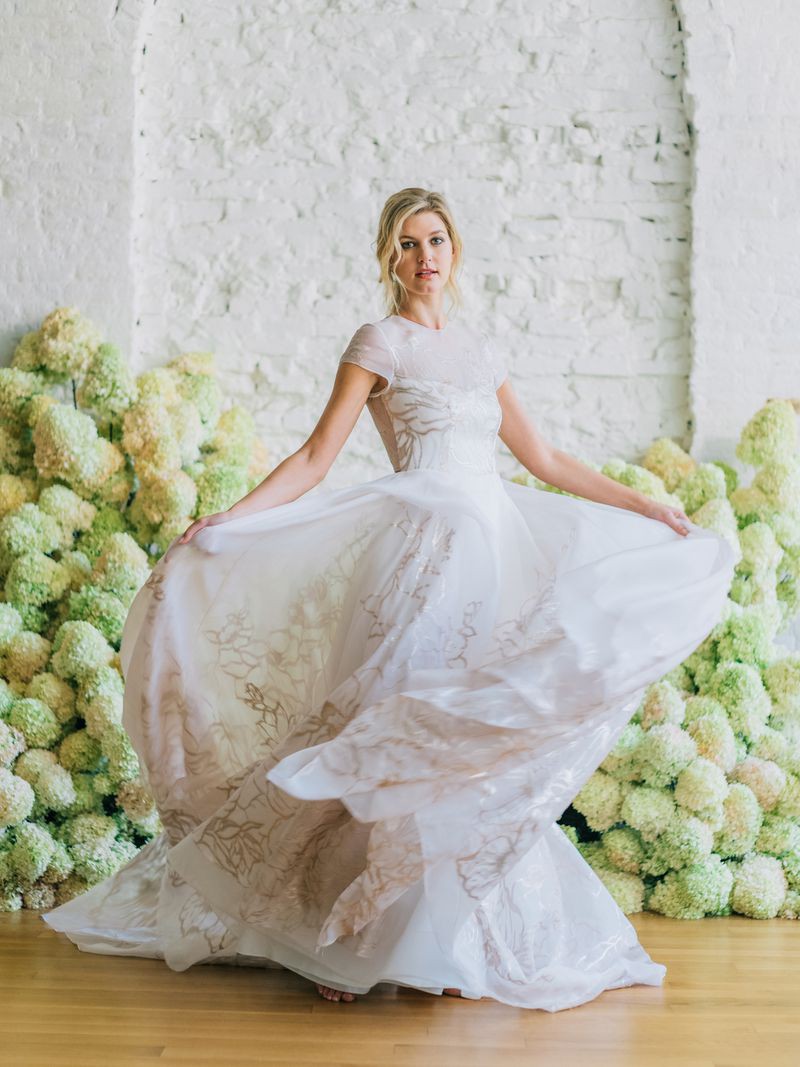 Our girly brides out there who love rose gold...this is the gown for your. A very girl-next-door t-shirt style cut wedding gown with all over rose gold florals. What is not to love about this adorable metallic wedding gown?
14.

Dreamy Silver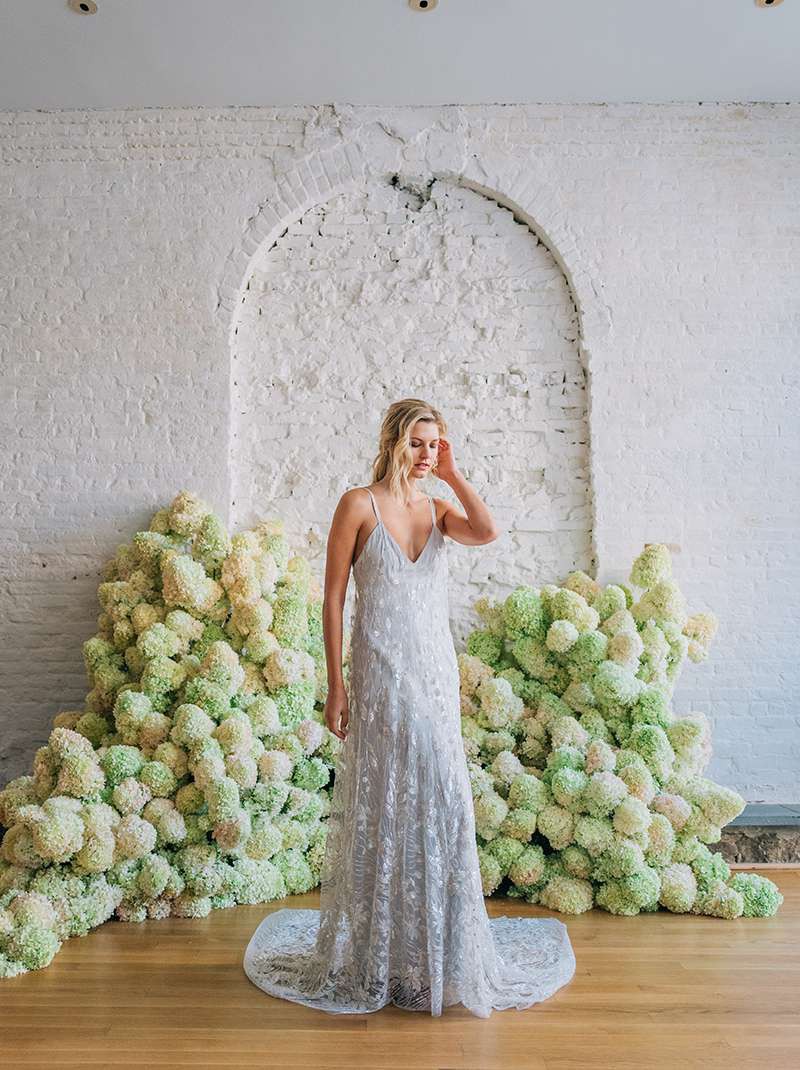 Our next metallic bridal style is a dreamy silver beaded slip gown from Carol Hannah. This gown meshes an ethereal, feminine style with contemporary metallic detailing.
15.

Silver Lace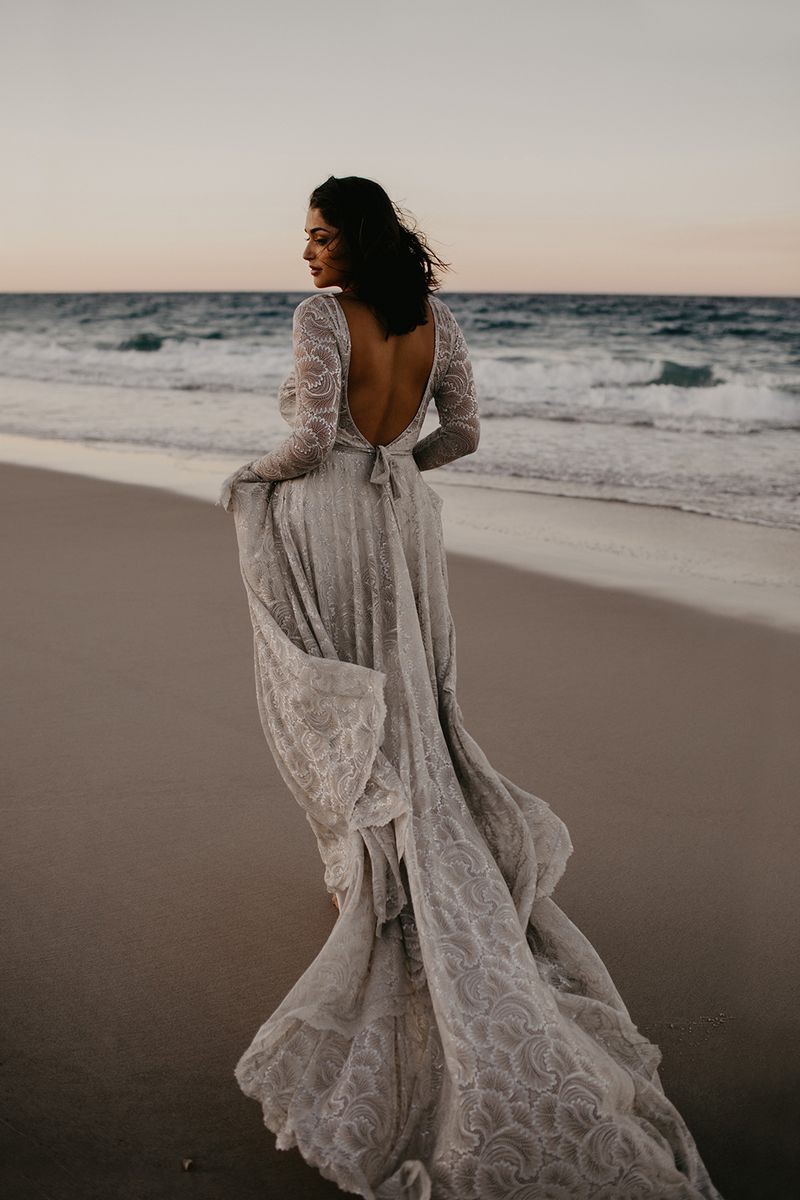 Next, we have a dreamy metallic wedding gown from Grace Loves Lace. This champagne and silver lace wedding gown is delicate and feminine. A fairytale worthy way to wear metallics on your big day.
16.

Mirrored Metallics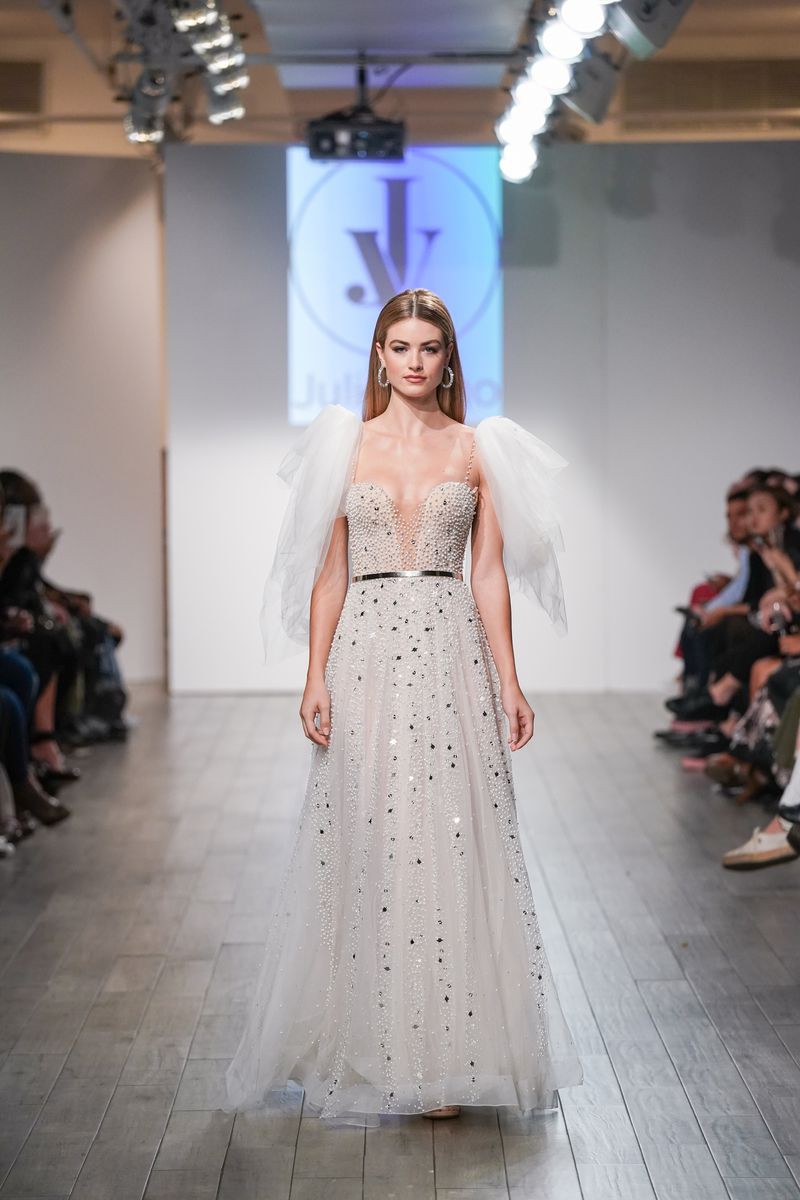 How about a mirrored metallic accented wedding gown that will really pop on your big day? We love the subtle, yet exciting metallic detailing on this beautiful feminine gown from Julie Vino.
17.

Green and Gold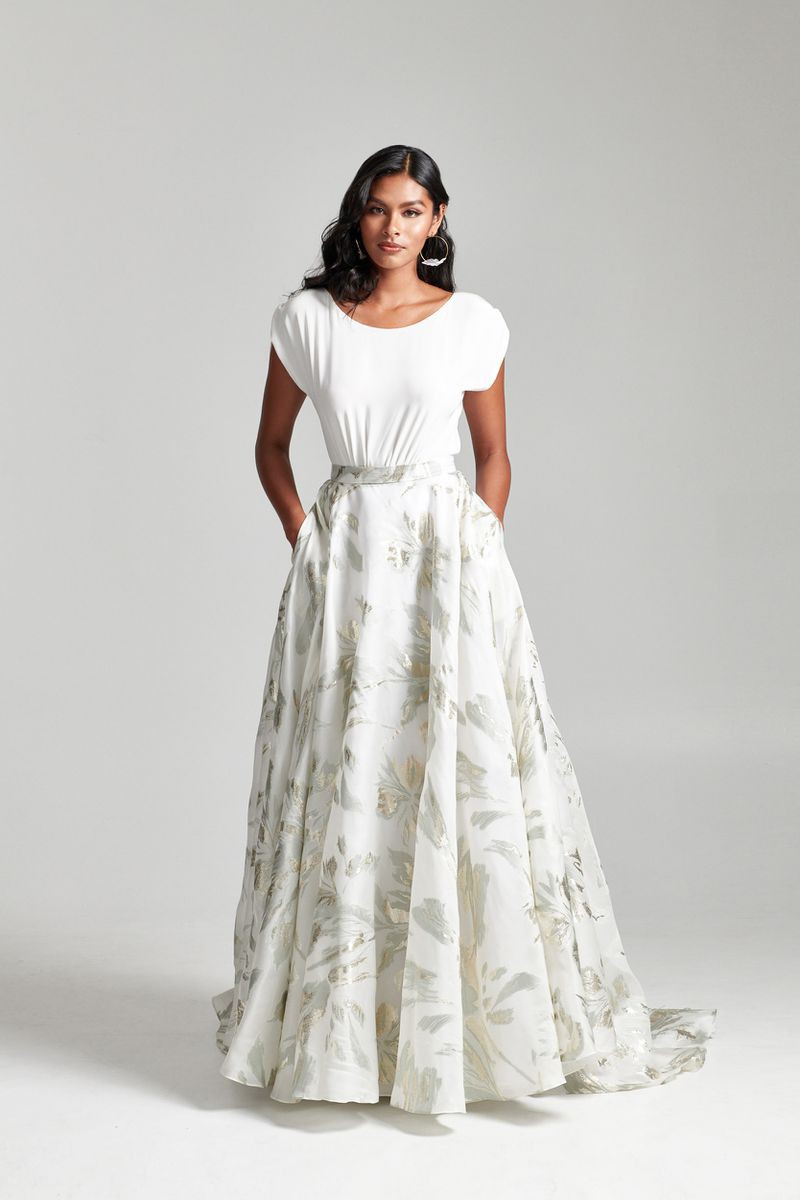 We love the relaxed feel of this next metallic wedding gown. A short sleeves white top is paired with a gold and green skirt for a one of a kind wedding style. The perfect way to embrace the metallic trend in a girly, feminine way!
18.

All that Sparkles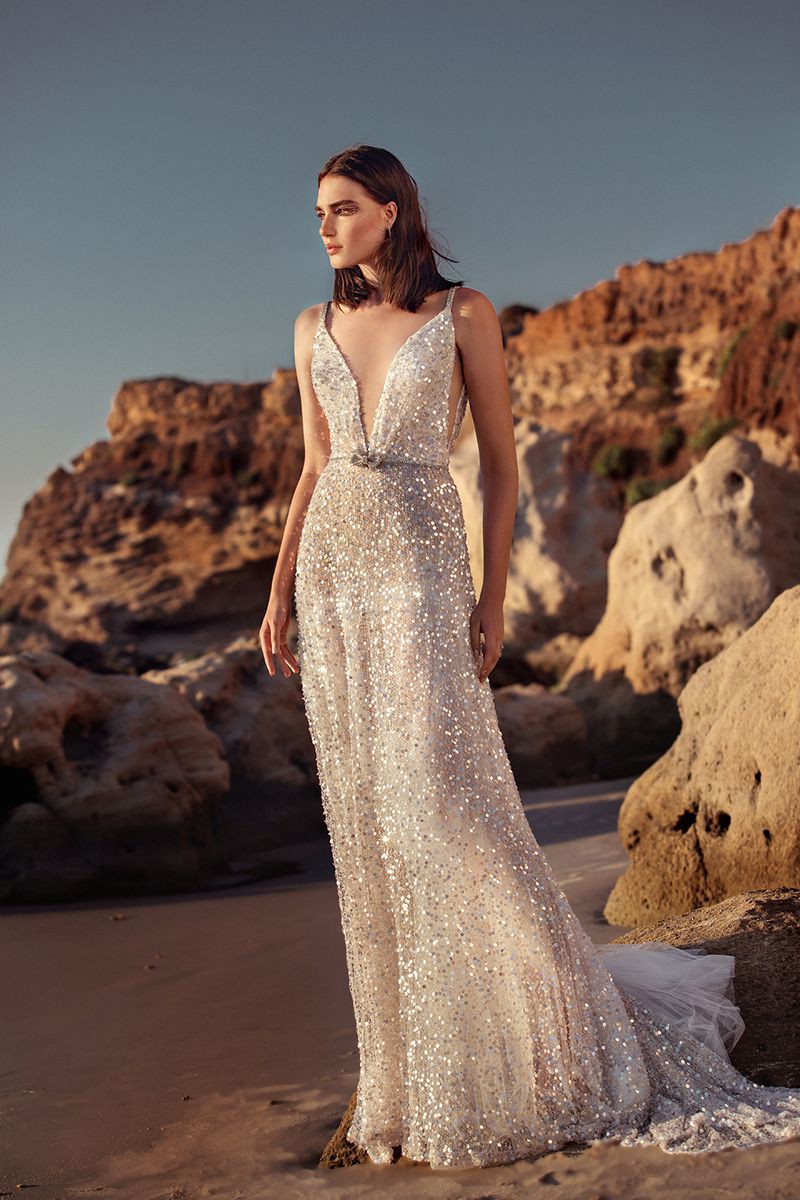 What bride can resist a sparkly wedding day look? This chic gown from Galia Lahav embraces the metallic trend in a ultra glamorous and girly way.
19.

Luxe Silver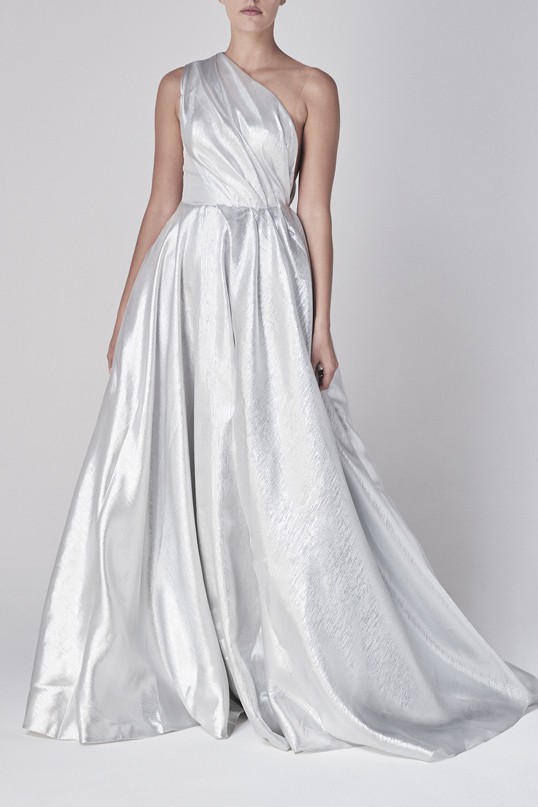 Next we have a luxe red carpet ready silver metallic wedding gown that is sure to turn heads on your big day. A silver metallic wedding gown is sure to add some drama to your big day style.
20.

Silver Kimono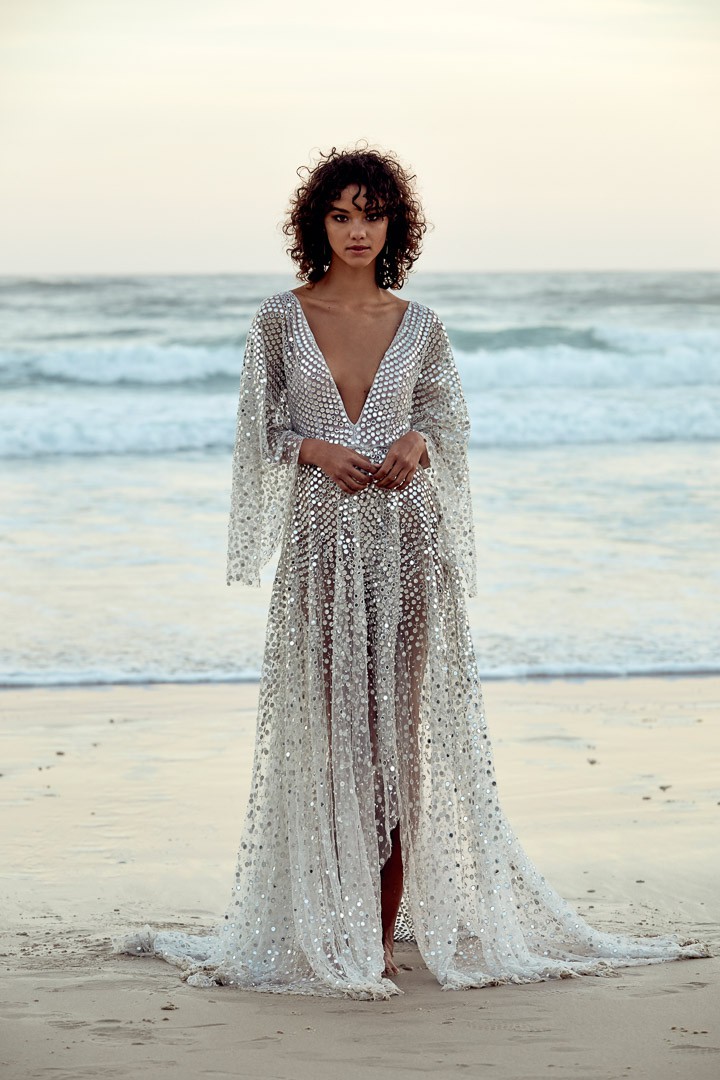 One Day Bridal brings us the next metallic bridal style with this one of a kind kimono cut silver accented gown. This look has a very mermaid-like feel to it - perfect for your glamorous beach front wedding day.
21.

Golden Goddess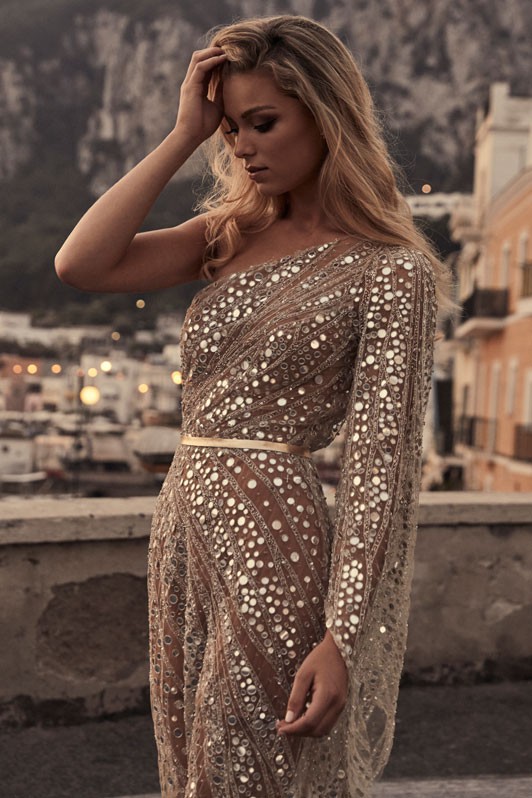 Are you loving the previous metallic bridal style from One Day Bridal? How about this golden single sleeve gown with One Day Bridal's signature embellishment? What girly girl can resist this metallic bridal style?
22.

Gold Foil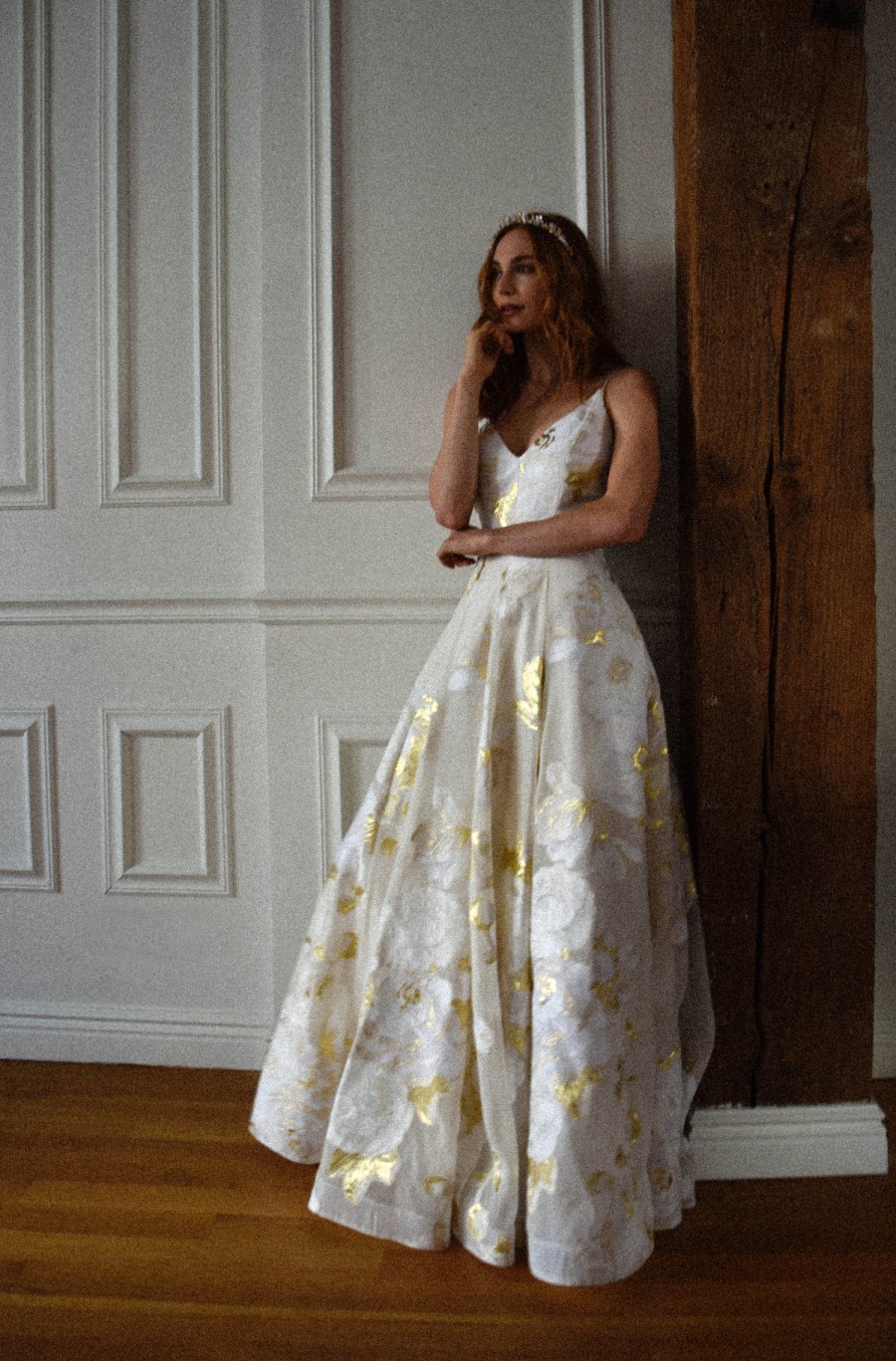 The Dream Heart collection from Carol Hannah brings us this stunning bridal gown that has an almost gold foil appliqué appearance. A classic feminine style, with a contemporary metallic pop of detailing.
23.

Silver Sparkle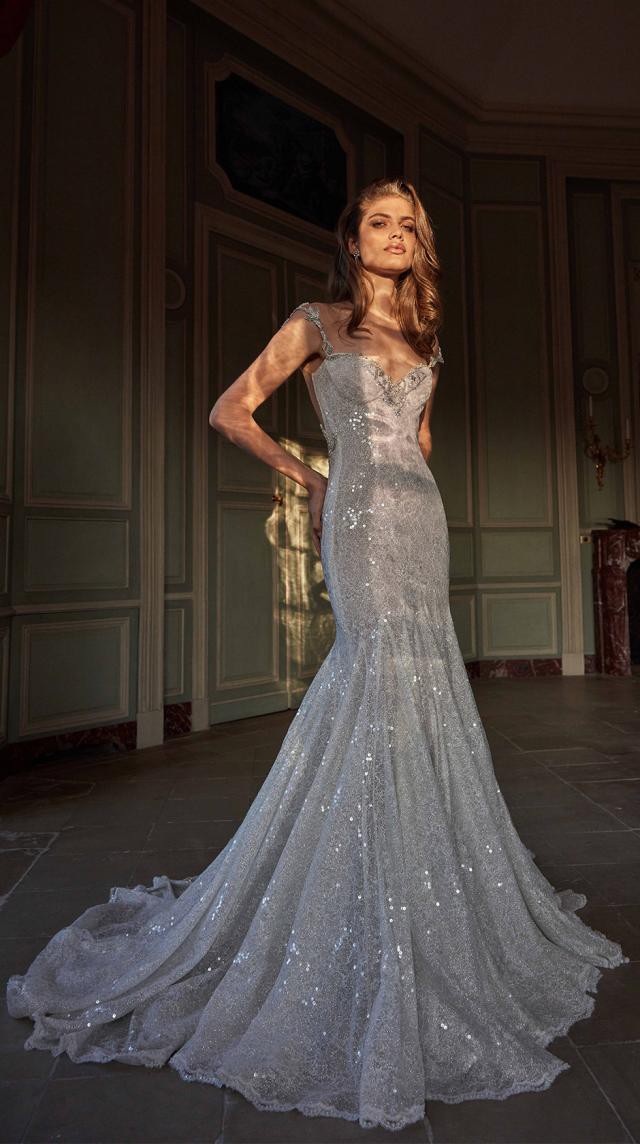 Our next metallic bridal style is a soft tulle mermaid gown from Galia Lahav. This look features an all over silver sparkle detailing that is hard for any girl to resist.
24.

Rose Gold Skirt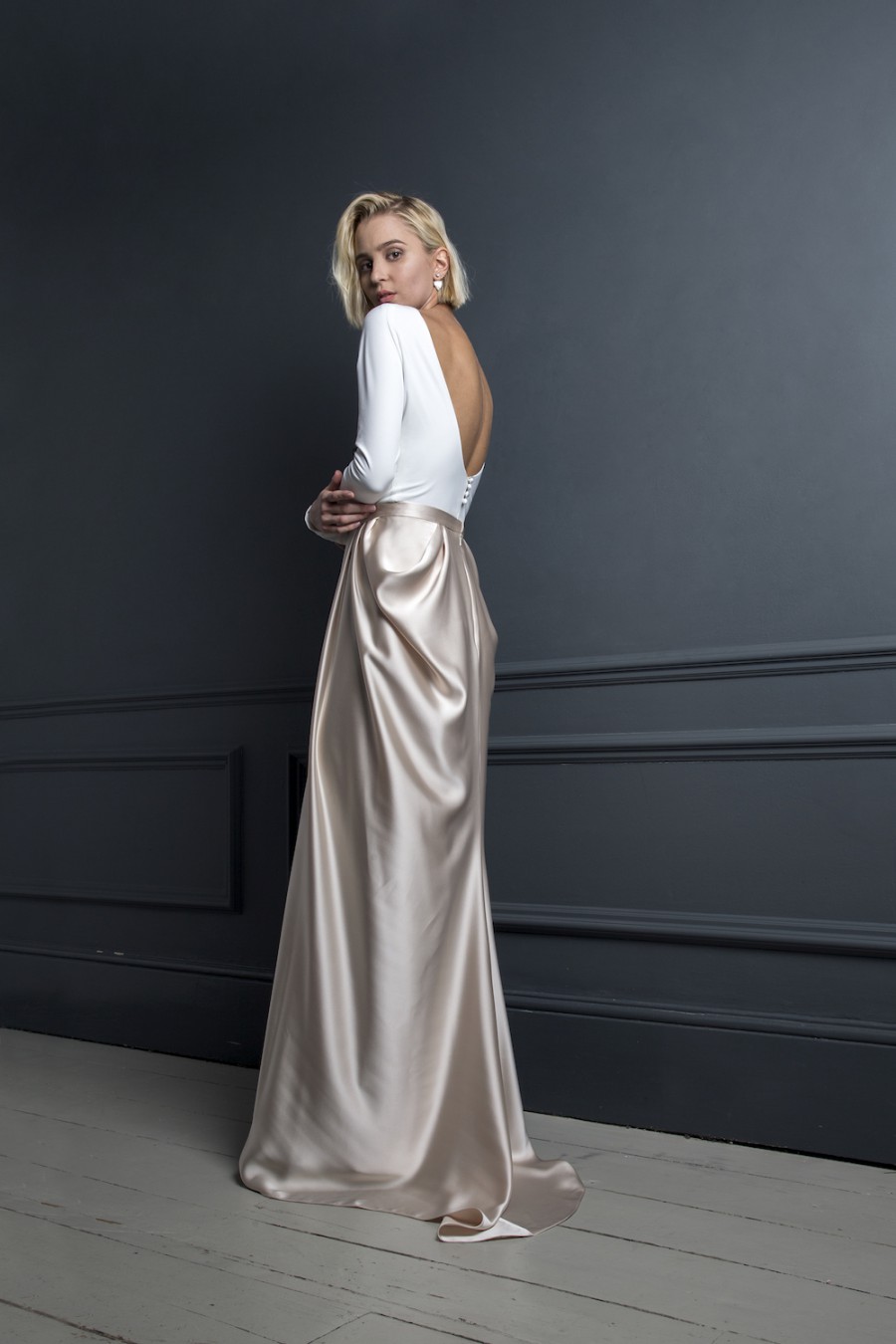 Calling all of our rose gold loving brides! Are you not in love with this stunning metallic wedding gown from Halfpenny London? Featuring a sleek low back white top, and silk rose gold skirt...how is a girl to resist?
25.

Metallic Lace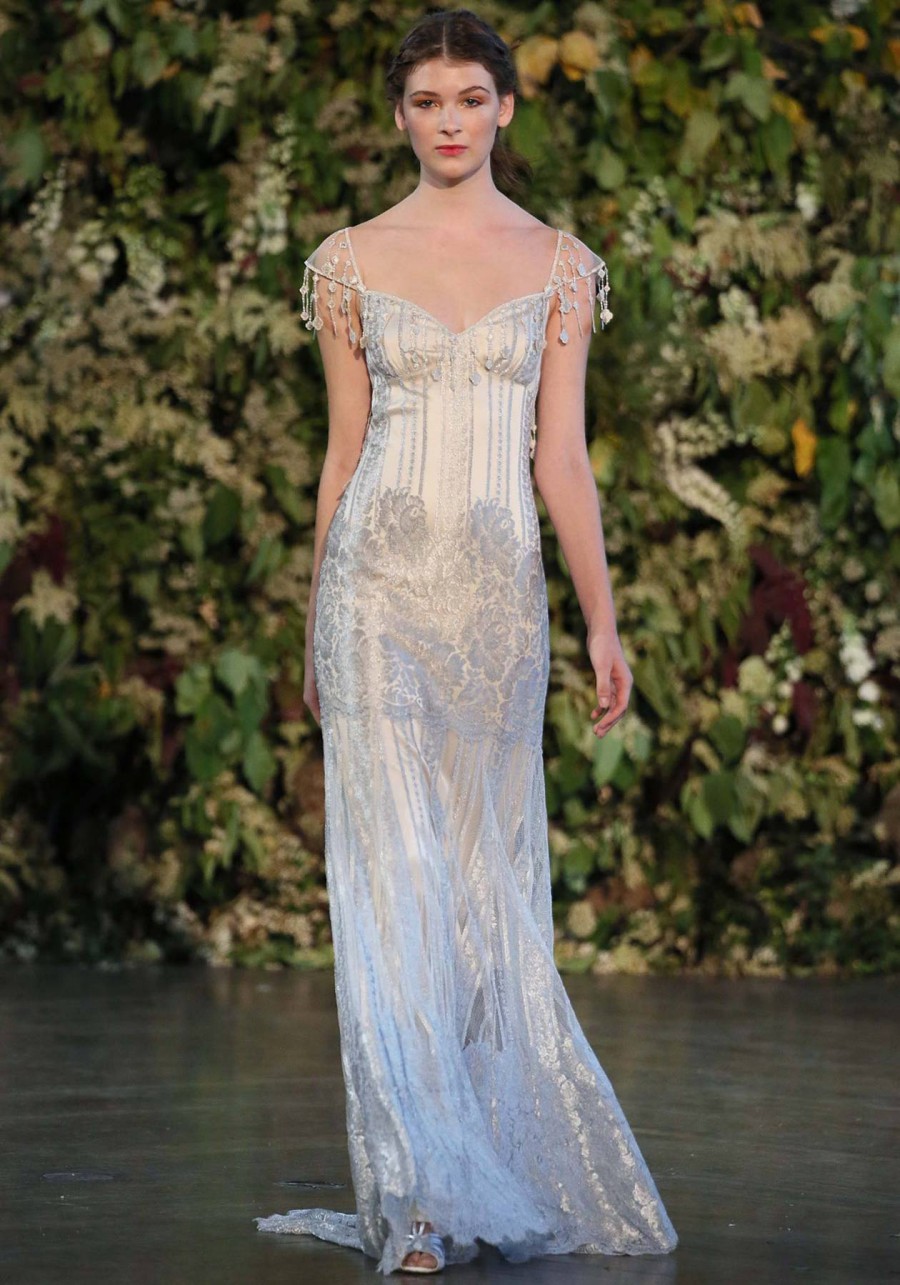 We are just in love with the antique vintage feel of this next metallic wedding gown. Claire Pettibone brings us a French metallic lace wedding gown that is absolutely dreamy. This look goes to show that a metallic wedding gown doesn't have to be ultra modern - it can have a vintage feel to it as well!
26.

Silver Lace Glam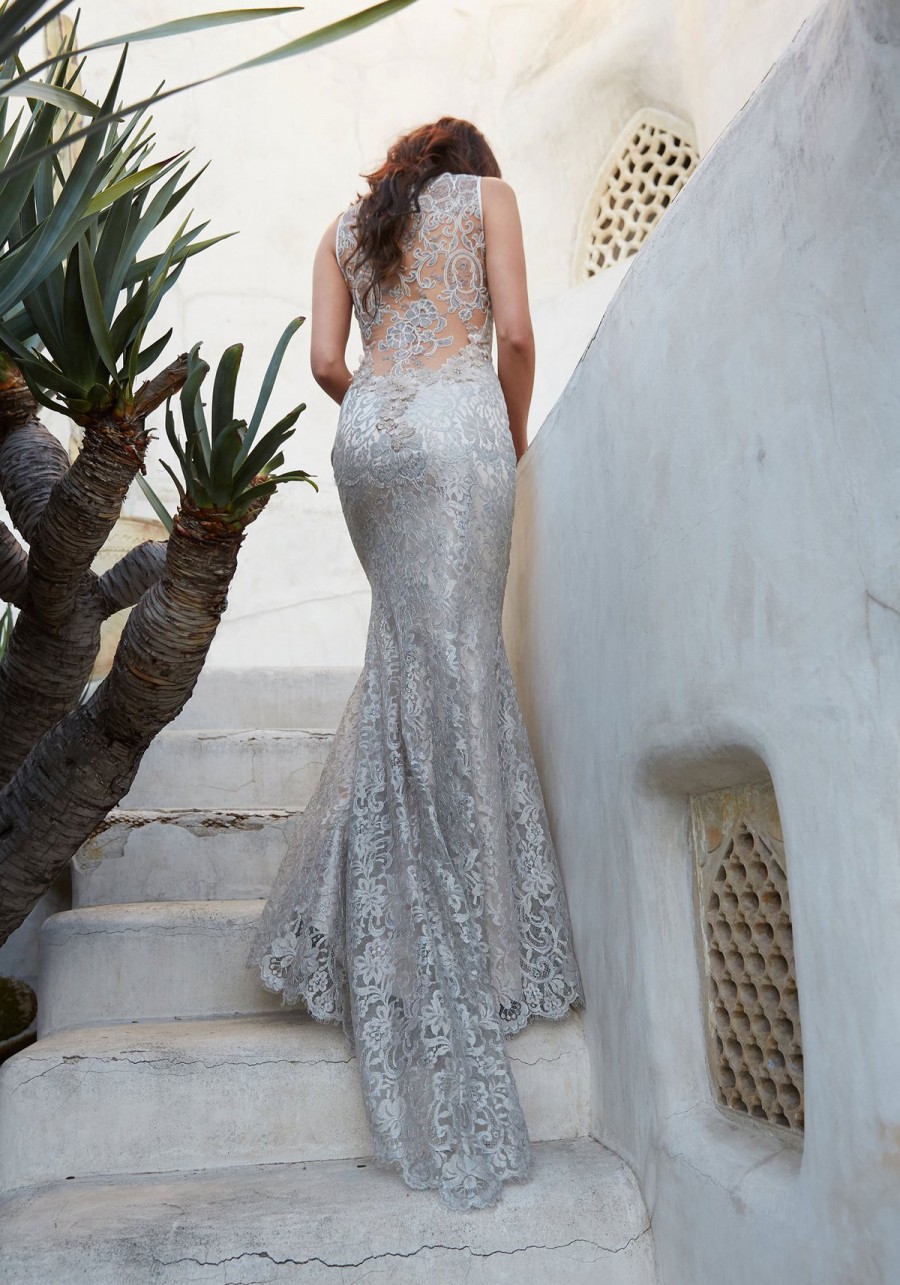 Claire Pettibone brings us another metallic lace wedding gown with this glamorous silver metallic lace dress. This look is timeless, glamorous, and trendy - and we absolutely love it!
27.

Silver Embroidery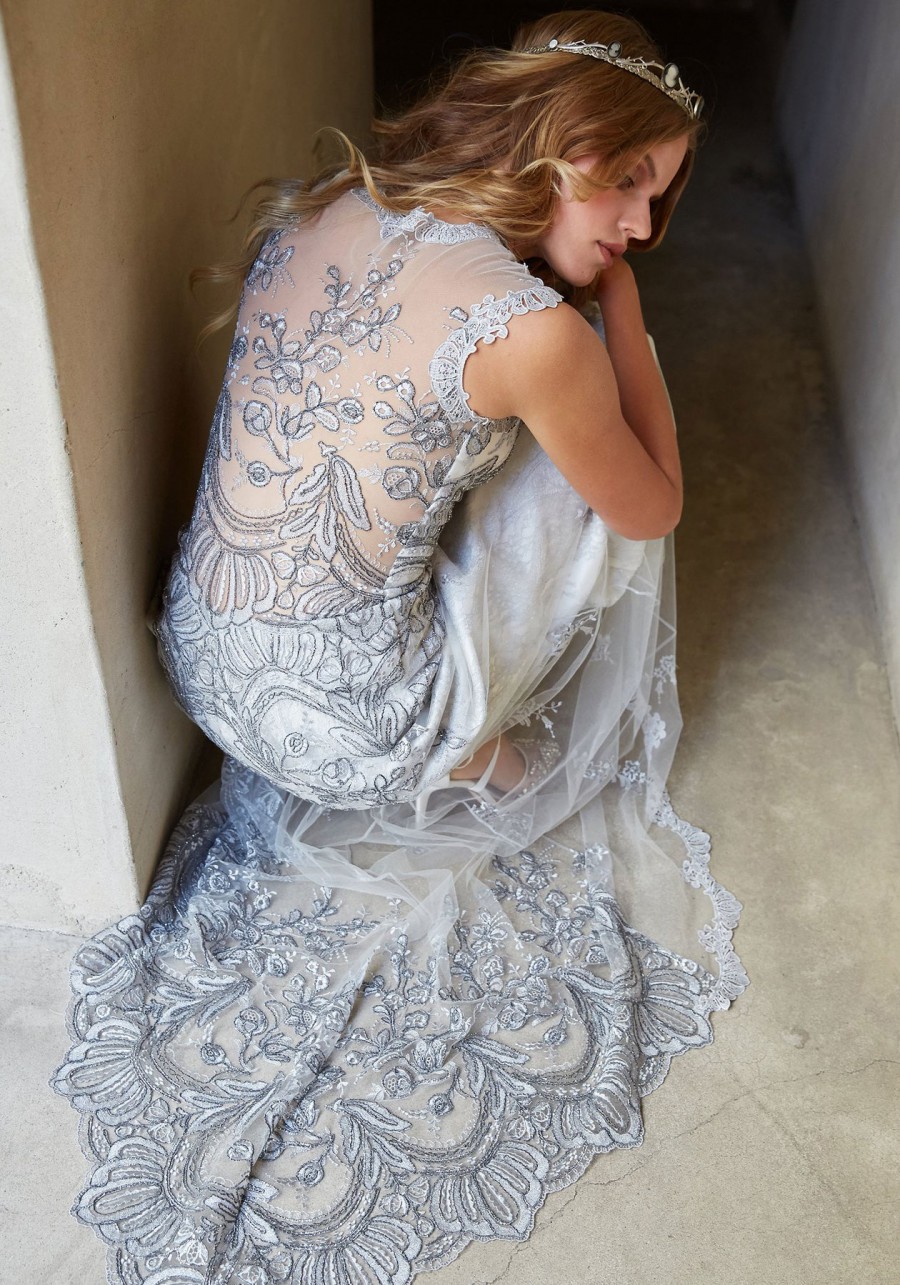 If you love the previous style, them you are going to love this silver metallic embroidered gown as well. A similar glamorous, timeless style from Claire Pettibone, but this time with intricate silver embroidery. A classic way to wear metallics on your big day.
28.

Regal Metallics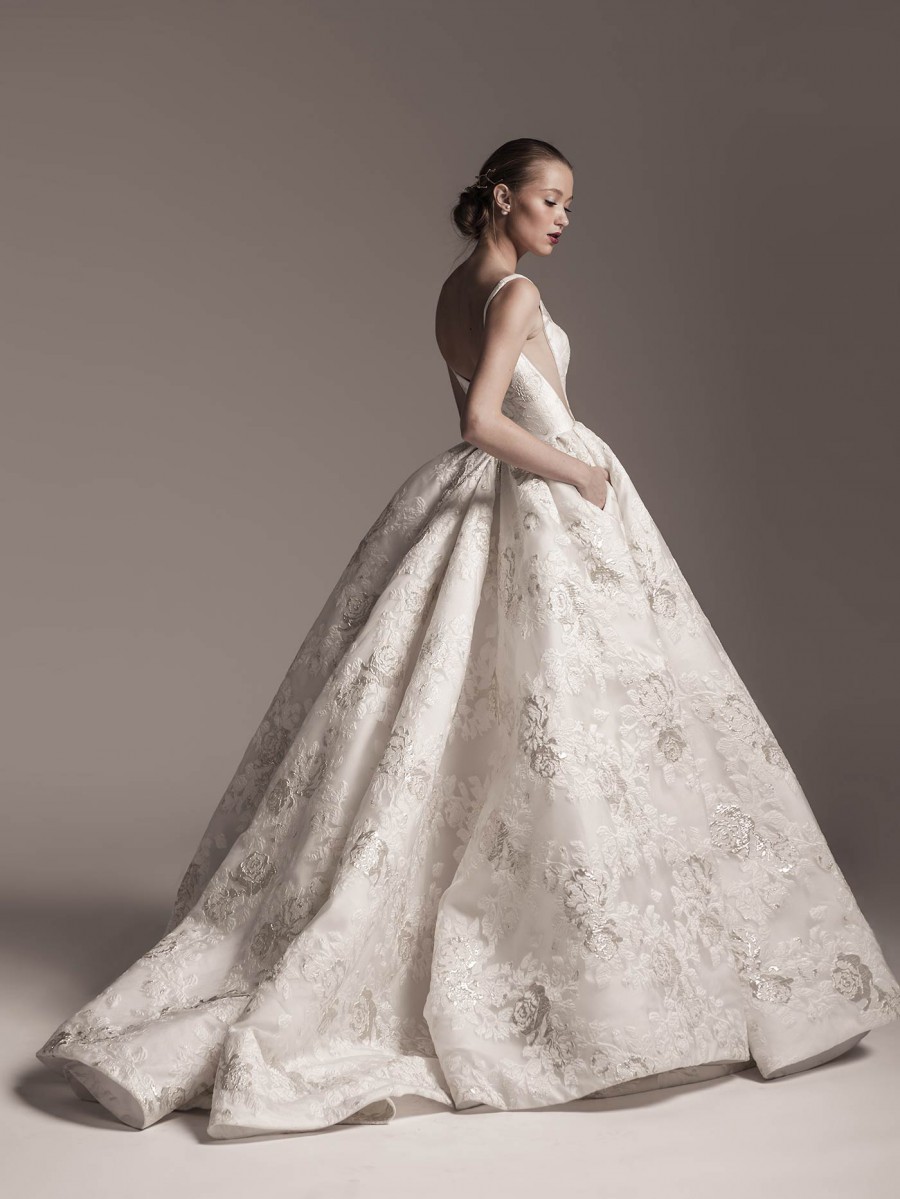 A regal worthy ball gown with stunning metallic floral accents that make this style pop. This gown has just the right touch a metallic accenting, while still keeping things traditional.
29.

Abstract Metallics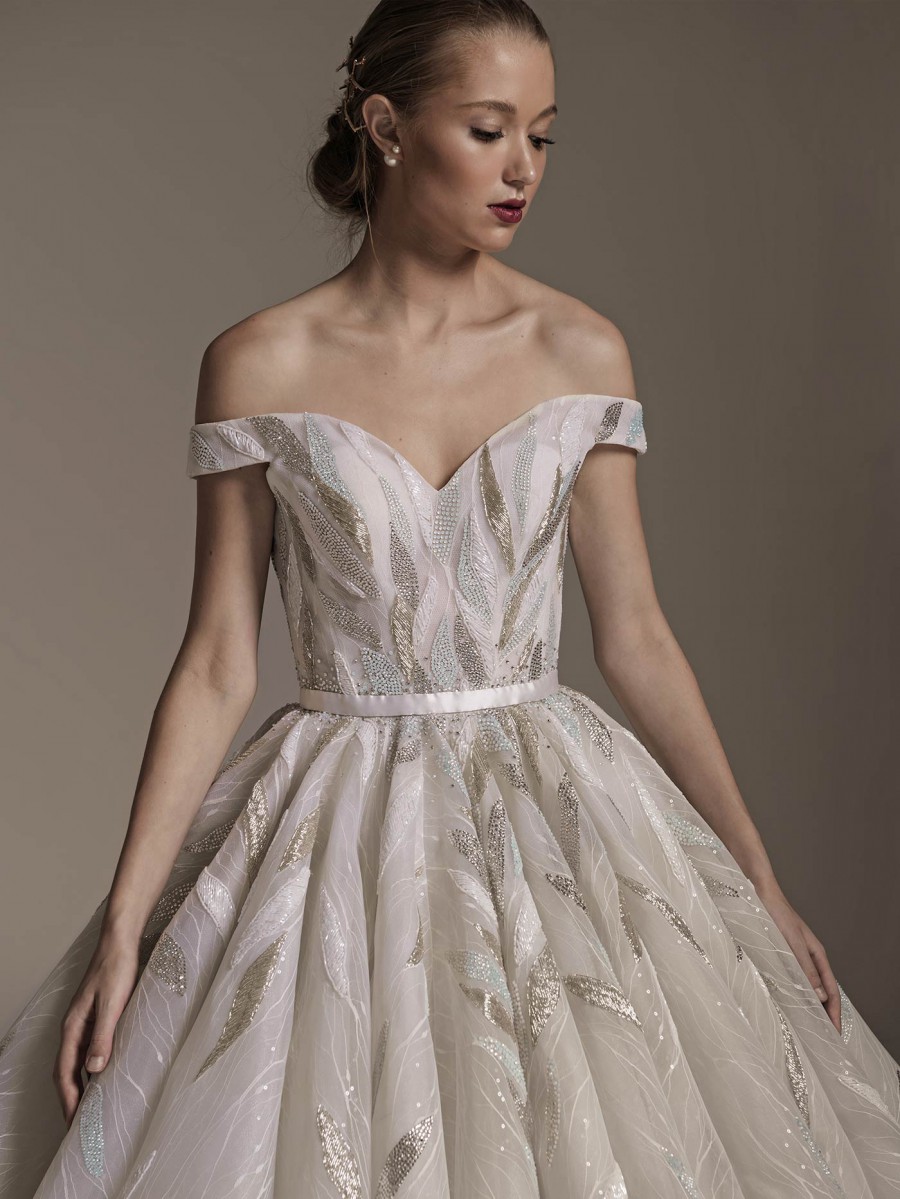 Abstract metallic detailing on this next wedding gown adds a dramatic modern feel to the look. And we love it!
30.

Golden Jumpsuit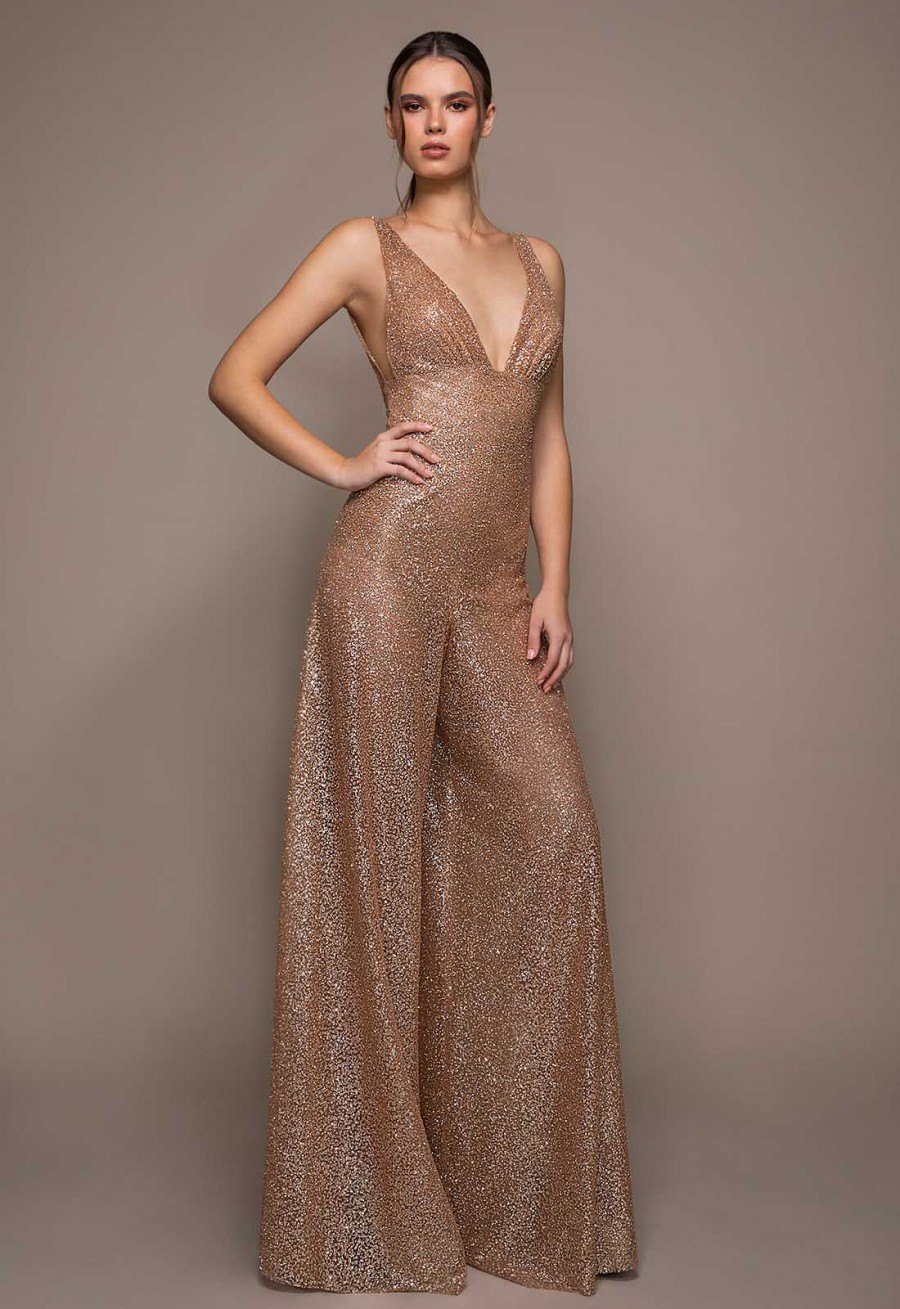 Make a big statement on your wedding day with this gold glitter metallic jumpsuit. This would be perfect for a second look wedding reception style!

By Kathryn Schrotenboer