Dramatic, Bold & Confident. Mizrachi's line is inspired by his own lifelong affinity for birds.
Mizrachi brings to life some absolutely stunning and unique styles that are both surprising and captivating. This line combines some more soft and effortless looks with more bold, dramatic statement styles. It is a beautiful balance and any contemporary bride will be left in awe - and wanting more!
01.

Breezy Goddess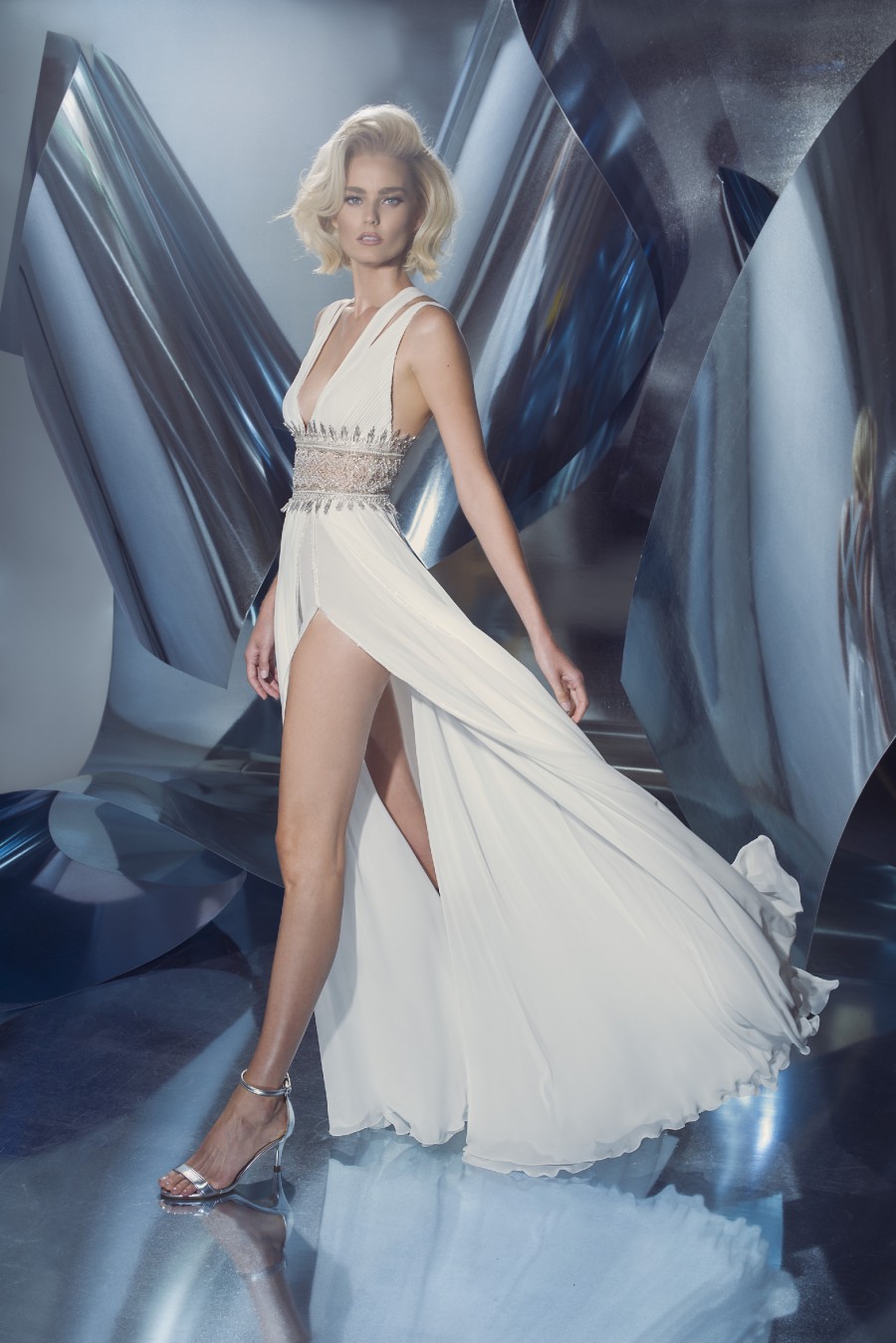 We start off this whimsical and confident bird inspired collection with a breezy goddess worthy style from Dany Mizrachi. This effortless, yet luxurious look embodies feminine sex appeal and modern glamour.
02.

Not Your Average Jumpsuit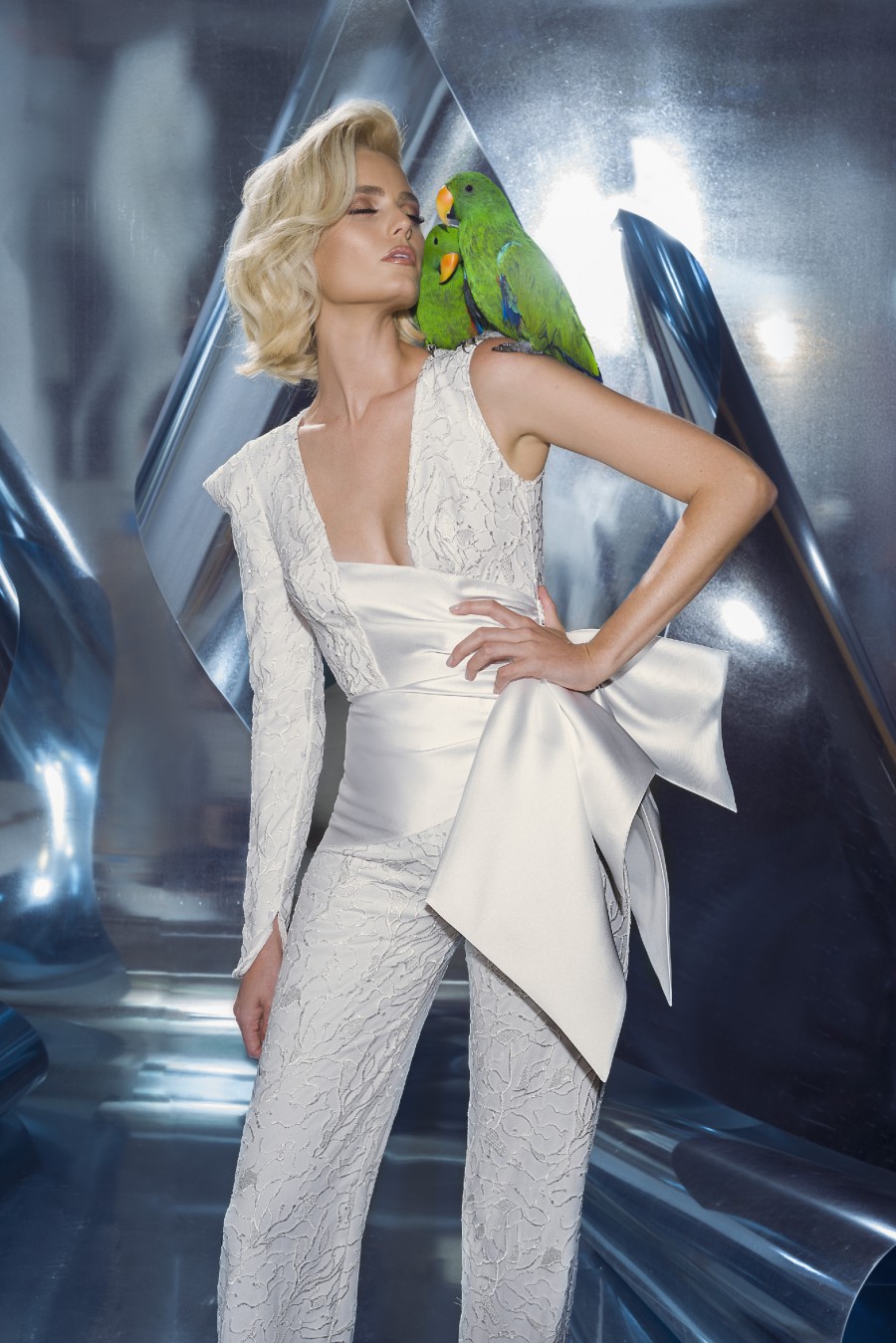 This definitely is not your average bridal jumpsuit. There seems to be a surprise from every angle. To the mix of fabrics, the single sleeve, and the oversized silk bow - it is easy to say that this look will be sure to captivate viewers on your big day!
03.

Off the Shoulder Keyhole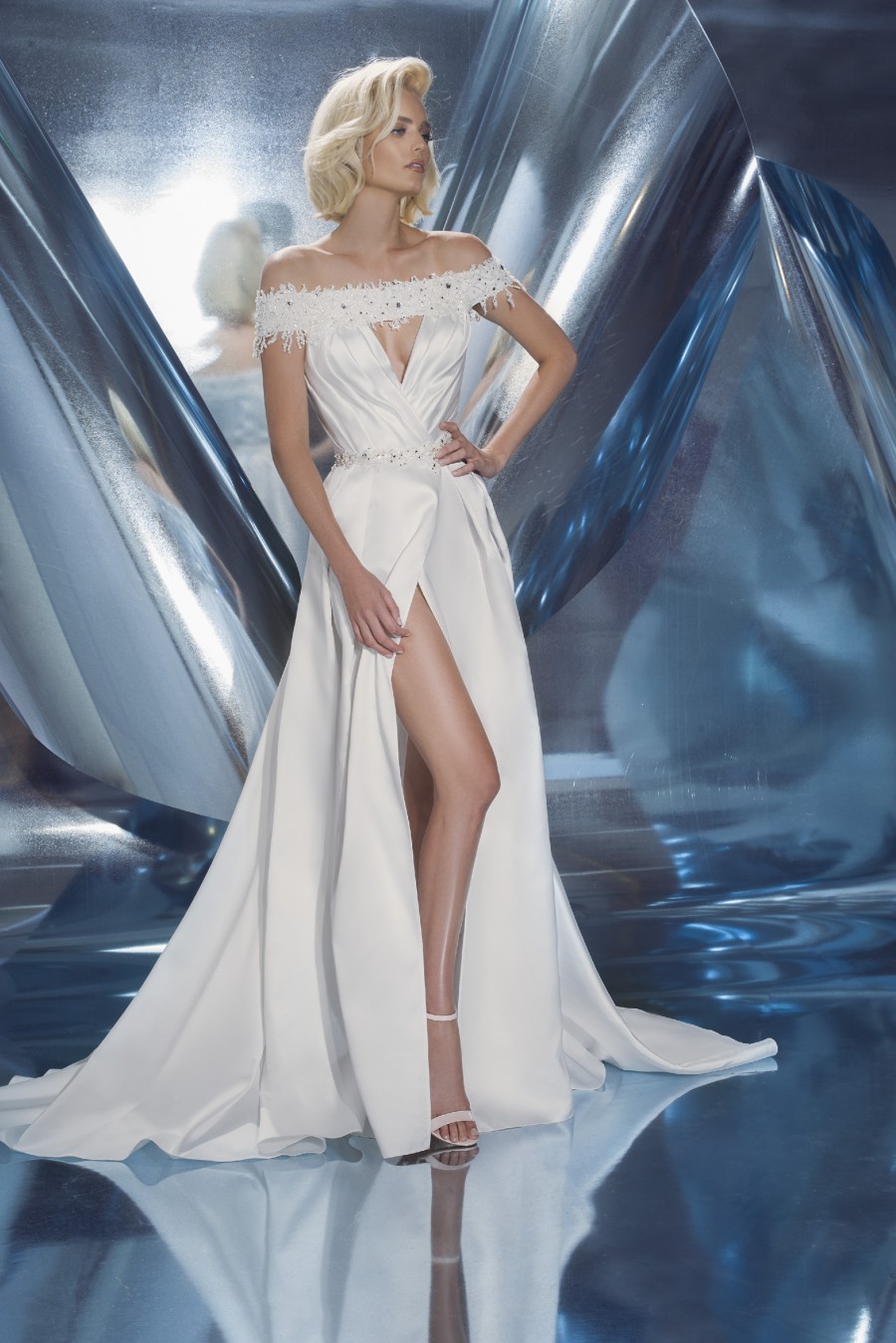 A sexy, ultra glam style worthy of any bold modern diva. The off the shoulder cut is sensual and exciting. The low cut keyhole bodice is accented even further by a similar v-cut front slit. And the overall silk fabric of this style is luxurious.
04.

Modern Princess Glam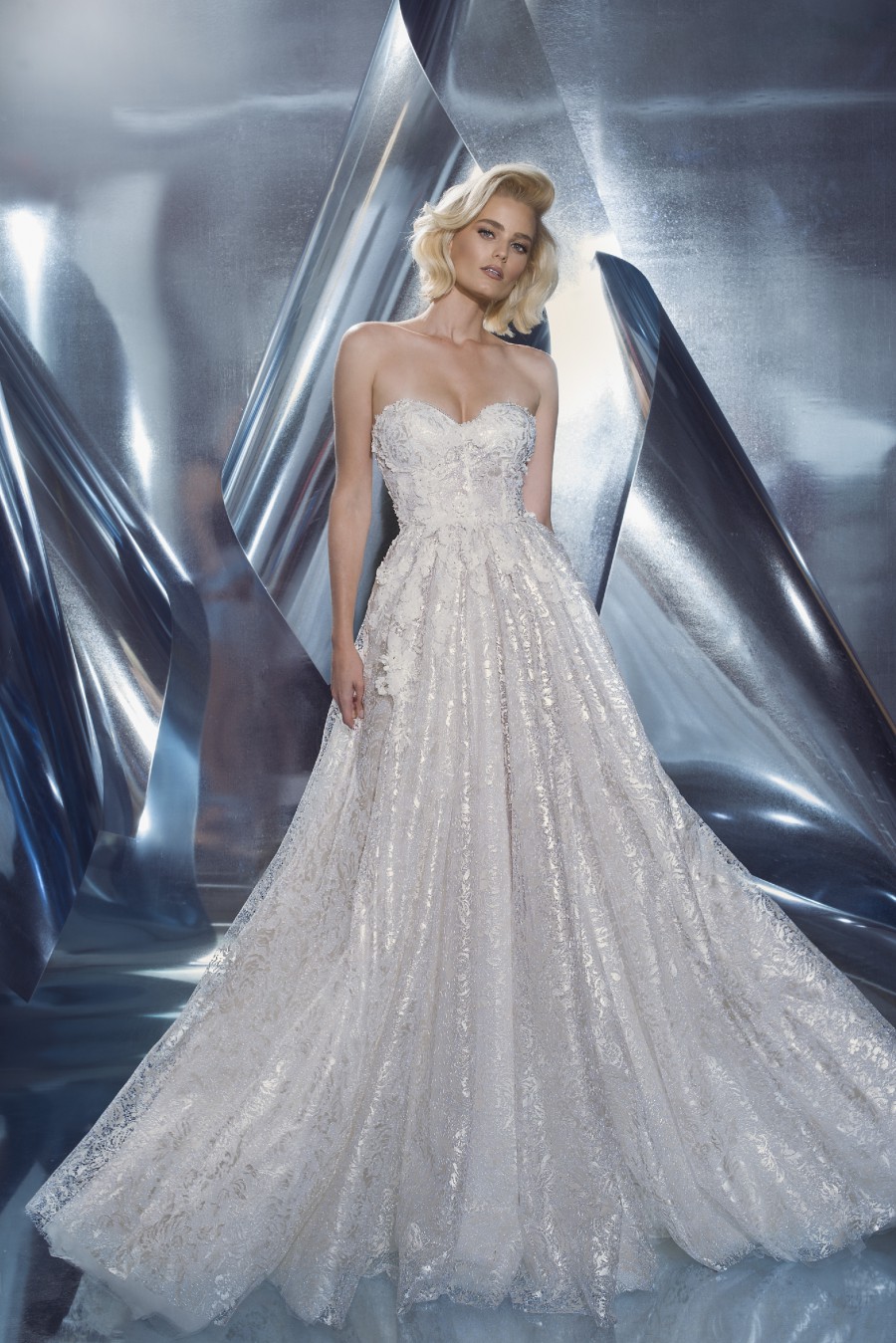 An absolutely captivating strapless ballgown for our contemporary princesses out there. The mix between the metallic lace like overlay fabric and delicate floral appliqué is exciting and dramatic.
05.

Barely There Bows
A bow accented bridal bodice like nothing else! This look from Dany Mizrachi is sweet, sexy, and chic. A bold wedding day style choice that is feminine and fashionable.
06.

Folded Layers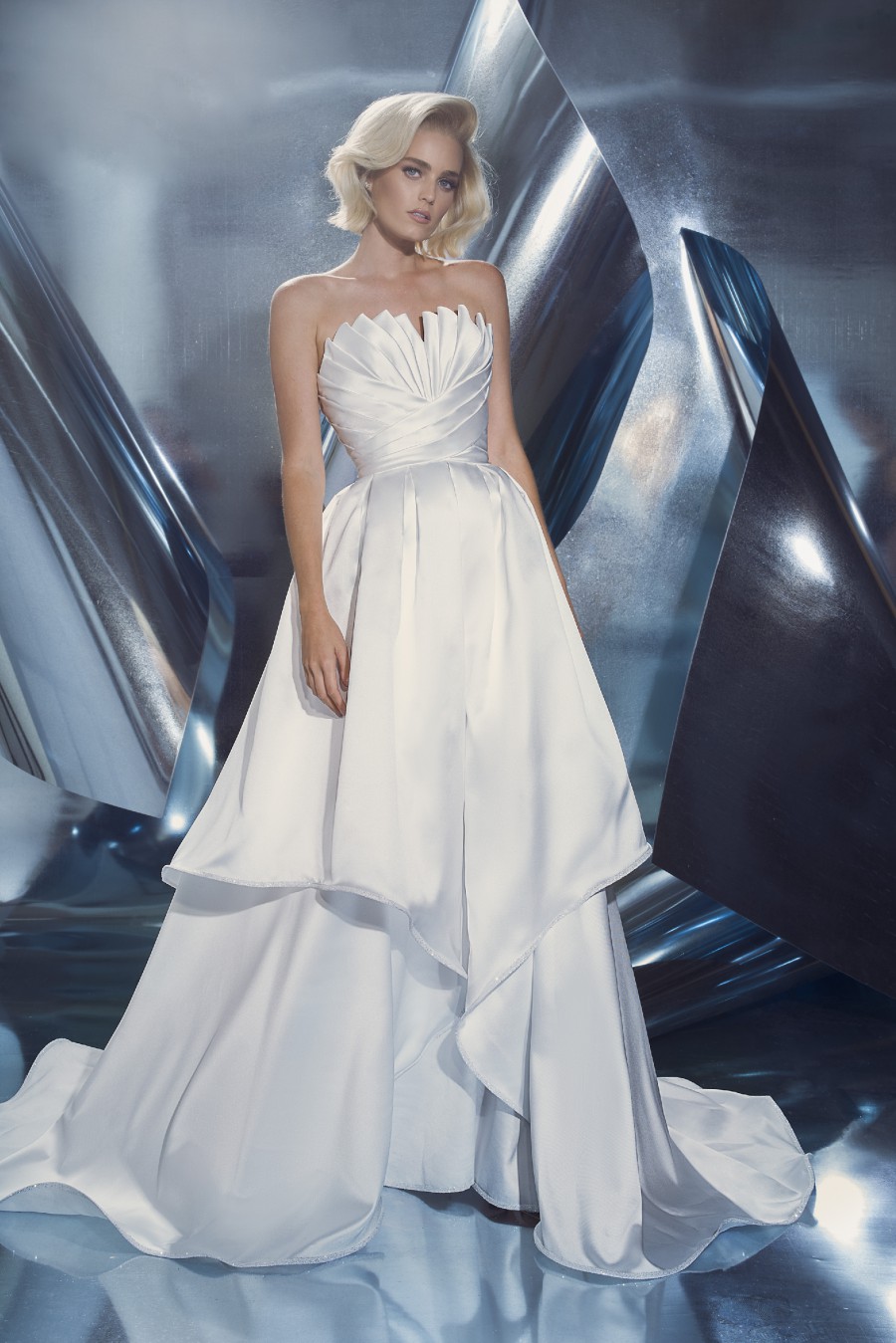 The bodice of this next gown is absolutely gorgeous! It's folded, fan-like design is both simple and bold. This dress is the prefect mix between sophisticated and dramatic.
07.

Blushing Beauty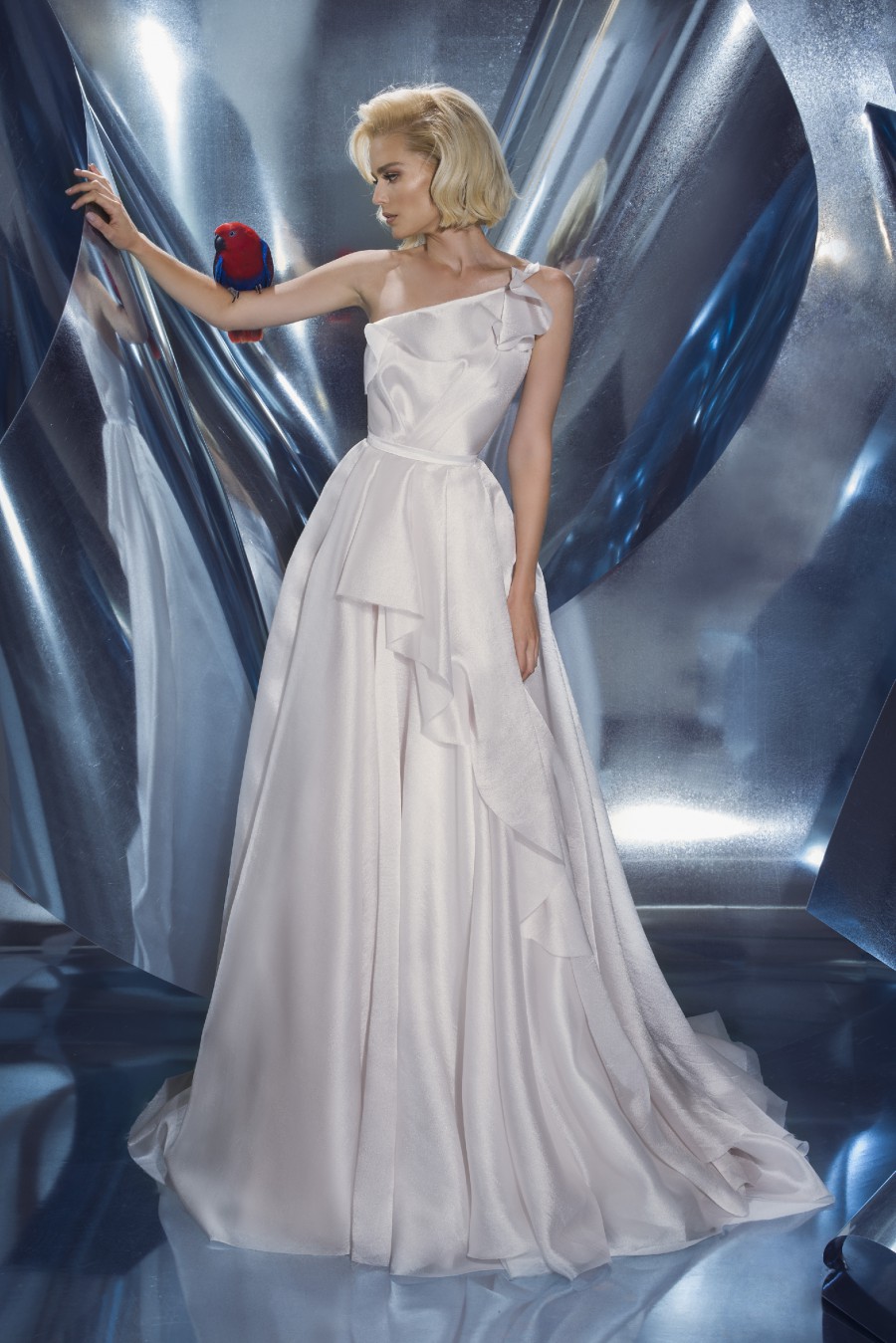 This next lightly blush toned single shoulder gown is absolutely beautiful. This look is delicately feminine, while still having a chic edginess to it.
08.

Regal Attention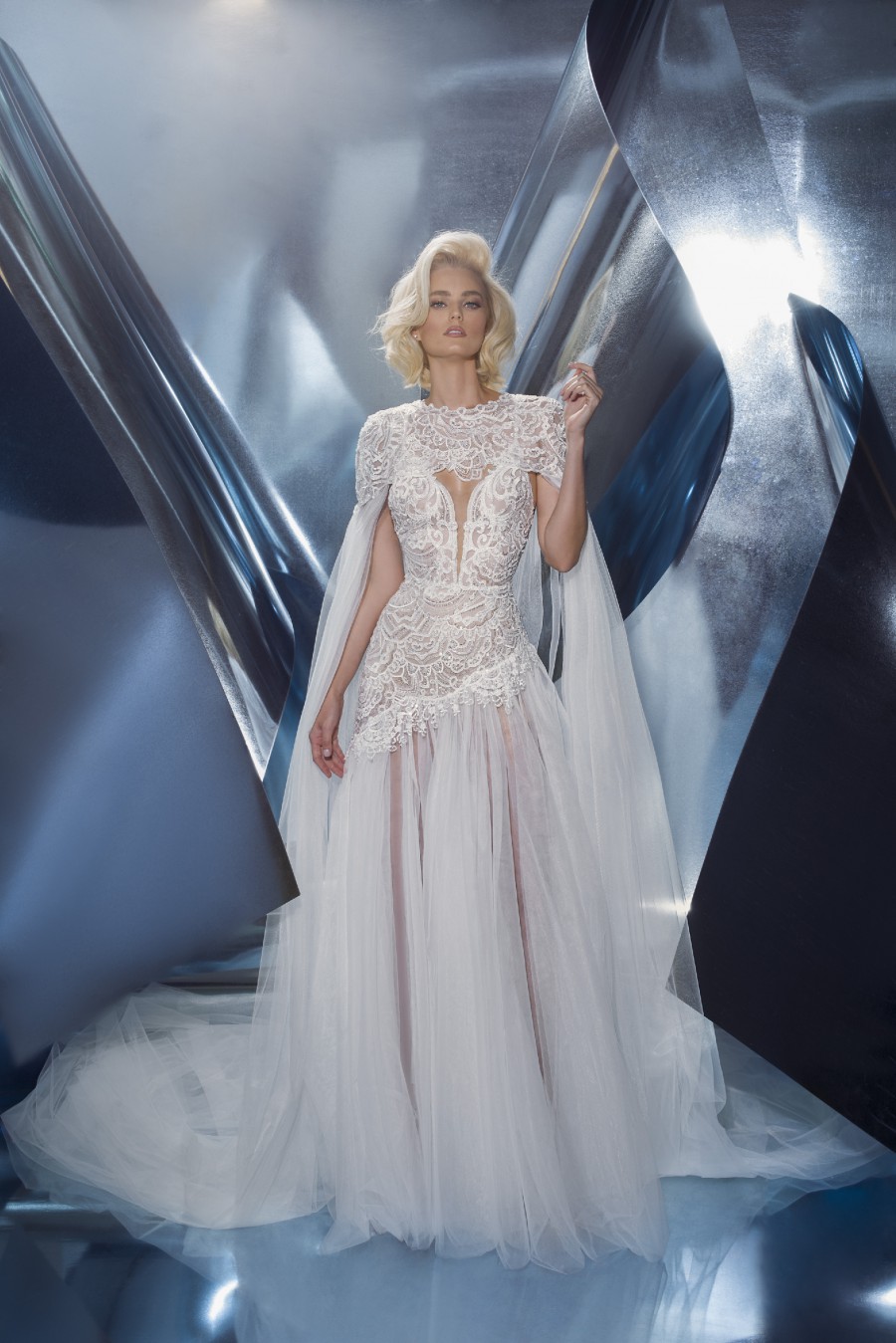 Where are my Queens at? This next Dany Mizrachi style demands regal attention with its bold, bird inspired flare. This look has a gorgeous combination of tulle and lace - which are accented even further in the matching cape. Move over Snow White, there is a new princess in town.
09.

Dramatic Glamour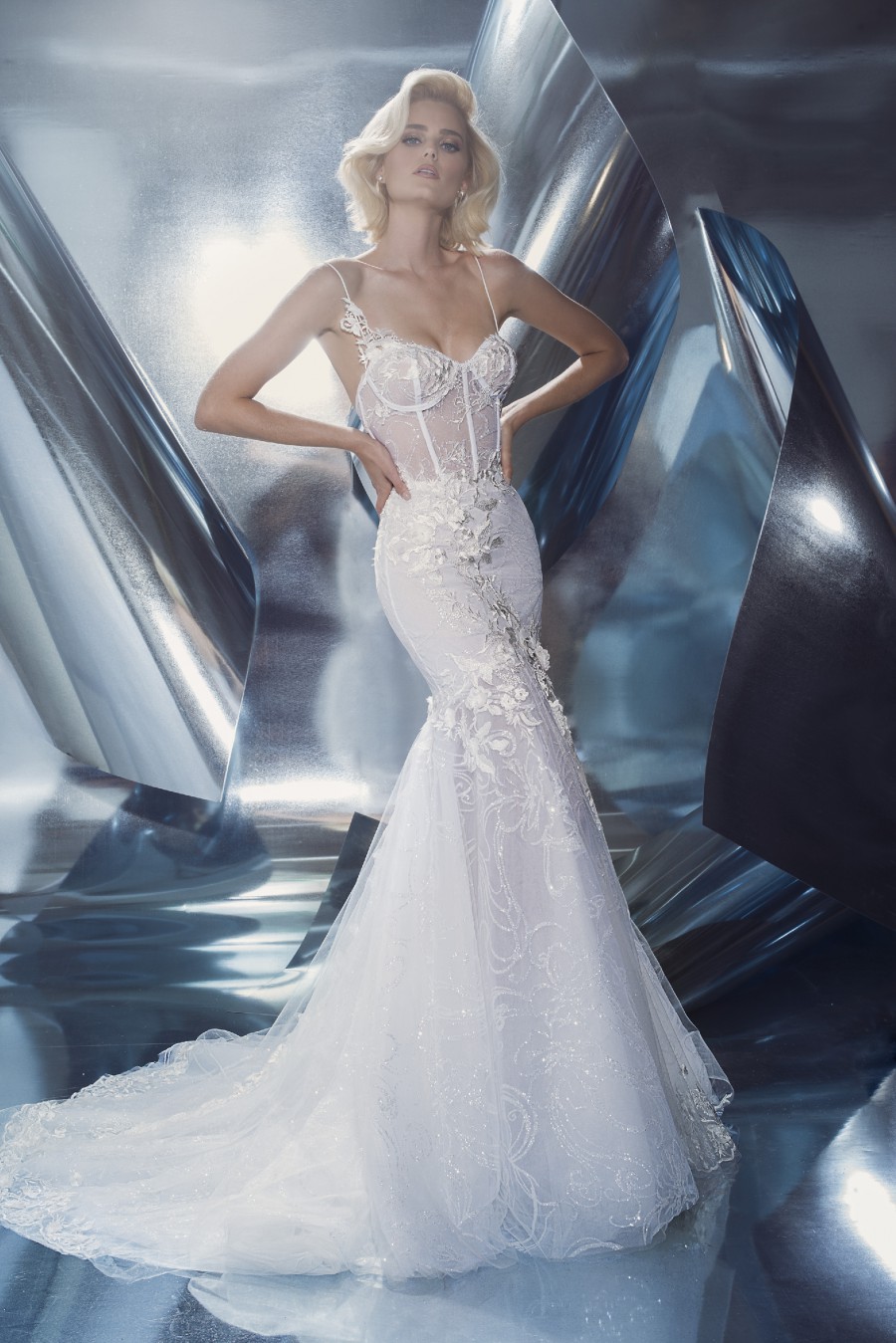 Bring on the drama with this next bird inspired gown from Dany Mizrachi. This sensual style gives off a powerful feeling of feminine confidence. Get ready to have all eyes on you with this look!
10.

Contemporary Allure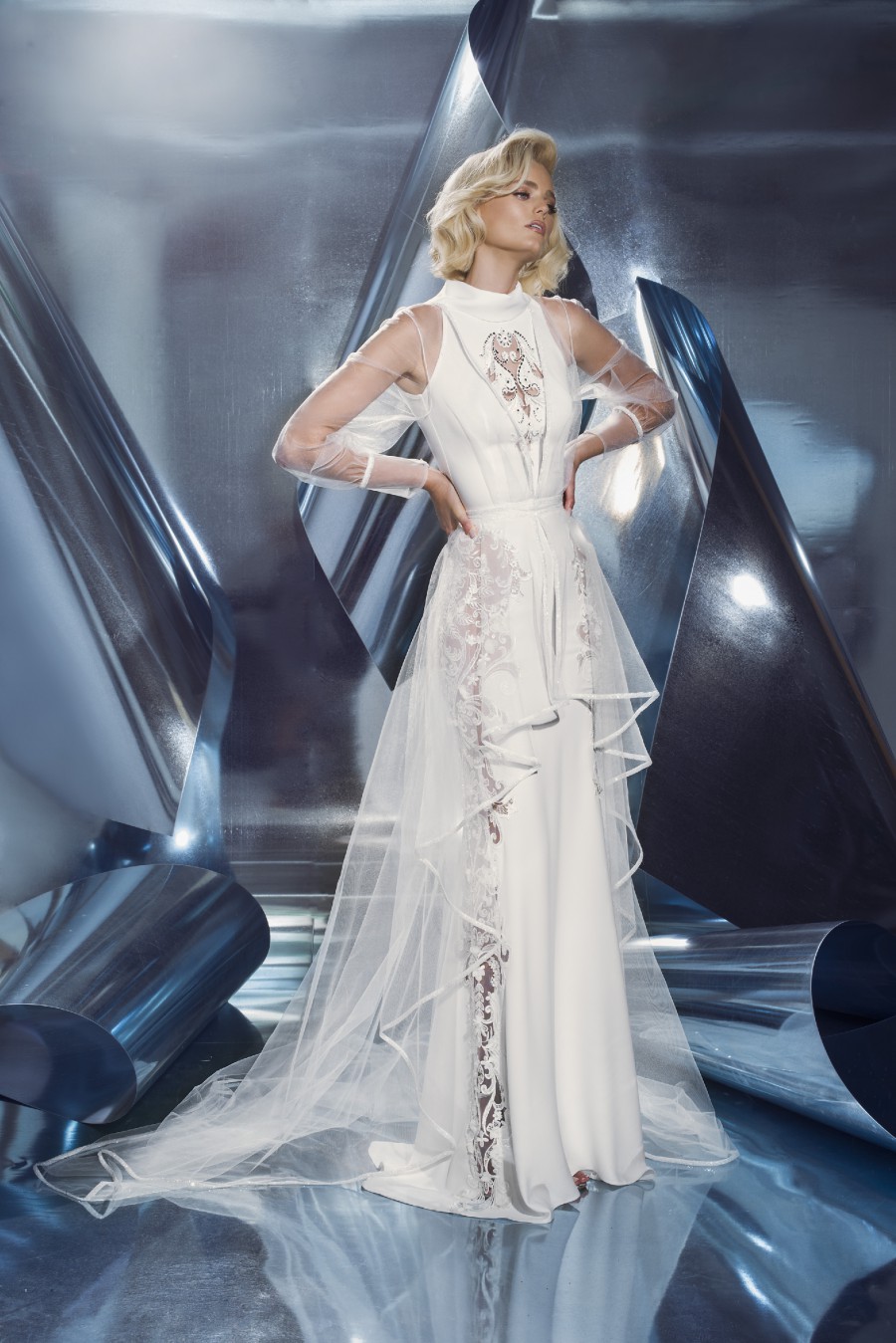 This next unique contemporary cut gown is surprising and exciting. This gown mixes sophisticated glamour influences with stunning modern design.
11.

Celebrity Status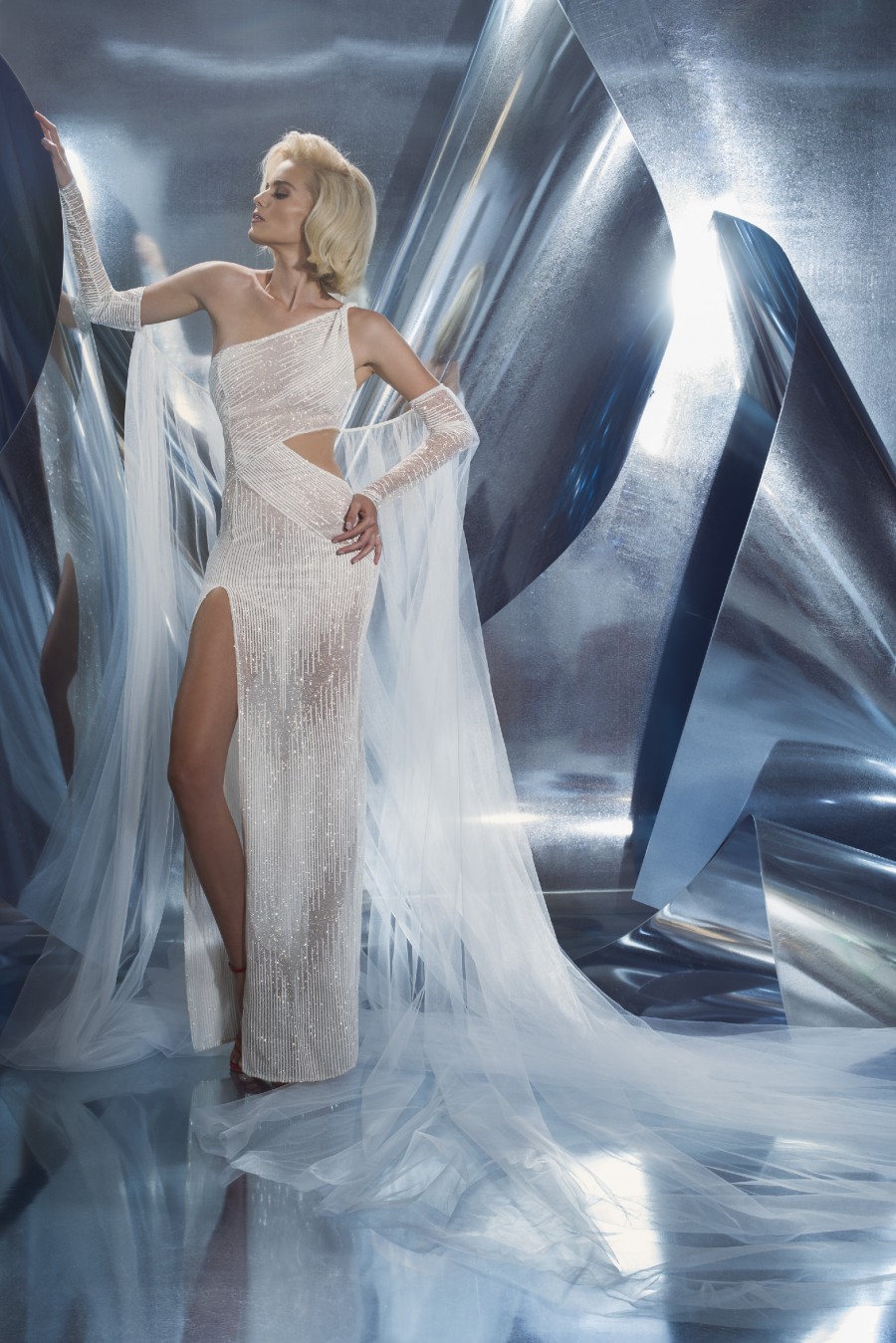 Get ready to take the stage in this show stopping style. Glitz, glam and ultra chic with a touch a feminine sex appeal. This look demands attention with its captivating design.
12.

Party Style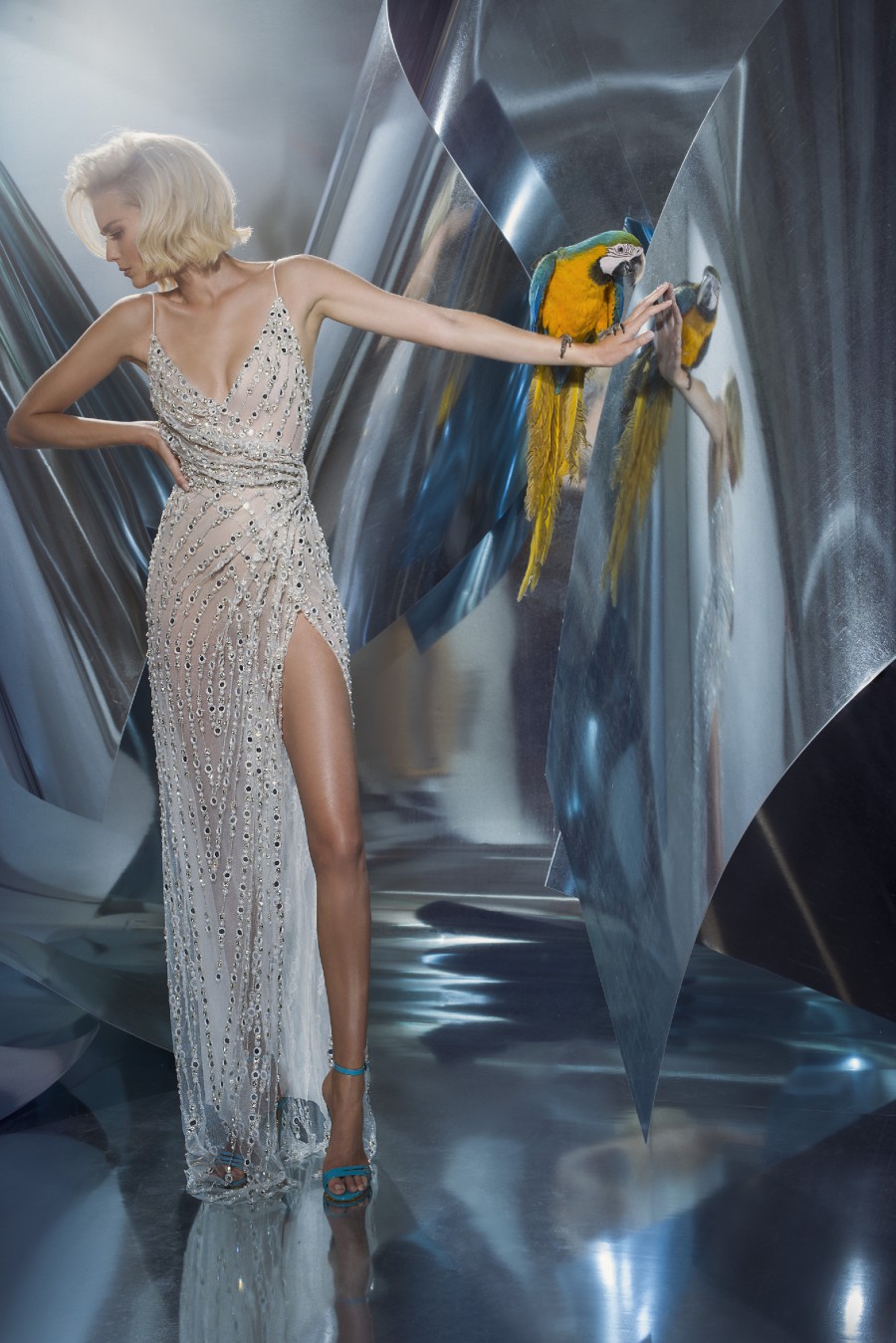 This next Dany Mizrachi wedding gown is luxe and party-ready. Perfect for New Year's Eve wedding day - and for a reception gown for our party girls out there!
13.

Tulle Volume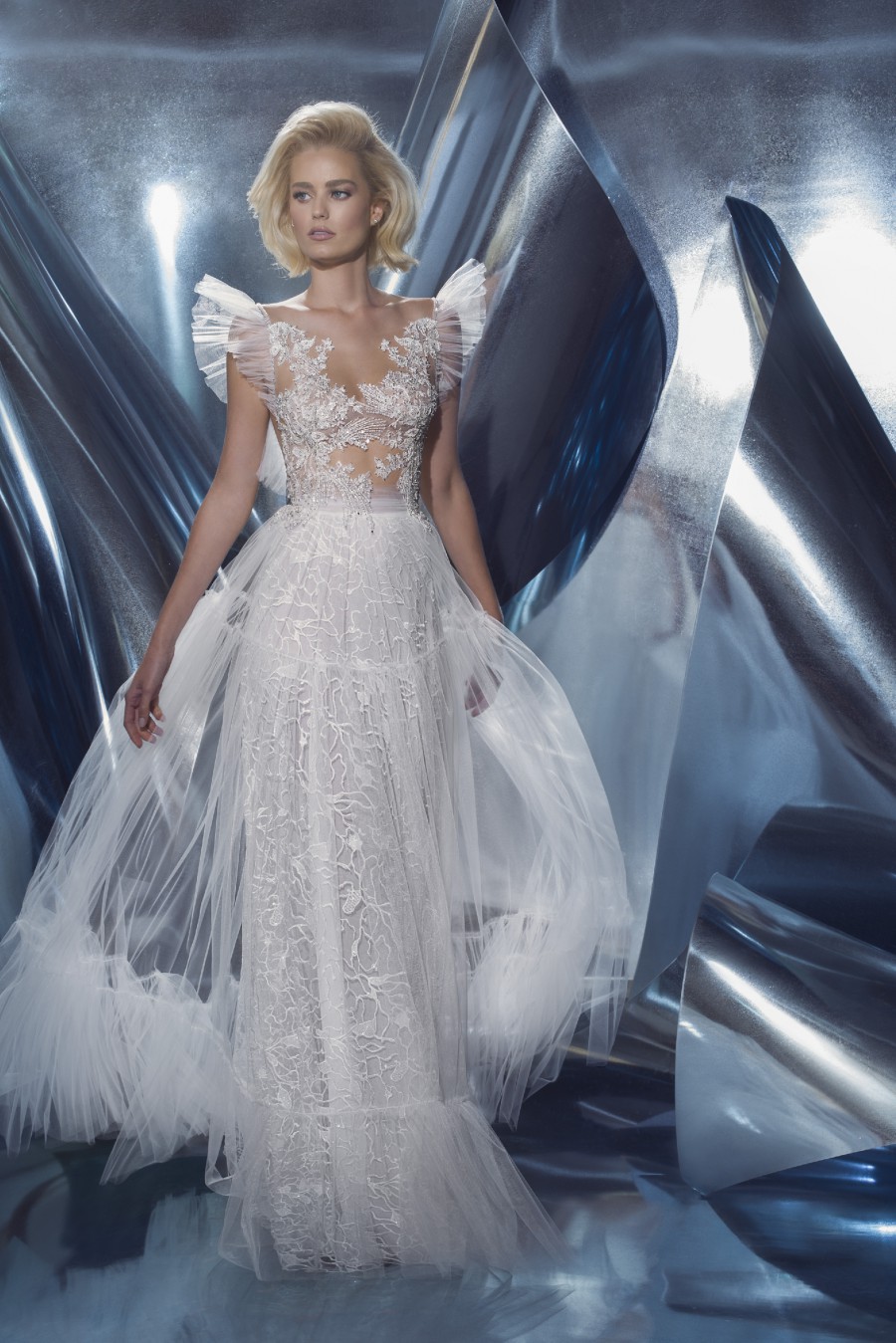 Let's pump up the volume a bit with this next look. Pleated tulle accent add exciting volume to the already stunning bodice design of this gown. This same pleated voluminous tulle is reflected in the beautiful tulle skirt overlay.
14.

Fly Away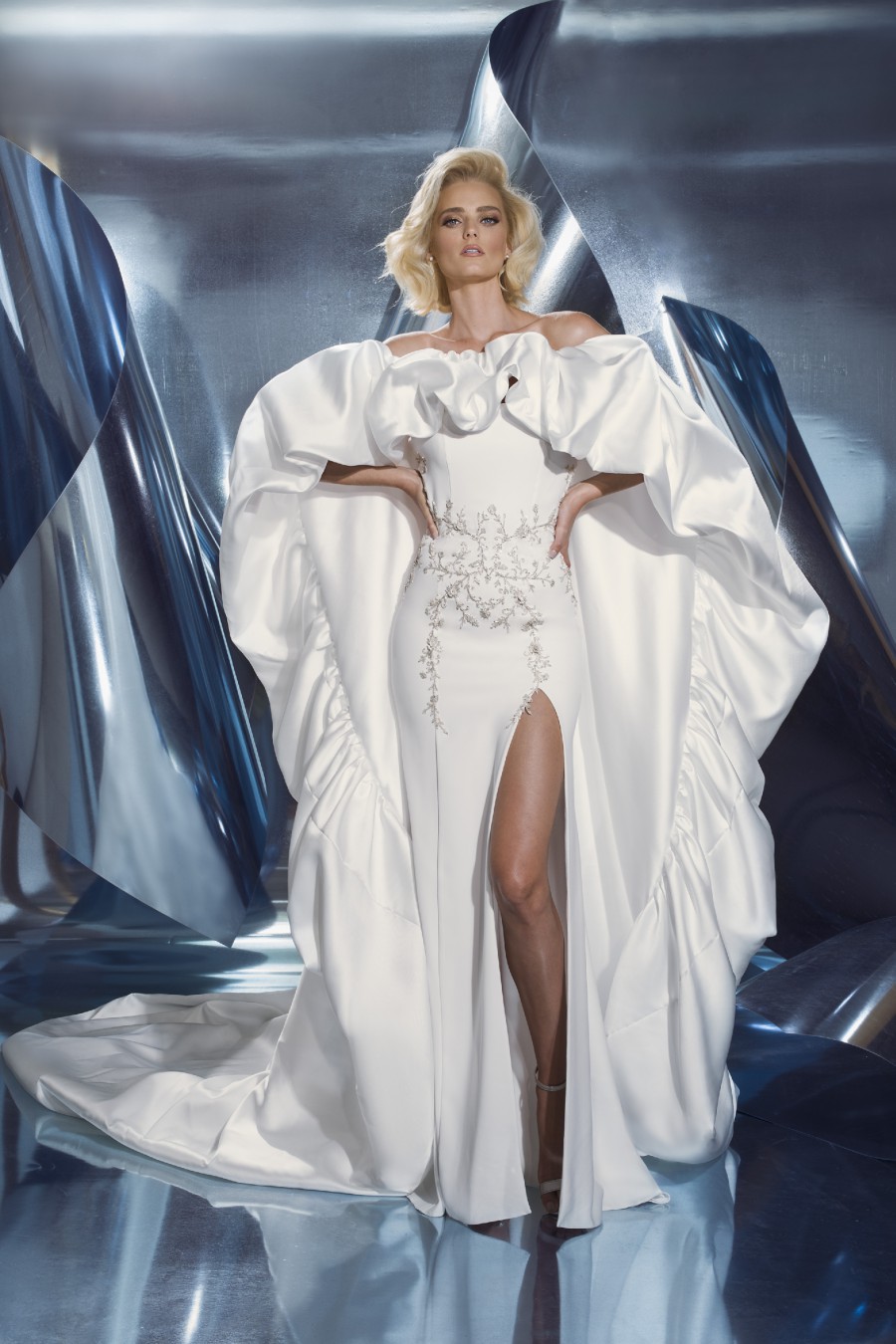 This next look takes the bird inspiration of this collection a bit more literally. The stunning gathered cape gives this look a wing-like appearance. A contemporary silk wedding style like nothing else!
15.

Sheer Illusions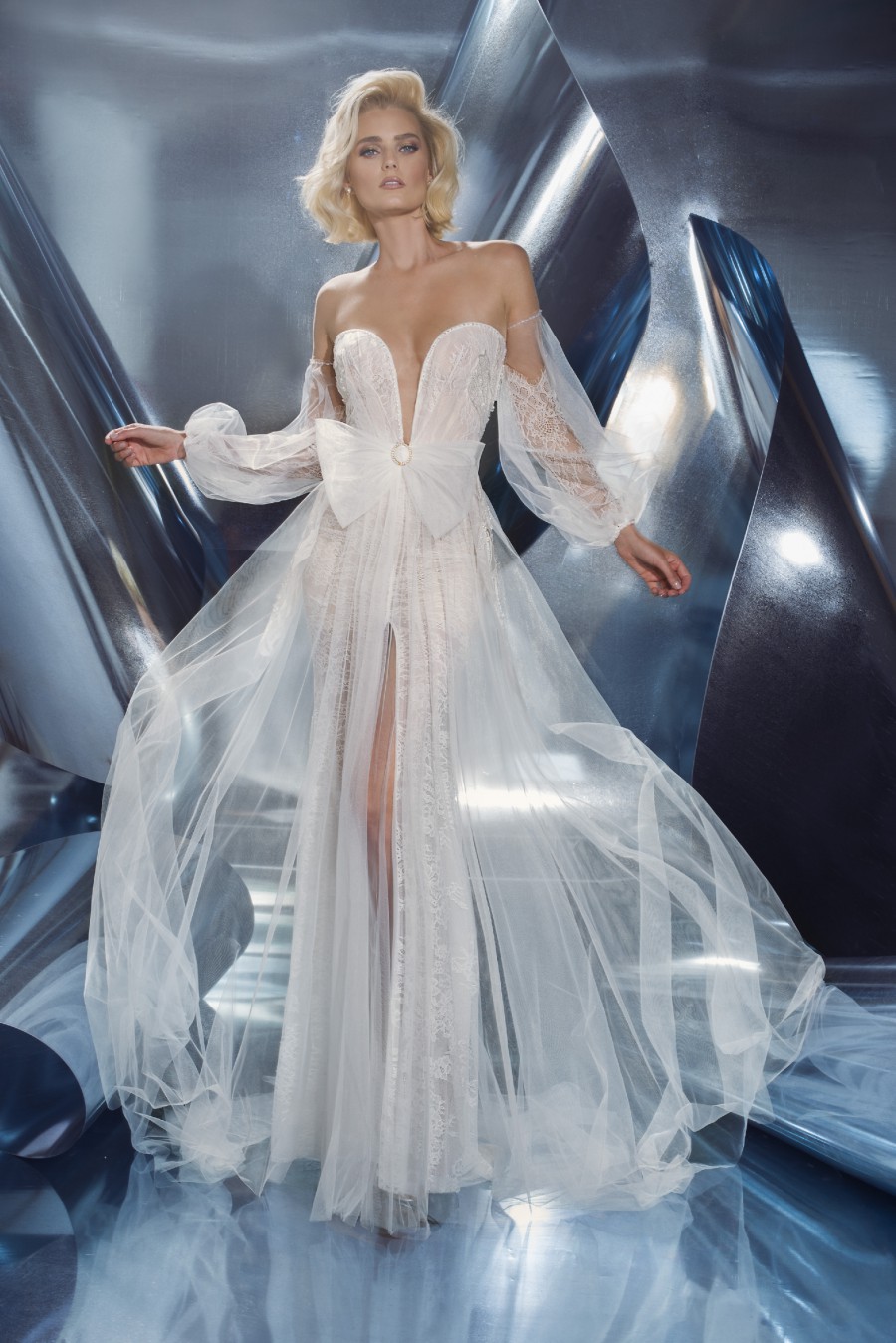 A rebel princess style for the chic brides out there who don't always like to follow the rules. This gown has the whimsical movement that birds so gracefully embody. A gorgeous sheer gown that is feminine and ethereal.
16.

Sophisticated Grace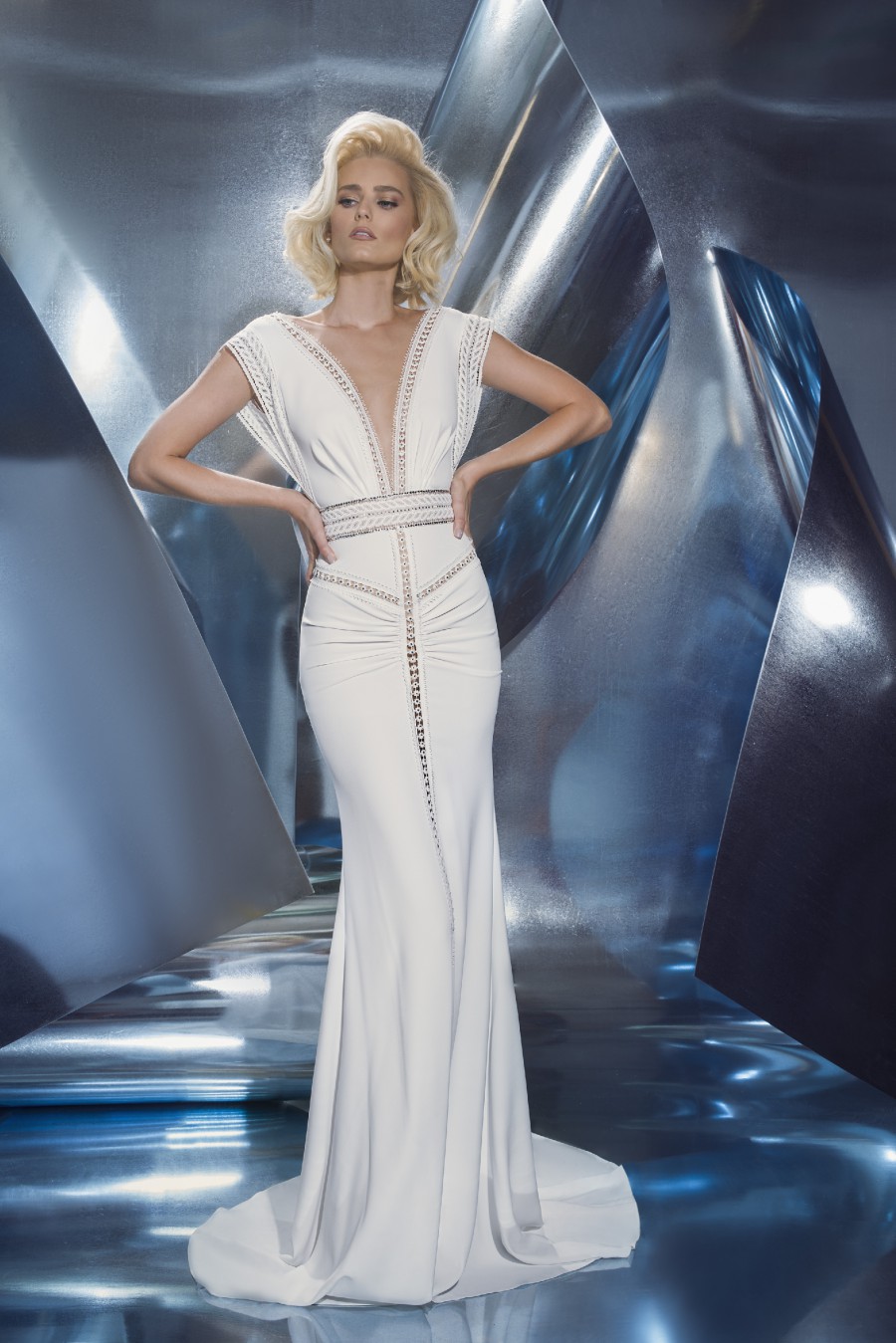 Our next gown is a sexy hip-hugging silhouette that gives off the allure of sophistication and grace. The beautiful detailing creates figure flattering accents that really make this style pop.
17.

Open Back Bow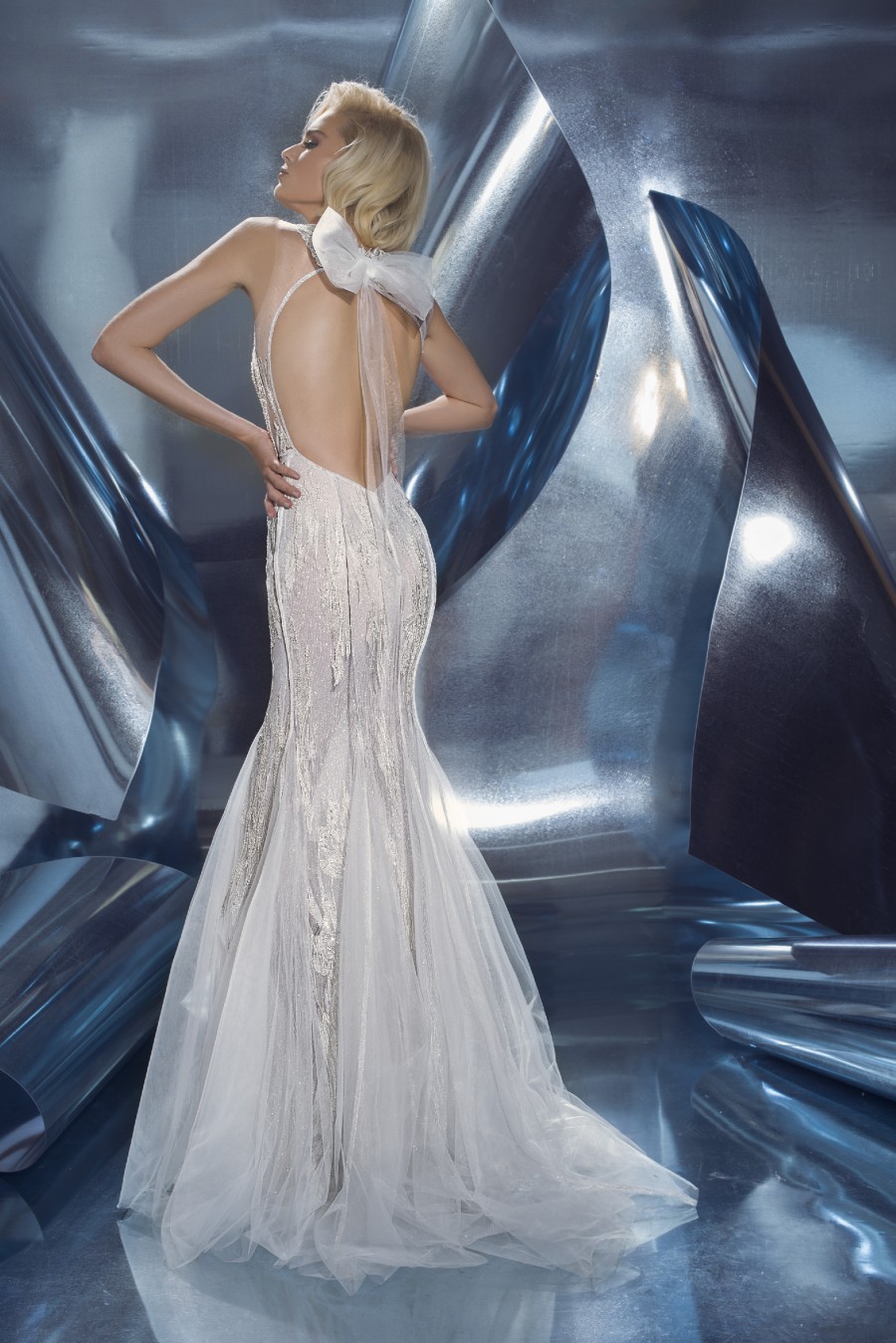 We are absolutely in love with the back of this next gown! This gorgeous lace and tulle trumpet cut gown features an illusion high neck, open back and a dramatic back bow. A truly stunning wedding dress!
18.

Illusion Florals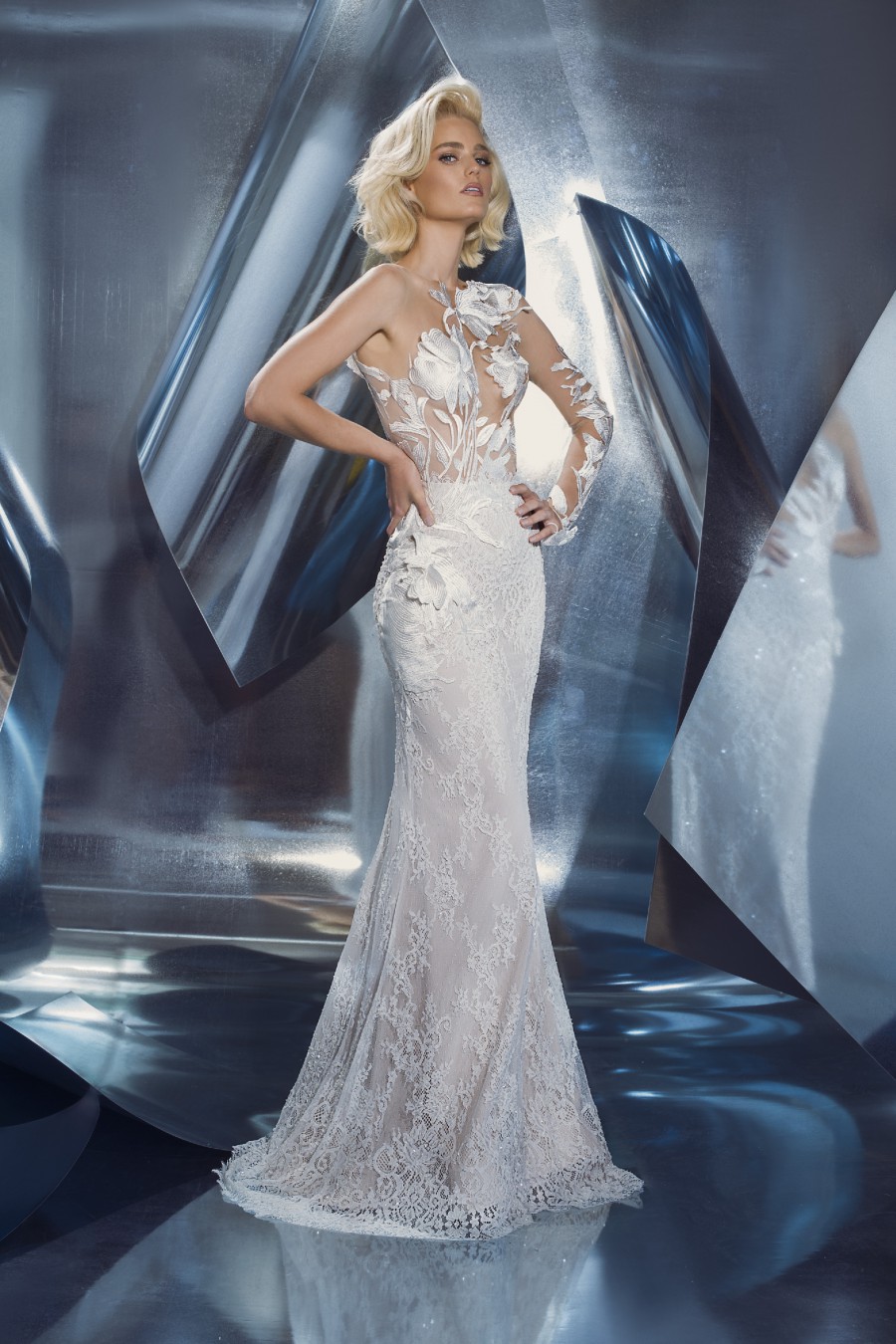 We can't say enough about the jaw dropping design of this gown. The bodice absolutely steals the show with its illusion fabric and floral embroidery. This illusion gives an almost painted on effect. The single sleeve accentuates this floral illusion even further.
19.

Sweet & Feminine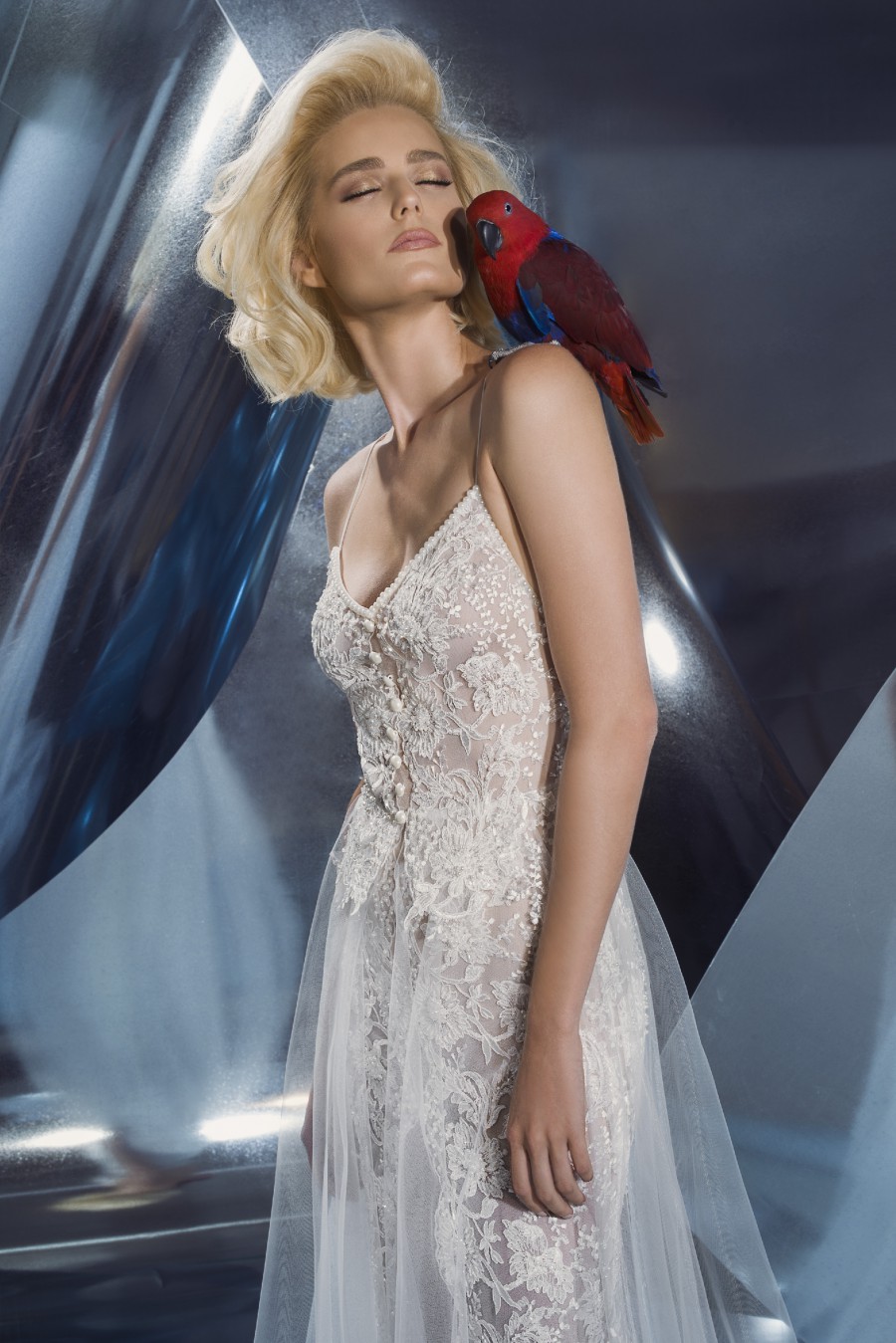 This next gown is simply sweet and feminine. A gorgeous lace and tulle gown that will have you feeling pretty and dedicate on your big day!
20.

Jaw Dropping Overskirt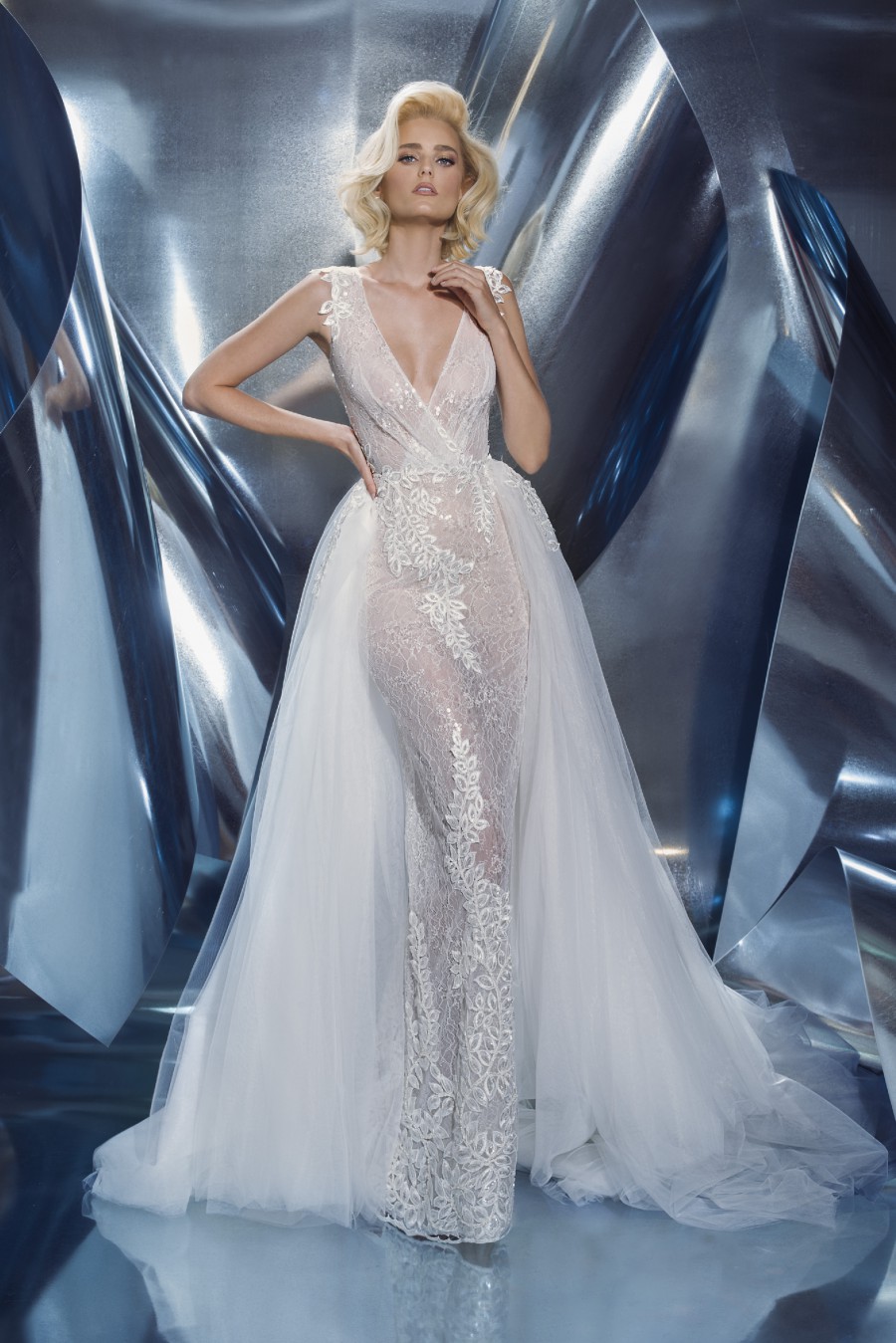 This next bird inspired gown from Dany Mizrachi features a stunning tulle overskirt that adds a touch of drama to an already enchanting style. The semi-sheer appearance of the lace gown is sexy and sassy.
21.

Sassy Slit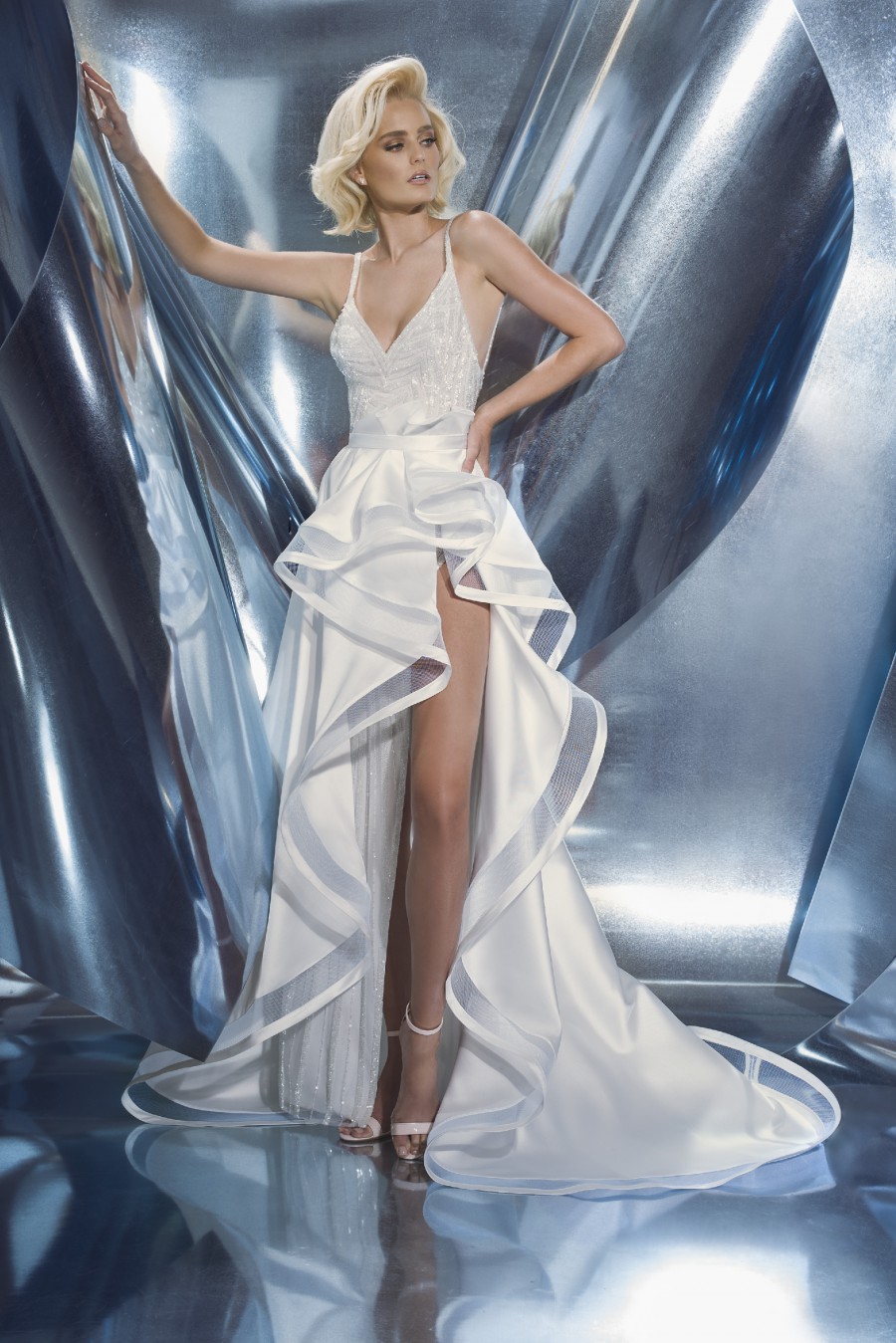 An absolutely audacious gown for a sassy bride who knows just how sexy she is! This gorgeous gown features a deep ruffle accented front slip that demands attention. Underneath is a subtle tulle underlay glistening with metallic detailing.
22.

Sexy Slip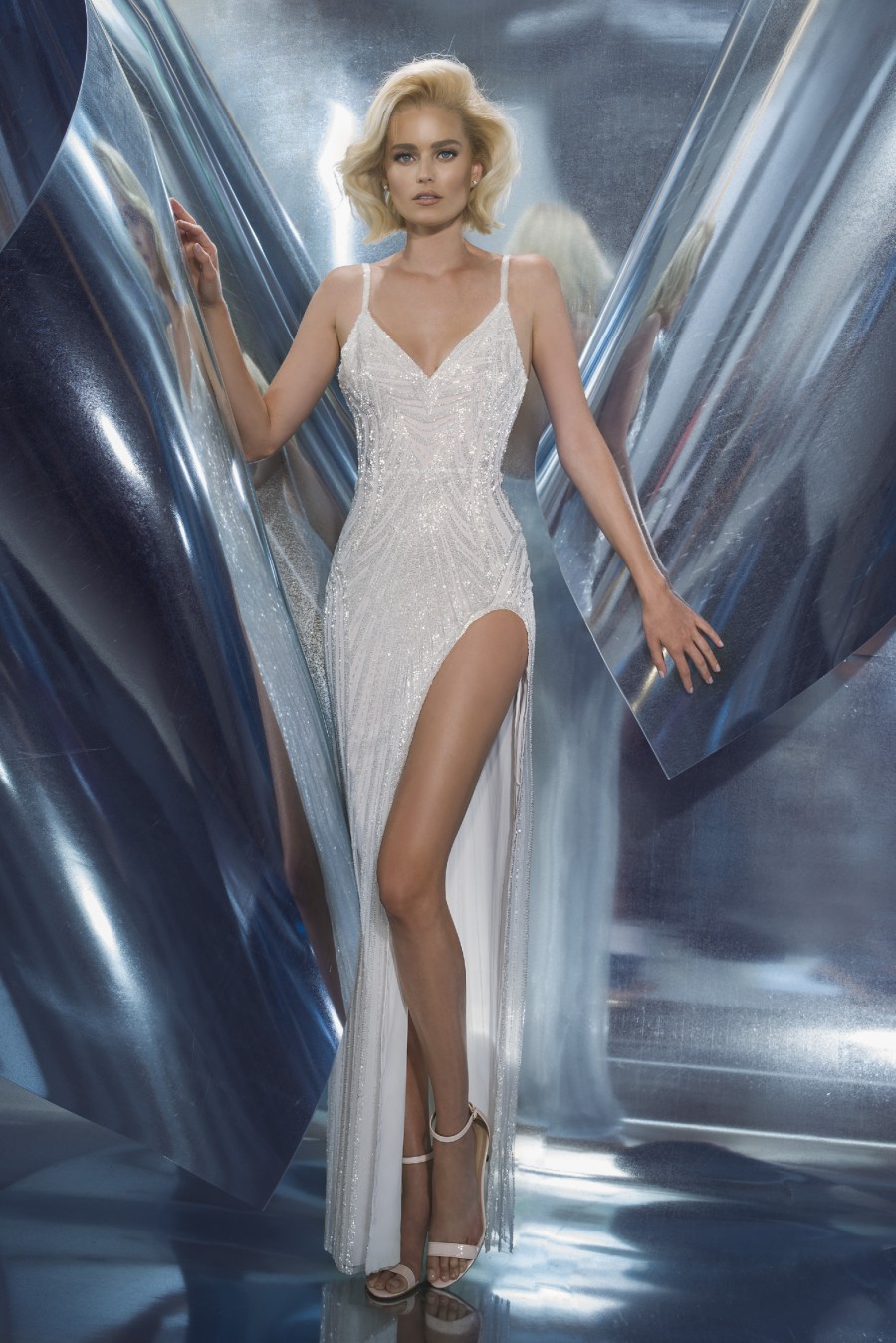 No bride can go wrong with a sexy slip dress. Especially when it comes to reception party dresses! Wear a big princess ballgown for your ceremony and then slip into this sassy number to take all of your guests (and groom!) by surprise at your reception!
23.

Birds of a Feather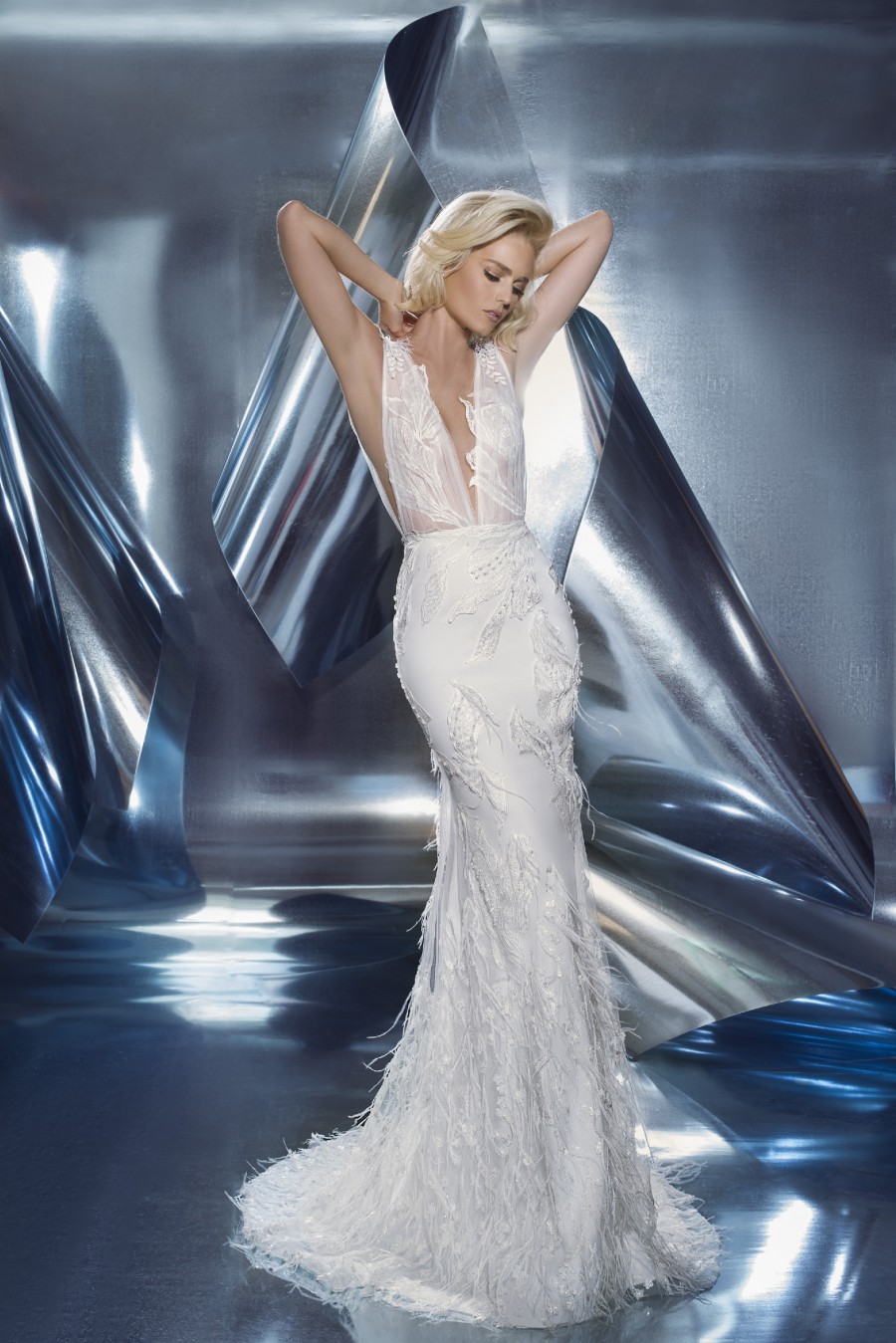 No bird inspired wedding dress line would be complete with at least one feather accented gown. And we are absolutely in love with this polished, luxe wedding style!
24.

Floral Princess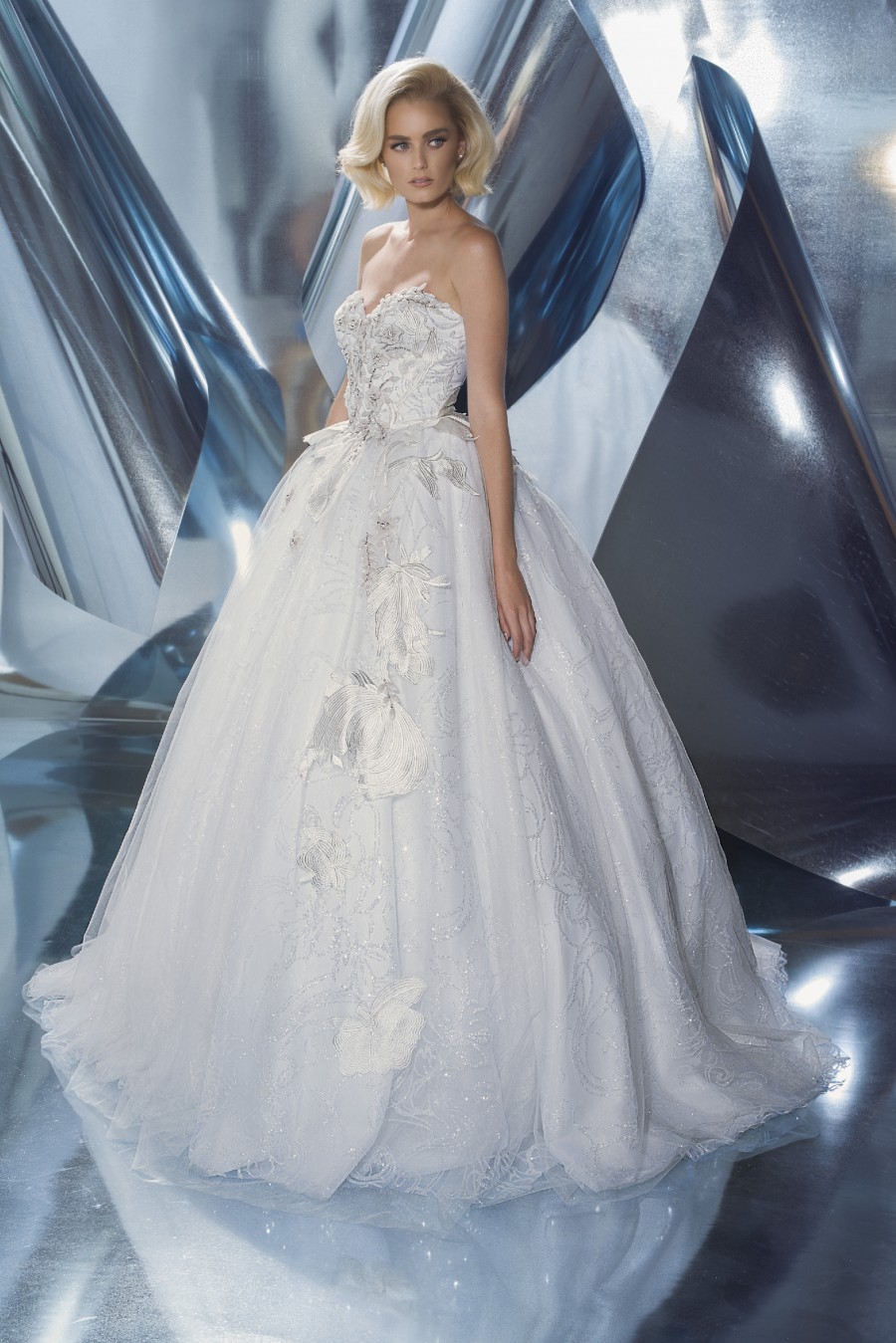 Get swept away in your own modern day fairytale wedding day with this princess ball gown. Glitzy accents and dimensional pink florals make this gown absolutely dreamy!
Kathryn Schrotenboer