We are seeing stars in bridal fashion right now with so many celestial inspired wedding gown styles.
Stars, moons, and whimsical glitz. We have everything a starry-eyed bride is looking for on her big day. These dreamy starstruck styles are just asking to be featured on a moon lit wedding day. Get ready to dance the night away under the stars in our 16 favorite celestial inspired wedding gowns.
01.

Orion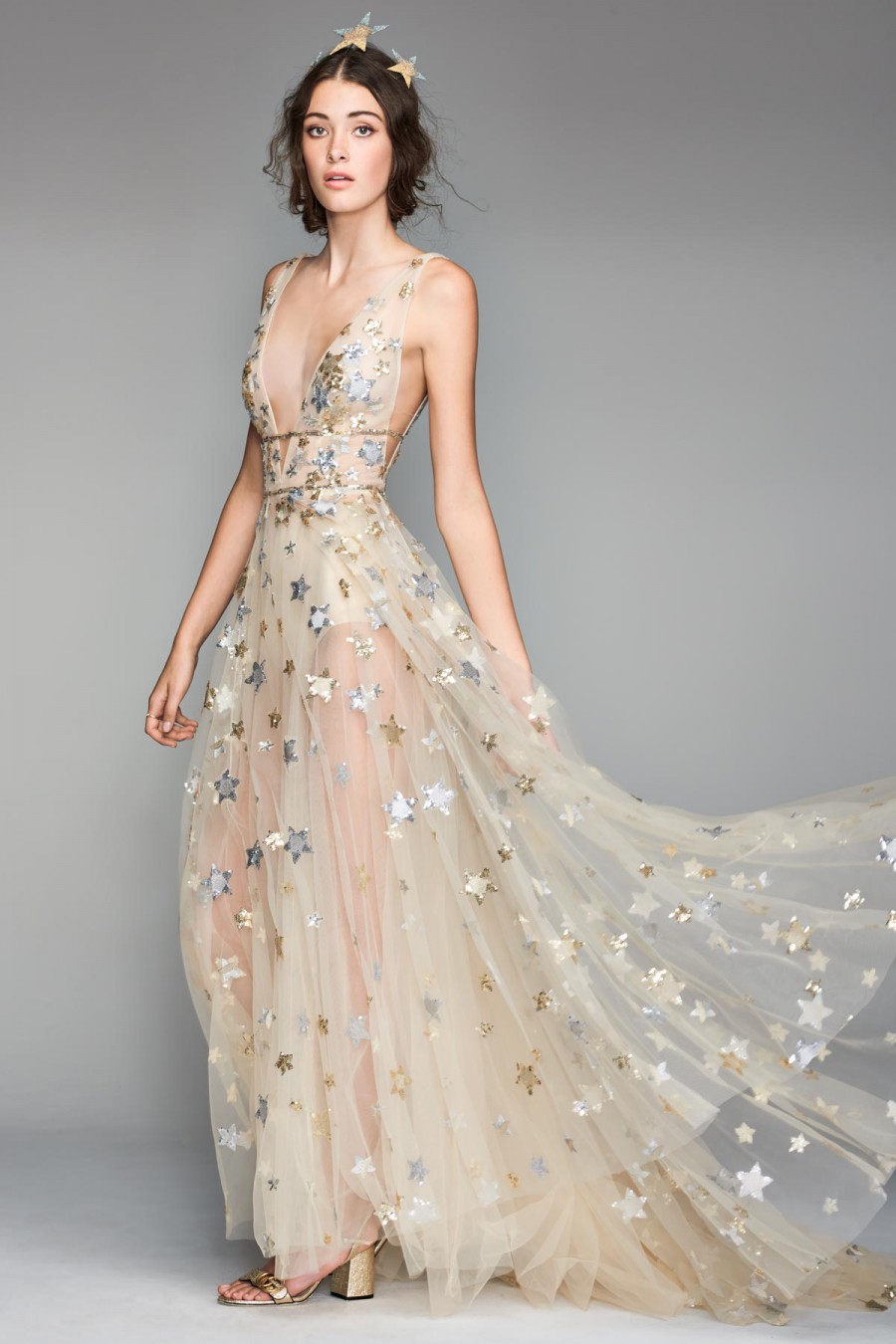 We are starting off our celestial wedding fashion list with a star struck style from Watters. This is ethereal wedding style is covered from top to bottom with metallic stars that will have you shining bright on your big day.
02.

Star Dust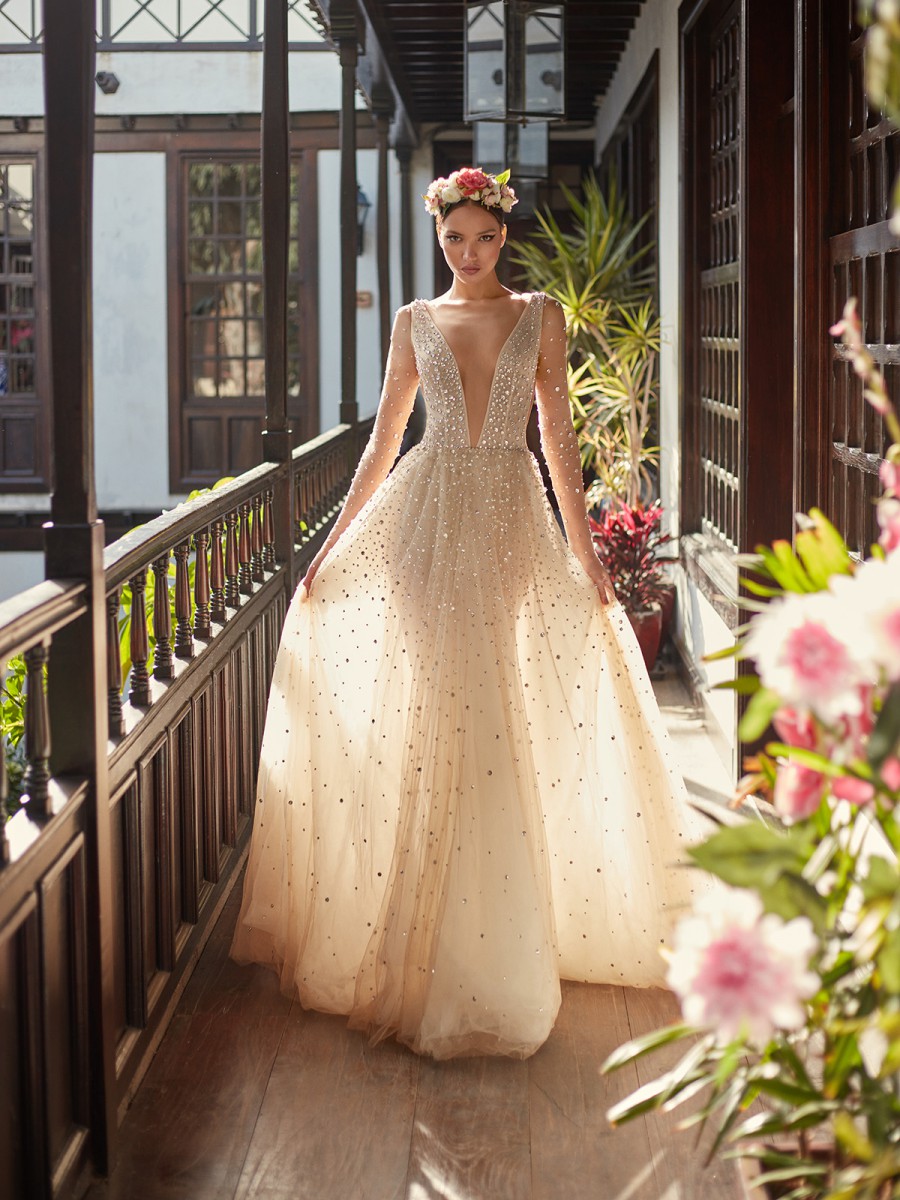 A glamorous Swarovski crystal covered gown that creates a star dust effect. Glitz and glam your way down the aisle in this celestial inspired wedding gown.
03.

Golden Glam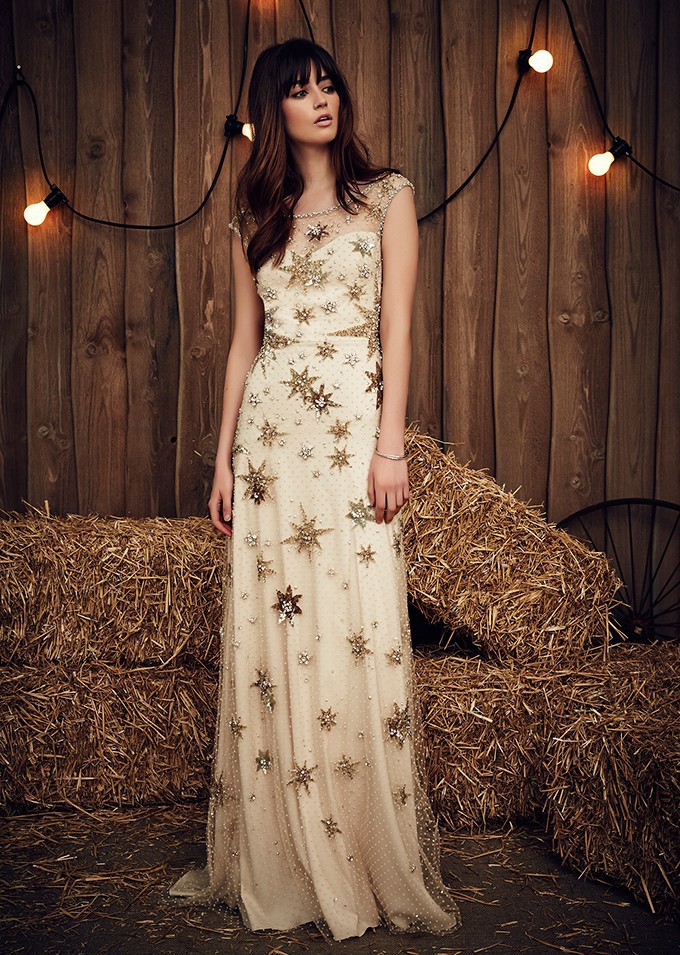 A playful celestial wedding style from Jenny Packham. Perfect for a star loving bride looking to add a touch of golden glam to her big day. The large glitz star accents on this gown are whimsical and dramatic.
04.

Blue Moon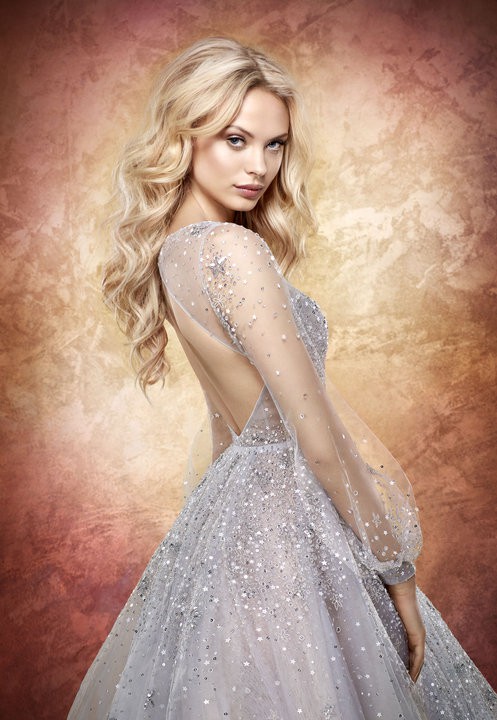 A stunning blue celestial ball gown that is covered in sprinkled star embellishment. Sheer dreamcatcher sleeves and an open back add to the whimsy of the look.
05.

Wrapped in Stars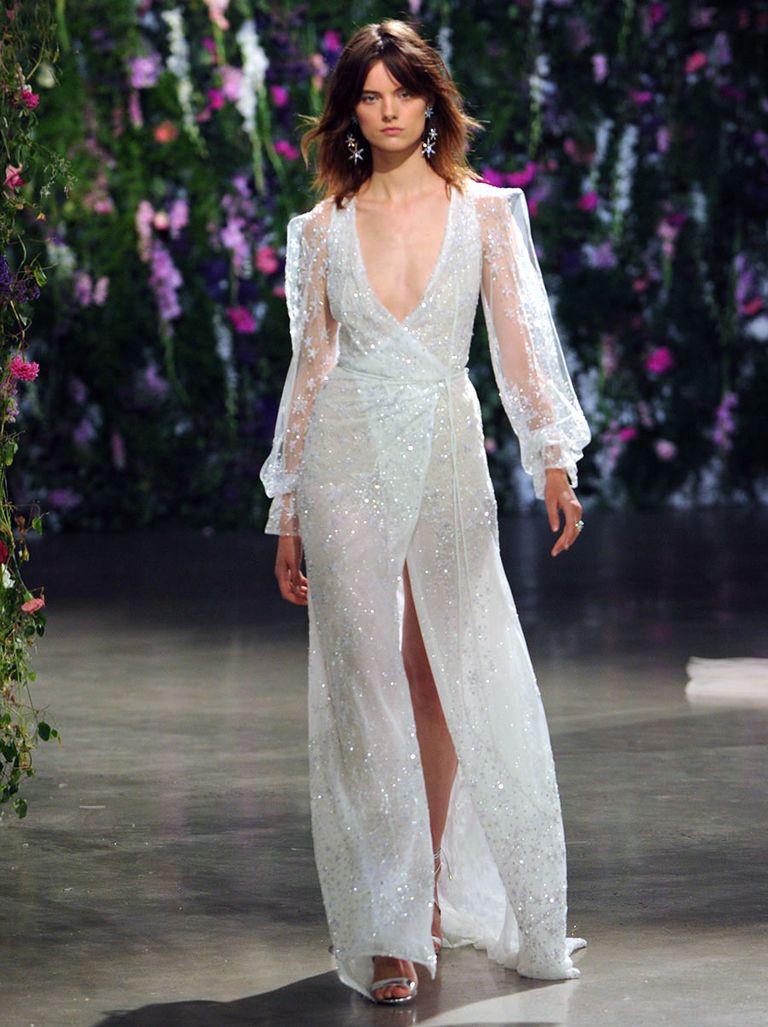 A sexy celestial wedding dress that is mystical and fashion forward. This seemingly simple wrap gown has endless detailing from its sheer billowing sleeves to all over glitzy star accents.
06.

Star Plunge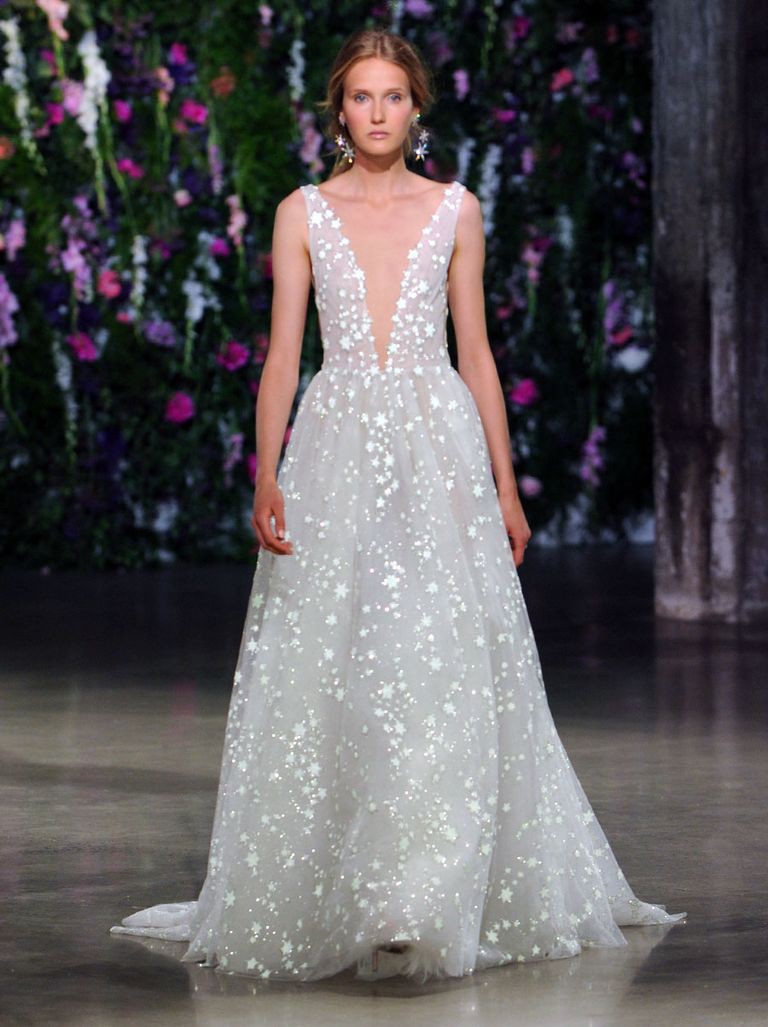 Our next celestial gown is a sleek, traditional cut with modern influences. A plunging neckline creates a sexy bodice style that is anything but classic. The covered with a spattering of glistening stars, this gown will have you dreaming of a starry night.
07.

Starbursts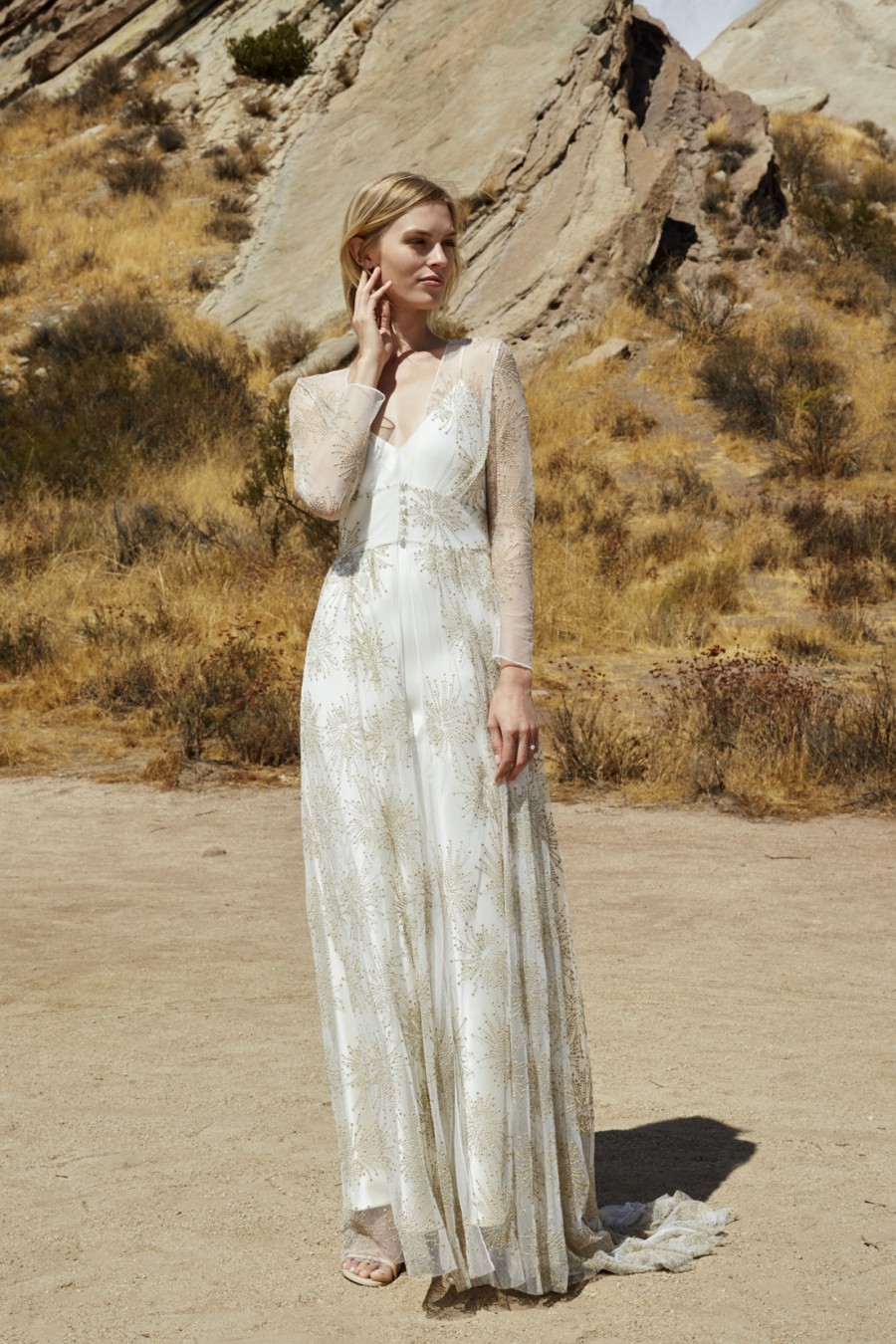 A delicate and feminine celestial wedding gown. This look features a sheer lace overly embroidered with golden starburst designs. A simple wedding day style that if full of wonder.
08.

Champagne Stars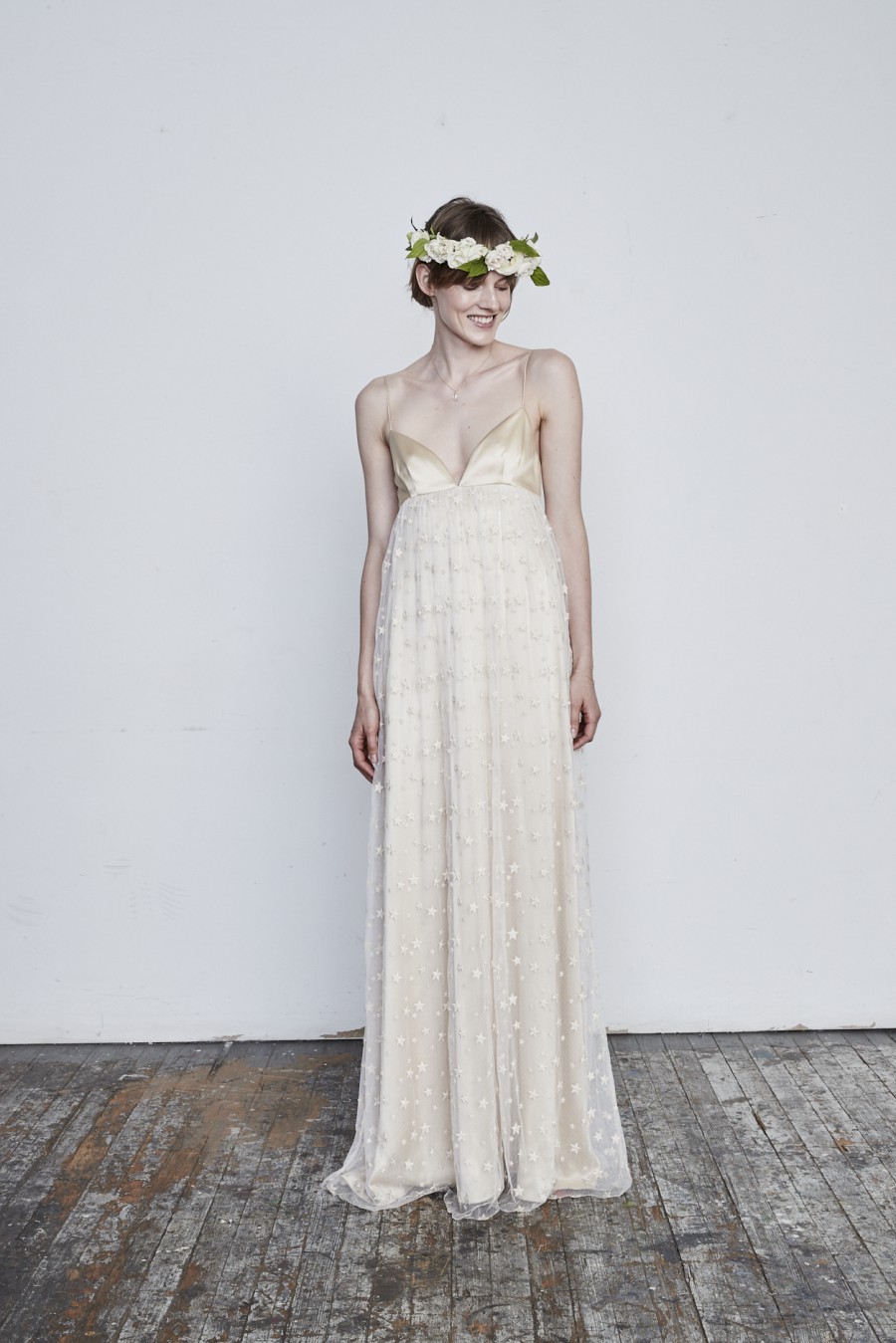 A beautiful empire line celestial wedding dress that has craving a romantic starlit wedding ceremony. This gown would be perfect for the midnight summer wedding of your dreams. And it even has an optional sheer star covered caplet to add even more whimsy to this celestial style.
09.

Beach Ready Celestial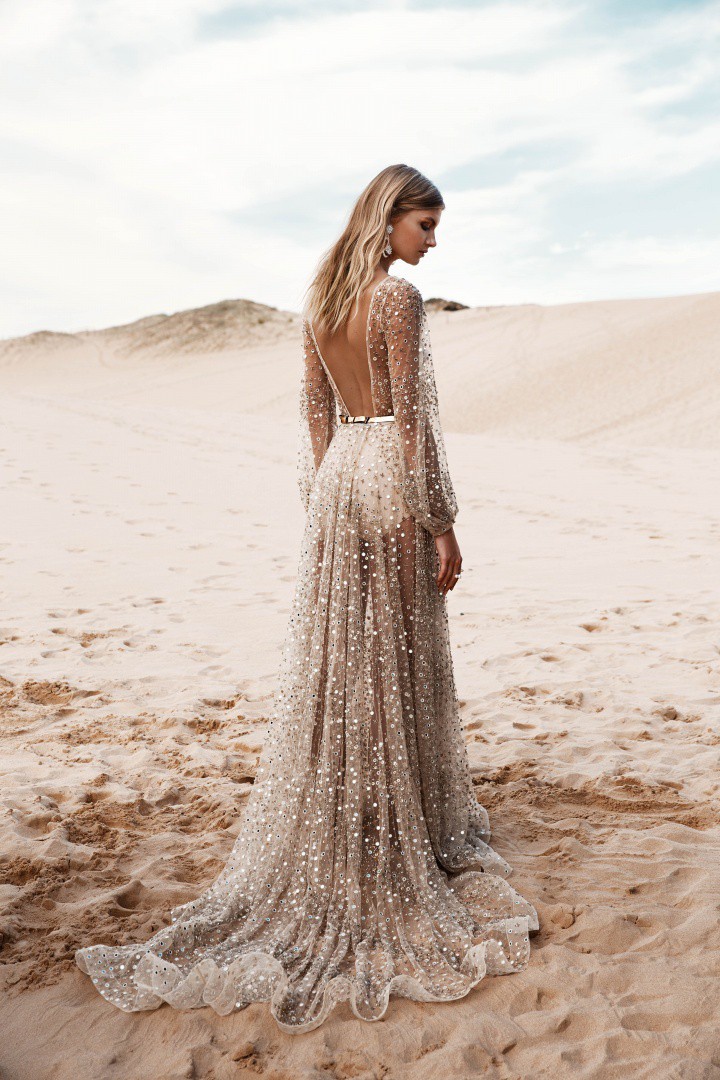 A sexy, sheer wedding style for our star struck dreamers out there. This whimsical wedding style is perfect for a beachfront starlit wedding ceremony. Get ready to dance the night away under the stars in this unique and gorgeous celestial wedding gown.
10.

Caped in Stardust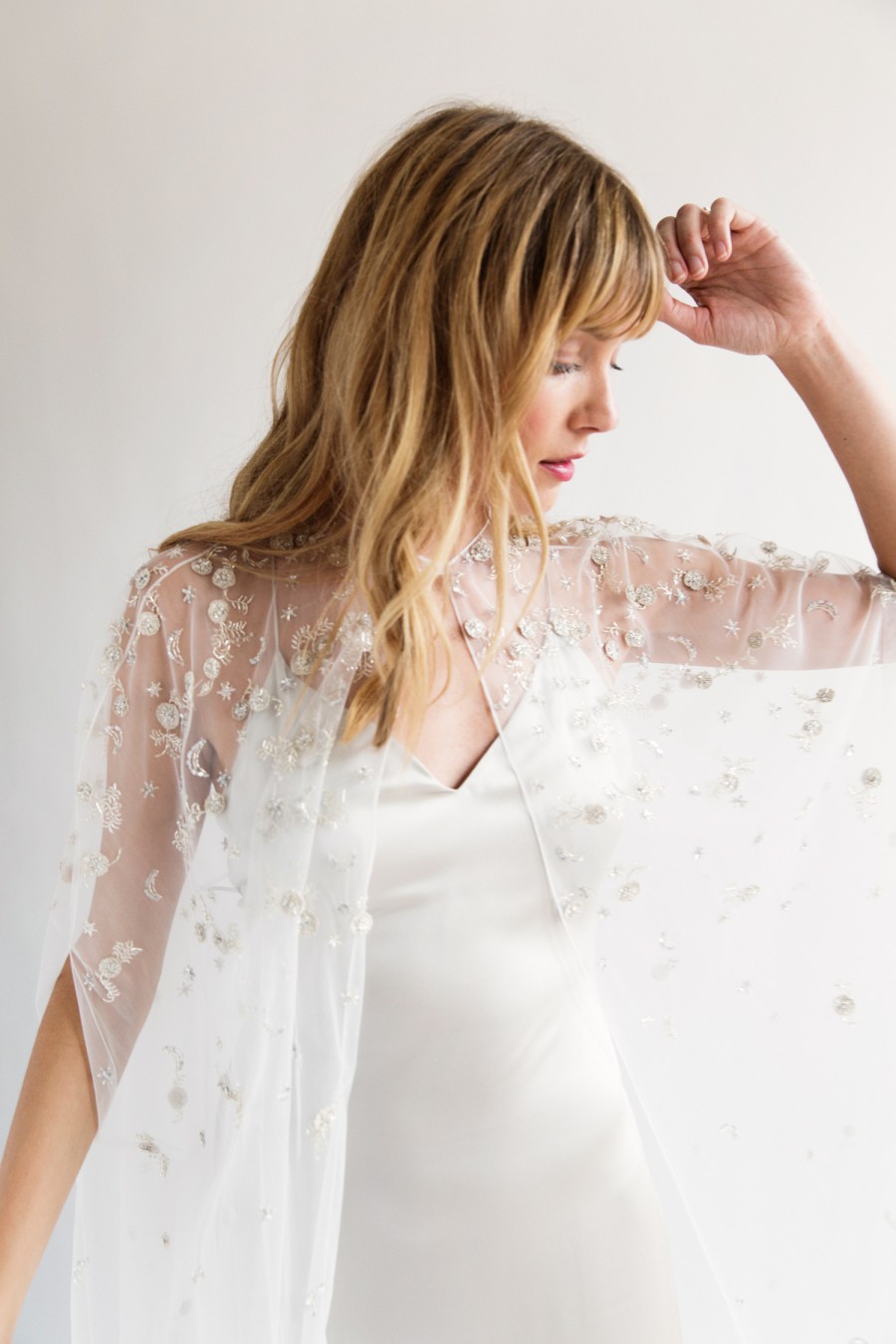 The Luna Cape by Alexandra Grecco is airy and magical. This sheer cape features delicate celestial beadwork. This is the perfect way to add a touch of whimsy to any wedding day look. We love it combined with this sleek, silk gown.
11.

Silver Moon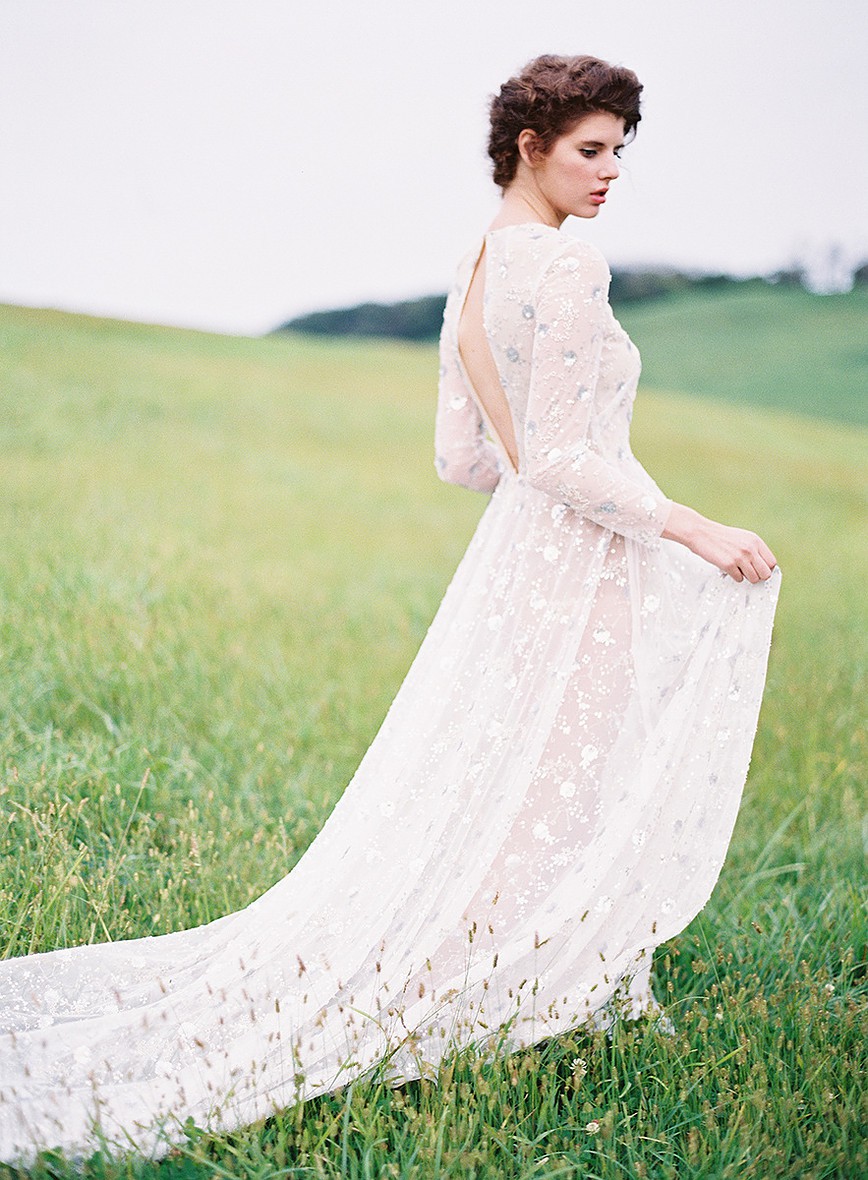 The Edith gown by Jaclyn Jordan is inspired by the moon. The illusion of silver moons and constellations seem to dance across the entire length of this celestial wedding style. An ethereal and whimsical wedding day.
12.

Into the Future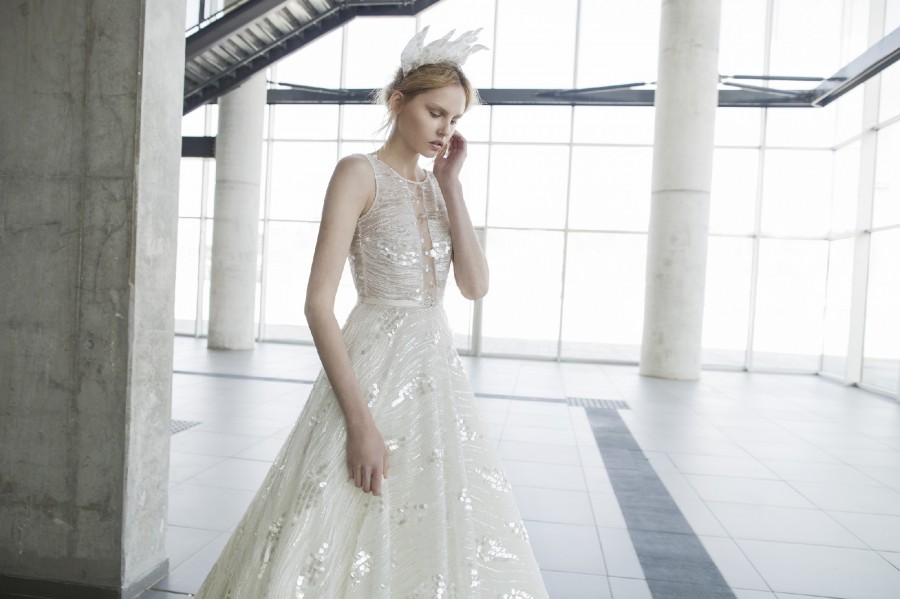 An almost futuristic celestial inspired wedding gown by Mira Zwillinger. This stunning metallic accented gown is dreamy and uniquely elegant.
13.

Star Princess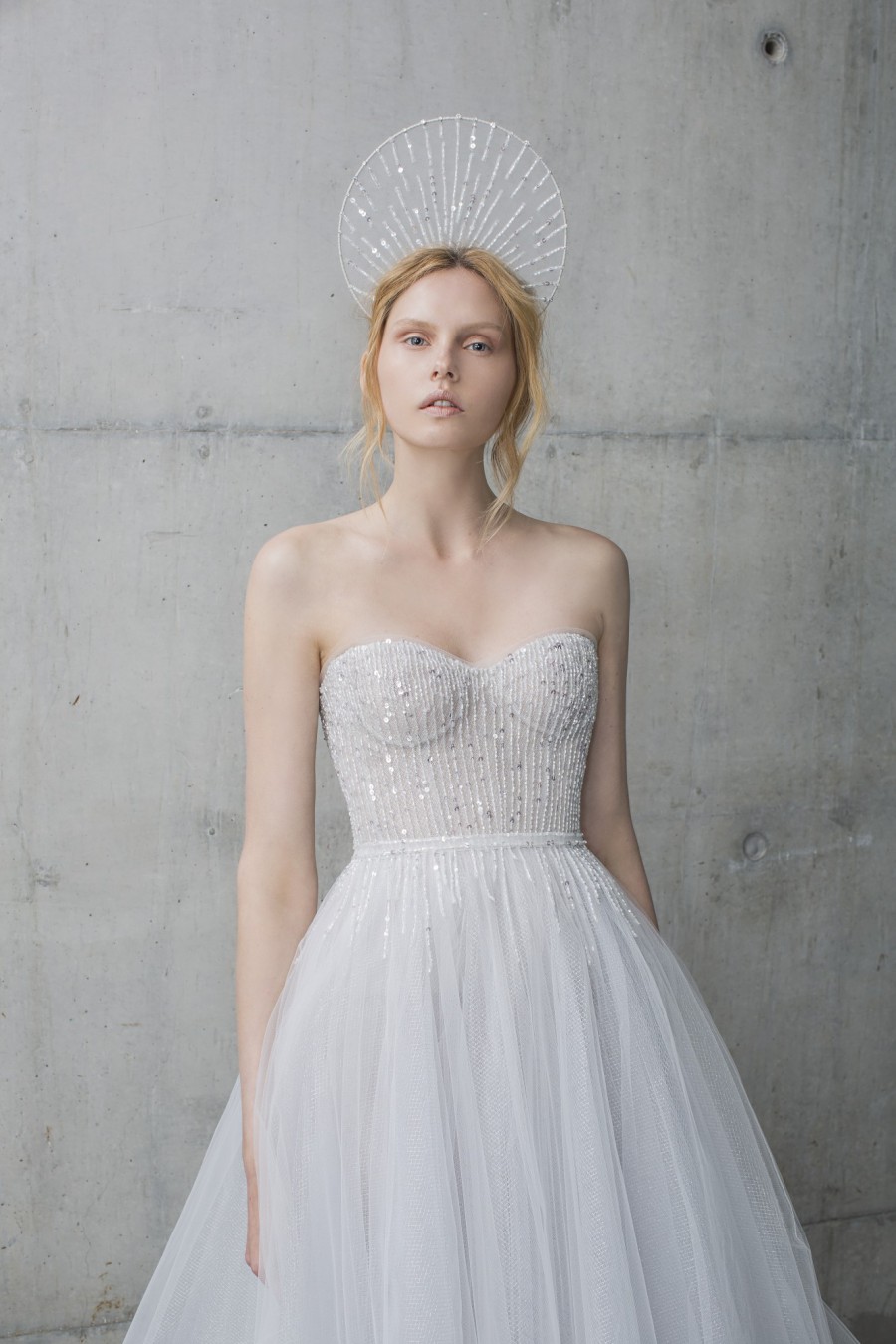 A glistening ball gown style for a modern starstruck princess. This modern ethereal ball gown will have you feeling whimsical and elegant on your big day.
14.

Stars and Moons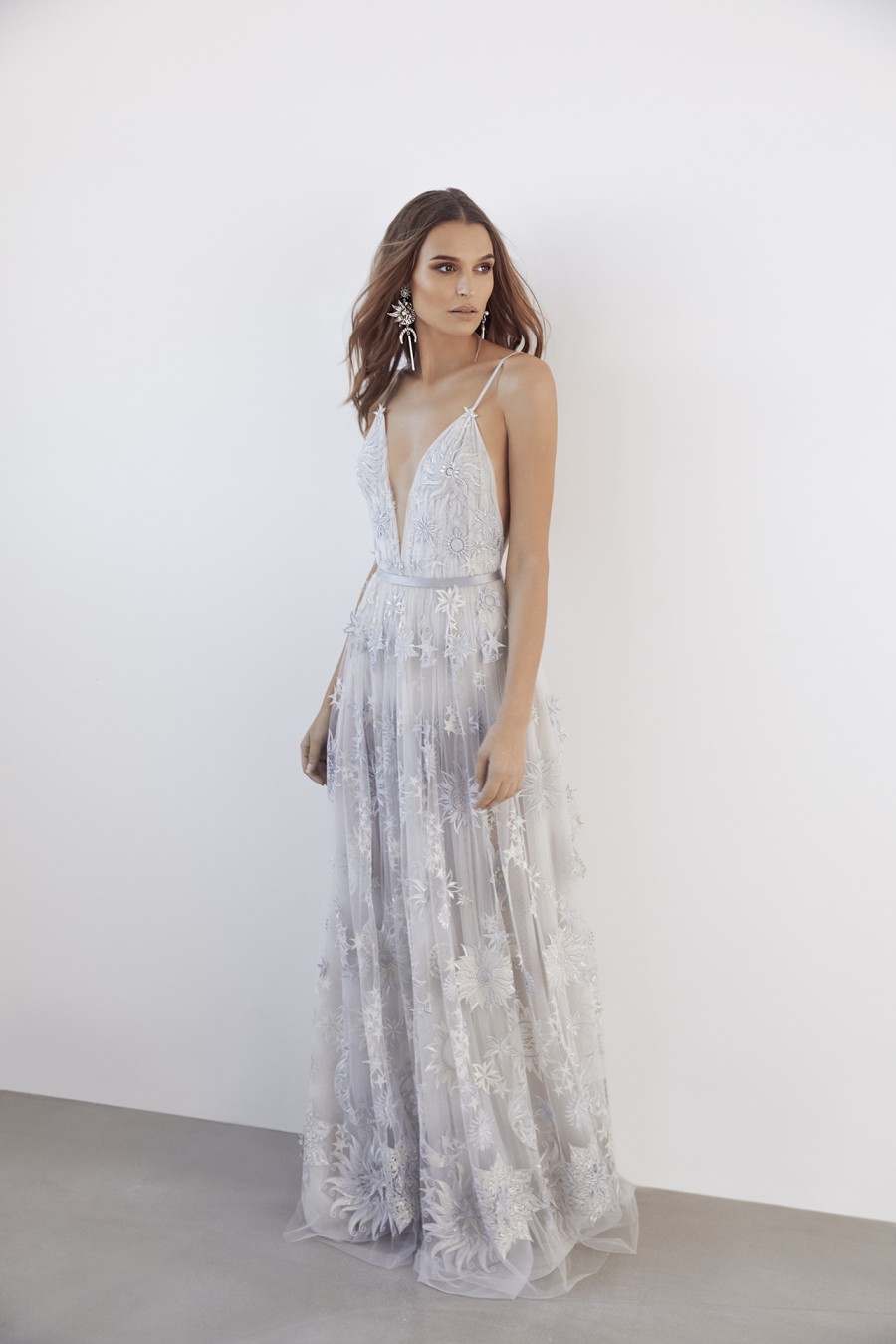 Our next celestial wedding style by Suzanne Harward is fittingly names Stars & Moons. A truly stunning celestial wedding style that has us a bit lost for words.
15.

Stargrove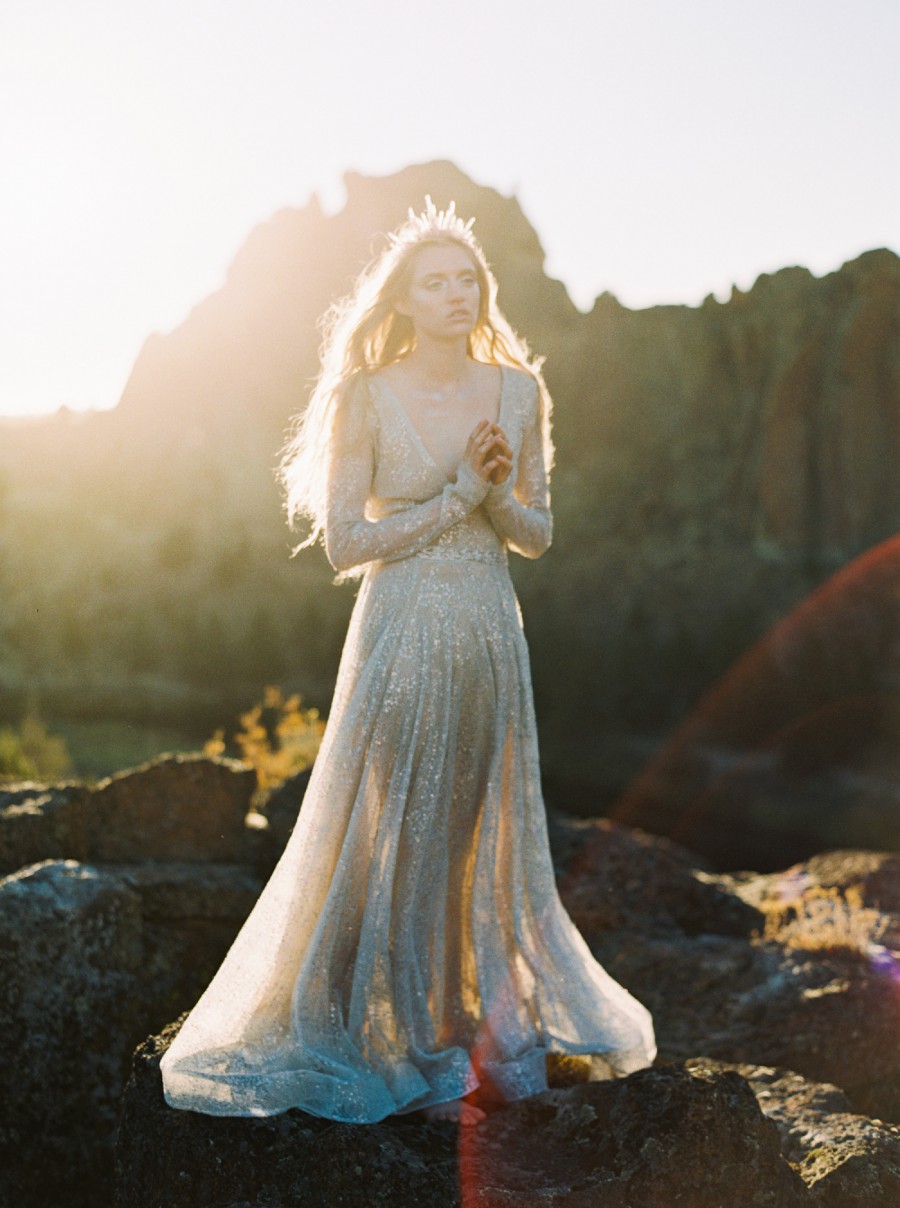 Stargrove is a whimsical starry-eyed style from Claire La Faye. This celestial inspired wedding gown will have you glowing all night long. Everyone's eyes will be glued to this gown as it glistens during a moonlit ceremony.
16.

Moonlight Magic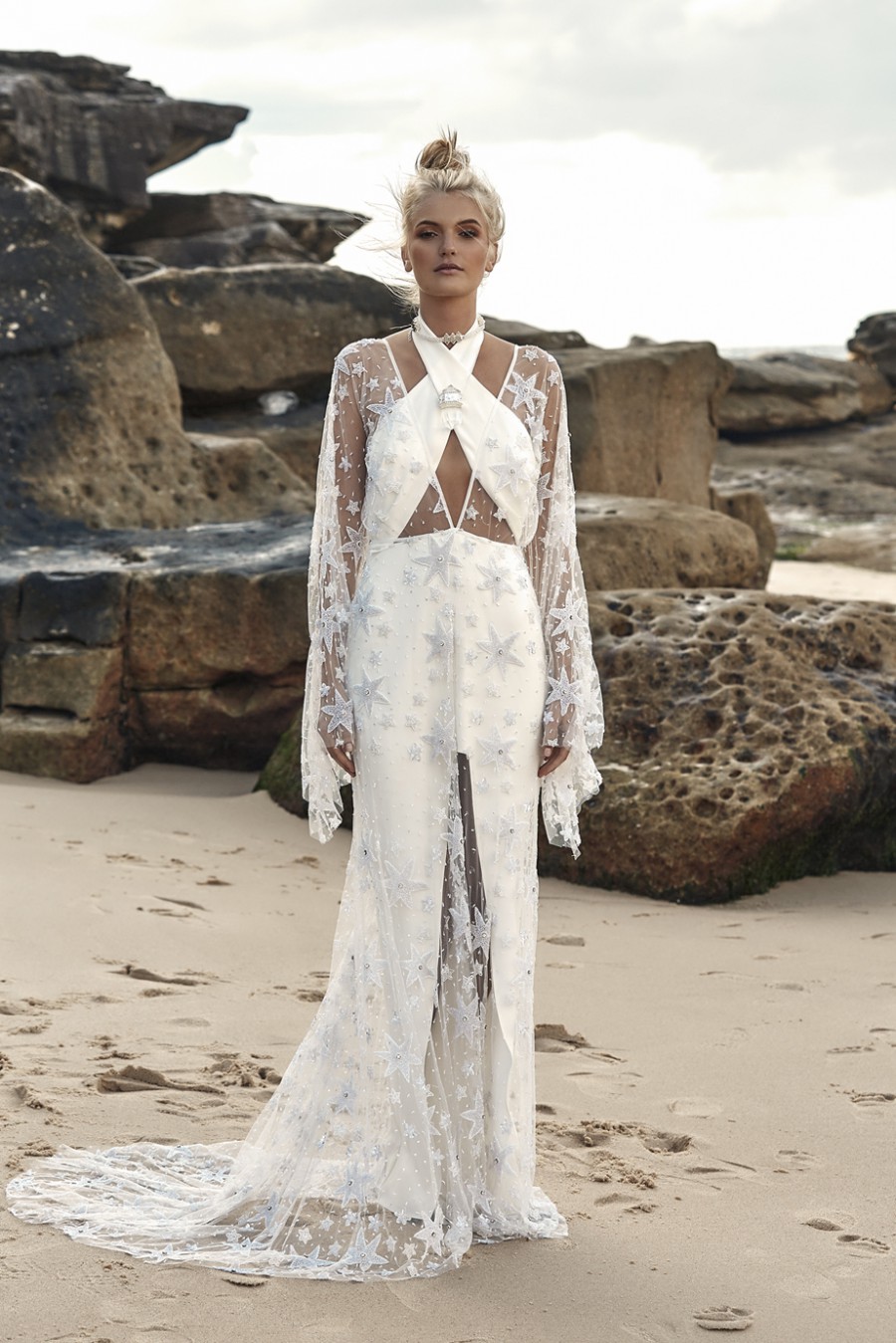 Indigo Star is part of Rue de Seine's Moonlight Magic collection. Bold silver star accents give this celestial bridal style a modern rock vibe. A completely unique and chic celestial wedding dress.
Kathryn Schrotenboer