Which bold babes out there are ready to rock a power suit on their big day?
We have seen more and more menswear inspired bridal styles in the past few years. But bridal blazers seem to be taking off in a big way. These looks are sleek, sophisticated, and demand your attention.
01.

Blazer Coat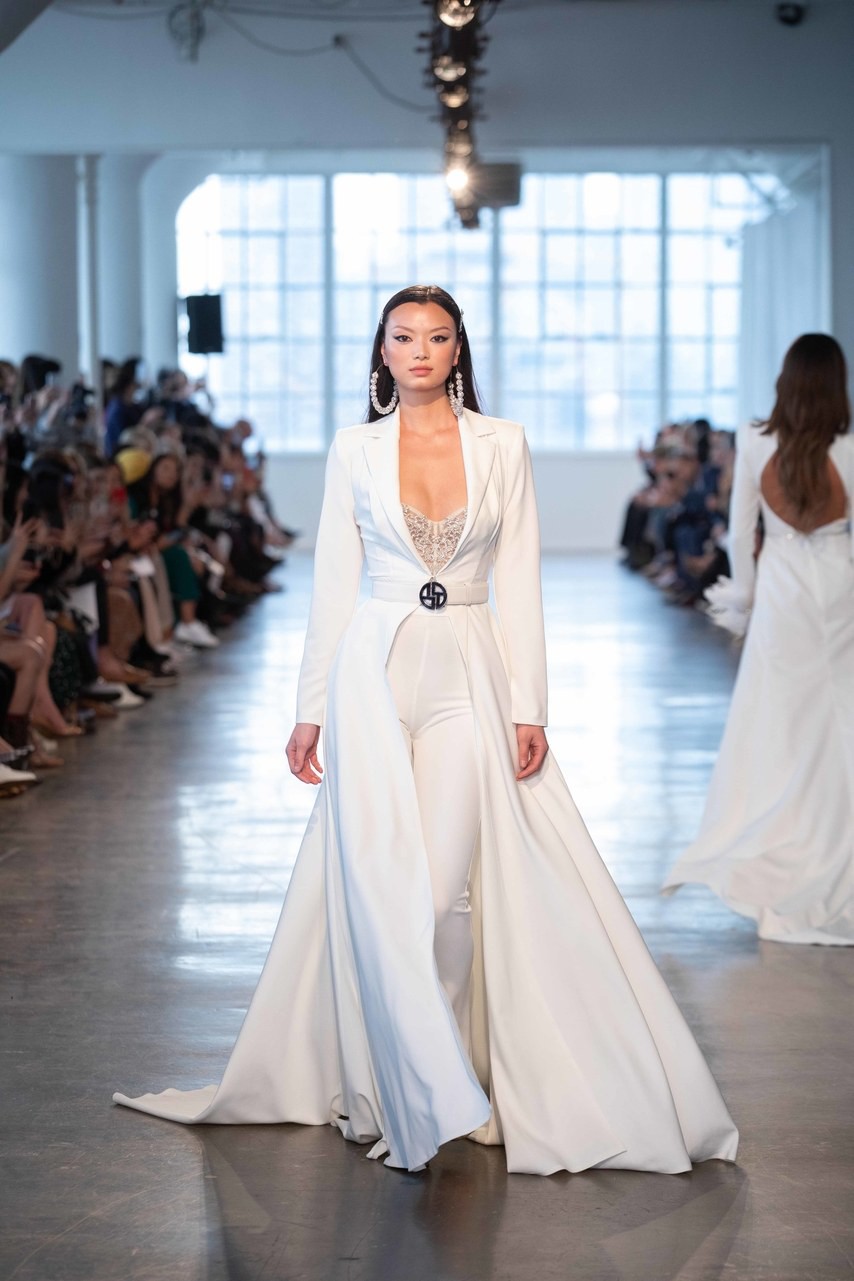 Let's start off the list with this one of a kind bridal blazer style from Berta. This cape-like blazer design is regal and demands the attention of everyone around.
02.

Lady Lace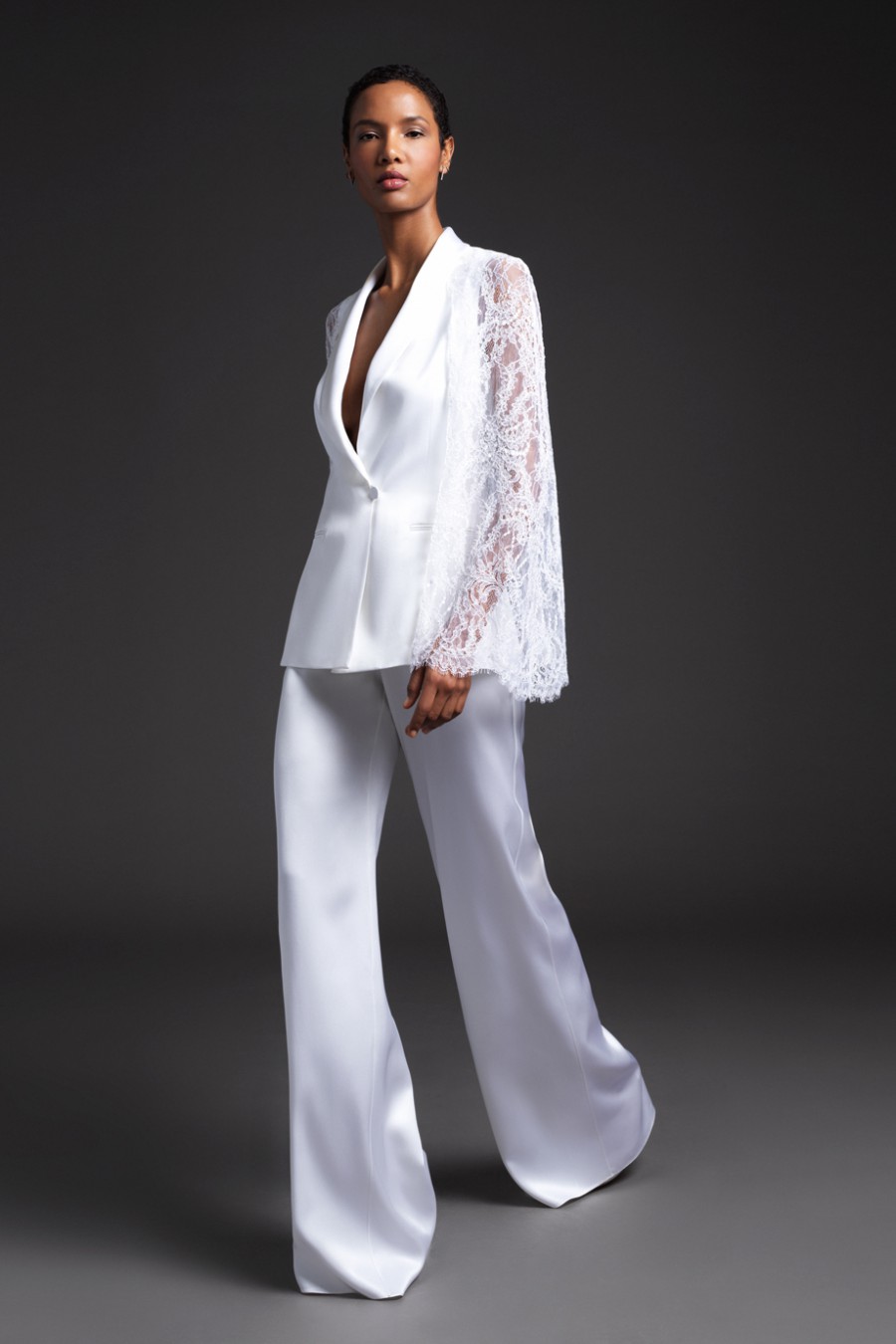 This next look from Cushnie features a lace sleeved silk bridal blazer. The semi sheer lace sleeve and deep V-neckline add a feminine touch to this menswear inspired bridal style.
03.

Couture Blazer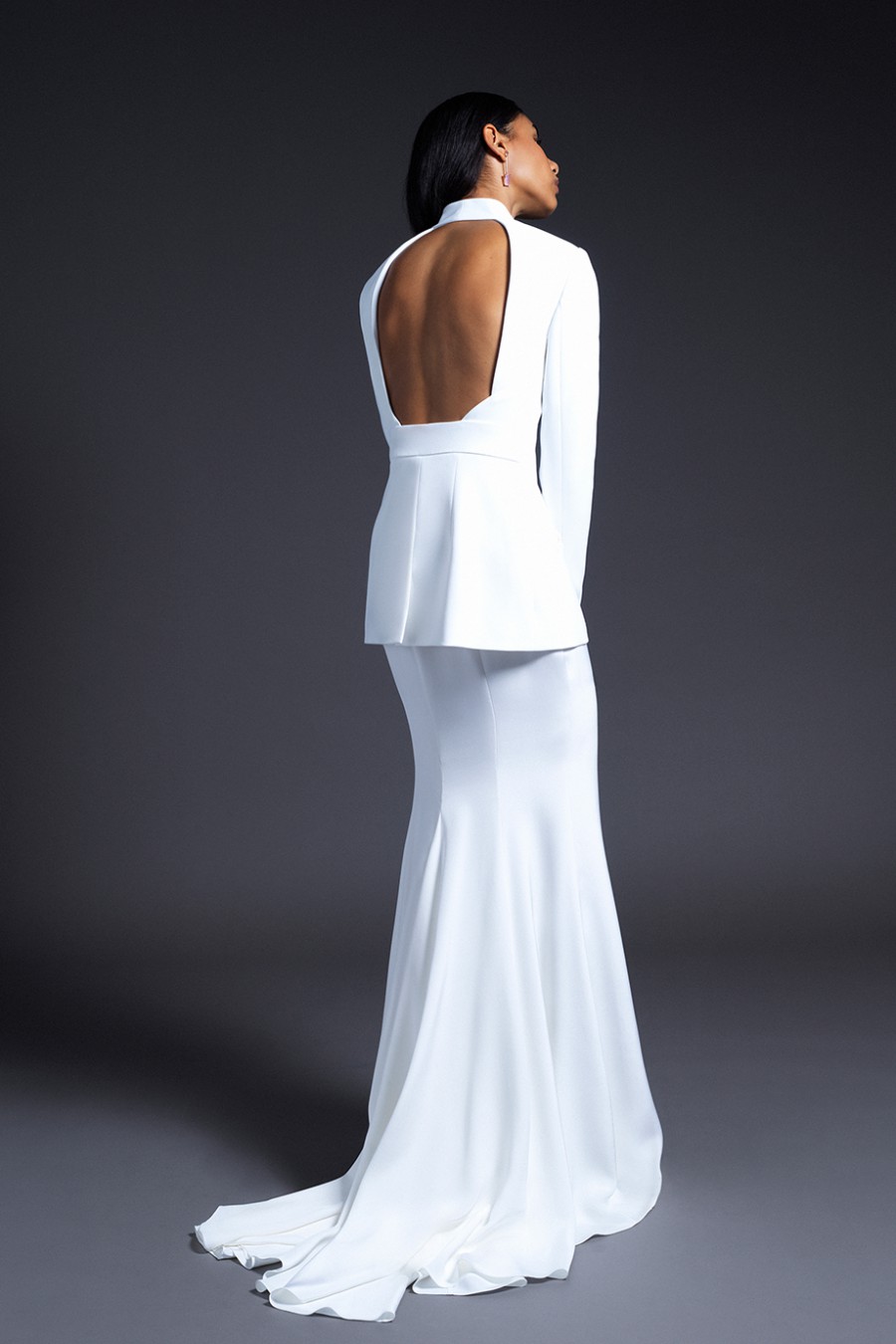 Looking for a more couture, futuristic wedding style? This one of a kind bridal blazer and skirt combo may just be what you are looking for. Truly one of a kind and stunning.
04.

Blazer Casual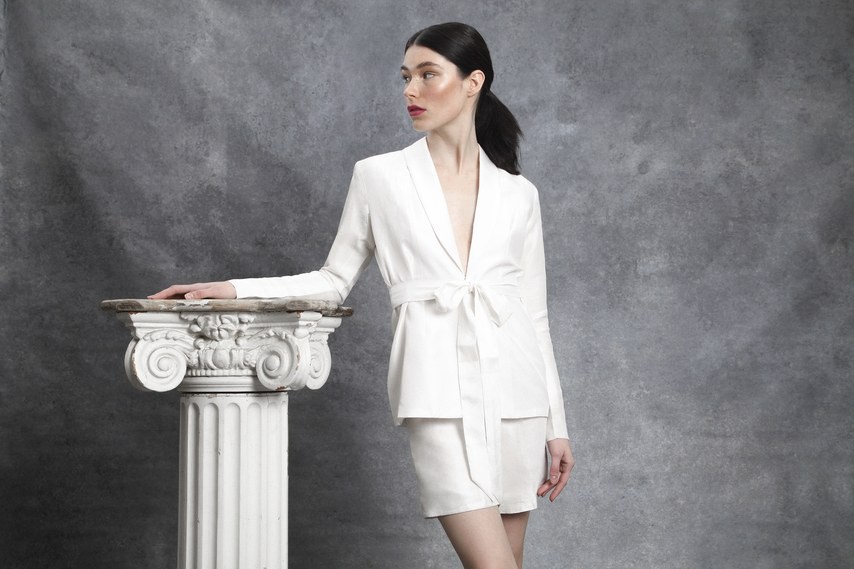 Going for a more casual bridal style that is still bold and on trend? How about this bridal blazer and shorts combo from Sahroo?
05.

Chic Shorts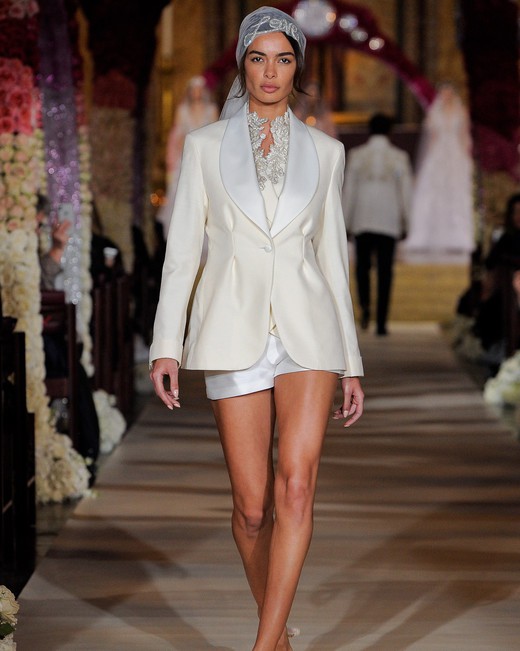 Love the idea of shorts on your big day? How about this silk shorts and bridal blazer combo from Reem Acra?
06.

Sleek and Sexy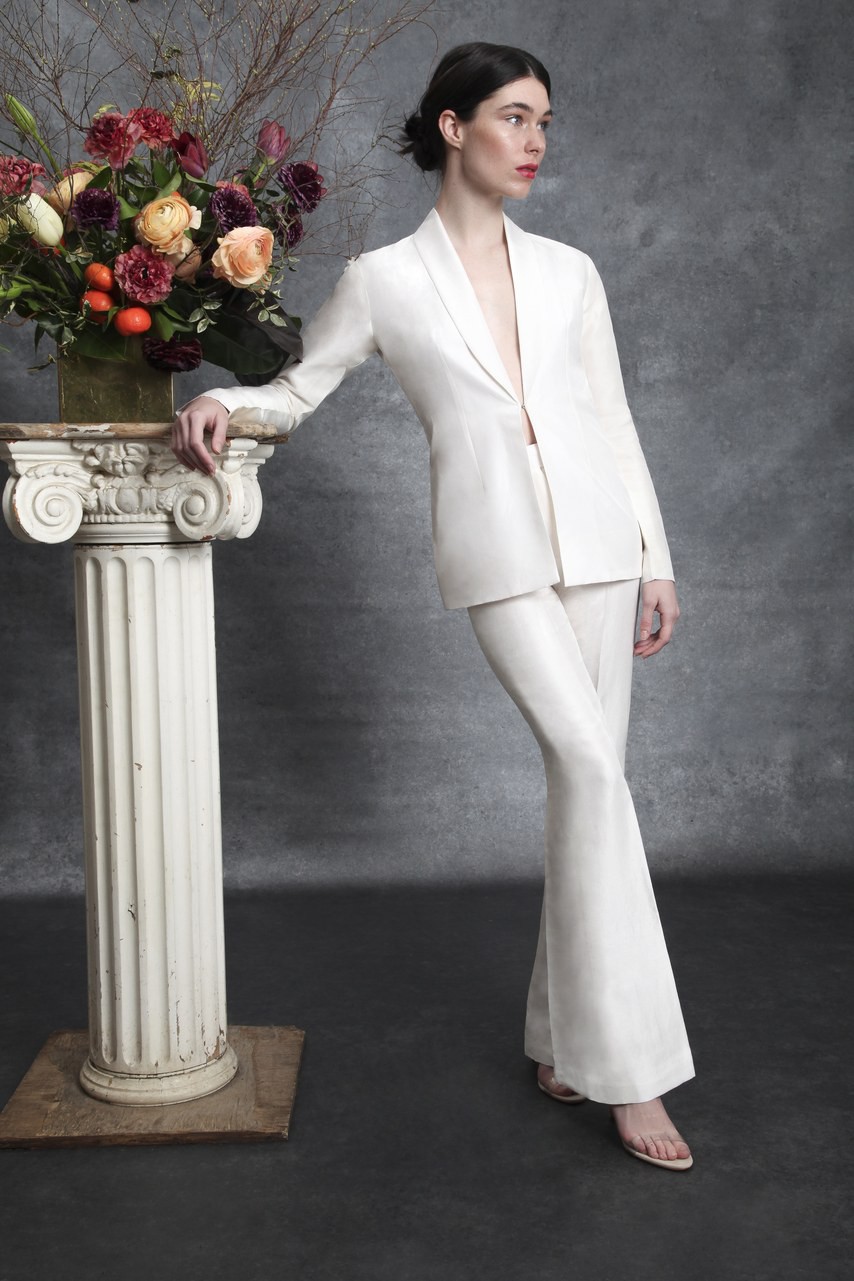 A sleek and sophisticated feminine bridal blazer and pants perfect for that courthouse elopement. Keeping things chic and casual with this look.
07.

Ring Master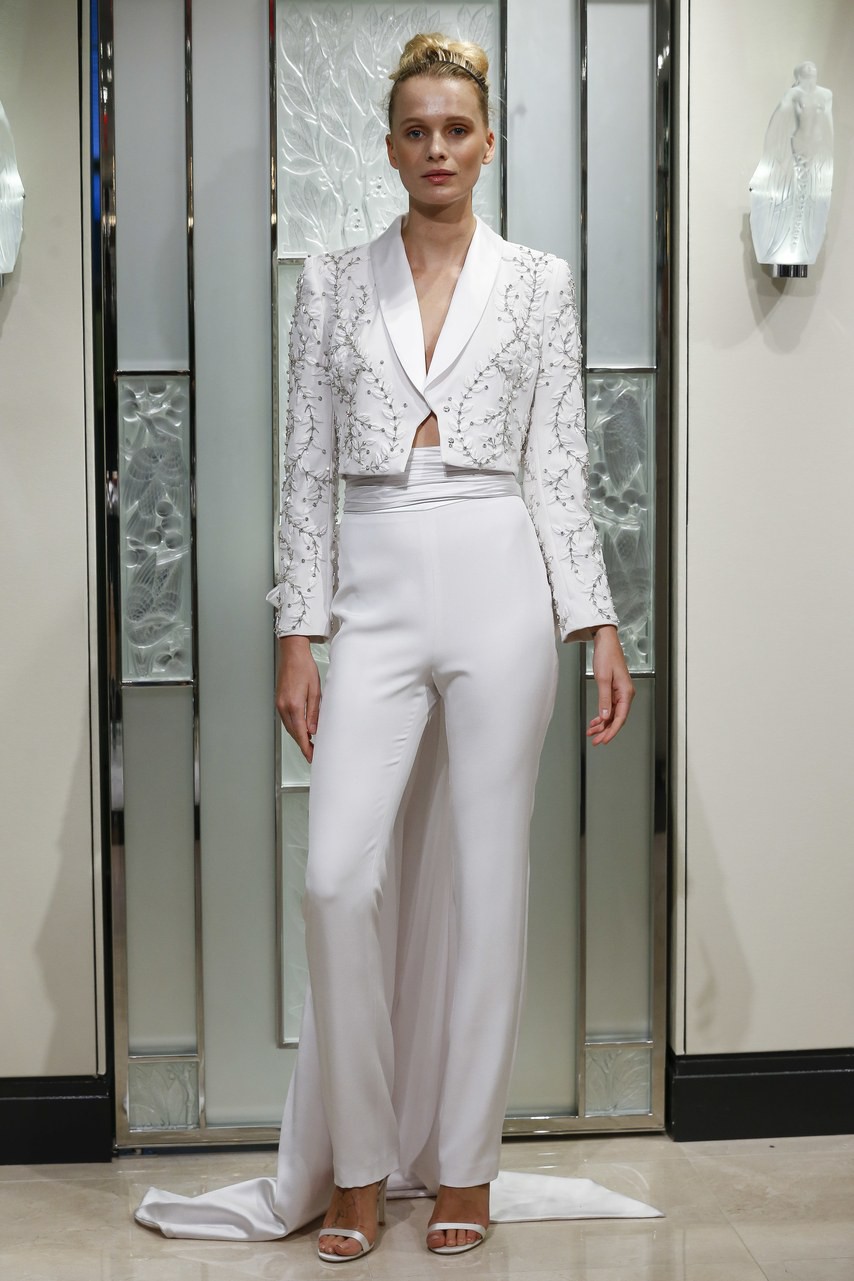 Gracy Accad brings us a one of a kind bridal style with a chic ring master feel to it. Take your seats ladies and gentlemen, this look is about to blow you away.
08.

Oversized Powersuit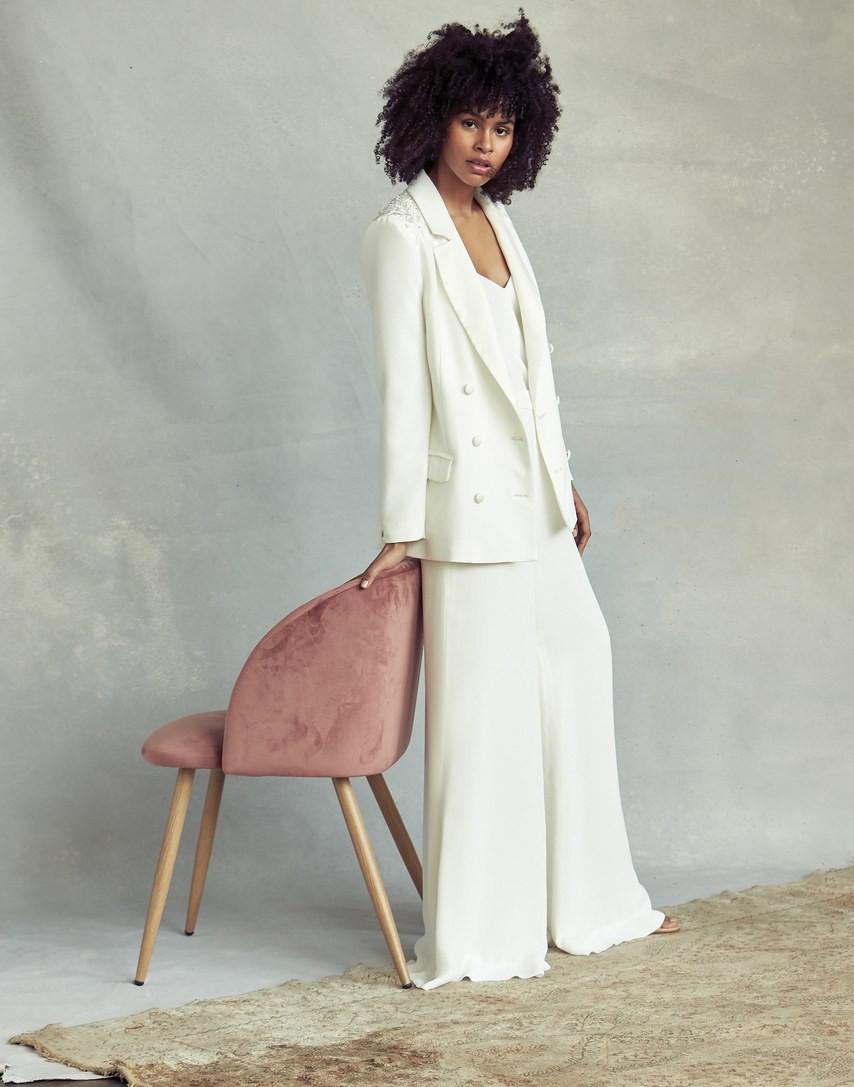 Next we have an oversized bridal blazer and wide leg pants look from Savannah Miller. Crystal detailing and soft flowing fabrics give this wedding suit a feminine and sophisticated finish.
09.

Glam Feathers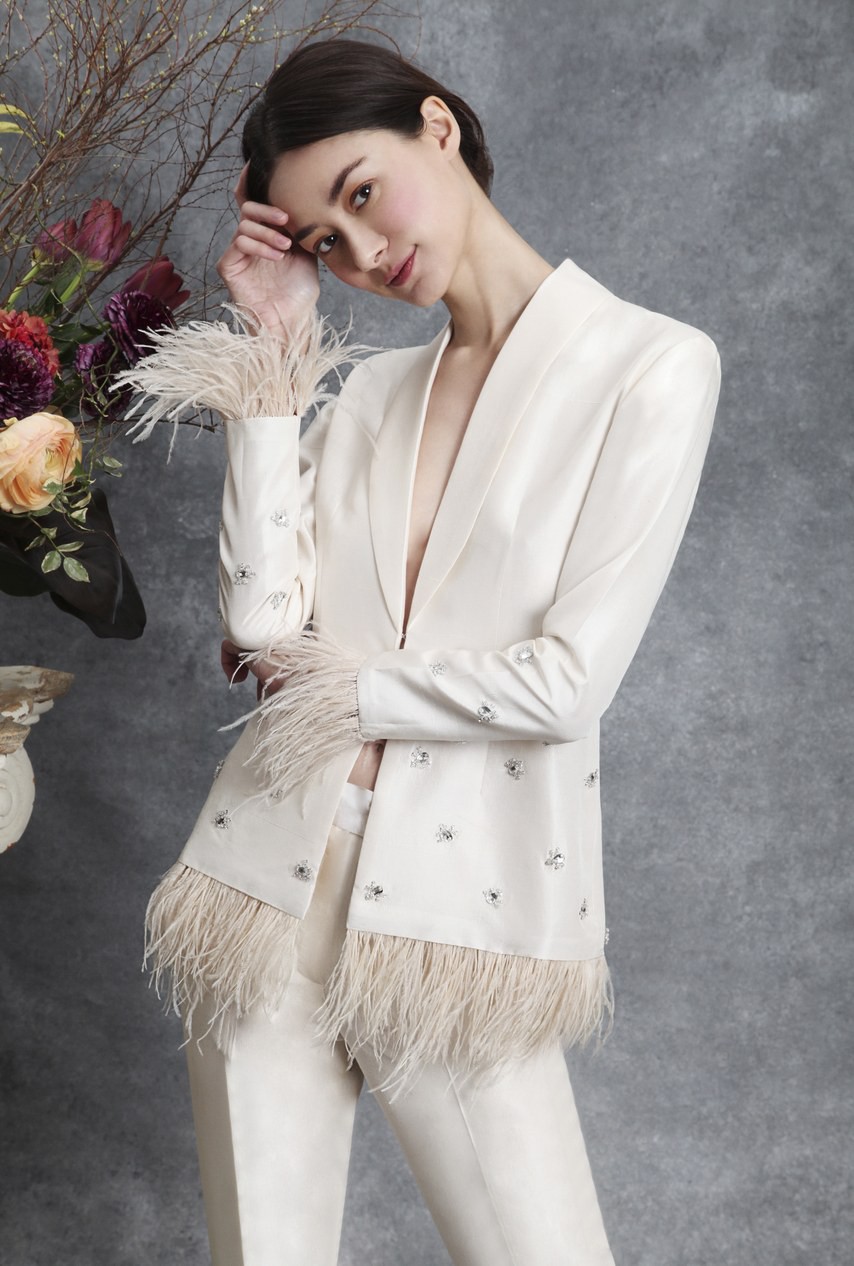 Alright ladies, if you are looking for a bold blazer bridal style, what could be better than this? Glam accents and feathered hem. This look is sophisticated and classy while still being flashy and chic.
10.

Fairytale Fashion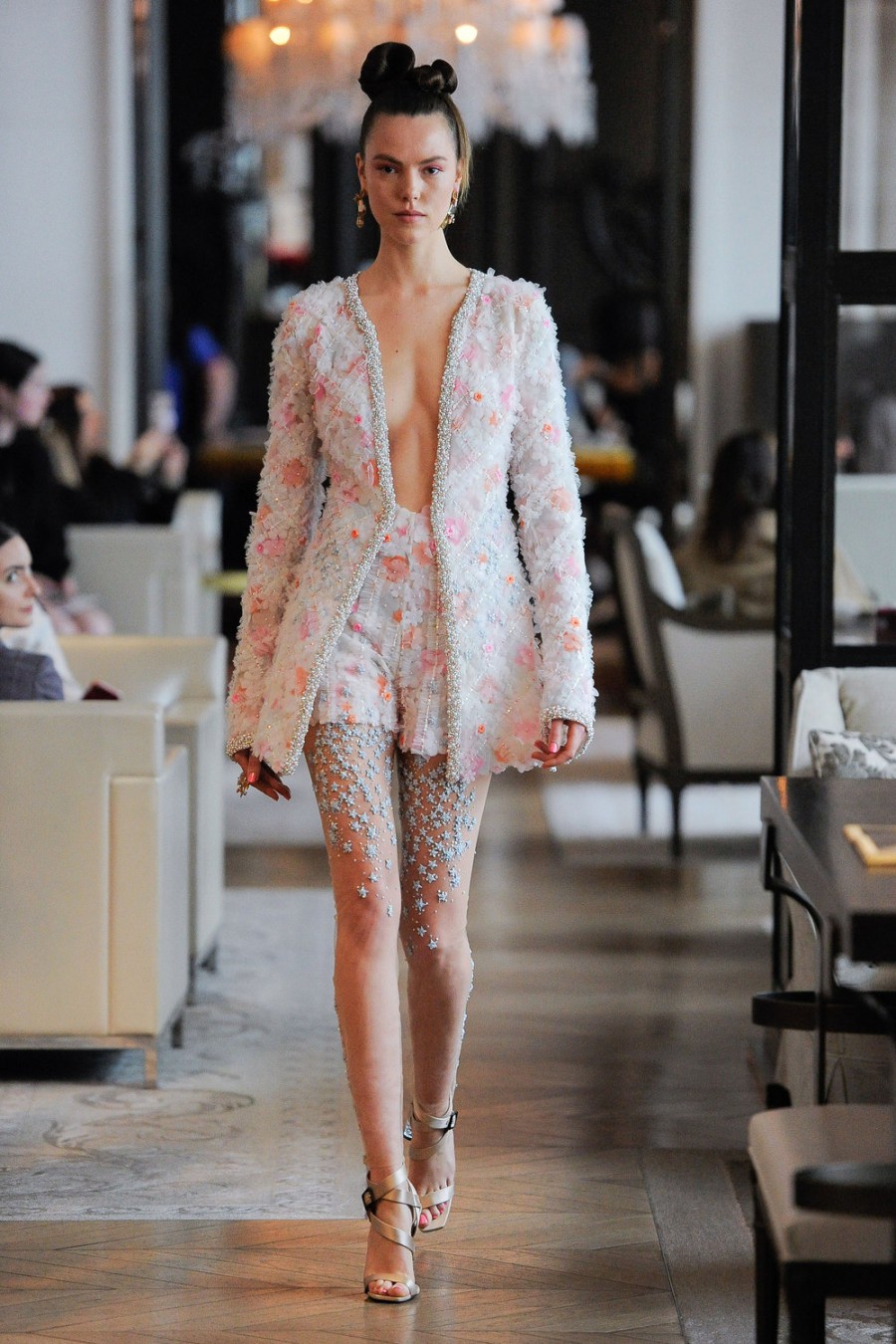 This next bridal blazer style is like nothing you have seen before. This style looks like it was pulled straight out of a dreamy fairytale. Feminine, floral and like nothing in bridal fashion before!
11.

Studded Pearls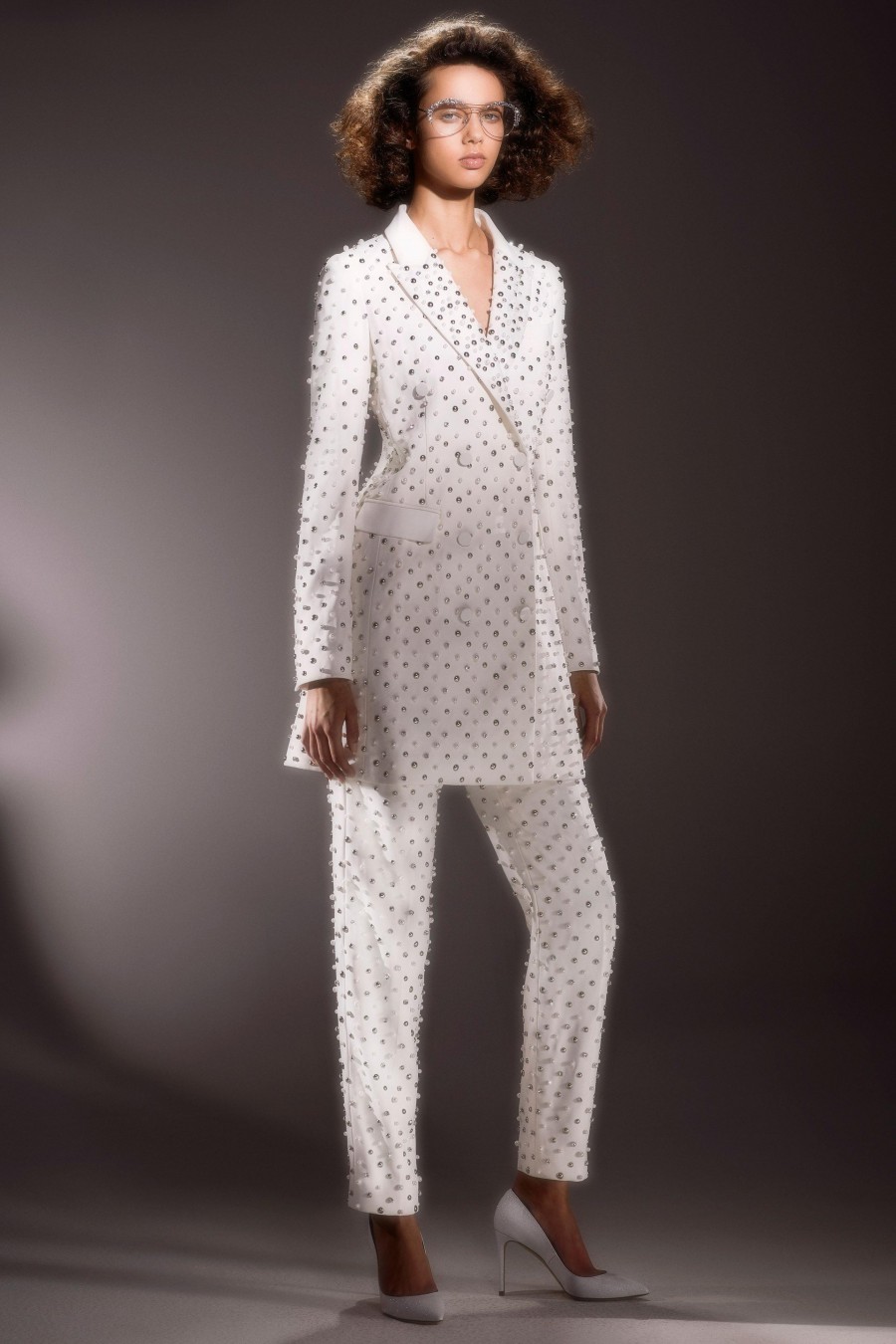 Couture bridal fashion at its best with this next blazer look from Viktor Rolf. This blazer and pant combo features all over pearl, stud and crystal embroidery. The texture of this style is bold and show stopping.
12.

Feminine Chic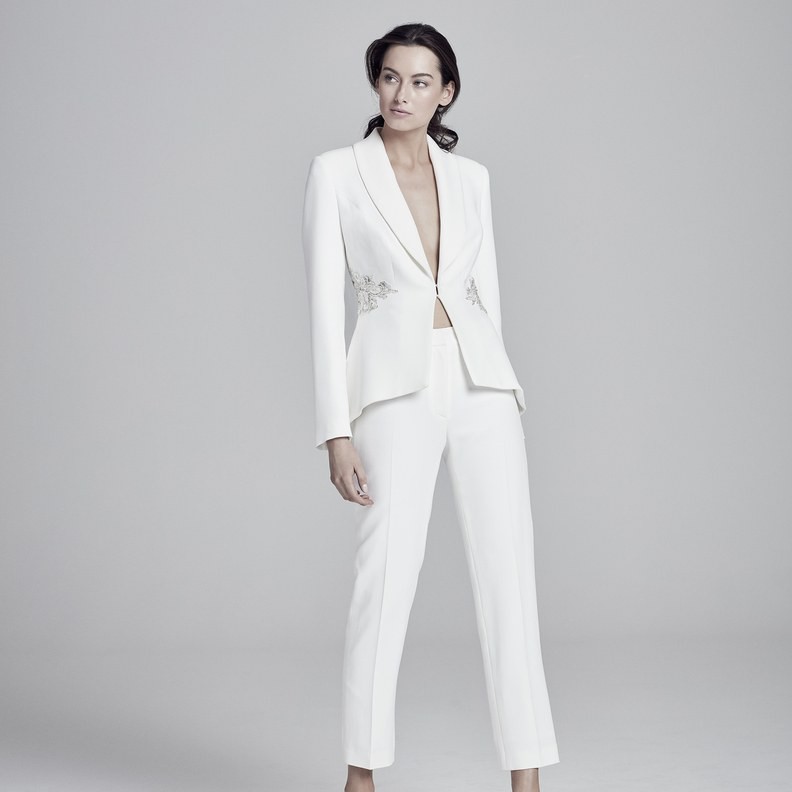 This sleek and sexy bridal style has us swooning for more. Suzanne Neville brings us a stunning and sophisticated style that is modern and chic.
13.

Chic Jumpsuit Jacket Combo
We are loving this chic jumpsuit and blazer jacket combo. This bridal look is chic, sophisticated and completely gorgeous. If you are looking for something different from a traditional white dress on your big day, this modern alternative is definitely something to be considered.
14.

Oversized Jacket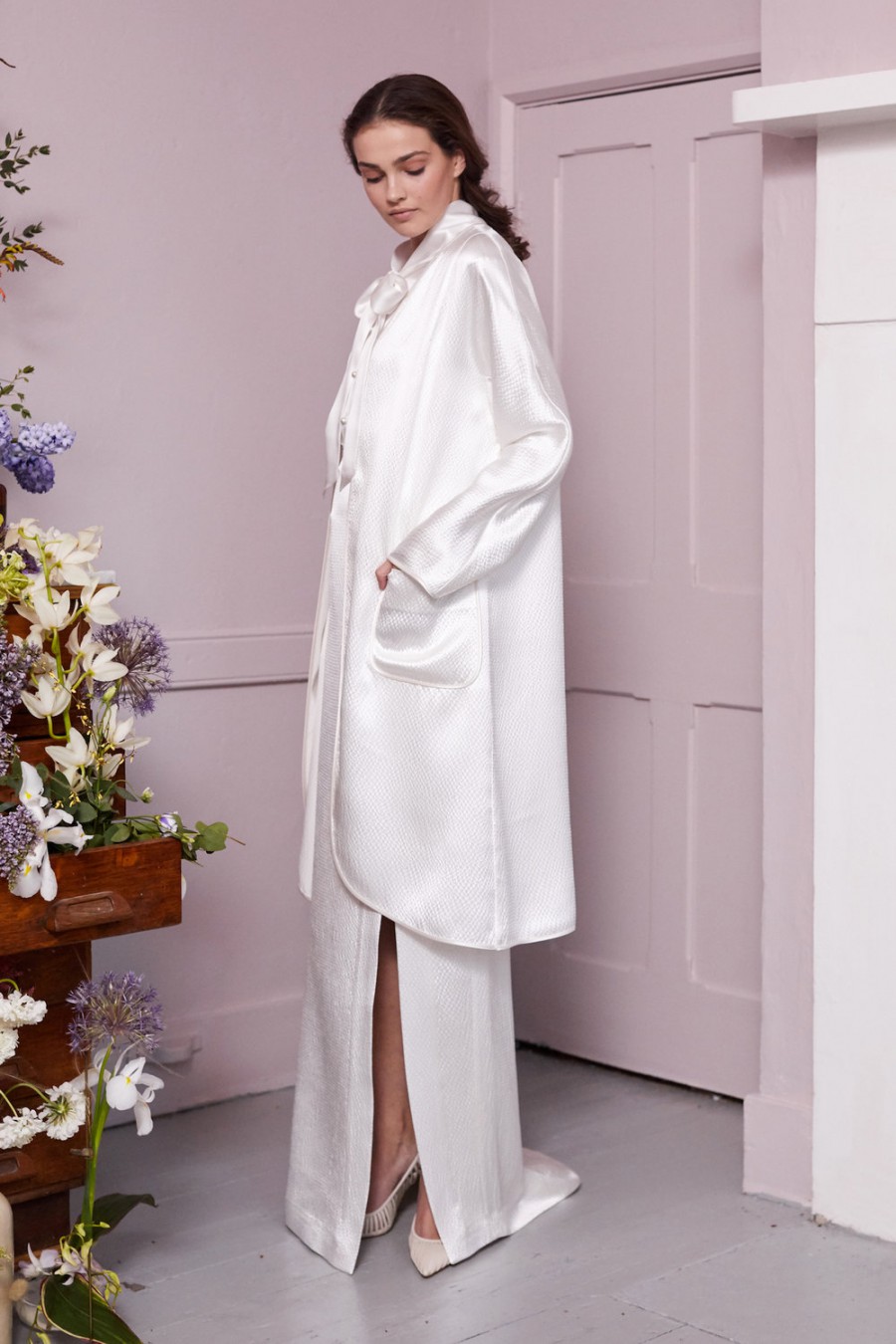 This next bridal blazer look is couture and contemporary. This matching oversized silk jacket and gown make for a one of a kind bridal style.
15.

Bold Blazer Babe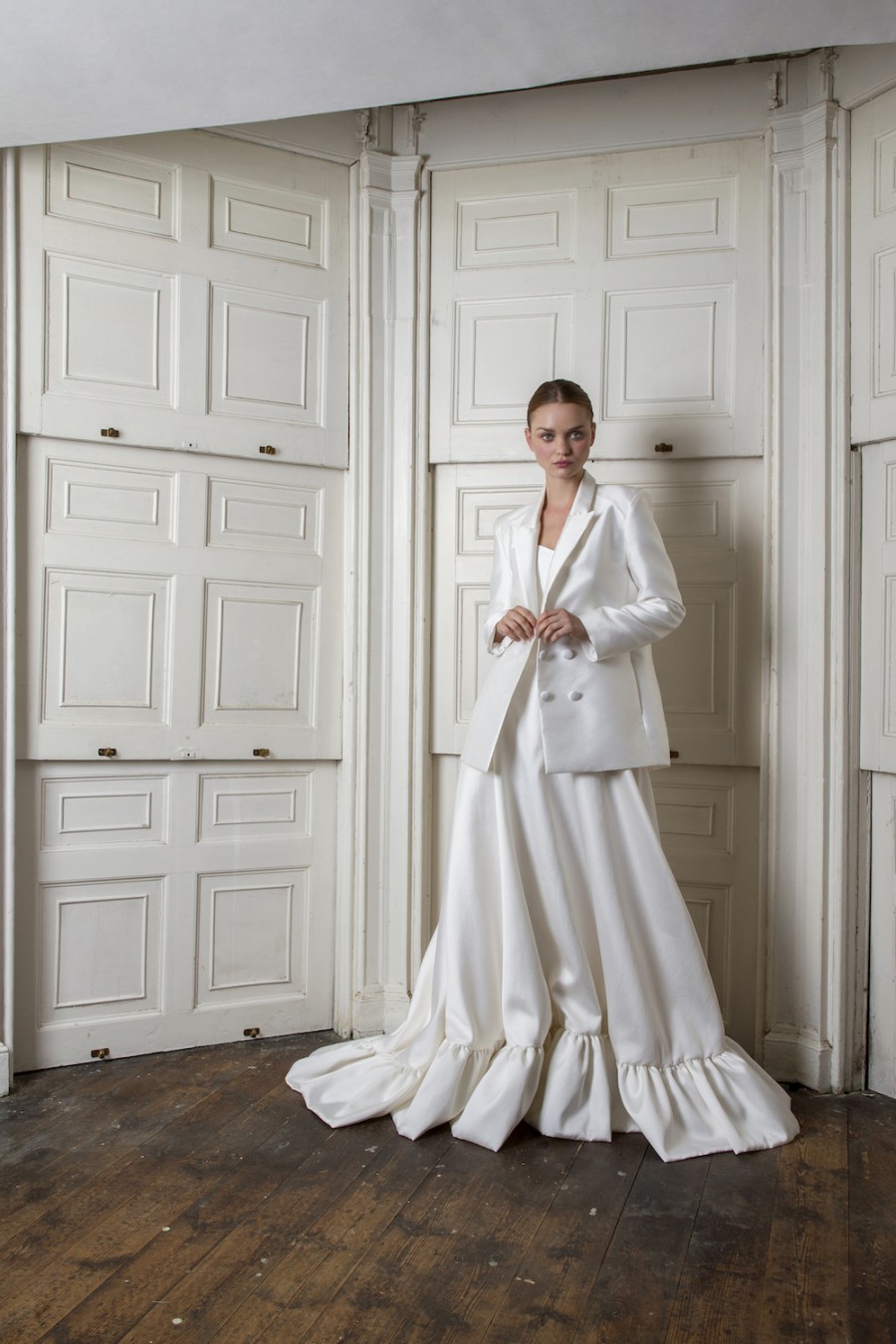 Make a bold bridal statement with this blazer and gown combination from Half Penny London. An oversized blazer is a beautiful contrast to a traditional feminine wedding gown.
16.

Fitted Floral Blazer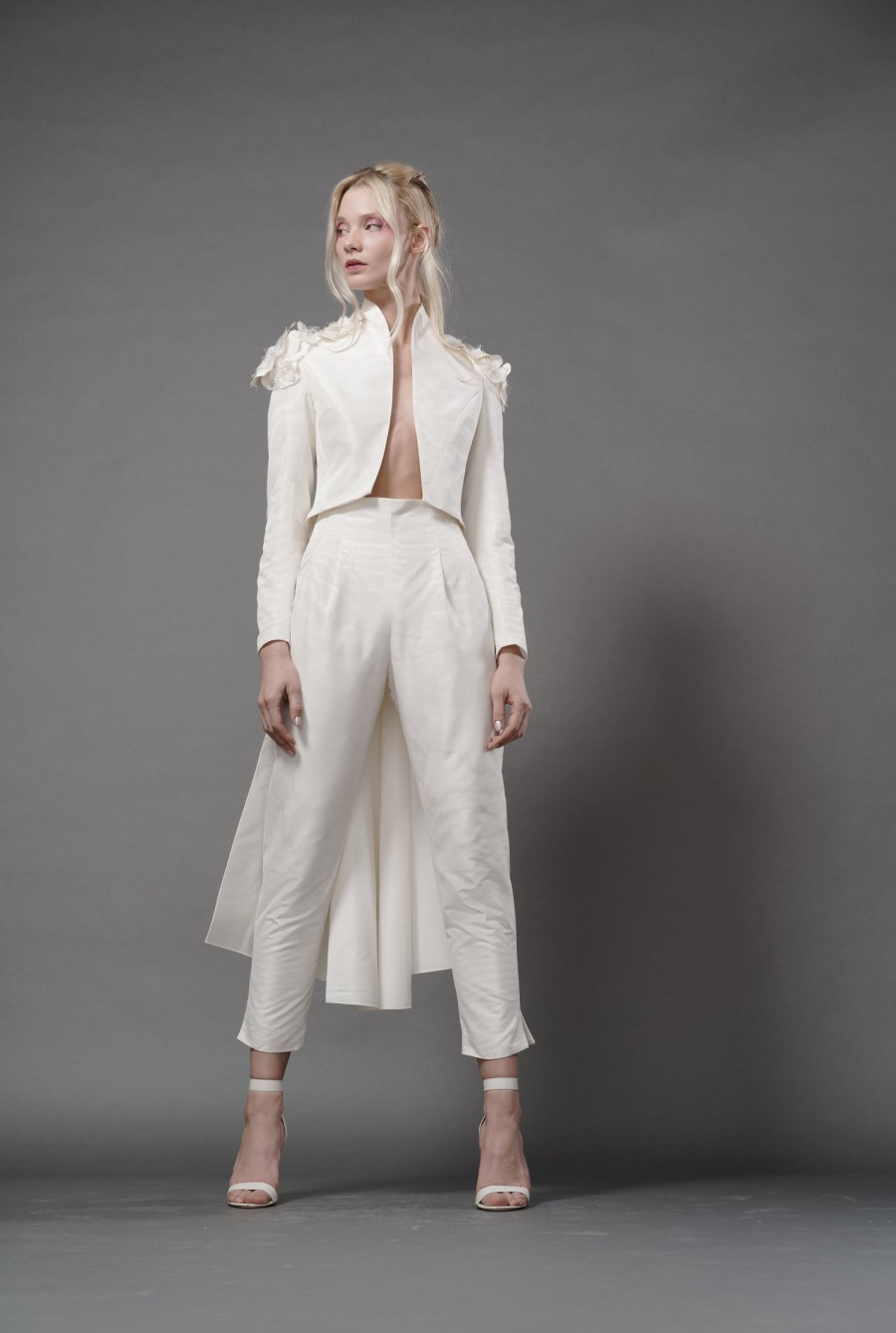 This next bridal blazer from Elizabeth Fillmore is fittingly named the "Bowie Rockstar Tail Jacket." This rocker worthy wedding style is sure to make a big statement on your big day.
17.

Wild Lilies
Elizabeth Fillmore brings us another stunning bridal blazer with is chic lily accented jacket. This blazer adds a touch of professional sophistication to even the most feminine of wedding styles.
18.

3D Blossoms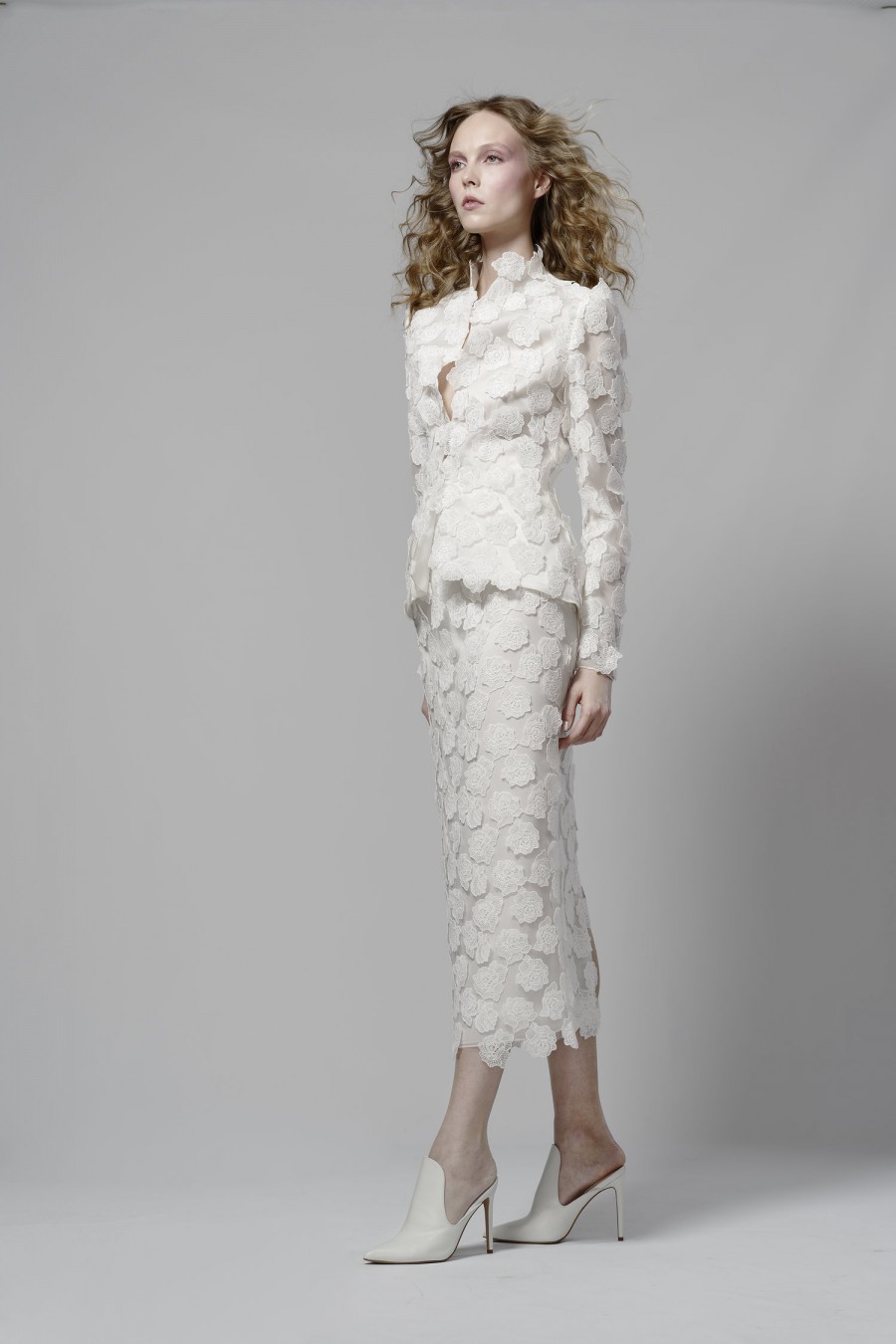 This next 3D floral bridal blazer is ready for a chic brunch. Or perhaps a trendy courthouse elopement. This blazer and skirt bridal look is fashion forward and contemporary.
19.

Feminine Tuxedo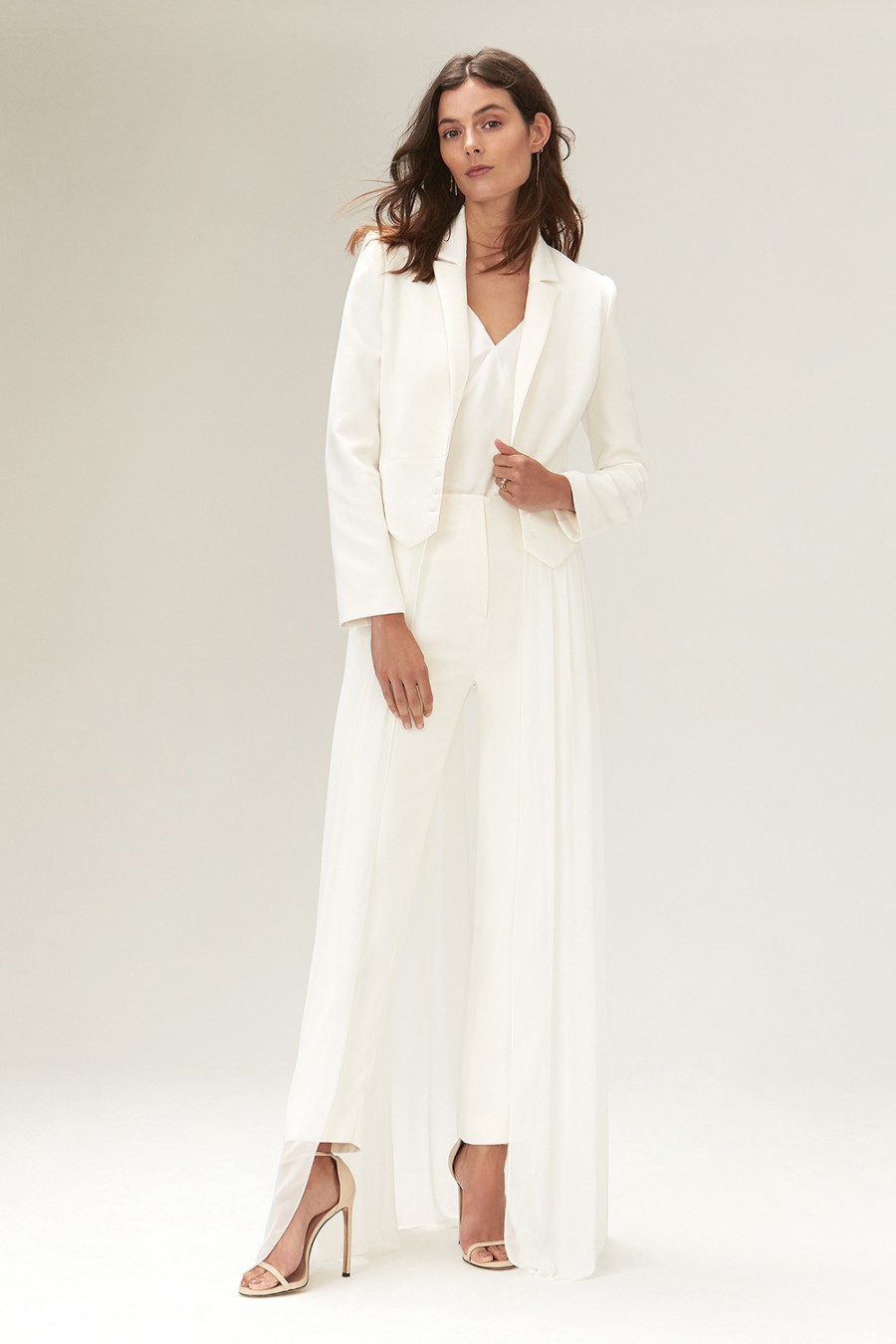 Our next bridal blazer style comes from Savannah Miller. This chic cropped tuxedo jacket is a stunning accent to a modern wedding day pantsuit. A sophisticated wedding day alternative.
20.

Single Button Blazer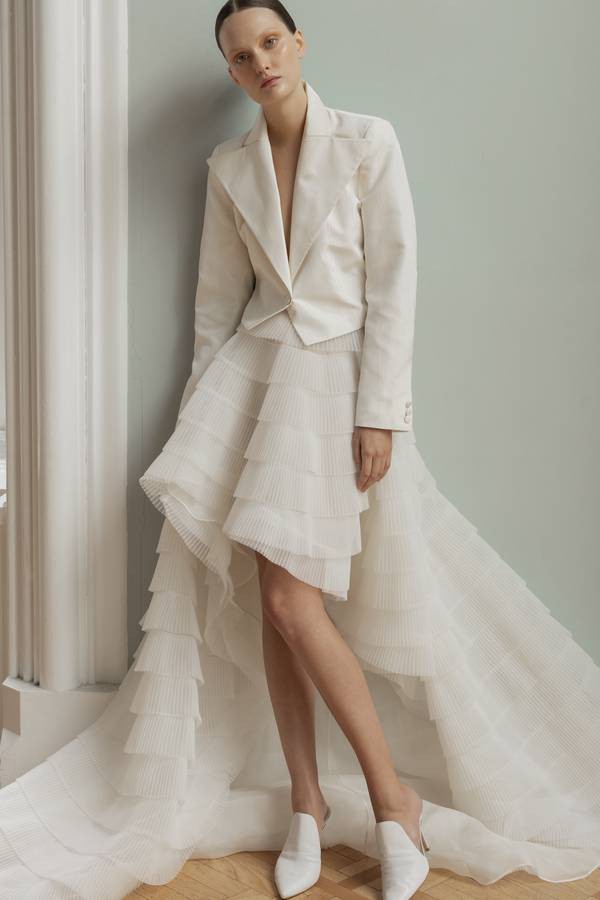 This single button bridal blazer from Francesa Miranda is chic and sassy. We love it paired with this modern high low gown, for a less than traditional,, contemporary wedding day look.
21.

Vintage Inspired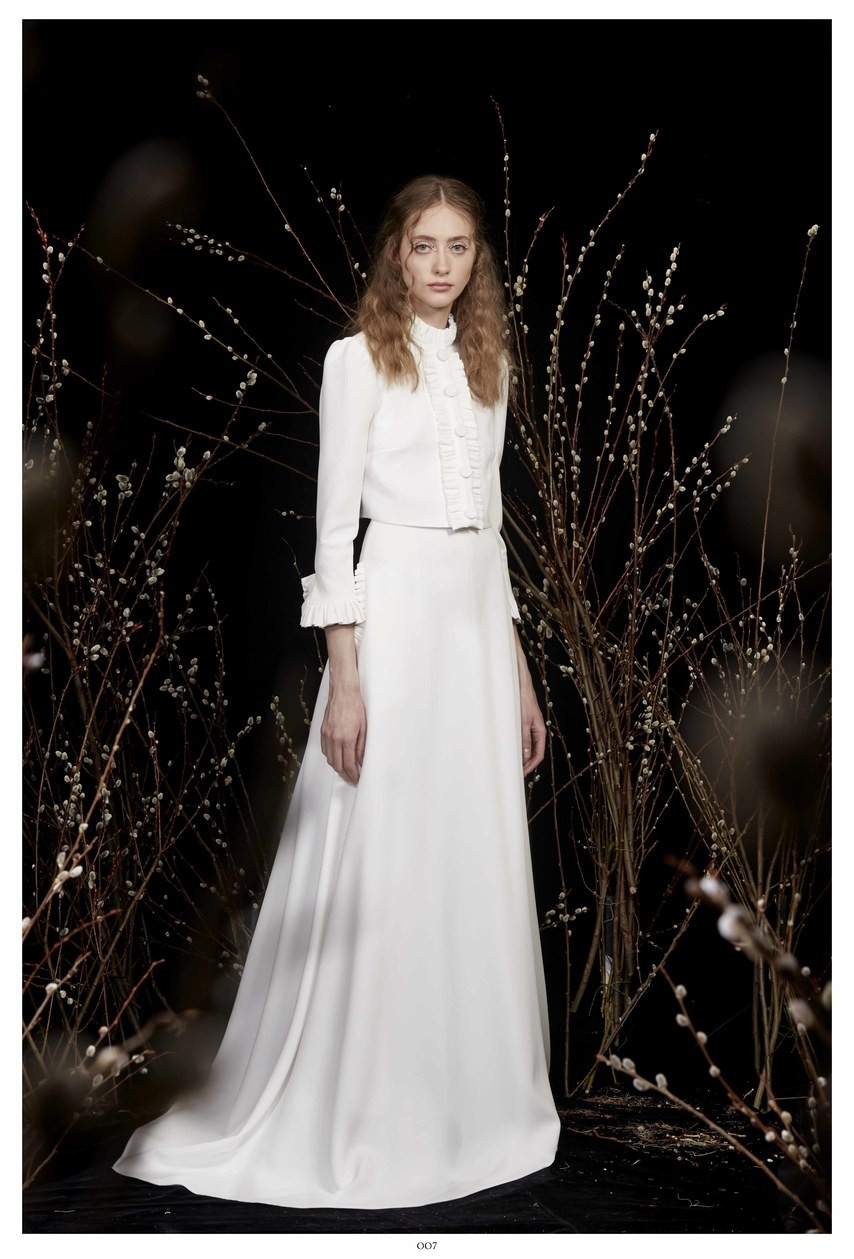 Honor brings us a vintage inspired bridal blazer design with clear antique inspiration with a modern twist. This look is modest, yet fashion forward.
22.

Polka Dot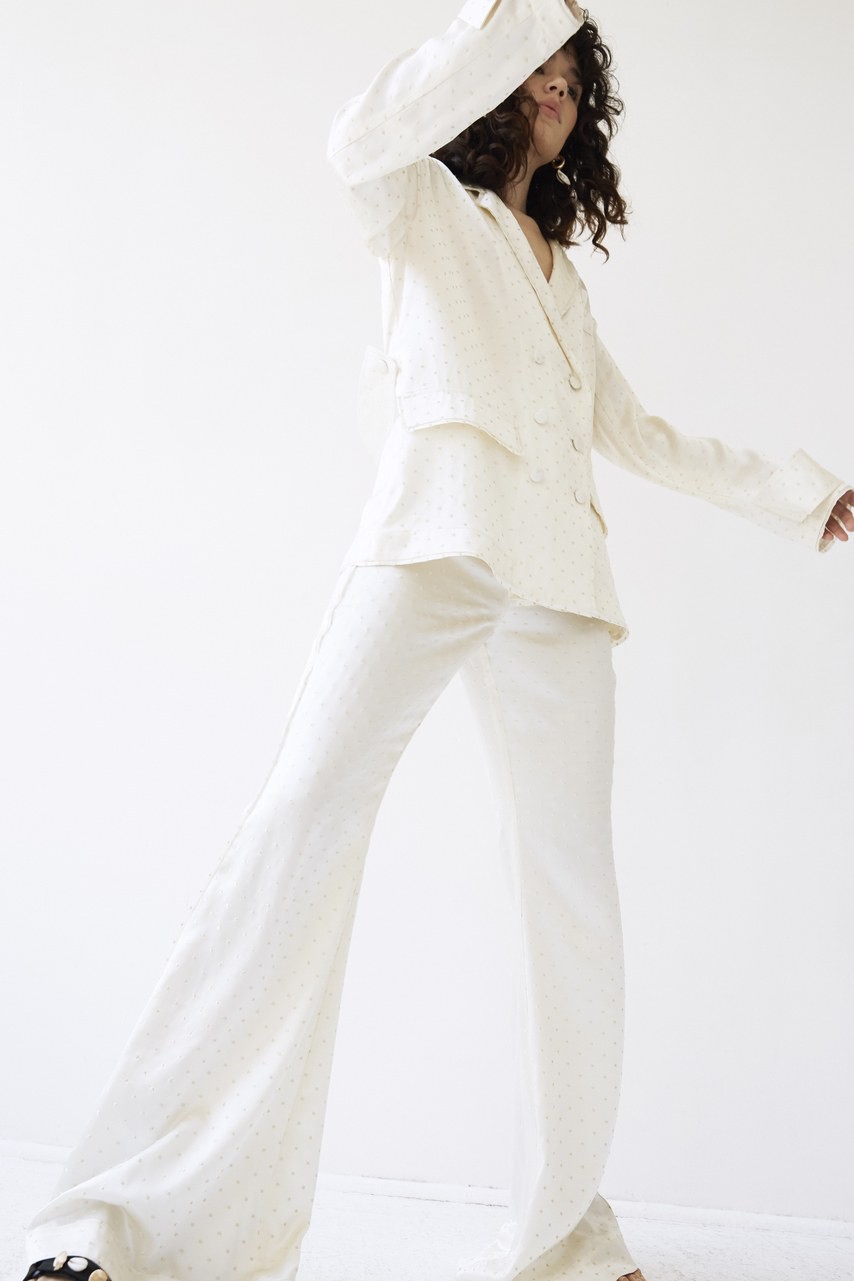 This next less then traditional bridal blazer and matching wide leg pantsuit from Lein is feminine and adorable. With all over subtle polka dot pattern, how could you not love this wedding day look?
23.

Blazer Dress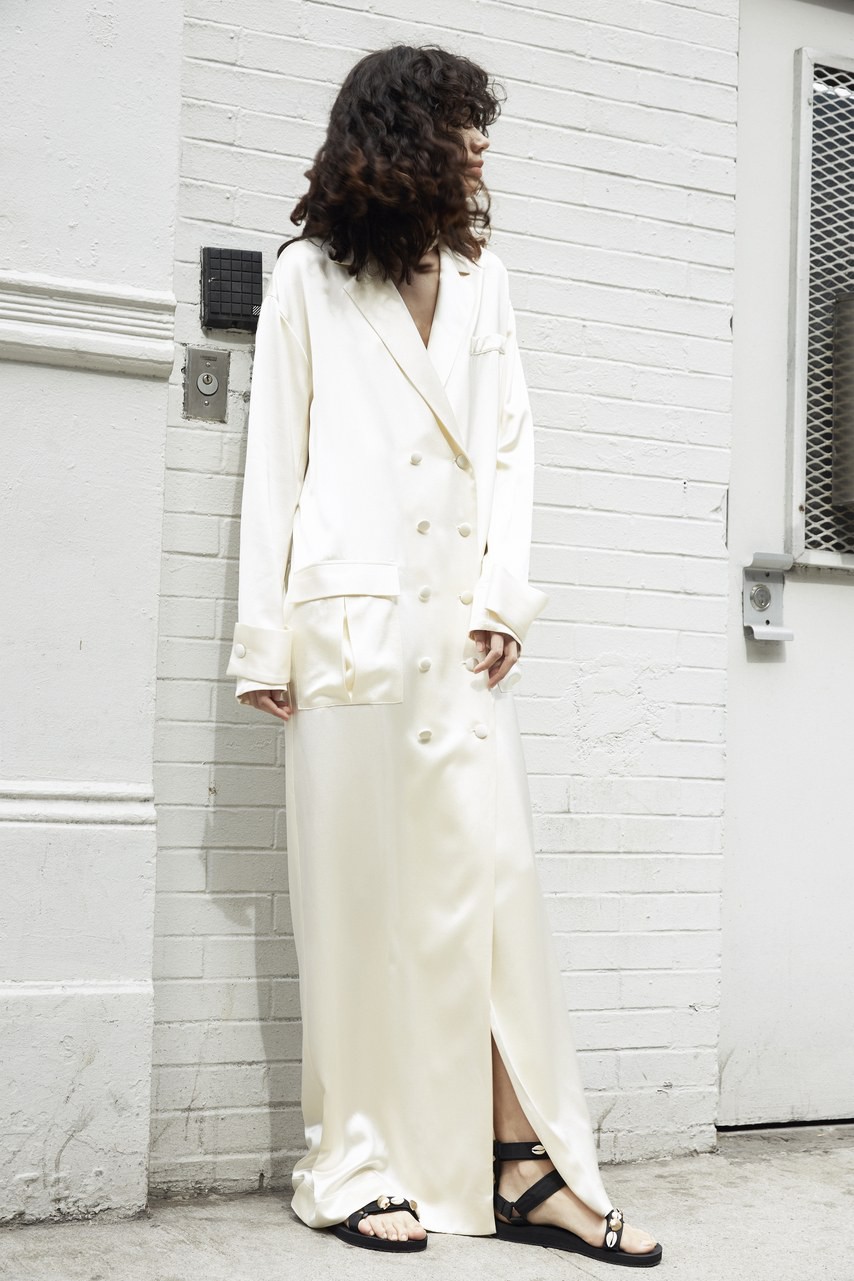 This next bridal blazer style takes the trend to a whole new level, with an entire floor length blazer dress design. This look is definitely unique and will make a big statement on your big day!
24.

Caped Sleeves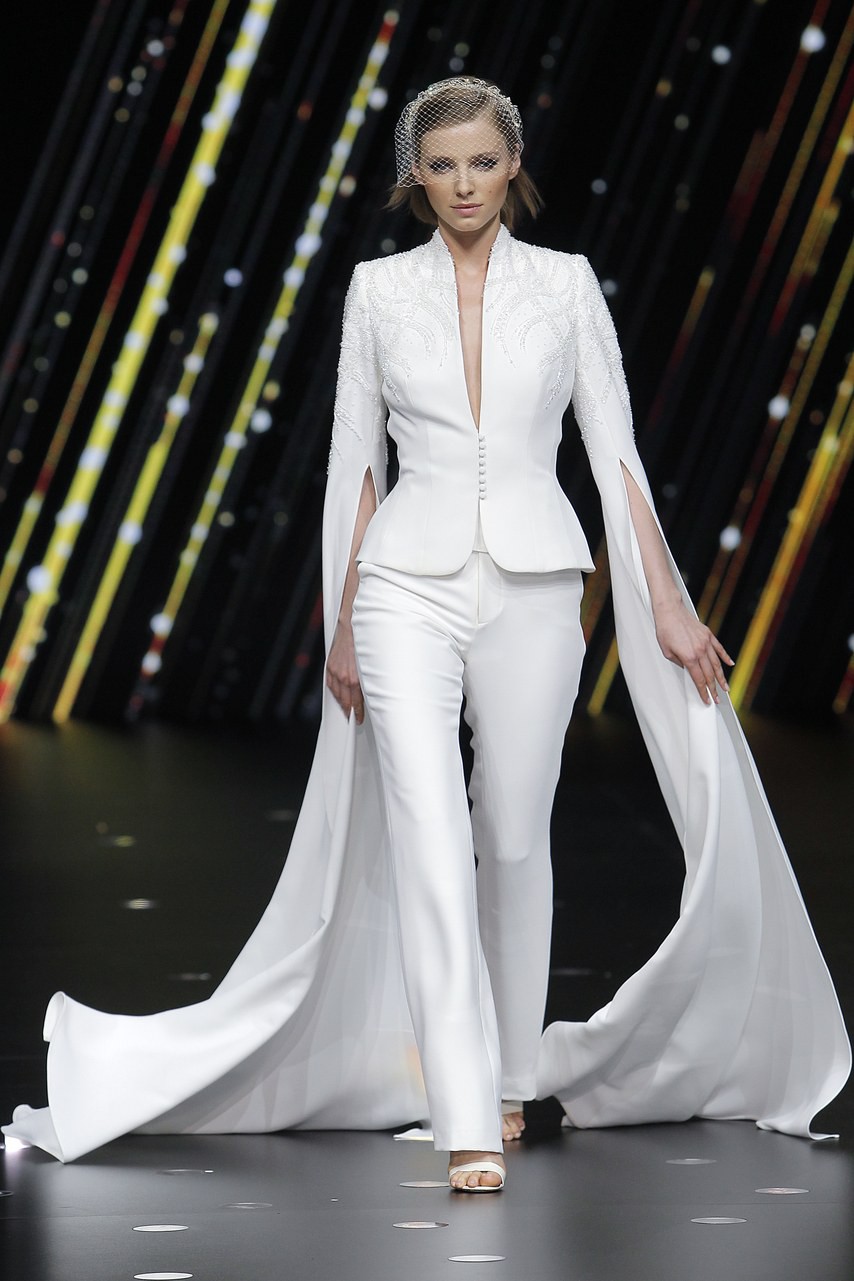 Pronovias brings us a gorgeous one of a kind bridal blazer that features dramatic caped sleeves. Paired with slick white pants, this modern wedding style is absolutely show stopping.
25.

Blazer Train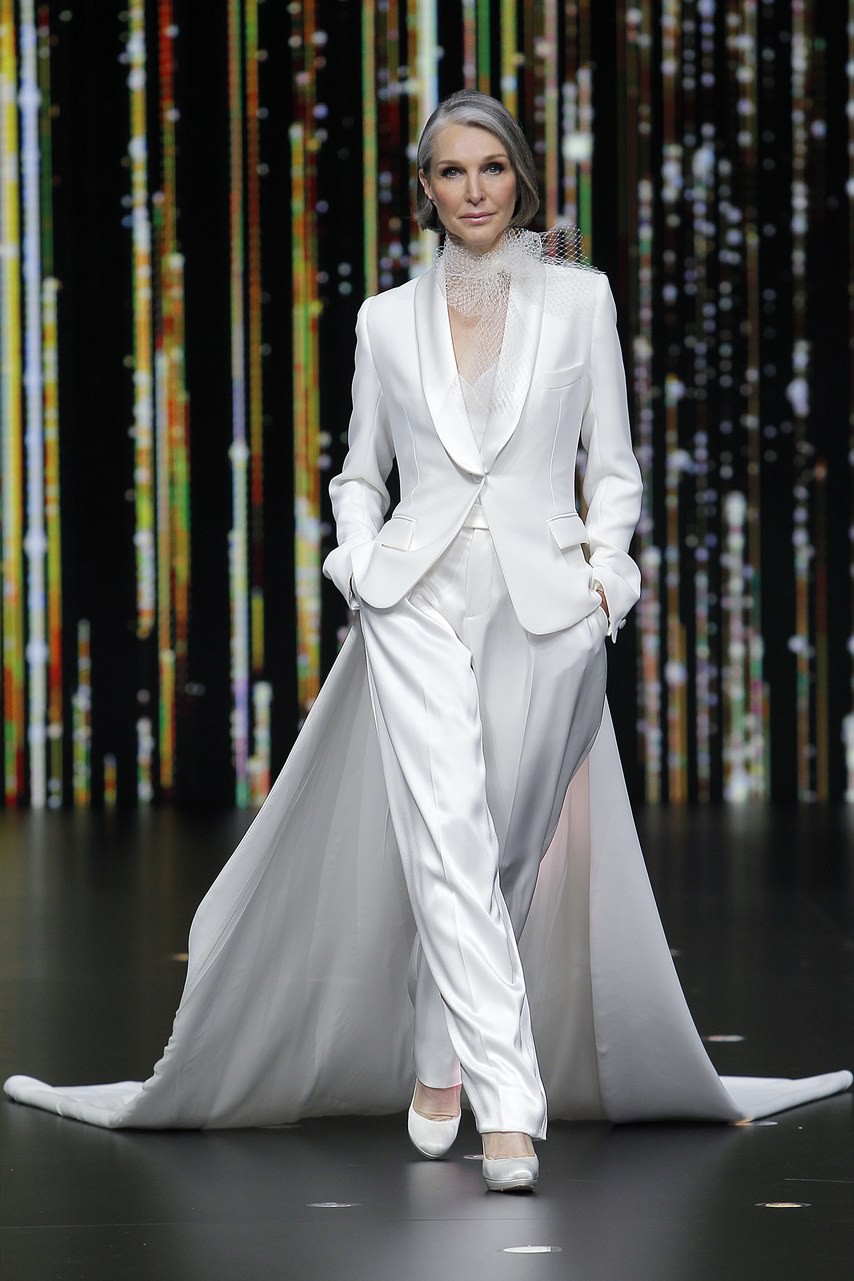 This next bridal pantsuit features trouser pants and a dramatic blazer with long train. This look is sophisticated and regal. Wear a trendy contemporary bridal pantsuit on your big day, but lose any of the drama from a traditional dress with the long train detailing!
26.

Futuristic Fashion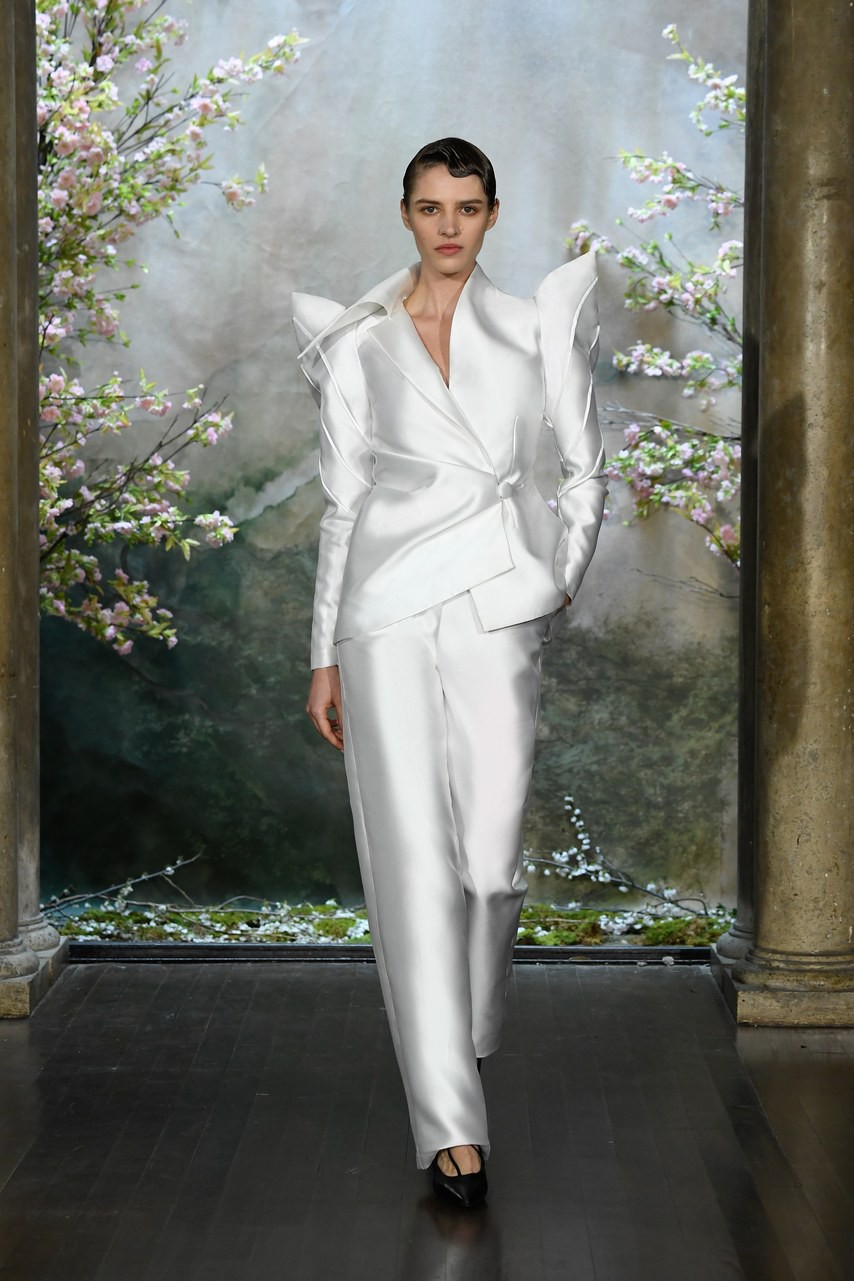 Phuong My brings us a contemporary bridal pantsuit like nothing else. This statement making bridal blazer has a futuristic feel to it with its sharp lines and asymmetric cut.

By Kathryn Schrotenboer