If you are a free-spirited bohemian bride, then this is the ultimate wedding dress list for you!
If you consider yourself to be bohemian bride, you are likely carefree, confident and a little untraditional. You are looking for a wedding gown that speaks to your free-spirited nature. So we have created the ultimate boho bridal gown guide, just for you. Boho gowns features some of the most intricate and beautiful details from lavish lace to dramatic bell sleeves. So whether you are a bohemian goddess at your core, or you are just interested to see what this whole boho trend is all about, read on!
01.

Rue de Seine: Boho Lace Goddess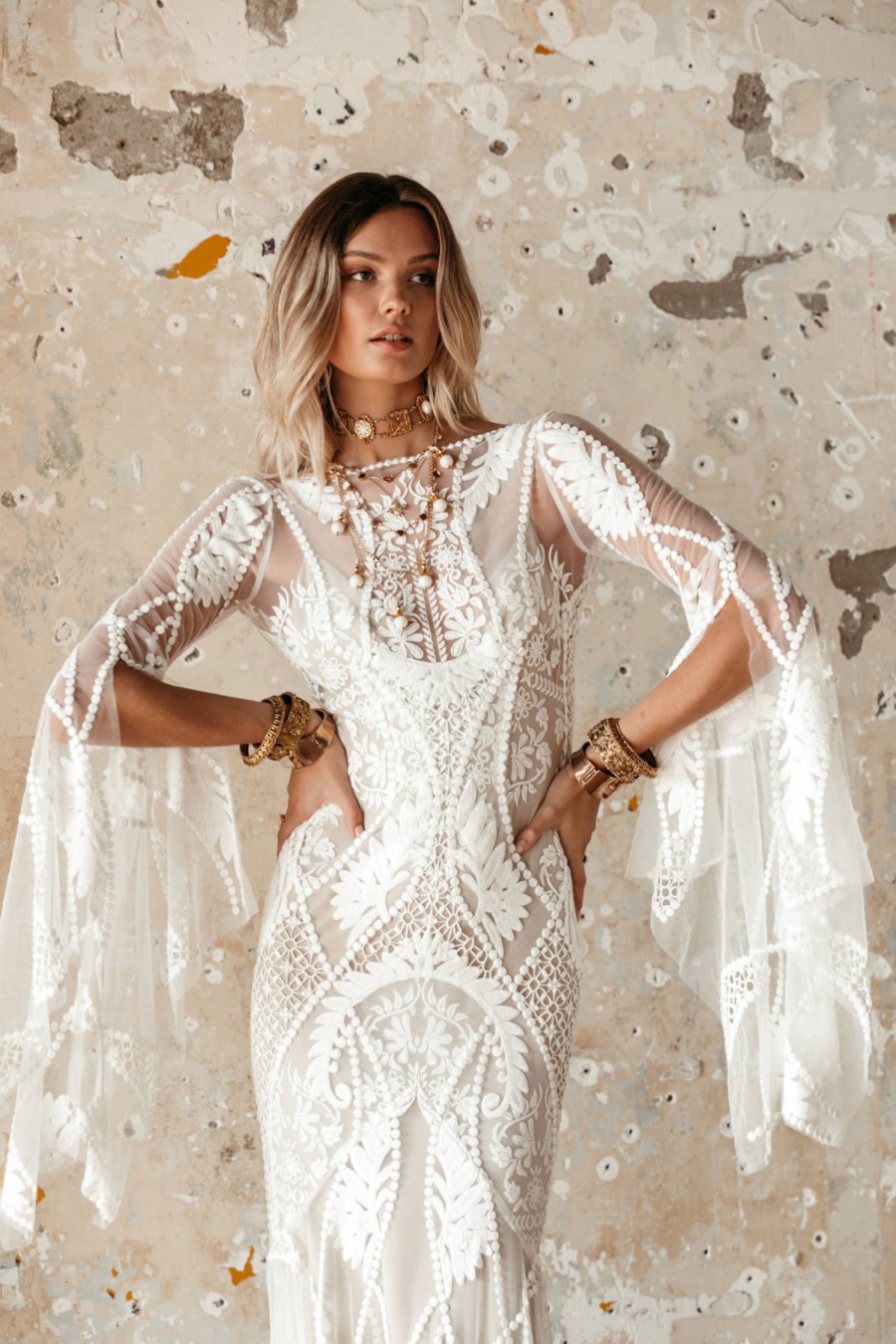 Let out your inner bohemian goddess with this first boho approved bridal gown from Rue de Seine. Featuring the most stunning cotton and rayon openwork lace with delicate floral and organic line embroidery. And the flowing front split sleeves add so much movement and drama to the look.
02.

Daughters of Simone: Classic Bohemian Lace Two-Piece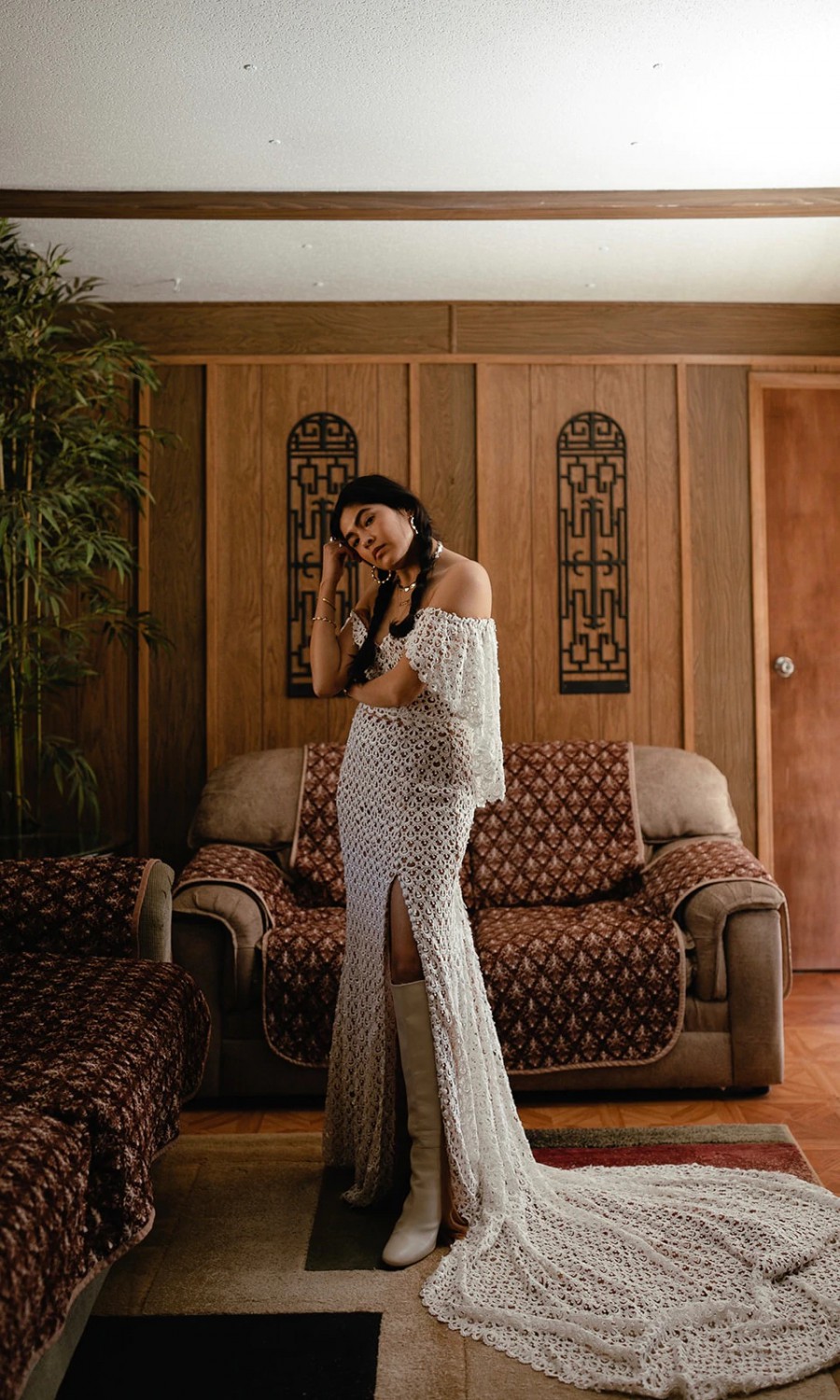 Daughters of Simone knows what your boho bridal soul wants this with effortless off-the-shoulder two-piece lace gown. Everything a boho bride could want, and nothing that they don't need. Featuring a cropped off-the-shoulder top and a fitted skirt with a dramatic high front slit.
03.

Dreamers and Lovers: Bell Sleeve Beauty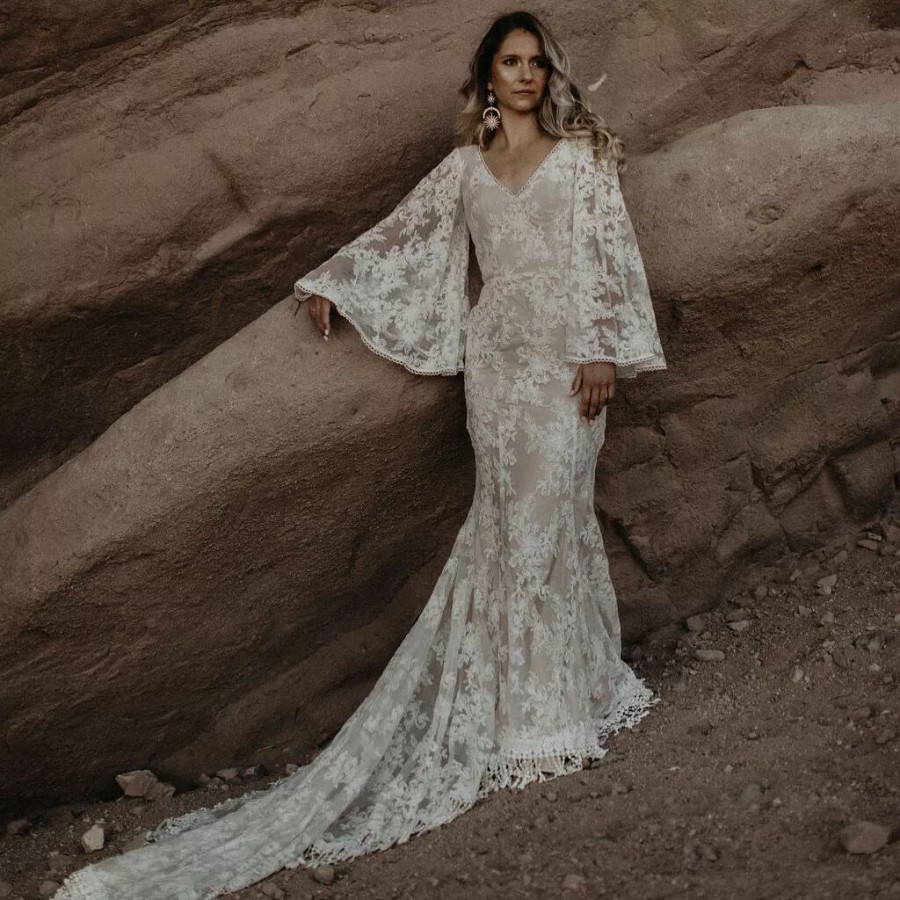 Meet the bell sleeve boho wedding dress of your dreams. This irresistible bohemian bridal style features an all lace silhouette with dramatic full length bell sleeves and a lavishly fringed hemline. Romantic, captivating and everything a boho bride could dream of.
04.

Rue de Seine: Contrasting Neutrals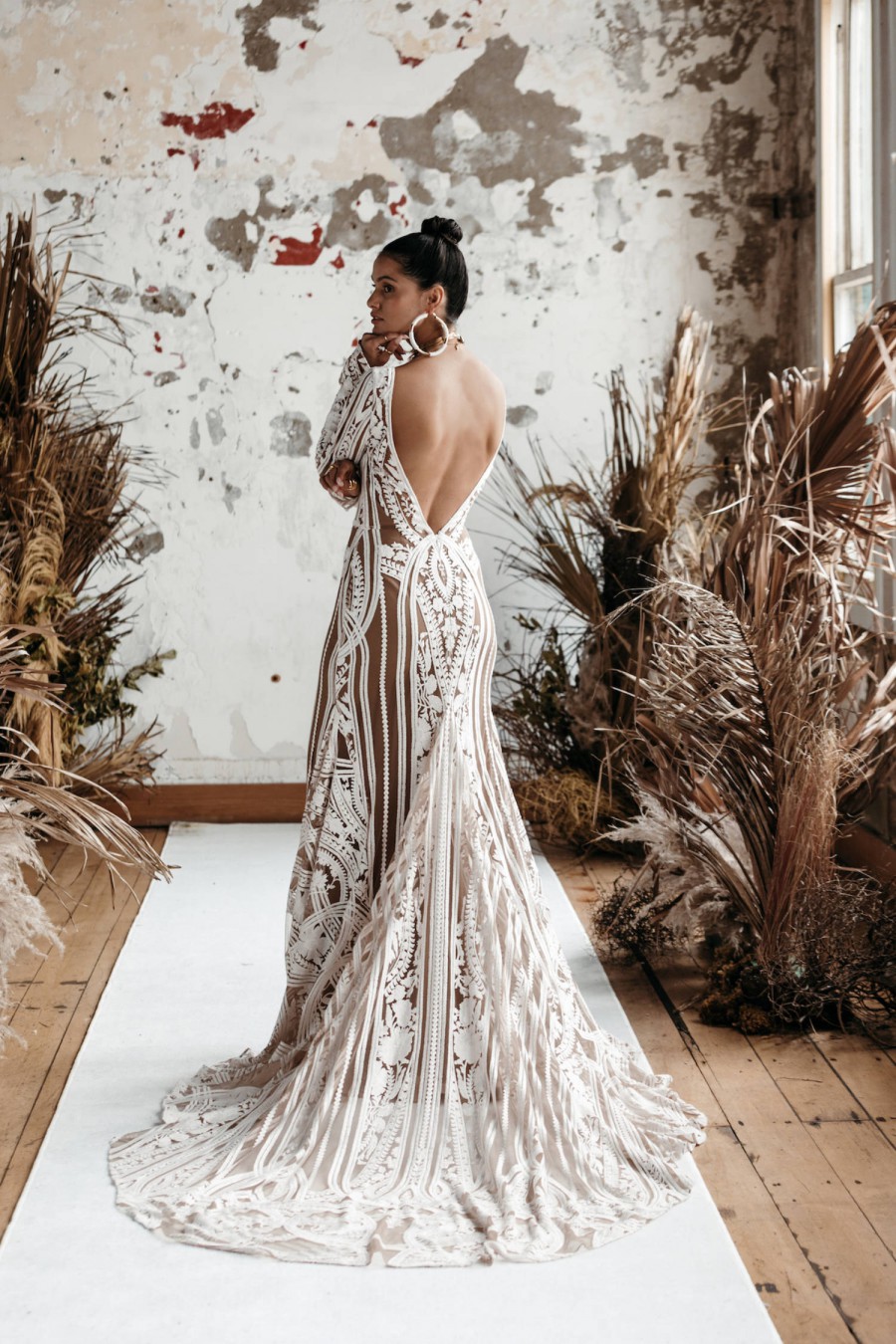 We are just in love with the contrasting neutral colors in this next stunning bohemian bridal gown. This lavishly Rocco embroidered gown features a high neck and contrasting low back style. But what we love most about this boho approved style is the contrasting dark brown slip that makes the off-white pop, adding so much interest and texture!
05.

Daughters of Simone: Folksy Boho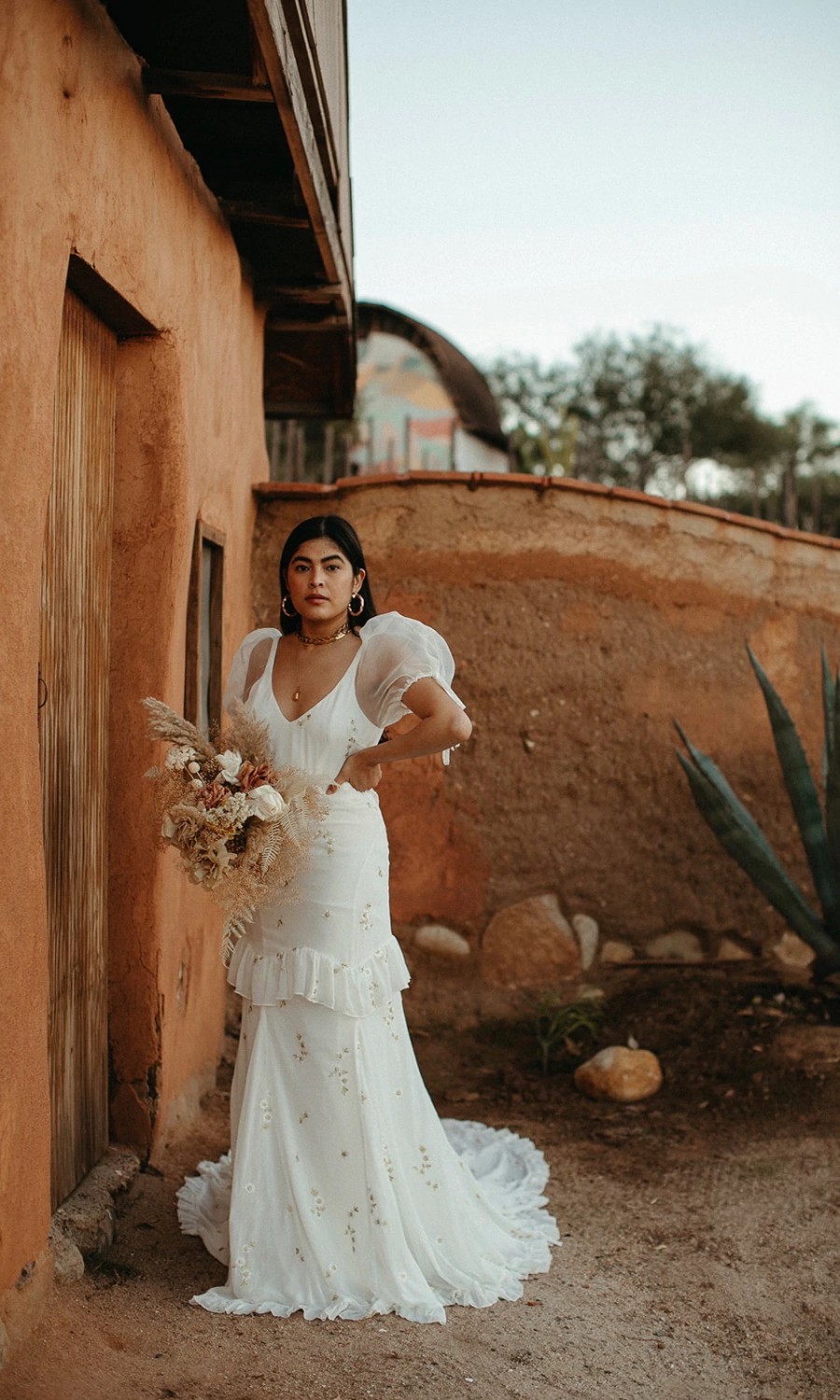 A folk inspired floral boho bridal style that is feminine and romantic. This effortless chiffon gown features gold and ivory floral embroidery, a delicate ruffle detail on the skirt and semi-sheer puff cap sleeves.
07.

Bo and Luca: Bohemian Wrap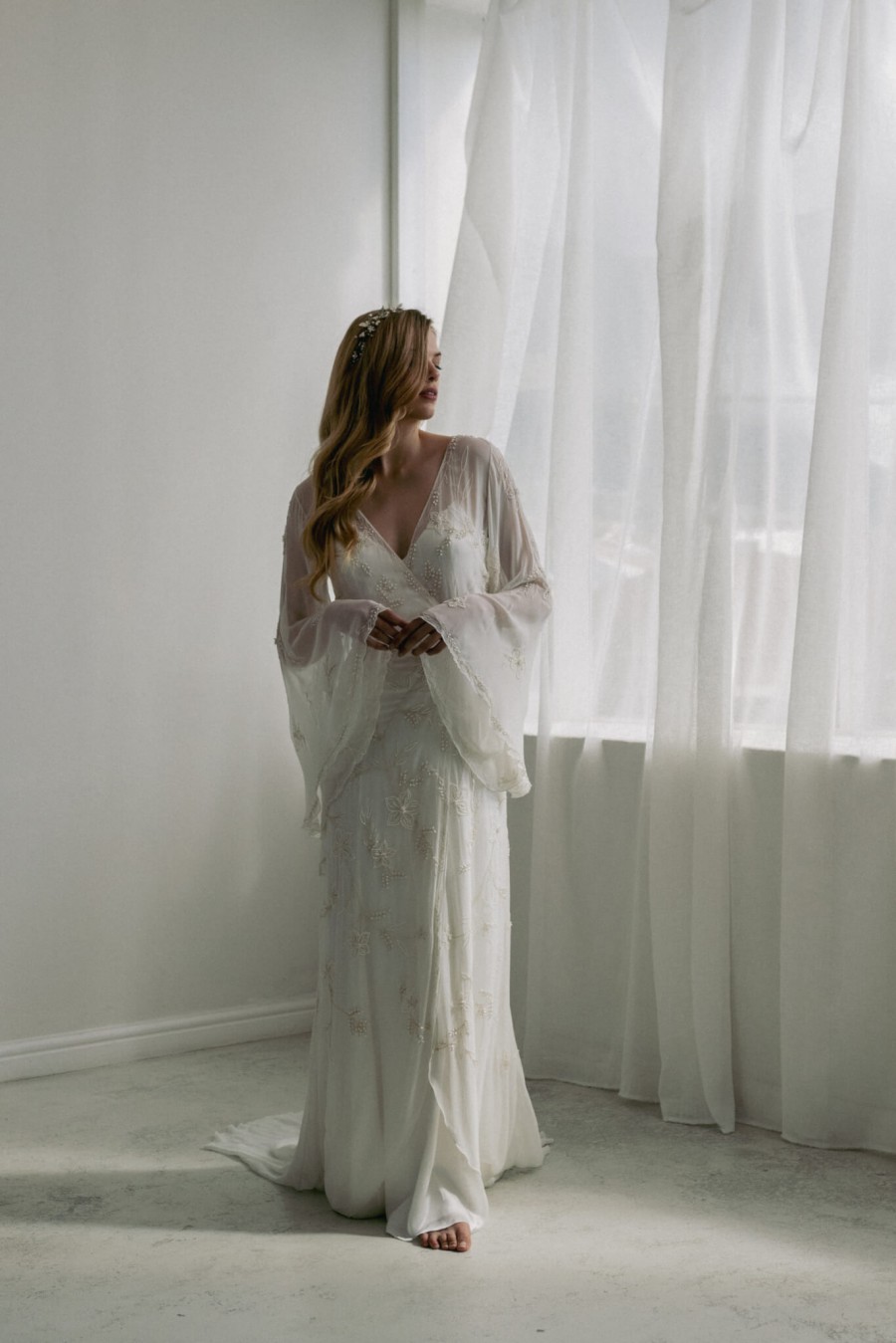 Get ready to fall head-over-heels in love with this gorgeous wrapped bohemian bridal gown. The Dahlia wrap dress from Bo and Luca has an old-world, bohemian glamour feel to it. A vintage inspired bridal gown that features elegant bell sleeves, a sweeping train and vintage gold, and ivory floral hand-beaded designs.
08.

Rue de Seine: Wild Bohemian Soul
Let your wild bohemian side show with this stunning bridal gown from Rue de Seine. The luxurious cotton silk of this gown features traditional openwork embroidery along with Rue's irresistible signature butterfly cutaway bodice. Preferably worn barefoot in a beautiful natural setting.
09.

Grace Loves Lace: Fitted Lace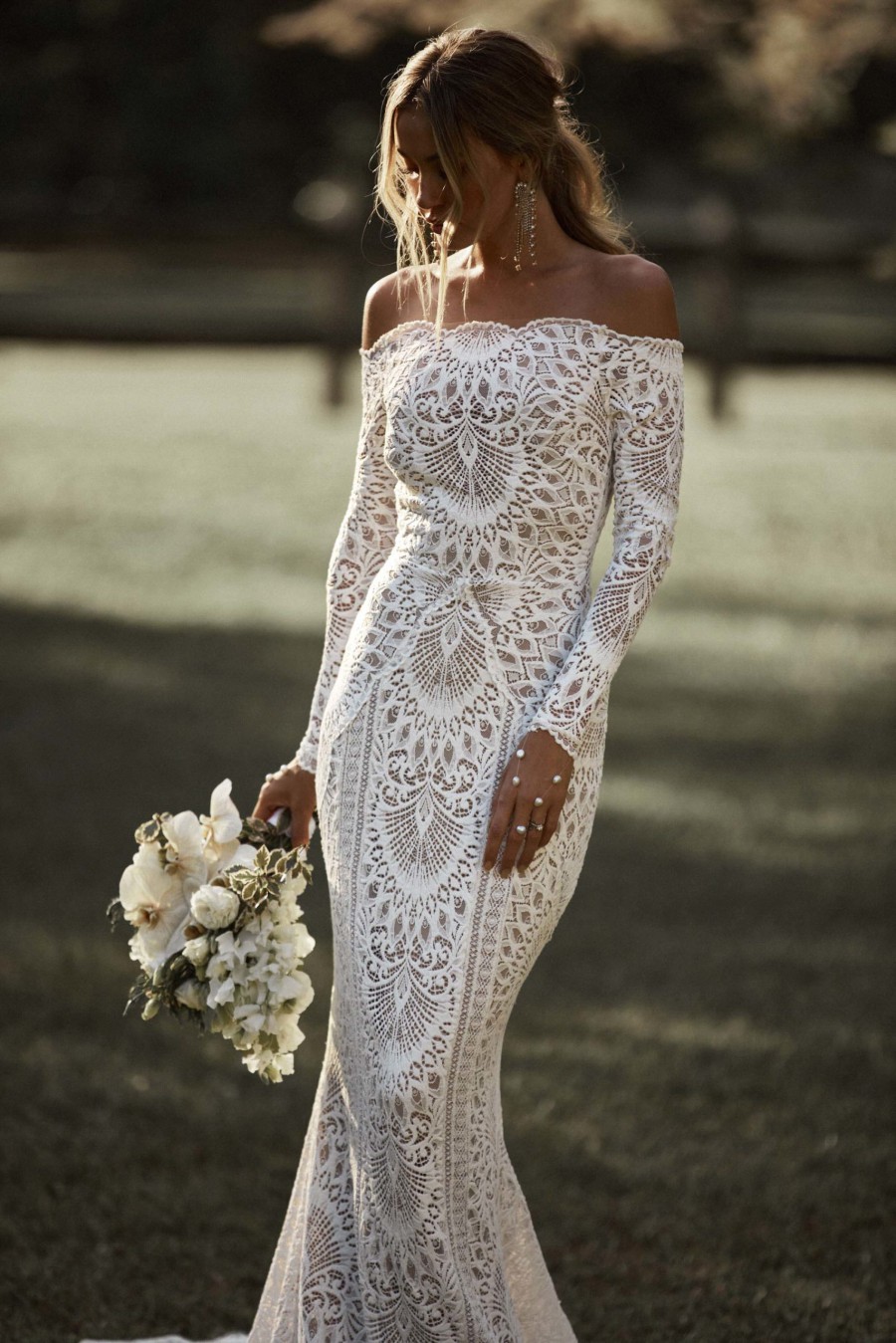 This fitted stretch lace gown from Grace Loves Lace, is all about showing off your feminine curves. This boho wedding dress features the most stunning off-the-shoulder neckline with full length stretch lace sleeves. And it is hard to resist the lavish lace panels that give the illusion of structure to effortlessly contour the brides silhouette.
10.

Daughters of Simone: Folk Vintage Bohemian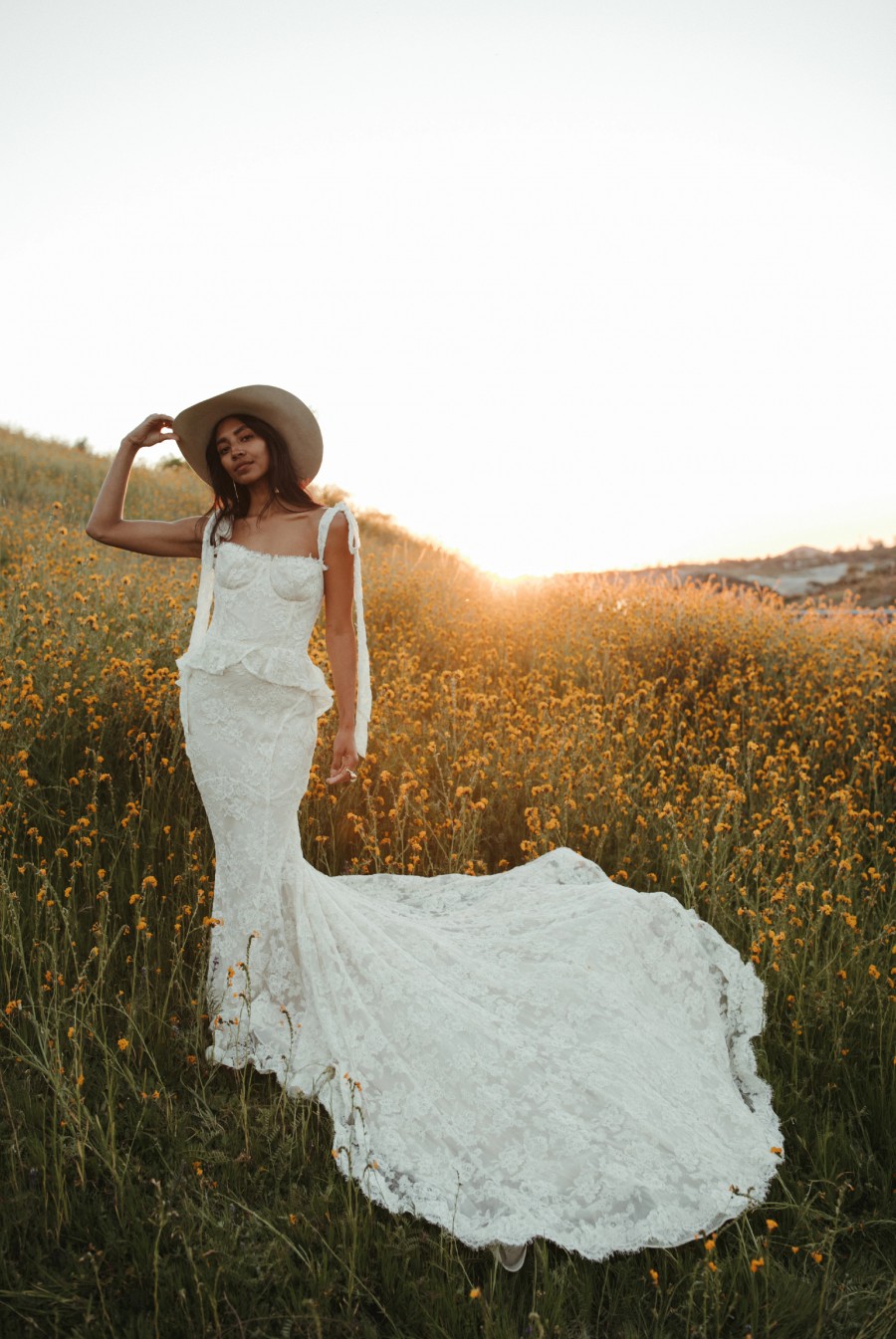 Inspired by days long since passed, this next boho bridal gown from Daughters of Simone has a folk, vintage feel to it. This gown features a gorgeous French lace corset with ruffled peplum detailing and dramatic tie straps. The full lace skirt features a dramatic train to add some timeless elegance to this look.
11.

Spell Bride: Summer-Ready Lace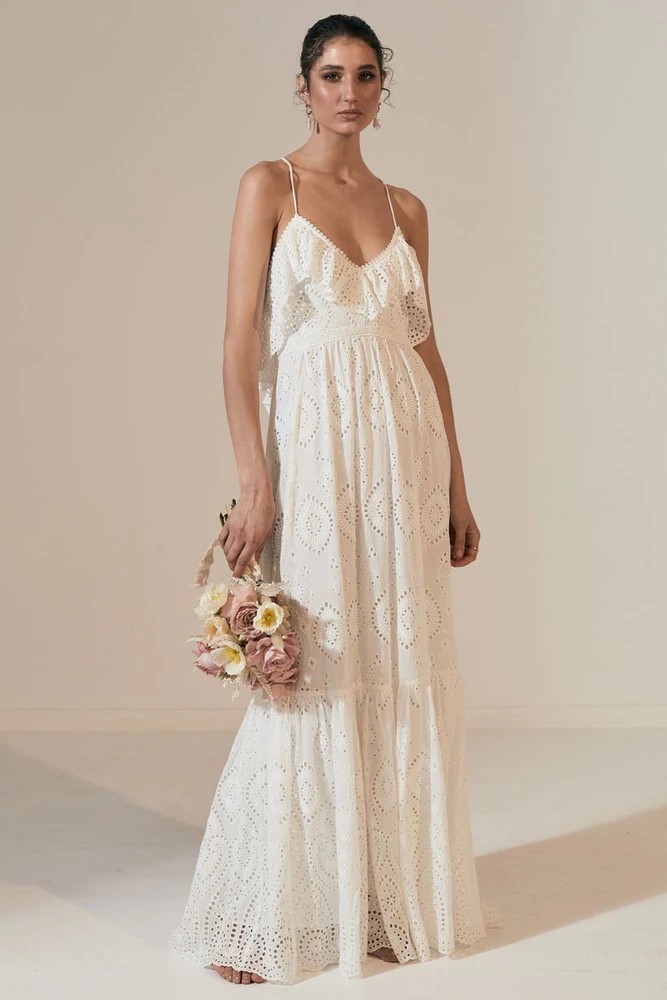 You don't need a lot going to to steal satisfy your bohemian sprit. This next boho bridal look from Spell Bride is made from the most stunning textured anglaise lace. A more casual and romantic gown which is ready for you to walk down the aisle barefoot at your beach front bohemian wedding day.
12.

Rue de Seine: Rule Breaking Boho Color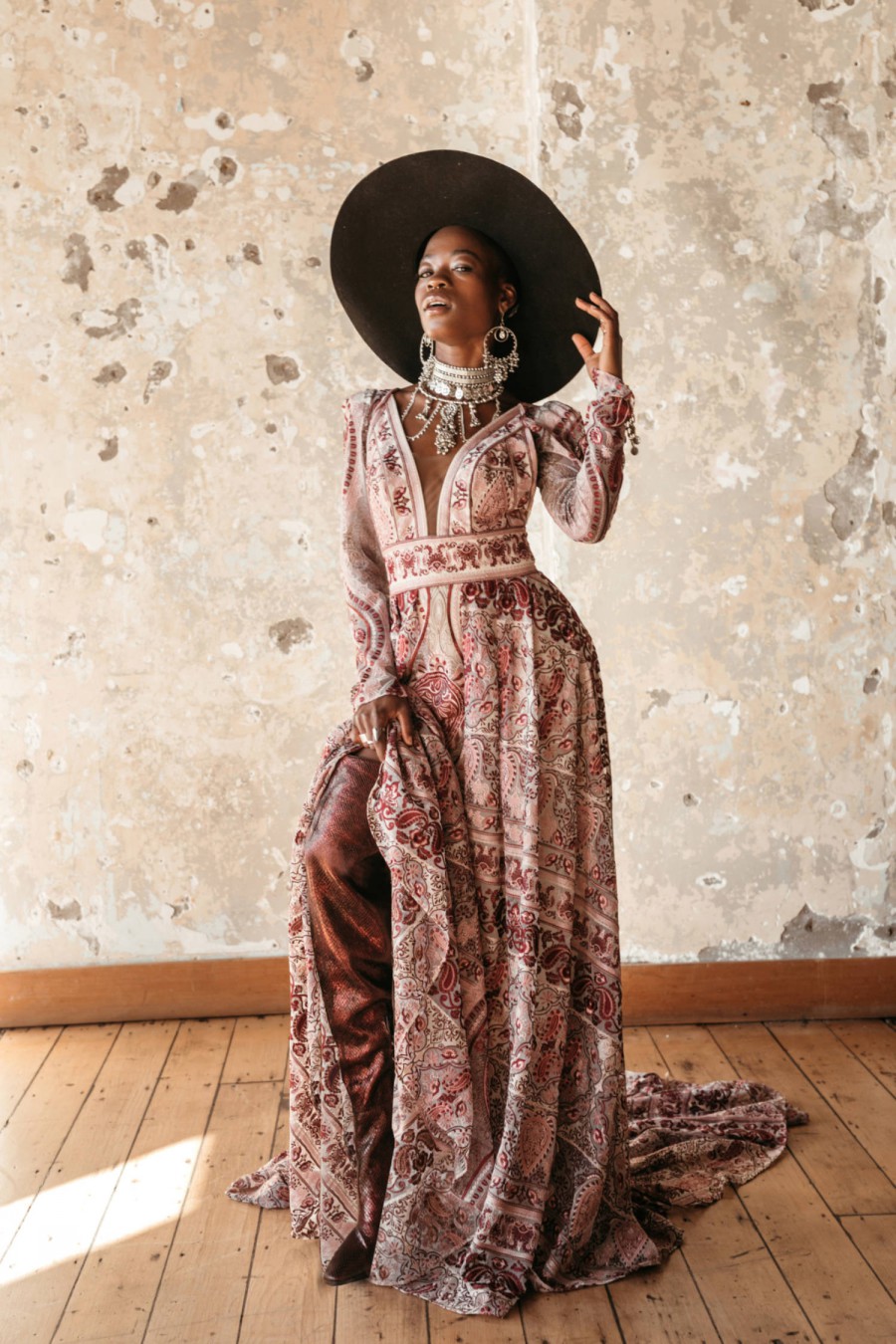 Some boho brides don't want to play by the rules. And for those brides out there, Rue de Seine has you covered with this unique colorful boho bridal gown. This gown features a structured silk lined bodice with a deep V-neckline and a playful flowing A-line skirt. The blush toned design of this gown is inspired by the Pink Palace at dusk, and we are absolutely in love!
13.

Grace Loves Lace: Modern Geometric Boho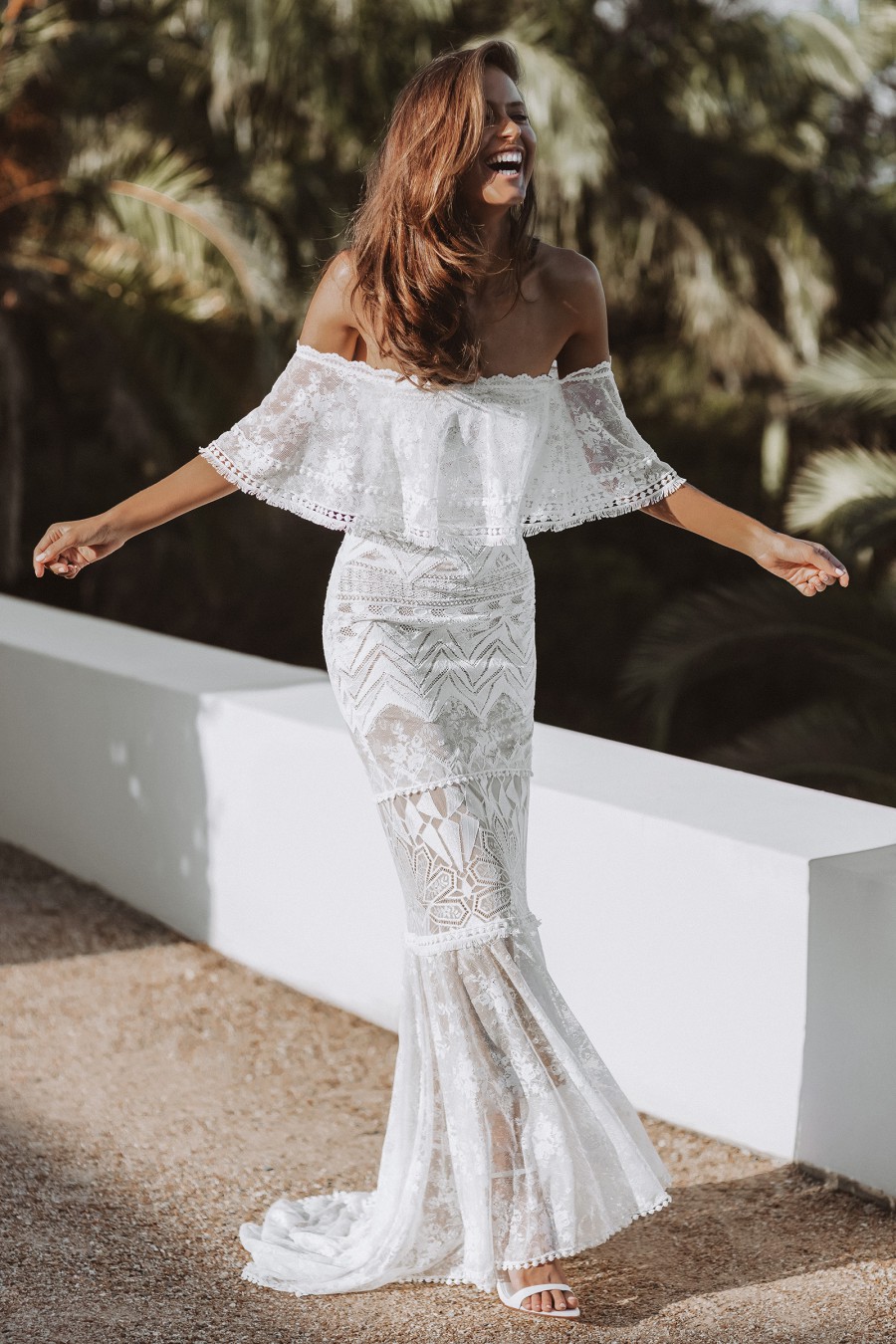 Where modern meets bohemian. We are just loving the unique style of this next boho bridal gown from Grace Loves Lace. An effortless off-the-shoulder bohemian silhouette that features luxurious panels of French laces which combine with modern geometric patterns and textured trim accents. This gown is so unique and exciting!
14.

Daughters of Simone: French Lace Romance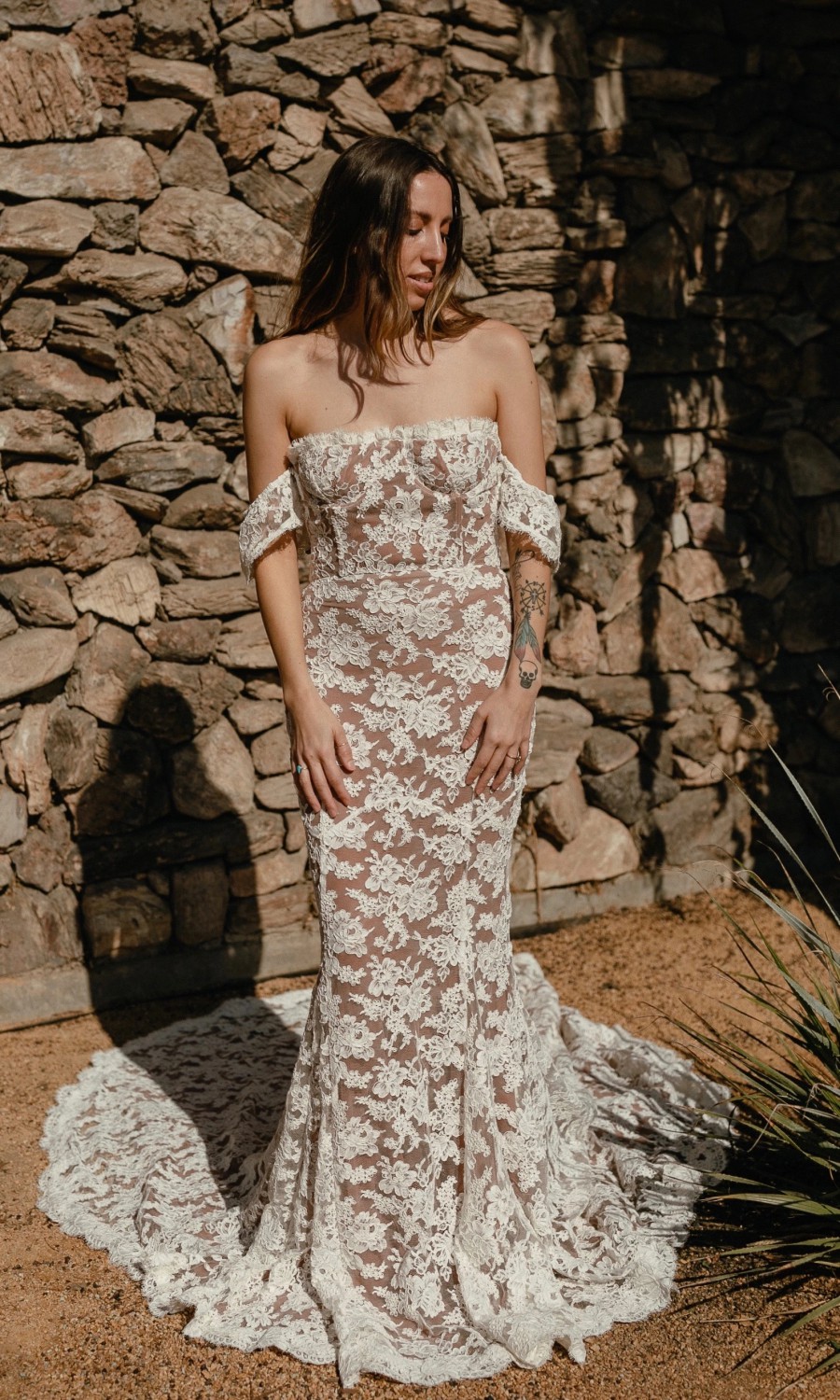 We are turning up the romance with this next French lace bohemian bridal style from Daughters of Simone. This strapless wedding gown features a fitted bodice, ruffle detailing along the bust, detachable off-the-shoulder sleeves and a fit and flare skirt with dramatic train. But our favorite feature has to be the nude base slip which adds a beautiful contrasting color to the look.
15.

Rue de Seine: Lavish Rococo Embroidery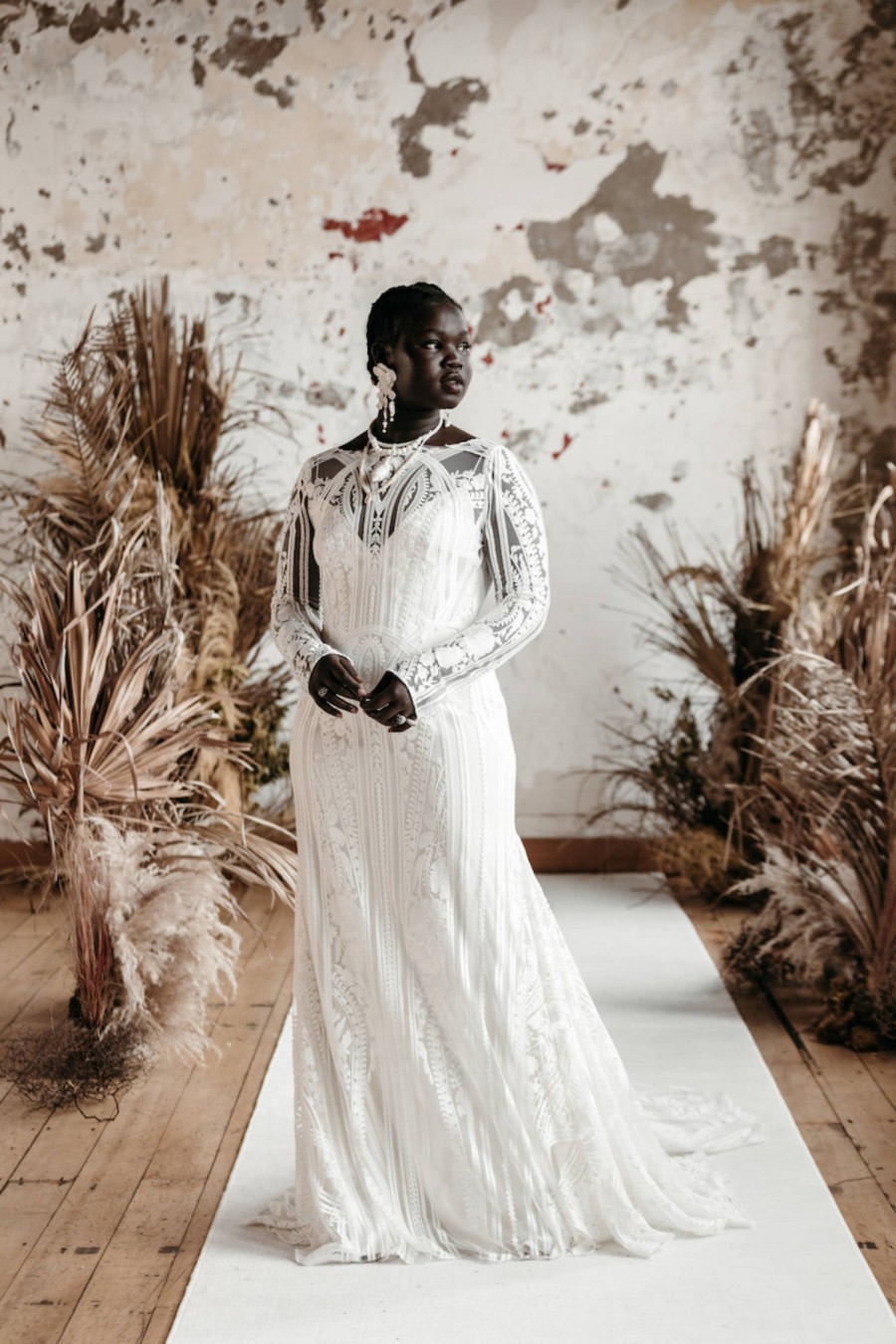 Rue de Seine will help you step into your very own bohemian dream with this high neck, full sleeve gown with the most stunning Rococo embroidery. Perfect for all seasons and occasions. This effortless bohemian style is sure to steal your heart, and the attention of all of your guests!
16.

Grace Loves Lace: Effortless Feminine Bohemian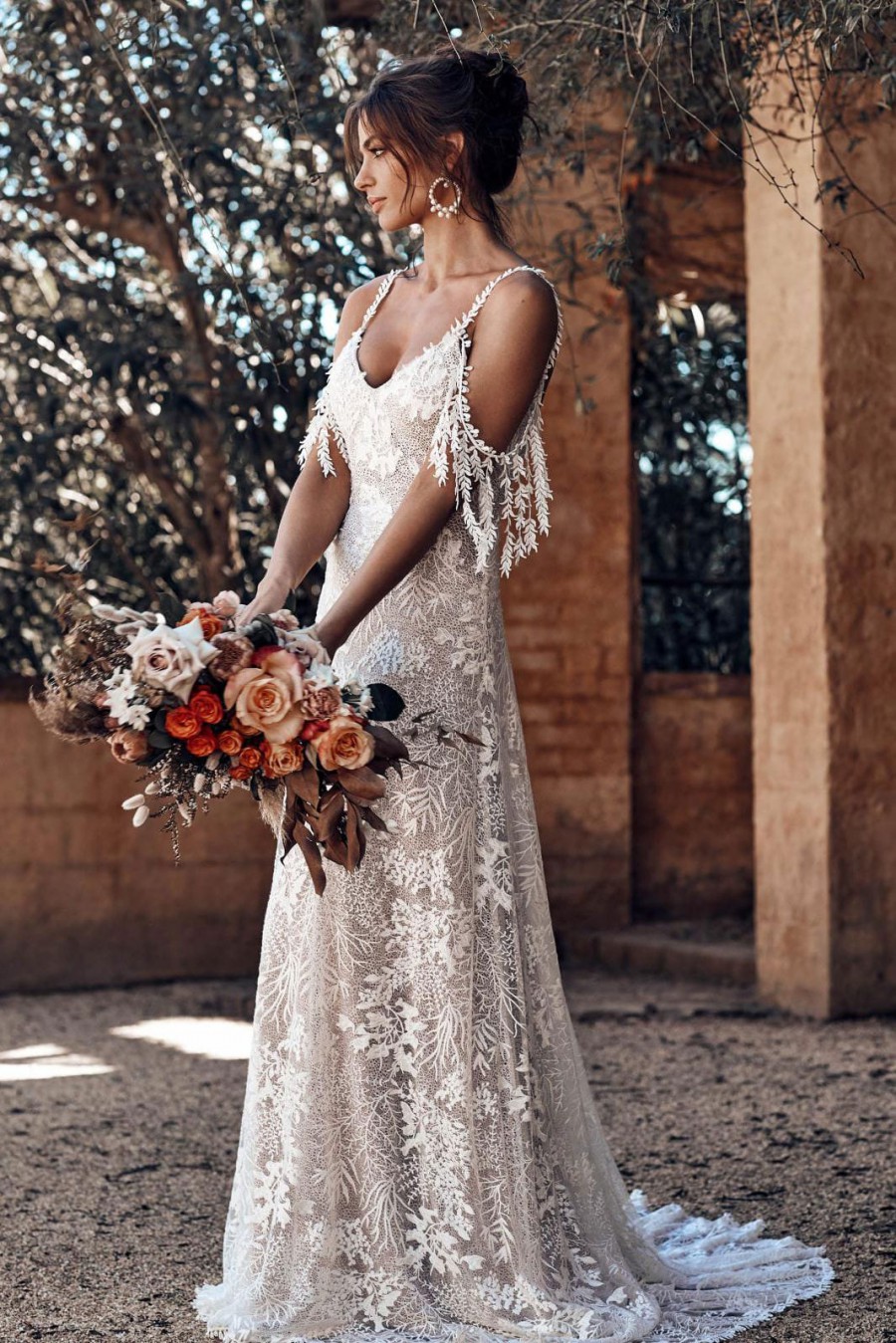 Show off your delicate, feminine side with this next boho bridal gown from Grace Loves Lace. A more minimal boho silhouette that features the most lavishly textured embroidery. But our favorite feature of this gown has to be its subtle, yet captivating draped off-the-shoulder armbands with a unique fringed leaf-trim.
17.

Dreamers and Lovers: Dreamy Boho Mini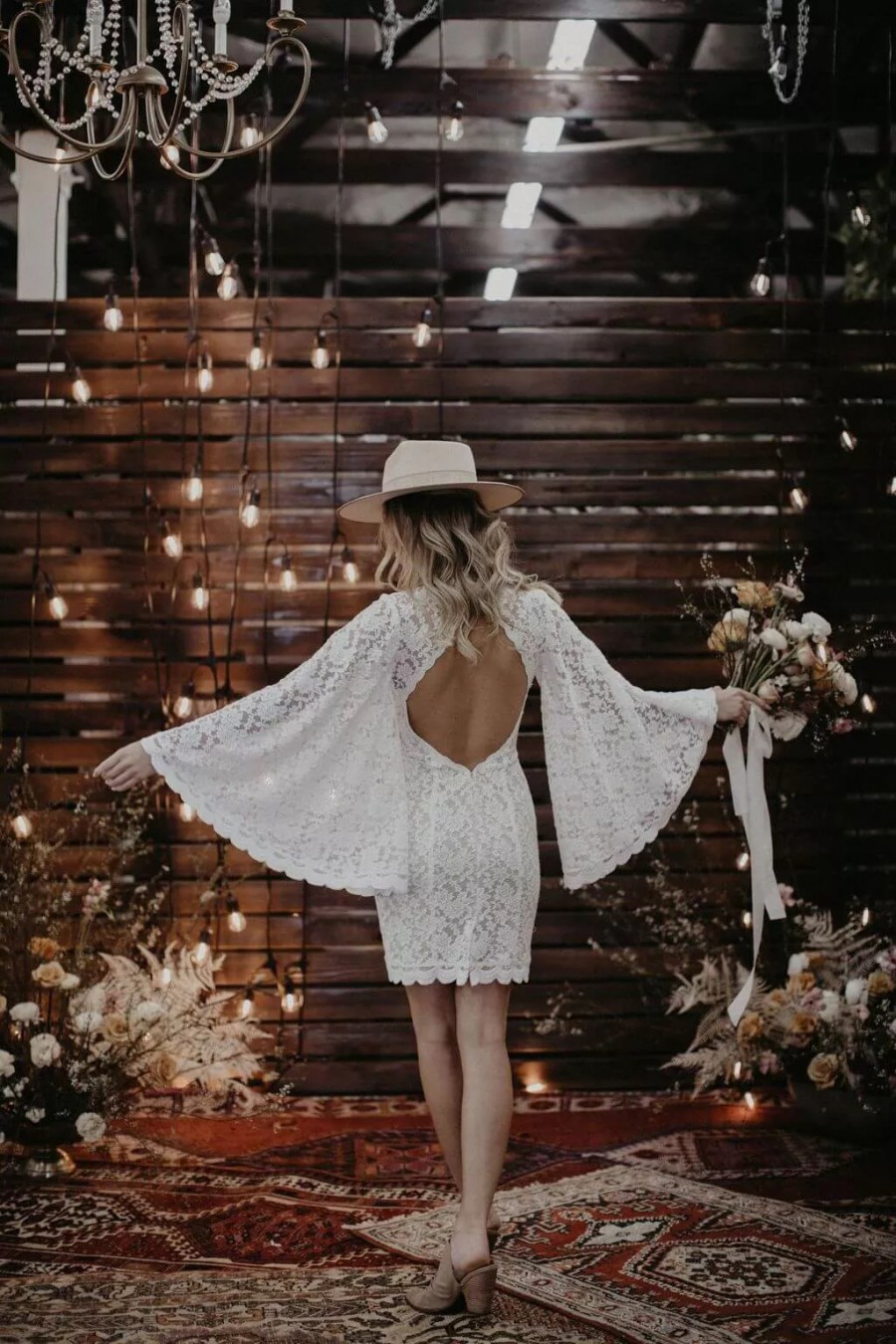 Looking for a more casual boho bridal style? Or perhaps something chic and playful for your second look? Or maybe a packable dress for that romantic bohemian elopement? This boho bridal mini from Dreamers and Lovers is for you. Who can resist this stretch lace mini with a cut-out open back and full length dramatic bell sleeves?
18.

Rue de Seine: Dramatic Sleeve Boho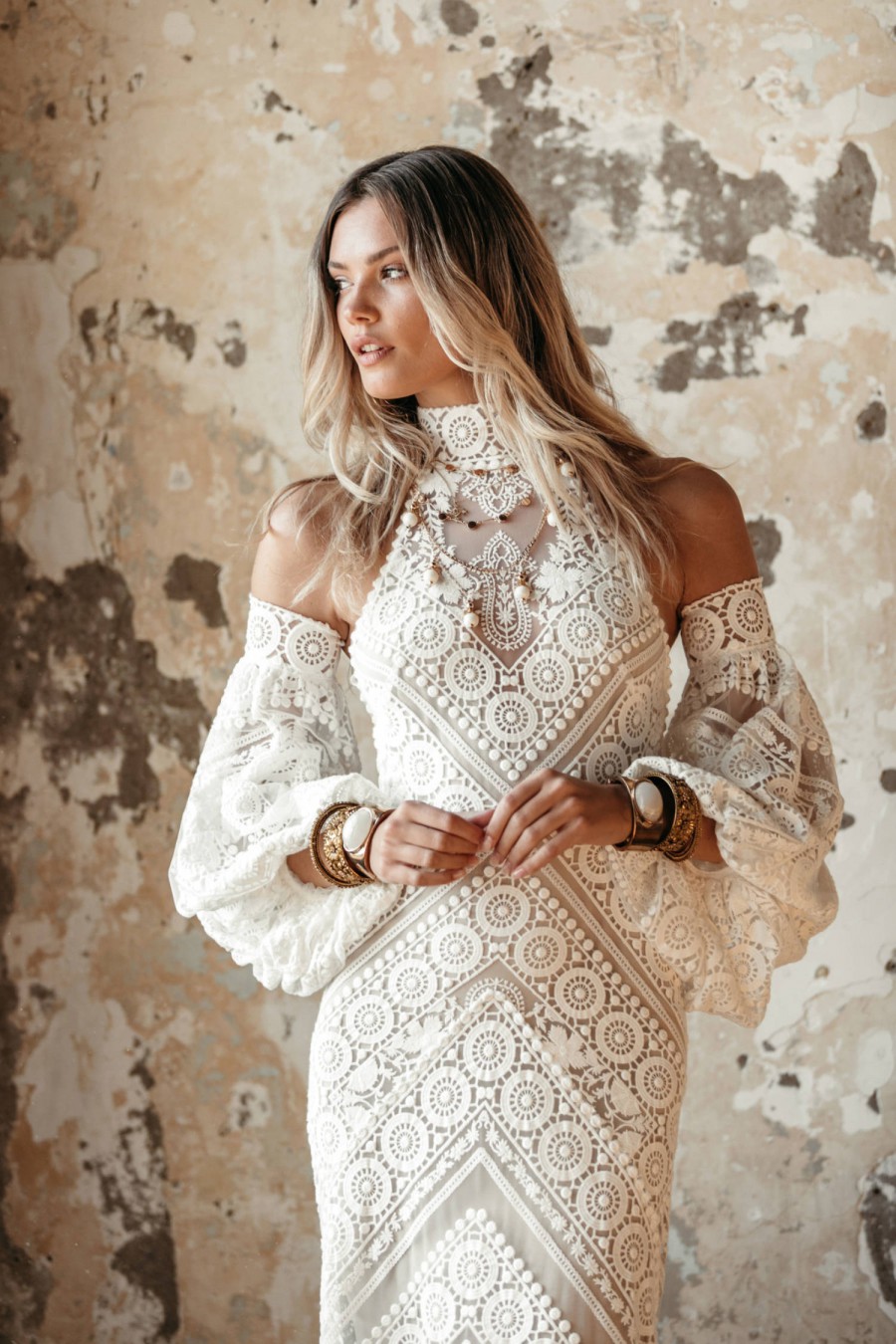 What bohemian bridal look is completely without some dramatic sleeves? This next gown from Rue de Seine is an elegant, high halter neck style, with a slim silhouette. The raised, graphic geometric cotton and rayon embroidery of this gown is absolutely breathtaking. And it is repeated in the optional, puff sleeves that are exciting and captivating.
19.

Dreamers and Lovers: Lace Bodycon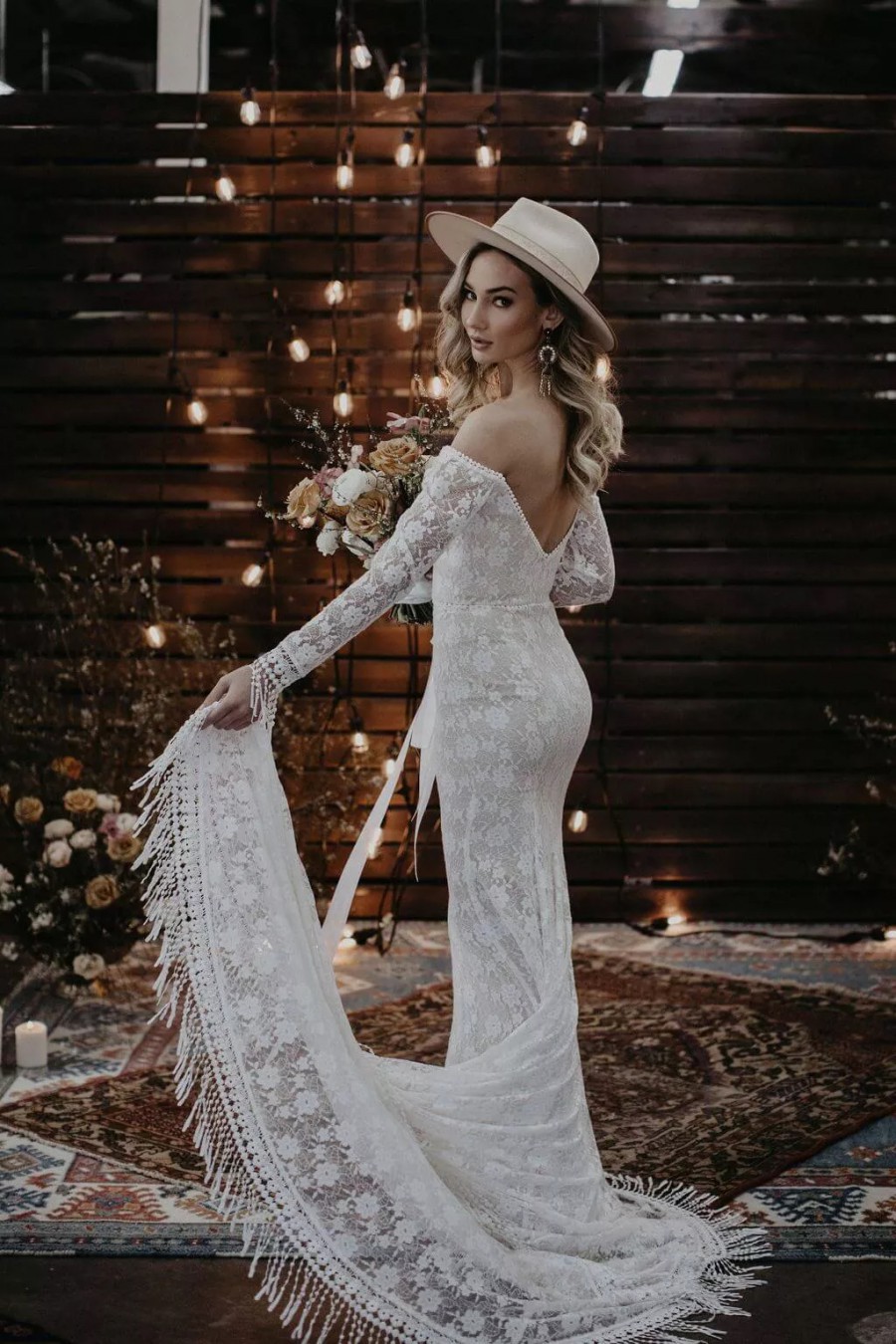 This next boho wedding gown from Dreamers and Lovers is a body con silhouette which is all about showing off your feminine curves. This stretch lace gown is sure to hug your silhouette in all the right places. And we just can not get over the dramatic fringe detailing at the wrists and along the hem of the train.
20.

Rue de Seine: Cool Fringed Boho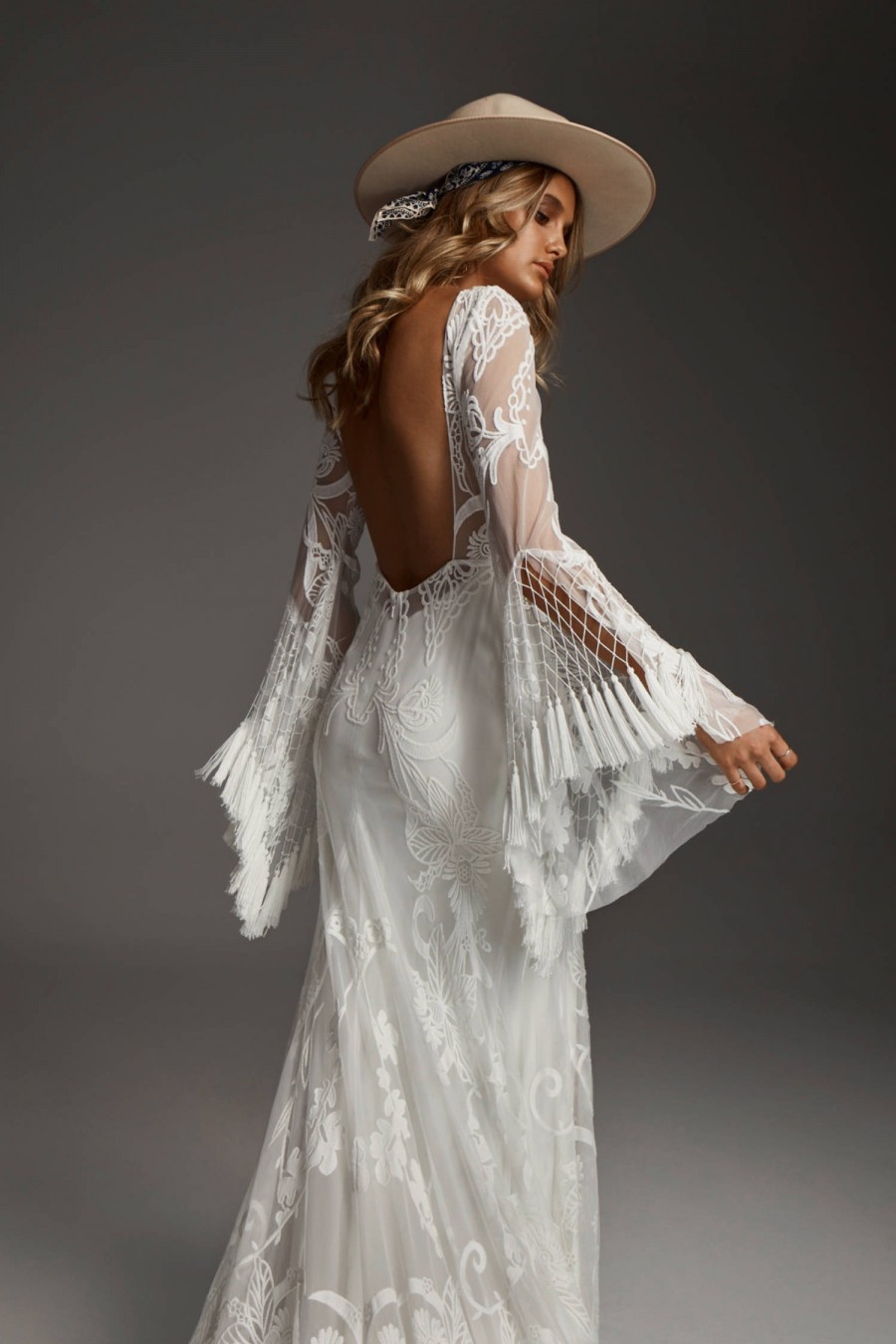 Cool and confident - you will never want to take off this effortless boho bridal gown. This long sleeve style features a dramatic open back and dramatic bell sleeves with hand knotted fringe accentuates. And the delicate lace embroidery on this gown is feminine and beautiful.
21.

Bo and Luca: Boho Gold Glam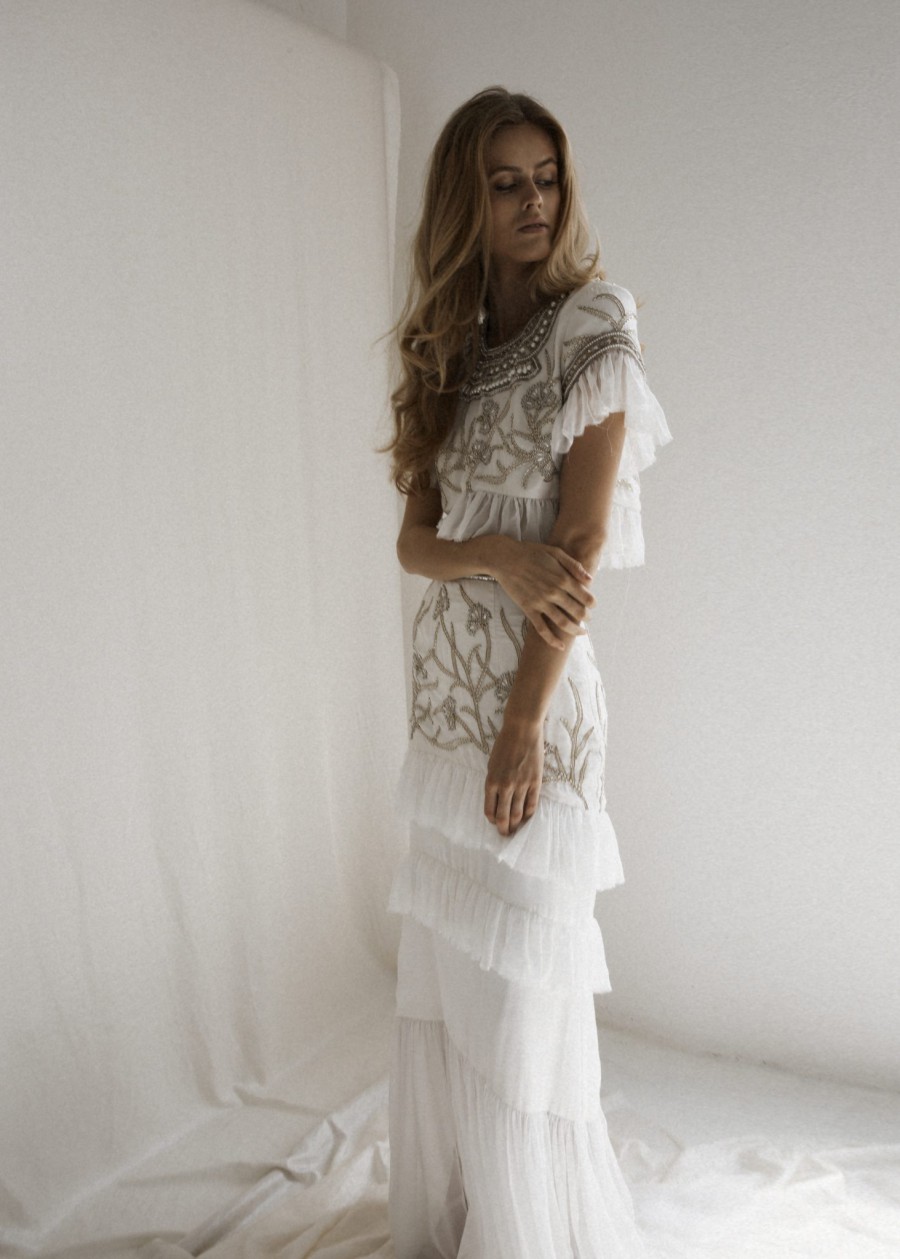 Add some golden glamour to your bohemian bridal style with this stunning two piece look from Bo and Luca. Featuring a dramatic cropped bodice with all over gold hand-beaded embellishment and ruffle accents at the arms and hem. This dramatic top is paired with a matching skirt with the same golden beading embellishment and tiered ruffled accents.
22.

Grace Loves Lace: Low Back Bohemian Lace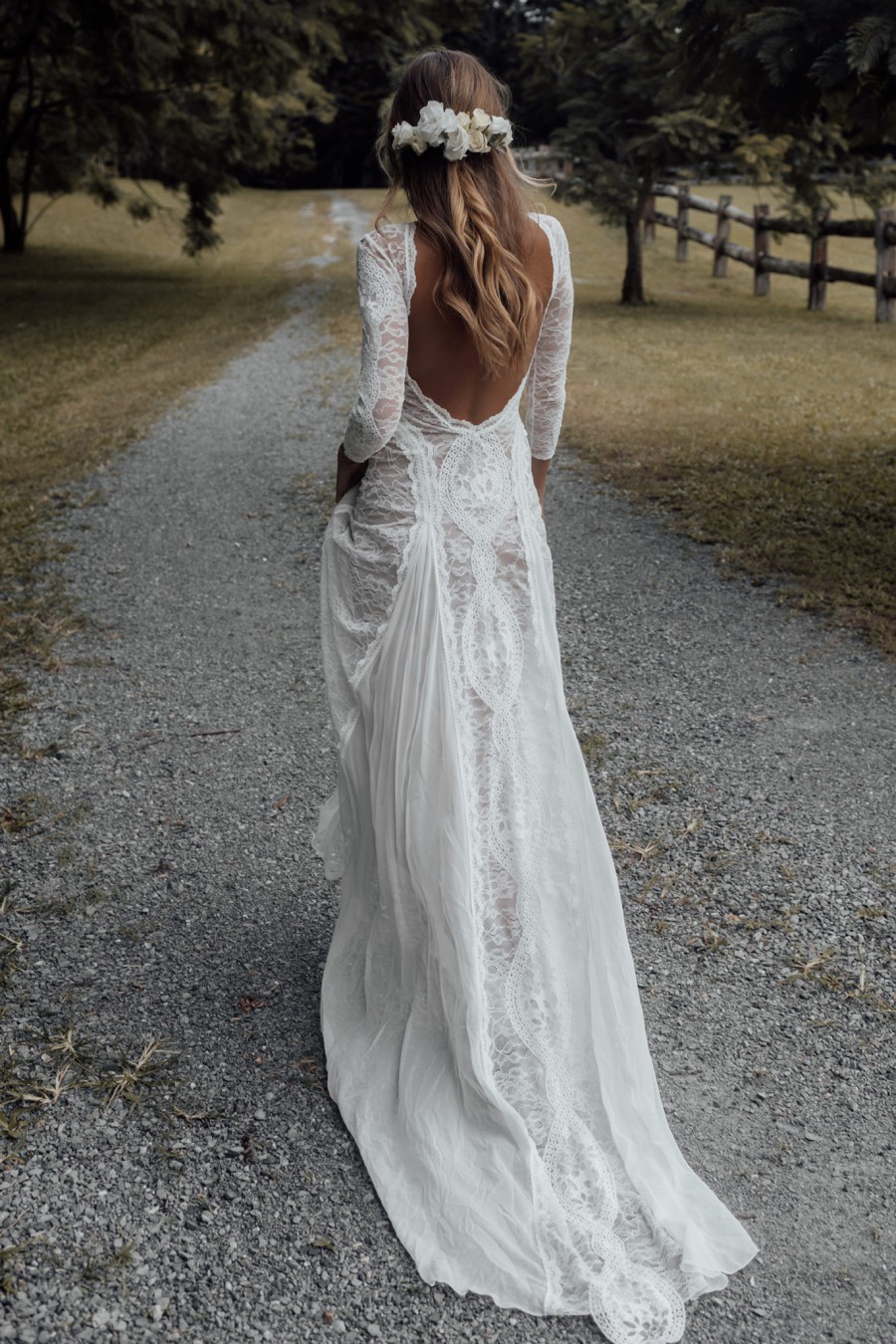 It is hard to resist a Grace Loves Lace wedding gown if you are a bohemian loving bride. And this stunning long sleeve dress shows you why. Featuring a dramatic low open back, full length lavish lace sleeves and an intricate lace panel skirt with a flowing train.
23.

Rue de Seine: Boho Simplicity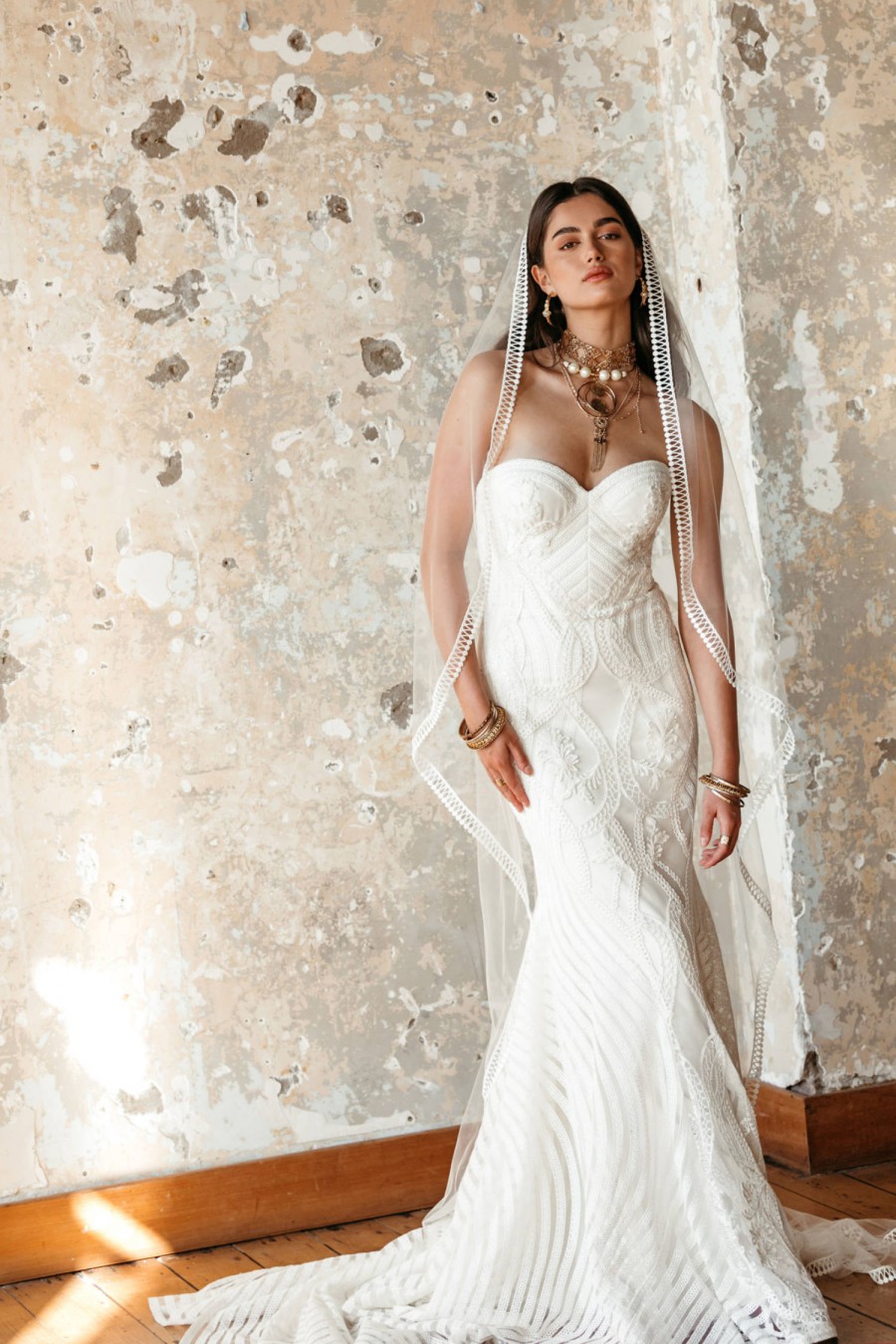 Now, not every boho brides wants an over-the-top style for their big day. And if you are one of those brides, this gown is for you! This stunning strapless gown features a structured bodice, with the most lavishly embroidered lace that flows down onto the skirt. And did we mention that stunning sweeping train with captivating twisting corded lace that is sure to leave everyone breathless?
24.

Dreamers and Lovers: Earthy Lace Boho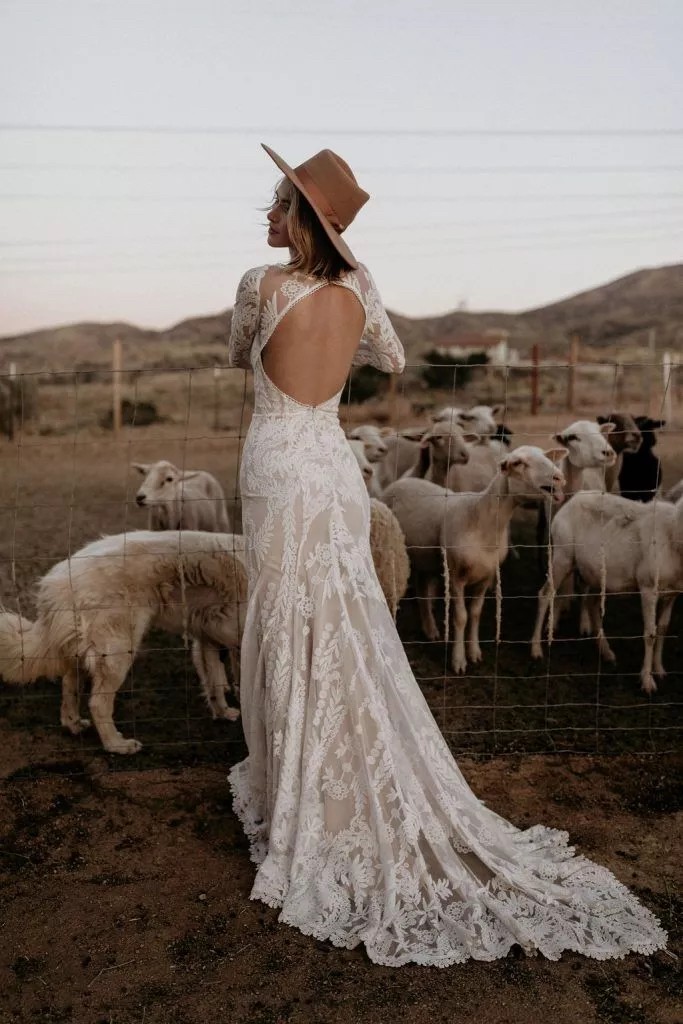 If you are a lace loving bohemian bride, then you don't want to miss this next wedding dress from Dreamers and Lovers. A romantic, vintage inspired style that features a captivating open back, lavish long lace sleeves and a train that will take your breath away.
25.

Rue de Seine: Beach Ready Boho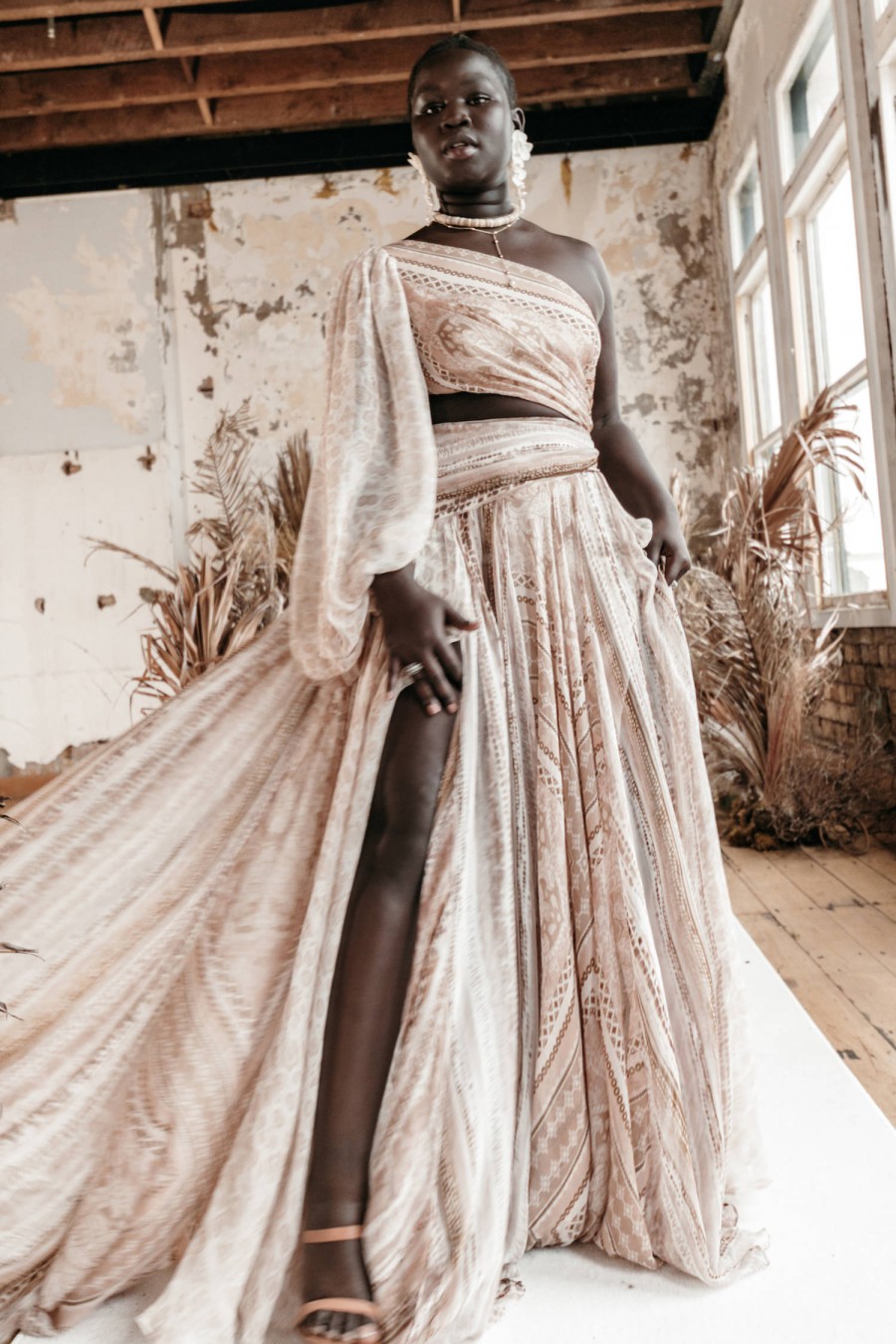 If you are dreaming of a beach front wedding day, then you don't want to miss this next dreamy boho bridal style. This romantic flowing gown features a captivating asymmetric silhouette with a wrapped single shoulder bodice with one voluminous full length sleeve. The effortless skirt features two front slits that will give you all of the flowing movement you are wanting in order to dance the night away. And did we mention the gorgeous and flattering blushing color tones?
26.

Dreamers and Lovers: Off-the-Shoulder Bohemian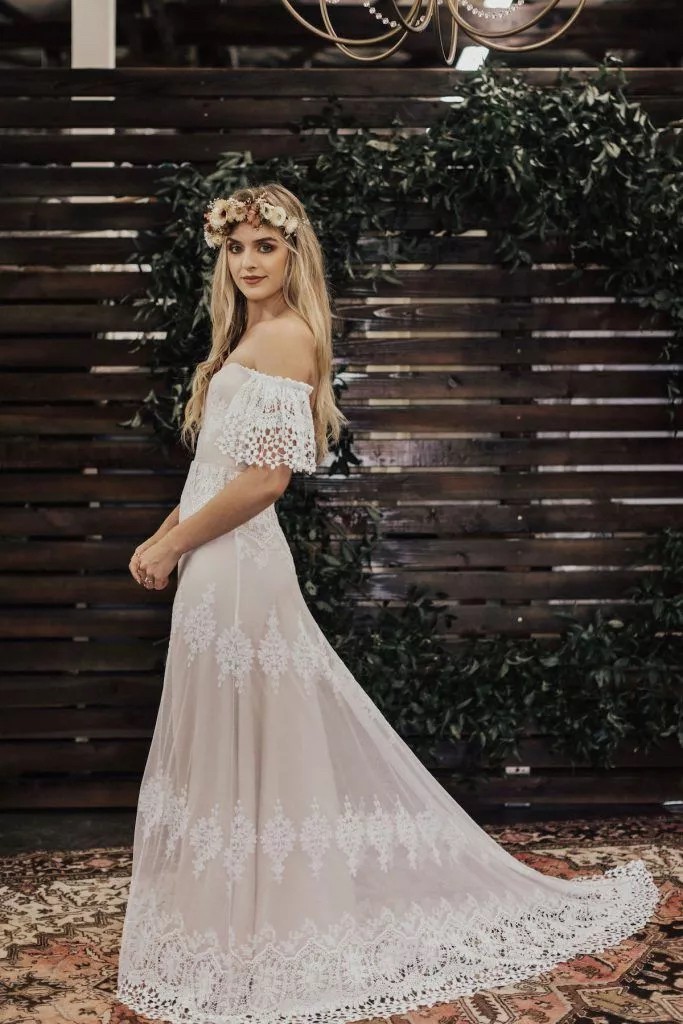 What bohemian bride can resist a lacy, off-the-shoulder wedding gown? This next feminine, boho bridal style from Dreamers and Lovers is just dreamy. Featuring the most stunning lace appliqué design and crochet lace flutter sleeves that we are absolutely in love with.
27.

Bo and Luca: Two-Piece Boho Beauty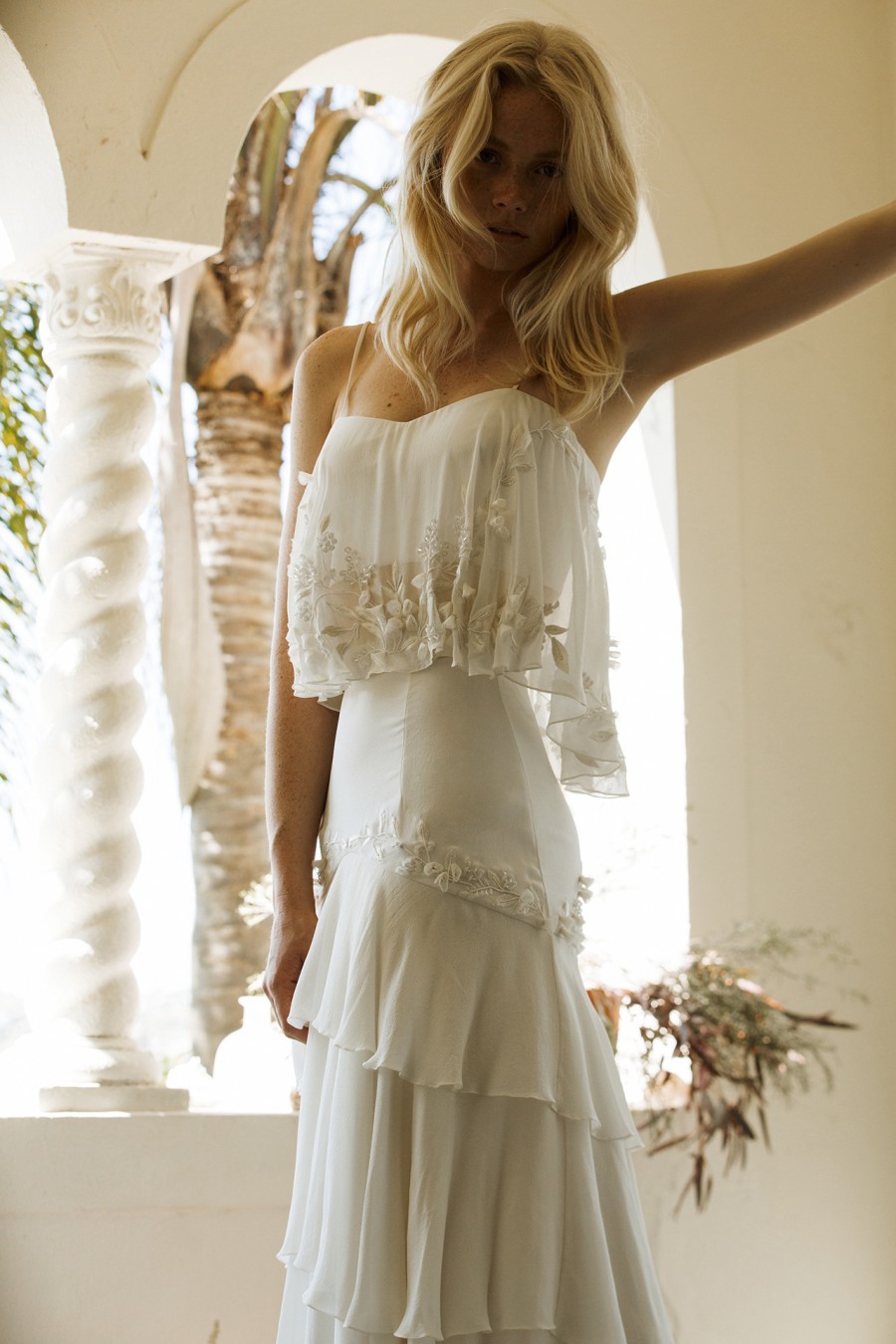 This is the two piece boho bridal style of your dreams! This stunning style from Bo and Luca features the most beautiful fitted, cropped bodice with an intricately hand-beaded flowing Silk Georgette overlay. This stunning top is paired with a tiered high waisted skirt that hugs through the hips and features the same beautiful beadwork.
28.

Rue de Seine: Black Boho Bridal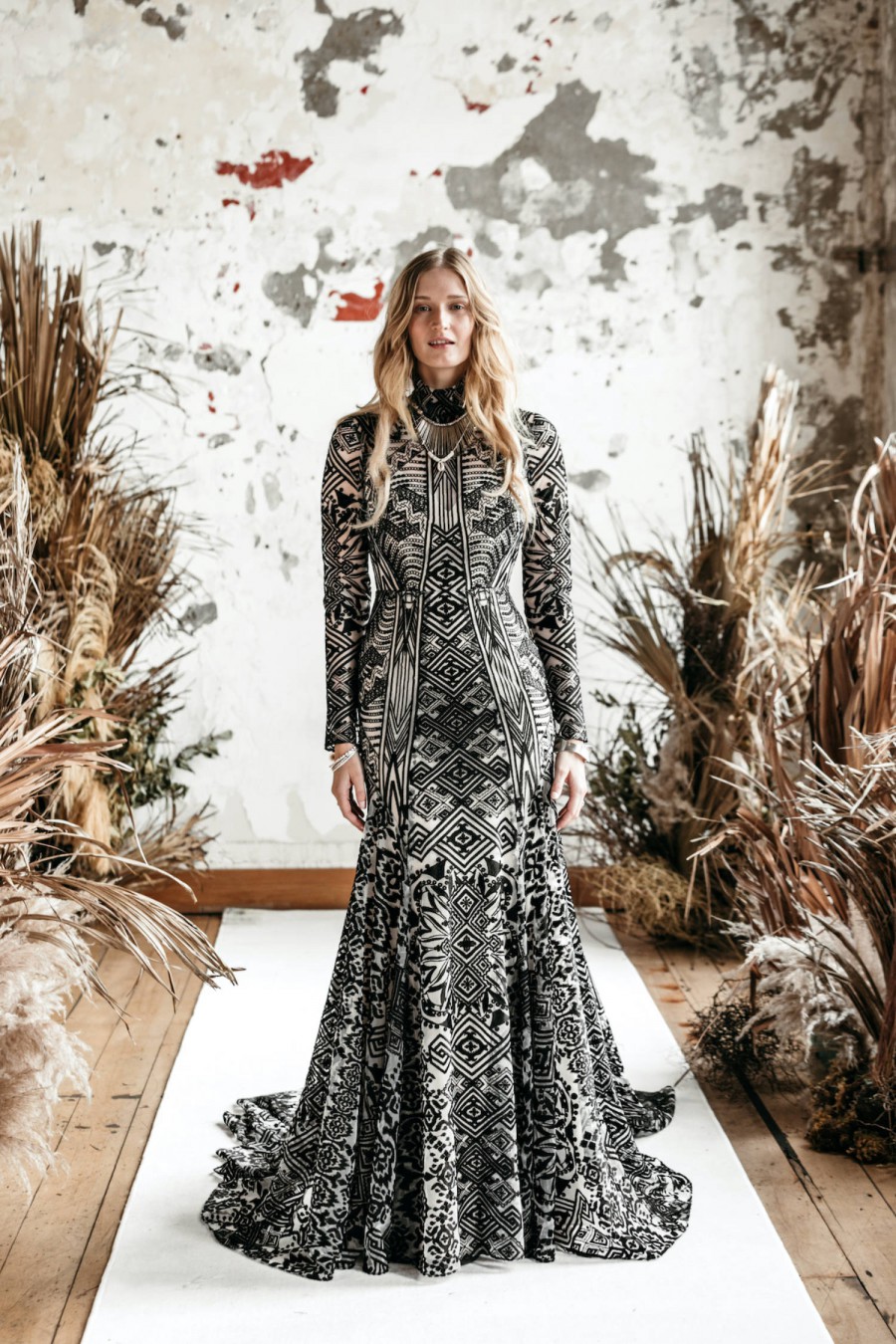 For our edgy, statement making brides out there, this last boho bridal look is for you. A jaw-dropping black wedding gown which features an ivory base for a bold, contrasting look. With a high neckline and fitted sleeves, your entire silhouette is accented in this bold inked design.

By Kathryn Schrotenboer