These 42 dresses prove that your wedding day look is about so much more than how you look from the front as you walk down the aisle.
The wedding scene is no longer dominated by classic strapless wedding gown styles. Now we see straps and sleeves of all shapes and cuts. Today we are going to cover our favorite wedding gowns with the most stunning back styling you have ever seen. Your wedding day look is about so much more than what the front of your dress looks like. Have your guests in awe as you walk down the aisle with these wedding gowns that have the most stunning back appeal.
01.

Feathered T-strap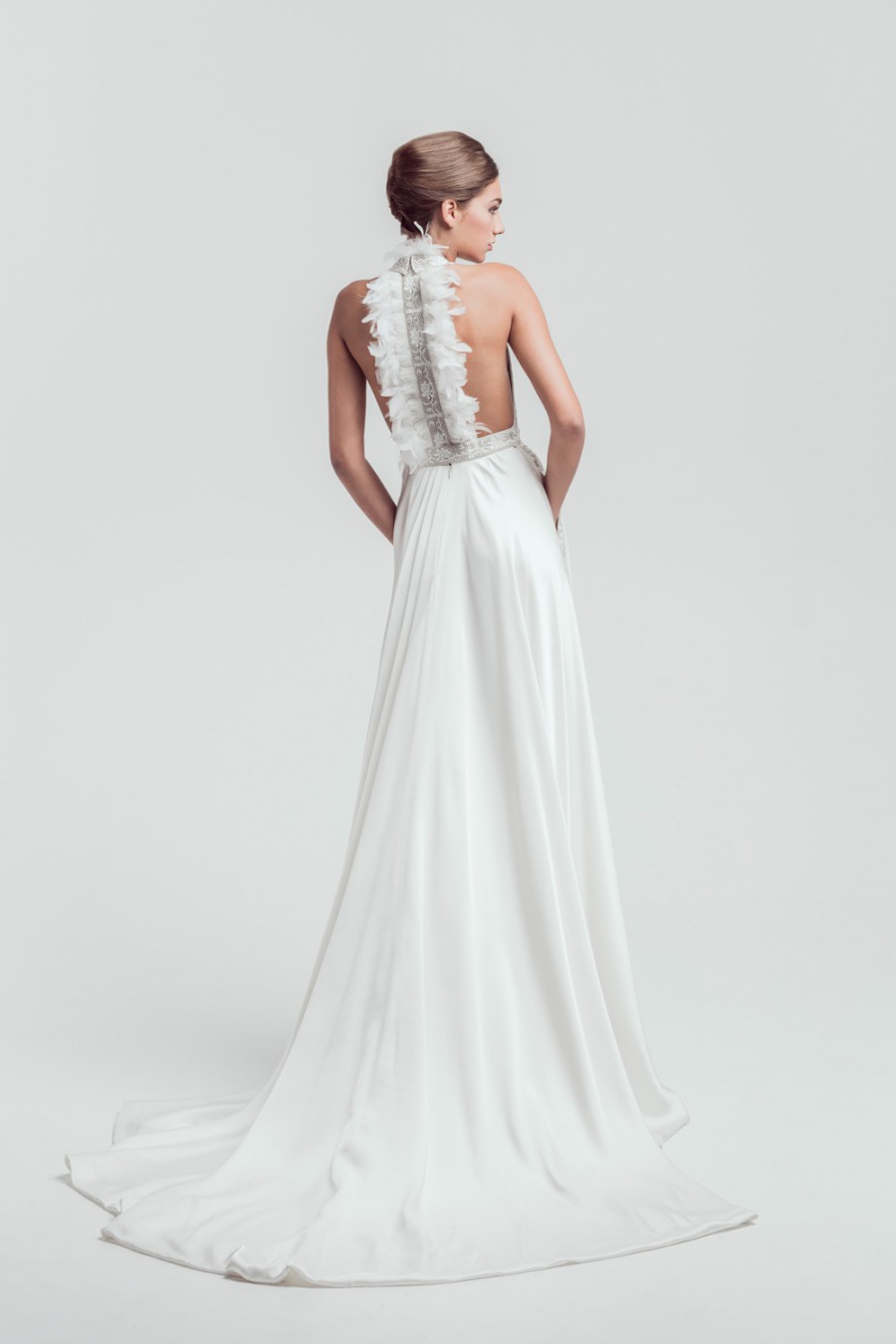 This stunning modern wedding style from Isabel Zapardiez is anything but ordinary. With a feathered t-strap open back - everyone will be speechless as you walk down the aisle. Add some of your unique sass to your wedding day look with this chic style.
02.

Subtle Detailing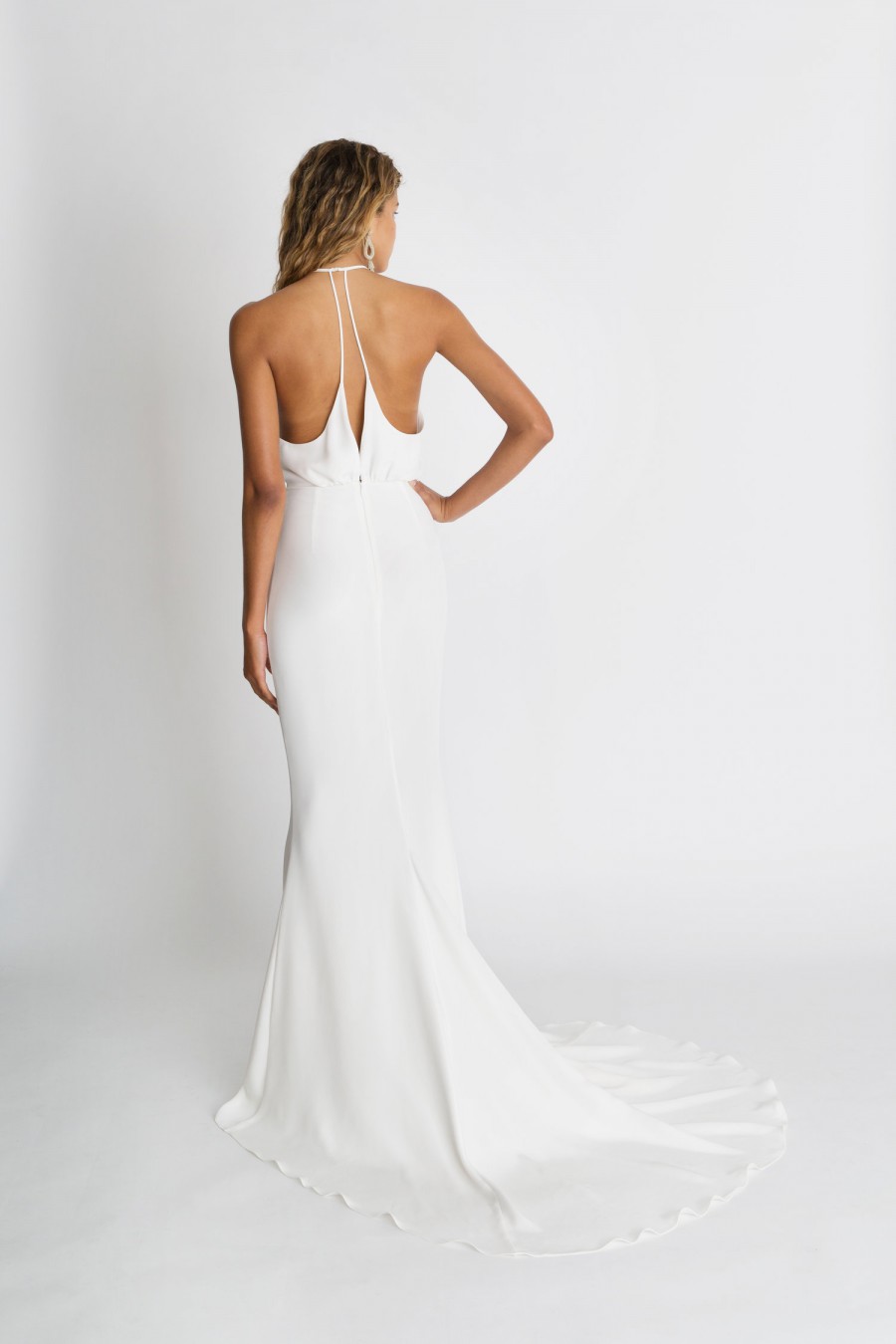 Our next wedding gown has a back design that is all about subtle detailing. Delicately draped thin straps create a sexy and feminine cut.
03.

Criss Cross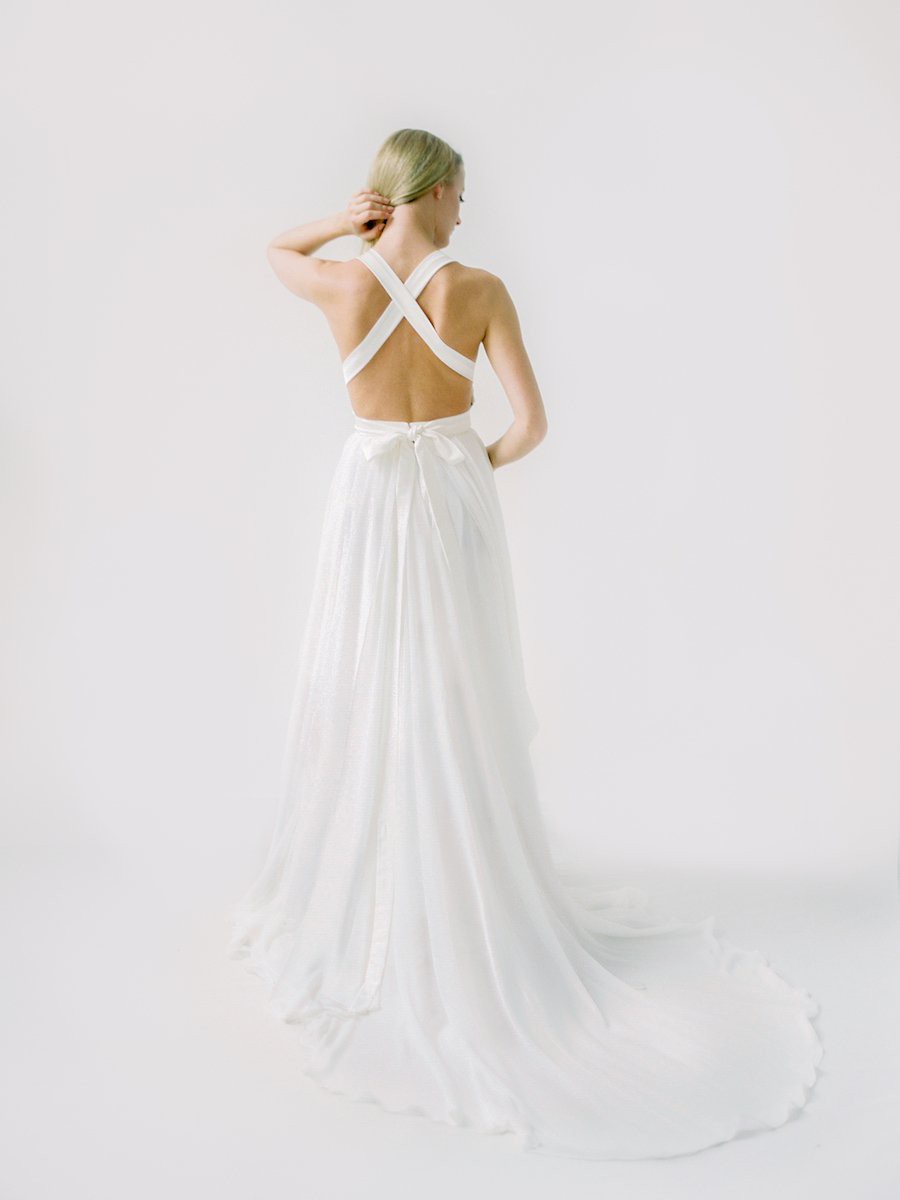 This criss cross style will accentuate your sexy back in a beautiful and feminine way. Finished off with a low set bow, this look is absolutely classic.
04.

Glam Elegance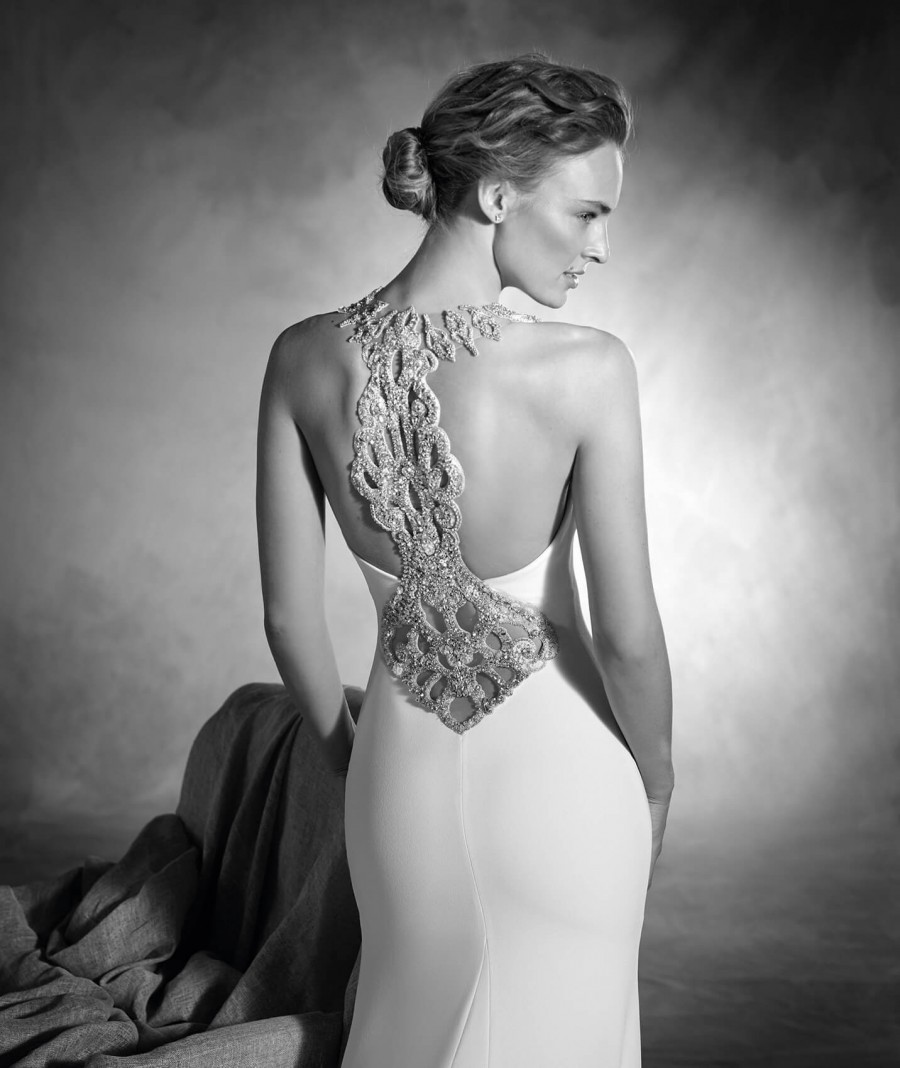 If you love the classic look of old Hollywood glam styles, but are looking for something a bit more over the top - then this is the style for you. An intricately designed back style features delicate cut-outs and all over gemstones. Sexy, sultry, and so glamourous.
05.

Double Crossed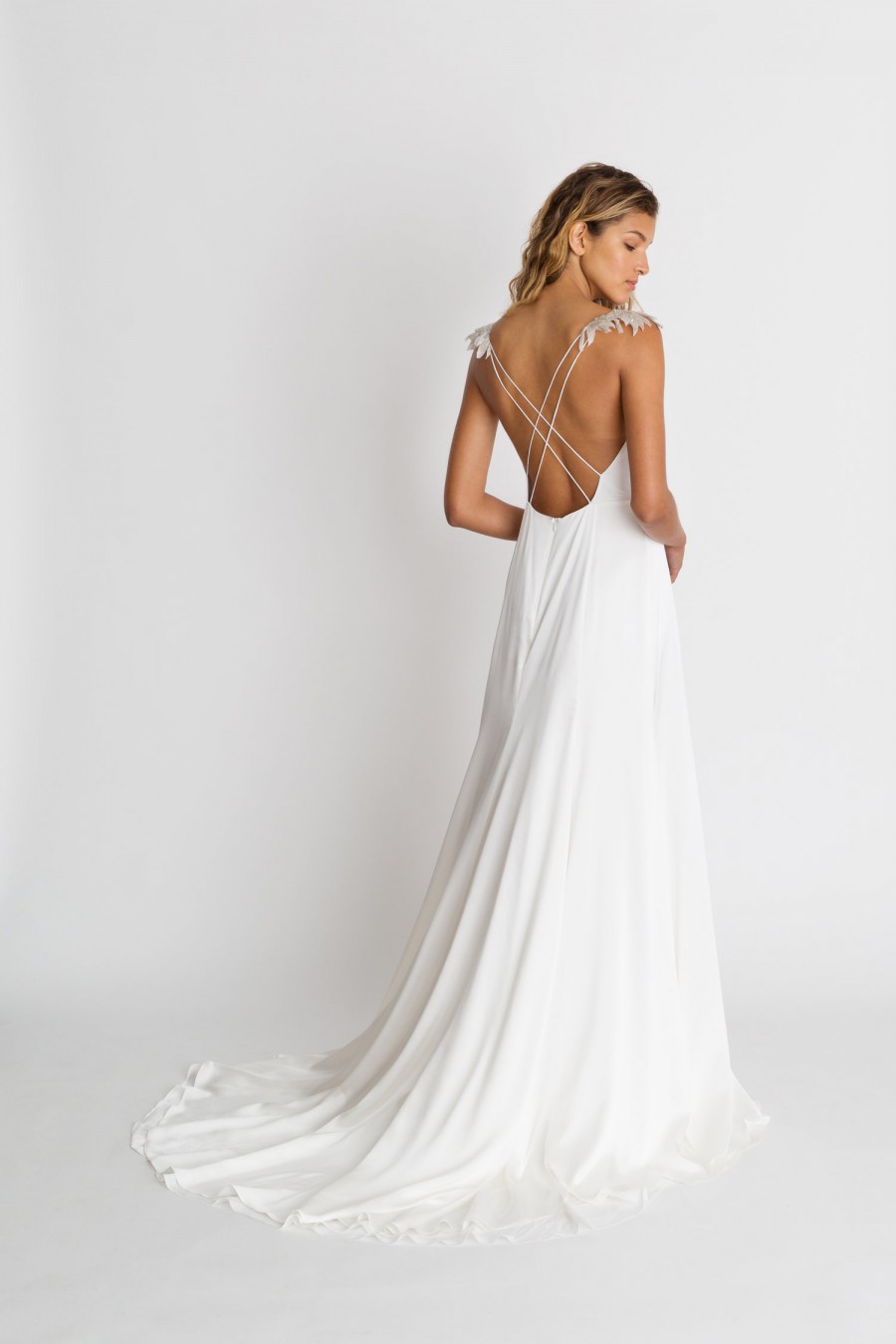 A classic, flowing gown that is delicate and whimsical. Silver feather embroidery at the shoulders lead into a delicate double criss-cross strap style. Feminine and effortless.
06.

Intricate Strapping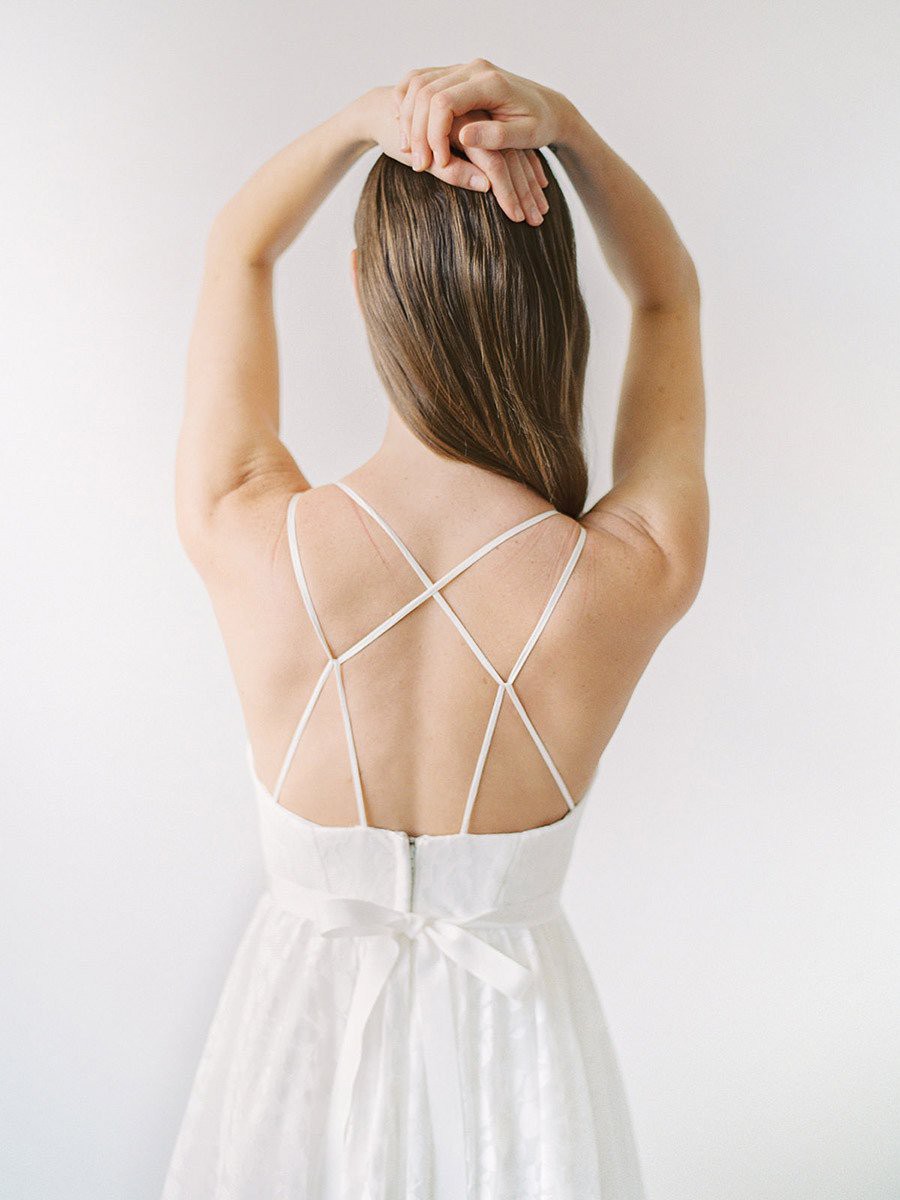 This traditional lace wedding gown, features a less than traditional back style. Delicate, and intricately crossed straps create a playful geometric style that add a bit of contemporary flair to this classic wedding style. Also a fun fact about this dress - it is water resistant! Get ready for that sea side wedding of your dreams!
07.

Vintage Lace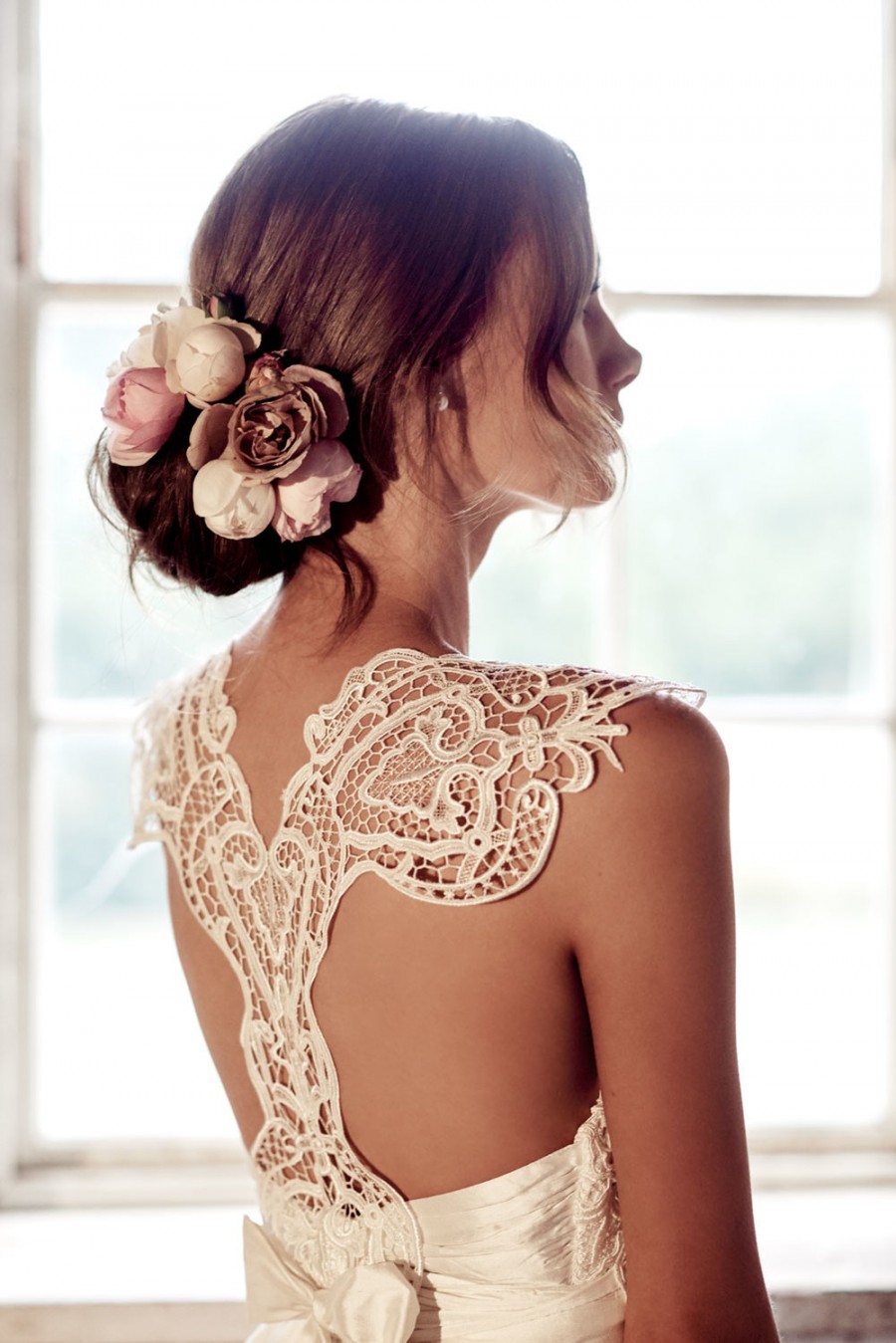 We usually know Anna Campbell for her overly embellished glitz styles - but this simple design has us a bit speechless. A delicate T-bar vintage lace back details absolutely steals the show.
08.

Draped Tulle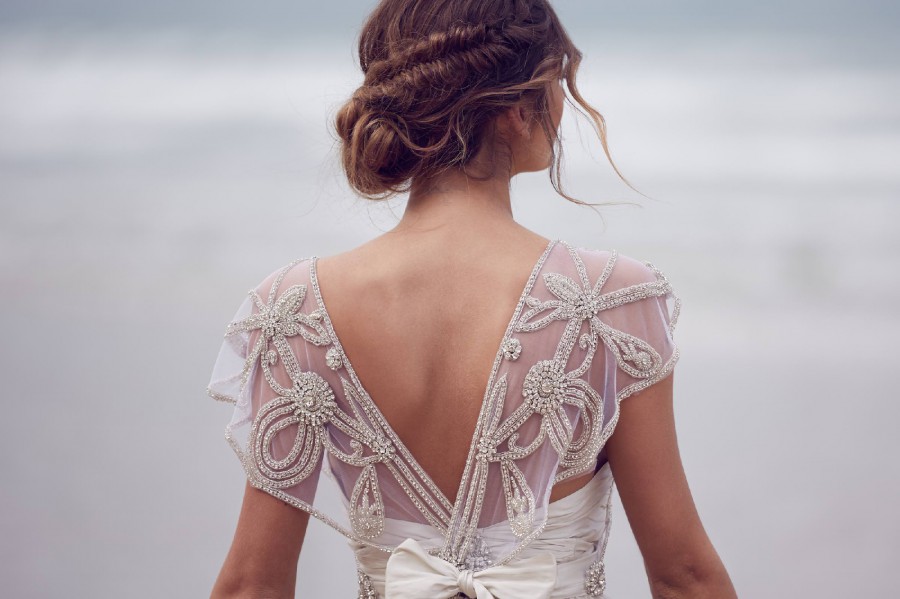 Our next stunning back detailed style is by Anna Campbell. Delicate tulle drapes down the open back of the gown with heavy shimmering embellishment. A glitzy style with a bit of whimsy.
09.

Barely There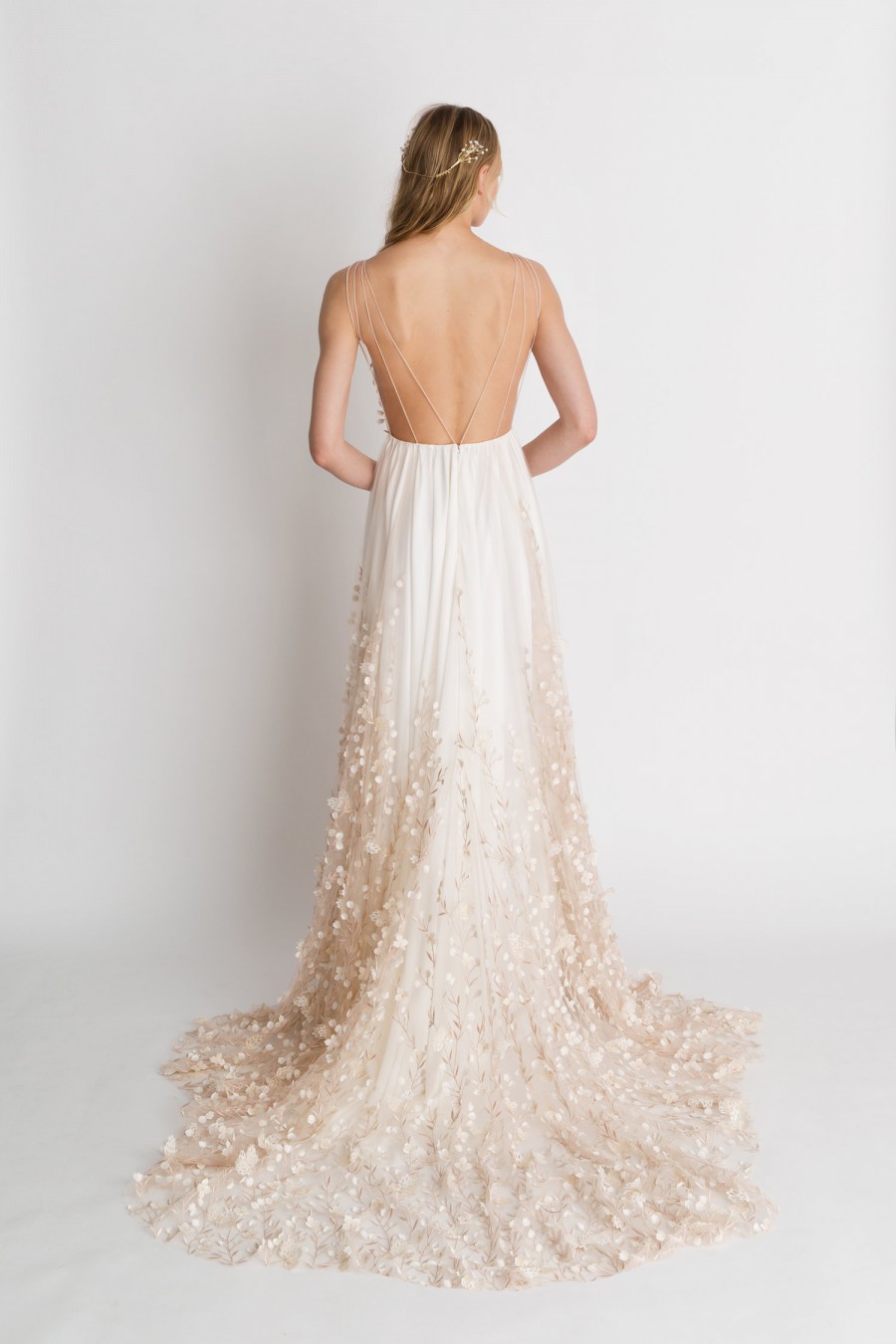 We are absolutely in love with this hand-embroidered floral appliqué gown. The detail and color is absolutely stunning. A thin strap back design is so delicate that is seems to disappear completely.
10.

Embroidered Detail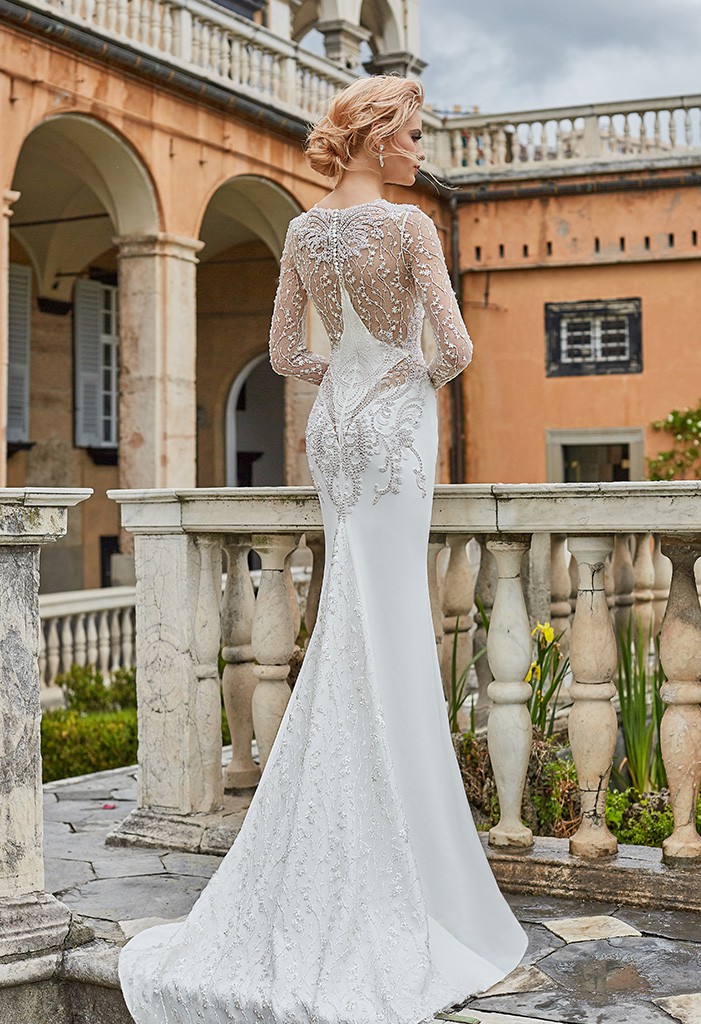 If you are speechless, don't worry, so are we. The illusion accents and embroidery detailing on the back of this gown are jaw-dropping. It is hard to peel your eyes away. To make this dress even more remarkable - it comes we a detachable skirt to give you more of a ball gown look. The removable skirt option will take you from a formal ceremony look during the day, to a sexy party style at night.
11.

Split Back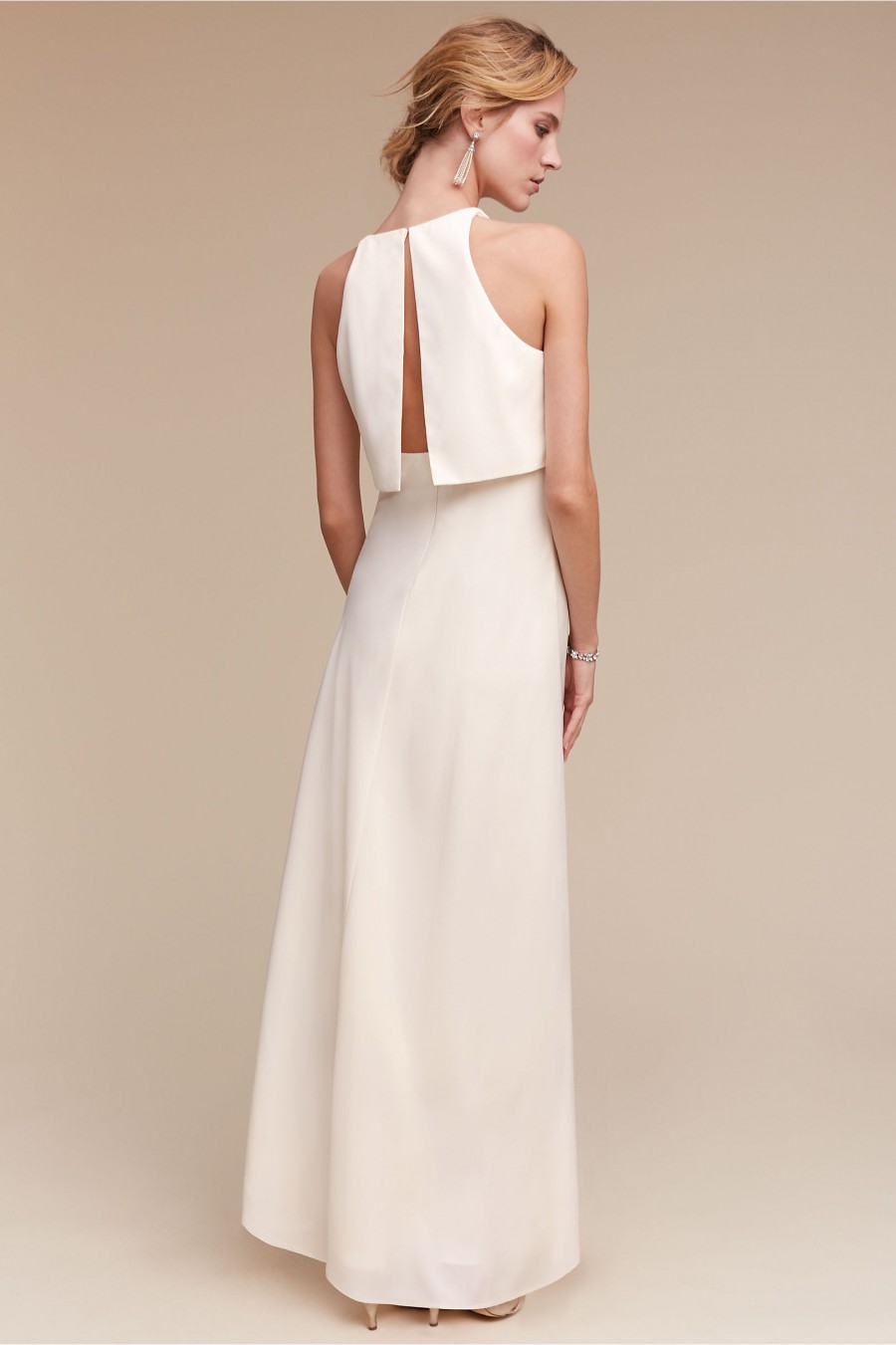 This modern, crepe gown is structural and elegant. A unique split-back design creates beautiful back appeal that is both feminine and modern.
12.

Triangle Cut-Out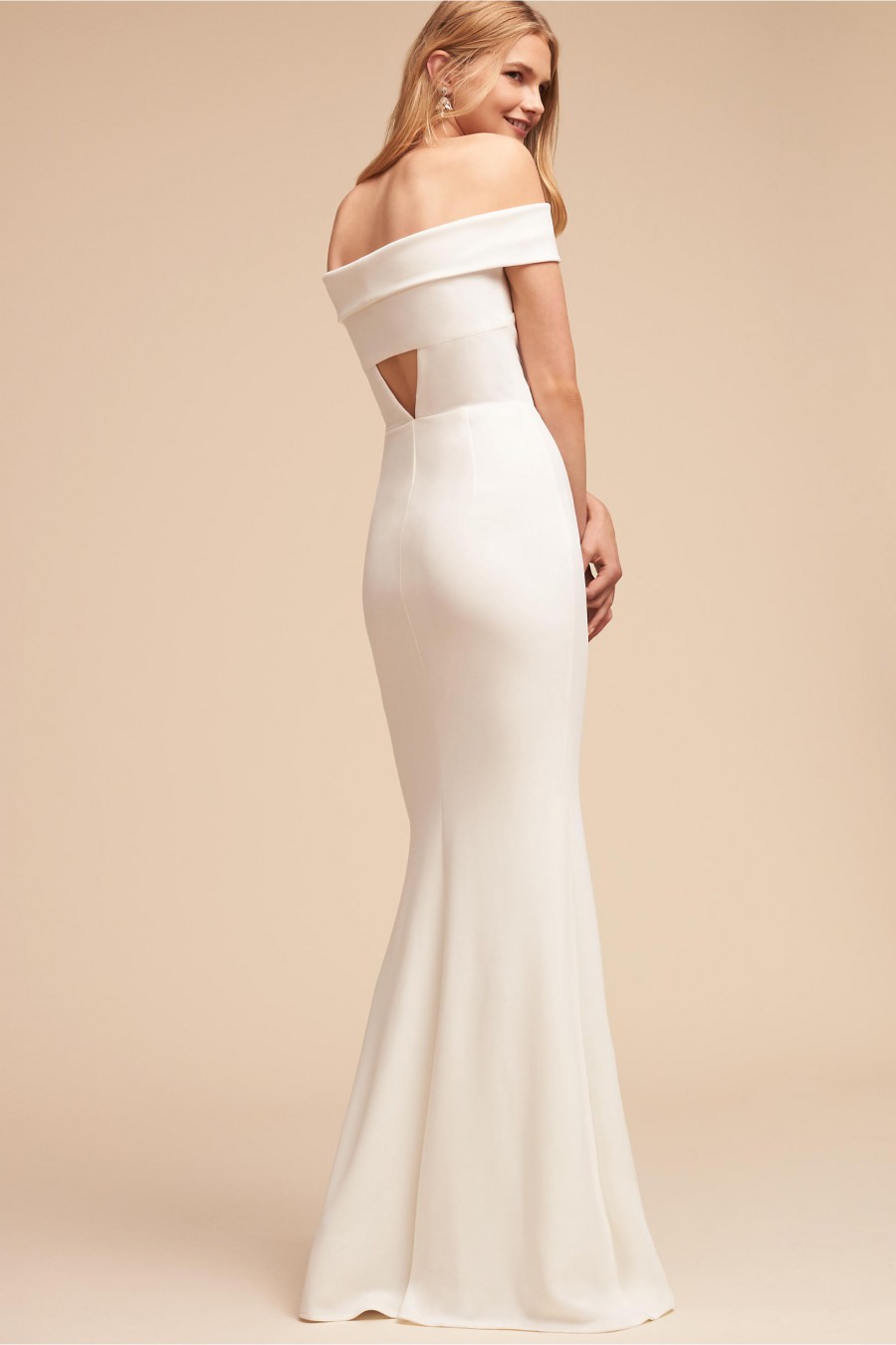 Next we have a sleek, stretch crepe gown with a classic off the shoulder look. This dress is the perfect mix of old Hollywood glam and chic contemporary. To add an unexpected back detail, there is a completely adorable and unique triangle cut-out. A subtle, sexy detail.
13.

Polished One-Shoulder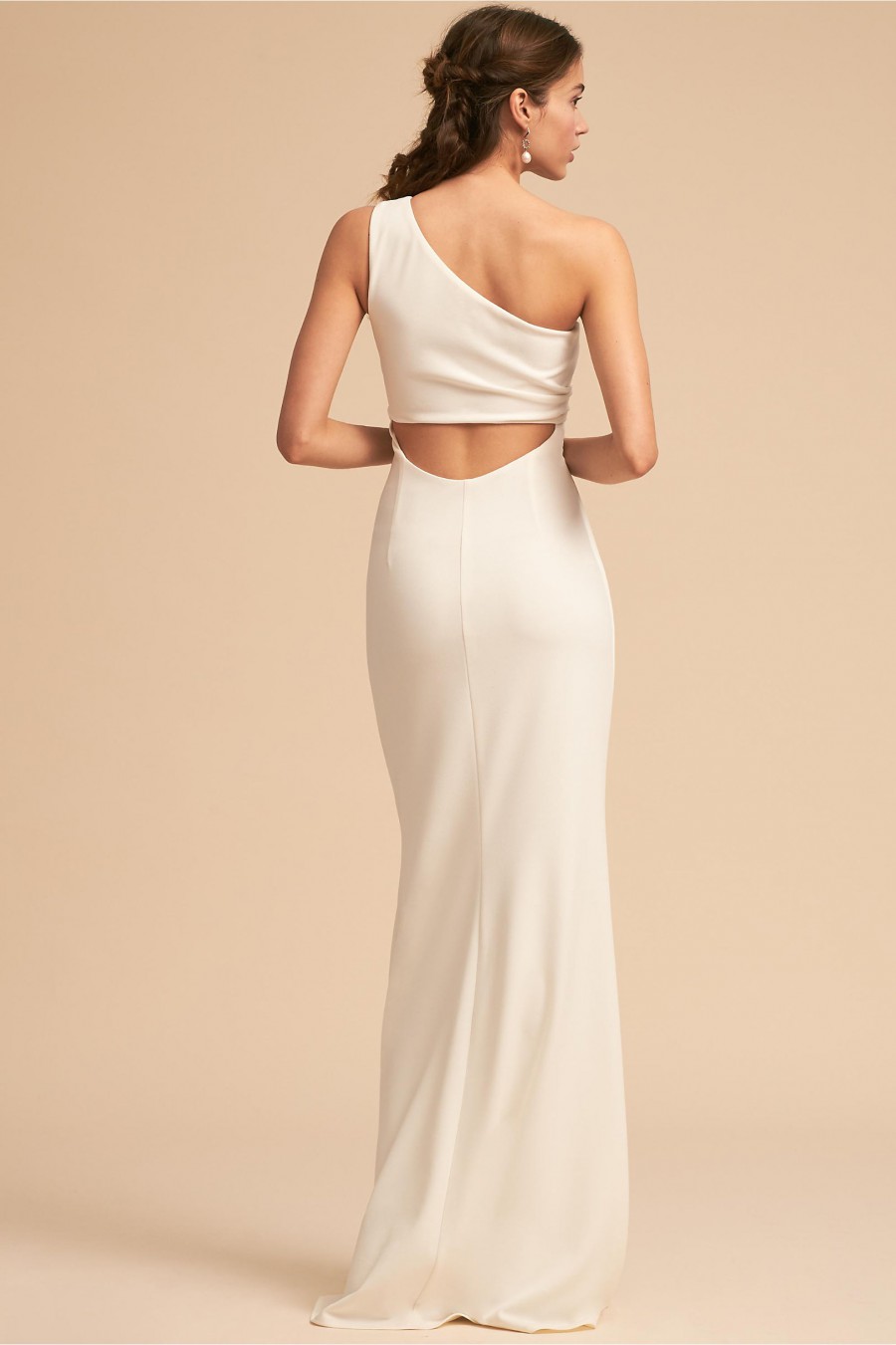 Sticking with the theme of cut-out back designs, we have another gorgeous gown from BHLDN. This polished one-shoulder column dress seems simple and classic, but a surprising cut-out adds an unexpected detail that we love!
14.

Victorian Embroidery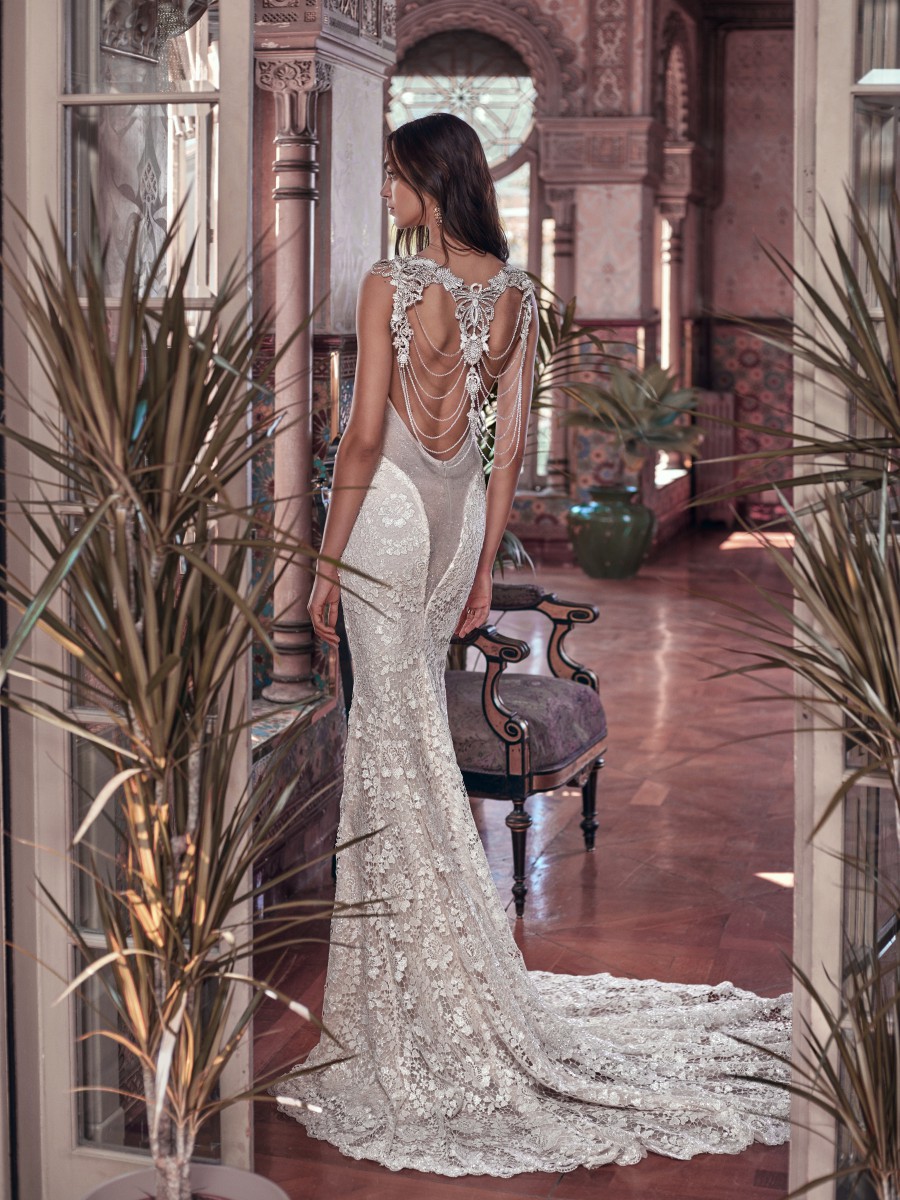 A rather traditional lace column gown takes us completely by surprise with it's revealing, crystal embroidery back design. This low back gown is adorned with Victorian embroideries and draped crystal strands.
15.

Open Back Fringe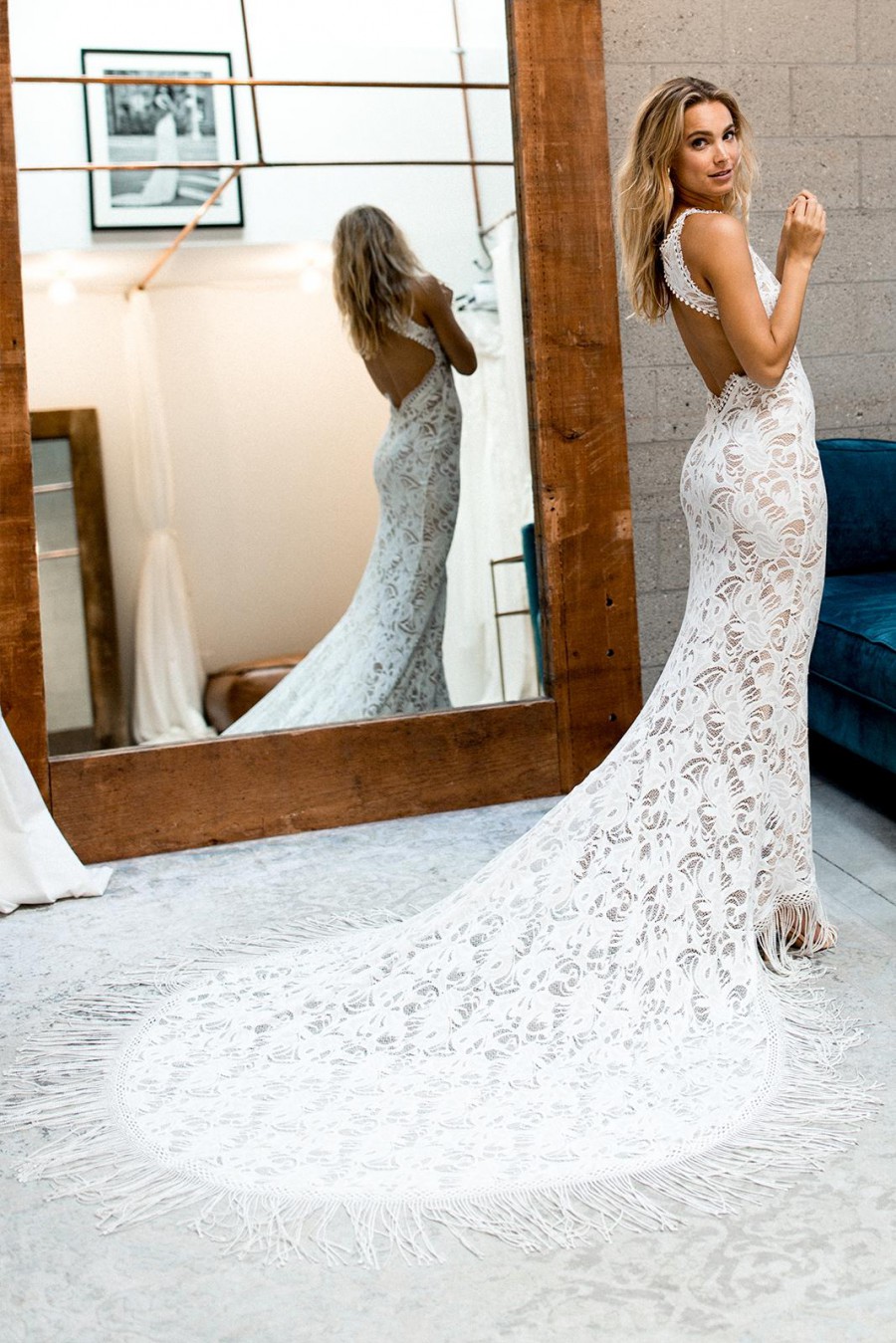 Sexy, contemporary wedding style from Grace Loves Lace. The stunning open back gown features a delicate button fastening to secure the high-neck style of the dress. Around back, the open cut is accented with exotic tassels and Spanish fringe.
16.

Undone Elegance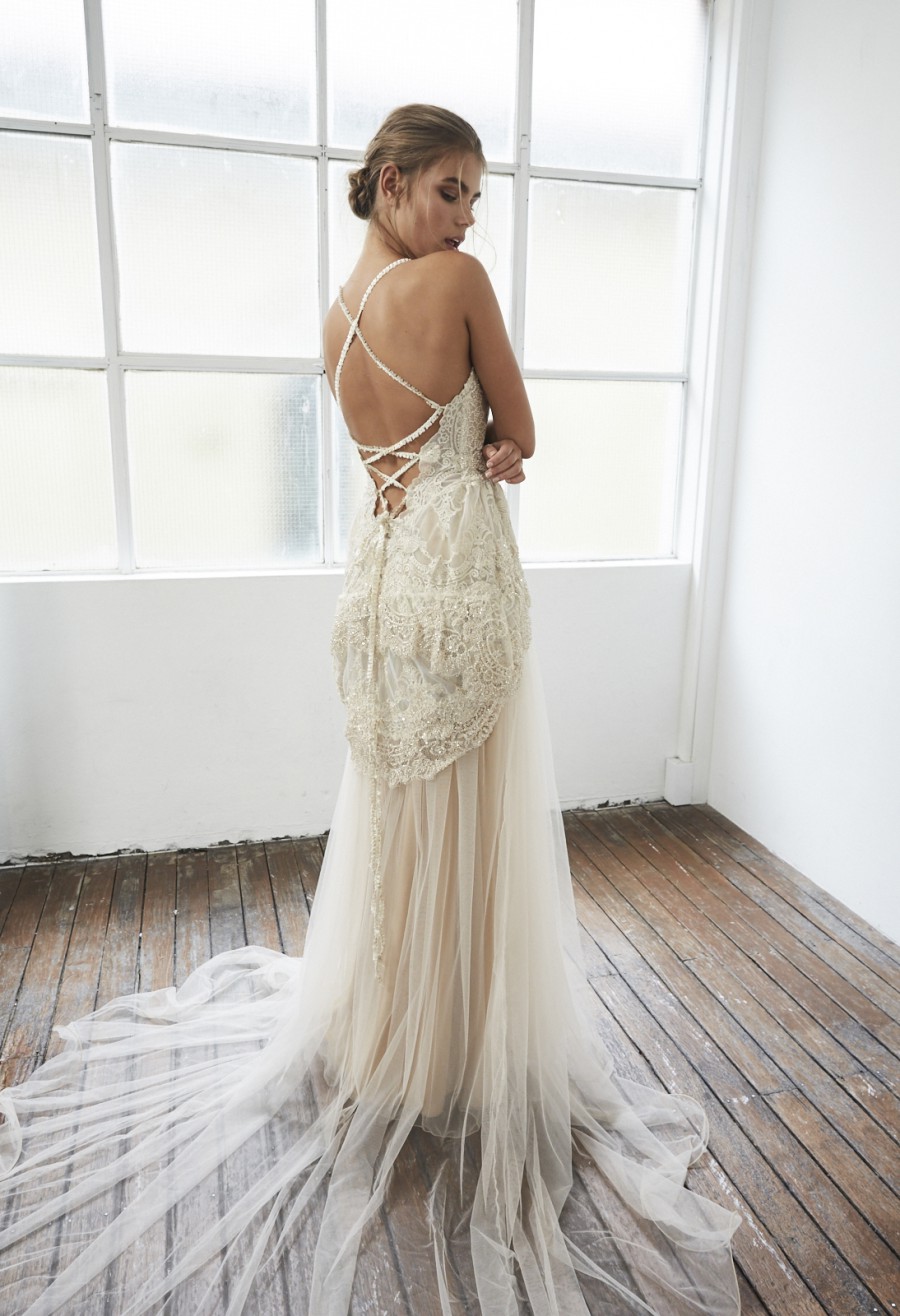 The liberty gown by Grace Loves Lace is described as captivating and undone. A truly artistic piece of wedding fashion, this style features a surprising detailed back style. Delicately crossed straps accentuate the textured embroiled lace detailing that this dress features.
17.

Sleek and Sheer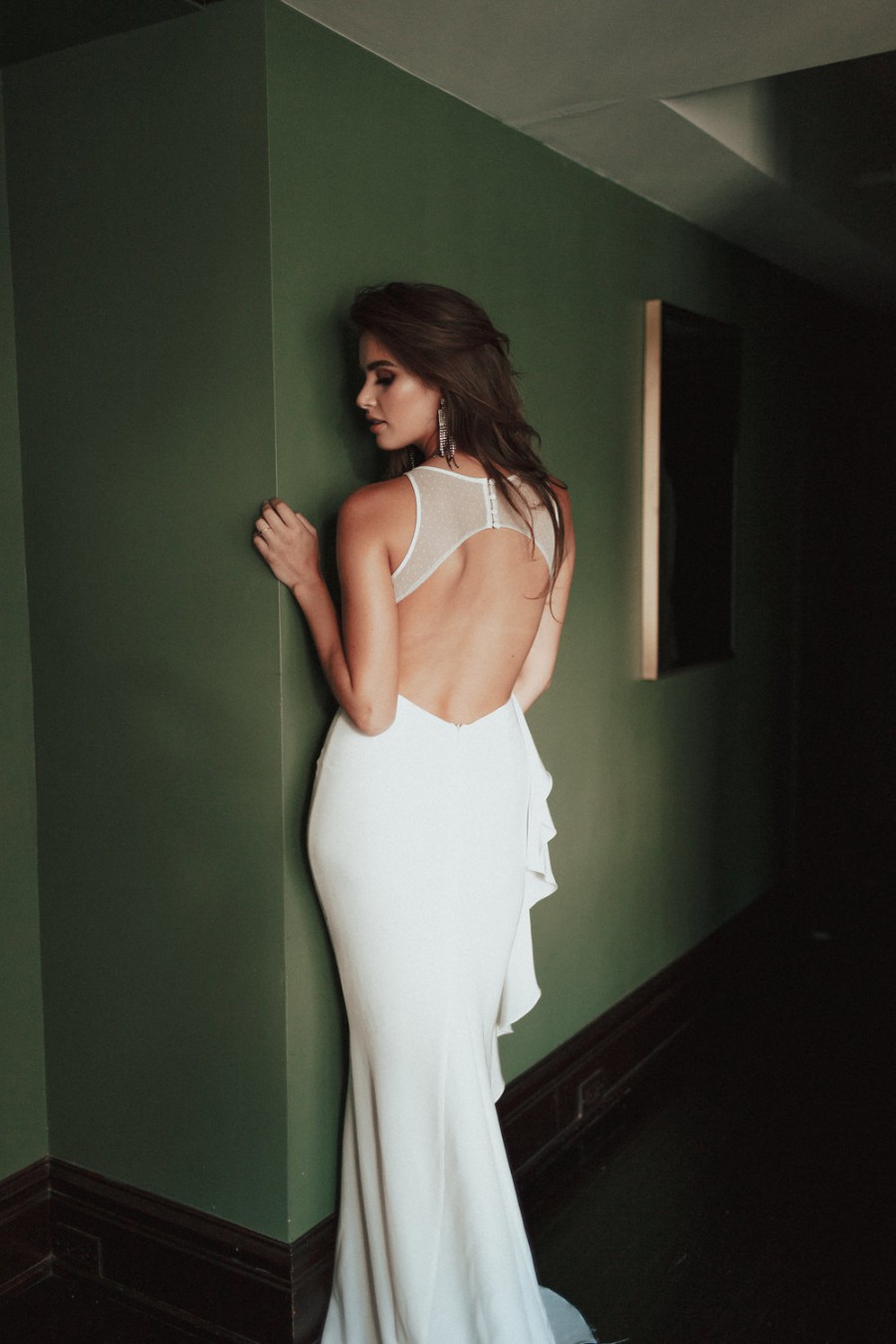 A simple back detailing that is elegant and effortless. This open back styled gown features sheer dotted panels secured at the shoulders with four delicate buttons. This seemingly simple open back gown features stunning, delicate detailing.
18.

Elaborate Detailing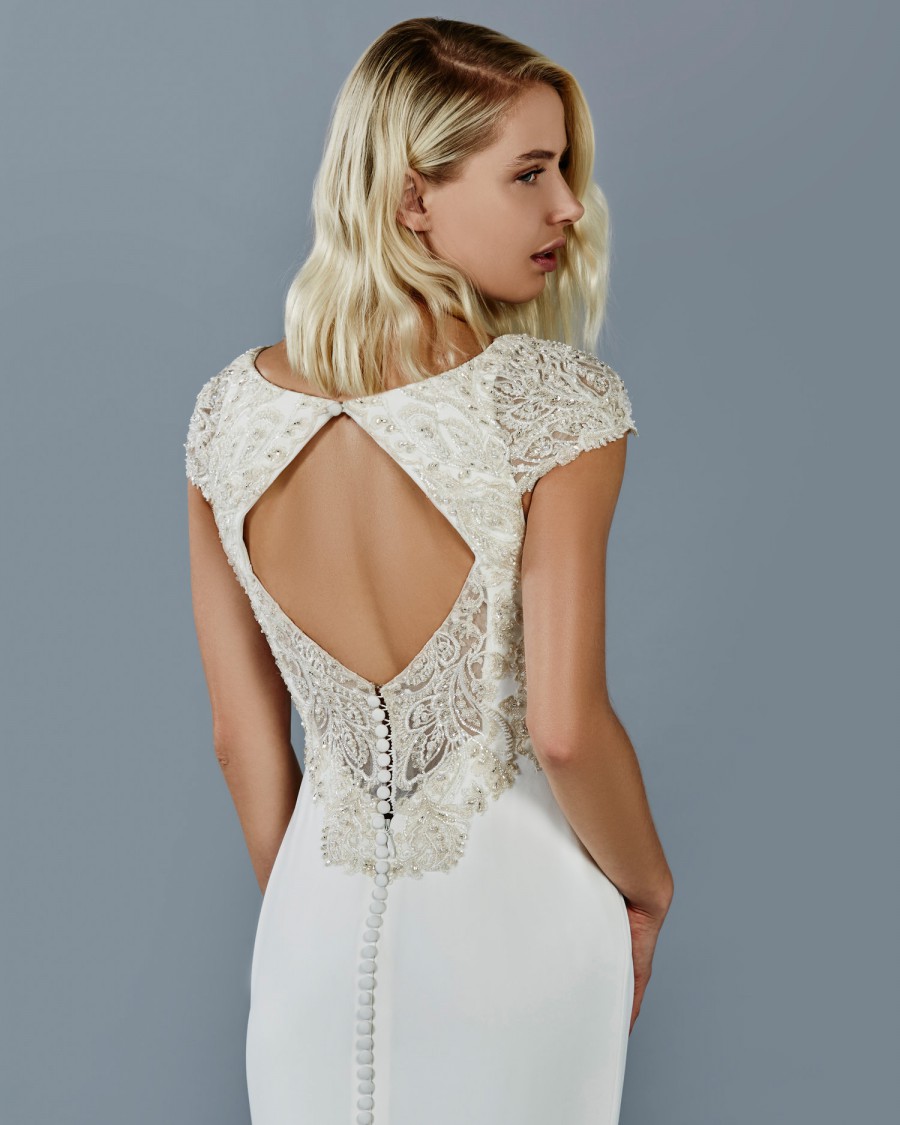 This sleek silhouette by Kelly Faetanini leaves us a bit speechless with its gorgeous back detailing. This sleek, form fitting gown features rose gold beaded embroidery at the shoulders and around the keyhole cut back. Delicate buttons adorn the entire length of the dress. A style the is all about modern sophistication.
19.

Lace Back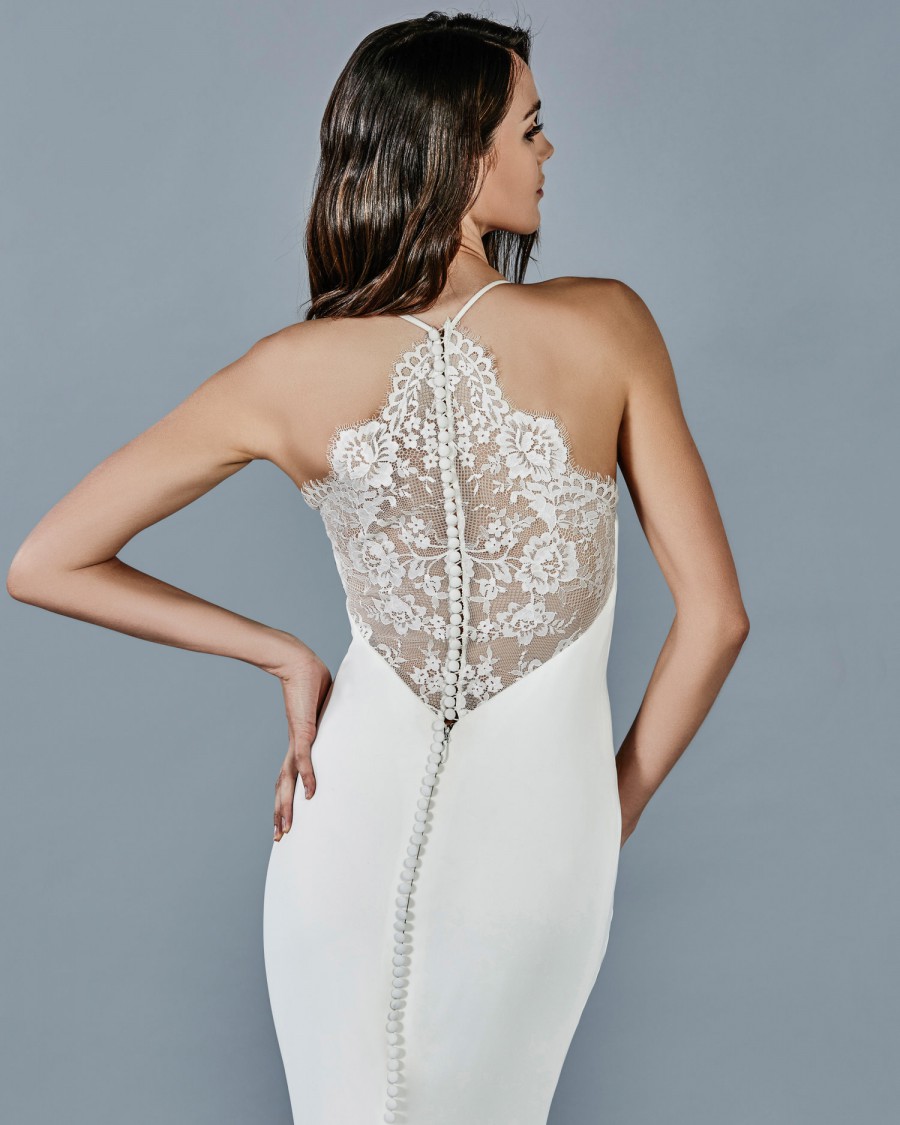 Our next back detailed wedding gown is another by Kelly Faetanini. Just like the previous dress, this gown features delicate buttons that cascade down the entire back of the dress. But this gown features a delicate lace panel that is completely unique and feminine. The lace accentuates the shoulders and adds a beautiful contrast to the sleek white of the rest of the gown.
20.

Alluring Cutout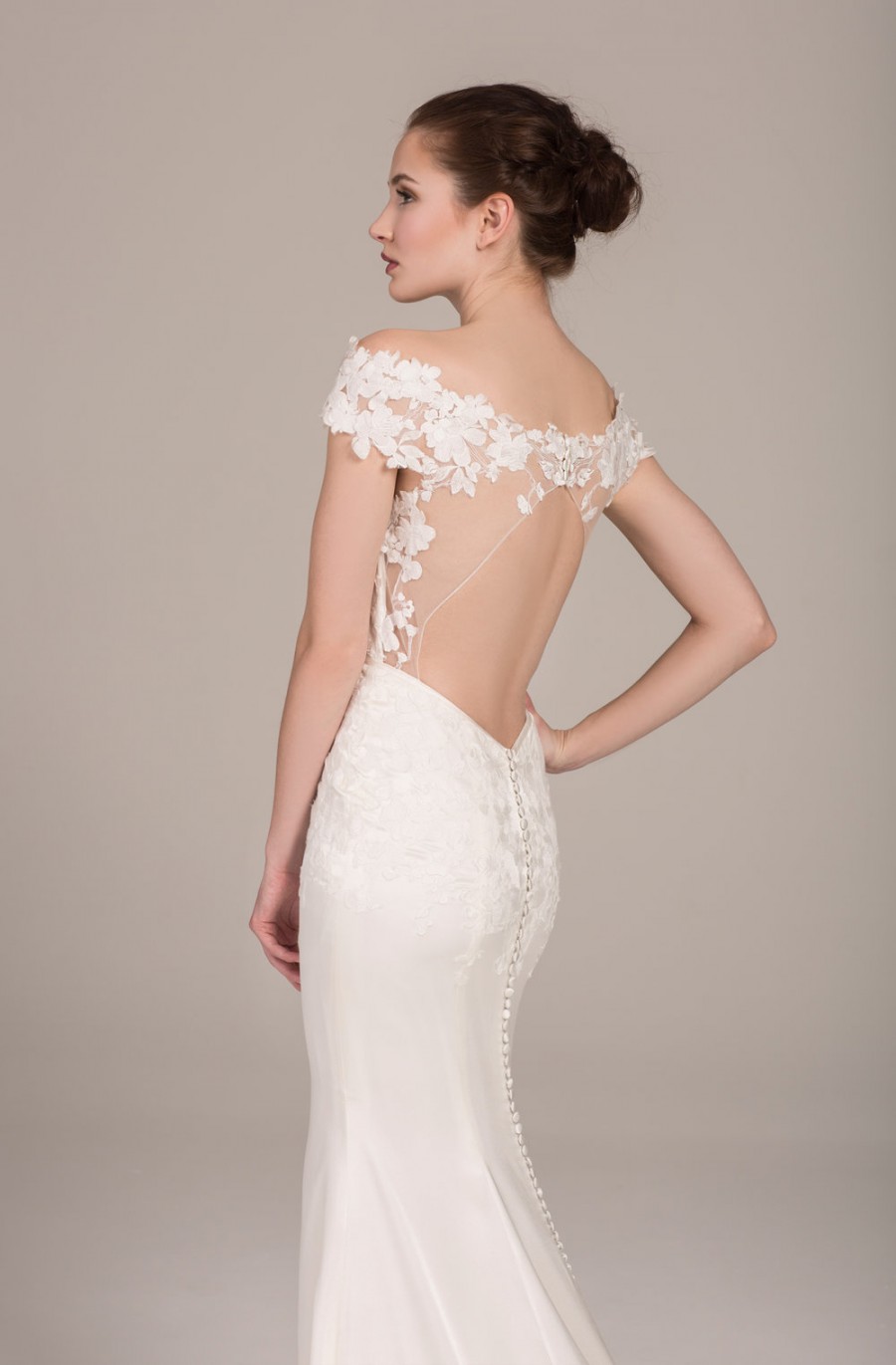 The front this is next gown is sweet, sophisticated, and classic. But the back of the dress shows off a unique contemporary touch. The off the shoulder floral appliqué sleeve are delicately secured in the back, opening up to an alluring cutout design. A sexy back detailing that is also sweet and ladylike.
21.

Dimensional Florals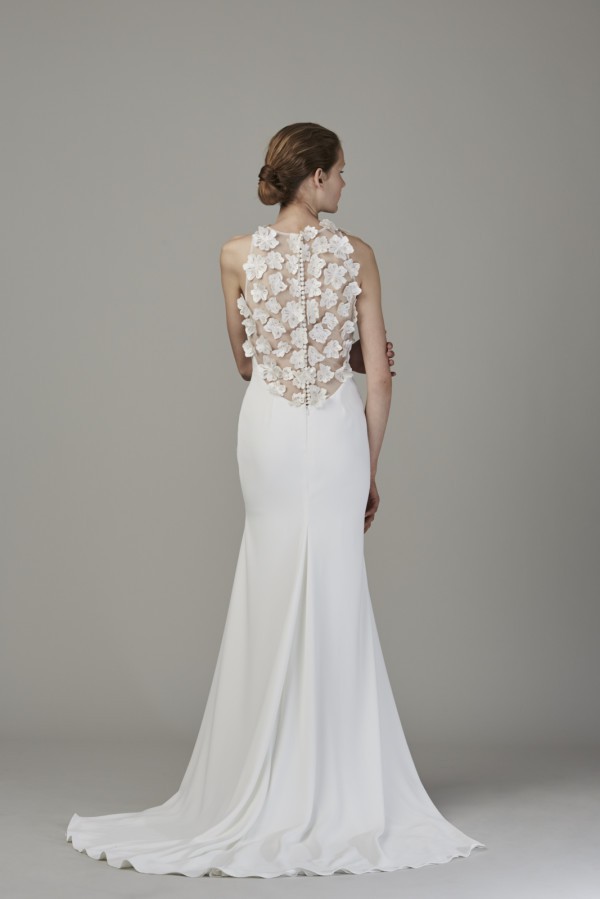 Our next back detailed wedding gown has a surprising dimensional feature. A sheer buttoned back is adorned with delicate floral appliqué that add a completely unique style to this look.
22.

Lola Bohemian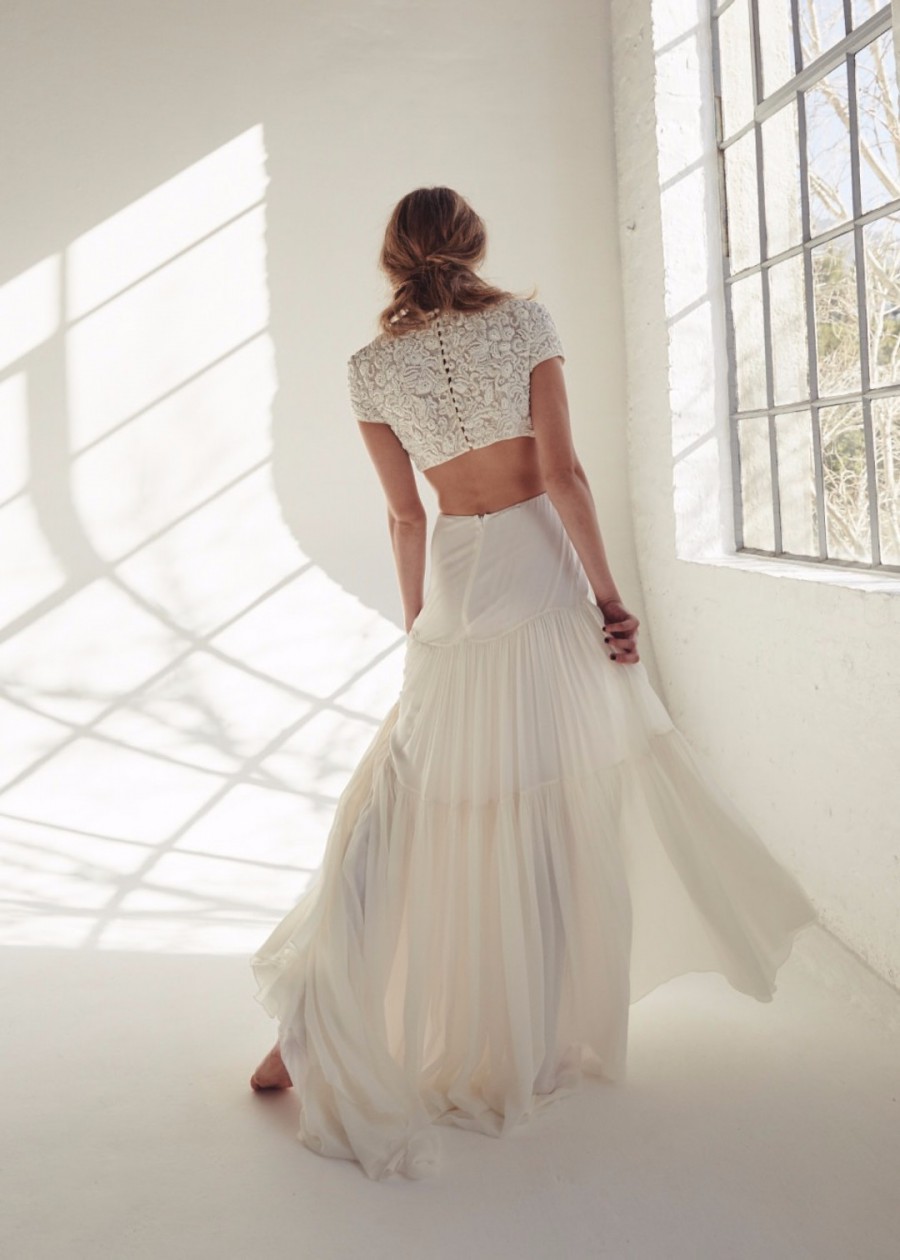 A playful bohemian wedding style that is all about its sexy back detailing. The Lola dress by Bo and Luca features cutout panels at the waist that creates a sexy, and unique back style. A bohemian look that is both elegant and playful.
23.

Low Cut Peplum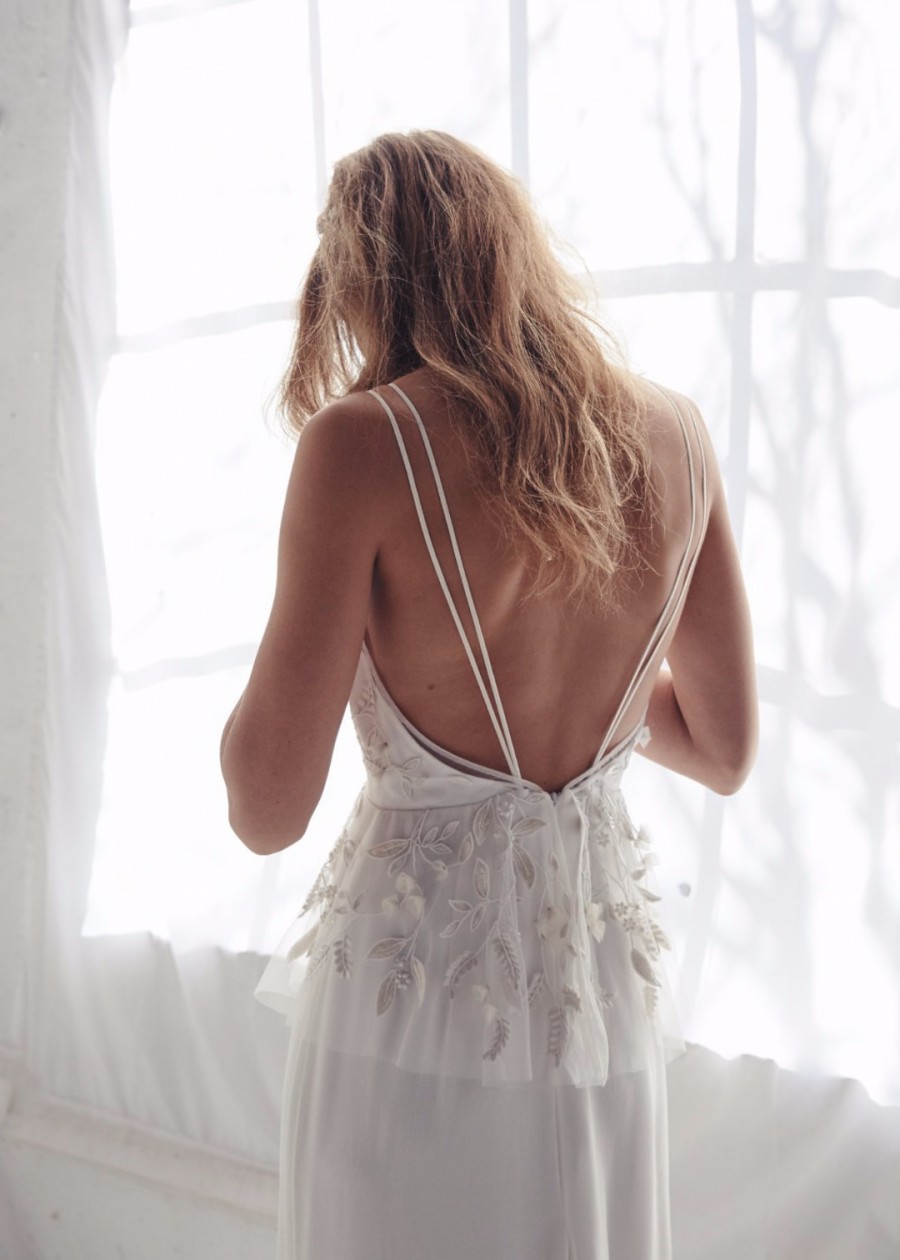 A gorgeous contemporary wedding style from Bo and Luca featuring a delicate tulle peplum top. The peplum top cuts low in the back and is accented by thin straps and leaf appliqué. The back detailing of this gown is subtle, sexy, and one of a kind.
24.

Illusion Lace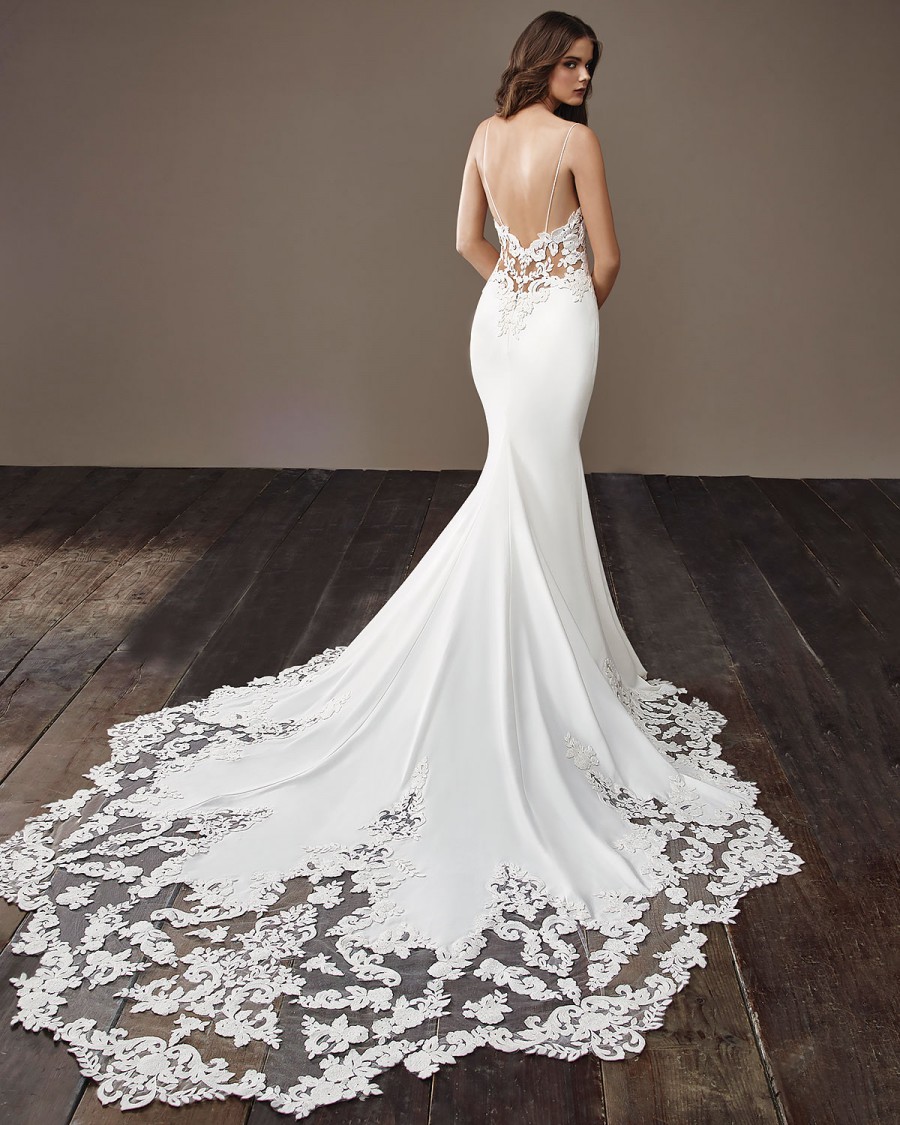 The Blake gown by Badgley Mischka is all about sexy back appeal. The design of this gown is centered around its illusion lace accenting. From the intricate low back, to the dramatic train - this wedding style is redefining classic wedding fashion.
25.

Illusion Keyhole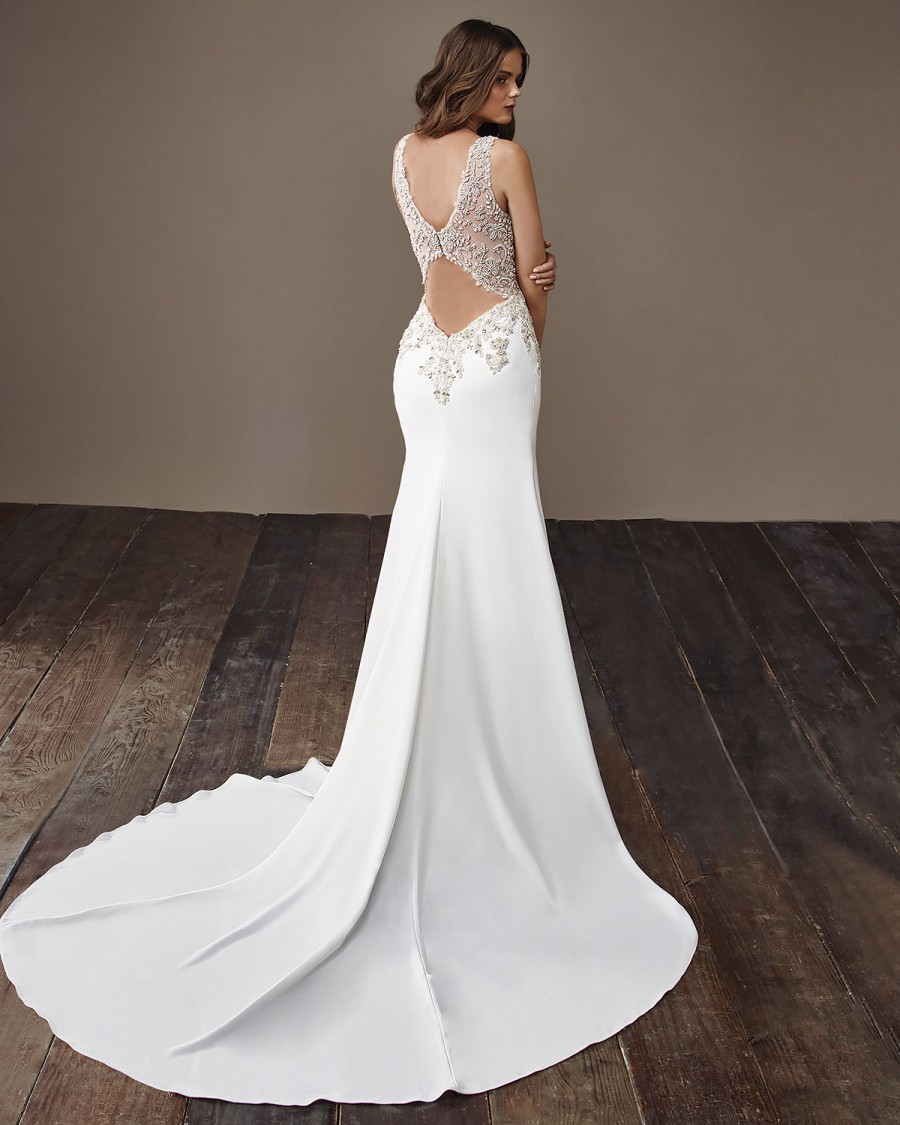 Keyhole and cutout back styles are everywhere in modern wedding fashion. With the rise of more unique modern styles, these stunning back designs are challenging our ideas of what classic bridal fashion looks like. This Badgley Mischka gown is no exception. It's illusion keyhole back design is a unique cut, with a classic glamour feel.
26.

Adorned Illusion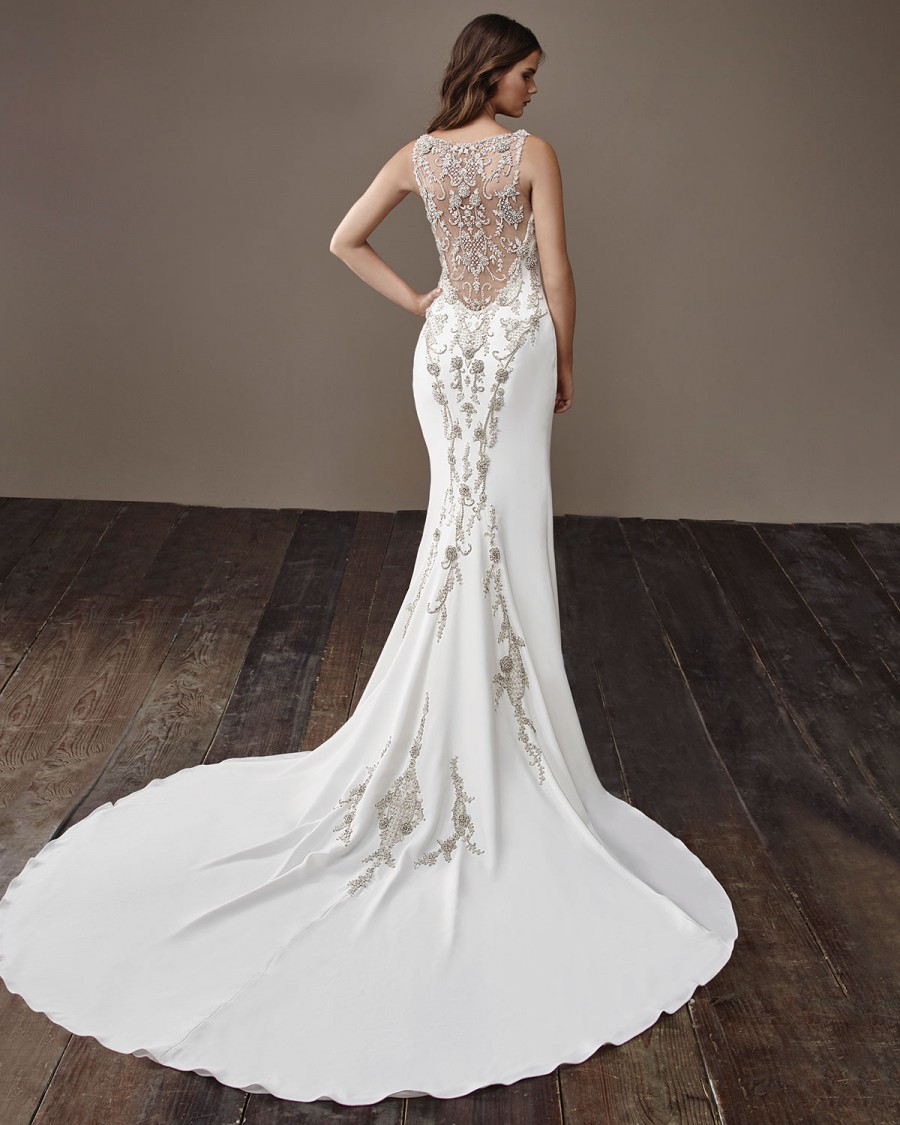 Our last Badgley Mischka style will leave your guests breathless. A sleek white gown with illusion back is adorned with the most intricate beading that trails down the back of the gown and train. The back appeal of this gown demands a second look.
27.

Double Keyhole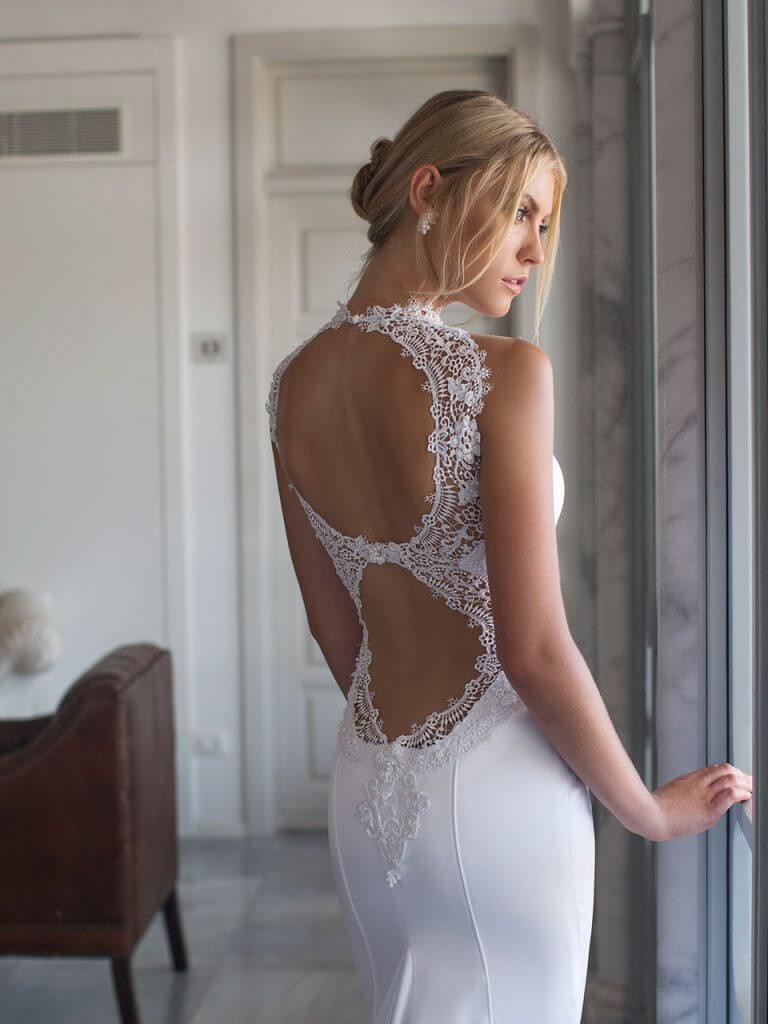 Illusion lace adds a gorgeous back accent to this sleek white wedding style. The cut of the lace creates a type of double keyhole effect that gives you the look of an open back gown, without feeling completely bare.
28.

Contemporary Cut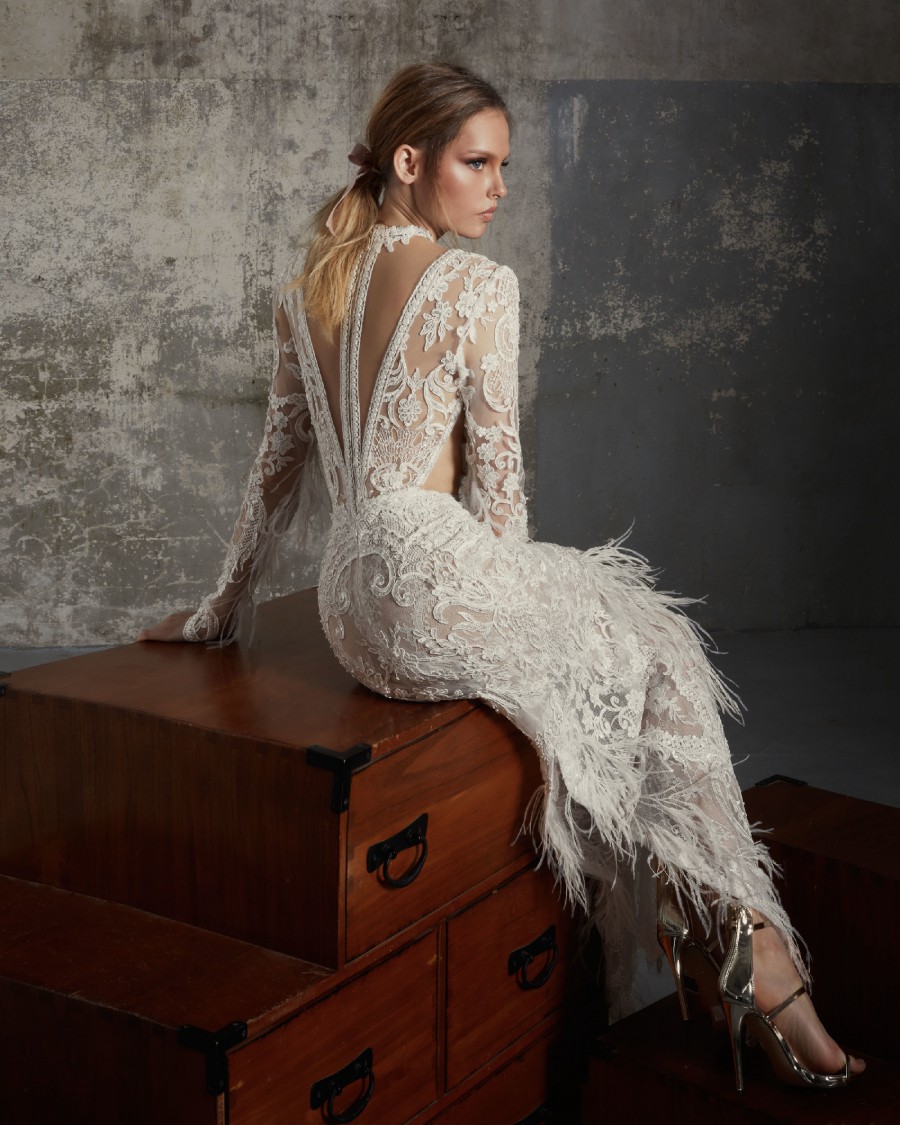 A contemporary wedding style that challenges everything we know about classic wedding fashion. Geometric cut outs create a one of a kind back design that is unlike anything we have seen before. This gown is sure to turn heads on your big day.
29.

Geometric Lined Florals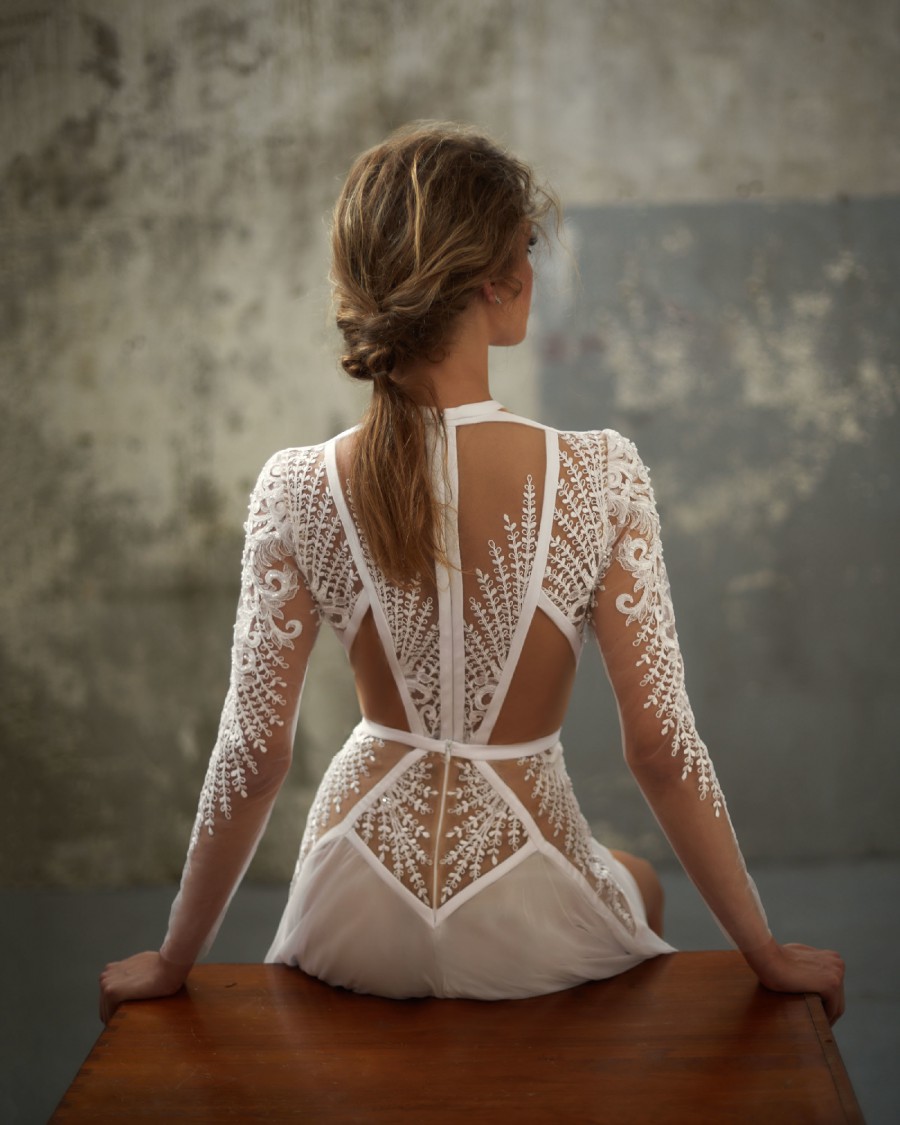 It is hard to know where to begin with this next show stopping wedding style. The back design of this gown integrates geometric lines, sheer panels with floral detailing, and side cutouts. This unique design creates a gown with completely unique back appeal.
30.

Floating Embroidery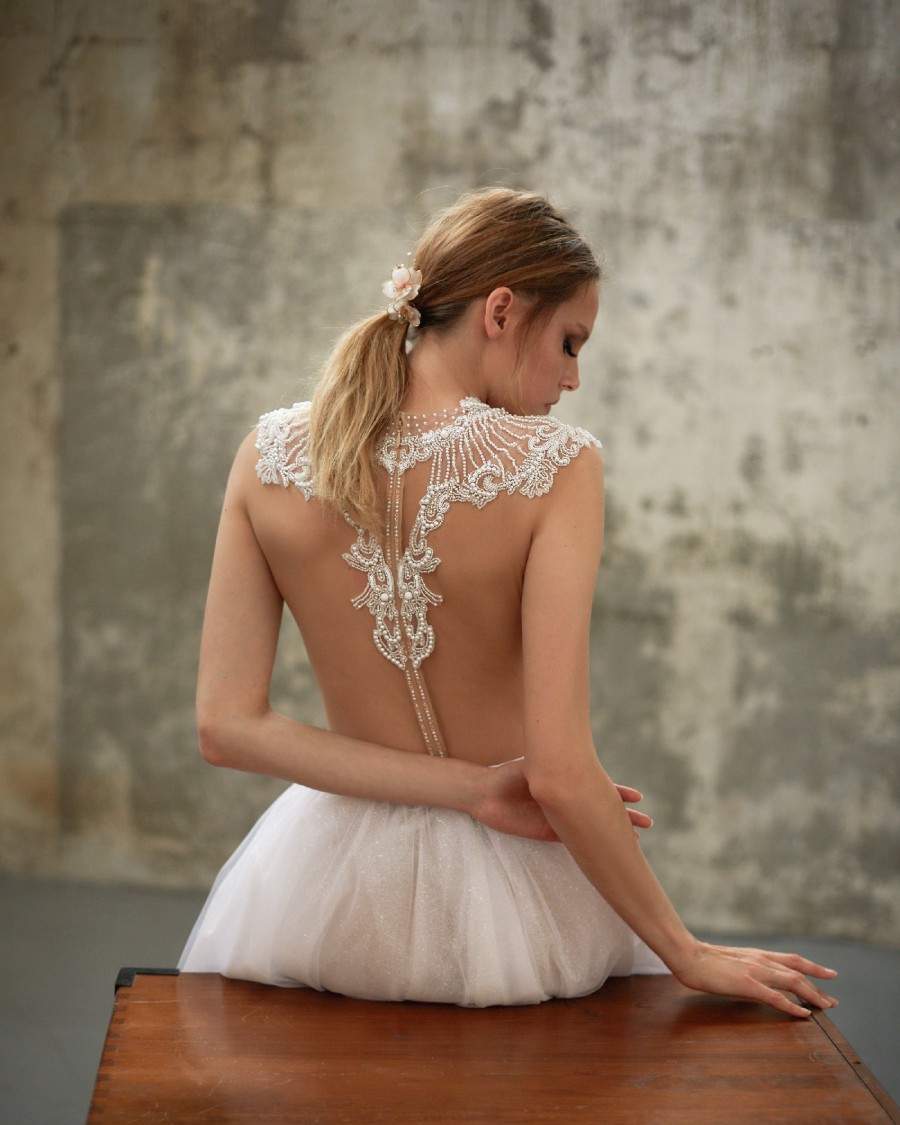 Our next back appeal style by Lior Charchy, features an embroidered back design that seems to float effortlessly from the shoulders, down the back of the gown. A unique take on an open back wedding dress.
31.

Antique Contemporary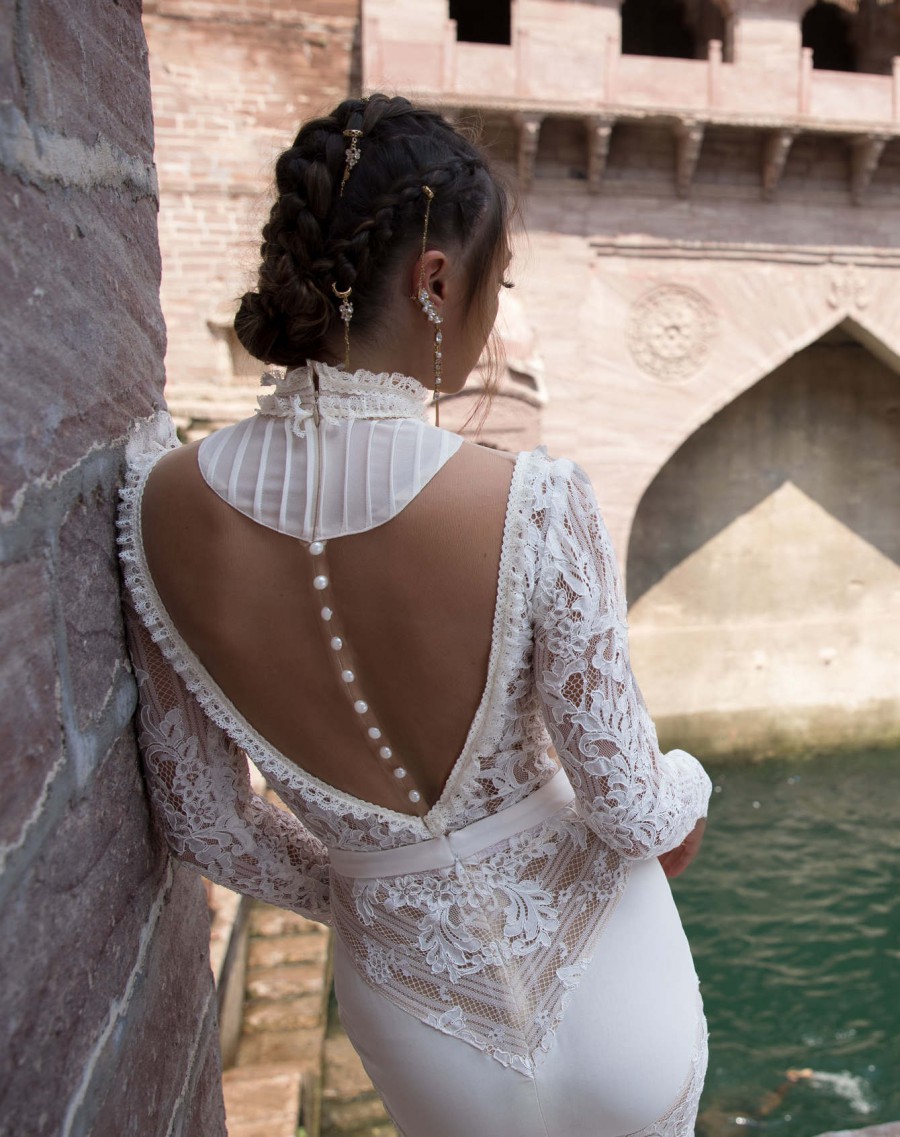 Our next wedding gown is a bold contemporary style, with clear vintage influences. The back appeal on this gown is absolutely jaw dropping.
32.

Rounded Cuts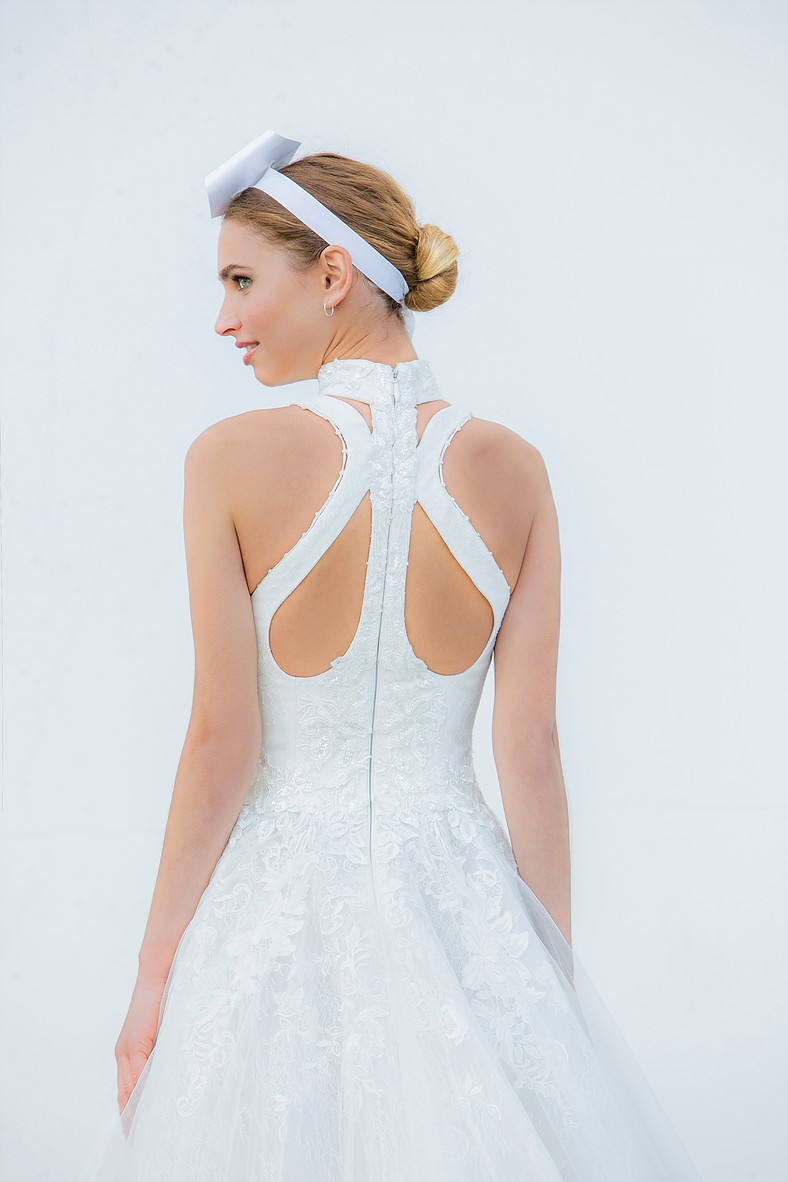 The gorgeous back design of this gown features a racer-like cut with rounded organic cutouts. Still classic and modest, with a contemporary influence.
33.

Sheer Spine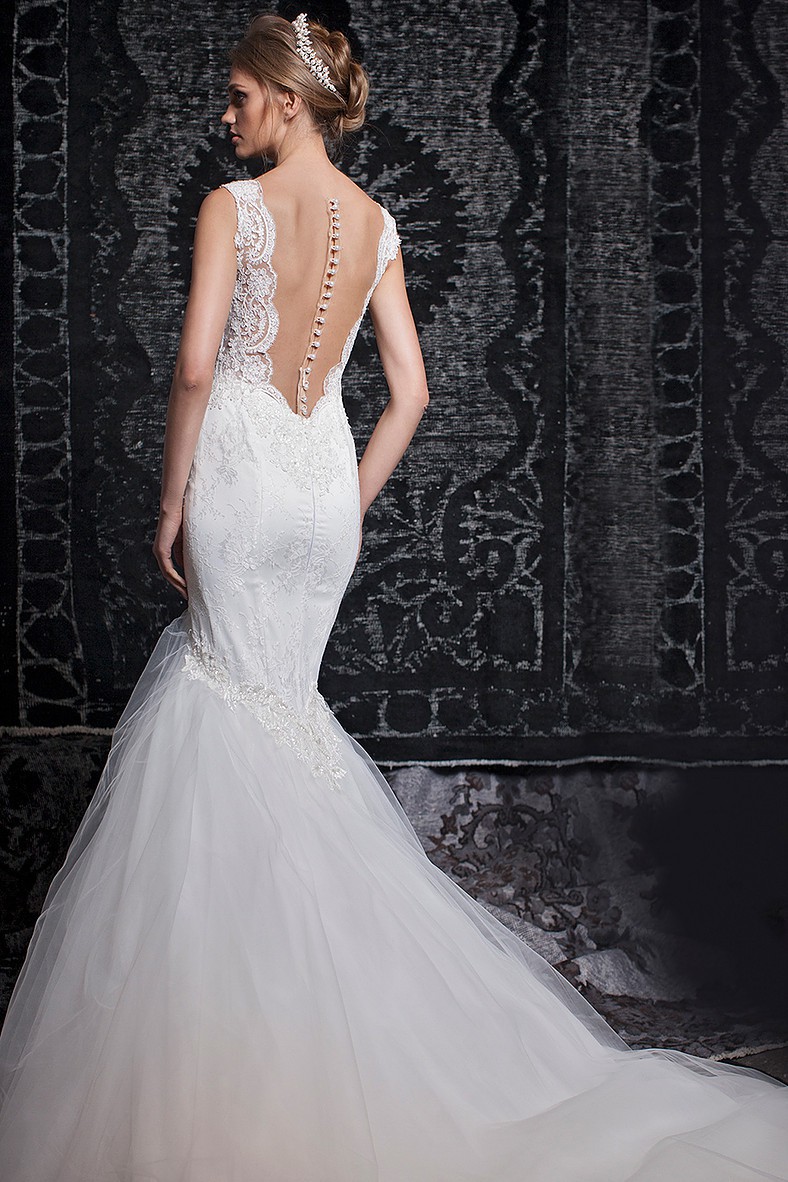 The sheer back panel of this gown creates a spine-like row of buttons that seem to be floating effortlessly. A surprising feature to a classic wedding day look.
34.

Contemporary Glam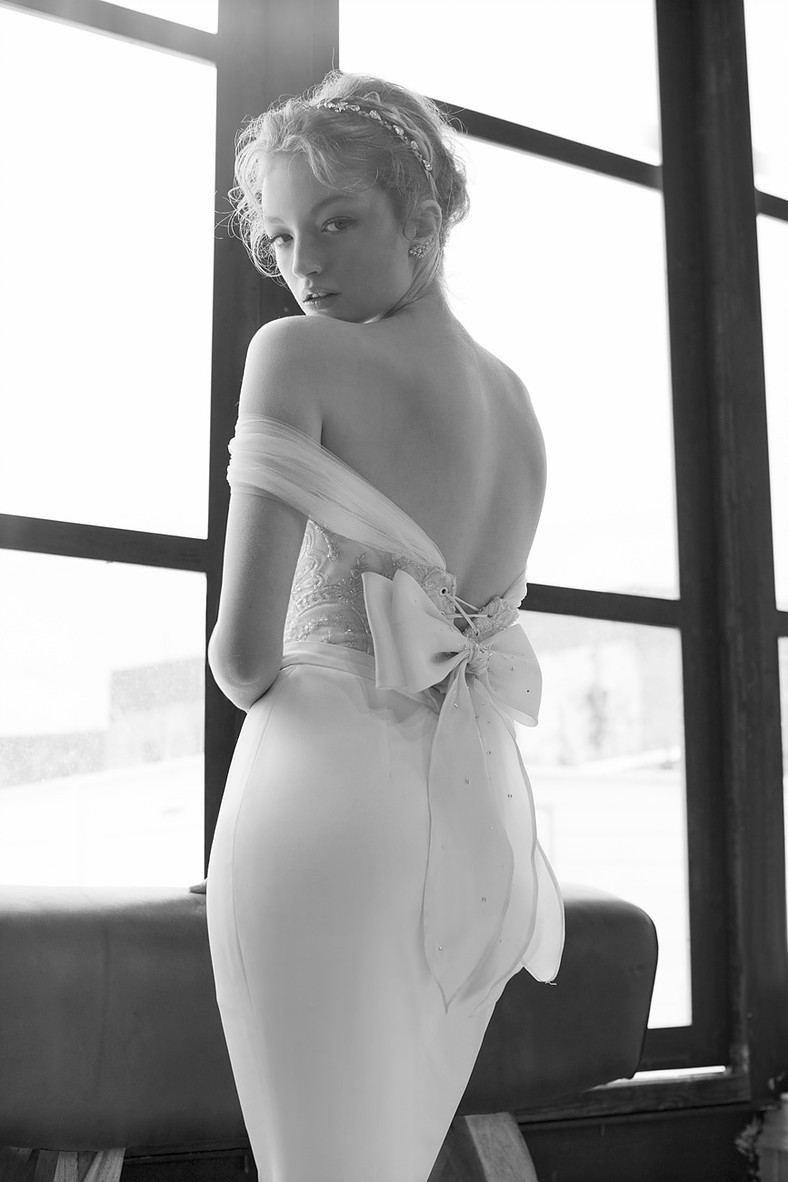 A sexy contemporary wedding style with stunning old Hollywood glam influences. The laced-up corset back is finished with an oversized bow for a sexy and feminine back design.
35.

Floating Illusion
The back detailing on this next style has us at a loss for words. The design of this dress gives the impression that the gown is floating, or painted on. The back of this style will have your guests speechless on your big day.
36.

Oversized Bow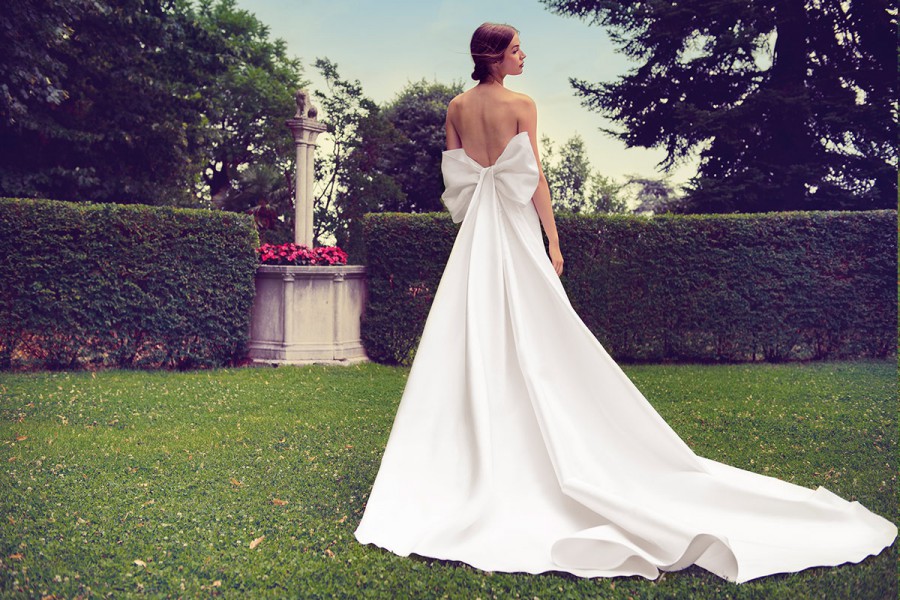 Our next back detailed wedding gown represents contemporary elegance. The oversized bow feature of this strapless gown drapes down the back of the bride to create a dramatic yet sleek train.
37.

Gathered Volume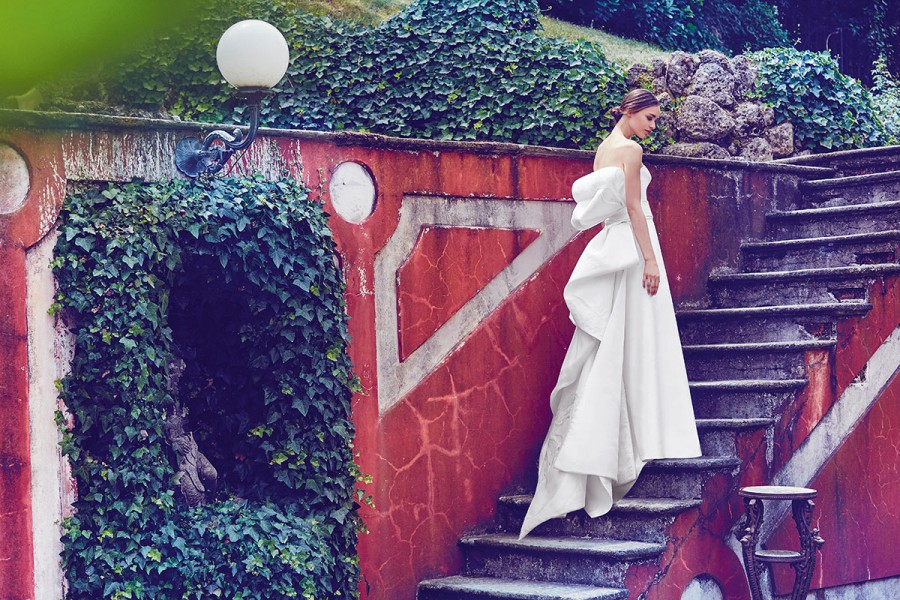 Keeping with the oversized bow theme of the previous gown, this next style features a gathered bow-like back design that adds immense volume to the overall style. Another modern classic that is all about the back appeal.
38.

Off the Shoulder Fringe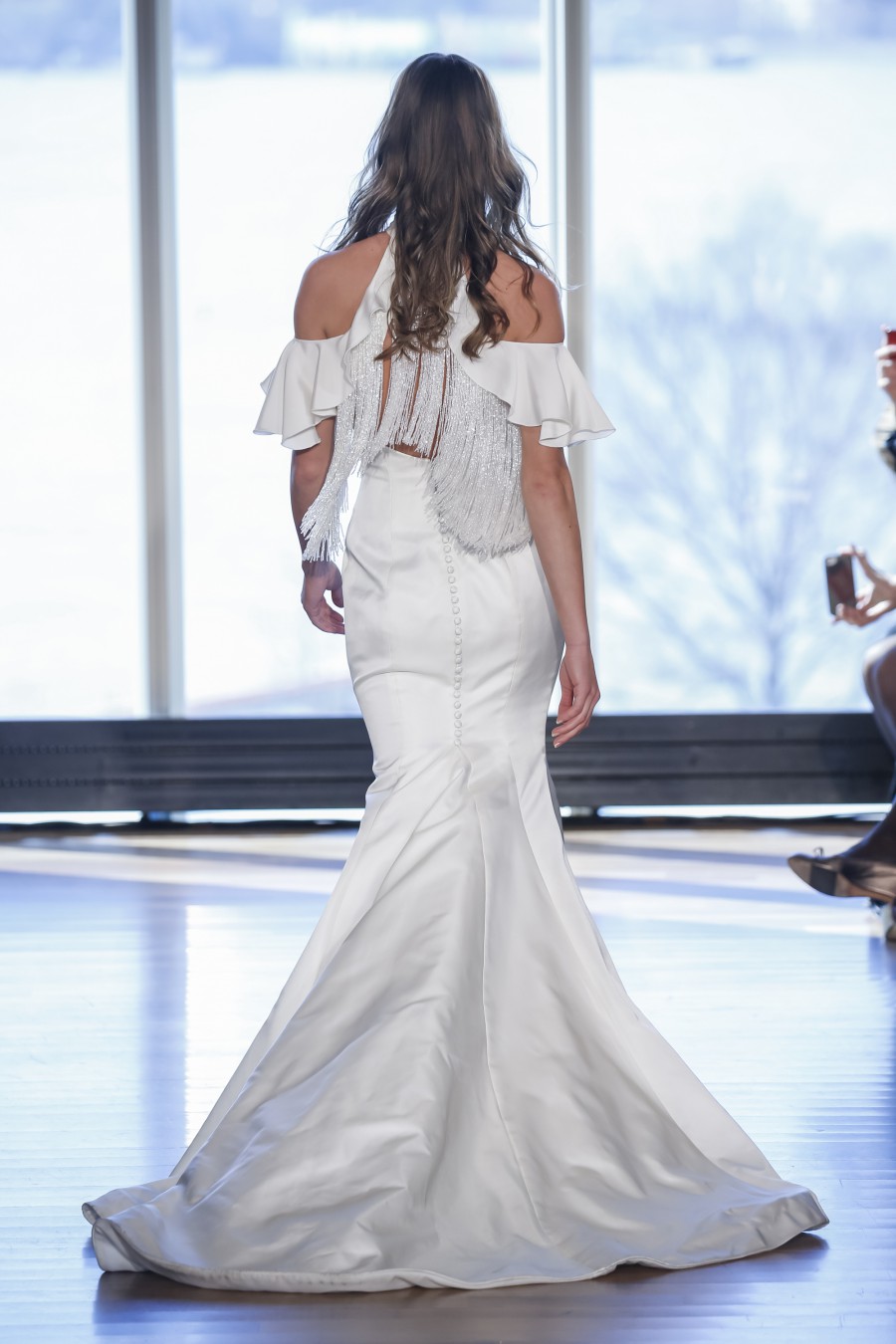 Our next back detailed wedding gown is all about movement. Ruffled off the shoulder sleeves and long fringe accents will create stunning movement and appeal as you walk down the aisle on your big day.
39.

Cold Shoulder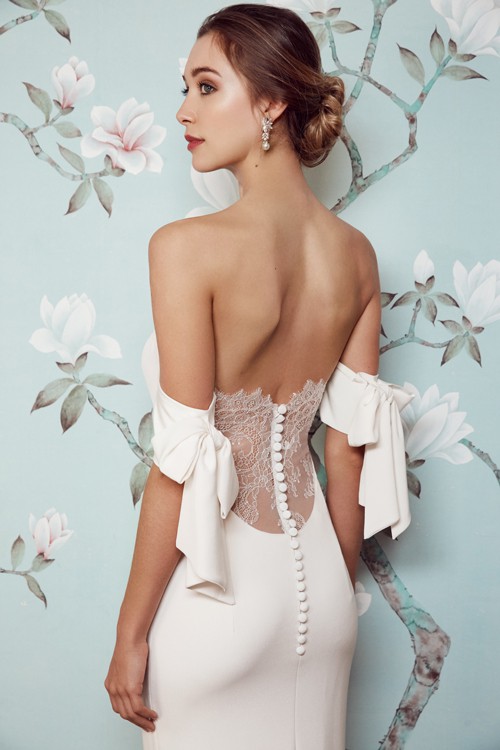 The back detailing on this gown is all about accentuating the shoulders. A sexy draped off the shoulder style opens up the back of the gown. A sheer lace panel is held in place by delicate button accents that cascade down the back of the gown. Sexy back appeal at it's finest.
40.

High-Low Hipline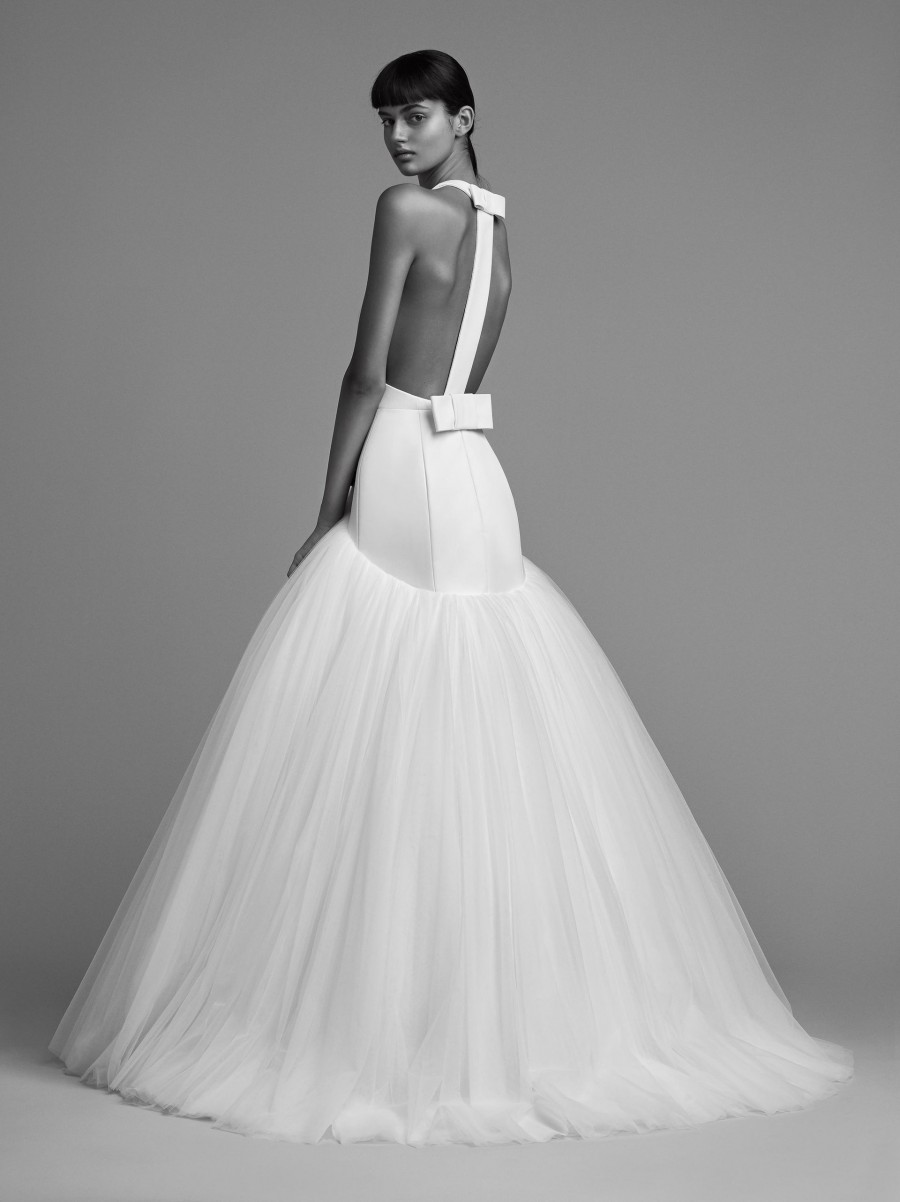 Viktor Rolf creates a completely unique back cut wedding gown with this next style. The high neckline of the gown transforms into a low cut t-back style with modern bow accents.
41.

Structural V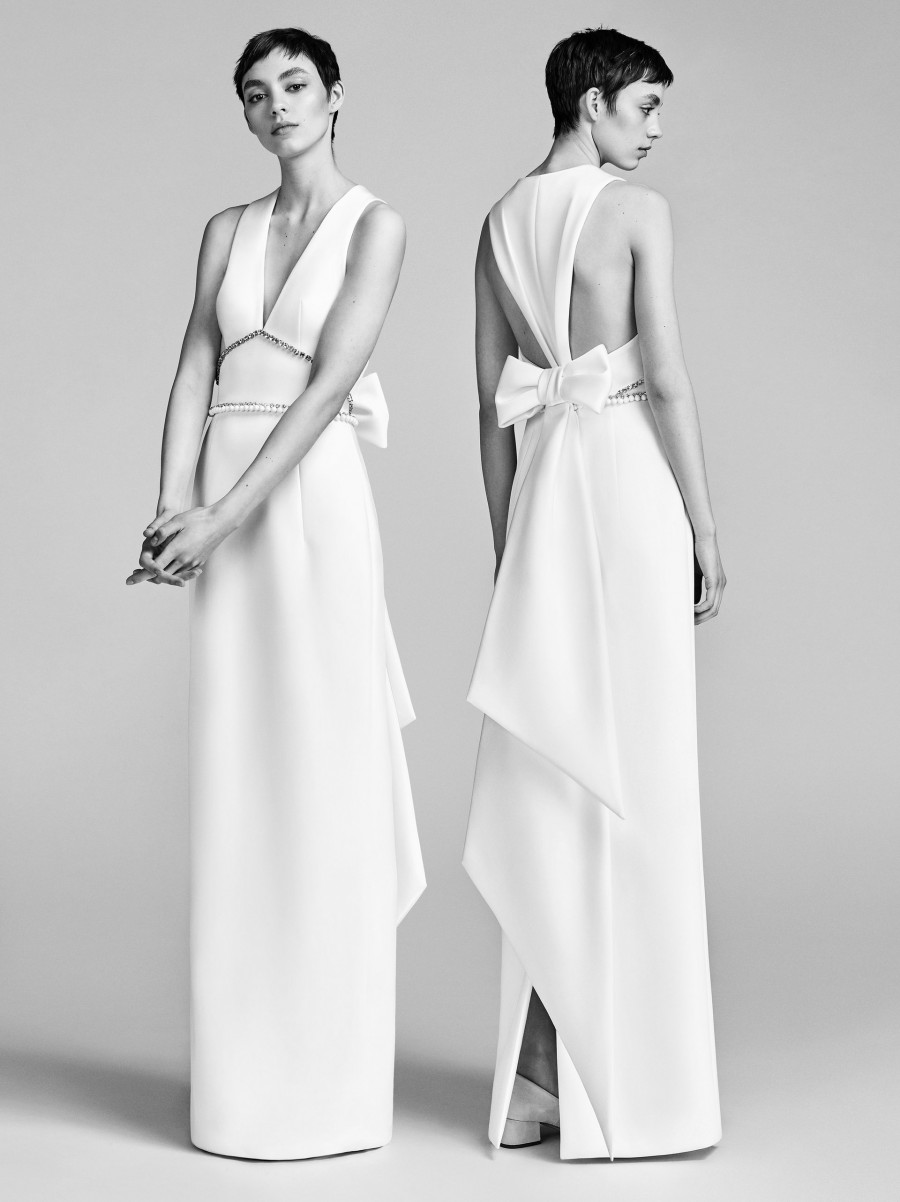 A sleek modern column gown. The classic cut neckline of this gown wraps around to create an inverted v-back detail with oversized bow accent. Sleek, contemporary back appeal.
42.

Draped Strap Details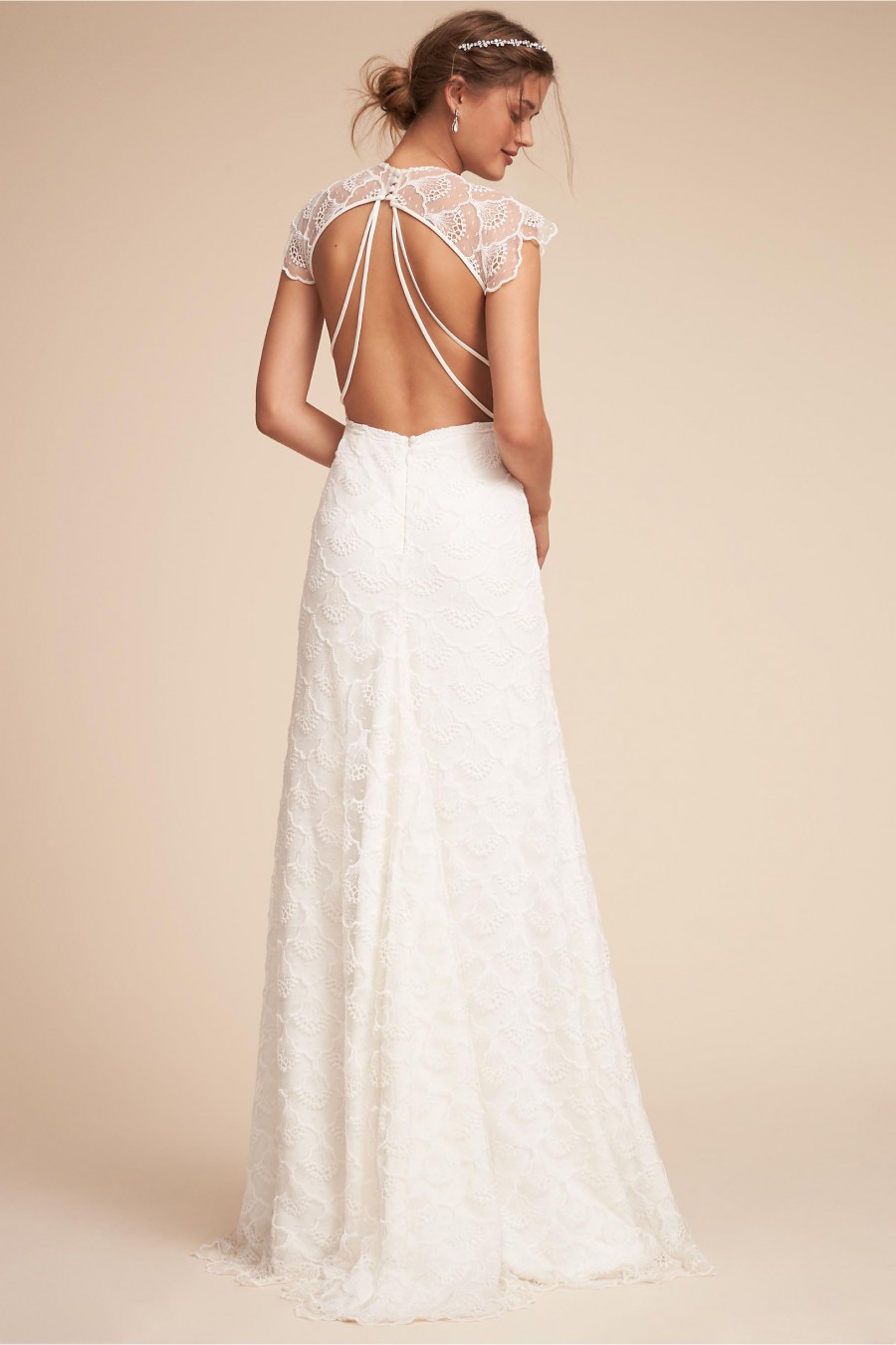 This gown is artfully designed, while also being delicately feminine. Scalloped shoulder accents and delicately draped strap detailing create a unique back design. A feminine wedding style, while still having an artful flair.

Shop wedding dresses now.

By Kathryn Schrotenboer