Strapless wedding gowns have been a classic staple in wedding fashion for years - but these trending styles are anything but predictable.
We have gathered our favorite strapless wedding gown styles which all have that exposed neckline we all love so much - but each with their own unique design and flair.
01.

Textured Volume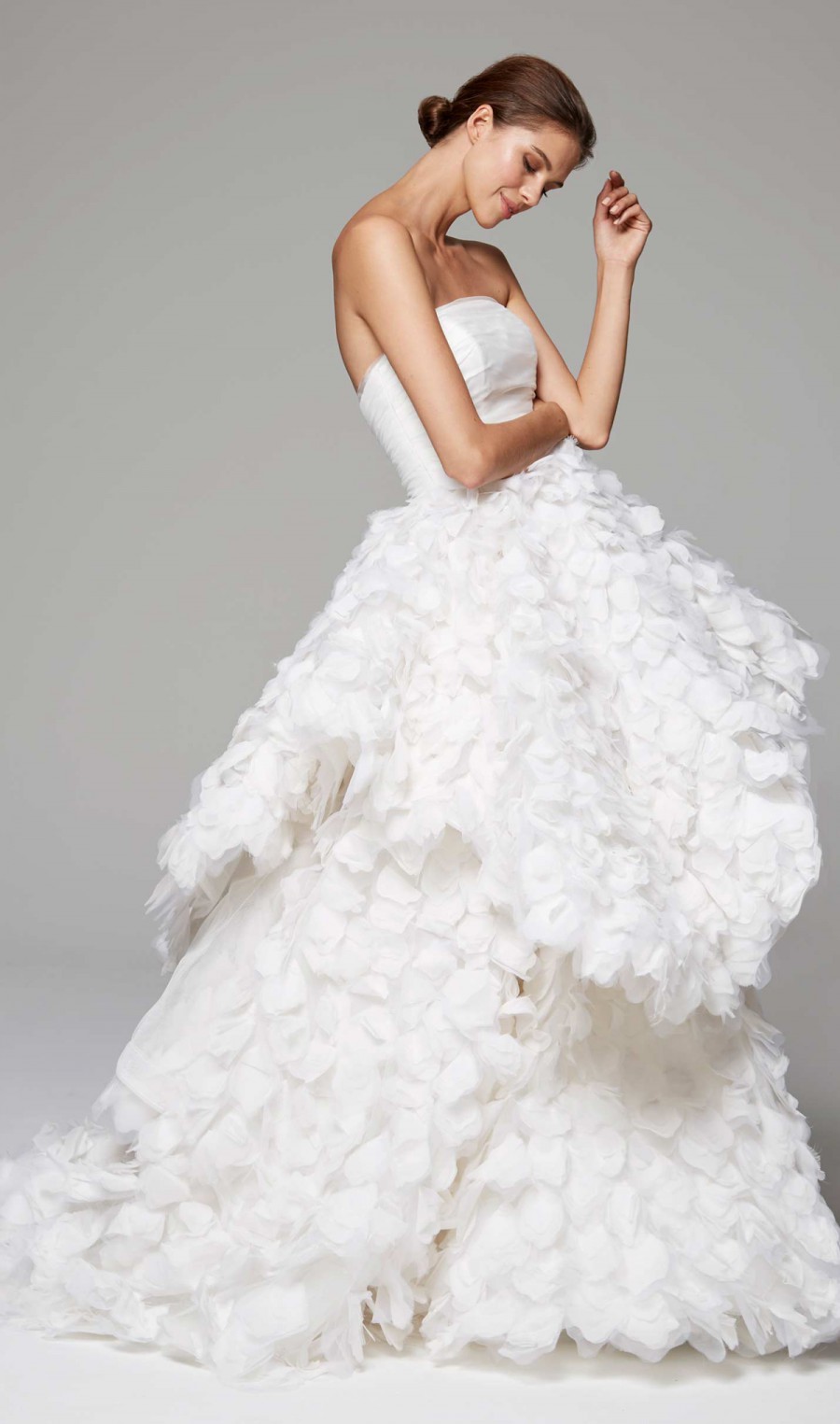 A stunning contemporary wedding gown that is anything but traditional. This layered, textured gown is a uniquely gorgeous one of a kind gown.
02.

Geometric Accents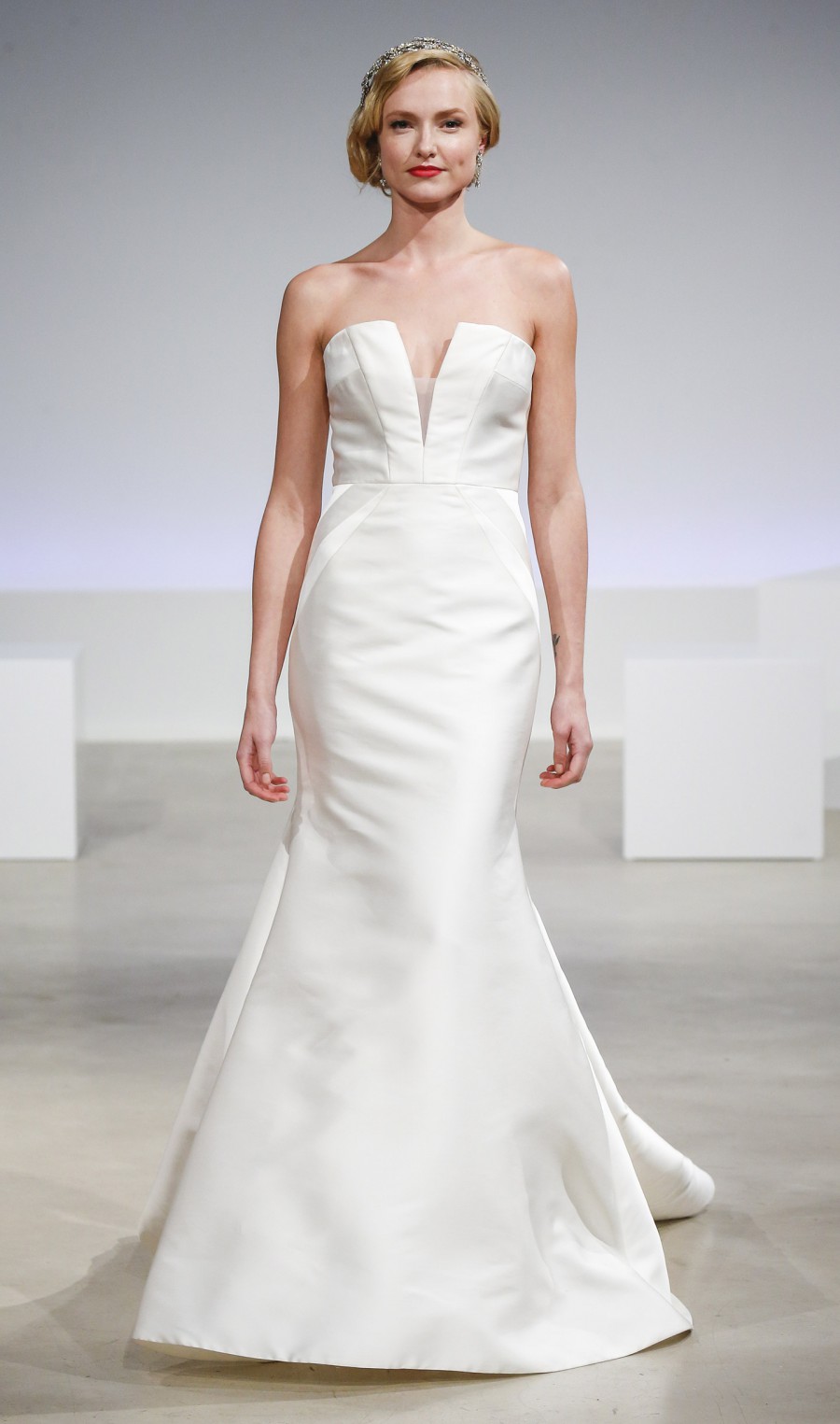 A completely understated strapless wedding gown design. This stunning gown may seem simple at first but it's geometric accents create a beautiful contemporary style that is so glam!
03.

Wrapped Ball Gown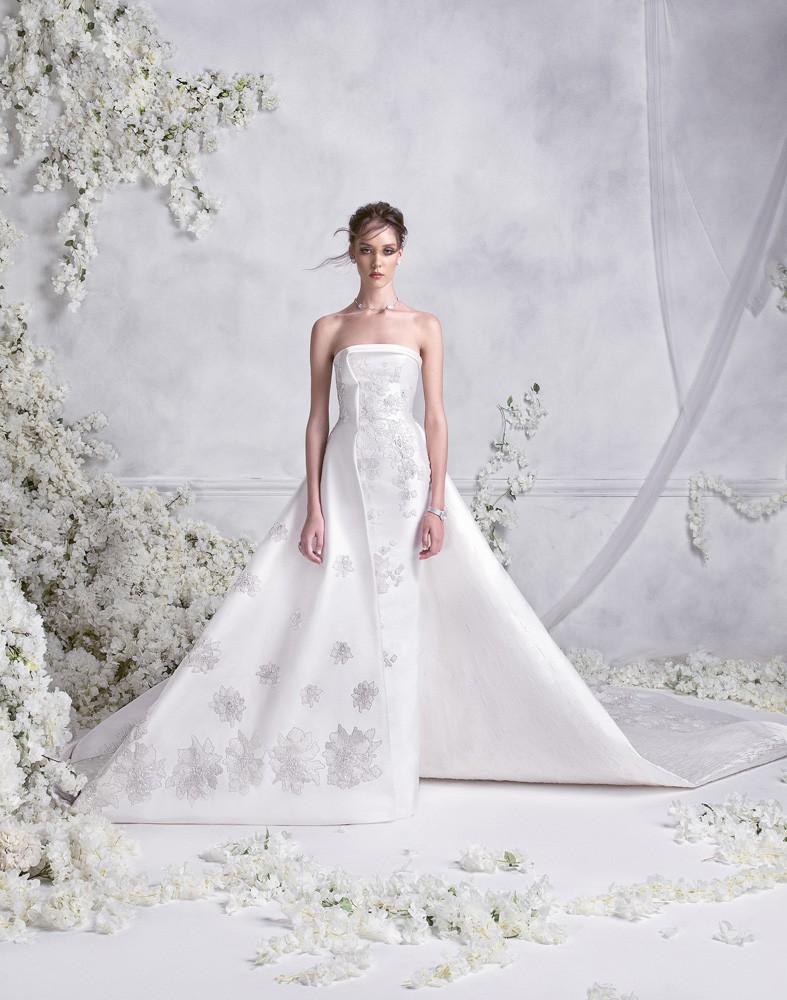 A contemporary wrap like style ball gown may not be what Cinderella had in mind, but we love it for modern day brides. A beautiful one of a kind princess style.
04.

Ethereal Beach Beauty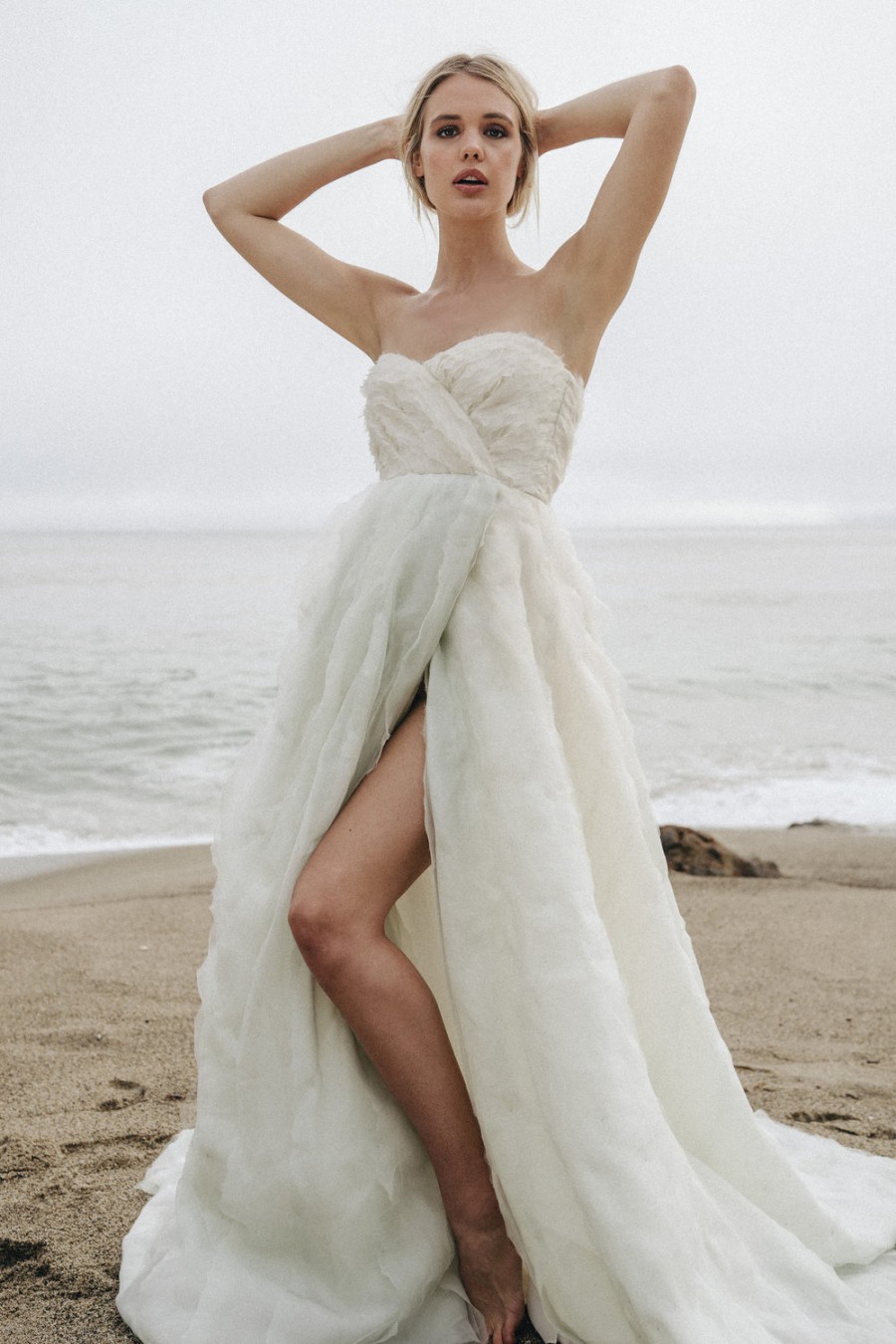 An ethereal ball gown like style fit for a modern day beach wedding. just because you are having a casual wedding on the beach, doesn't mean you can't make a big statement with this stunning strapless style.
05.

Rockstar Princess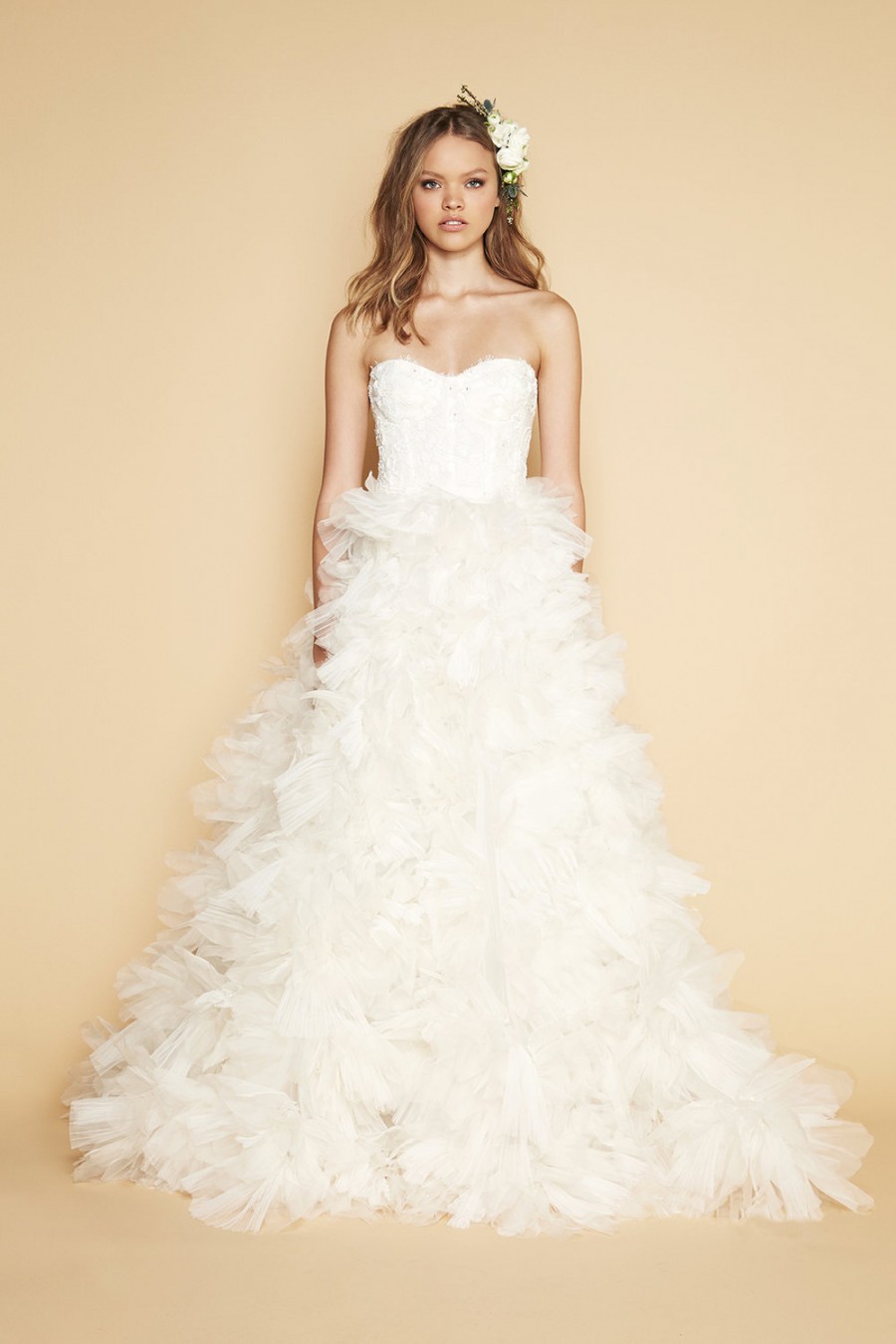 A strapless ball gown style fit for a modern rockstar princess. This edgy ball gown is loud, exciting, and absolutely gorgeous. A look that is sure to turn everyone's head on your big day.
06.

Strapless Sequins
For our disco loving party brides out there, we have a playful strapless full sequin gown! This slimming gown features delicately draped fabric for a flattering style - and of course all over sequins that will have you sparkling all day long!
07.

Corset Detailing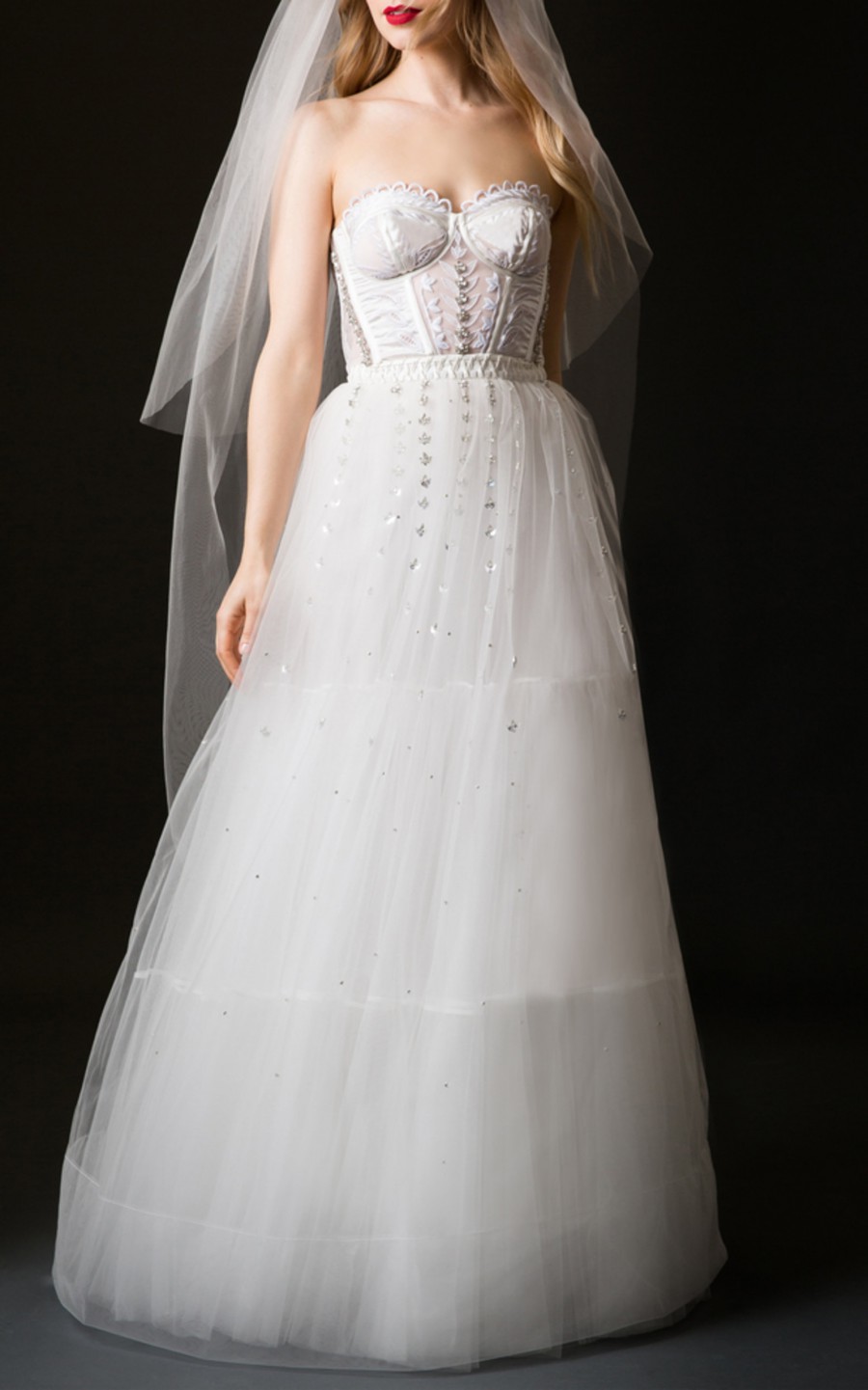 Our next strapless wedding gown is am embellished corset design from Temperley London. The detailing on this strapless bodice is absolutely beautiful. Modern and stunningly feminine.
08.

Modern Lines and Design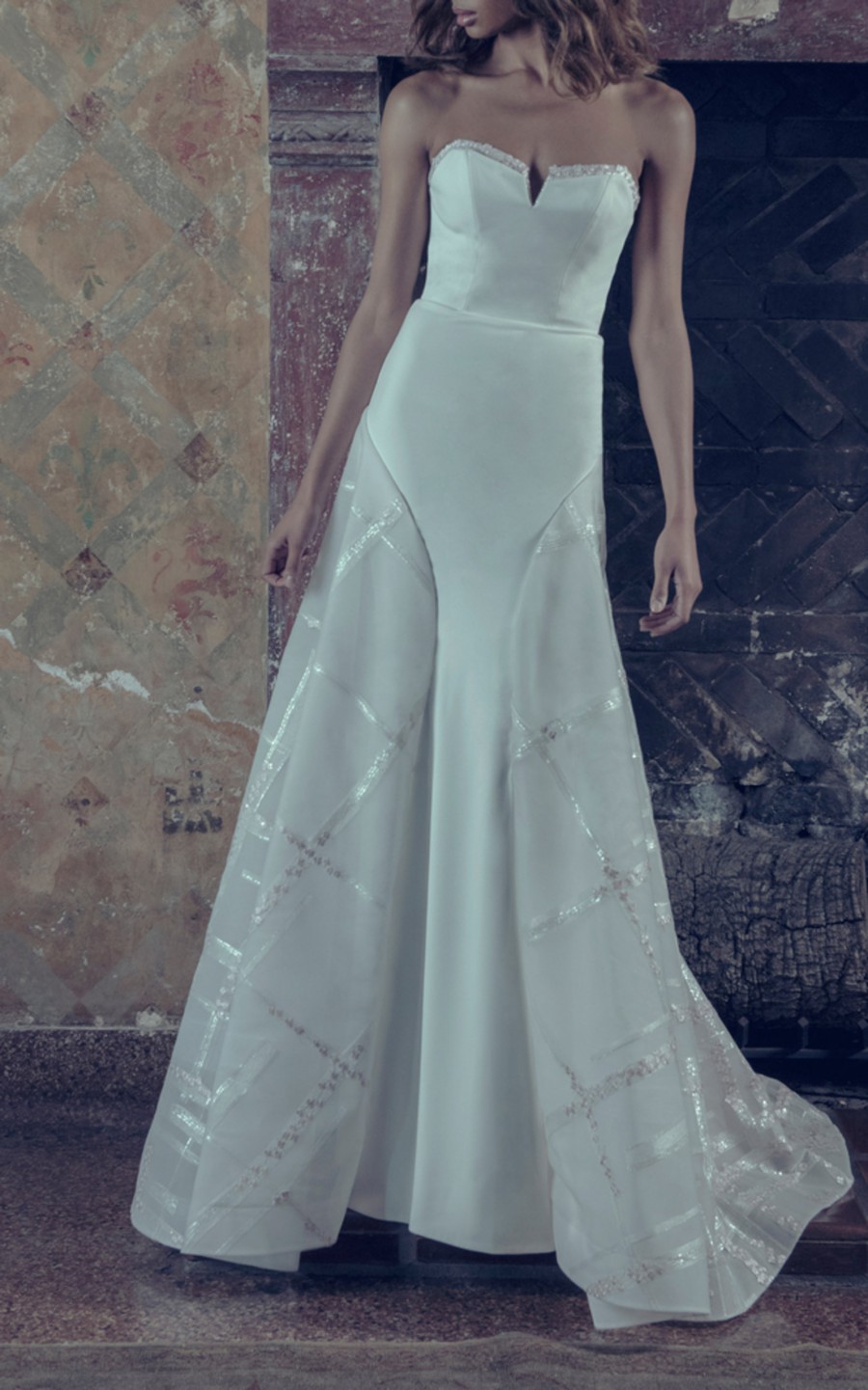 A gorgeous strapless wedding gown with modern cut lines and design detailing. This look has clean traditional influences with pops of contemporary design that will turn heads on your big day.
09.

Contemporary Corset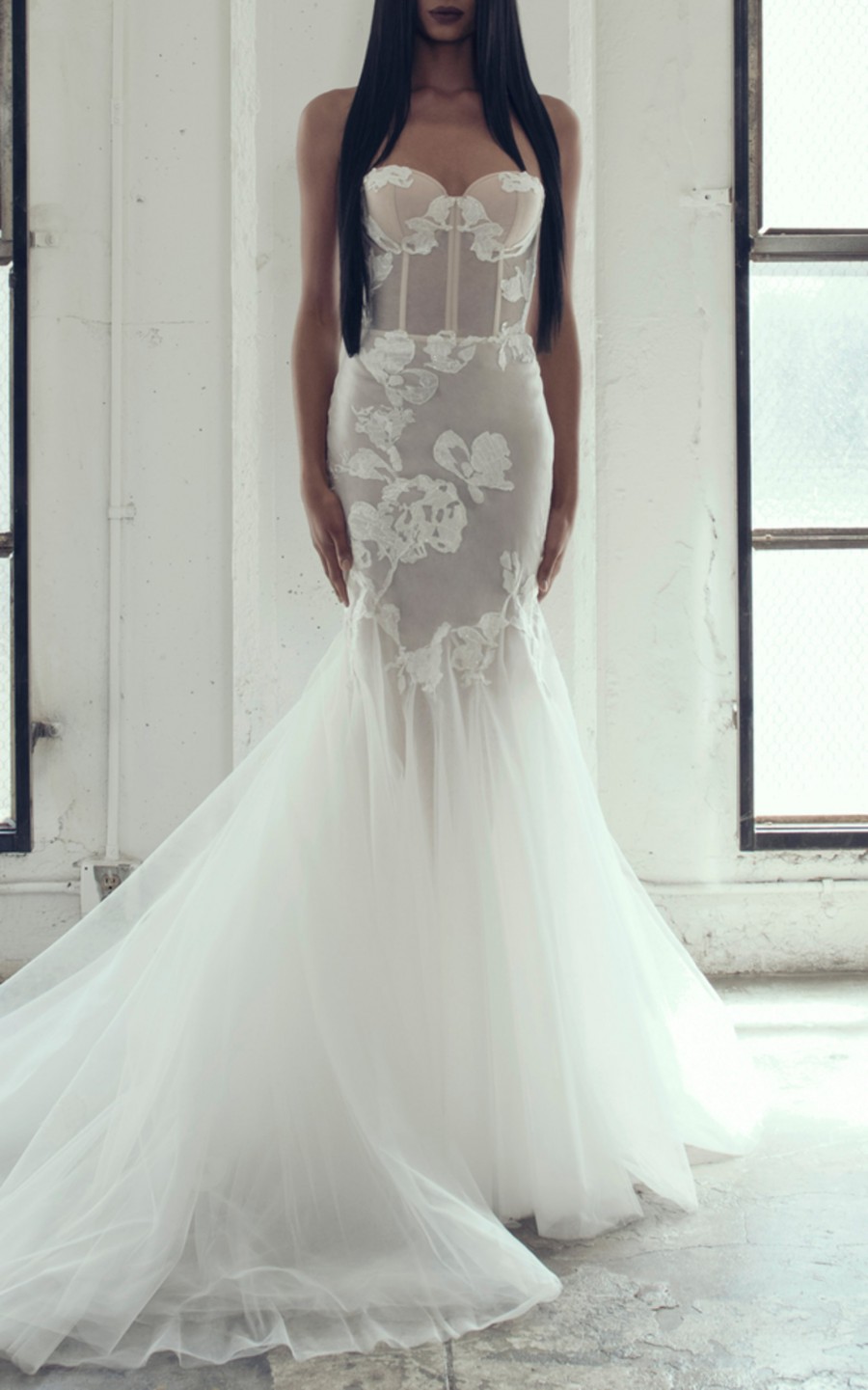 A chic and feminine strapless corset mermaid from Adam Zohar. The detailing on this contemporary tulle mermaid gown is stunning. Semi sheer fabric on the bodice reveals the inner boning of the corset for an unconstructed look. This modern edginess is topped with sequin floral embroidery for a feminine finish.
10.

Modern 80's Flair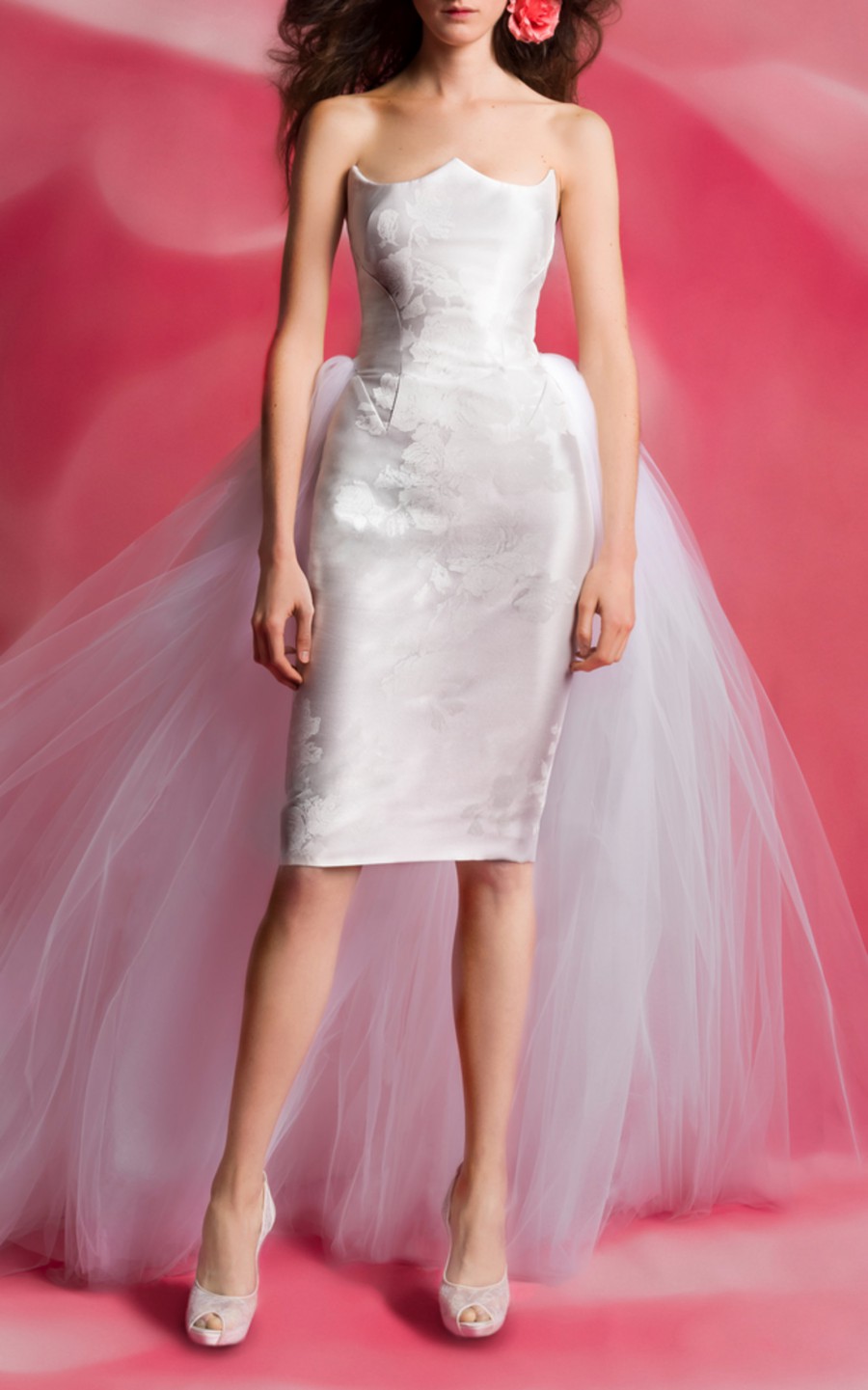 Isabelle Armstrong brings us an edgy strapless wedding style that is perfect for an 80's loving, rocker chic bride. This playful style would make a perfect reception party dress as well!
11.

Slight Asymmetry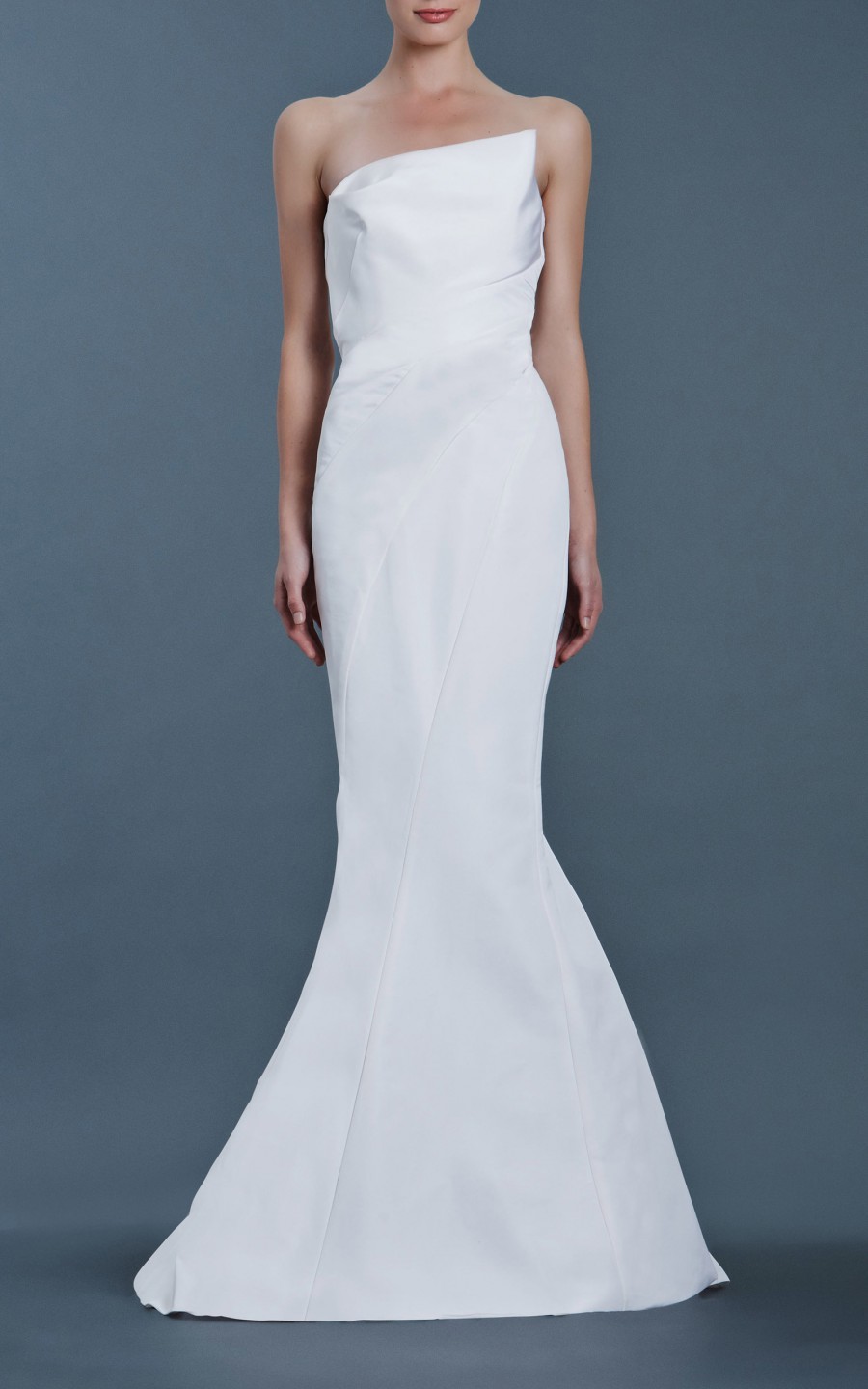 J. Mendel brings us a stunning contemporary strapless wedding gown with just a touch of asymmetry. This style may seem simple at first - but it's asymmetric cut neckline and wrapped lines, make this an absolutely mesmerizing strapless design.
12.

Origami Designed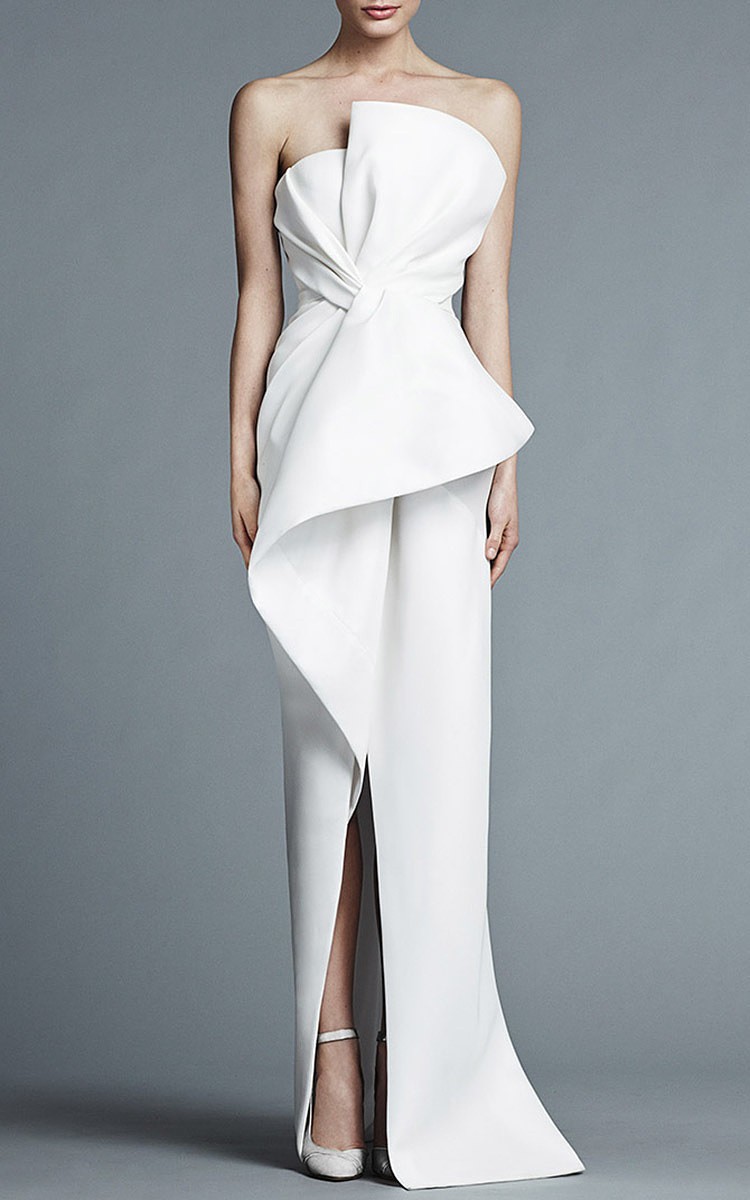 If you love the previous strapless gown by J. Mendel - but are looking for just a little more POP on your big day - then this is the gown for you. This origami inspired strapless design is effortless and bold.
13.

Flowers and Stripes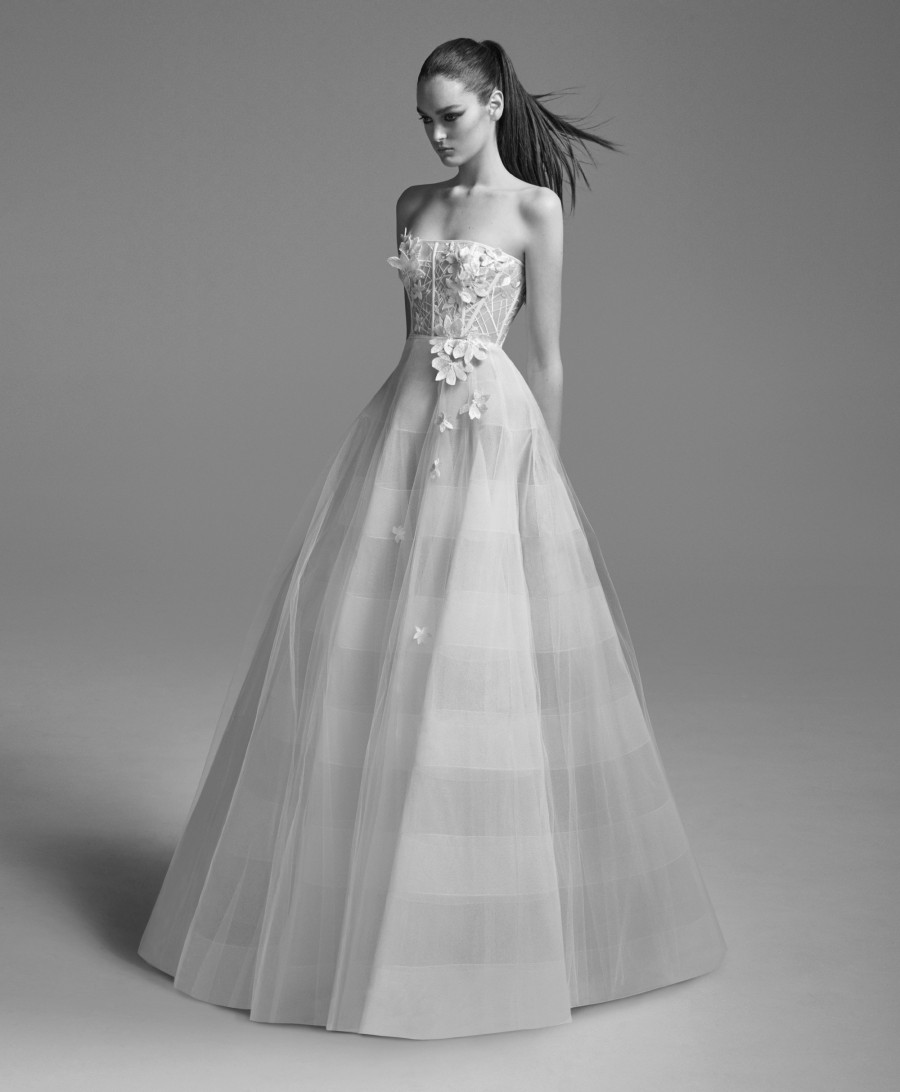 This structured contemporary strapless wedding gown is effortless and bold. A semi-sheer bodice is embellished with large 3-dimensional florals that cascade delicately down the gown. But the subtle detailing of the striped skirt is what really steals the show. Rows of alternating fabrics create a beautiful and subtle stripe pattern to an otherwise classic tulle skirt.
14.

Spring Drop Waist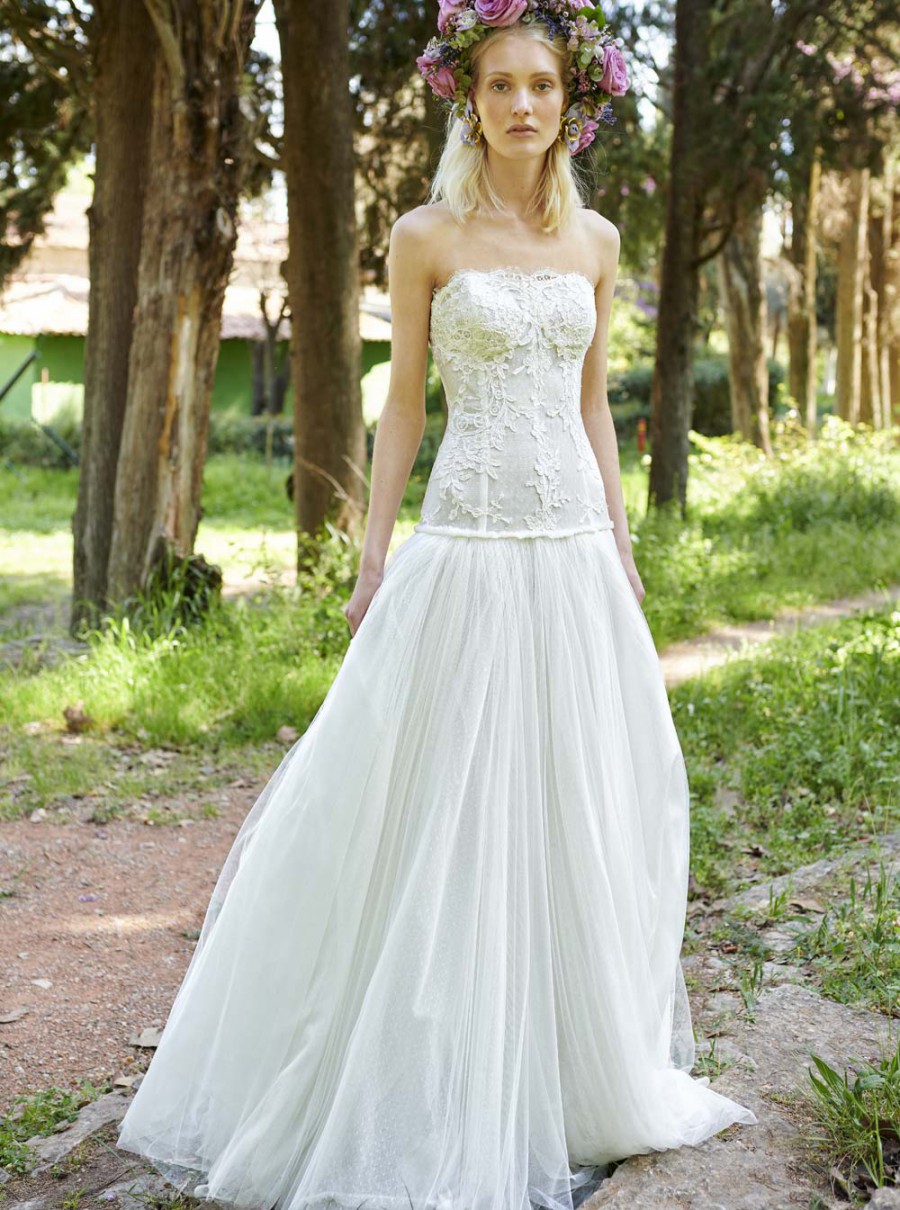 Next we have a lovely spring ready drop waist strapless style. A long waisted lace bodice gives way to a soft tulle skirt for an understand, feminine wedding day look. Perfect for a spring garden wedding.
15.

Lavender and Nude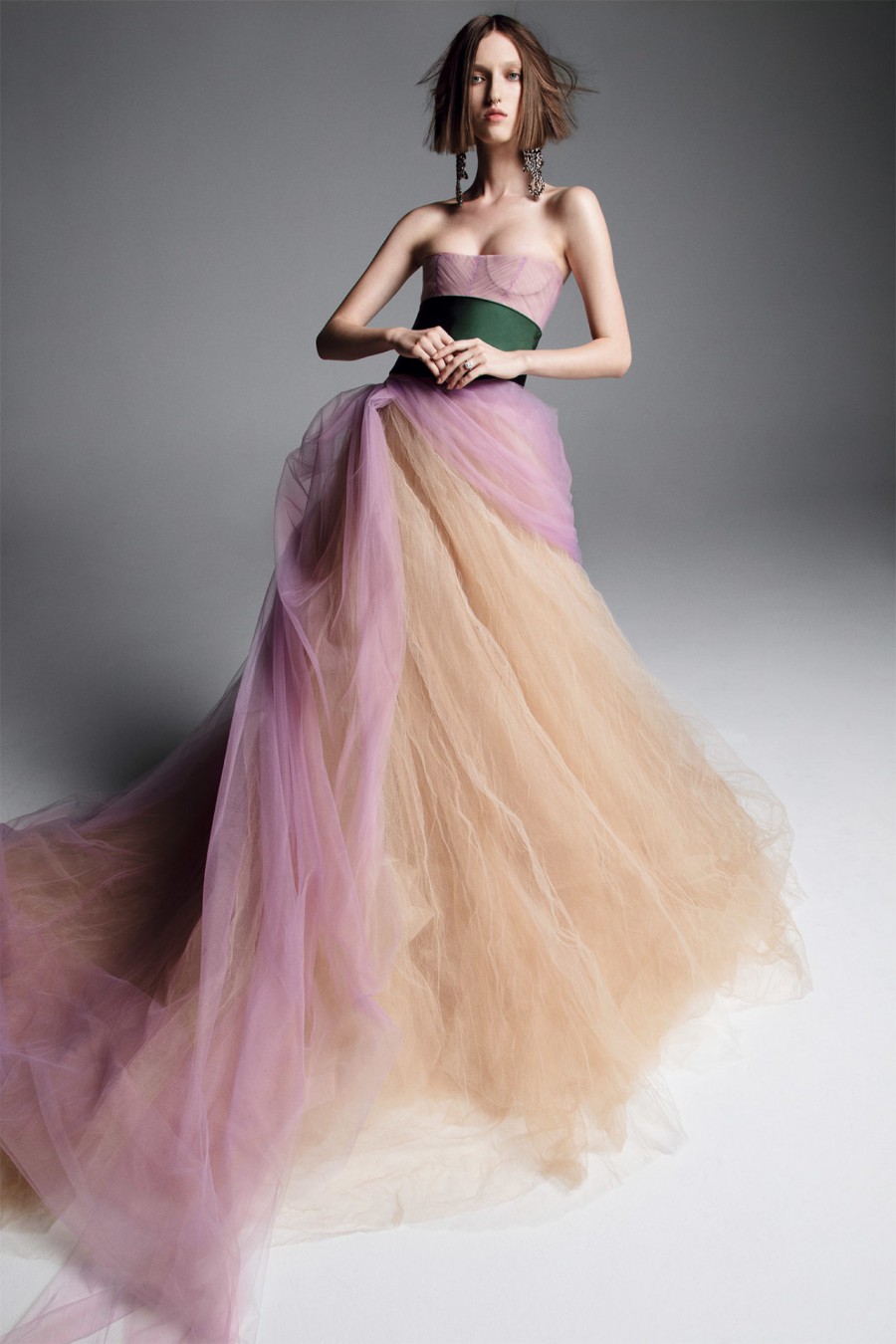 Vera Wang has taken the bridal scene by storm with her line of nude and colored wedding gowns. This gorgeous lavender and nude strapless style challenges everything we know about traditional bridal fashion. Even beyond the bold untraditional coloring of this gown - the design is contemporary and captivating.
16.

Bodice Detailing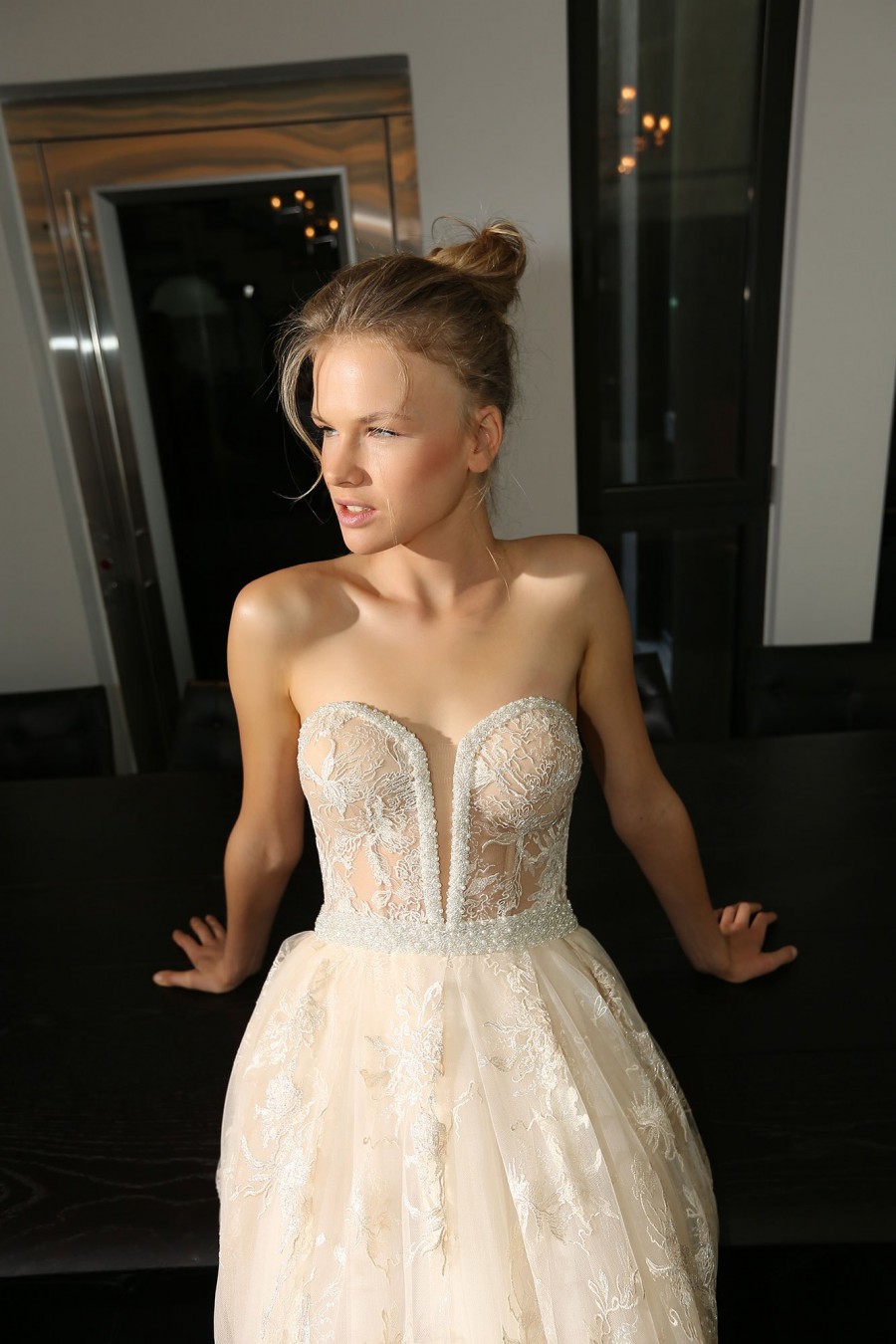 A unique strapless gown that speaks for itself. The focal point of this gown is the unique bodice design that captivates the eye of viewers. This gown is not over the top - but the details are bold in the most glamorous way.
17.

Dramatic Bow Jumpsuit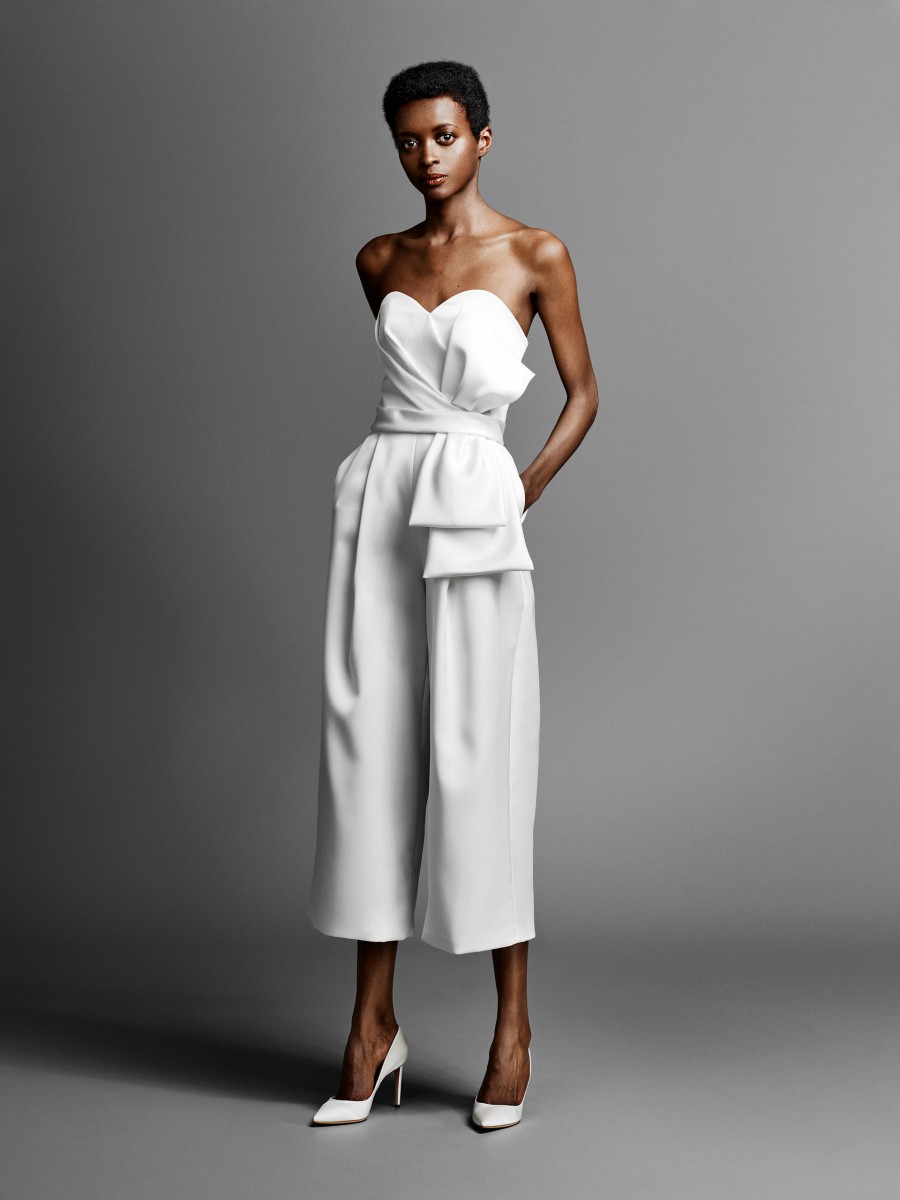 Strapless necklines aren't just for brides who want to look like a princess on their big day. This strapless dramatic bowed jumpsuit is a contemorary bridal masterpiece, that is challenging everything we know about traditional bridal wear. A sassy, chic way to make a bold statement on your wedding day.

By Kathryn Schrotenboer