The bridal scene is constantly being bombarded with new, edgy styles that are pushing the boundaries of the fashion scene. But not every bride needs a groundbreaking design on her big day.
We have gathered our favorite clean and simple bridal styles for all of our less-fuss brides out there. These looks are effortless and timeless. Clean and simple wedding gowns seem to be making a come back, and we are loving the contemporary interpretations on bridal classics!
01.

Strapless Herrera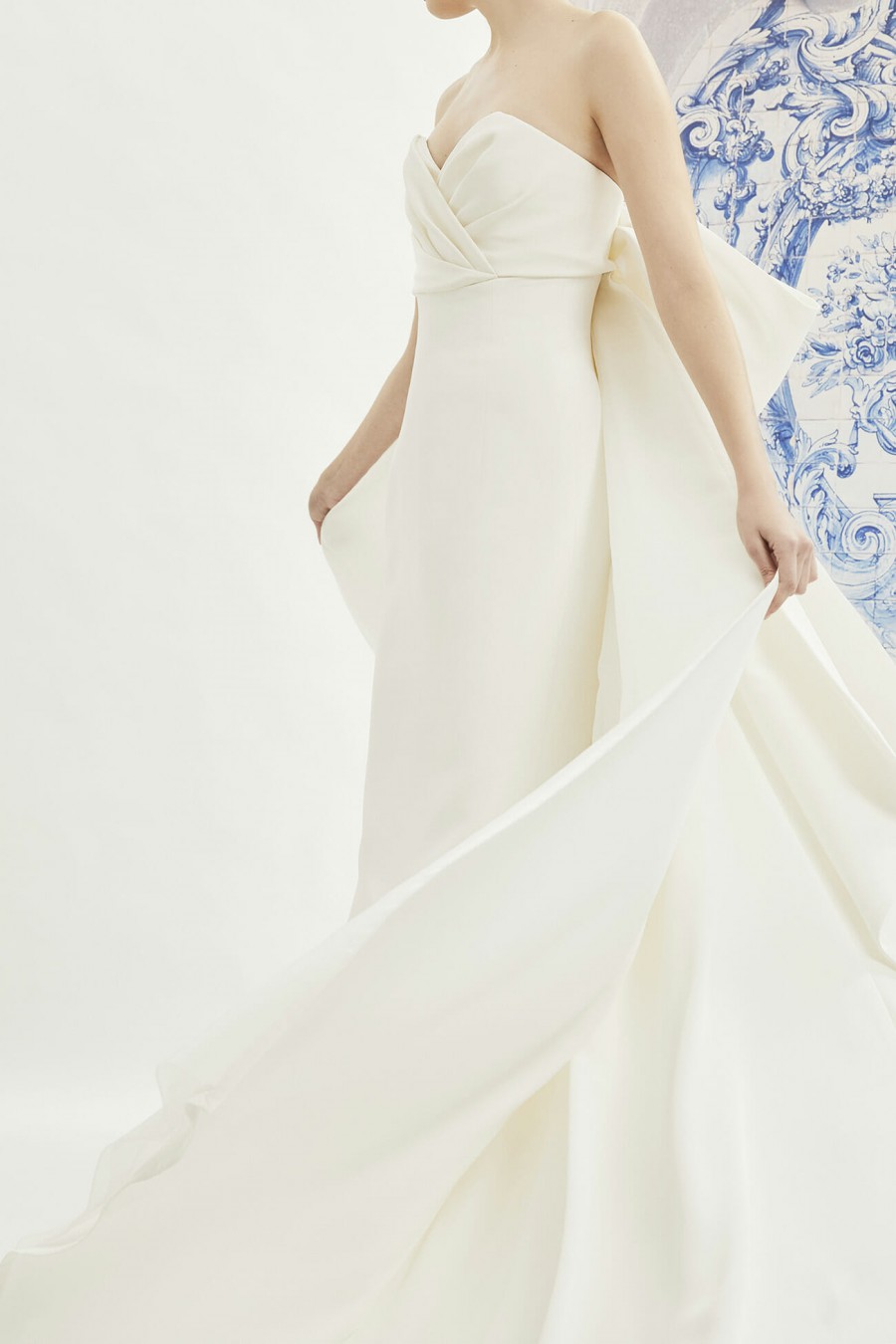 An absolutely breathtaking strapless gown from Carolina Herrera. This gown truly does embody a timeless effortlessness that will have any bride feeling simply beautiful on her big day.
02.

Figure Flattering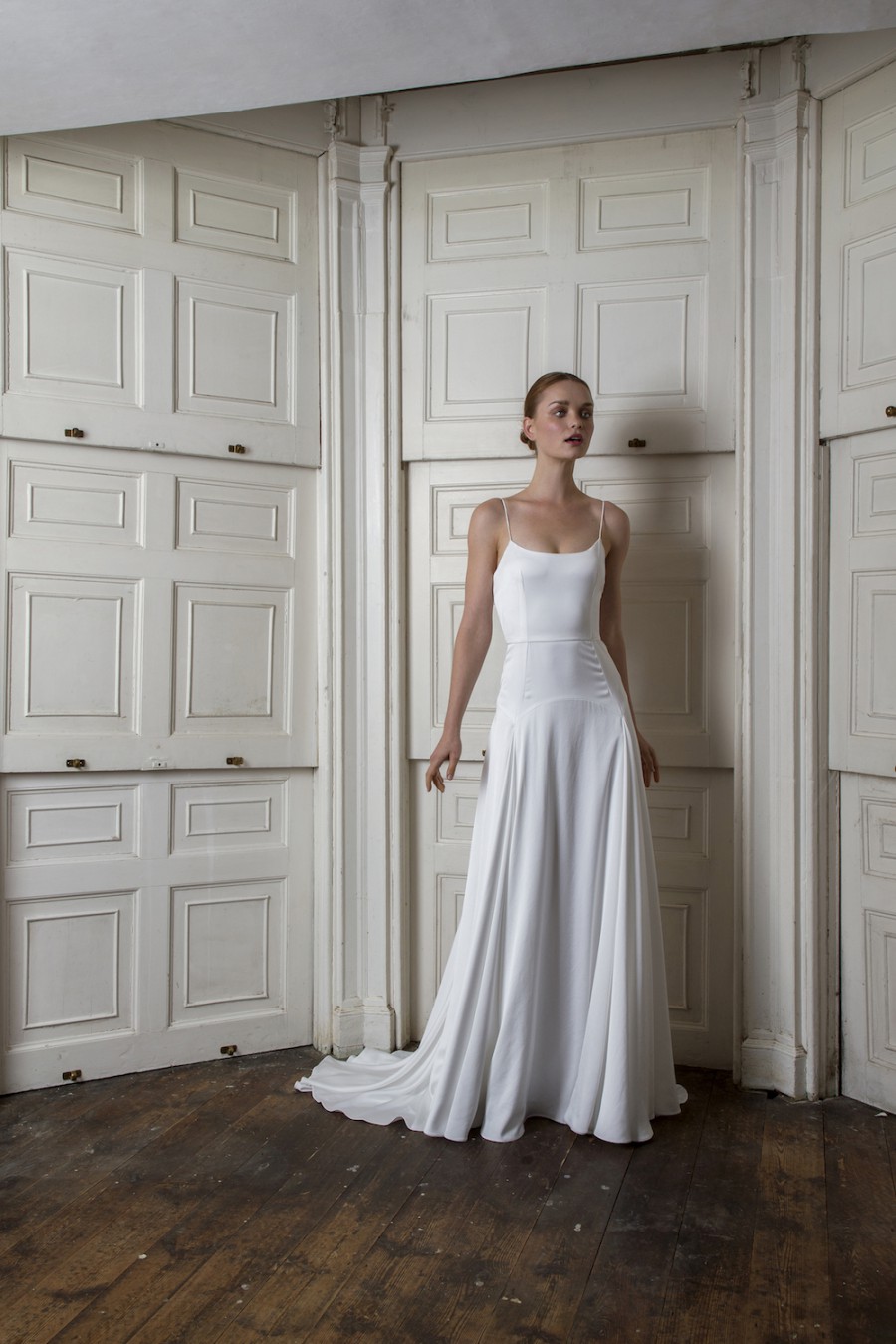 A figure flatting thin strap wedding gown that is clean, simple and beautifully feminine. This dress goes to show that less can be so much more!
03.

High & Sleek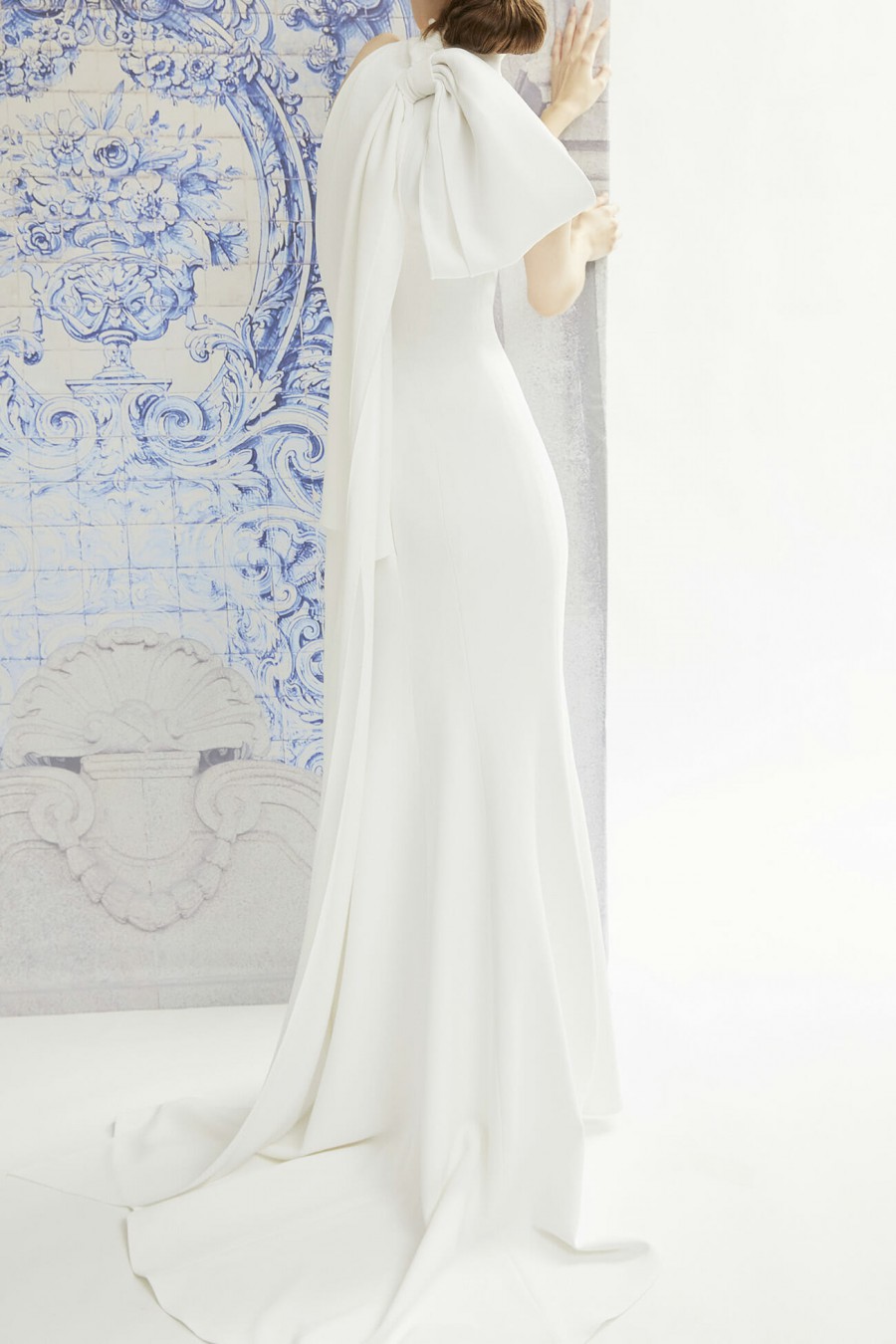 This clean cut, high neck wedding gown from Carolina Herrera is finished off with a gorgeous oversized bow at the back of the neck. Sophisticated and glamourous.
04.

Clean Shoulder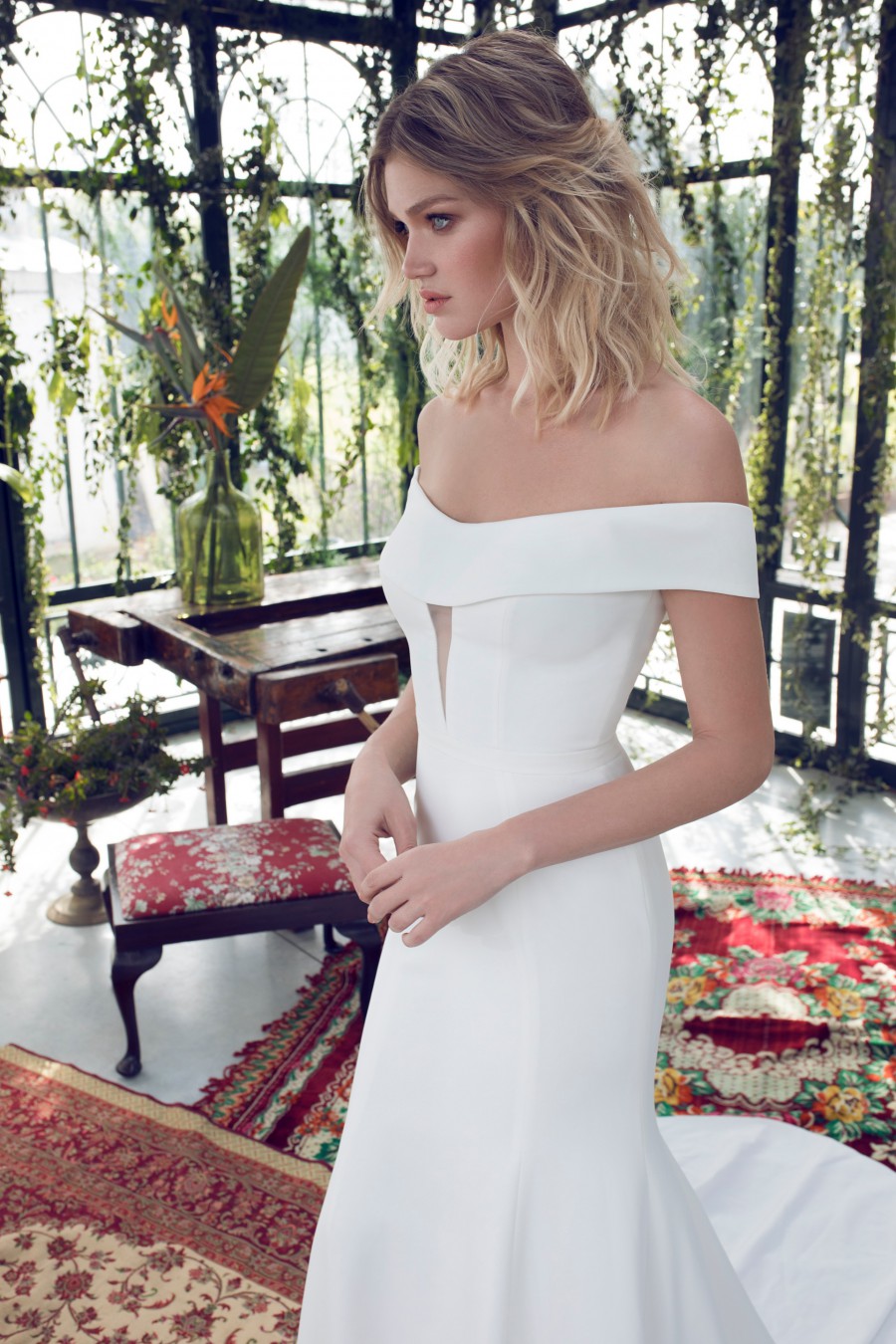 A timeless off the shoulder gown from Limor Rosen. A clean and simple wedding gown that is both sexy and sophisticated.
05.

Effortless Asymmetry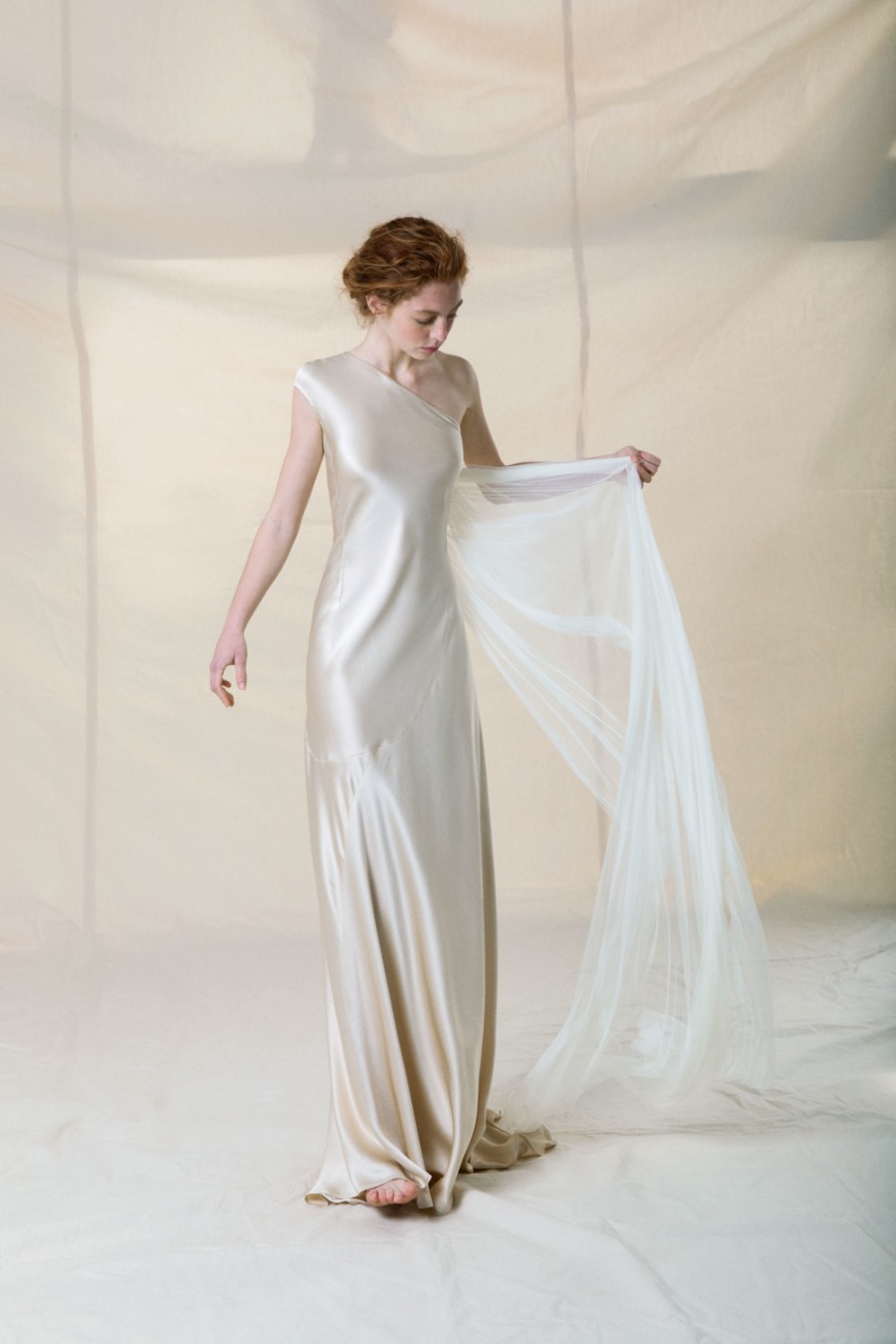 Cortana brings us an effortless, golden wedding gown that is beautifully clean and simple. An asymmetric one shoulder neckline and opposing asymmetric seaming at the hips add just a touch of captivating intrigue to this otherwise simple wedding style.
06.

Clean Lines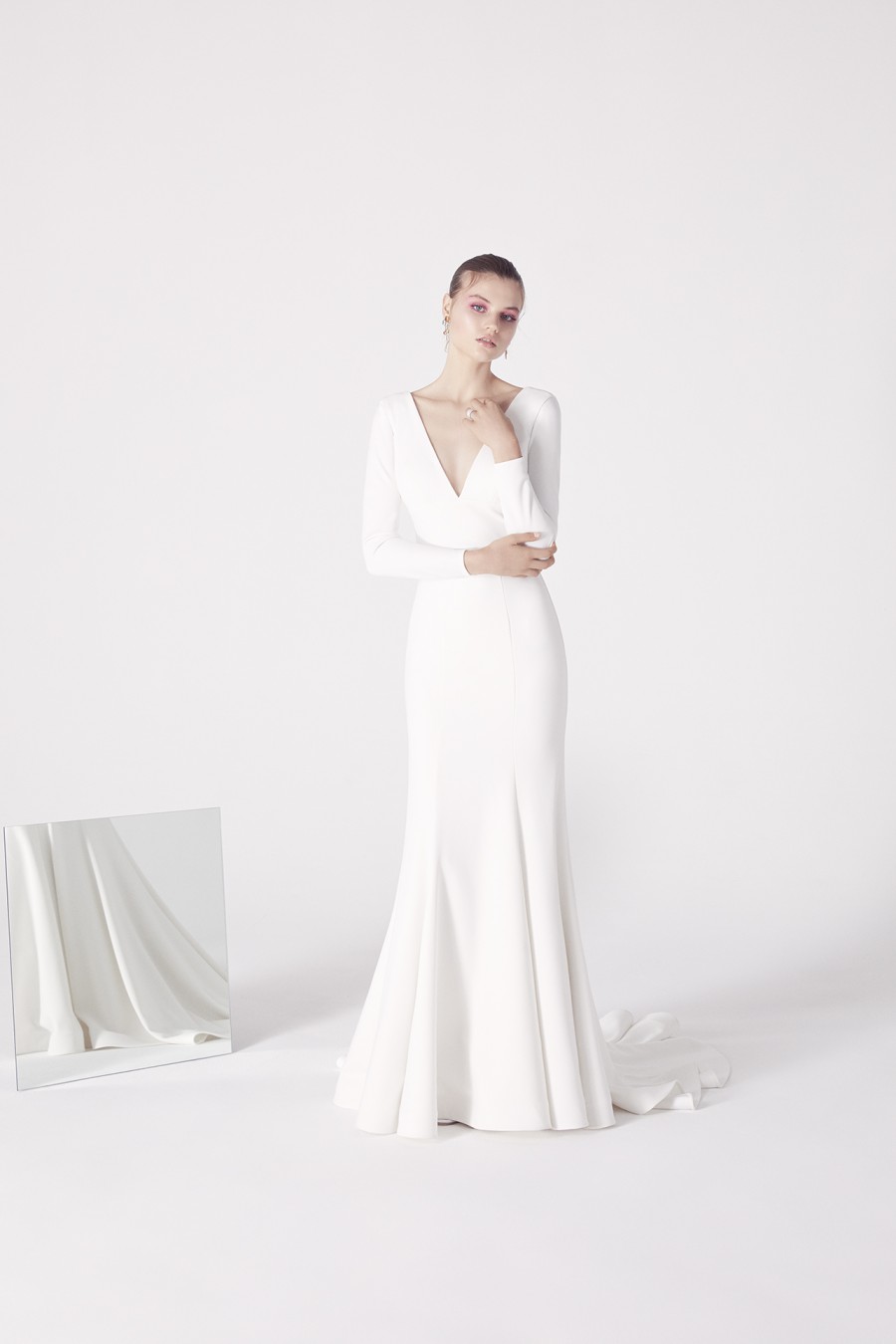 Our next gown is from Suzanne Harward. This long sleeve wedding gown is all about clean and simple lines. This cut is figure flattering, and is sure to stand the test of time.
07.

High Halter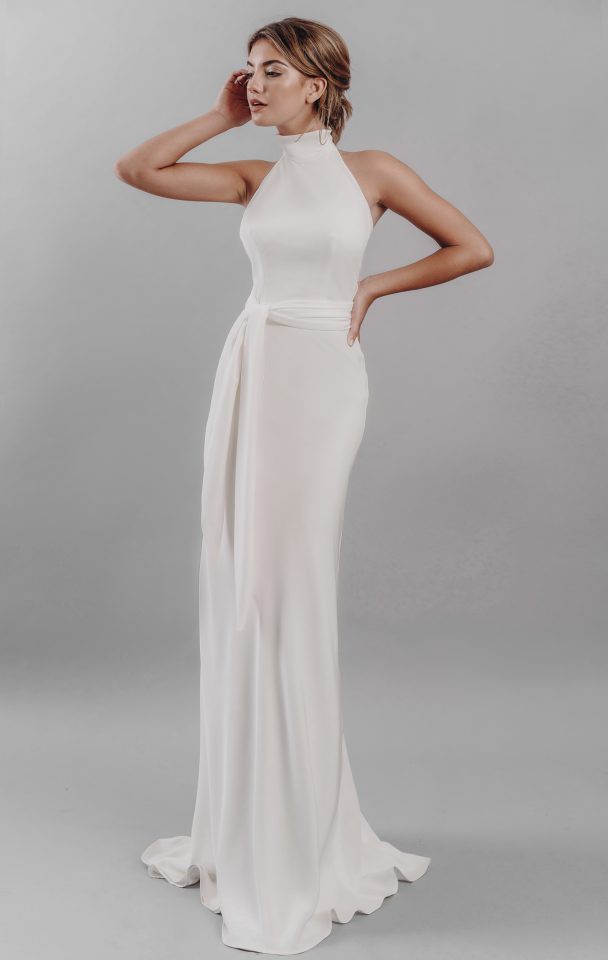 This next clean and simple bridal style embodies true timeless sophistication. The ultra high neck halter neckline is modest yet fashionable. The simple wrap tie adds so much to this already stunning gown.
08.

Boxy Princess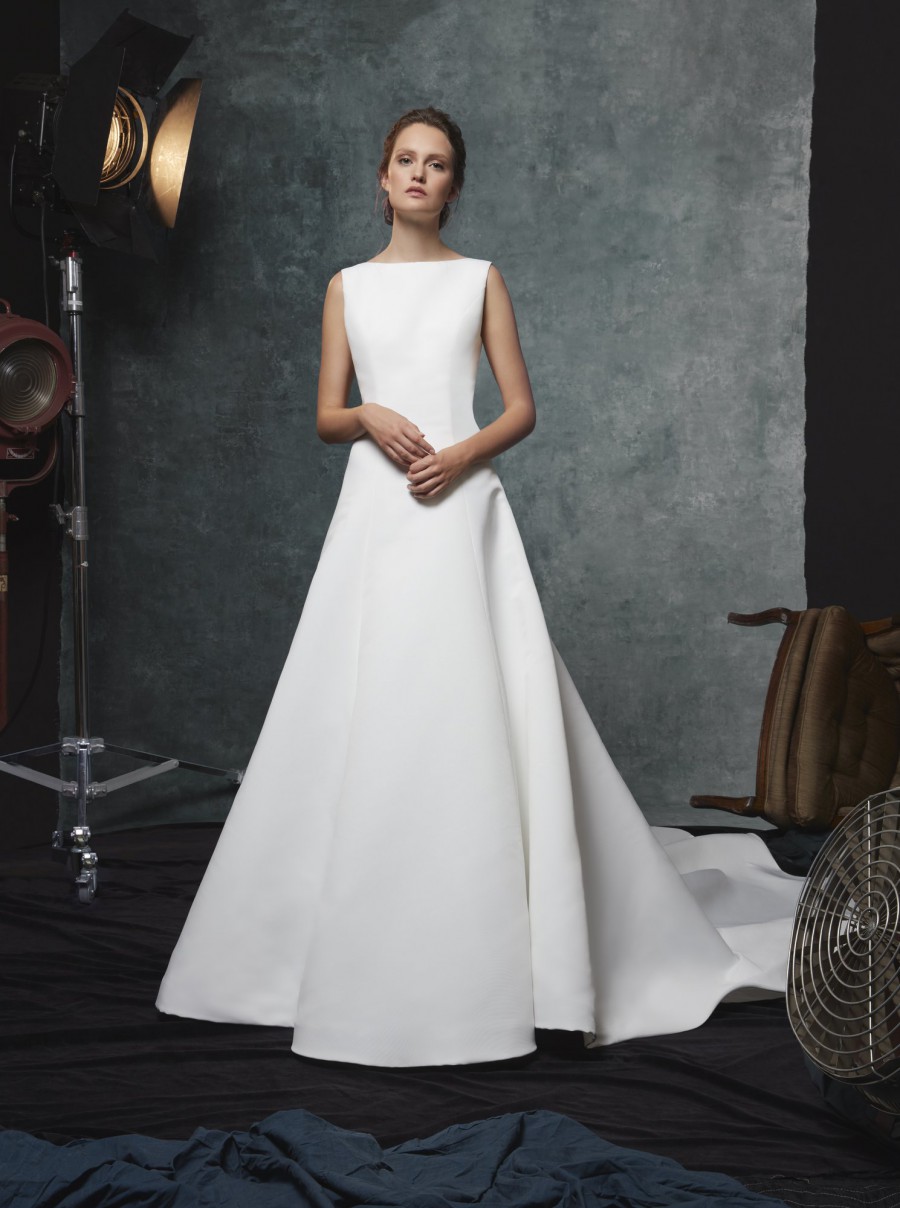 A boxy bridal gown. The clean lines and boxy cut to this gown give it a neat and tidy kind of feel.
09.

Clean Slip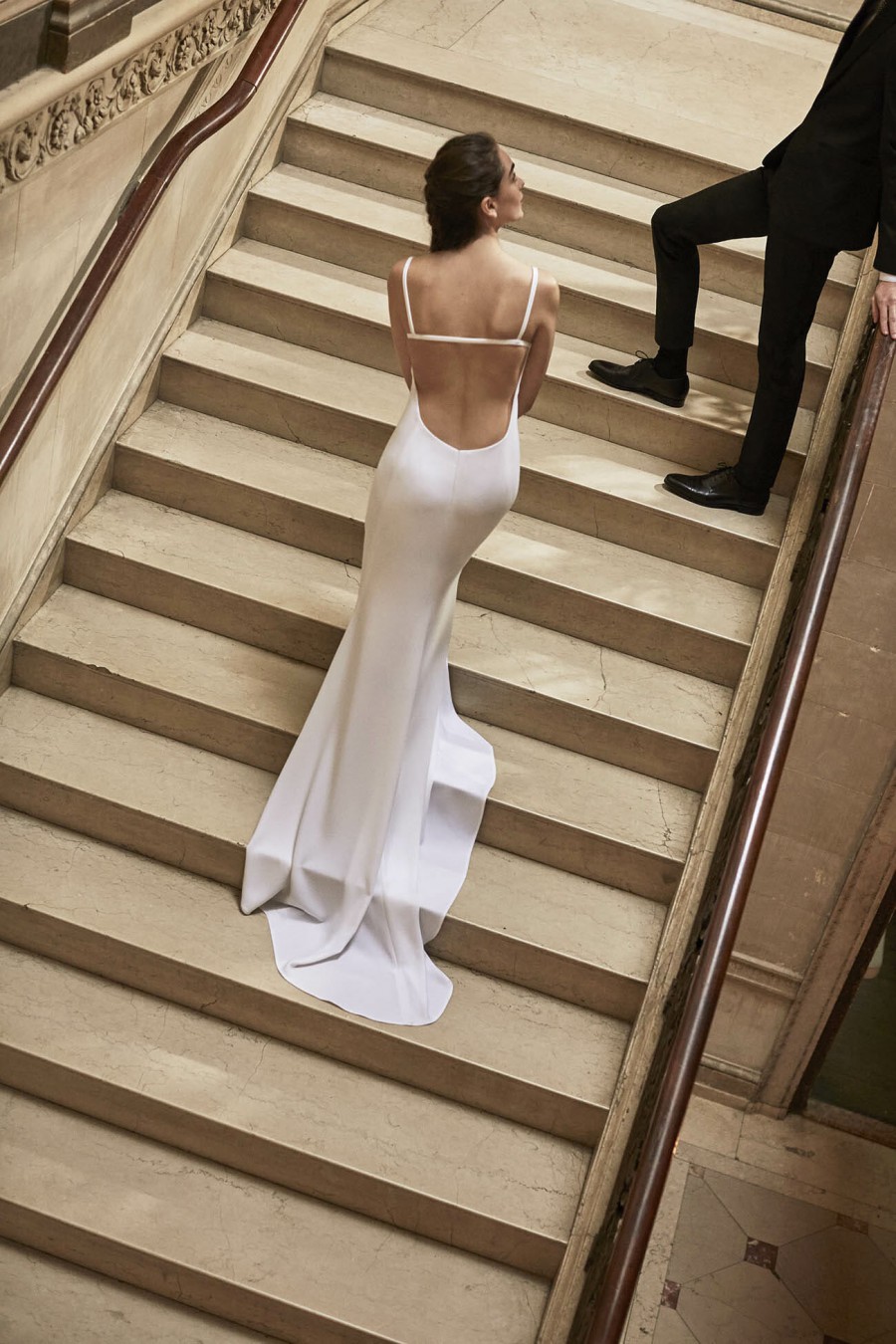 Nothing quite says clean and simple like a slinky slip dress. This wedding gown design is sensual and effortless in every way.
10.

Sleek Princess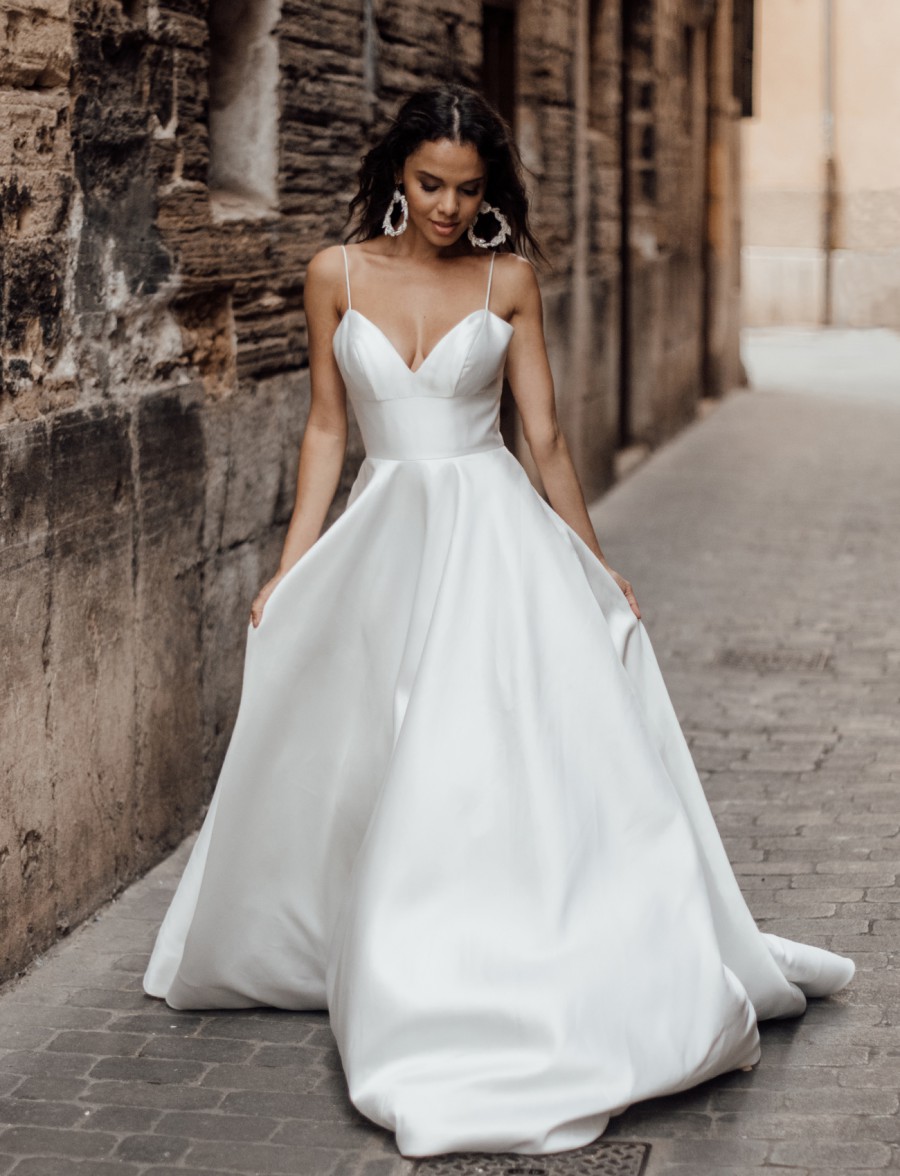 A sleek, clean and simple princess worthy wedding gown. This gorgeous gown is timeless and effortless, while still having the attention demanding aura of a princess ballgown.
11.

Belted V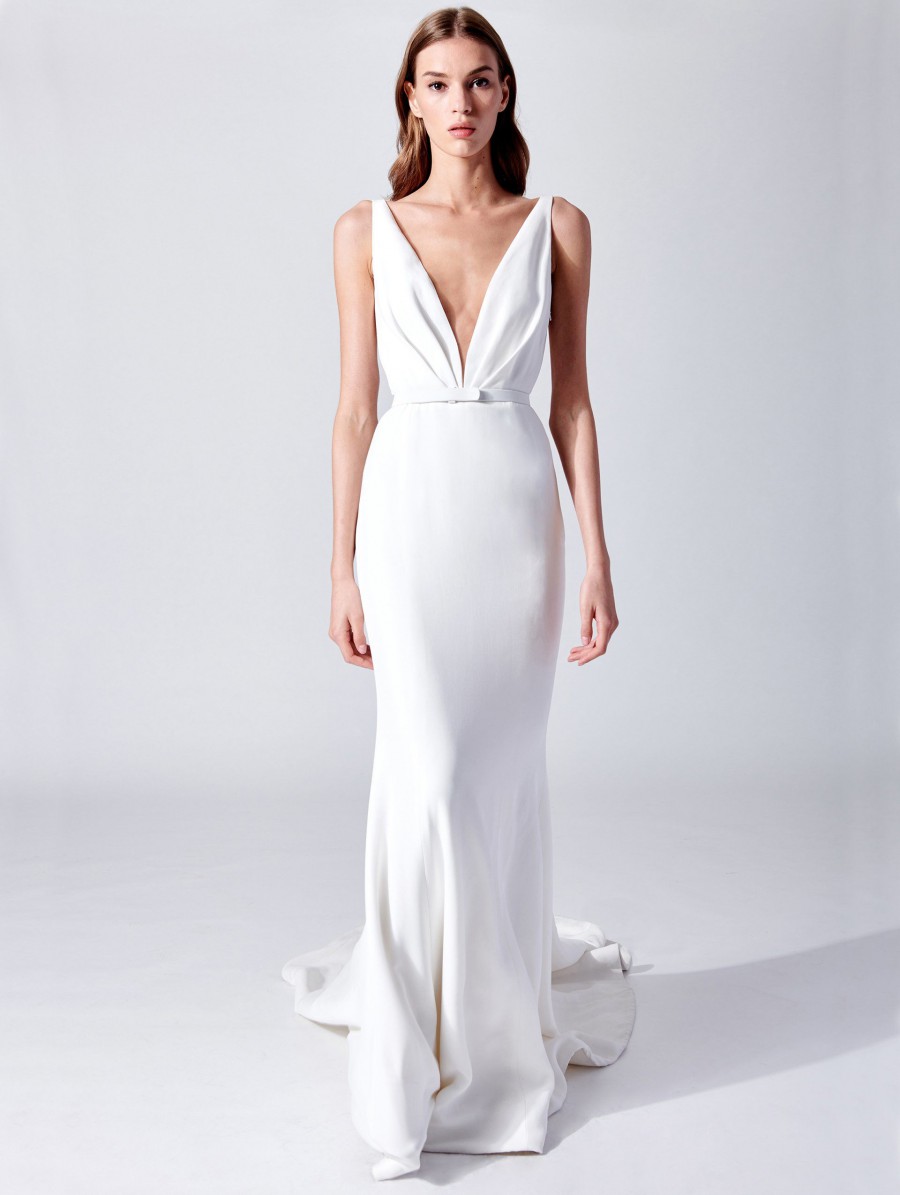 Sleek and classy. This clean and simple gown from Oscar de la Renta embodies pure elegance. The slightly gathered dramatic v-neckline and belt accents create a beautiful bodice dynamic.
12.

Clean Lines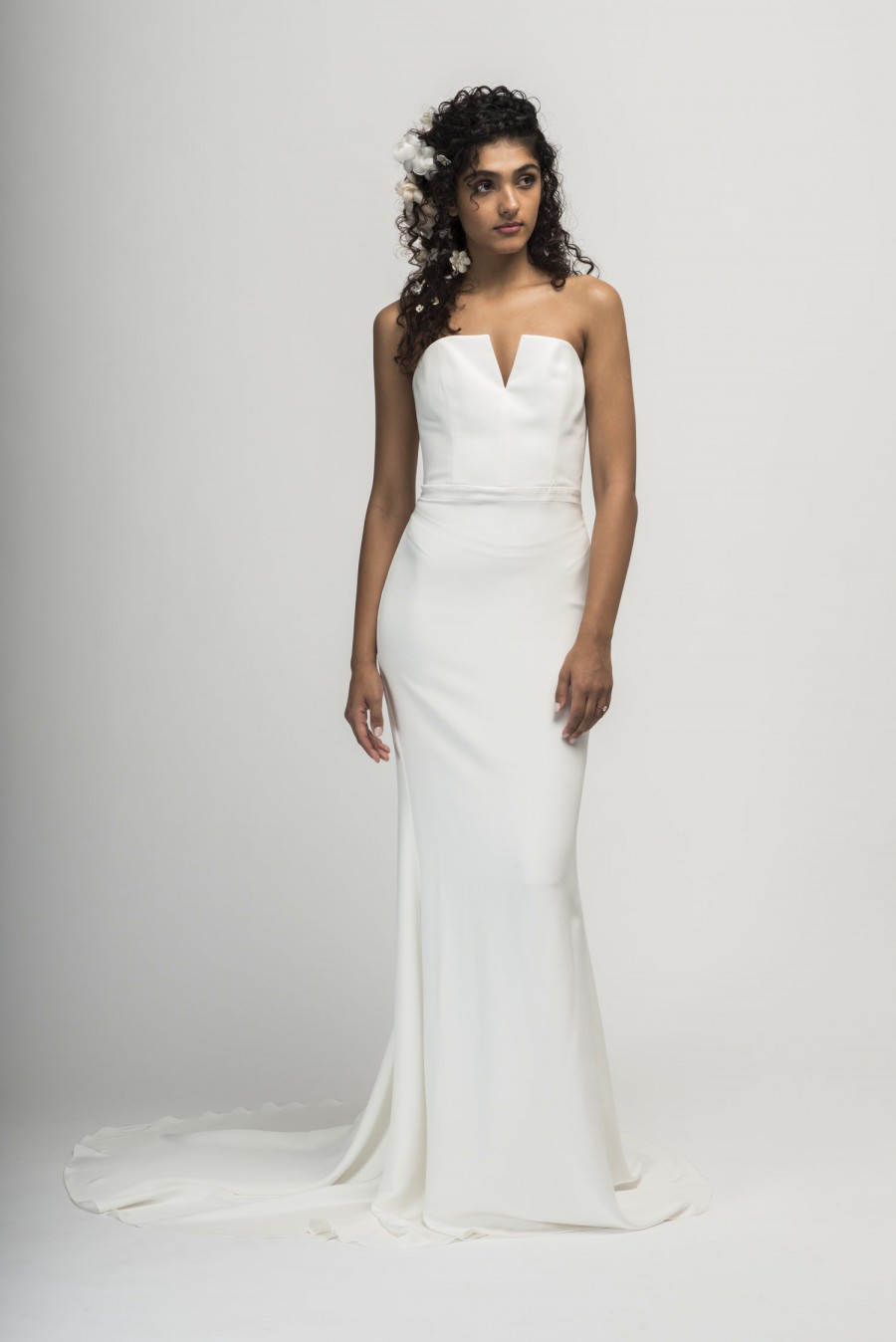 A chic, clean and simple wedding dress perfect for an ultra modern bride. This no fuss style features clean lines and delicately designed accents to give this look a modern feel.
13.

Edgy High Low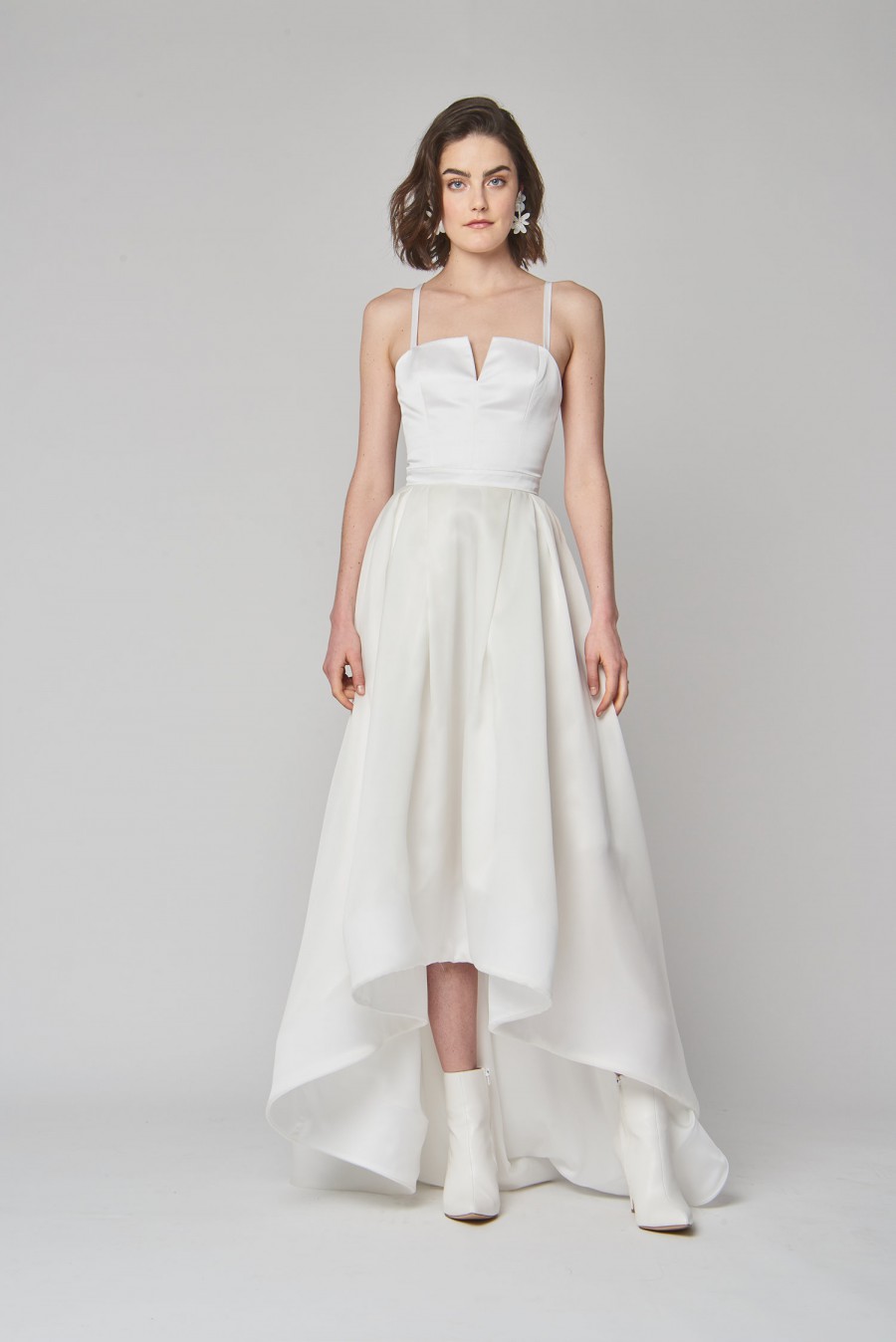 This clean and simple gown from Alexandra Grecco has just enough edginess to satisfy any modern day bride. This look gown is described as "a little bit of '60s and a whole lot of rock 'n' roll" - and we absolutely love it!
14.

Leading Lady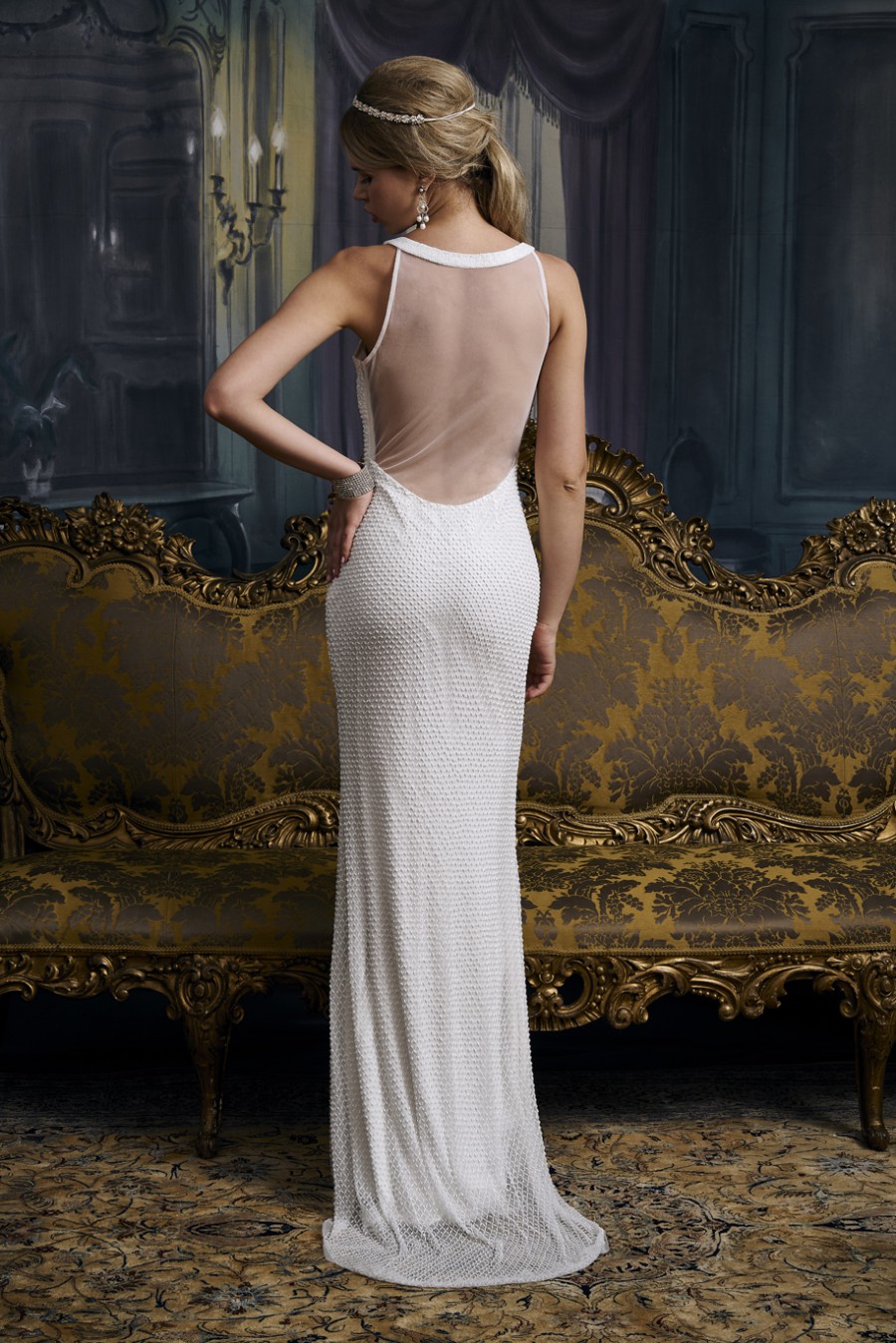 Our next gown from Eliza Jane Howell seems simply unassuming from far away with its clean and simple design. But with a closer view, this dress has so much stunning detail. From the sheer mesh back to the glistening net overlay - this look may be clean and simple, but it is also sophisticated and dramatic.
15.

Gathered Strapless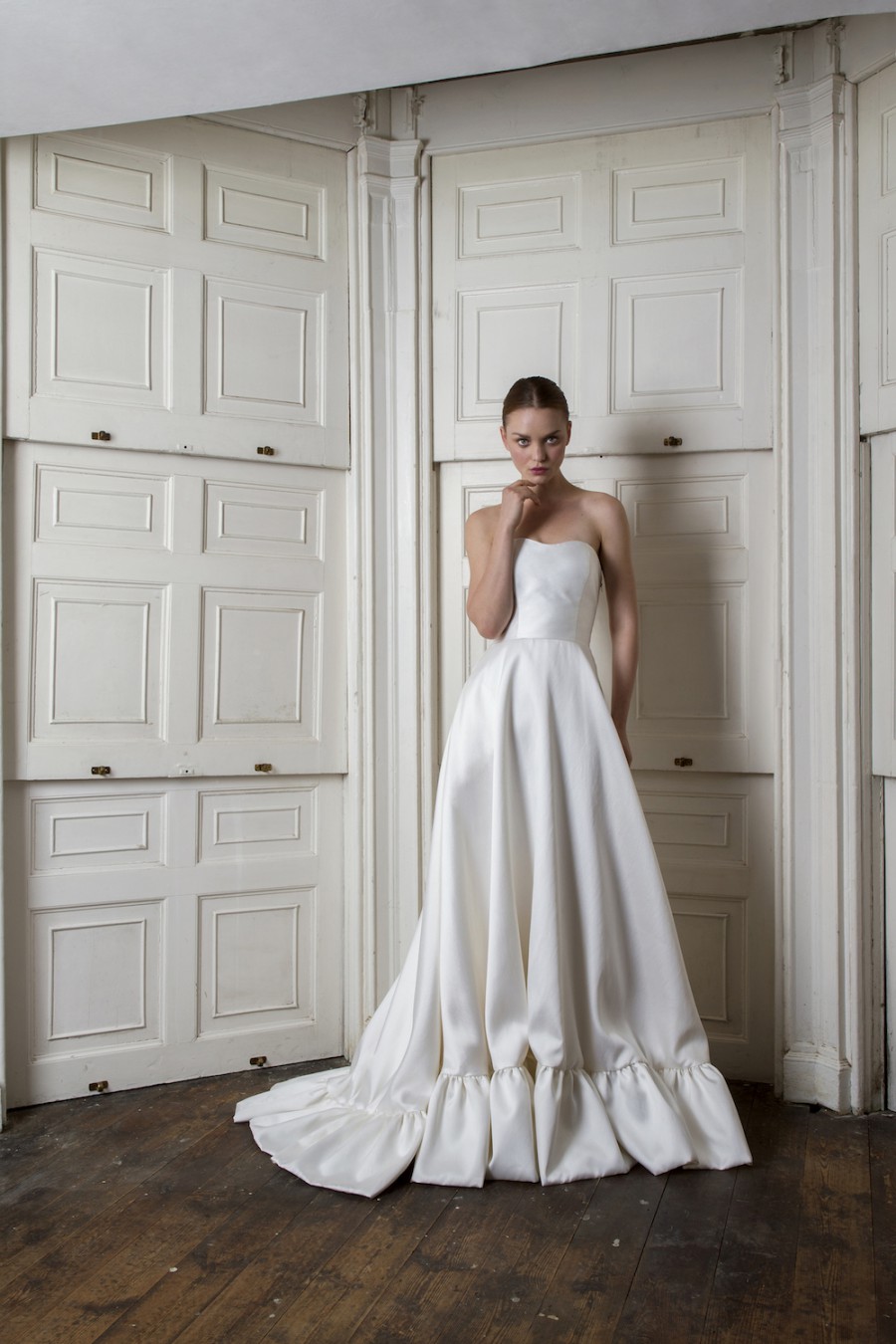 Just because you are looking for a clean and simple bridal style, doesn't mean you have to sacrifice the possibility of an even so popular strapless ballgown. This look will have you feeling like the clean and simple princess of your dreams!
16.

Classy Classic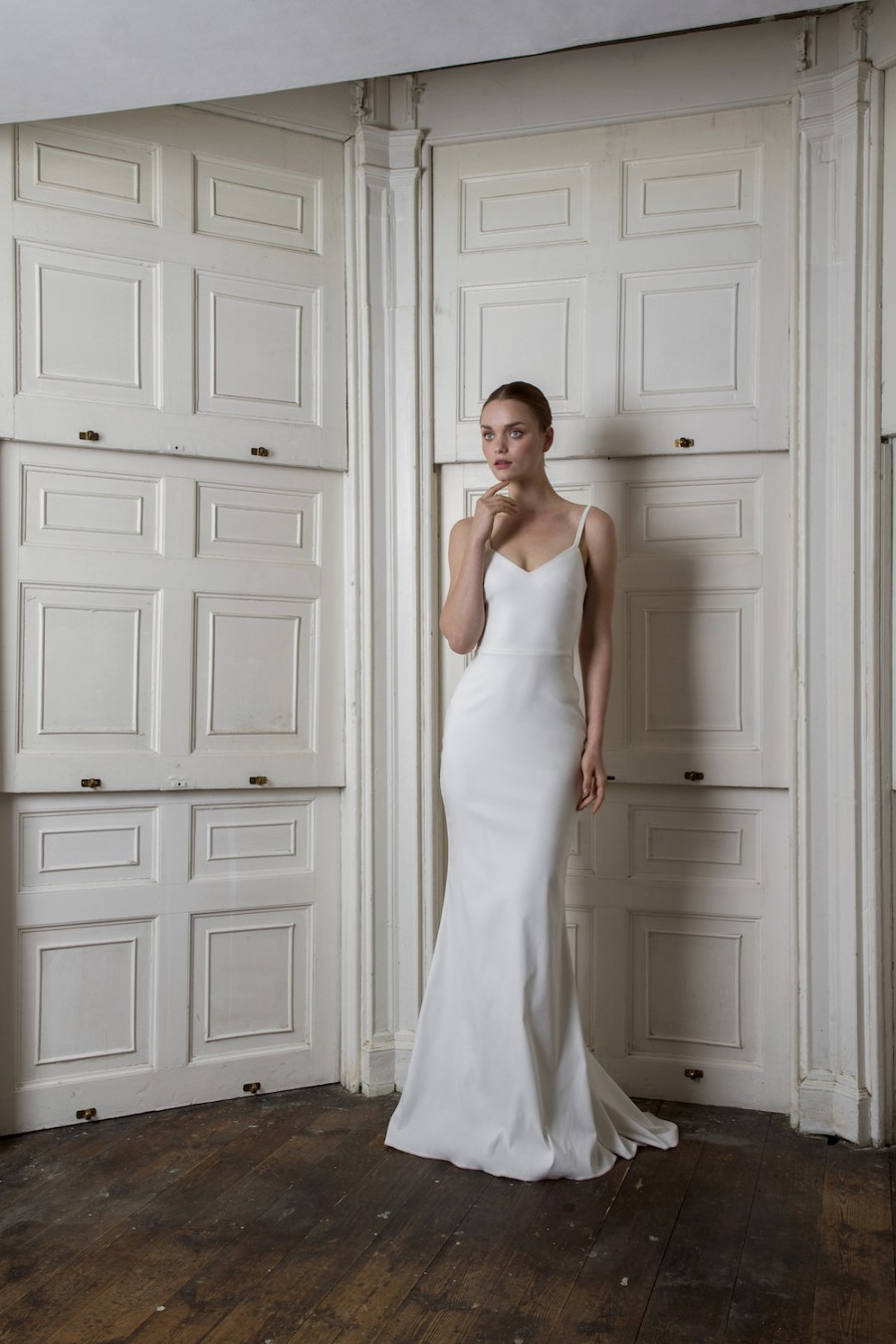 It doesn't get much more timeless than this stunning gown from Half Penny London. This clean and simple gown is feminine, flattering and sophisticated. This dress won't steal the show. Instead it will enhance your natural beauty - and we all know that is the real star of the day!
17.

T-Shirt Gown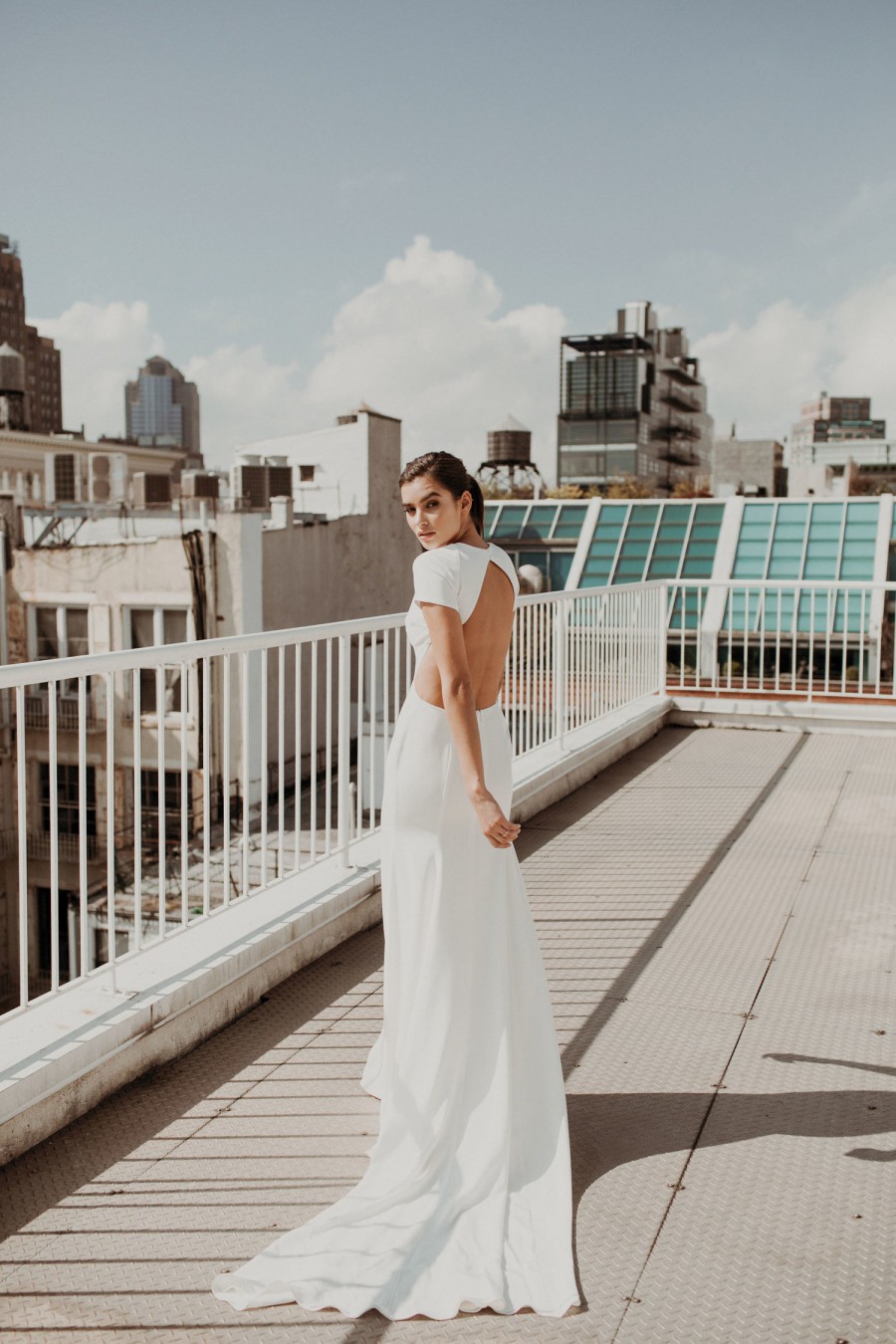 Sarah Seven brings us a breathtaking clean and simple bridal design. It doesn't get much more effortless than an t-shirt dress. But this gown has some stunning surprises. Like its full open back, and delicate train.
18.

Modern Ballgown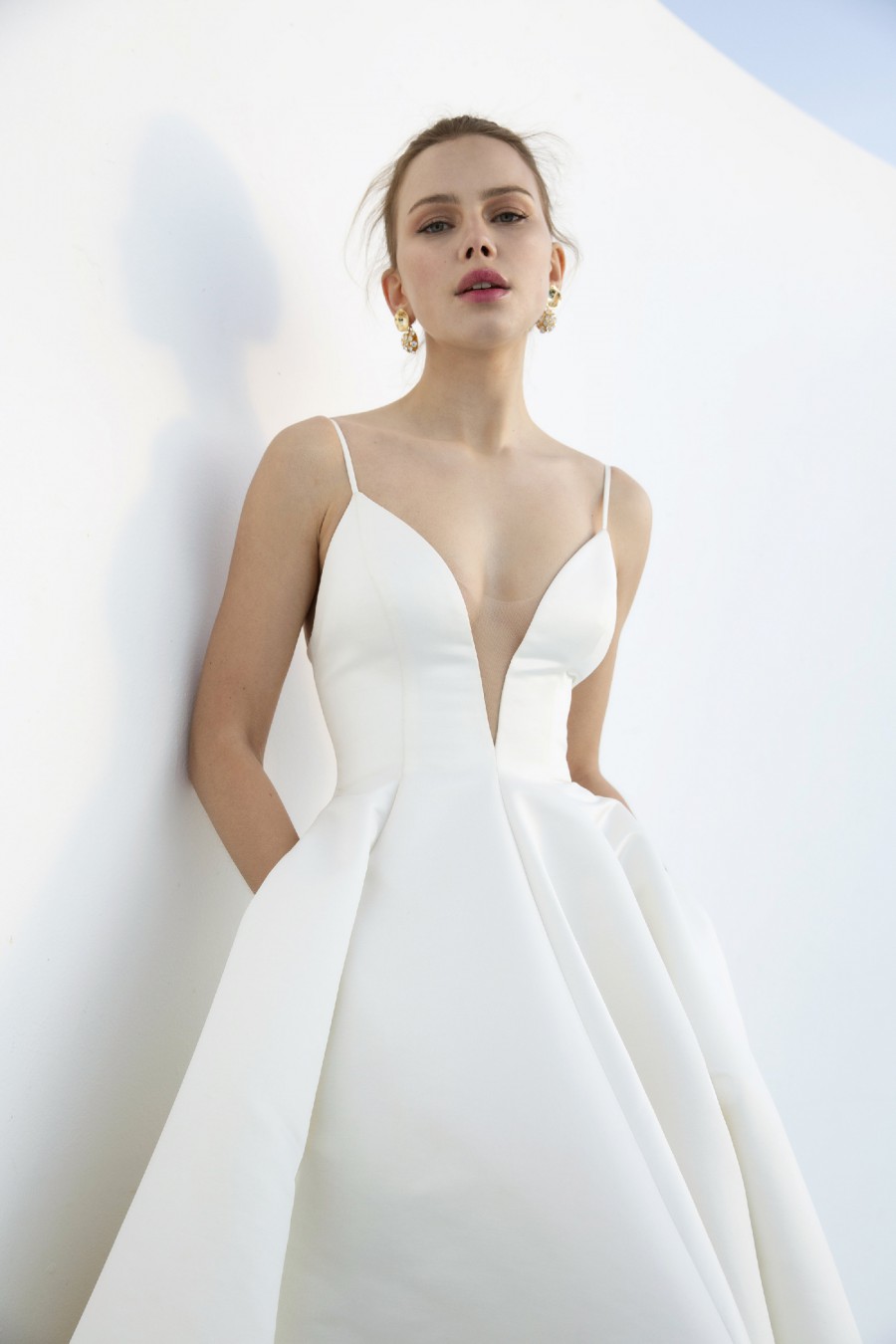 This modern ballgown from Sarah Seven is described as "like a princess but cooler" - and we agree! This simple designed ballgown is clean and cool. Clean, modern elegance at its finest.
19.

High Neck Sophistication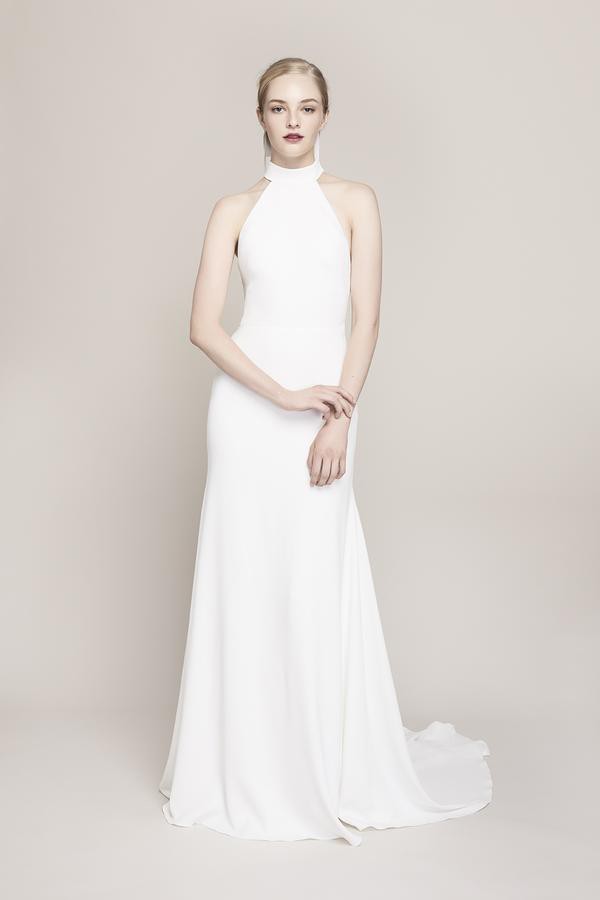 A clean high neck wedding gown that is simply sophisticated. This polished wedding gown is so chic and luxe!
20.

Girl Next Door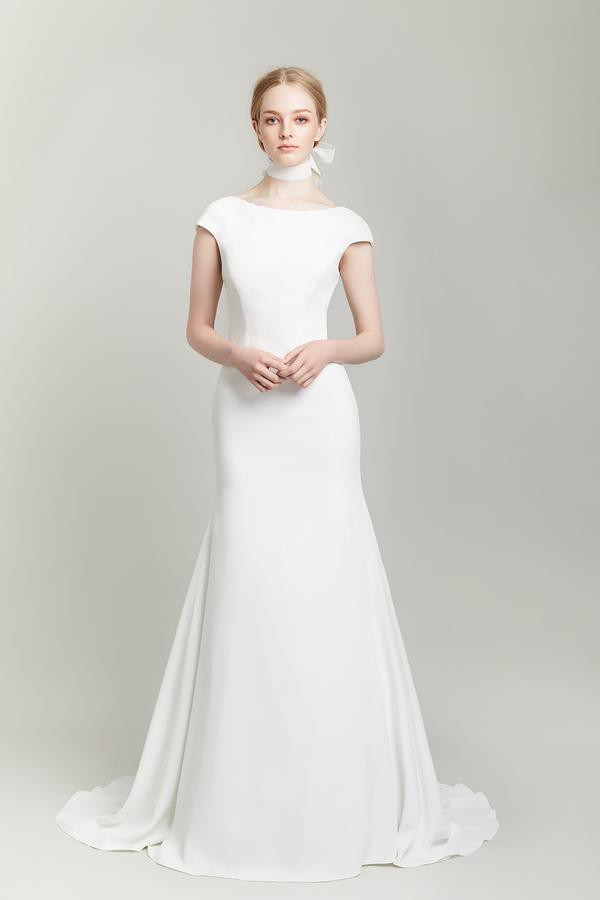 This next clean and simple wedding gown is for our no-fuss girl next door brides out there. This polished, effortless style will have you feeling sophisticated on your big day!

By Kathryn Schrotenboer