More brides than ever before are asking the question: "can I wear this again?" when deciding on their wedding day wardrobe.
Modern brides care about sustainability. And what better way to be sustainable, than to wear something on your wedding day that you can wear again? We are seeing a huge trend of everyday streetwear clothes in bridal fashion. That is right, everyday clothes walking down the aisle. Brides are approaching their wedding day with a more sustainable and relaxed attitude, which is fueling this streetwear trend.
Now remember, streetwear isn't for everyone when it comes to their big day look. But if you are a bride who cares about sustainability, there is no better way to honor that value than finding a pre-loved wedding dress from Still White. We can all keep the sustainability cycle going by continuing to pass on our pre-loved wedding gowns!
But if sustainable bridal streetwear has you intrigued, then dig into the list and decide for yourself.
01.

Kaviar Gauche: Edgy Contemporary Separates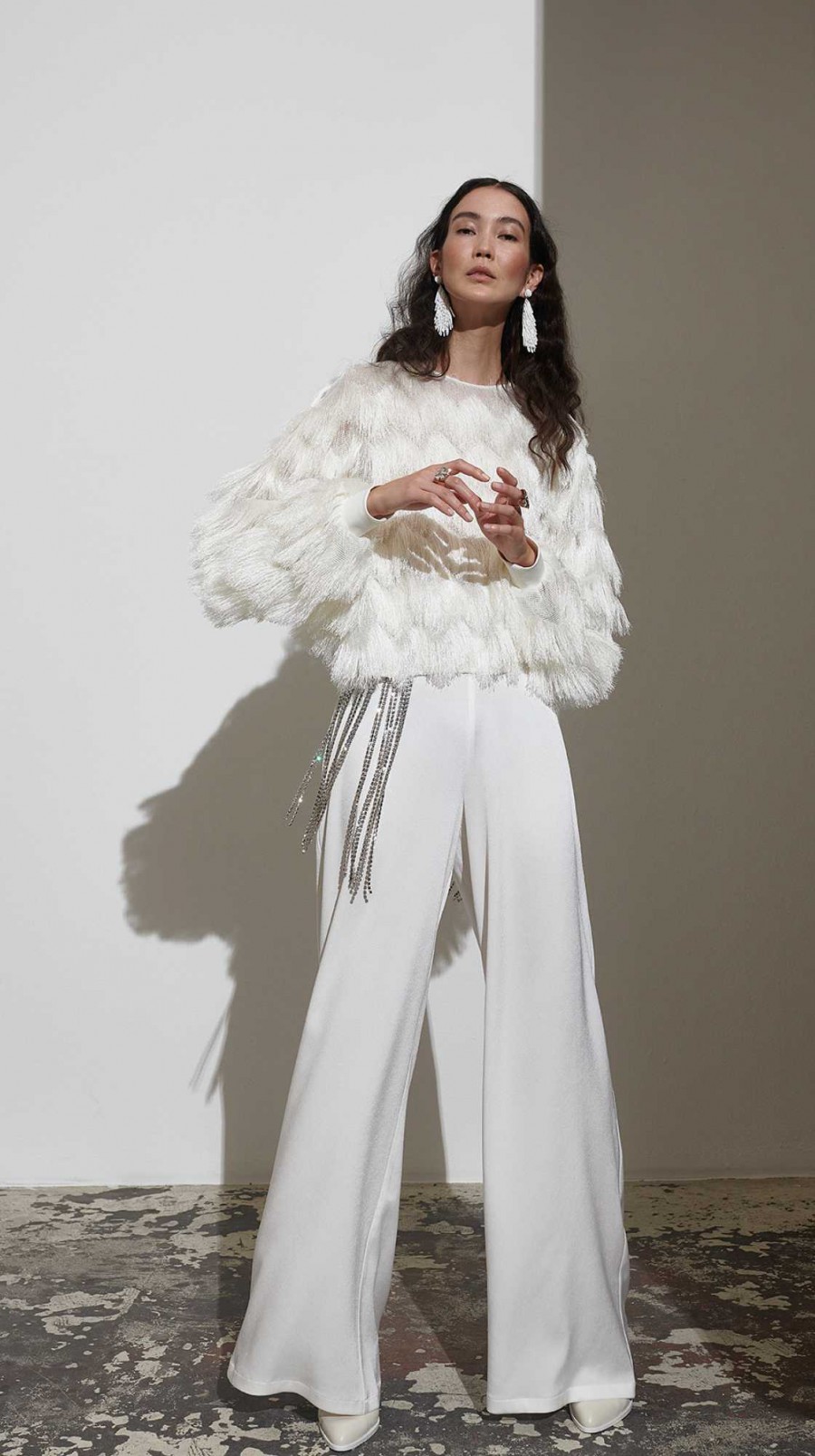 Bridal separates are one of the easiest way to create a sustainable bridal look that you can wear again and again after your big day. Kaviar Gauche brings us this stunning pairing. A modern textured bodice is paired with trendy wide leg trousers. Pair this top with jeans and pumps for a party look after the big day. And pair these trousers with a cashmere sweater for a chilly date night look.
02.

Houghton: Confident and Casual Bridal Streetwear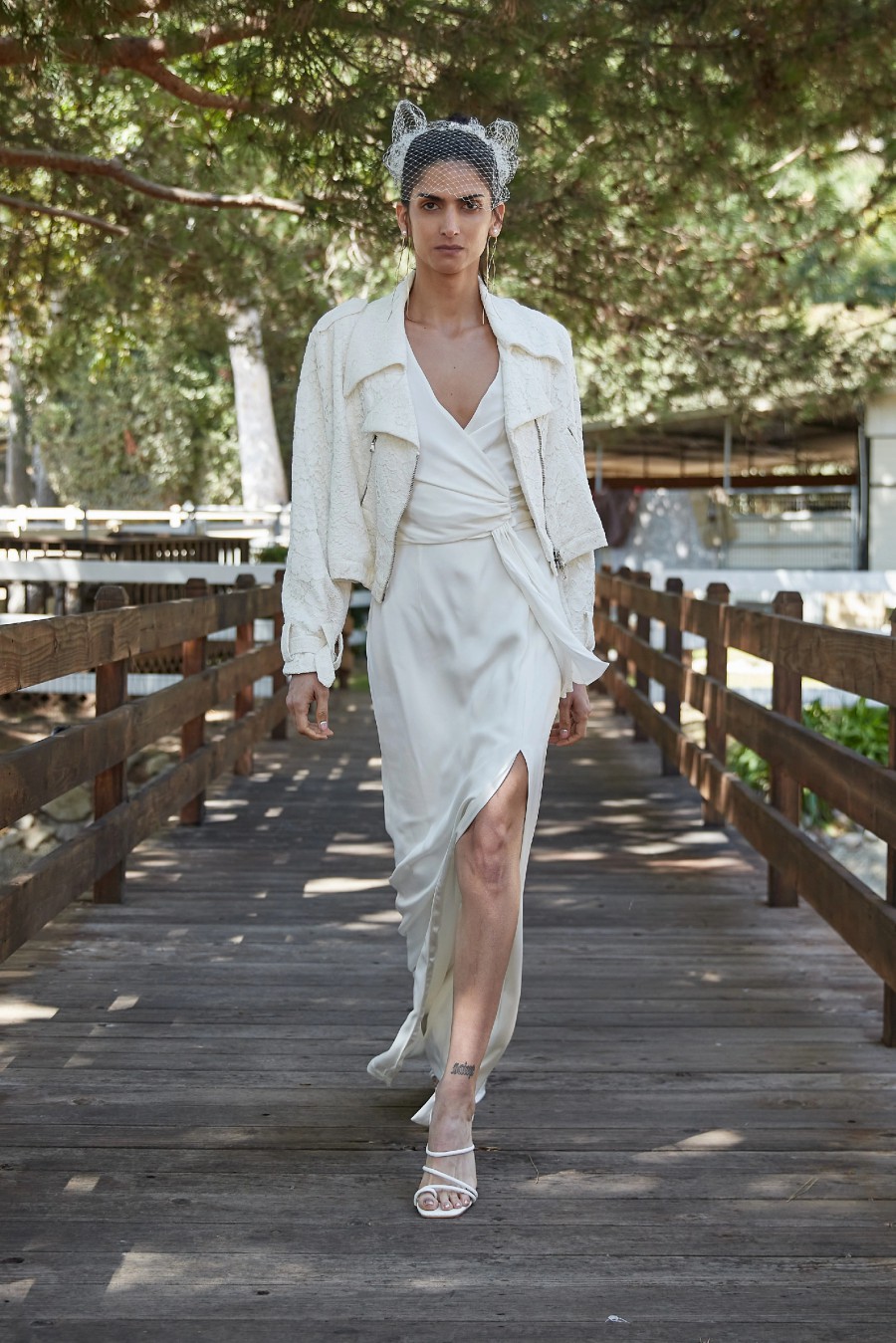 We are loving the idea of a confident and casual bridal streetwear style like this one from Houghton. A casually cool gown that can be worn again and again, paired with a chic lace moto jacket. Lets be honest, will you really even want to take off that chic moto jacket after your wedding day?
03.

Naeem Khan: White Jeans Bridal Look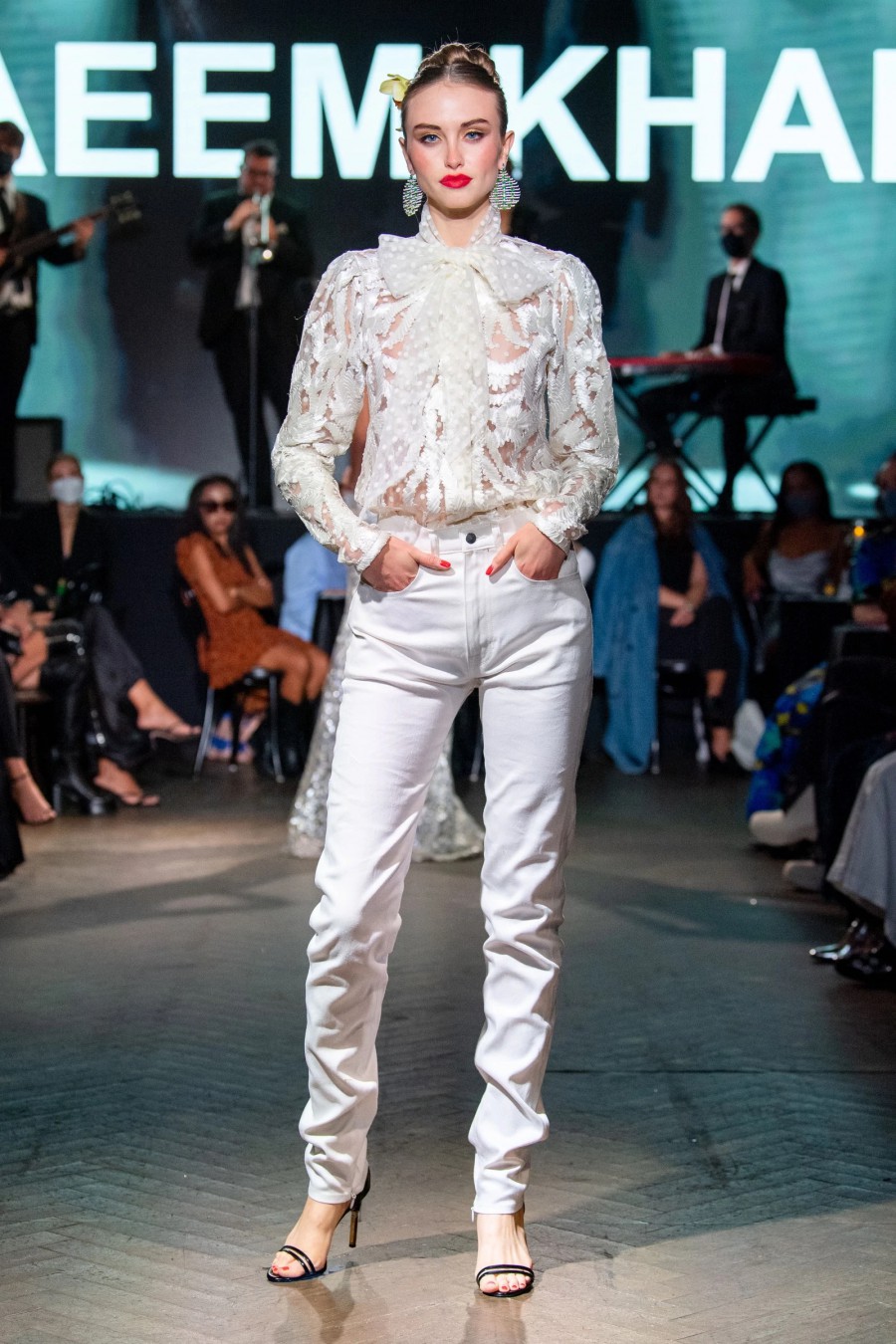 Are jeans taking things too far when it comes to your sustainable wear-again streetwear bridal look? Our opinion: who cares? And we have to admit, we are loving this look from Naeem Khan. This chic, semi-sheer bow neck blouse is paired with matching 100% organic hemp jeans and sexy black pumps.
04.

Naeem Khan: Bridal Athleisure Wear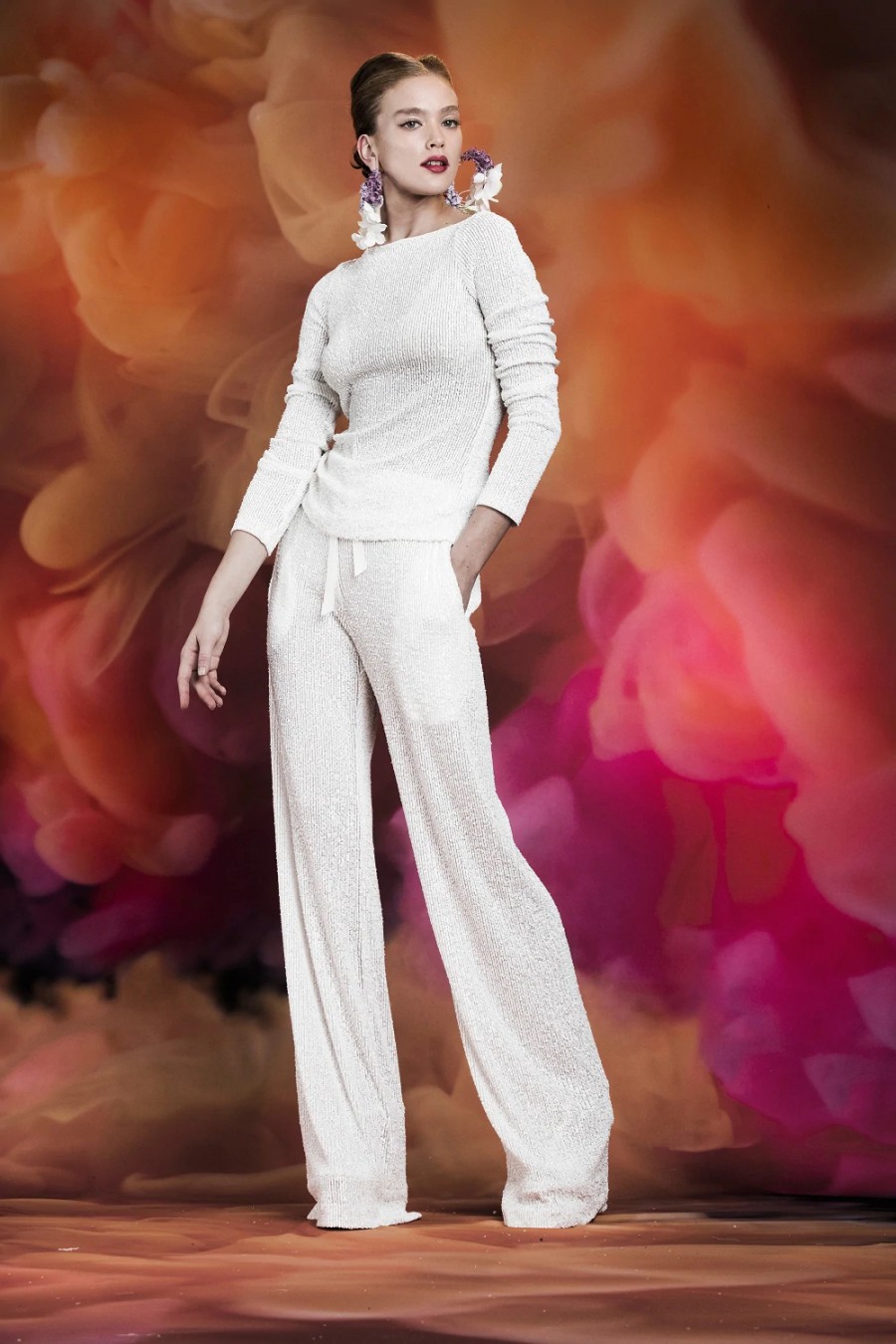 Thats right ladies, athleisure wear as bridal wear! We just love this matching separates style from Naeem Khan that has a very 90's tracksuit feel to it. Chic, trendy and definitely a sustainable style that you can wear again and again.
05.

Christopher Kane: Chic Couture Separates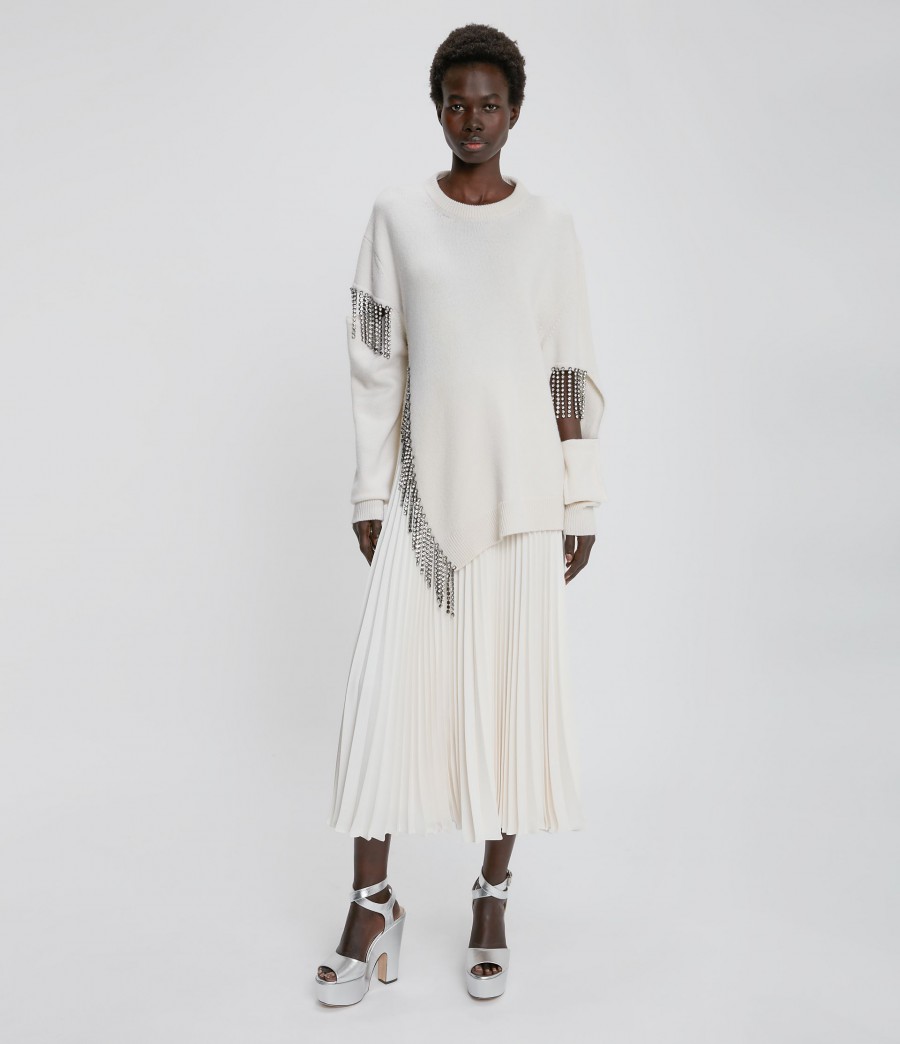 Just because you want to be more sustainable with a wear-again casual bridal style - that doesn't mean you can't make a bold couture statement with your wedding day look. We are loving this chic combo from Christopher Kane, featuring a crystal accented asymmetric wool sweater and midi length pleated crepe skirt.
06.

Kaviar Gauche: Chic Peplum and Bell Bottoms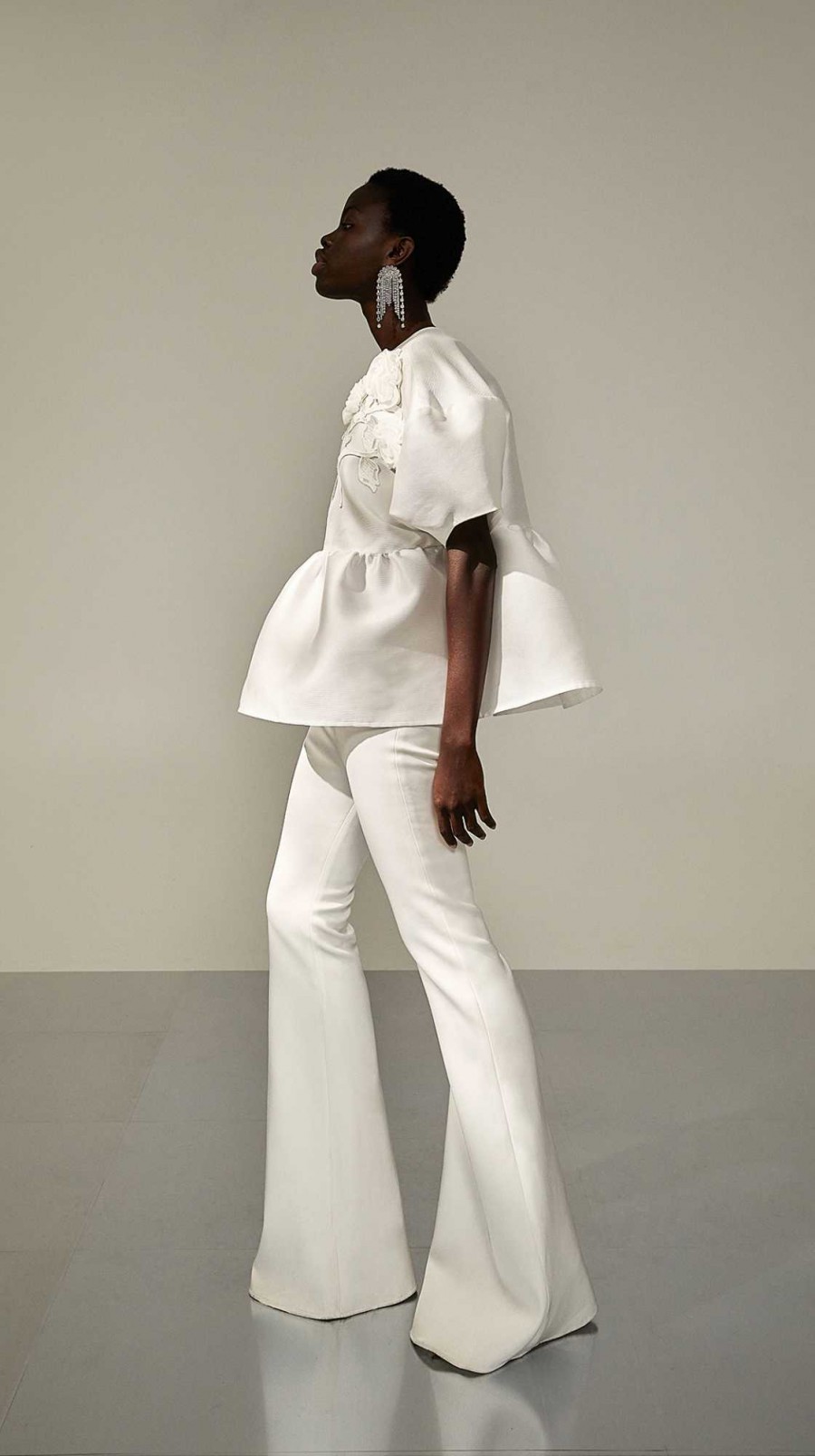 If you are loving that bell bottoms are back in style, then why not incorporate them into your wedding day look. We are loving these sleek bell trousers paired with a chic peplum top. Pair the top with jeans after your big day for a cute girls-night-out look. And you will never want to stop wearing those trending white bell bottom trousers!
07.

Kaviar Gauche: Chic and Casual Bridal Mini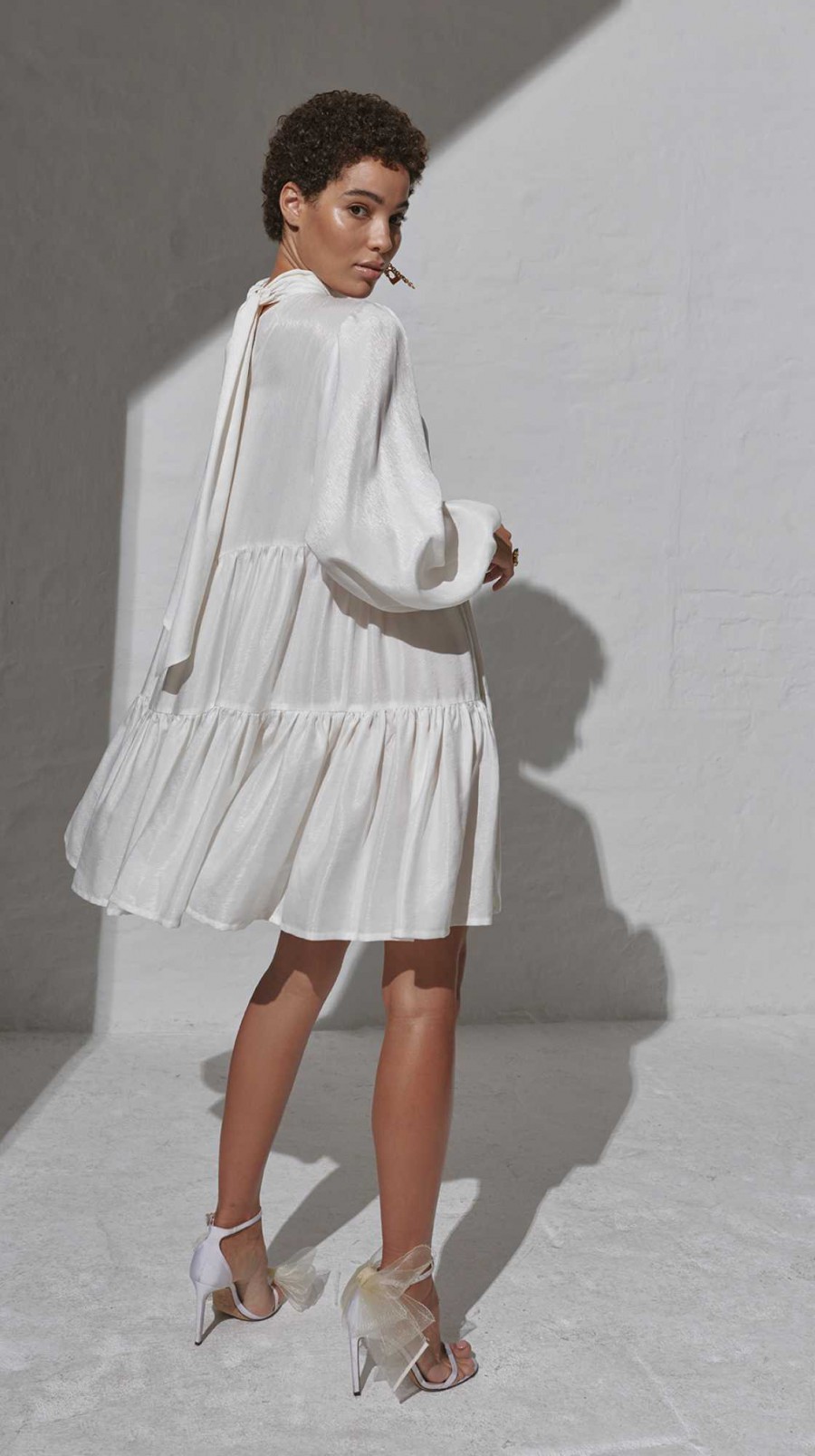 A bridal mini can be a massively sustainable look when it comes to your wedding day style. Bridal mini's are so on trend and they can easily be worn again as a party dress long after your wedding day. Or perhaps a chic dress that you can wear again for that romantic ocean front honeymoon in Italy.
08.

Nordeen: White Trousers and Crop Top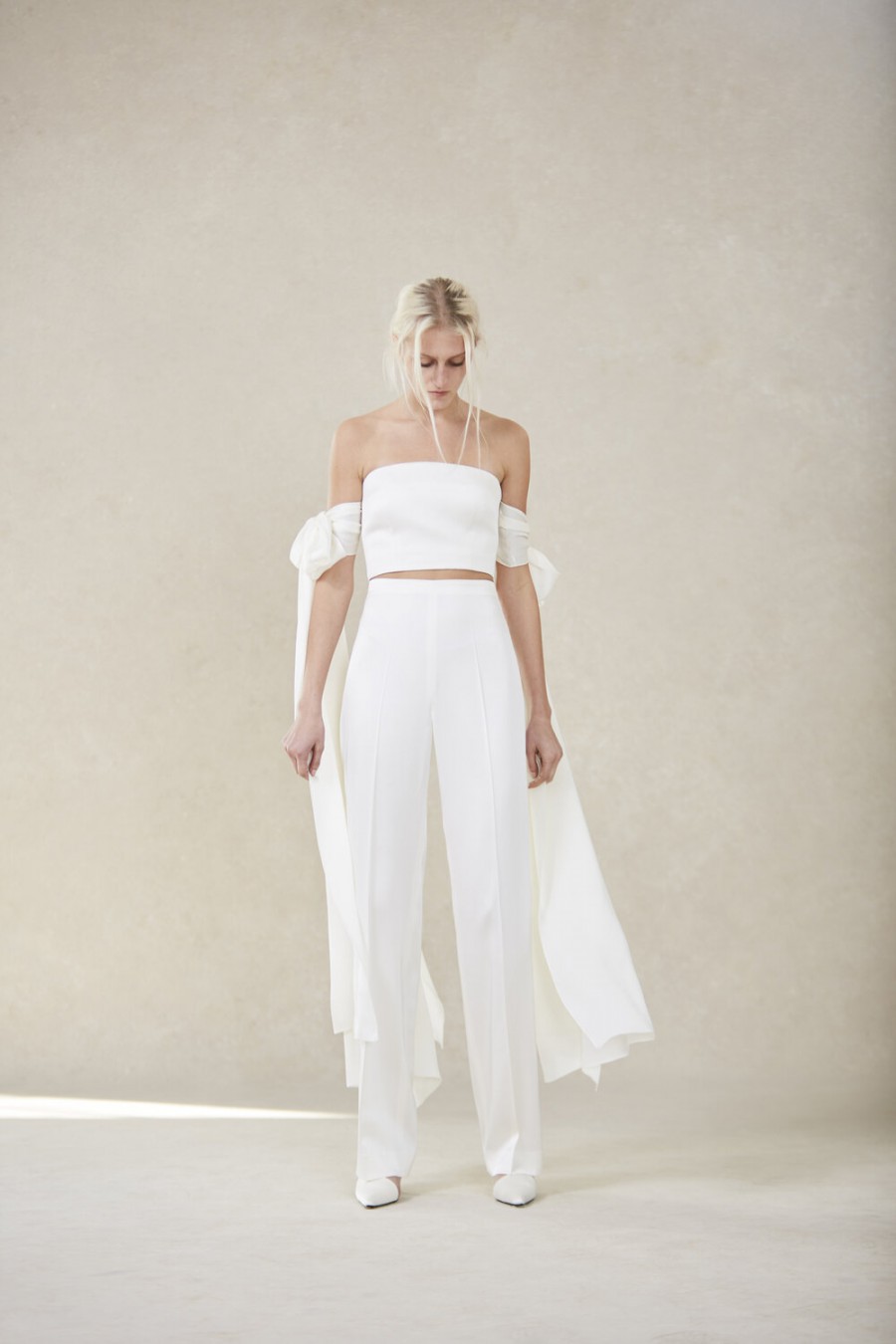 Who doesn't want a good pair of white trousers and a white crop top in their wardrobe. Made from wardrobe staples, this gorgeous bridal look from Nordeen is something you really can wear again and again.
09.

Houghton: Wear-Again Bridal Pantsuit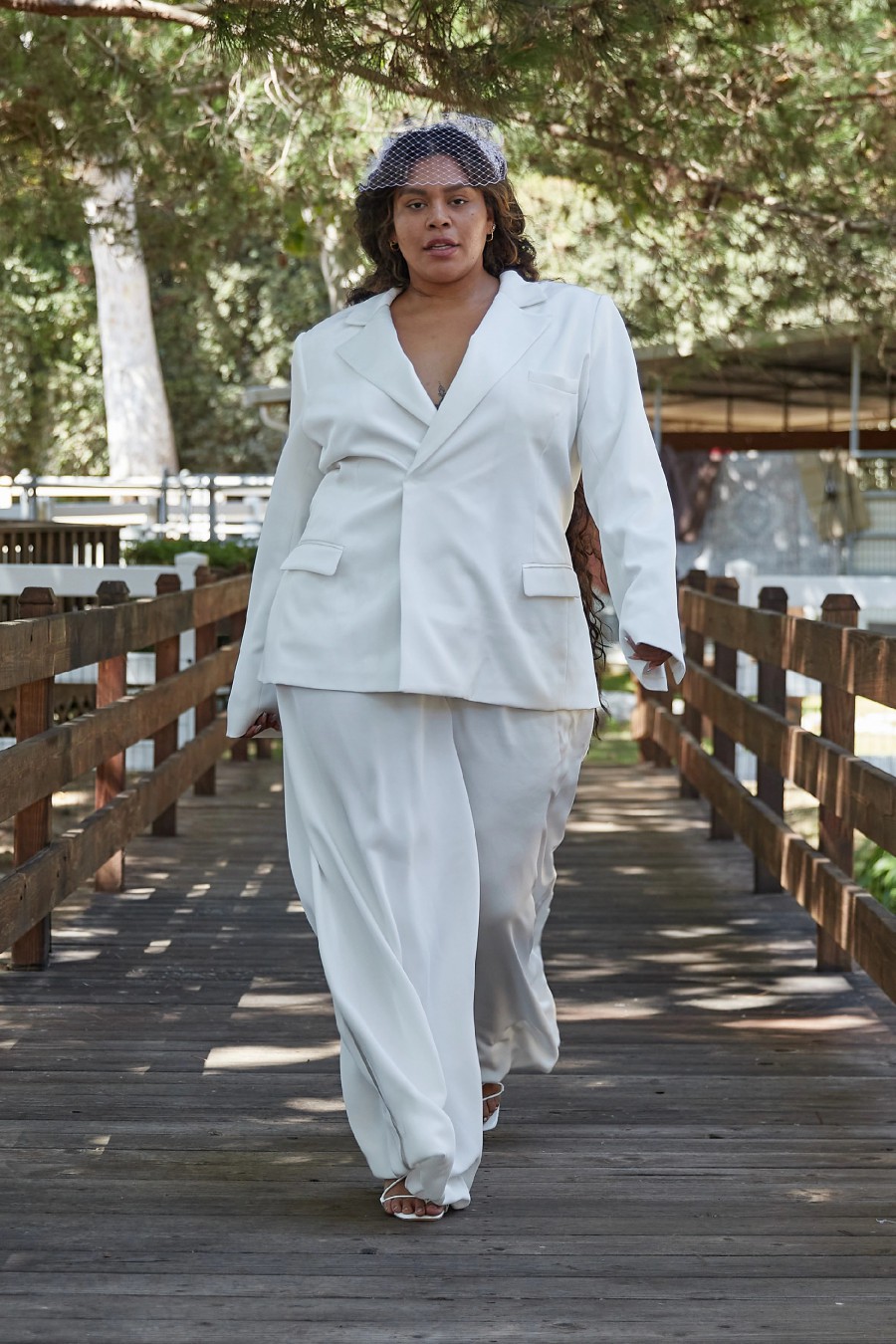 Bridal pantsuits are another great sustainable option when it comes to your wedding day look. Break these pieces up after your big day and wear them again and again. At the office, on a date, or a night out with the girls. Dress these bridal streetwear pieces up or down - your options are truly endless.
10.

Kaviar Gauche: Glam Wrap Skirt & Blouse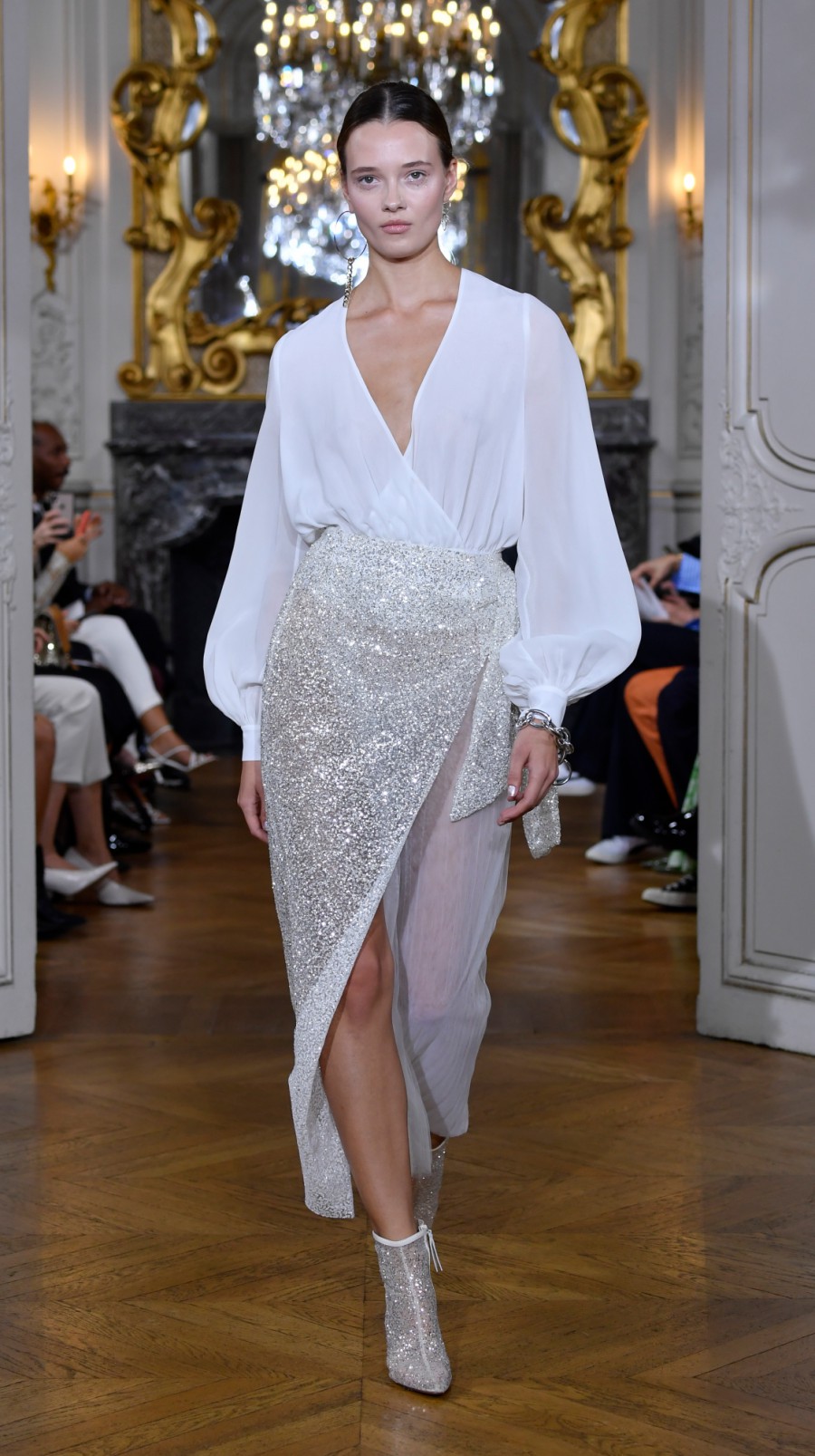 Two everyday pieces paired beautifully the create a chic bridal look. We are loving this flowing blouse and wrapped sequin skirt from Kaviar Gauche. Both pieces can easily be mixed and matched after your wedding day for a look that is trending, but also wearable.
11.

NDS The Label: Couture Casual Bridal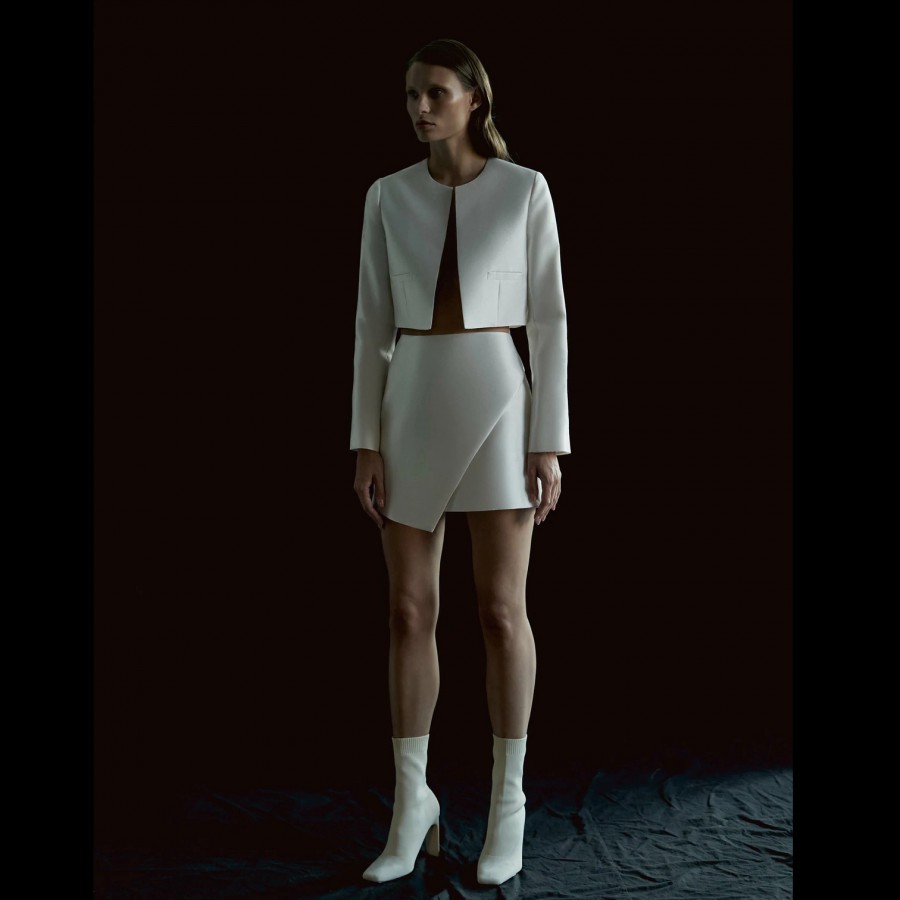 A chic, couture alternative to a bridal mini. NDS The Label brings us this wool and silk-blend boxy blazer and matching wrapped mini skirt. These bridal separates can become wardrobe staples after your wedding day, making this look ultra appealing to our sustainability conscious modern brides out there.
12.

Kaviar Gauche: Flashy and Festive Mini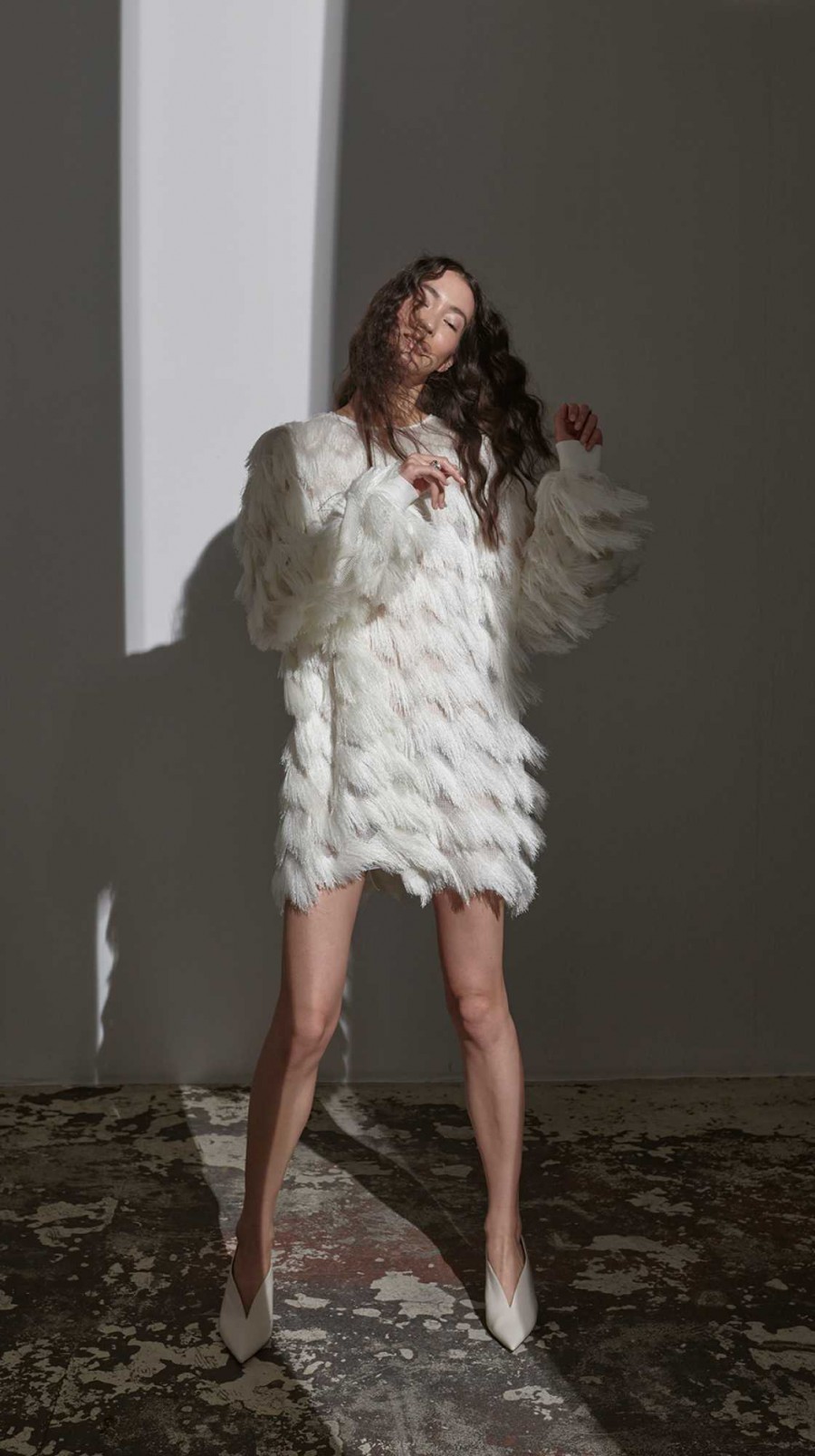 We absolutely love this next bridal mini for a wear-again streetwear style. This festive gown would be perfect for the holiday season, the new year, or any other dressy occasion you have after your wedding day. The little black dress is out, and the little white dress is in for all of your formal needs!
13.

Christopher Kane: Edgy Contemporary Mini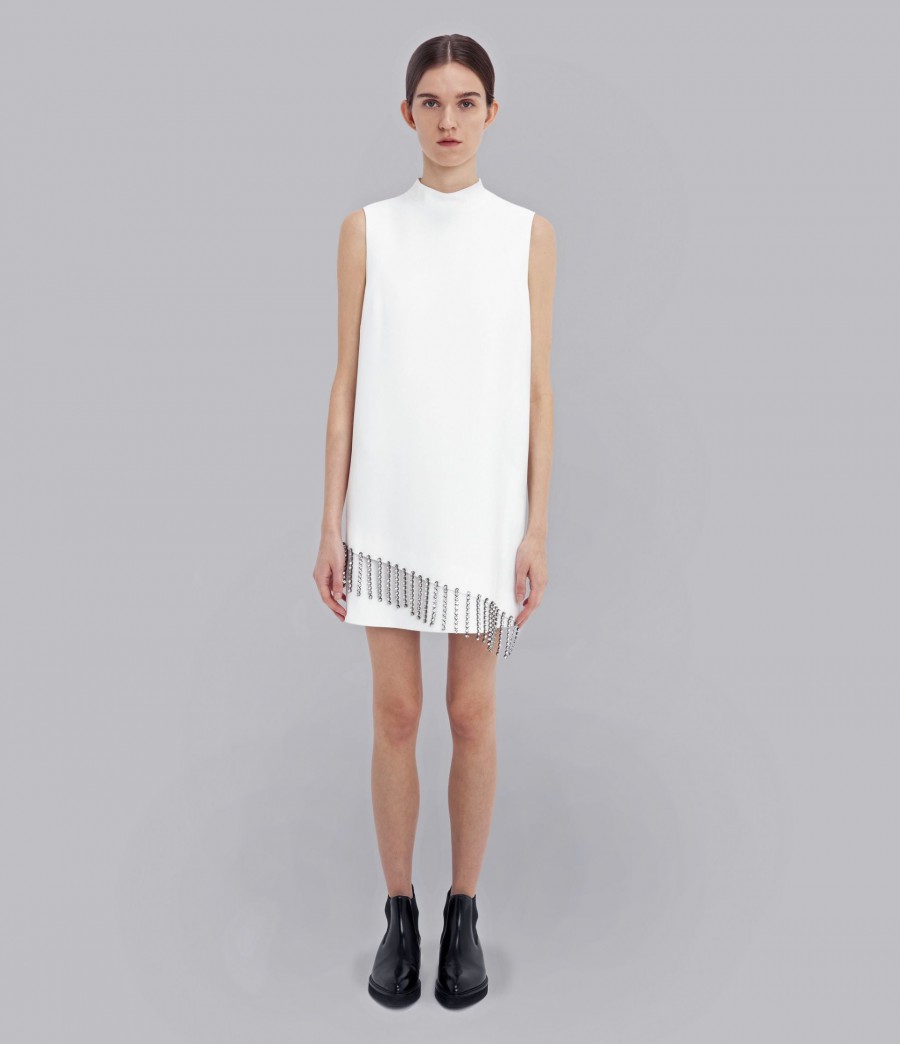 Contemporary, edgy, casual and totally wear-again worthy. This bridal mini style comes from Christopher Kane. This asymmetric sleeveless mini features bold crystal fringe accenting and a trending high neckline. And we love it paired with some on-trend black boots. This dress can be dressed up or down and worn again and again after your wedding day.
14.

Kaviar Gauche: Casual Workwear Bridal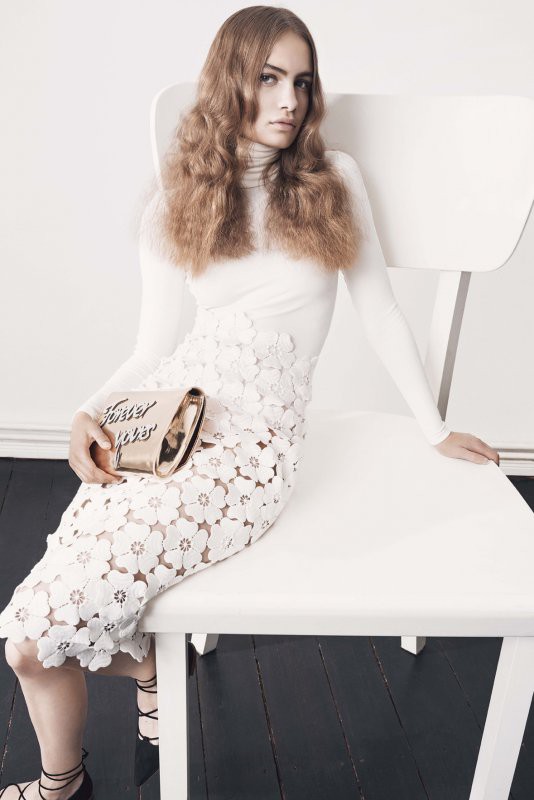 Bring your workwear looks to the aisle. Kaviar Gauche brings us this next wear-again streetwear style that features a chic floral pencil skirt and sleek fitted turtleneck top. Perfect for a more casual wedding day. And these streetwear pieces can easily be worn again at the office, brunch, date night, or on a romantic weekend getaway.
15.

Galia Lahav: Corset & Trousers Bridal Pairing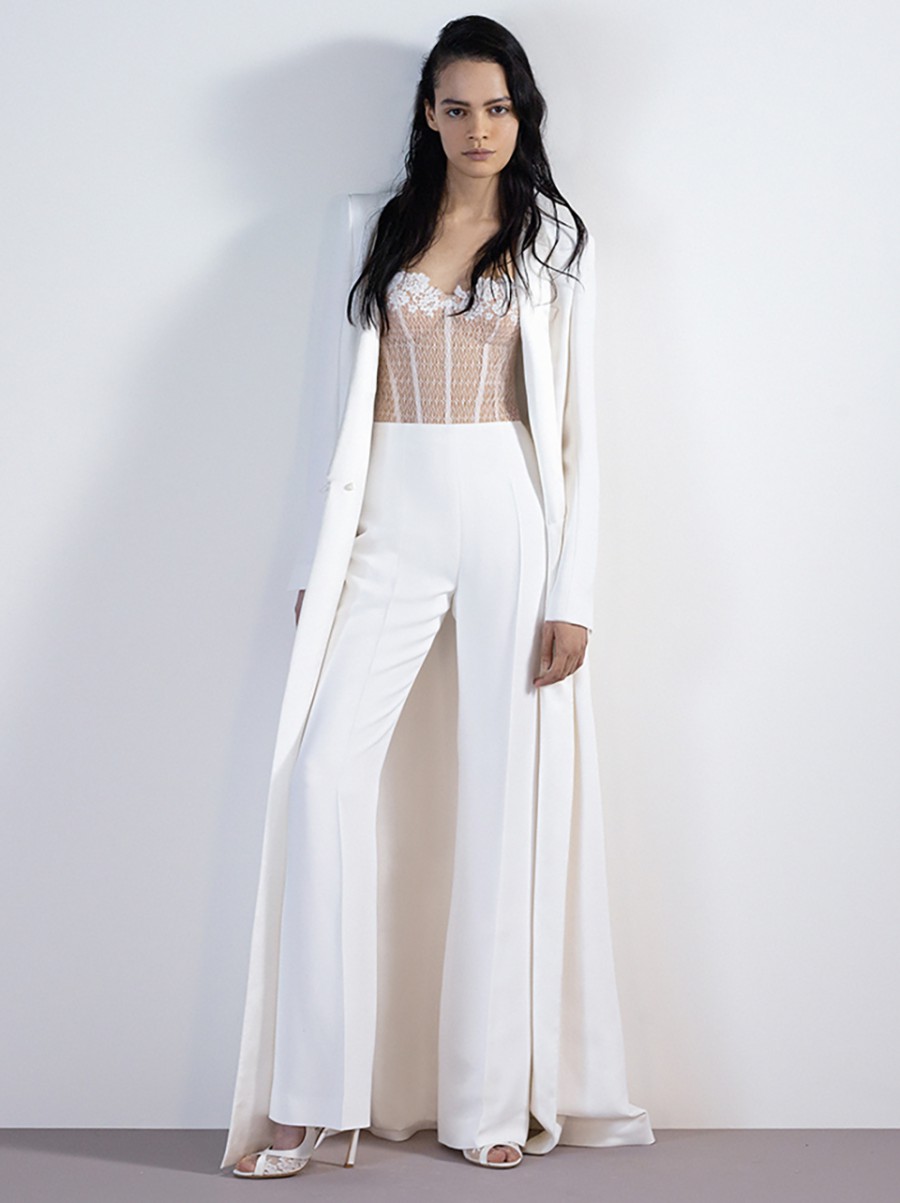 We are loving this next bridal style from Galia Lahav. A chic, sustainable bridal look that is all about wear-again streetwear pieces. A strapless lace corset top is paired with bootleg trousers and the look is finished with a modern floor length coat. Break up these pieces after your big day to wear them for years to come.

By Kathryn Schrotenboer